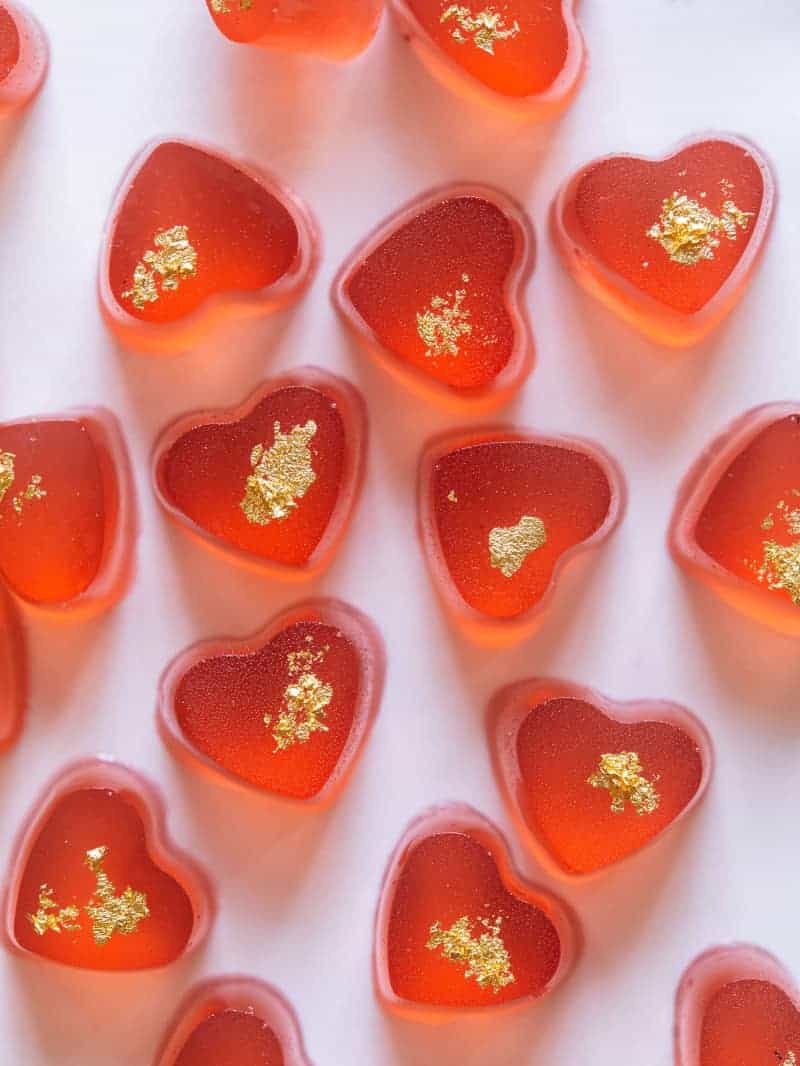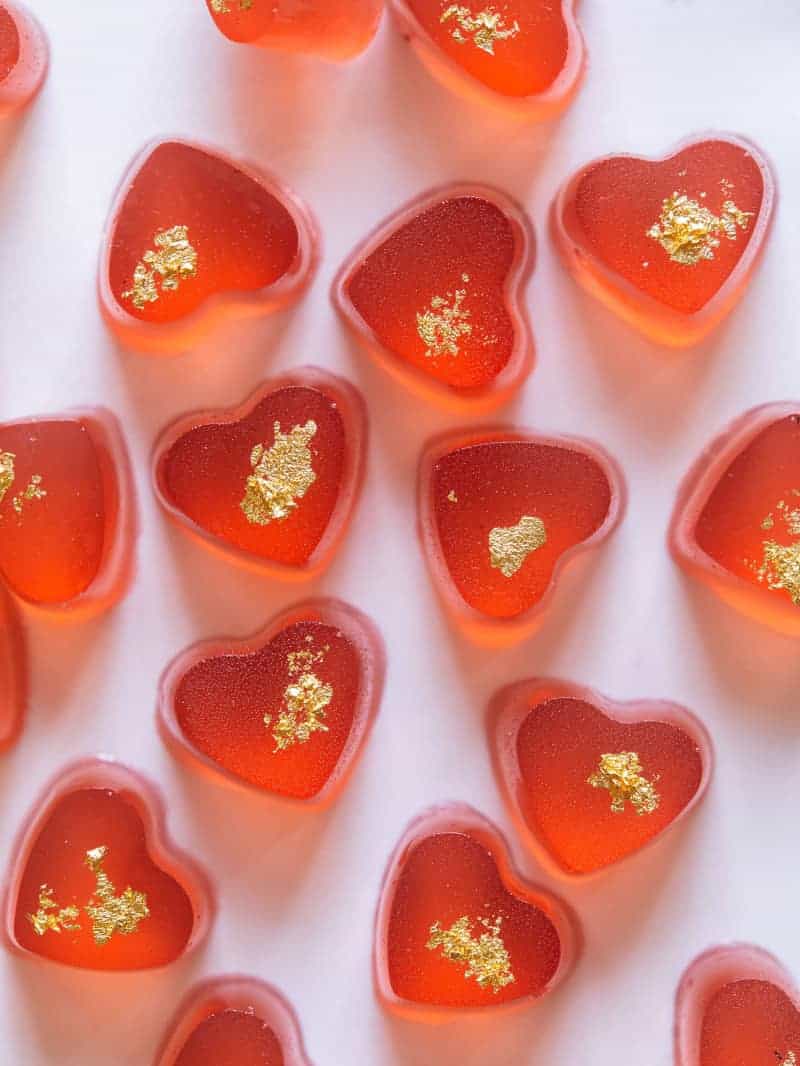 Today we have a lil DIY treat for you all in the form of one of my favorite childhood treats…Gummy Bears!…but in this case, Real Strawberry and Sparkling Rosé Gummy Hearts! That's right! These guys are chewy, sweet and fun! While you only need a few ingredients to make these, the process can be a little tedious and finicky, and you might not necessarily make these ALL the time, but it's such a satisfying feeling when you're done and you're popping these little guys in your mouth. The strawberry flavor in these is also out of control good and the sparkling rosé adds a nice boozy, but not overwhelming finish. You can keep these kid friendly by replacing the sparkling rosé for water and they'll still turn out great! The edible gold is also just for fun, as they make everything look so pretty, but they're totally not necessary if you don't want to spend the time or money on them.
Lets talk about these little guys for a second. You'll notice that I use the juices from the macerated strawberries and don't puree and strain the mixture. I do this specifically because I think you get the cleanest product this way. It's also the best way to get the natural juice out (without a fancy juicer, etc) which is what you want. I mention to 'discard' the solid strawberries bits after they've been strained, simply because we don't need them for this recipe anymore, BUT you can always utilize the solids, by adding more sugar and turning it into jam, just FYI.
Also, although there are only a few ingredients, you might not have everything you need, specifically the citric acid. I know it seems weird and unnecessary, BUT I added it into the mixture because citric acid is a natural preservative and it hinders the growth of bacteria, so these guys don't have to be refrigerated, like most recipes you'll find on the internets. Also, because you really do need to dry these guys out for a couple days to get the true gummy bear 'chewy' texture, the citric acid also prevents molding during the 'dry out' stage. You can buy a bag for not very much right here. A little bit goes a LONG way and once you have it and use it, you'll end up discovering the multitude of uses for citric acid! Random, I know. :)
I'm sure some of you also scrunched your nose over the light corn syrup addition. I know, corn syrup general sucks…it's super duper processed, etc, etc….BUT it's an inverted sugar and we need that here to prevent our mixture from crystalizing and becoming very cloudy. You can also use honey, which is usually my preference, but it really leaves a strong honey flavor that competes with the strawberry and rosé.
Once your gummies have sufficiently dried out and gotten the 'chewy' texture, the very light starch sprinkling and tossing of the gummies is also necessary to be able to bag these guys up without them sticking together and jellying into one big mass. Even though you've dried them out a bit, there's still enough moisture (and sugar) in them to get sticky. The starch will take the full shine away from the gummy hearts and they'll become matte, but I think they look more like real gummy bears this way and they're still super cute!
I know I just spat out a lot of info and this project may seem long and tedious, but I promise you that as long as you have everything you need measured out and set up, it's actually quite a fun and super rewarding project to try every now and then. I bought the silicone heart molds here and the eye droppers here and the edible gold here. Enjoy! xx, Jenny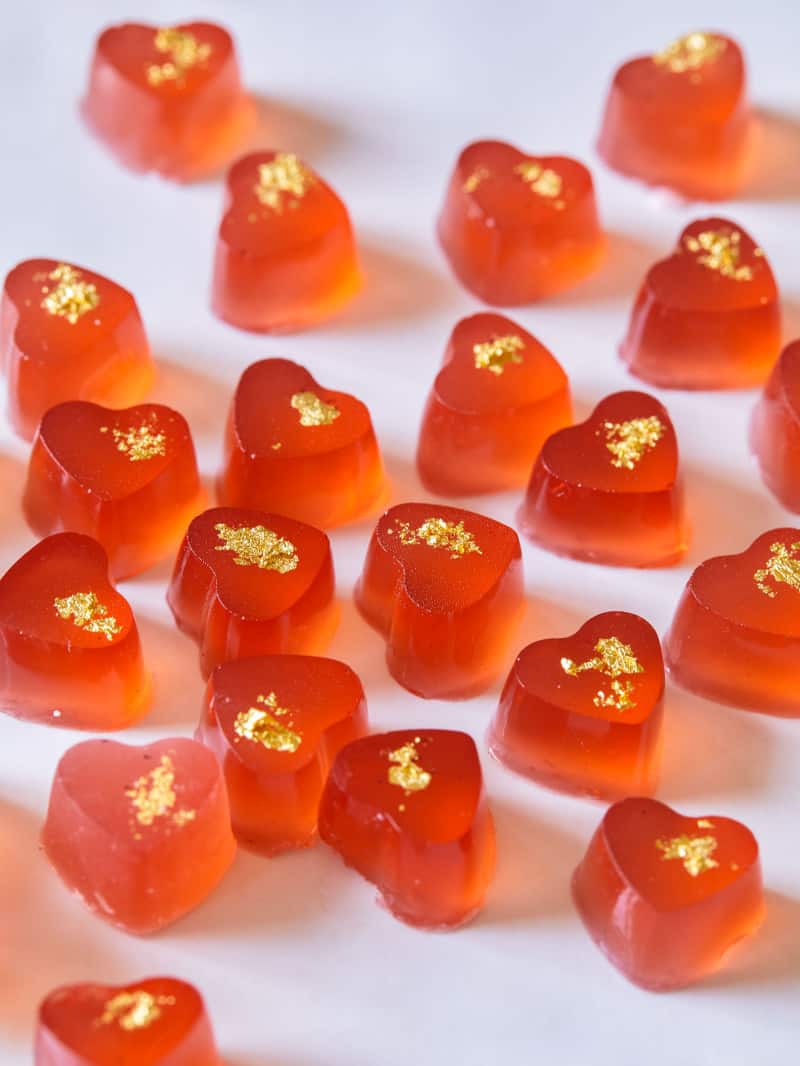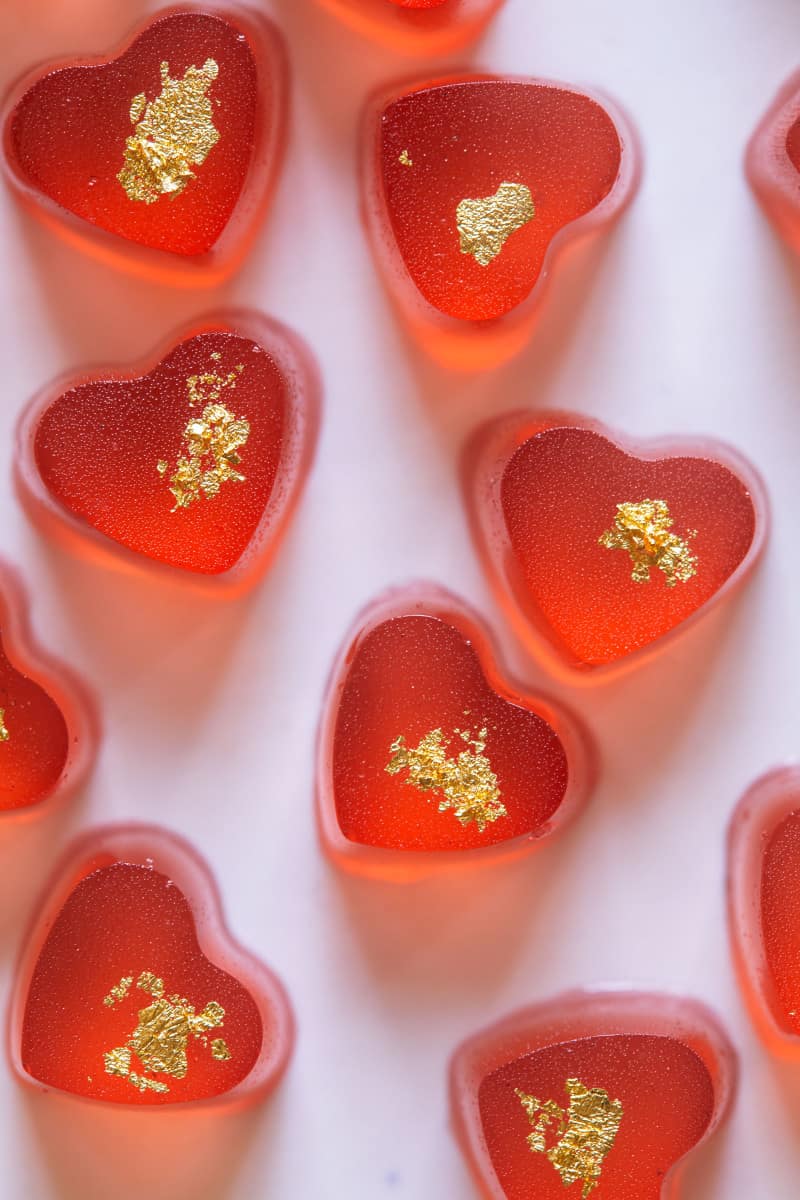 Hungry for more?
Subscribe to never miss a recipe.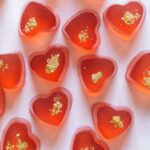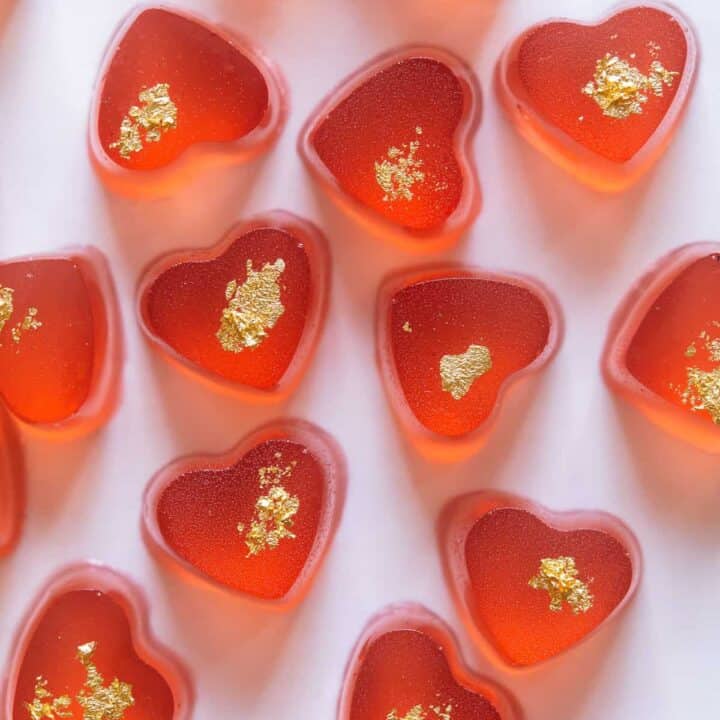 ---
Real Strawberry and Sparkling Rosé Gummy Hearts
INGREDIENTS
1 ½

pounds

strawberries, hulled and diced

½

cup

sugar

½

lemon, juiced

2

tablespoons

light corn syrup

¼

teaspoon

citric acid

3

envelopes

unflavored gelatin powder

½

cup

cold sparkling rosé

edible gold leaf paper, optional

tapioca starch for coating
INSTRUCTIONS
In a large mixing bowl combine strawberries, sugar and lemon juice and toss together until strawberries are completely coated. Allow mixture to macerate for about 2 hours, stirring occasionally.

Strain mixture into another mixing bowl, reserving the strained liquid and discarding solids (should end up with about 1 ½ cups sweetened strawberry juice).

Pour strawberry juice into a saucepan and stir in corn syrup and citric acid.

Simmer mixture over medium heat until reduced by about a third.

While strawberry mixture simmers, sprinkle gelatin over cold rosé and allow gelatin to 'bloom', 3 to 5 minutes.

Once strawberry juice has reduced, remove from heat and stir in gelatin and rosé mixture until gelatin dissolves, no lumps remain and mixture is smooth.

Using an eye dropper, fill gummy heart (silicone) molds with the strawberry-rosé liquid.

Refrigerate filled molds for about 1 hour or until gelatin sets and the gummy hearts pop out of the molds evenly.

Transfer hearts to a baking sheet and top each with a small amount of edible gold, if using.

Store gummy bears, on the baking sheet, in a dry and cool area away from direct sunlight and allow gummy hearts to dry out for about 2 days.

After 2 days, gummy hearts should feel stiffer and will have shrunken in size slightly.

Very lightly sprinkle gummy hearts with tapioca starch (up to ¼-½teaspoon total) and toss together. Transfer hearts to an airtight, resealable container and store for up to 1 week.
NOTES
*Makes 100 to 120 Gummies
Calories:
175
kcal
Carbohydrates:
38
g
Protein:
5
g
Fat:
1
g
Saturated Fat:
1
g
Sodium:
17
mg
Potassium:
244
mg
Fiber:
3
g
Sugar:
34
g
Vitamin A:
16
IU
Vitamin C:
86
mg
Calcium:
29
mg
Iron:
1
mg