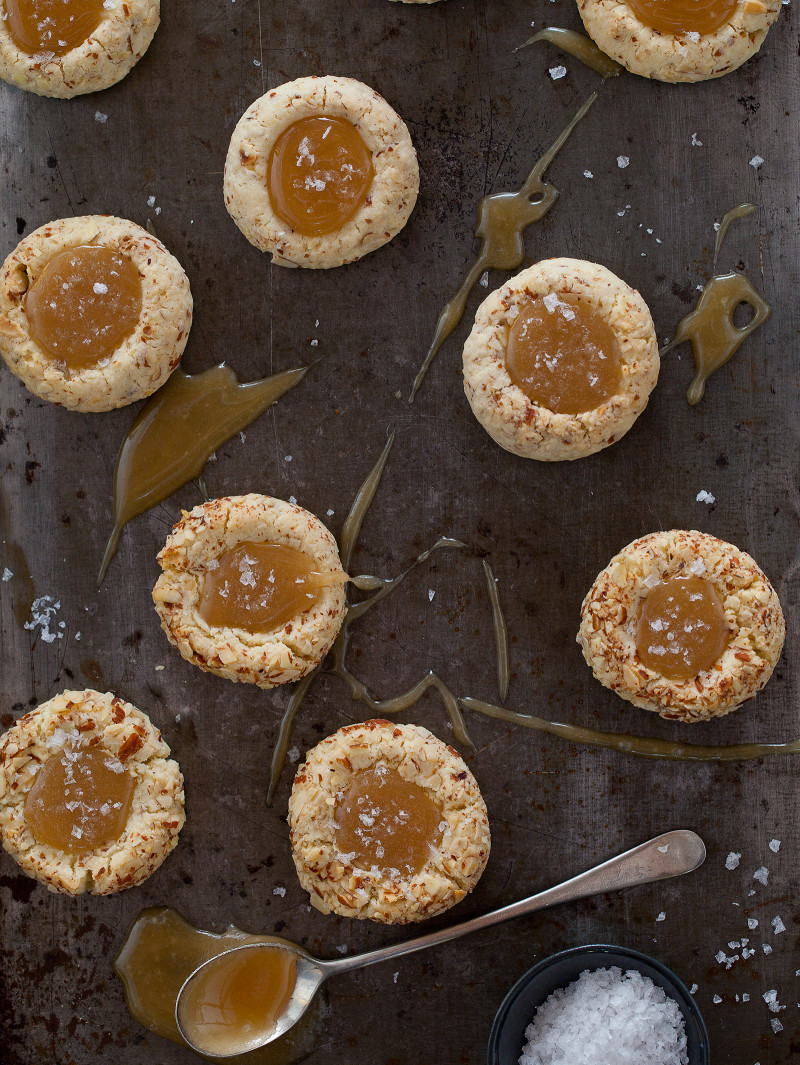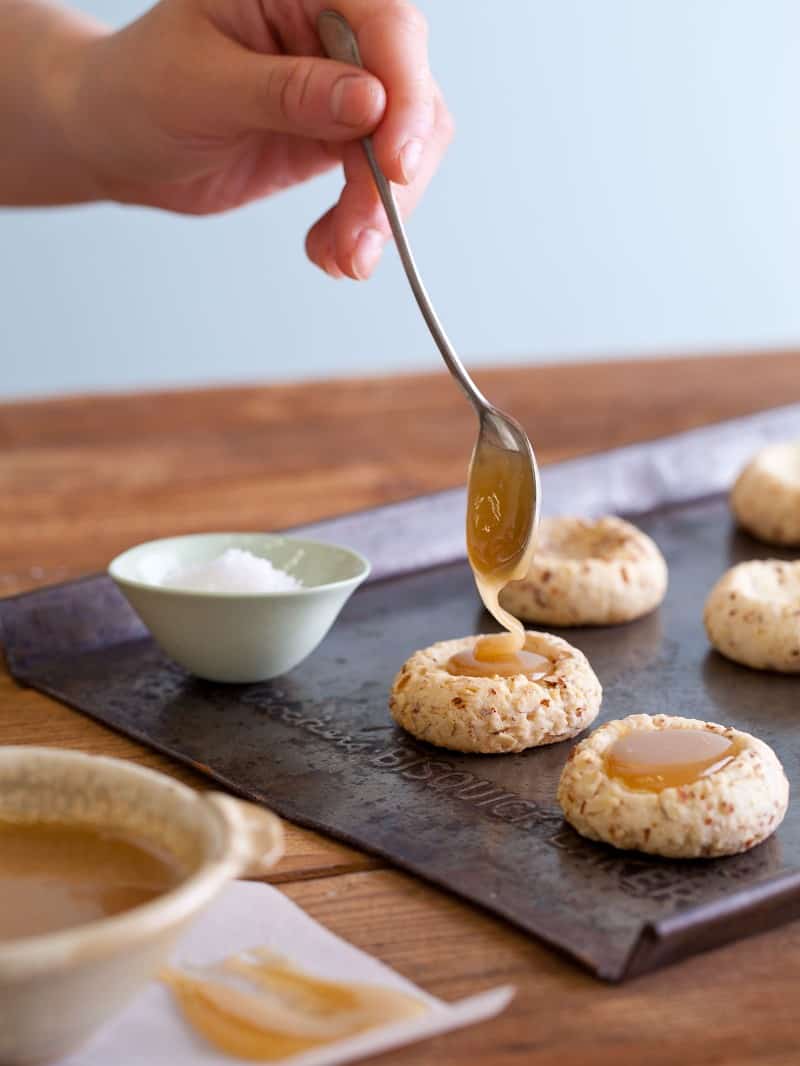 This is seriously the best cookie recipe ever. Jenny is awesome sauce. I brought these to a new years eve party. Some girl thought it was really weird that there was salt on them. She said something like "I like these cookies, but why is there salt on them." I have no comment, other than that's like asking why there is jelly on this pb & j. She probably eats at McDonalds and likes it.
♥ Teri
Salted Caramel Almond Thumbprint Cookies Recipe
Makes: 30 cookies
Ingredients:
2/3 cup unsalted butter, softened
2/3 cup granulated sugar
1/2 cup almond meal
1 egg, lightly beaten
1 teaspoon almond extract
2 cups cake flour, sifted
1 teaspoon baking powder
2 egg whites, lightly beaten
1 cup sliced almonds, crushed
caramel:
1/2 cup granulated sugar
1/4 cup light brown sugar
1/4 cup light corn syrup
2 tablespoons unsalted butter, cut into small cubes
2 tablespoons heavy cream
1 tablespoon evaporated milk
1 teaspoons vanilla extract
1 tablespoon sea salt flakes
Directions:
1. Preheat oven to 350°F.
2. In a stand mixer (or with a hand mixer), with a paddle attachment, cream together the butter and sugar until light and fluffy.
3. With the speed on low add the almond meal followed by the lightly beaten egg and almond extract.
4. Scrape the sides of the bowl and add the flour and baking powder.
5. Mix together, with a wooden spoon until fully incorporated. Do not over mix the dough.
6. Roll 1 inch balls of dough and place on a parchment lined baking sheet until all of the shortbread dough has been used.
7. Gently coat each ball in the egg white and then roll the balls in the crushed almonds.
8. Place the balls onto a baking sheet and using your thumb, gently press down into the center of each ball, creating a "thumbprint" in the cookie dough.
9. Place baking sheet into a refrigerator and allow the balls of dough to chill for about 30 minutes.
10. Remove the baking sheet from the refrigerator, place it in the oven and bake for16 to 20 minutes or until the tops of the cookies just begin to brown.
11. Remove from the oven and allow the cookies to cool.
12. While the cookies cool begin making the caramel by combining the sugars and corn syrup in a medium sauce pan.
13. Bring the mixture to a boil on medium-high heat.
14. Once the mixture reaches 240°F remove from heat and whisk in the butter, cream and evaporated milk until fully incorporated. (be careful; the mixture with begin to bubble violently)
15. Stir in the vanilla and allow the hot caramel to slightly cool, about 15 minutes.
16. Place 2 teaspoons of the warm caramel into each thumbprint on each cookie.
17. Once all of the cookies have been filled allow the caramel to set, about an hour.
18. Sprinkle the tops of each cookie with the sea salt flakes and serve or store in an airtight container.