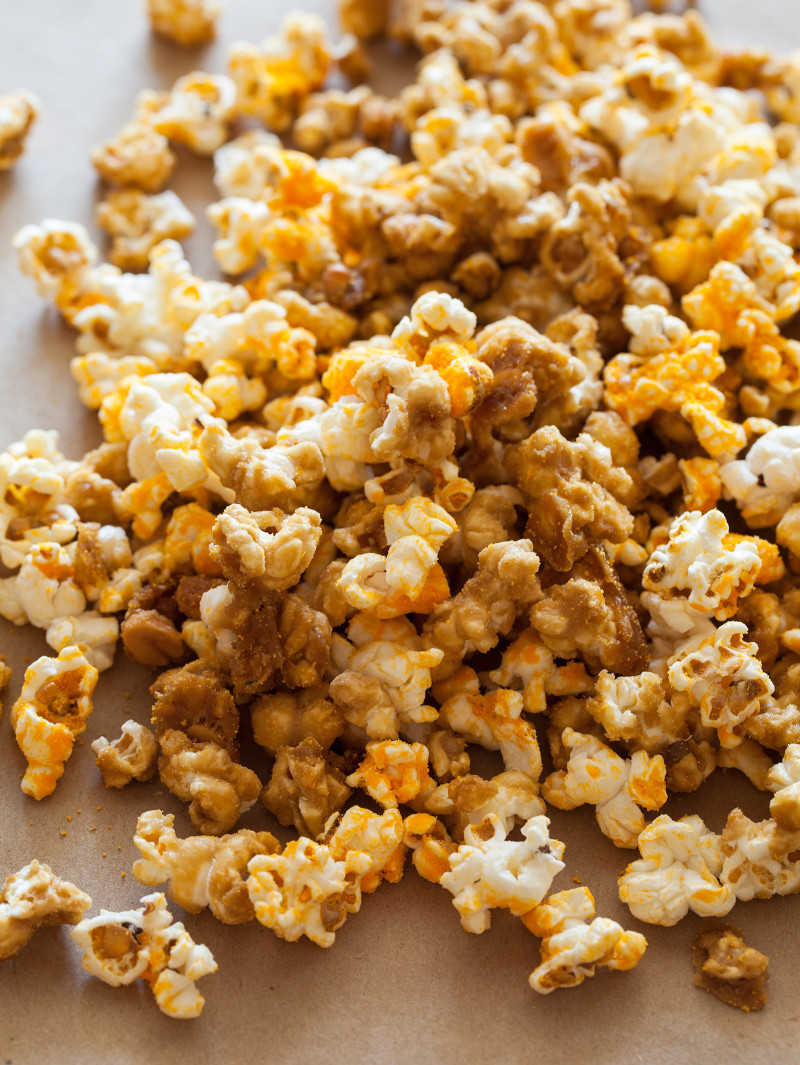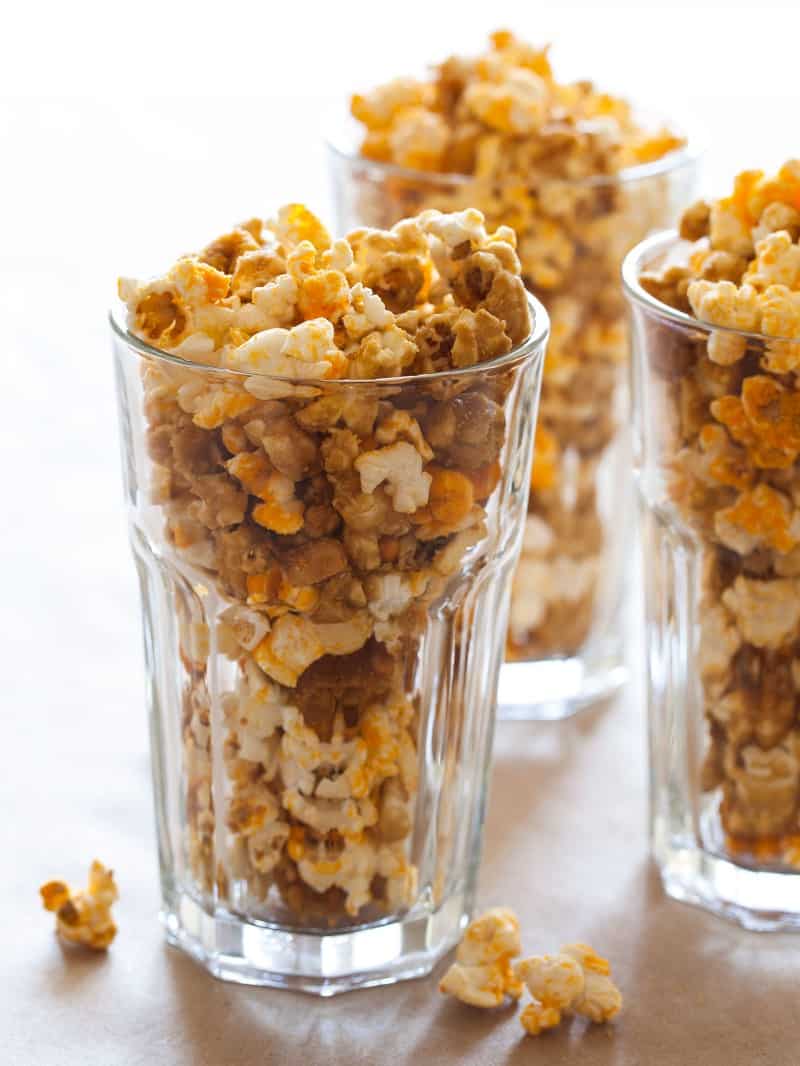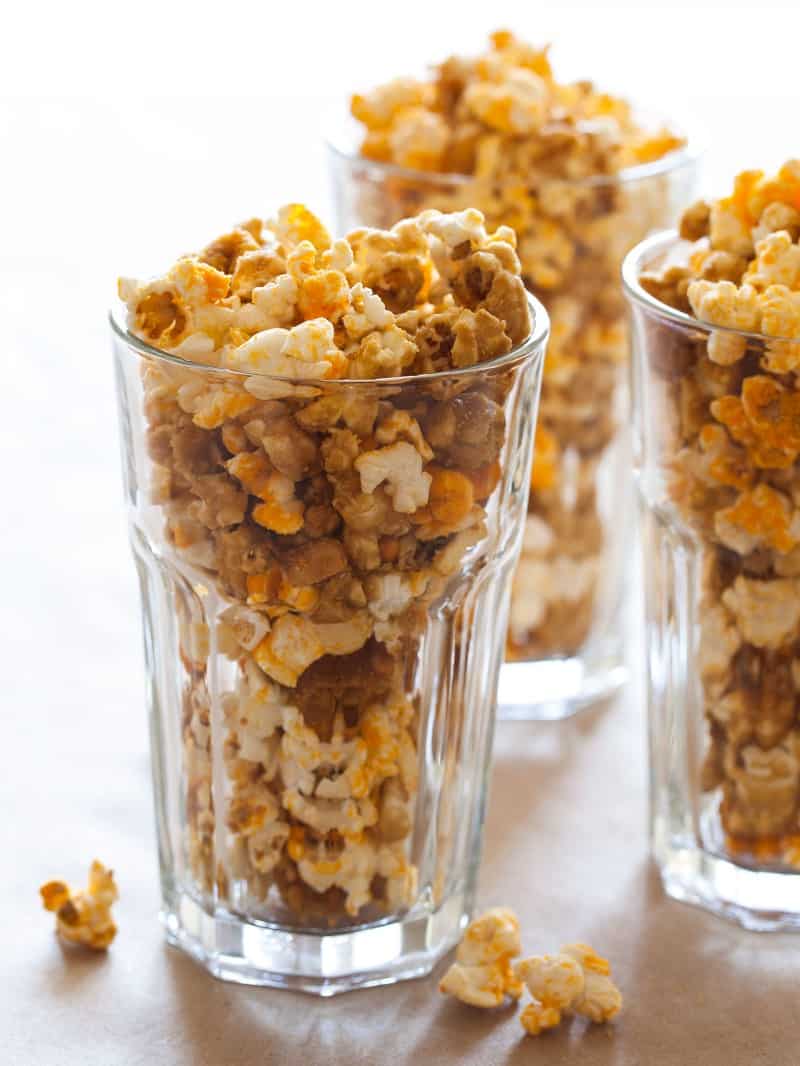 Hi all! So today we have another great edible holiday gift to give out this holiday season. It's a mix of cheddar and caramel popcorn. This is inspired from this great place called Garrett's Popcorn in Chicago. They have multiple locations, but it originated in Chicago…as did The Chicago Mix… The combination might sound weird, but it's not. It's really not. It's totally awesome. It totally plays on the sweet and salty flavors, with the addition of nutty and cheesy…SO GOOD! I love going home for the holidays and NOT attempting to stop at a location to pick some up. I stick to ordering mine online every year…why? Because lines for Garrett Popcorn Shops are usually at least a block long. No joke. Holidays are the worst too. When I don't feel like spending $25 on shipping for popcorn I usually go out and buy my own cheddar popcorn, make my own caramel corn and mix 'em up. Caramel corn is a lot easier to make than most might think. So try this recipe out because it's easy, fun, tasty, and you can package it in cute jars and give them out as gifts. Enjoy!
xx Jenny
---
Cheddar and Caramel Popcorn Mix
INGREDIENTS
caramel corn
5 ½

quarts

popped popcorn

1

cup

lightly salted peanuts

1

cup

(2 sticks) unsalted butter, softened

2

cups

light brown sugar

½

cup

light corn syrup

1

teaspoon

salt

1

tablespoon

heavy cream

½

teaspoon

baking soda

1

teaspoon

vanilla extract
cheddar popcorn
4

quarts

store bought cheddar popcorn
INSTRUCTIONS
Pour popcorn and peanuts into a very large bowl (or two large mixing bowls and set aside.

Melt butter in a (medium) saucepan over medium-high heat.

Stir in the sugar, corn syrup and salt until fully incorporated.

Bring mixture to a boil, frequently stirring.

Once mixture has come to a boil stop stirring and continue to boil for about 5 minutes.

Remove saucepan from heat and carefully stir in baking soda (the mixture will vigorously boil).

Stir in the cream and vanilla and pour the caramel sauce over the popcorn. Fold together until mostly combined.

Evenly spread the caramel popcorn onto two parchment lined baking sheets, in a single layer.

Bake for about an hour, removing the mixture from the oven every 15 minutes to stir.

Allow caramel corn to cool completely before breaking up into pieces.

Toss together with cheddar popcorn until fully combined. Serve.
NOTES
*Makes 9 quarts Popcorn 
*1 serving = 1 cup