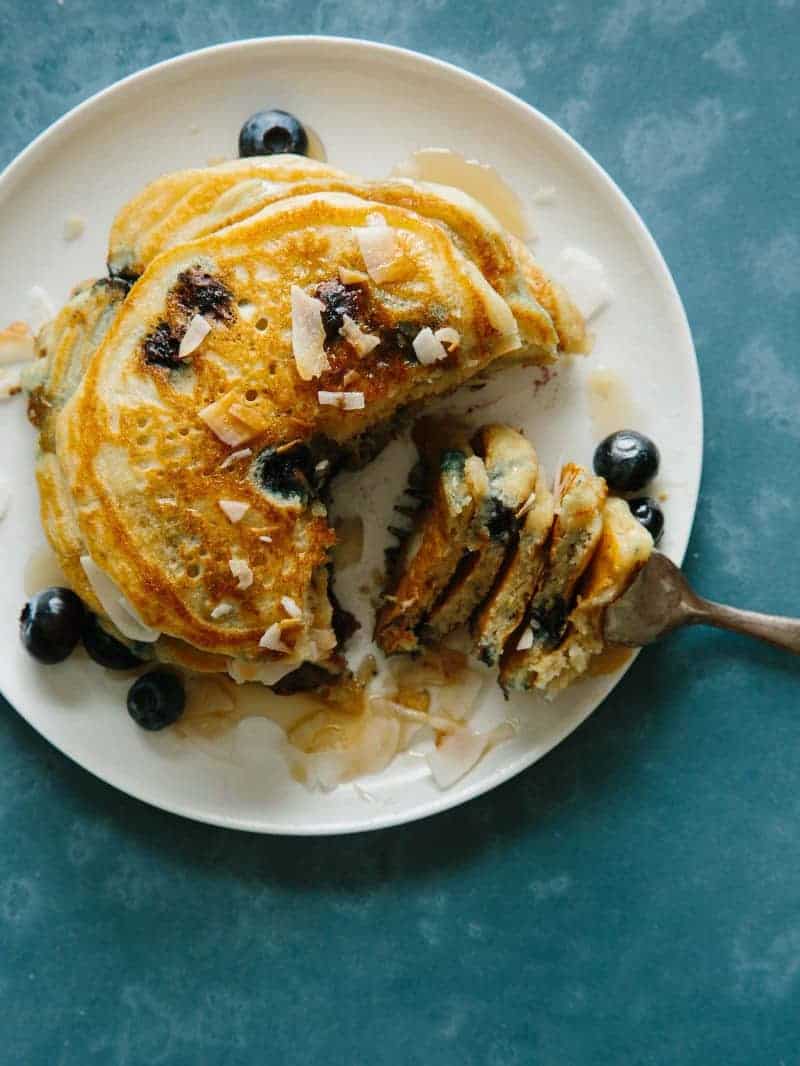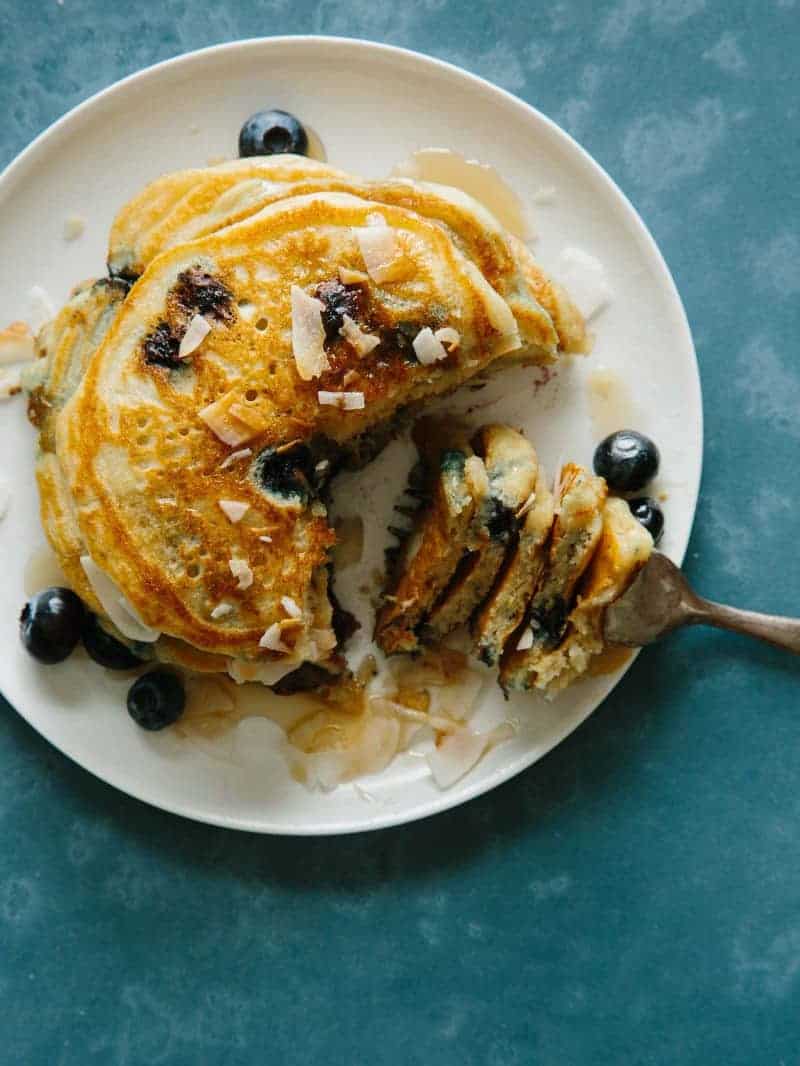 I'm realizing more and more that pancakes don't make it onto our breakfast table very often. I'm not sure why though. They're easy to make, they make a great side to any breakfast plate or can stand proudly on their own and they're just really delicious. Plus, we seem to always get them if we're dining out for breakfast or brunch, but we just really don't make them at home enough.
Recently my dude and I have been consciously making an effort to cook 'more exciting' breakfasts/brunches on the weekends, other than scrambled eggs and avocado toast (nothing wrong with that of course, but sometimes you just need to change things up) and we started last weekend with these Brown Sugar, Blueberry and Coconut Pancakes! Ugh, they're so good. I love the simplicity of pancake recipes, but also how there are endless possibilities and flavor combinations that you can easily muster up!
Also, if you guys haven't watched the show 'Stranger Things' yet (SO FREAKIN' GOOD), this weekend is the PERFECT time to make a fat stack of these pancakes and binge watch the show! Since my fiance and I have already blazed through the show we'll be binge watching 'Hell on Wheels' with a stack of these beauties and some bacon for sure, lol. Enjoy! xx, Jenny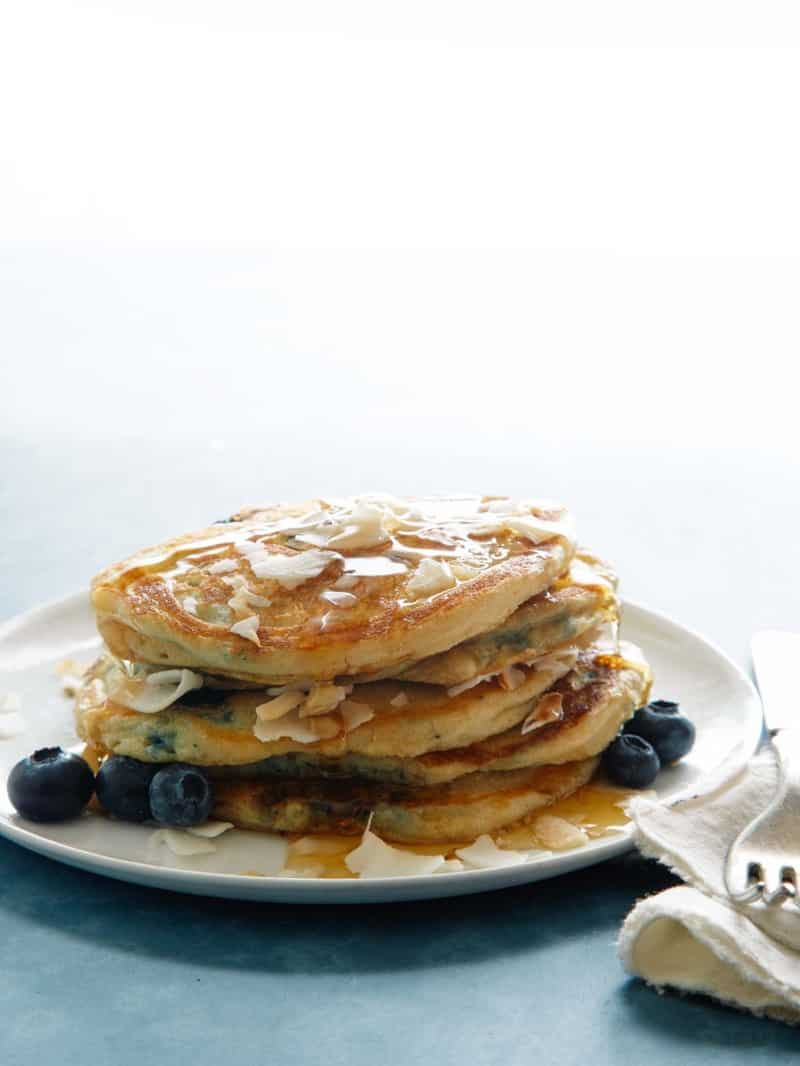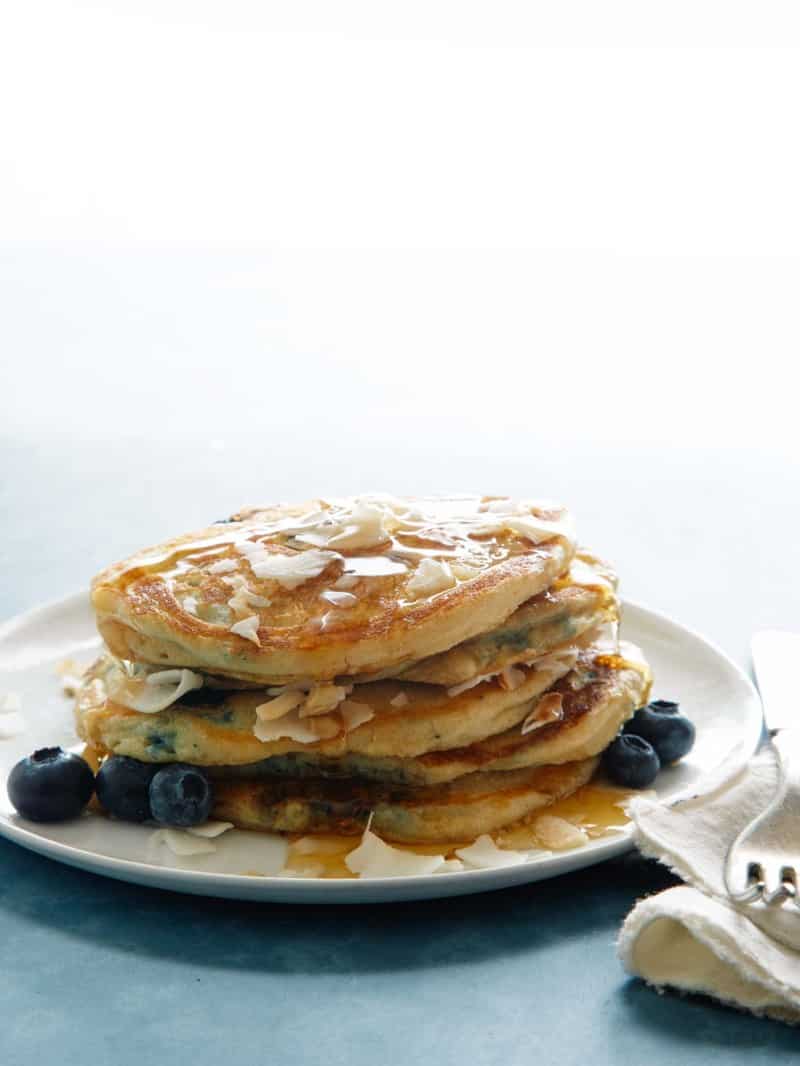 [print]
Brown Sugar, Coconut + Blueberry Pancakes
Makes 12
Ingredients:
3/4 cup all purpose flour
1/2 cup coconut flour
1 1/2 tablespoons light brown sugar
2 1/2 teaspoons baking powder
1 teaspoon salt
1 egg, lightly beaten
1 1/2 cups milk
2 tablespoons unsalted butter, melted and cooled (plus more for the skillet)
1 teaspoon vanilla extract
1 cup fresh or frozen blueberries**
1/3 cup unsweetened and toasted coconut flakes
shredded coconut
100% Maple syrup
Directions:
1. Pour flours, sugar, baking powder, and salt into a mixing bowl and whisk together.
2. Add egg, milk, butter, and vanilla and stir together with a fork until well combined and some lumps remain.
3. Fold in blueberries and coconut flakes and stir until well mixed.
4. Place a skillet over medium heat and melt 1 tablespoon of butter.
5. Scoop 1/4 cup of batter onto the hot, buttered surface and cook for 3 to 4 minutes or until the surface begins to bubble a little.
6. Carefully flip the pancake and continue to cook for an additional 2 to 3 minutes.
7. Remove from skillet and repeat until all of the batter has been used.
8. Finish pancakes with more coconut flakes and a drizzle of syrup.
**If using frozen blueberries, toss them in 2 tablespoons of flour before folding into the batter.
[/print]