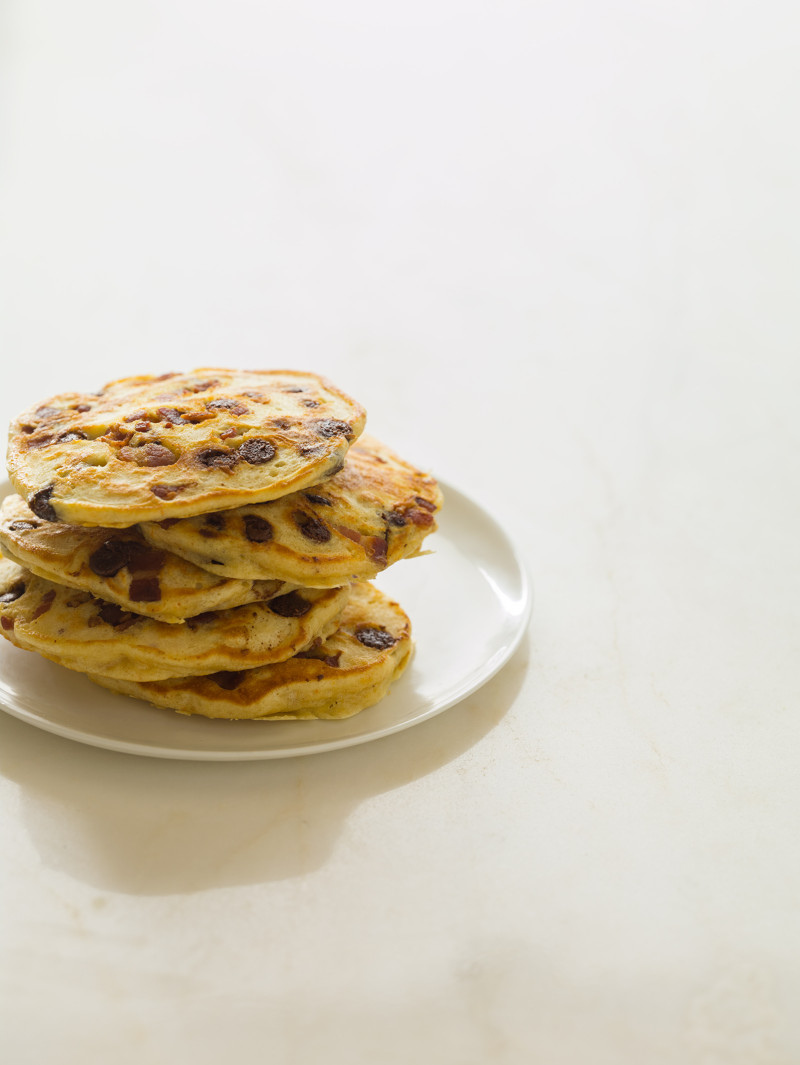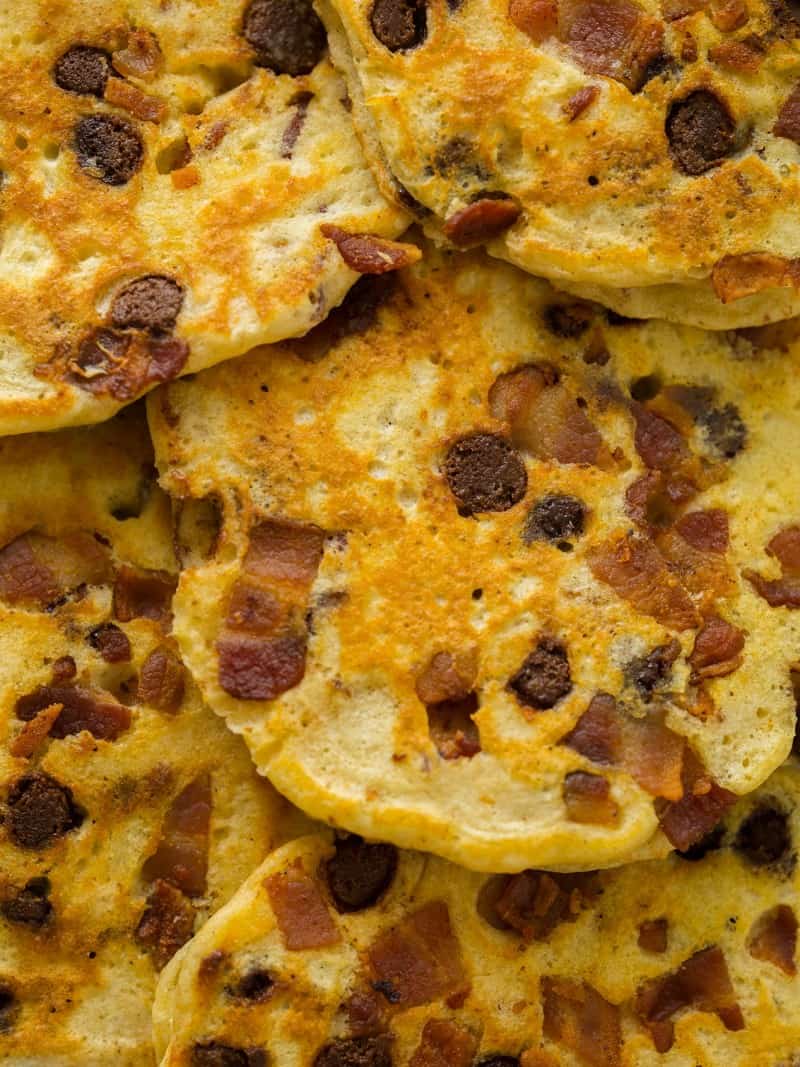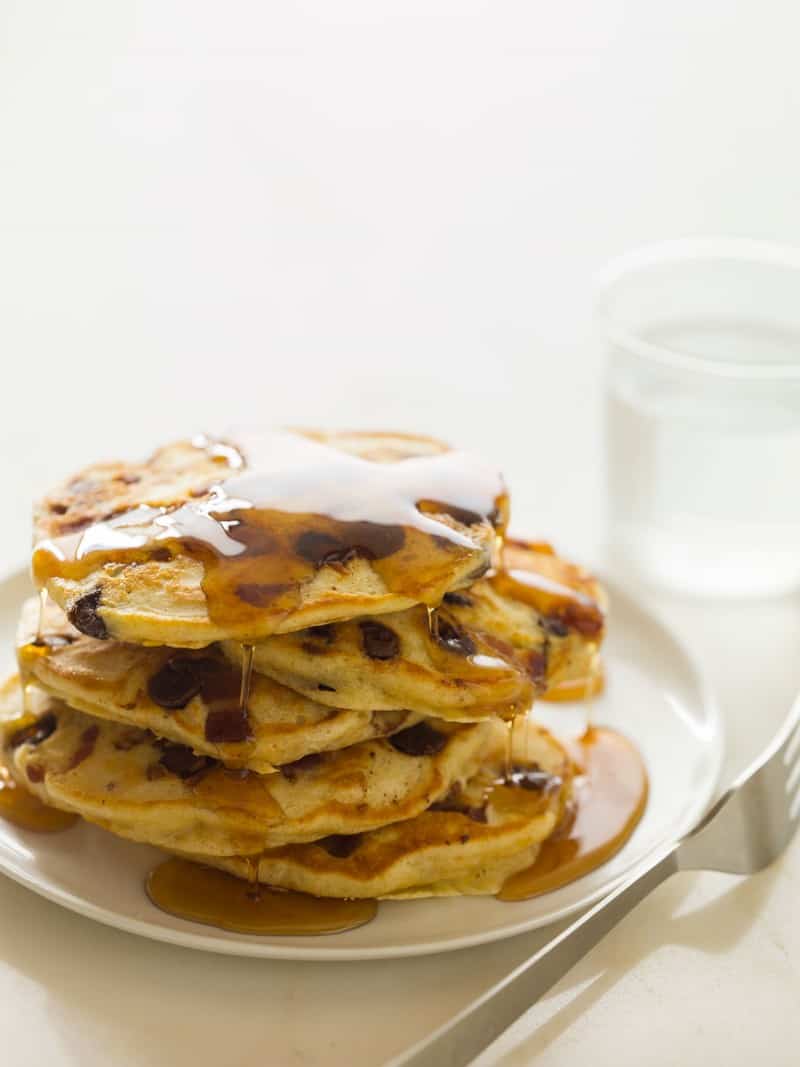 Happy Friday! I'm really excited for the weekend. Why? Because I am babysitting a cute little puppy some of you may know. I cannot wait to go to the dog park for little dogs, and touch her big ears, and make fun of her cankles. FUN. Weekends are made for this stuff. Weekends are also made for delicious breakfast situations like the one we have to today. I am really excited about it because there are a couple of things that make these Chocolate Chip Bacon & Orange Kissed Pancakes awesome. The first is that we folded in egg whites to make these cakes light and fluffy. They are not rubbery or chewy, but delicate and melt in your mouth-is. We have also added some orange zest. Other than the bacon, this is my favorite part. It is not overwhelming at all, and it does a super nice job of balancing the salty bacon with the sweet chocolate. YUM. What are you guys doing this weekend?
♥ Teri
Chocolate Chip, Bacon and Orange Kissed Pancakes
Makes about 10
Ingredients:
1 cup all purpose flour
1 1/2 tablespoons light brown sugar
2 teaspoons baking powder
1 teaspoon salt
1/2 teaspoon baking soda
1/4 cup butter, melted and cooled
3 to 5 tablespoons buttermilk
1 egg
2 egg whites, optional
2 tablespoons superfine sugar (granulated is fine), optional
6 to 8 rashers bacon, cooked and crumbled
2/3 cup milk chocolate chips
1 large orange, zested
softened butter, for serving
maple syrup, for serving
Directions:
1. Preheat a griddle over medium to medium-high heat.
2. In a large mixing bowl, combine flour, brown sugar, baking powder, salt, and baking soda. Whisk together and set aside.
3. In a small mixing bowl combine butter, buttermilk and egg, whisk together and set aside.
4. Optional Step: Place egg whites in a mixing bowl and using a hand mixer, beat egg whites until frothy. With mixer still running, add sugar and continue to beat until medium peaks form. Set aside.
5. Stir the flour mixture with the butter mixture until mixed together (don't overmix). Fold in the bacon, chocolate chips and orange zest. Fold in the whipped egg whites (if using), until just combined.
6. Grease the griddle with butter or vegetable oil and drop 1/3 cup scoops onto the hot surface. Cook until large bubbles form on the surface of the pancake, 3 to 4 minutes. Flip pancakes and continue to cook for 2 to 3 minutes. Place onto a baking sheet and store in a warm oven while cooking remaining pancakes.
7. Serve hot with butter and maple syrup.