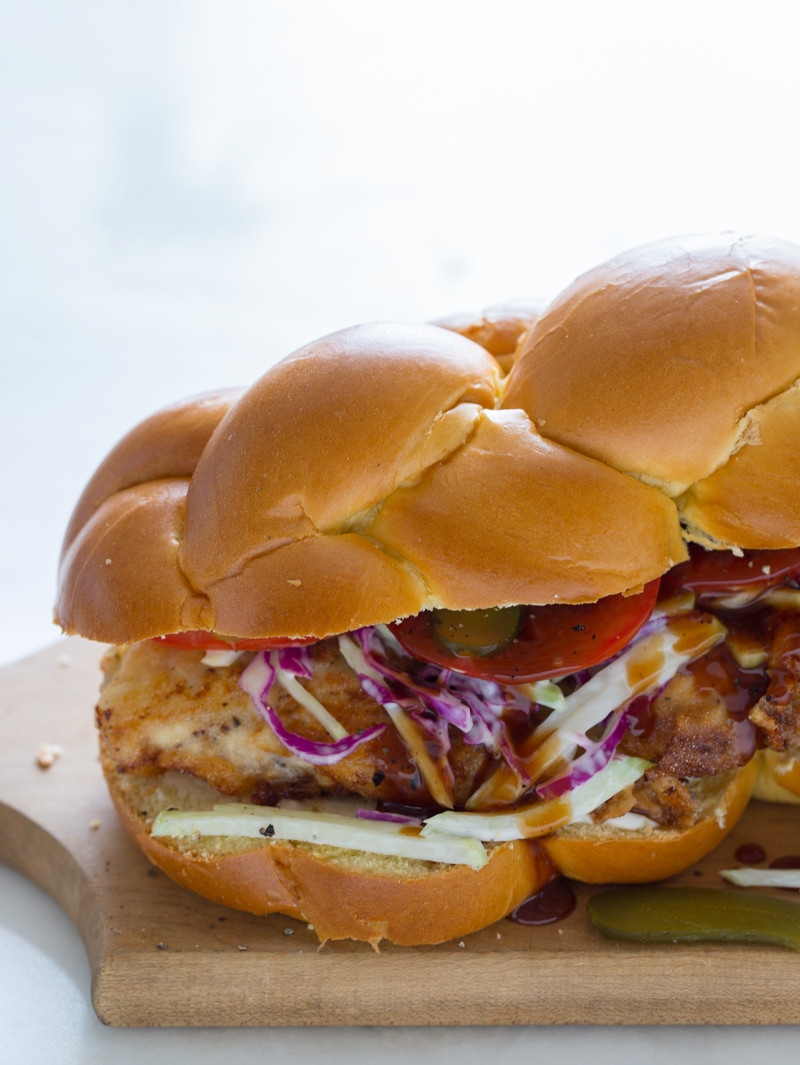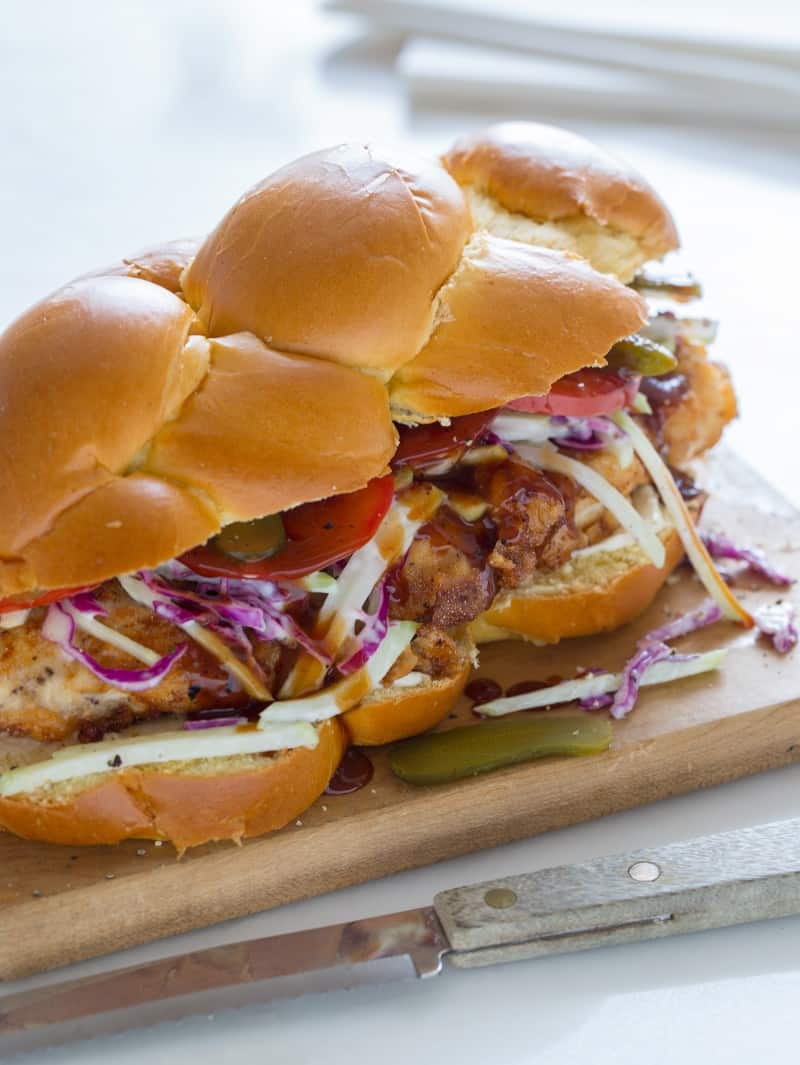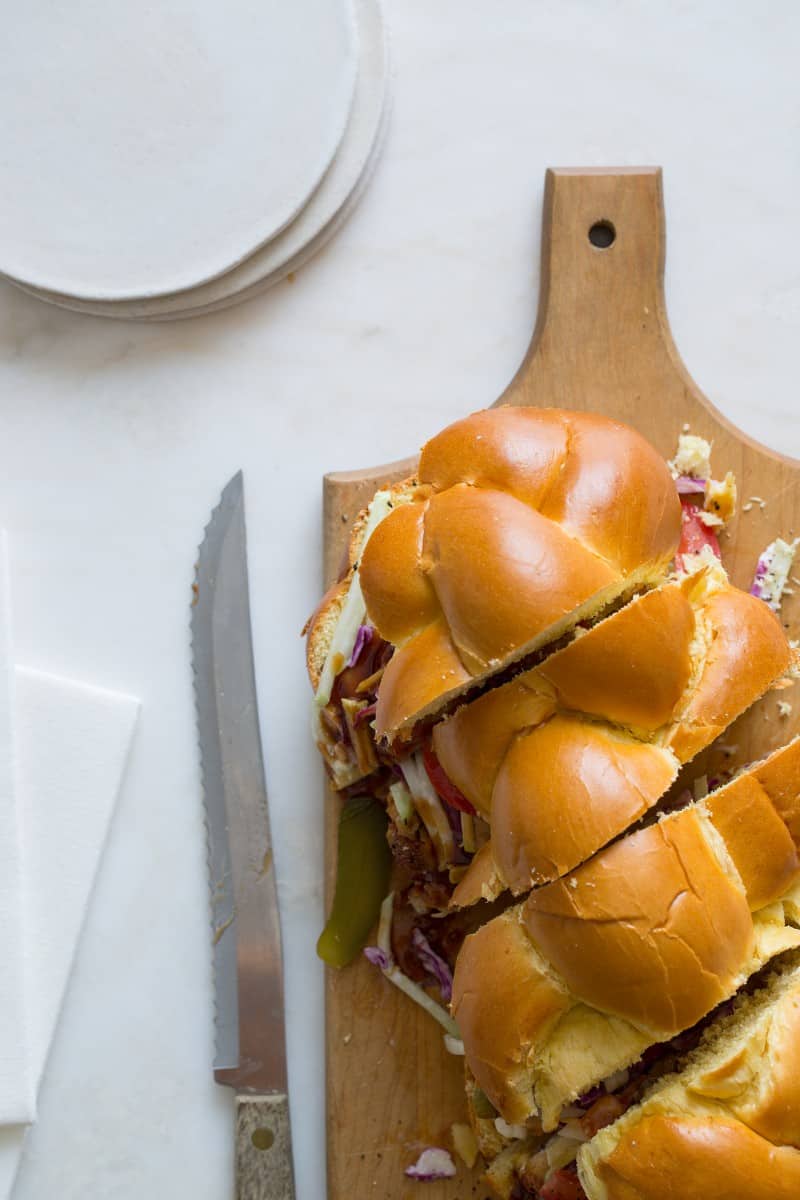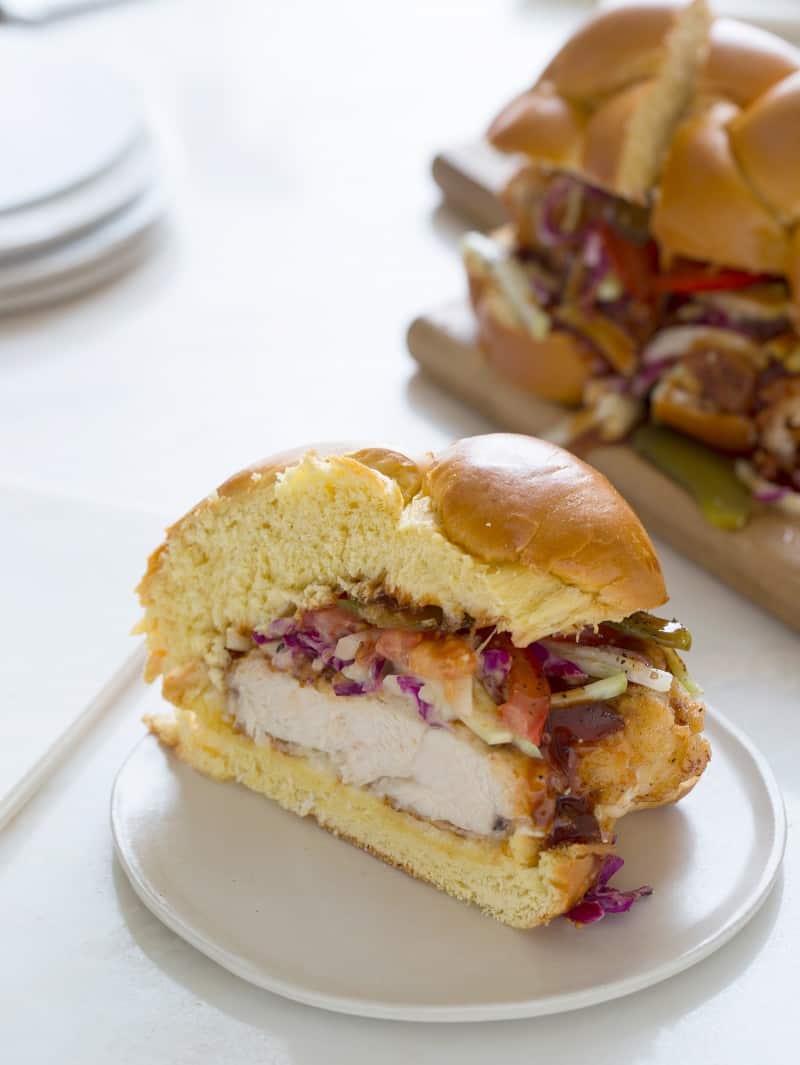 The thing that about picnics is making sure you have chosen the food you're going to eat correctly. You don't want stuff that will be gross cold, or be totally soggy, and or be hard to eat. It's kind of a hard choice. You also have to make sure you bring all the necessary accessories. It sucks so bad if you go and forget to bring napkins. Huge bummer. I am excited because today we have a really good picnic sandwich. It's a family style Fried Chicken Sandwich. We used Challah bread, which I think works out really well because it's denser bread, and won't get all nasty and soggy. I would pair this sandwich with some crispy kettle chips. You get those two and you have an amazing picnic on your hands.
♥ Teri
Fried Chicken Sandwich
Serves 4 to 6
Ingredients:
fried chicken:
2 (6 ounce) boneless, skinless chicken breasts each sliced in half
2 cups buttermilk
1 1/2 cups all purpose flour
2 tablespoons smoked paprika
2 tablespoons garlic powder
1 tablespoon onion powder
1 tablespoon chile powder
2 teaspoon cracked black pepper
1 teaspoon salt
2 eggs
vegetable oil for frying
quick and simple slaw:
2 cups shredded red and green cabbage
1/2 cup mayonnaise
1/4 cup apple cider vinegar
salt and pepper to taste
1/4 cup sweet and tangy bbq sauce
10 cornichons, cut in half lengthwise
1 vine ripe tomato, thinly sliced
1 loaf challah or brioche
Directions:
1. Place chicken and buttermilk in a large bowl and toss together. Cover, place in the refrigerator and marinate for at least 6 hours and up to 12.
2. Pour oil into a heavy bottom skillet about 2 inches high and preheat to 350˚F.
3. In a shallow baking dish combine flour and spices. Toss together. Remove chicken from buttermilk and season with salt and pepper. Add eggs to reserved buttermilk and whisk together.
4. Dredge chicken pieces into flour mixture, shaking off any excess. Dip chicken into buttermilk mixture and return to flour mixture.  Shake off excess flour once again.
5. Carefully place chicken into oil and fry for 7 to 8 minutes. Flip and continue to fry for 5 to 6 minutes or until the juices run clear. Remove from heat and drain onto paper towels. Season with salt and pepper.
7. For coleslaw: Place all ingredients into a mixing bowl and toss together until fully combined. Cover and refrigerate for at least 1 hour before serving.