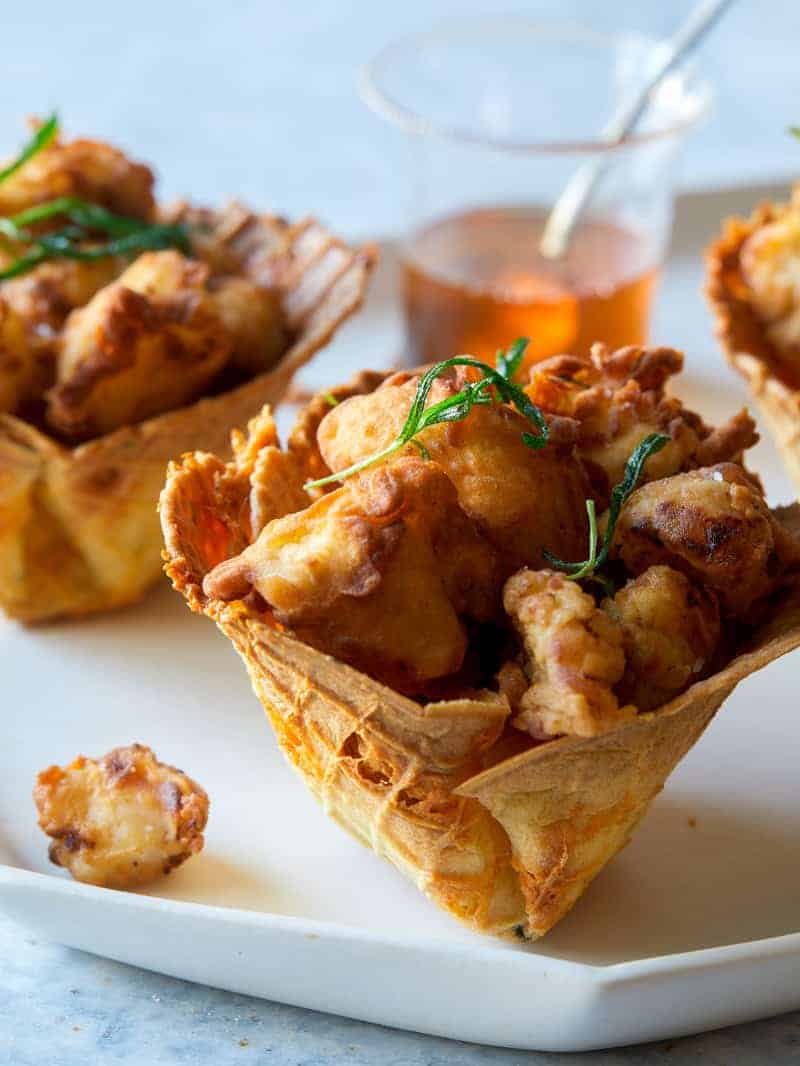 Not going to lie that this recipe does take a bit of effort but so very worth it. Bite sized little bits of chicken of all piled high in a cheesy waffle cup. Paired with a little bit of honey and you have yourself a bite sized chicken and waffle situation. Our cheesy waffle cups make a really cute display for your bite sized chicken which makes this recipe really perfect for a little appetizer with friends. This is definitely a crowd pleasing and impressive recipe to bookmark! Enjoy and happy weekend!
♥ Teri
Popcorn Chicken in Cheesy Waffle Cups

Serves 4

Ingredients:
popcorn chicken:
2 boneless, skinless chicken breasts (about 8 ounces each), cut into 1/2 inch pieces
2 cups flour
1 tablespoon smoked paprika
2 teaspoons garlic powder
1 teaspoon onion powder
1 teaspoon salt
1/2 teaspoon black pepper
1 cup buttermilk
Oil for frying
Cheesy waffle cups:
1/2 cup plus 2 tablespoons all-purpose flour
1/4 cup (1/2 stick) unsalted butter, melted and cooled
1 egg plus 1 egg white
1 tablespoon superfine sugar
2 tablespoons whole milk
1/2 cup shredded cheddar cheese
1 tablespoon thinly sliced chives, plus more for garnish (optional)
1/2 teaspoon salt

honey for drizzling

Directions:
1. Popcorn Chicken: Season chicken pieces with salt and pepper.
2. Place flour, paprika, garlic powder, onion powder, salt, and pepper in a shallow baking dish and whisk together. Pour buttermilk into another shallow baking dish.
3. Dredge chicken pieces in flour, followed by buttermilk and then back into the flour (shaking chicken off after each addition) until all chicken has been coated.
4. Fill a tall sided pot with 2 inches oil and place over medium heat. Once oil has reached 350˚F, fry chicken a few pieces at a time, until golden brown and cooked through, 4 to 5 minutes. Transfer onto a baking sheet lined with a cooling rack and lightly season with salt and pepper. Repeat until all chicken has been fried. Set aside.
5. Waffle Cups: Pour all ingredients into a mixing bowl and whisk together until no flour lumps remain. Allow mixture to sit for 5 minutes. Heat waffle cone maker to desired settings. Pour 3 to 3 1/2 tablespoons batter into the center of the waffle cone maker and gently press lid closed, completely. Cook waffle cones for 4 to 4 minutes or until golden brown.
6. Quickly and carefully transfer cooked waffle disc to a muffin tin and gently press center of disc into one of the muffin wells, to form a cup. Allow cup to sit until fully cooled and hardened. Repeat until all cups have been made.
7. Assemble: Fill each cup up with a big scoop of popcorn chicken. Drizzle each cup with honey and a sprinkle of chives, if using. Serve immediately.