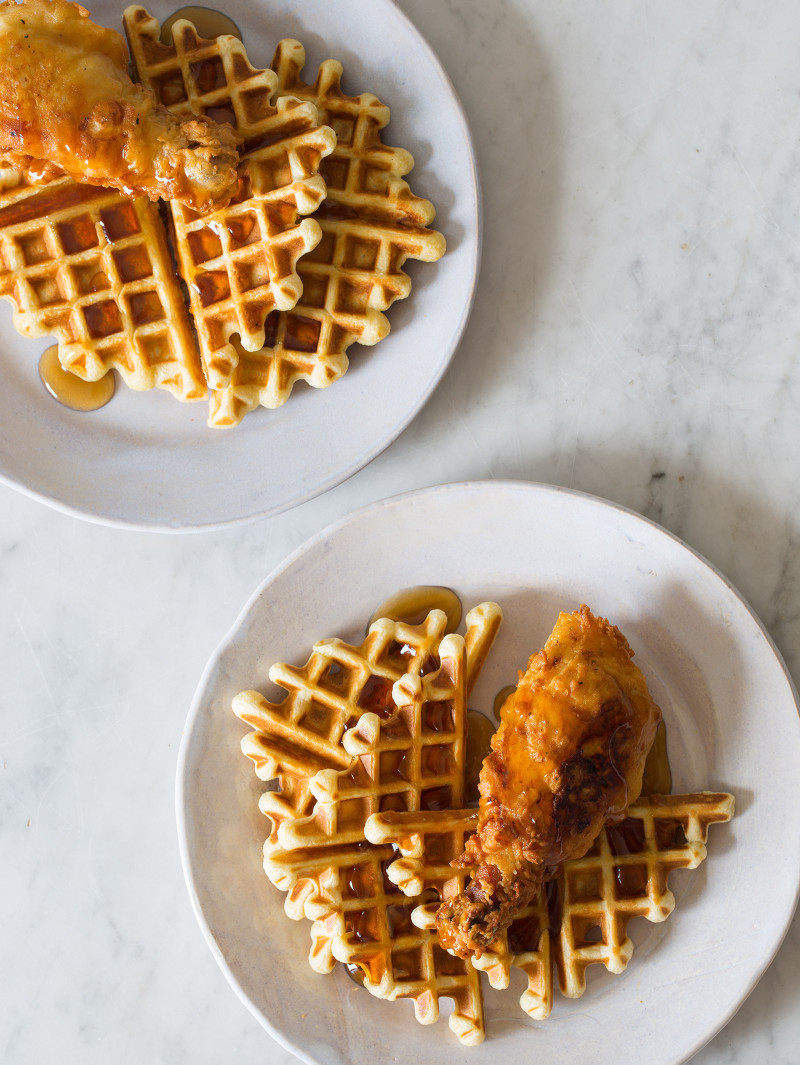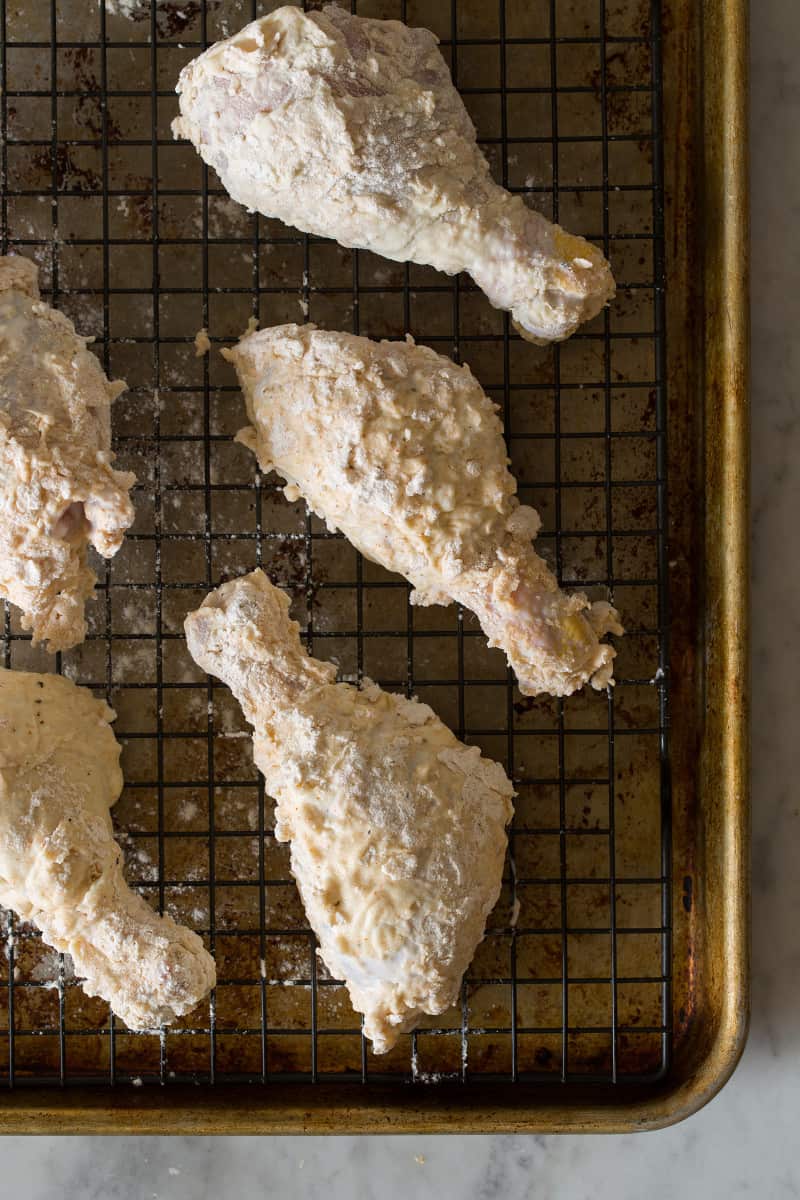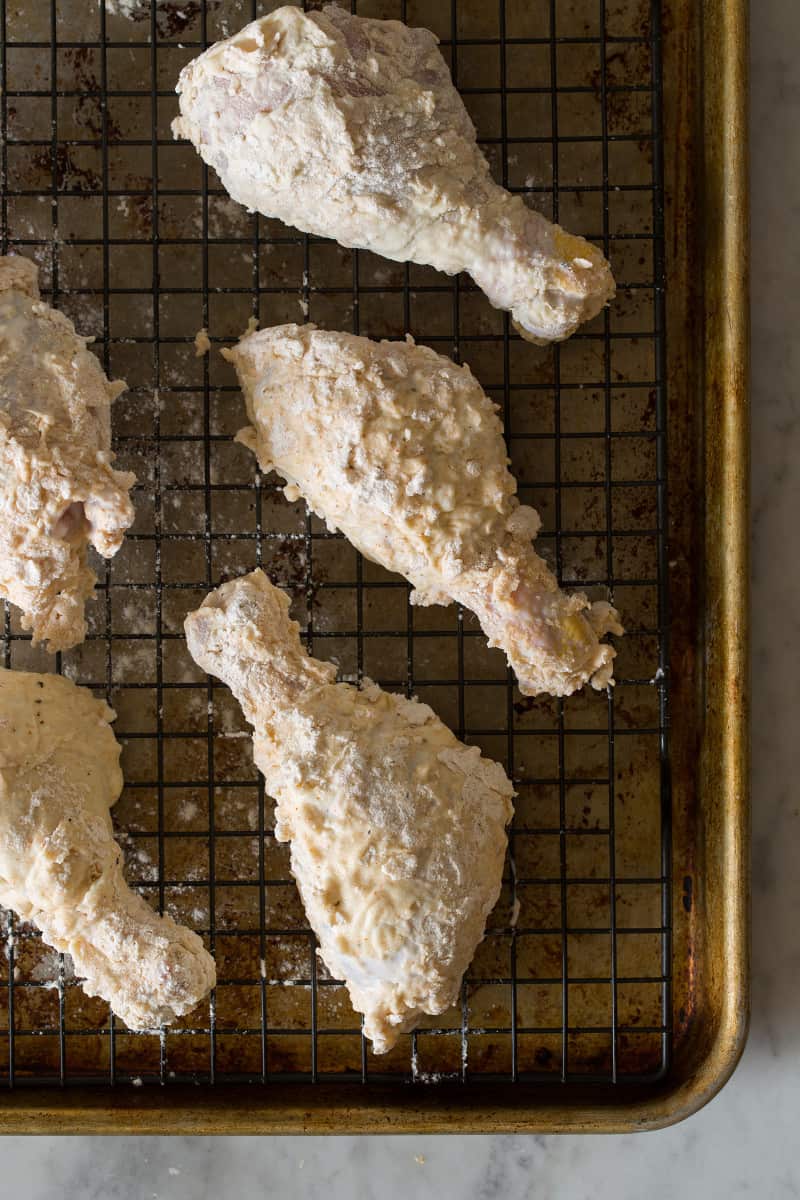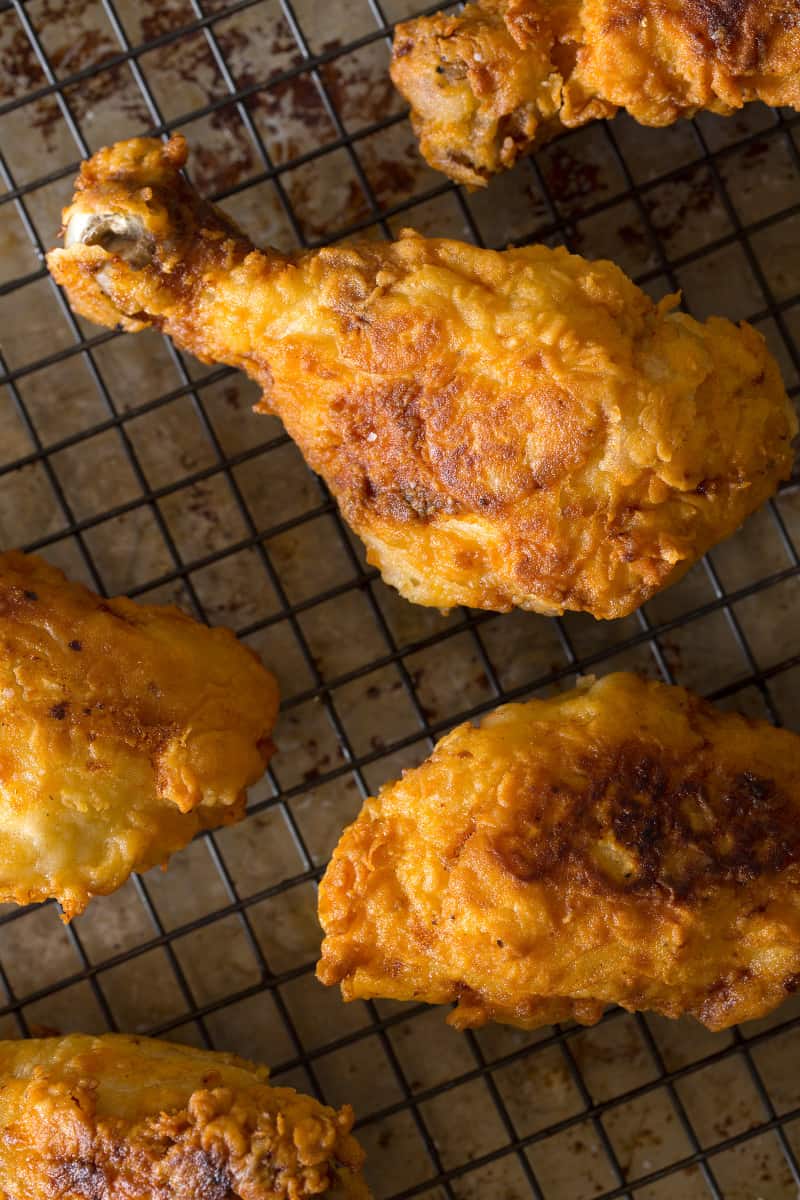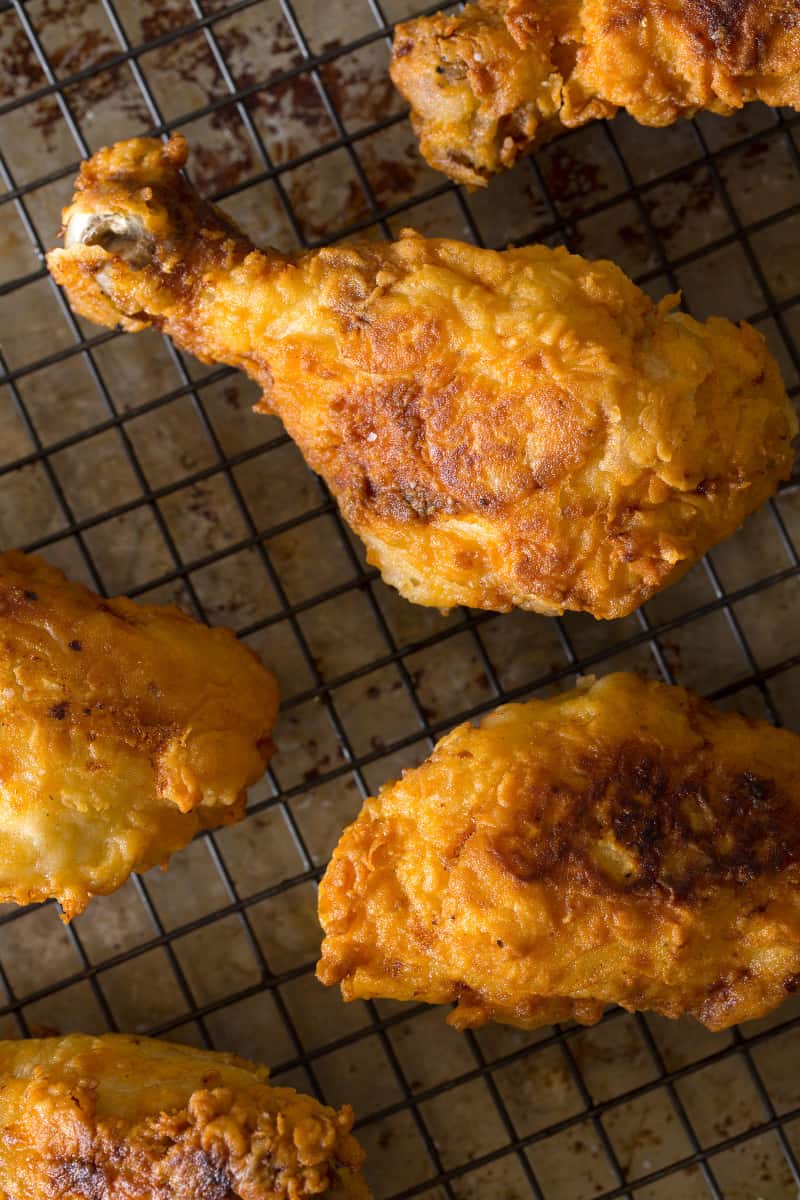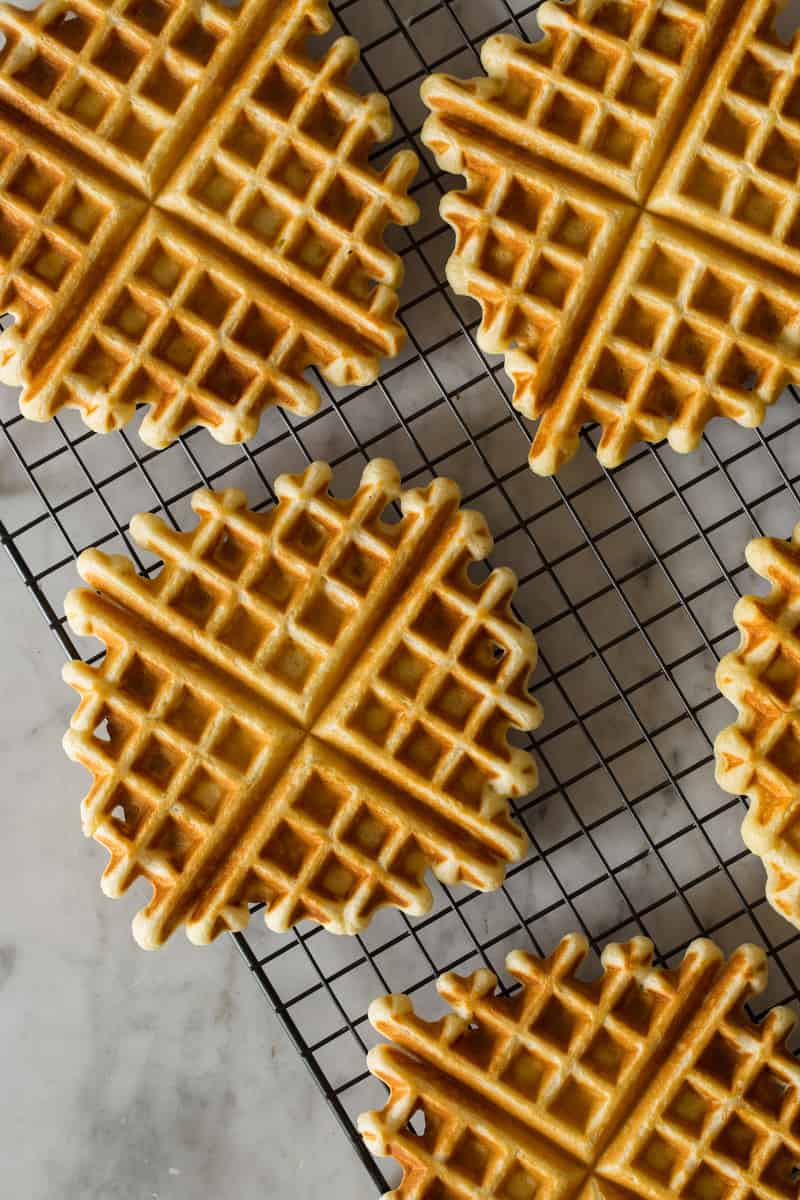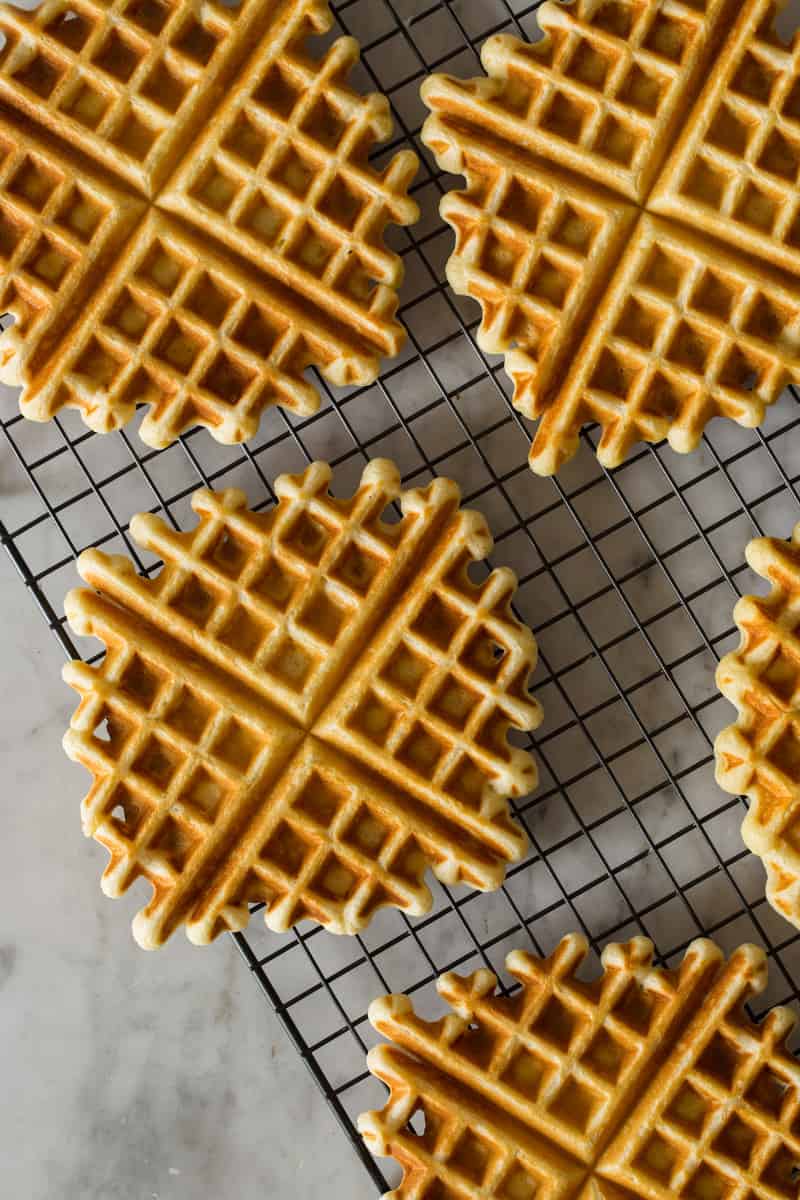 I should probably confess that I've never actually had chicken and waffles at a diner, restaurant, etc….ever. I've eat my fair share of both fried chicken and waffles, but never ordered together. That's okay though, right?! (I know it's not okay and I should change this pretty soon). With that said, I really love chicken and waffles, ha! The combination of perfectly crisp and juicy chicken paired with a piping hot and fluffy waffle, all sitting under river pools of sweet maple syrup and melting butter…perfection.
I only fry chicken at home two times a year and one of those times always involves waffles. Since it's only a couple times a year occurrence in our household, it's usually a big ordeal. I always start by brining my chicken pieces. 8 out of 10 times I'm dealing with chicken (in any cooking capacity) I'll give it a quick brine. Brining chicken is one of the easiest things to do and unlike a turkey you only need a few hours to really penetrate the bird with some really great flavor and to slightly tenderize the meat. You can also soak your chicken in buttermilk to tenderize your poultry, but I'm personally not a huge fan of this method. I just don't think you get the same amount of flavor as you can from simple brine. Plus you can adjust the taste of your chicken by adjusting the ingredients in your brine.
The waffle batter can be made a few days ahead of time, which is a great time saver if you're entertaining; just make sure to give it a good stir before using it, to mix up anything that may have settled at the bottom of the bowl. I really like this batter because it produces light and fluffy waffles, with a slightly crisp outer texture, which I really like.
Since it's the holiday, I feel like we're all able to get away with a little more decadence in our lives and these chicken and waffles really fit the bill. If you're still looking for a fun-entertaining menu this holiday season, put on your fat pants and make these, everyone will love you even more for it! Enjoy! xx, Jenny
More yummy chicken recipes you might like:
Hungry for more?
Subscribe to never miss a recipe.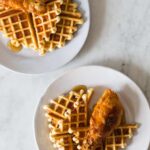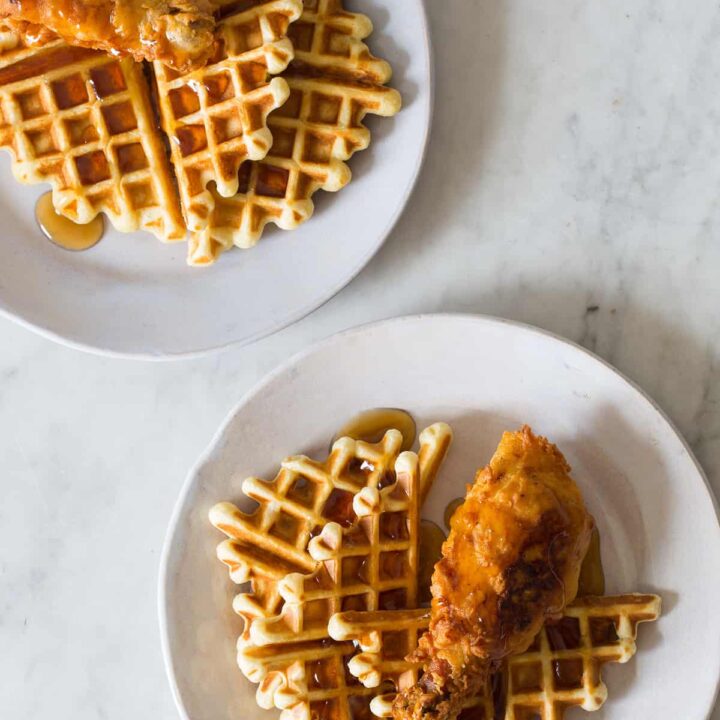 ---
Chicken and Waffles
INGREDIENTS
fried chicken
8

cups

water

½

cup

plus 2 tablespoons kosher salt

¼

cup

honey

1

tablespoon

black pepper corns

10

sprigs thyme

10

sage leaves

2

bay leaves

6

garlic cloves, lightly smashed

juice 2 lemons

rind of 1 lemon

2

cups

all purpose flour

1 ½

tablespoons

garlic powder

1

tablespoon

onion powder

2

teaspoons

kosher salt

1

teaspoon

smoked paprika

1 ½

cups

buttermilk

8

drumsticks

peanut oil for frying
waffles
2

cups

all purpose flour

1

tablespoon

plus 1 teaspoon sugar

1

tablespoon

baking powder

½

teaspoon

salt

1 ¾

cups

whole milk

2

large eggs, well beaten

½

cup

(1 stick) unsalted butter, melted and cooled

1

teaspoon

vanilla extract, optional
garnishes
pads of softened butter

maple syrup
INSTRUCTIONS
For fried chicken: Place water, salt and honey into a pot and simmer until salt and honey dissolves. Stir in remaining ingredients and cool completely. Add 4 cups ice to mixture and add chicken. Brine chicken for 10 to 12 hours. Remove drumsticks from brine and completely pat dry.

Pour peanut oil into a cast iron skillet, 2 inches high, and preheat over medium heat.

Place flour, garlic powder, onion powder, salt, and smoked paprika in a shallow dish and whisk together. Pour buttermilk into another shallow dish and dredge drumsticks in flour mixture. Shake access flour off chicken and dip in buttermilk. Repeat by dipping in the flour mixture followed by the buttermilk and the flour mixture again. Carefully drop coated drumsticks into the hot oil and fry on each side for 10 to 12 minutes or until skin has turned golden brown and chicken is cooked through. (juices should run clear when cut into). Drain into paper towels and lightly season with salt and pepper. Serve immediately with waffles.

For waffles: Preheat waffle iron to medium heat.

Place flour, sugar, baking powder, and salt in a mixing bowl and whisk together. Add remaining ingredients and stir together with a fork until fully incorporated and no dry spots remain.

Lightly spray the well of the waffle iron with cooking spray and pour ⅓ cup of batter into the center of the well. Gently close the lid and cook until golden brown. Serve immediately.
Serving:
1
serving
Calories:
779
kcal
Carbohydrates:
90
g
Protein:
34
g
Fat:
31
g
Saturated Fat:
15
g
Cholesterol:
202
mg
Sodium:
10988
mg
Potassium:
614
mg
Fiber:
3
g
Sugar:
21
g
Vitamin A:
1065
IU
Vitamin C:
8
mg
Calcium:
342
mg
Iron:
6
mg
KEYWORD:
chicken, chicken and waffles, waffles
COURSE:
Breakfast, dinner