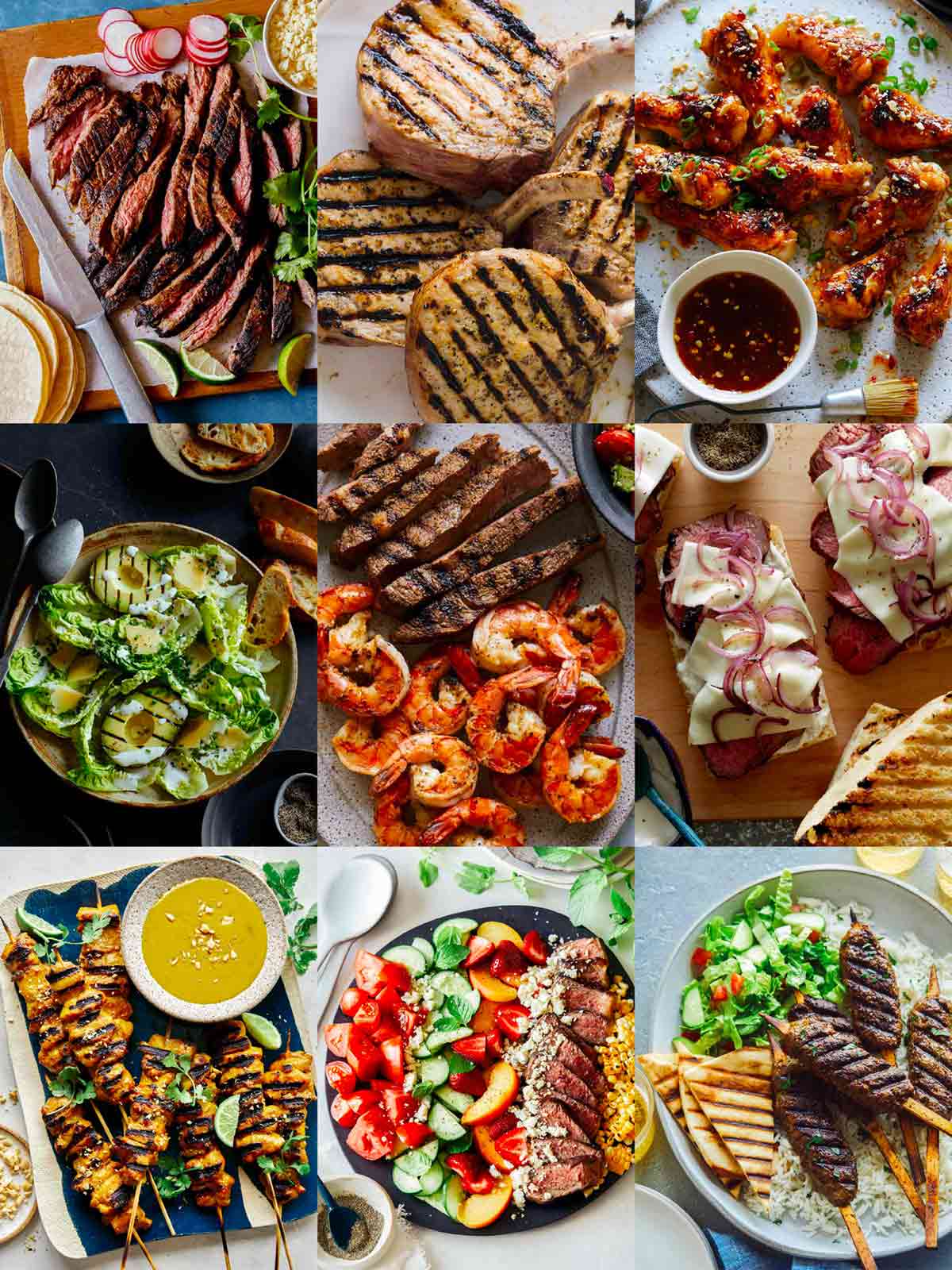 Whenever the weather starts to warm up we find ourselves turning to our favorite Grill Recipes to enjoy the weather while cooking al fresco! We just know others feel the same so we've gathered up a collection of our very best Grill Recipes for you all!
From juicy grilled carne asada, flavor packed chicken satay and grilled zucchini (that are perfect for our vegetarian tacos!) we have a little something for everyone that will inspire you to get grilling!
Easy Grill Recipes That We Love!
Grilling can be intimidating, especially if you're a beginner, but it doesn't have to be! We've carefully selected a variety of our easy grill recipes that will leave you feeling confident and ready to fire up the grill again!
Carne Asada – Our grilled carne asada recipe packs a ton of flavor. We use flap meat, but using grilled flank steak also works just as well! We marinate our carne asada in a mixture of soy sauce, lime juice, orange juice garlic, and Mexican oregano for the most flavorful results! Serve over greens or with beans and rice, make a loaded Carne Asada Burrito Bowl, Carne Asada Torta, or even Sheet Pan Carne Asada Nachos! So many options!! Serve with some yummy salsa verde, or any other toppings you love. You can't go wrong with this one!
Grilled Tri Tip Sandwiches – This is a grill recipe we absolutely crave all the time! It's so easy to make and we love serving it to guests for a casual get together. We serve our sandwiches up with a creamy horseradish sauce, lightly caramelized red onions and melted cheese for a mouthwatering treat! Throw on some grilled peppers for a little added heat!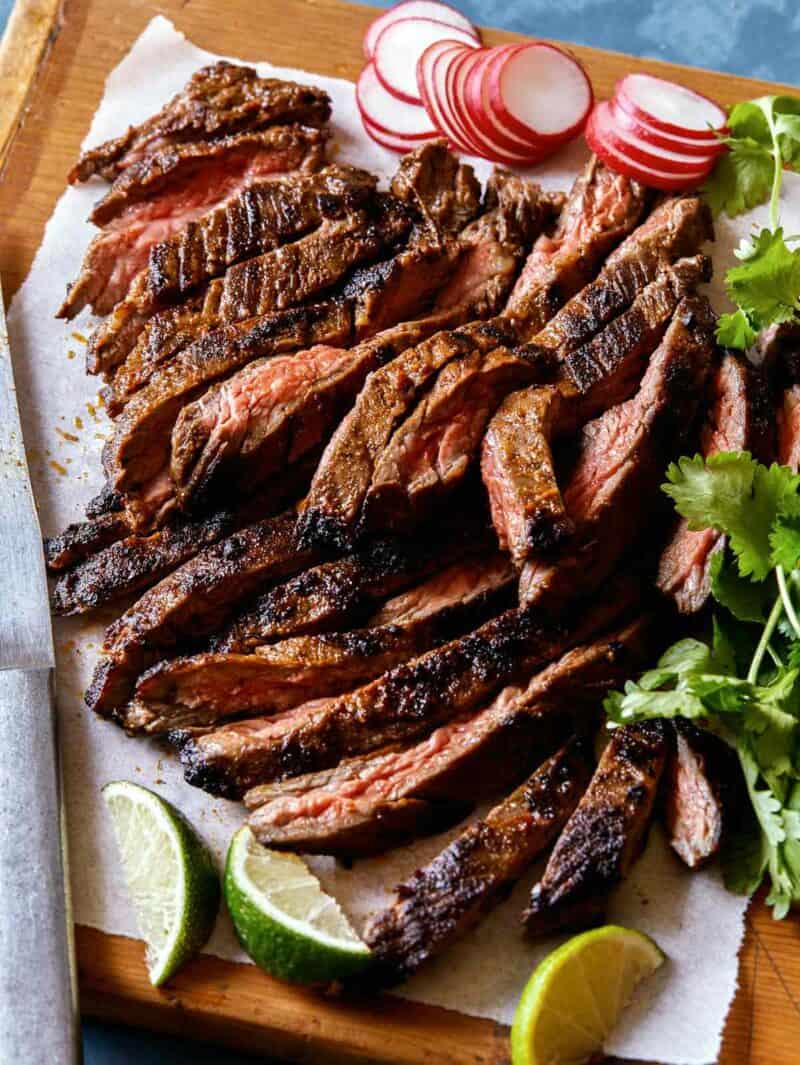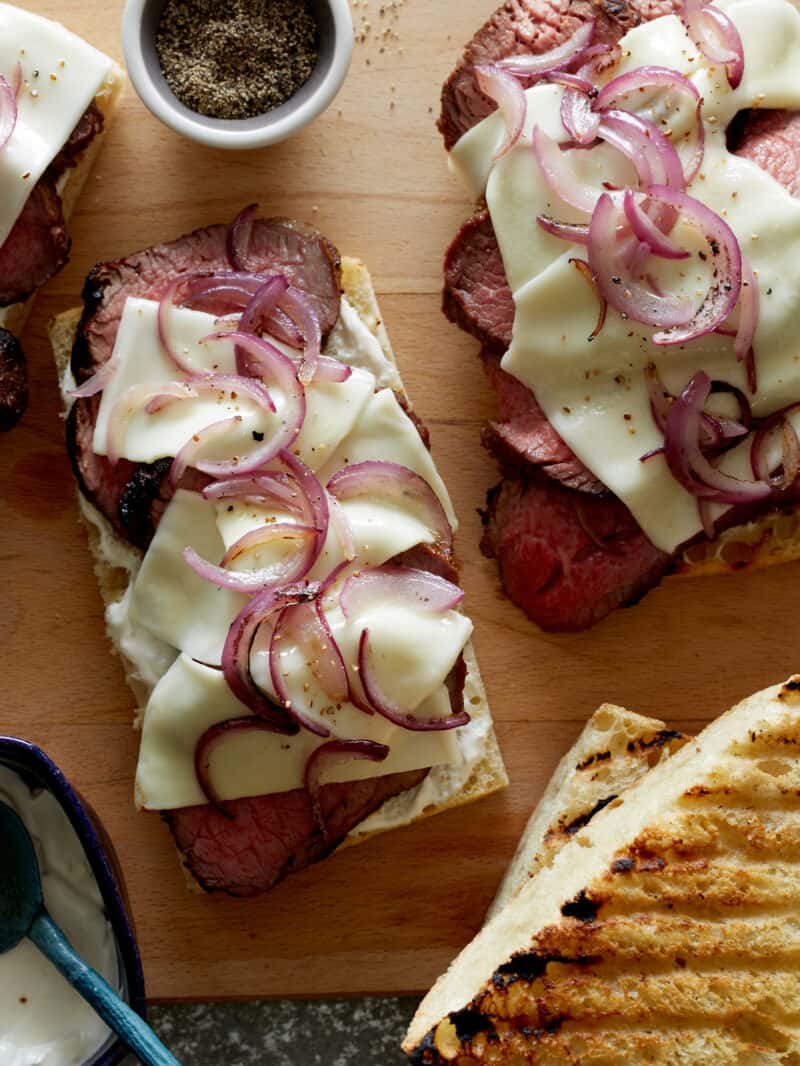 Bacon Western Double Cheeseburgers – We both LOVE burgers and this one is totally our jam! We love the char-grilled flavor from the grilled beef patties and always make our crazy delicious Beer Battered Onion Rings to stuff into the burgers (with plenty of extra to serve on the side, of course!)
Easy Grilled Rack of Lamb – Crispy skinned rack of lamb with a homemade feta horseradish sauce makes for a super delicious dinner. You won't believe how easy it is to grill lamb! Pair with some grilled vegetables like zucchini and corn for a great, complete meal!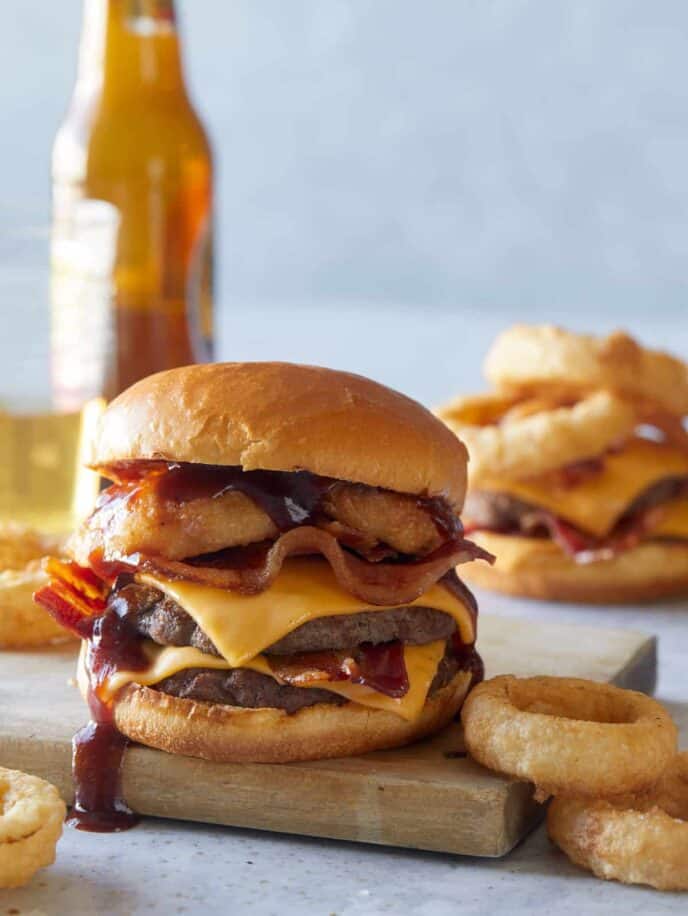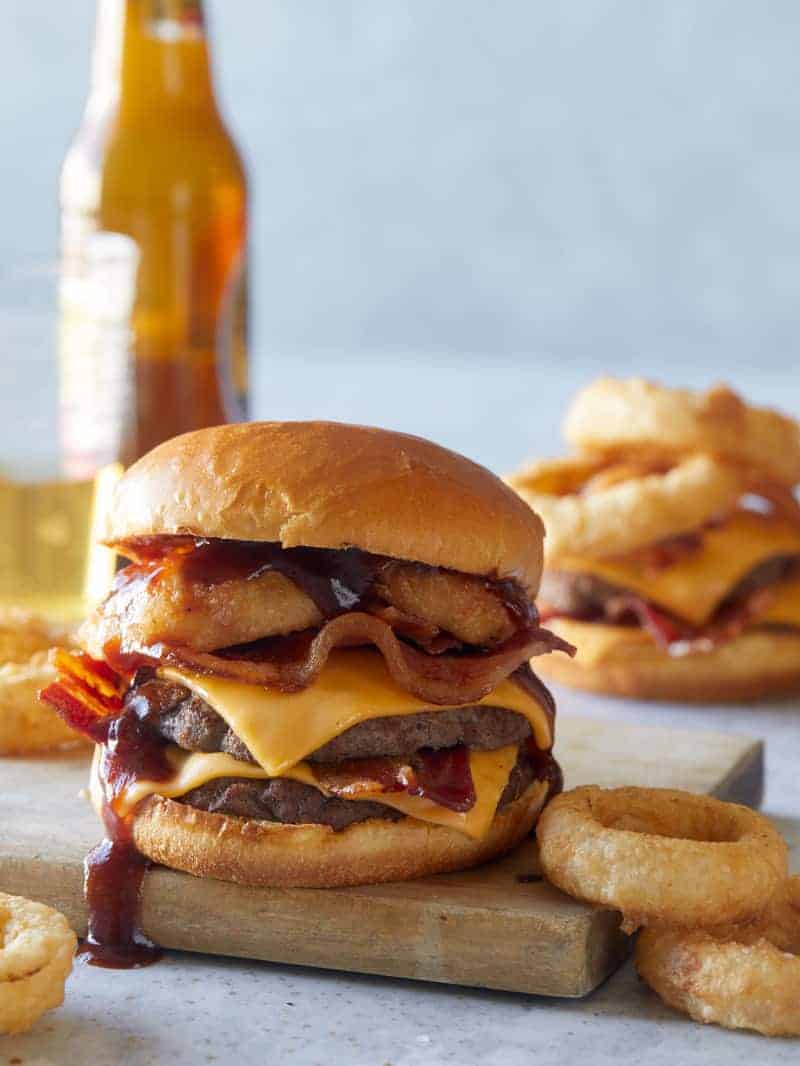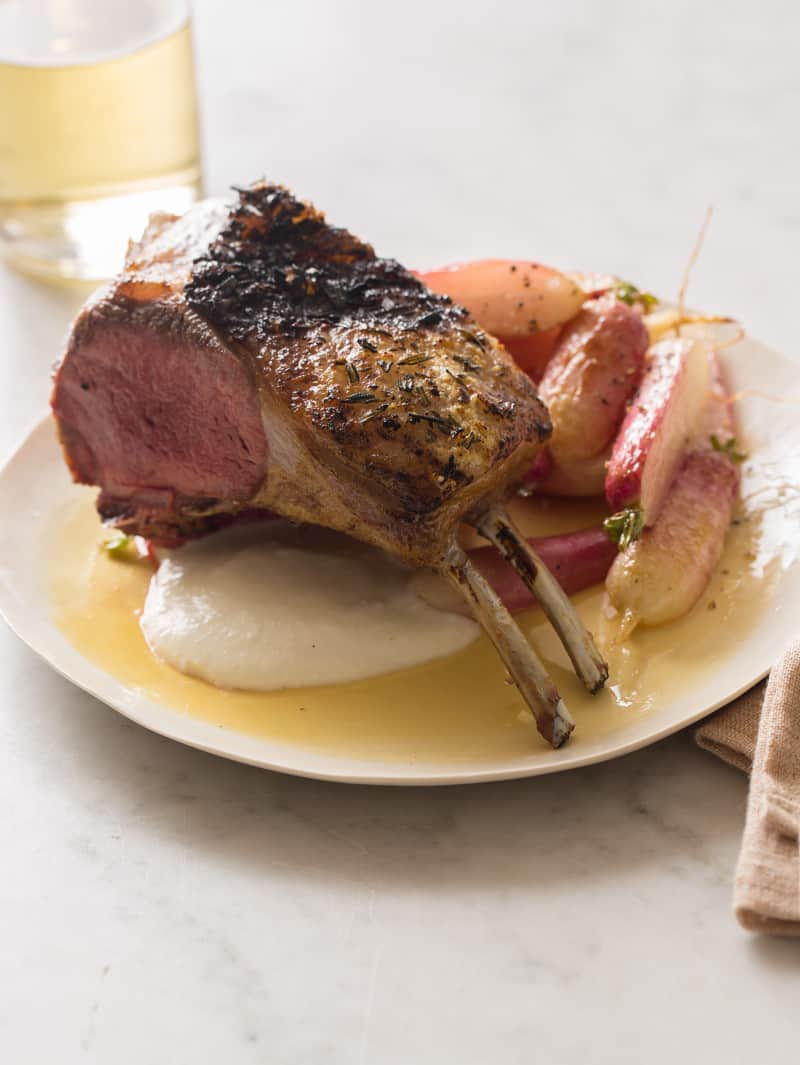 Mustard Crusted Grilled Pork Chops – These pork chops are a one of our favorite quick and easy grill recipes. Our mustard-based pork chop marinade is super flavorful and goes so well infused into the chops! These grill up in no time, making it one of the best weeknight grilling recipes.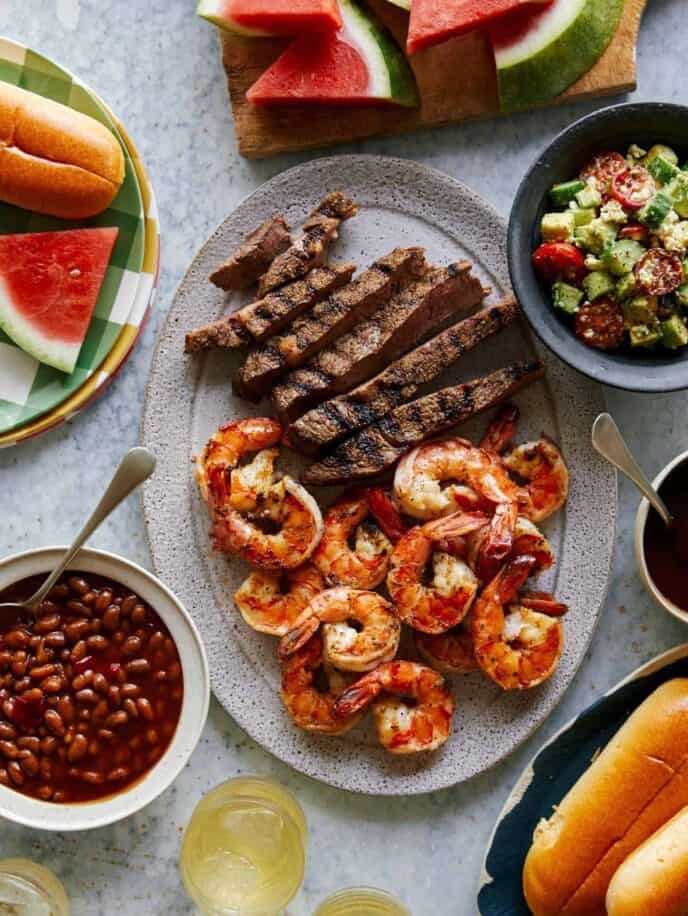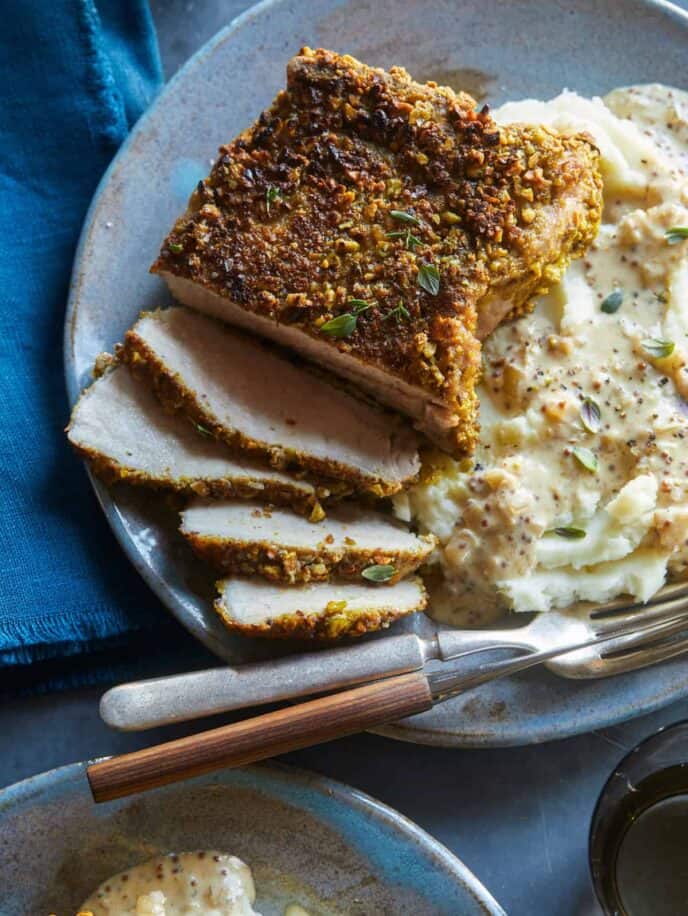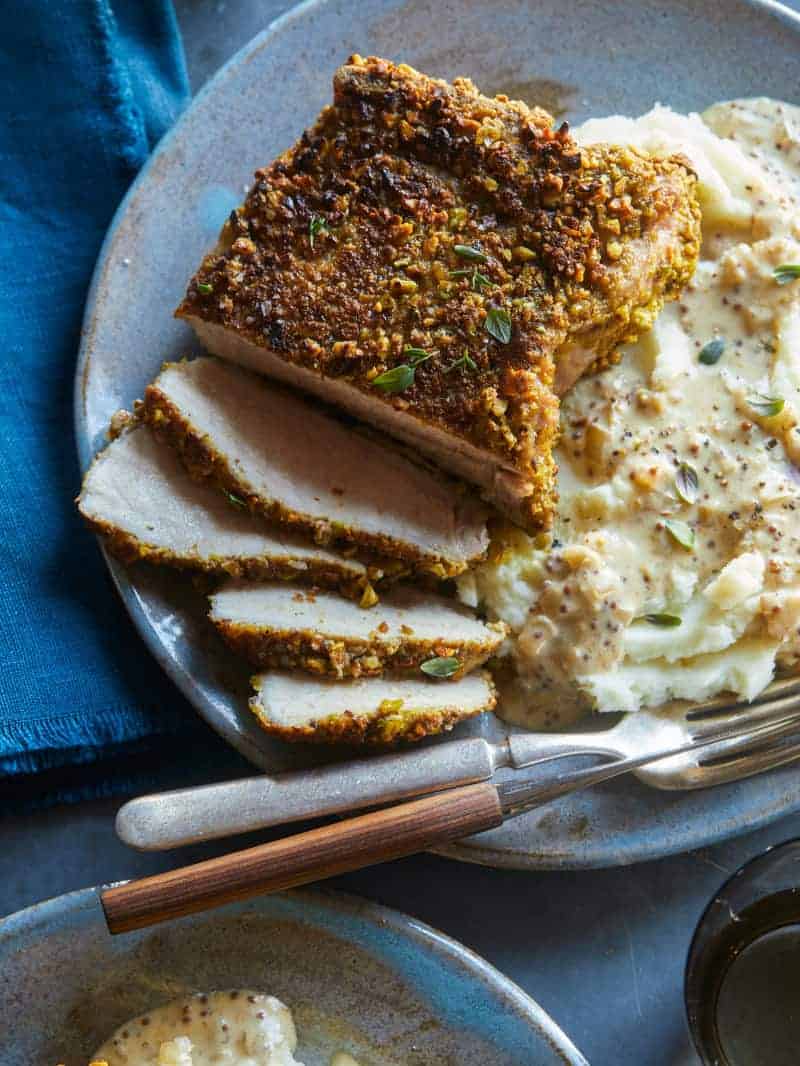 Grilled BLTA Flatbreads – This grilled pizza is a fun summer take on BLTA's. Grilling the flatbreads gives them a nice crispy texture and taste that perfectly pairs with all classic flavors of a BLTA.
Grilled Peel and Eat Shrimp – This is our favorite grilled shrimp recipe! Leaving the peel on when cooking not only helps to keep the shrimp nice and moist, but the shrimp shells also hold onto so much of the delicious grilled shrimp marinade!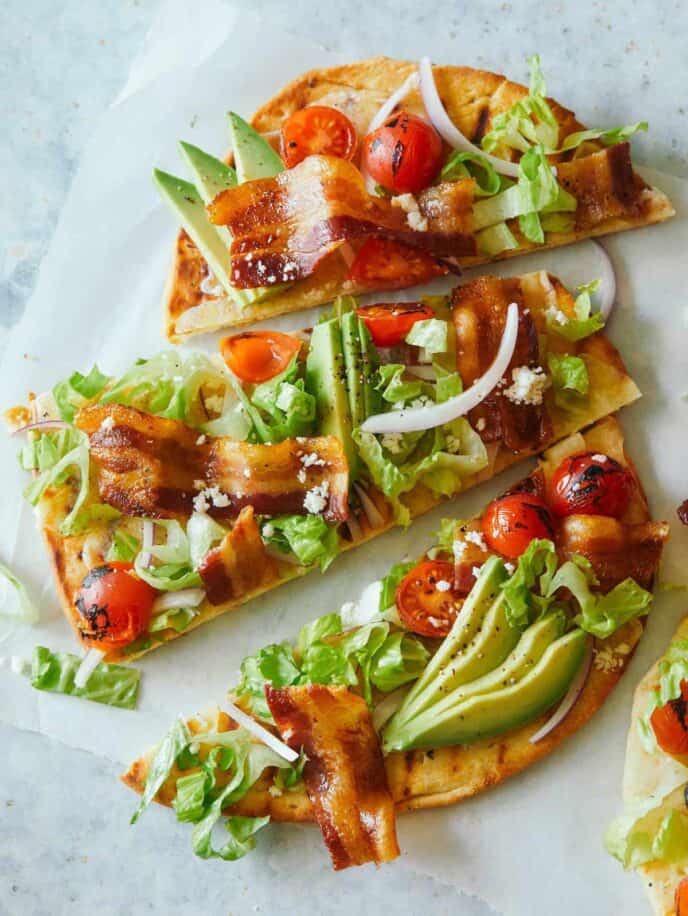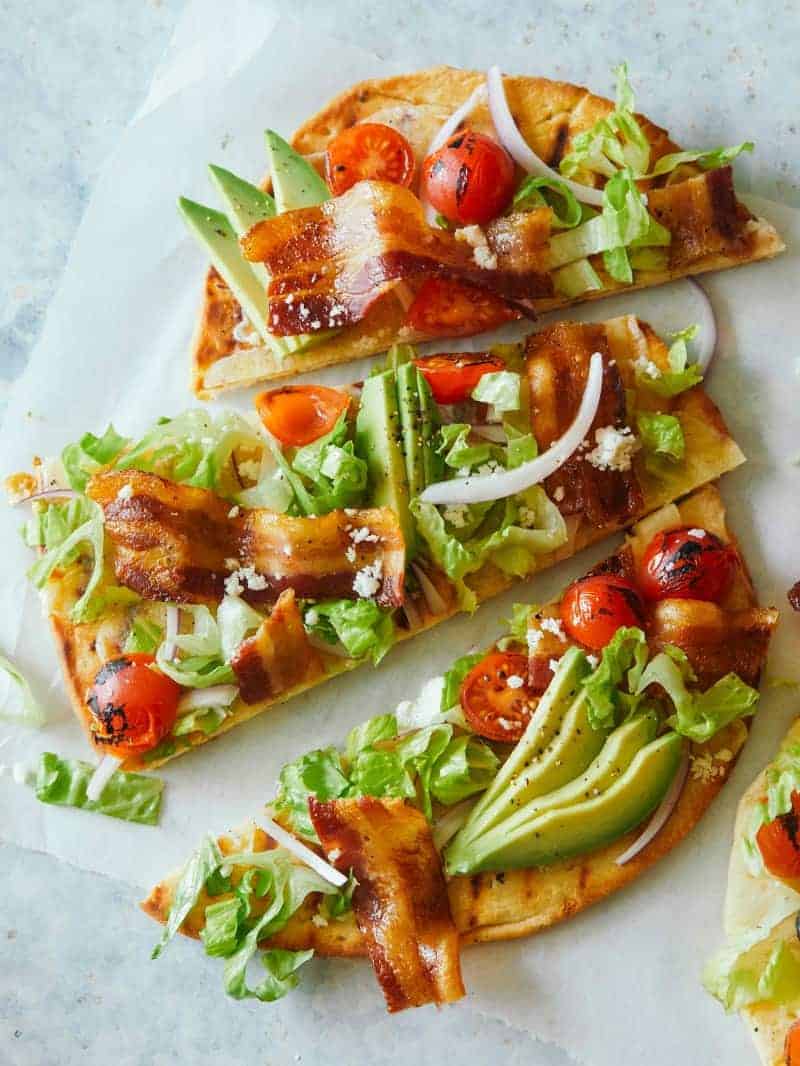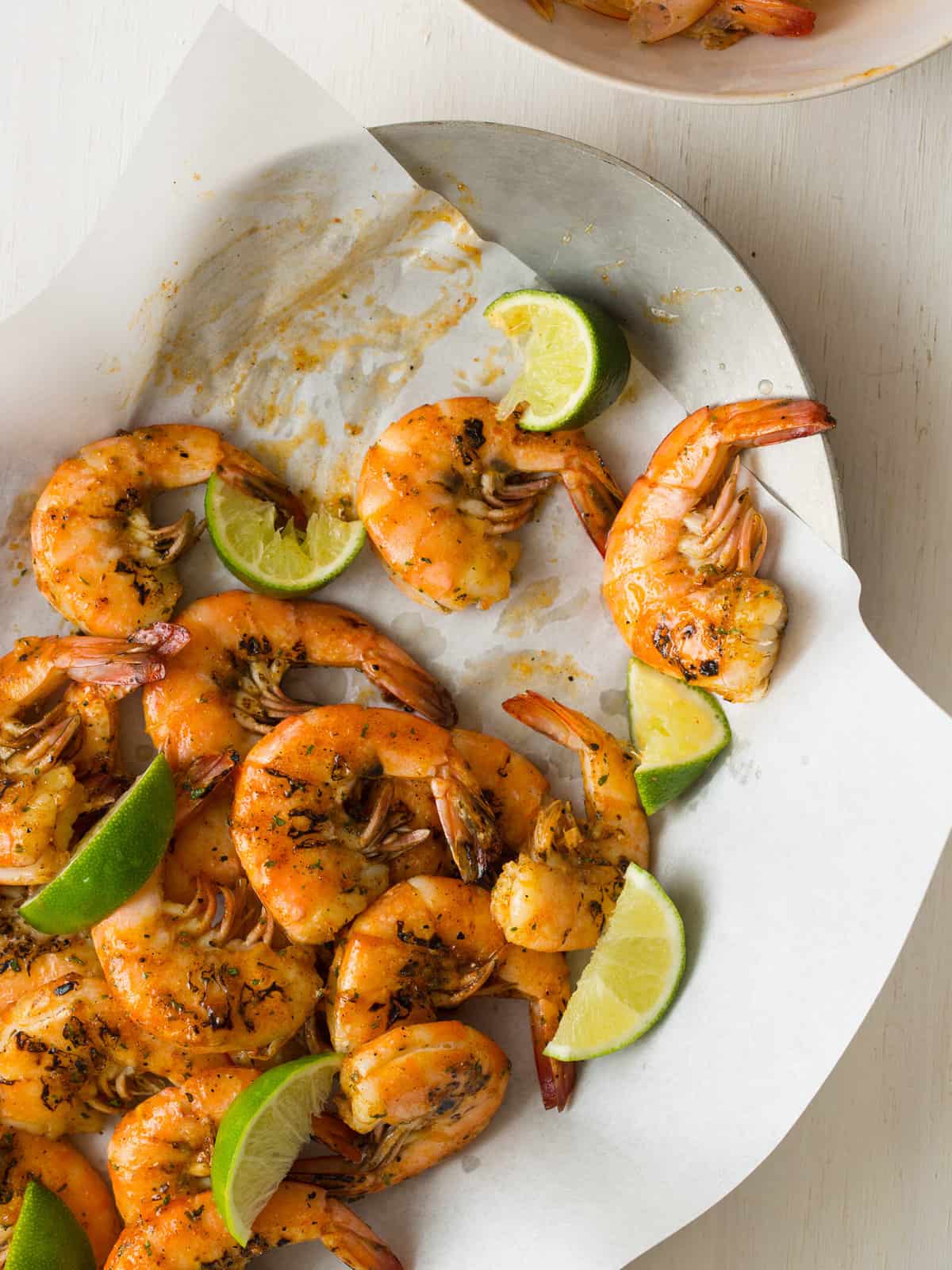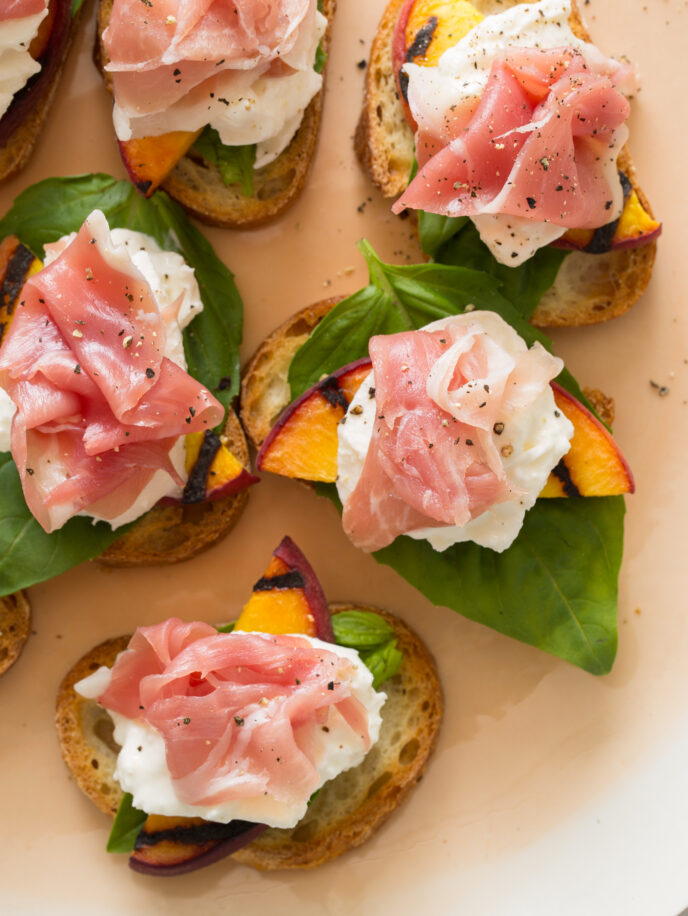 Our Favorite Grilled Chicken Recipes
Chicken is one of the easiest things to grill. We have a handful of grilled chicken recipe staples we love. Most of our chicken recipes on our entire site can also be easily adjusted for the grill. Here are some favorites and most popular grilled chicken recipes!
Spatchcock Chicken – We definitely make this recipe a couple times a month, making it a true staple in both our households. We love how the chicken is just smothered in delicious herb butter! When weather permits we love making this easy grilled chicken recipe on the grill! It's also one of our favorite Traeger recipes, which adds a really nice smokey flavor to the chicken!
Cilantro Lime and Yogurt Grilled Chicken Wings – This is another perfect grilled appetizer recipe. If you've never marinated chicken in yogurt before, you're in for a huge treat! The yogurt not only adds fantastic flavor to the grilled chicken wings, but it also tenderizes the chicken incredibly well!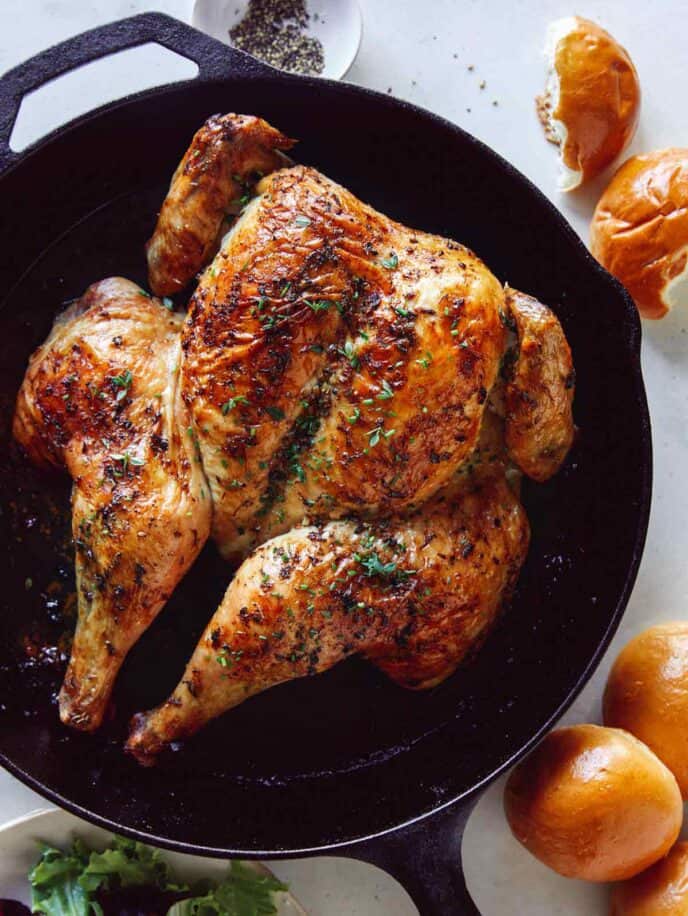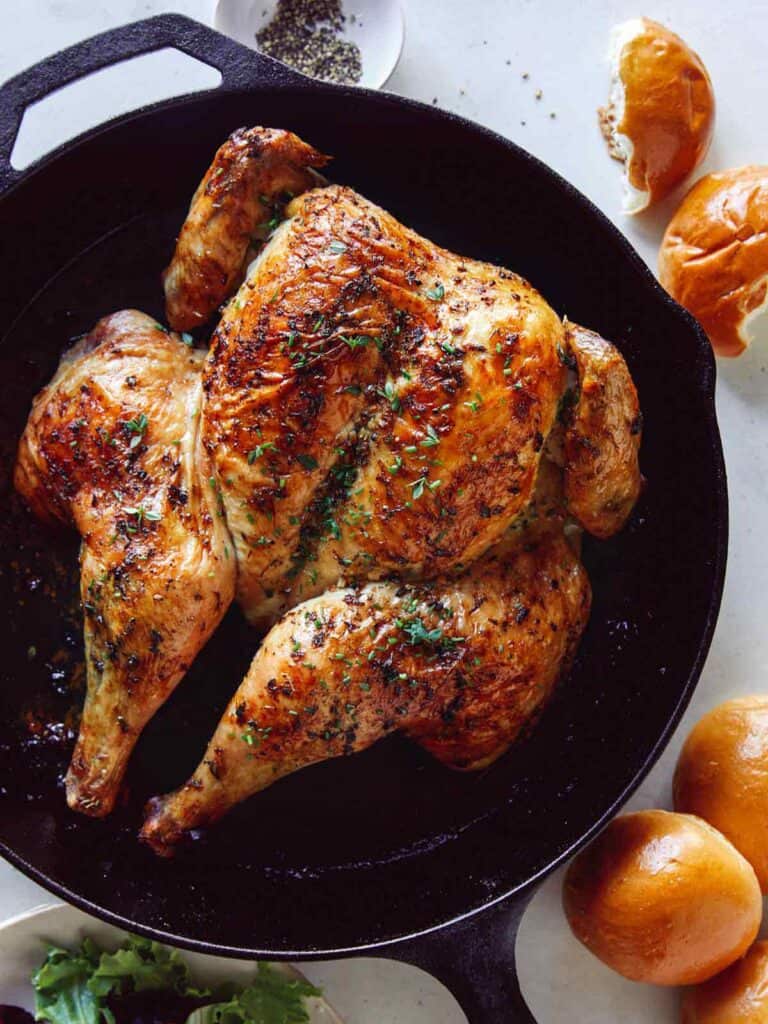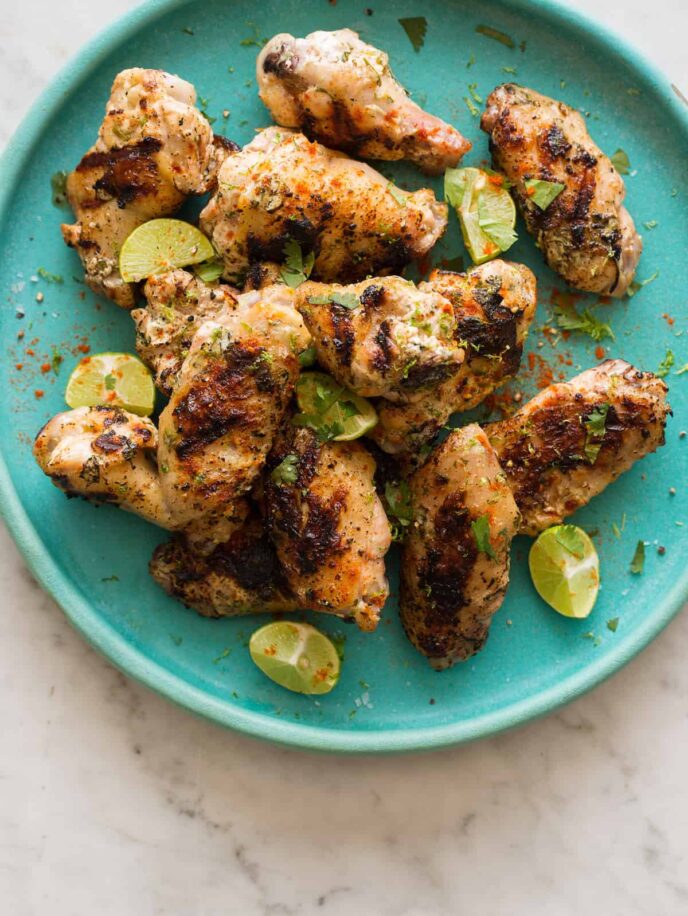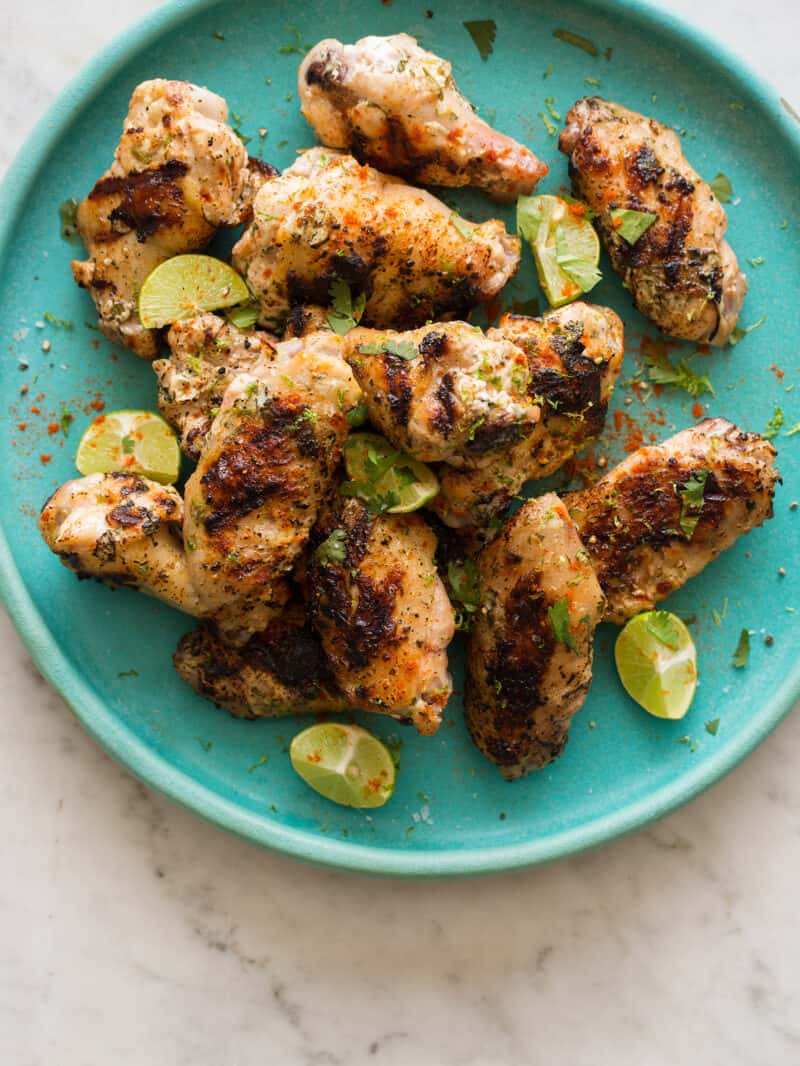 Chicken Fajitas – We usually sauté our fajita mixture over the stovetop, but when the weather warms up we LOVE throwing the chicken on the grill! We cook up our chicken breasts whole on the grill before slicing them up and adding them to the bell peppers and onions. The chicken marinade for this recipe packs a ton of flavor, and makes the most delicious, tender fajitas. Don't forget to grill up you tortillas too, you won't regret it!
BBQ Chicken Salad – This is one of our favorite salads on the site and another time we love breaking out the grill when weather permits! We love using grilled chicken thighs for this recipe, but you can totally substitute with boneless skinless chicken breasts if you prefer. We slather the grilled chicken in our homemade bbq sauce recipe, but you can totally use store bought barbecue sauce if you want to save a little time. If you decide to grill chicken breasts, an instant read thermometer is super helpful, we like this one, so you can ensure your chicken is grilled at the correct temperature and doesn't overcook and dry out.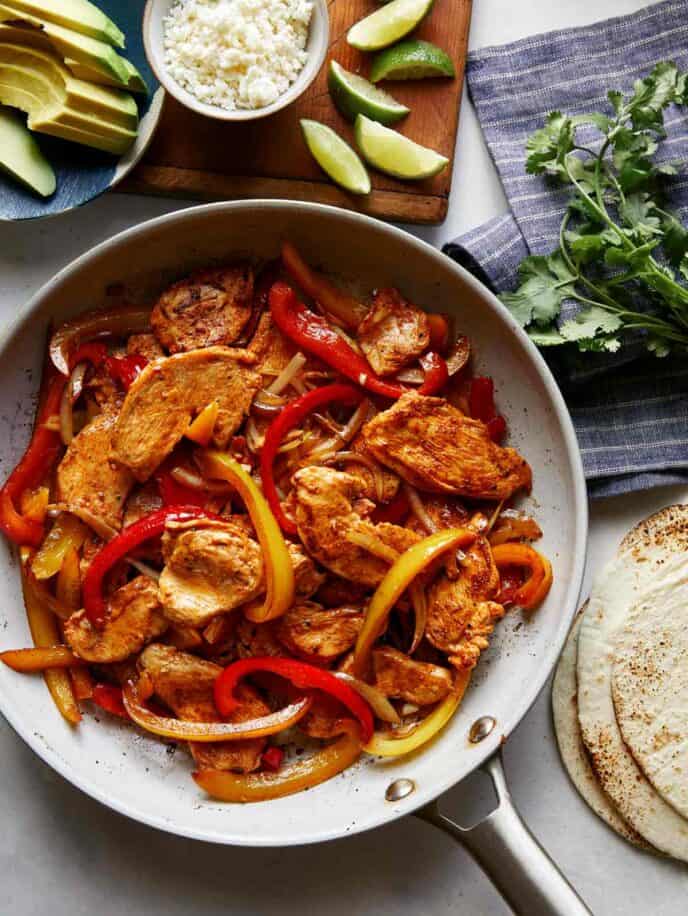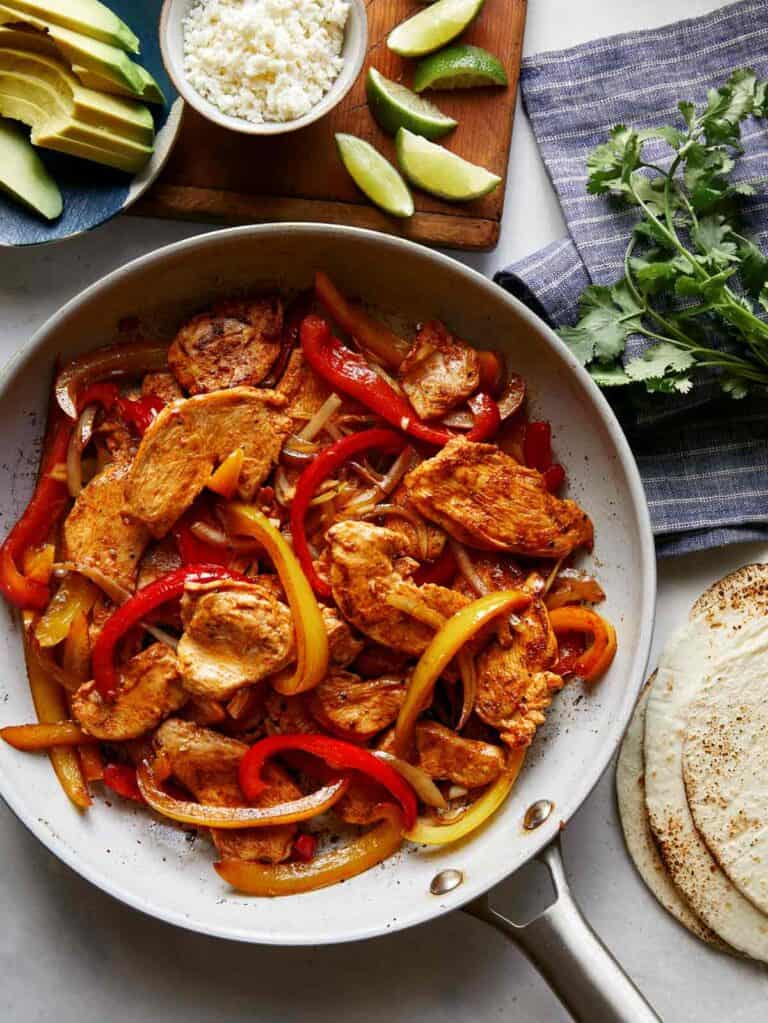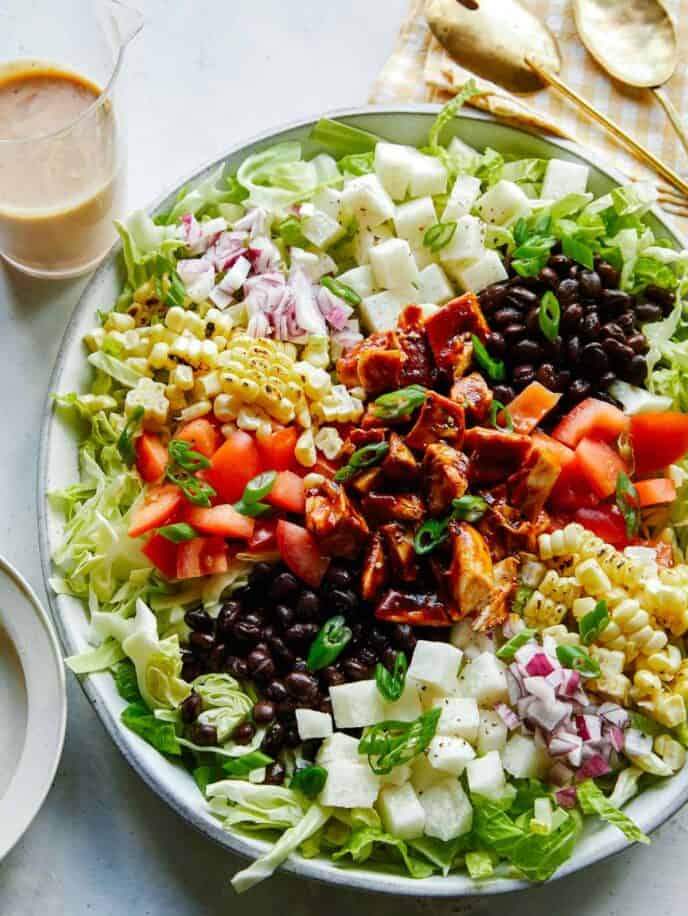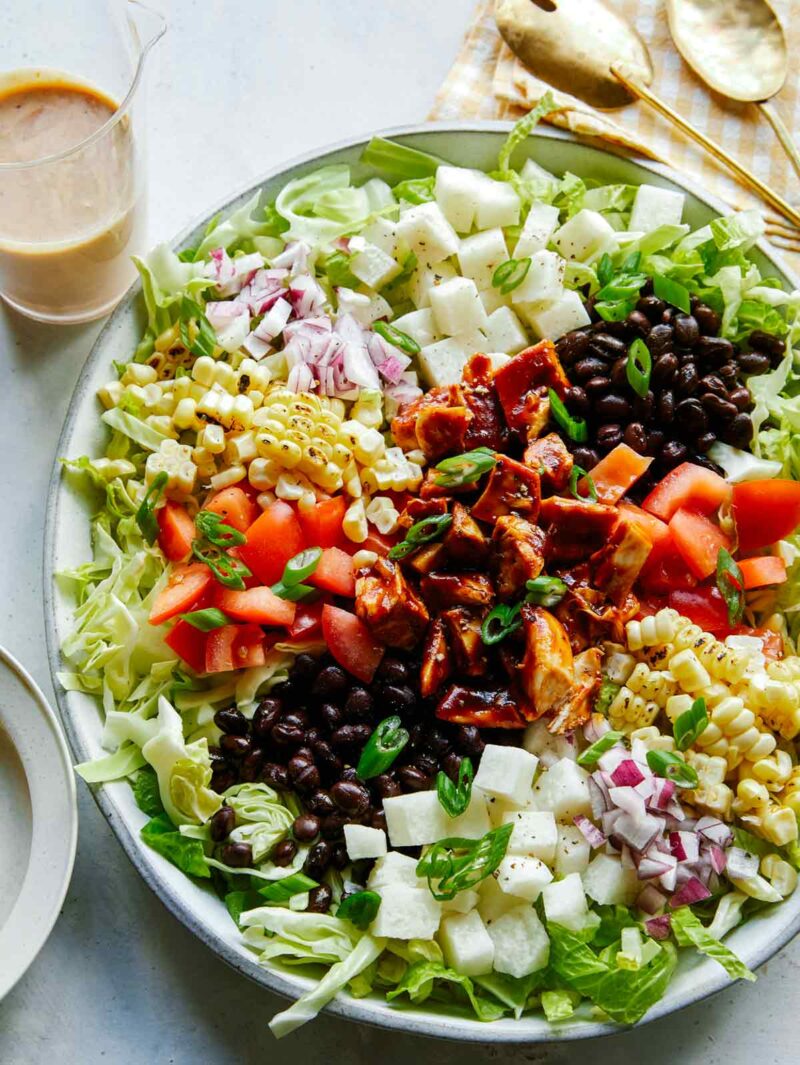 Grilled Salad Recipes are Perfect for Dinner on the Lighter Side!
We love a delicious grilled salad during warm months. Whether we're serving it as a side dish or loaded entree we're here for it! There are so many different ways to make a delicious grilled salad and we've chosen our favorites below!
Loaded Salmon Summer Salad – It's always a good idea to have some delicious lighter (but still very filling!) salads up your sleeve when the weather get's too hot and you just need something light. Just like our bbq chicken salad, this is another favorite! The original recipe calls for the salmon to be broiled, but swapping out for grilled salmon adds just a hint of that delightful smoky, chrred flavor that we absolutely love!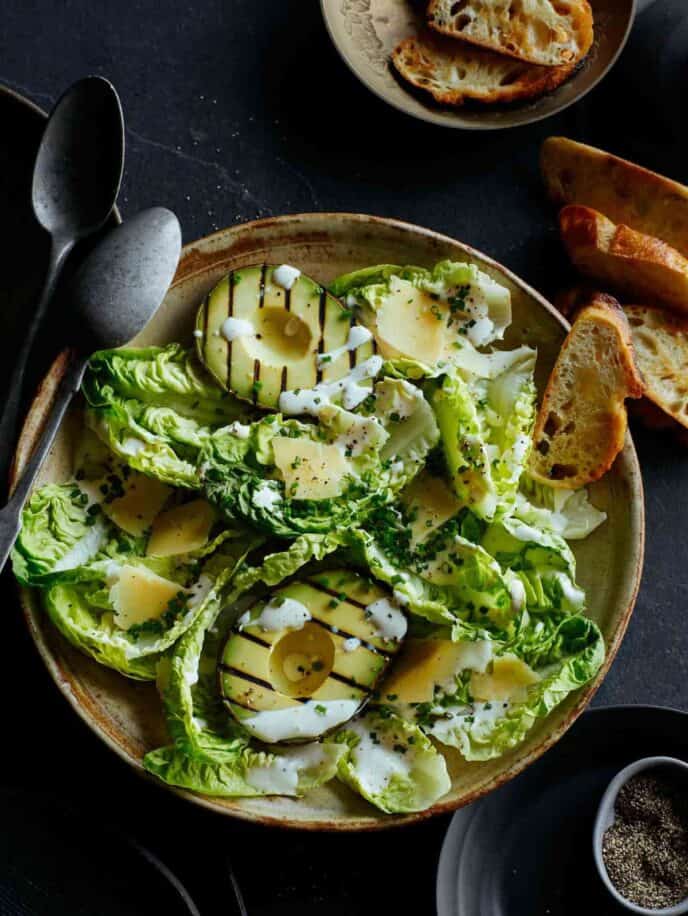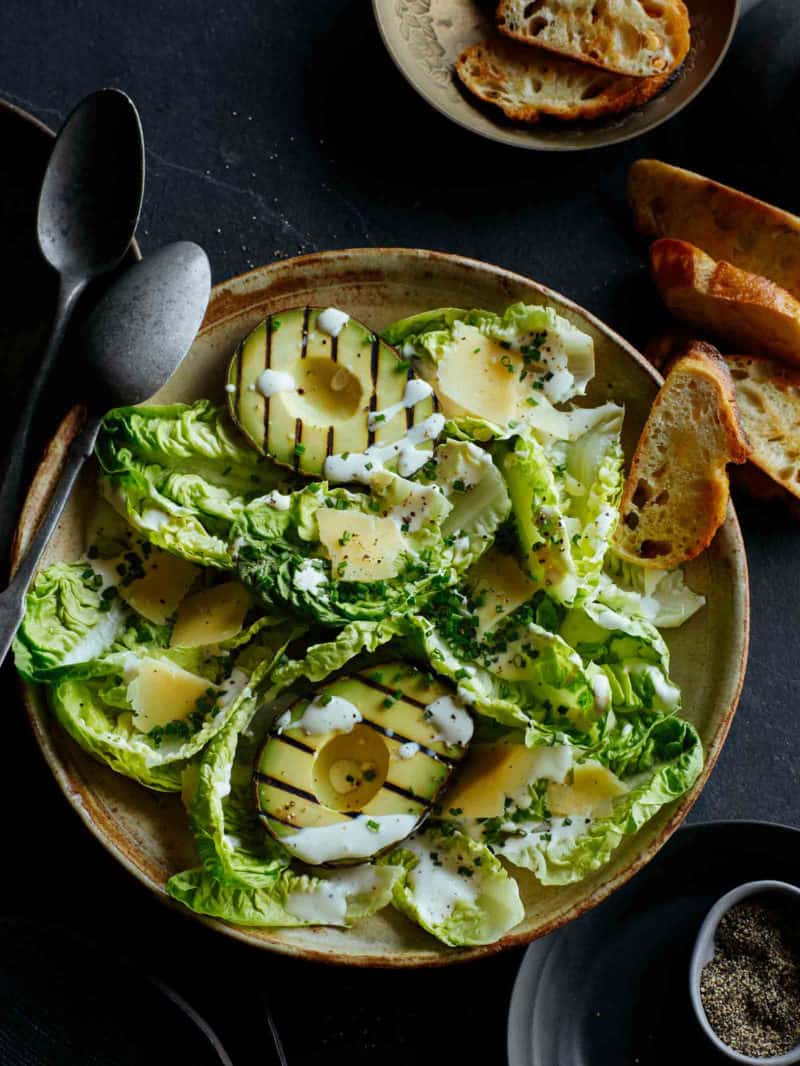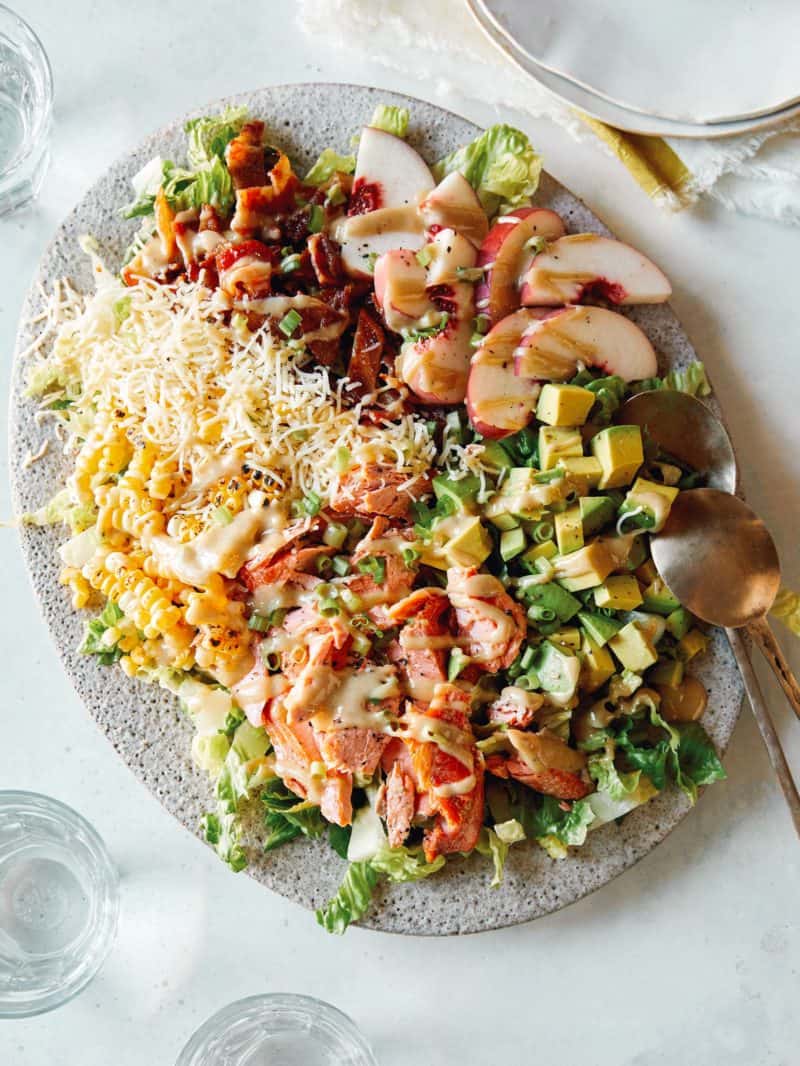 Summer Steak Salad – One of our favorite grill recipes ever! This fresh and easy recipe utilizes a lot of seasonal summer ingredients, so the prep is really just all about heading to the store and picking out the freshest ingredients you can find and throwing it all together. It's one of our favorite parts!
Grilled BLTA Gem Salad – If you've never grilled lettuce before, it's amazing! It's such a fun and easy way to infuse smoky flavor into a salad. We packed this salad with avocado, bacon, and tomatoes. Throw some grilled chicken on top for some added protein!
Grilled Skirt Steak Salad – We love this super summery salad so much! The skirt steak marinade not only flavors the beef well, but it also helps to tenderize it. Skirt steak is also great for high temperatures, quick cooking, making it perfect for a quick sear on the grill. Finish it all off with a sprinkle of red pepper flakes for a touch of heat. You will fall in love with this beef, peach, burrata, and arugula combination!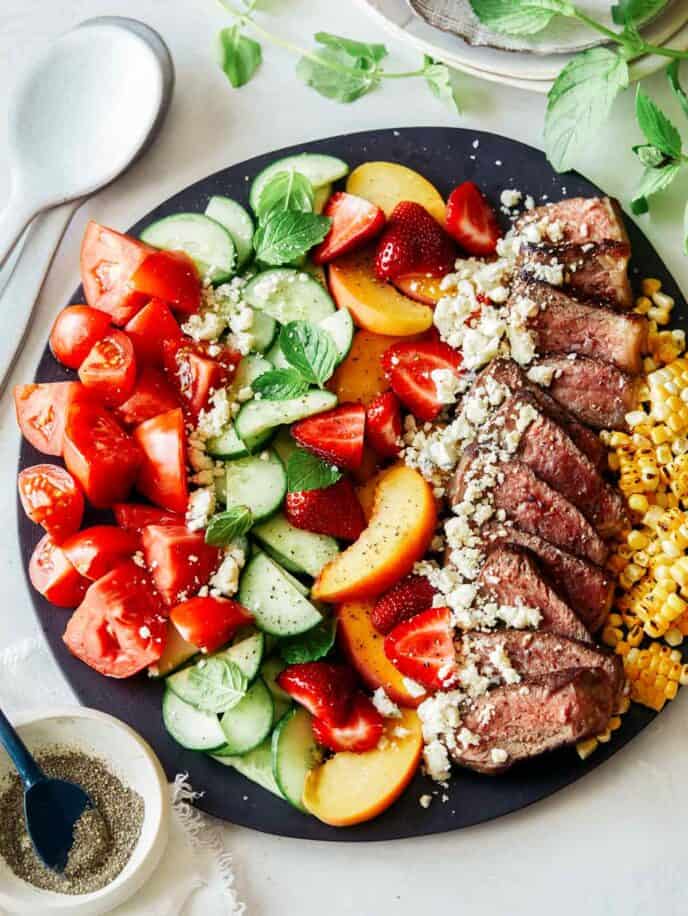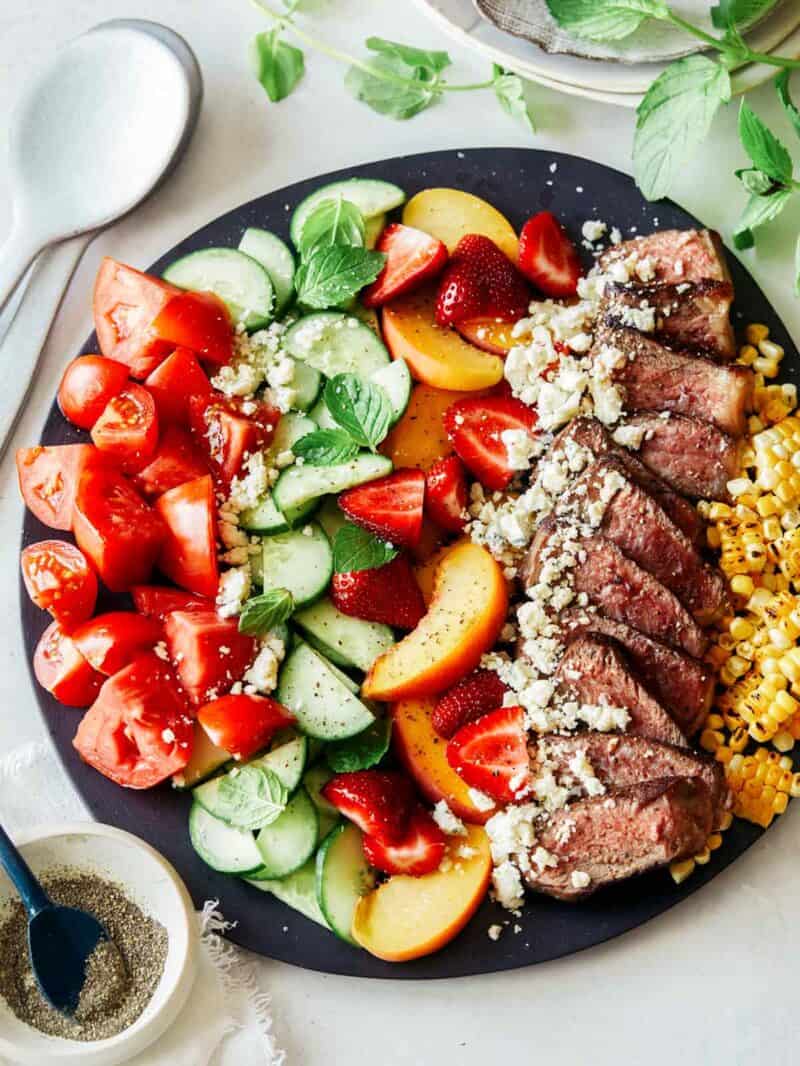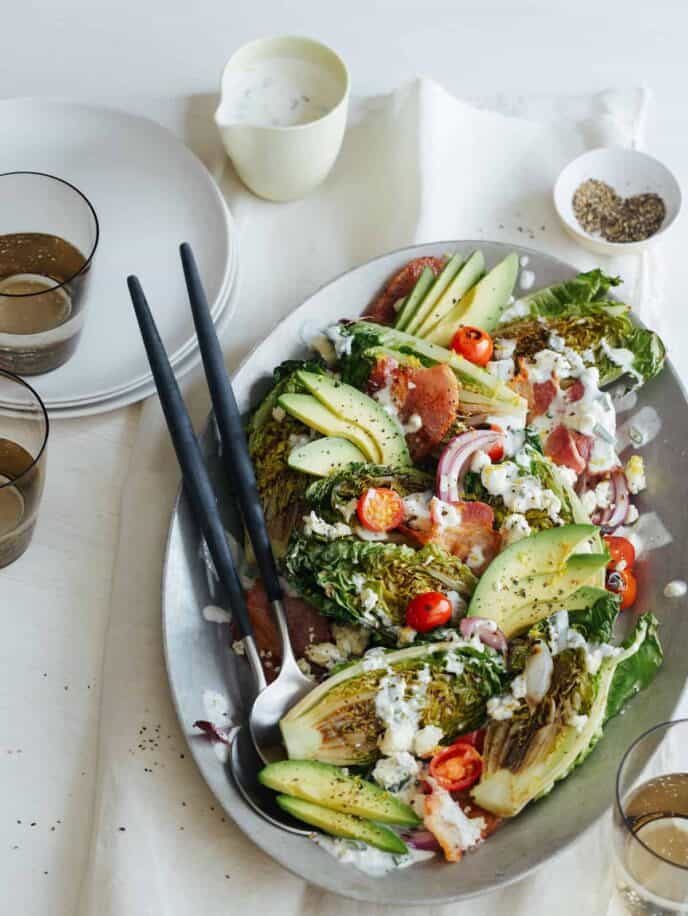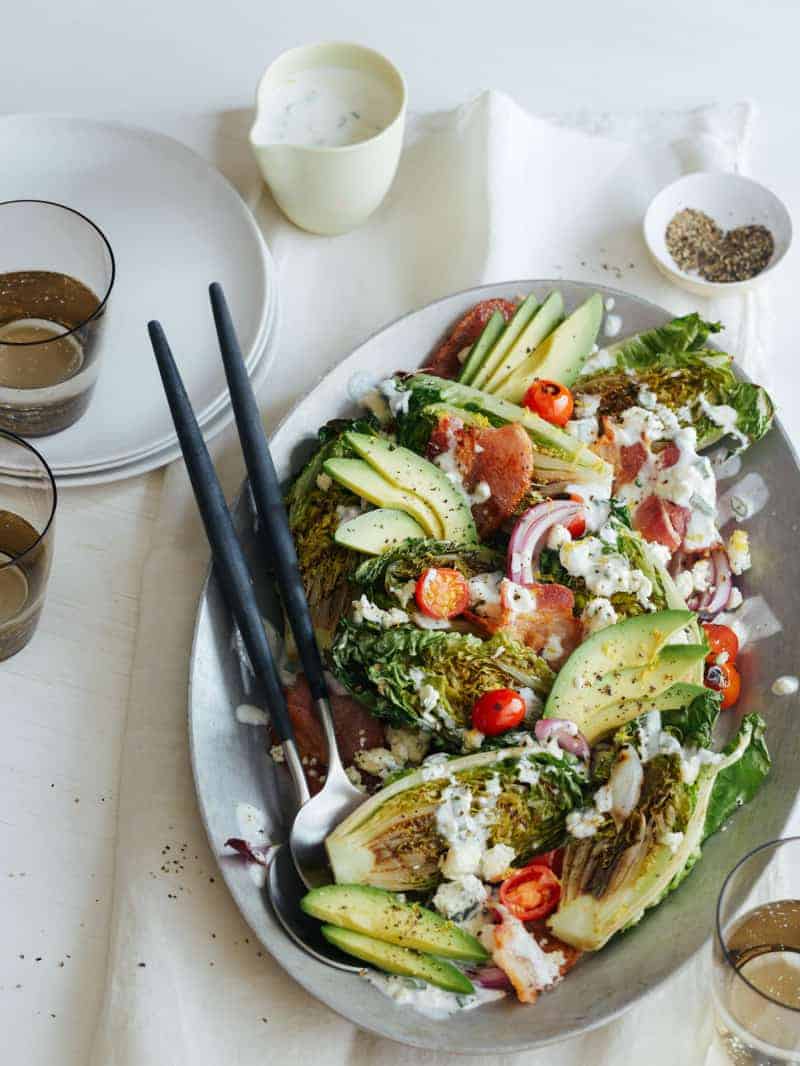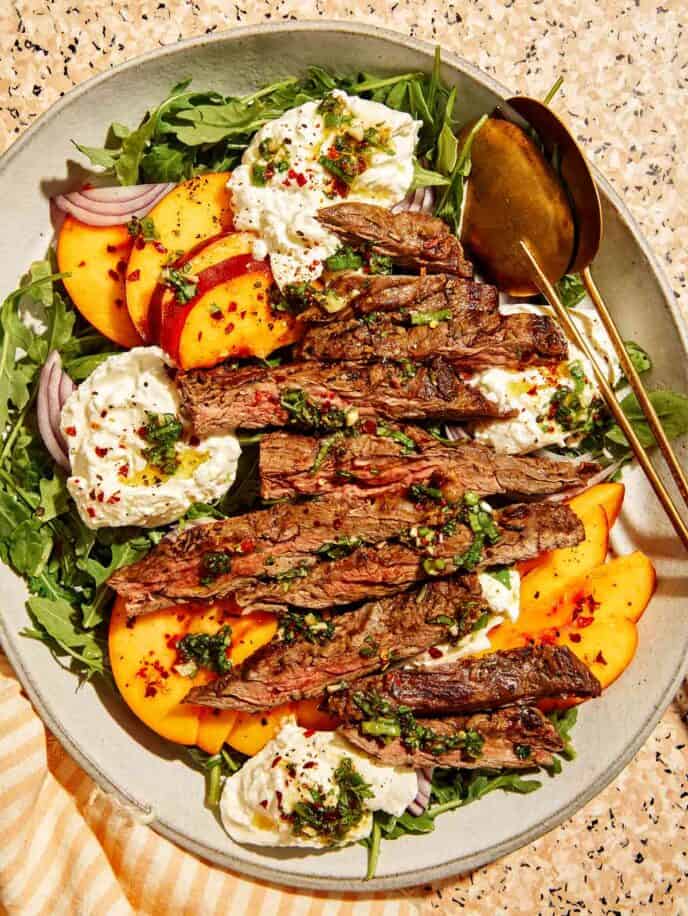 Grilled Kabobs Make Easy Dinners!
We love a great grilled kabob and also love how they tend to make grilling a little easier. We have just a few of our most favorite grilled kabob recipes that also happen to be some of our most popular ones on our site!
Lamb Kofta – Our Lamb Kofta recipe is super flavorful. I also love this recipe for the dead of summer when the heat is almost a little too much because the kofta pairs so well with lots of fresh vegetables like cucumbers and tomatoes.
Chicken Satay – For this grilled chicken recipe we use chicken thighs because we love the flavor, but you can totally substitute for chicken breast if you prefer (just shorten the grilling time by several minutes to ensure juicy grilled chicken breast pieces every time). It's the perfect grilled appetizer recipe! The peanut dipping sauce is so creamy and delicious you'll want to pour it on everything.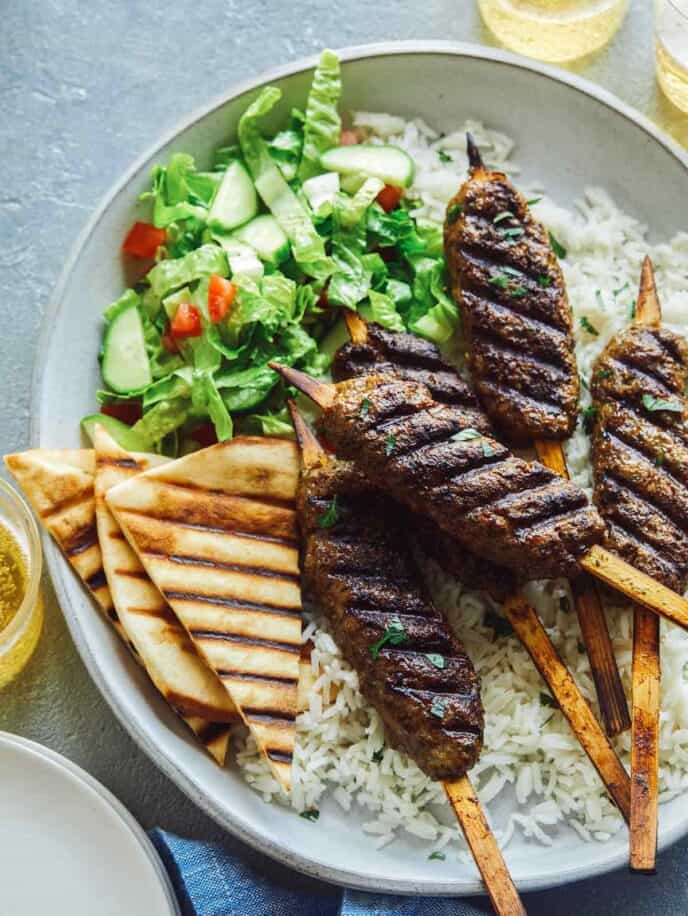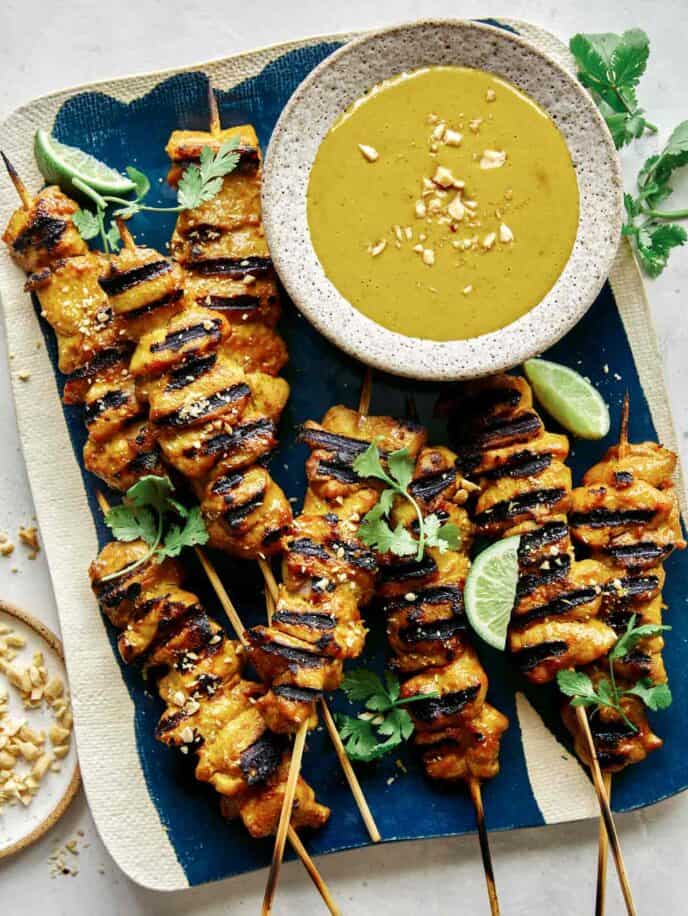 Beef Satay – If you've ever had and love chicken satay (from above!), we promise you'll love our beef version too! This grilled beef skewers recipe is paired with one of my favorite sauces ever – a thick and spicy Peanut Sauce!
Lamb Kabobs – We are big lamb fans over here, and these grilled lamb kabobs are so flavorful. We served them with a refreshing mint yogurt sauce with a touch of cumin. Dinner made easy peasy!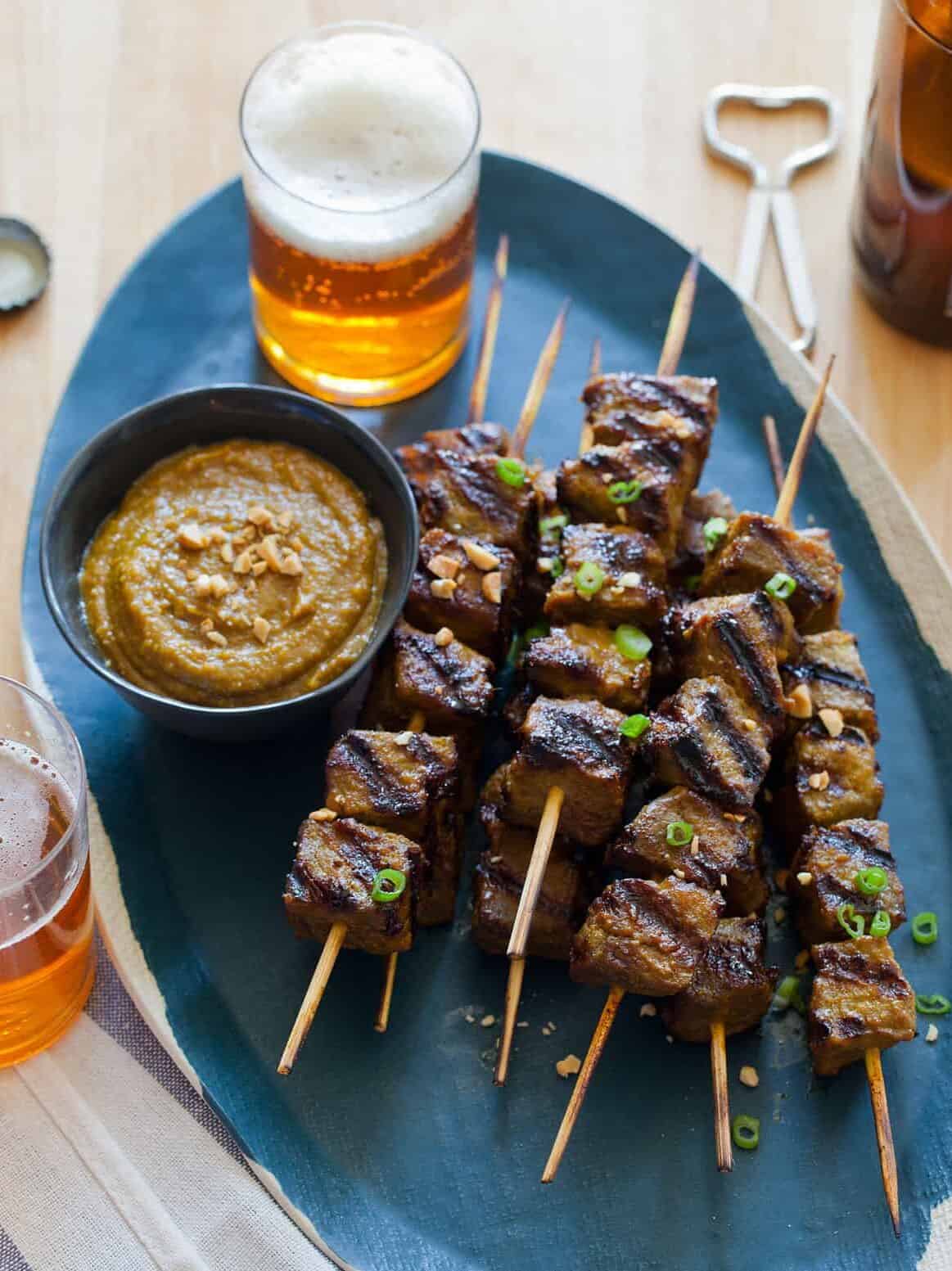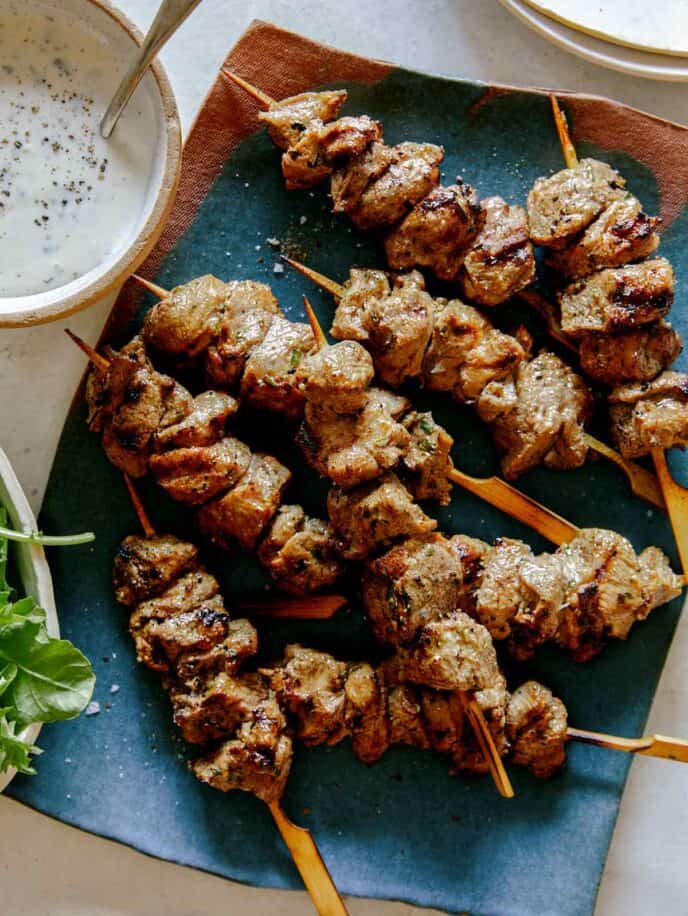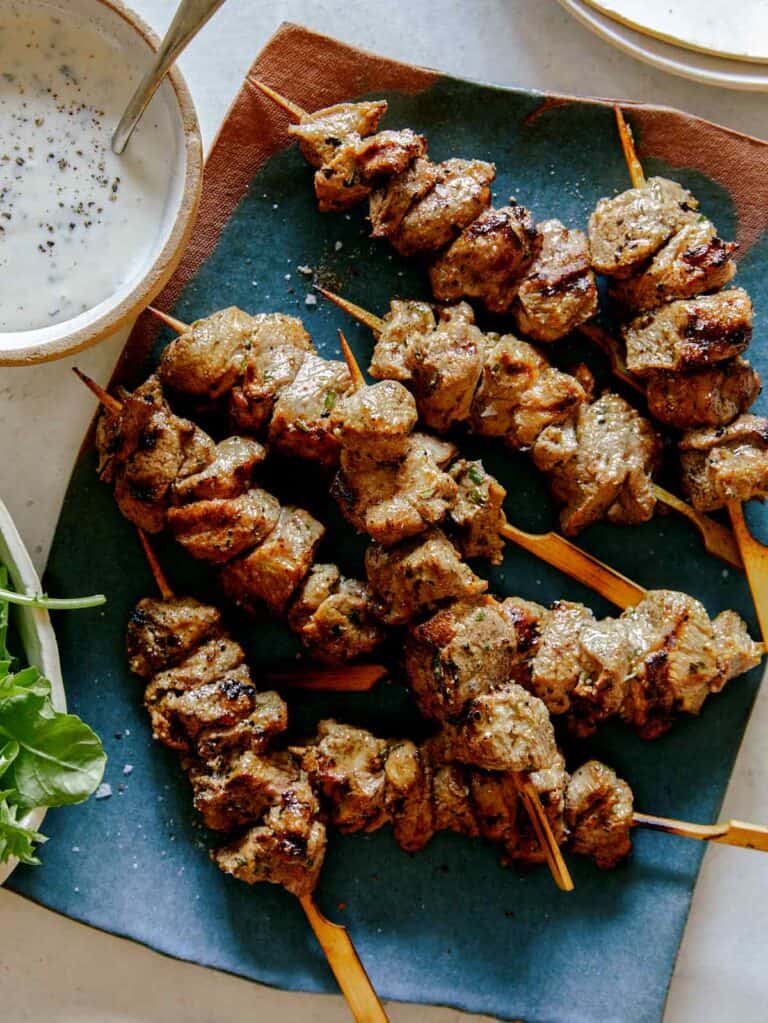 Grilled Vegetables – Mains and Sides
Grilling vegetables is not only easy to do, but adds incredible flavor to them. We have some of our most simple and delicious grilled vegetable recipes below!
Grilled Corn Salsa – It'll be pretty difficult to find someone that would argue that grilled corn is a bad idea. Grilled corn in any form just screams summer deliciousness to us and we love this salsa so much! You can simply enjoy it with with tortilla chips, which Is our favorite! You can also serve it over a variety of main dishes like grilled fish, chicken, beef, lamb, really anything!
Balsamic Grilled Baby Carrots – Looking for a delicious veggies forward grilling recipe? We have it! This balsamic vinegar marinade works great not only on carrots, but also grilled asparagus, zucchini, and basically any other veg you can think of to throw on the grill. One of our favorite vegan side dishes!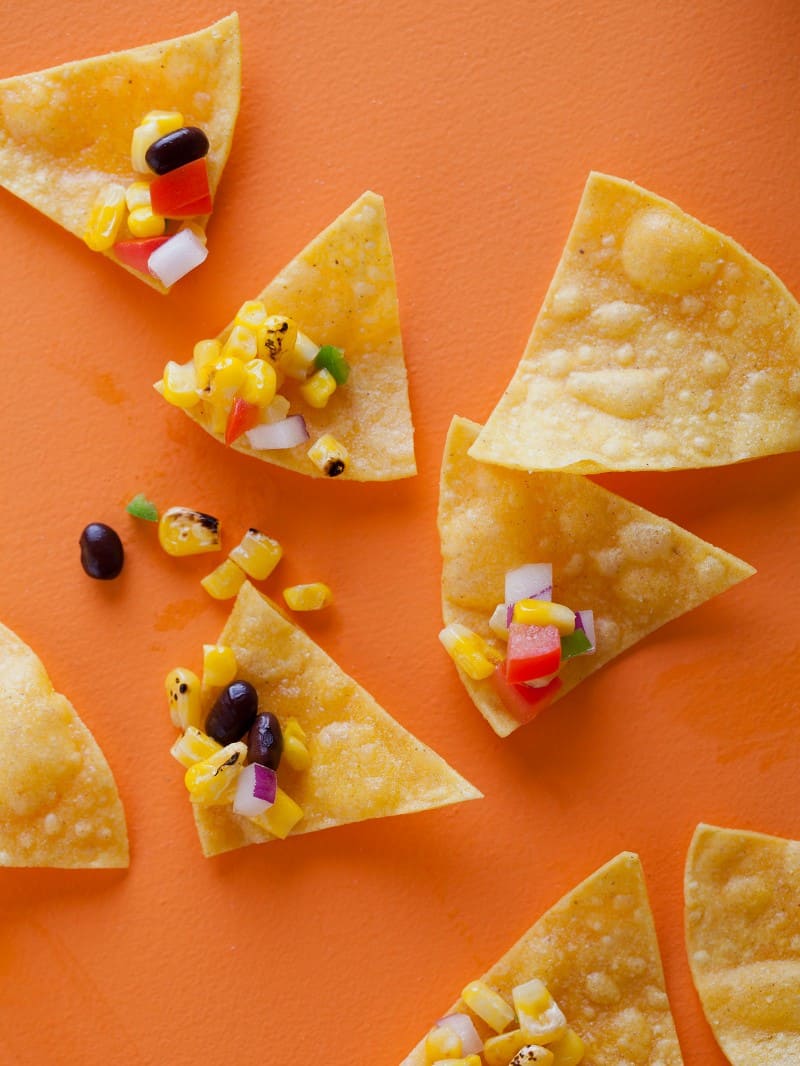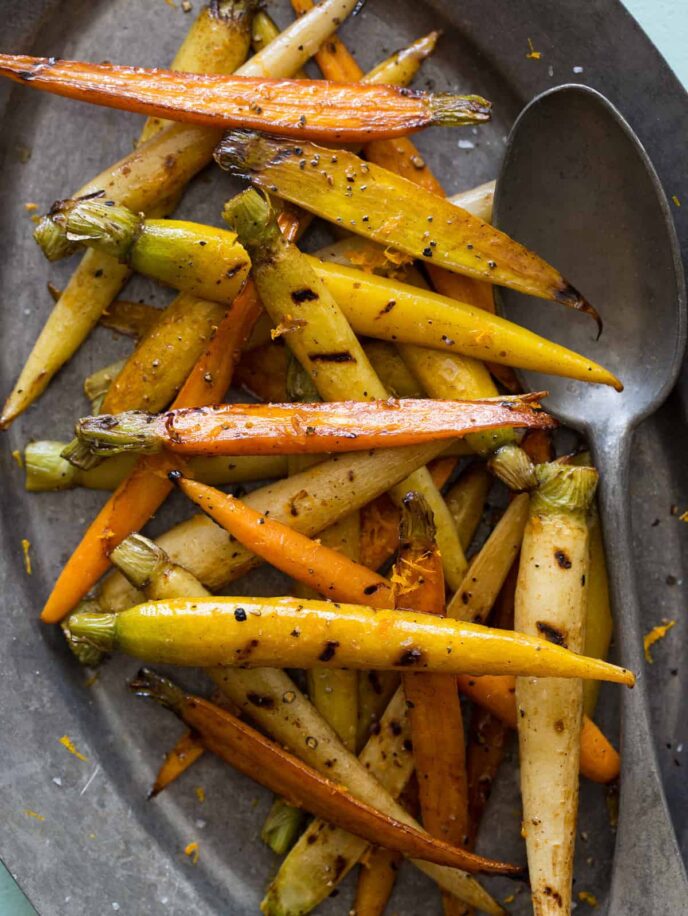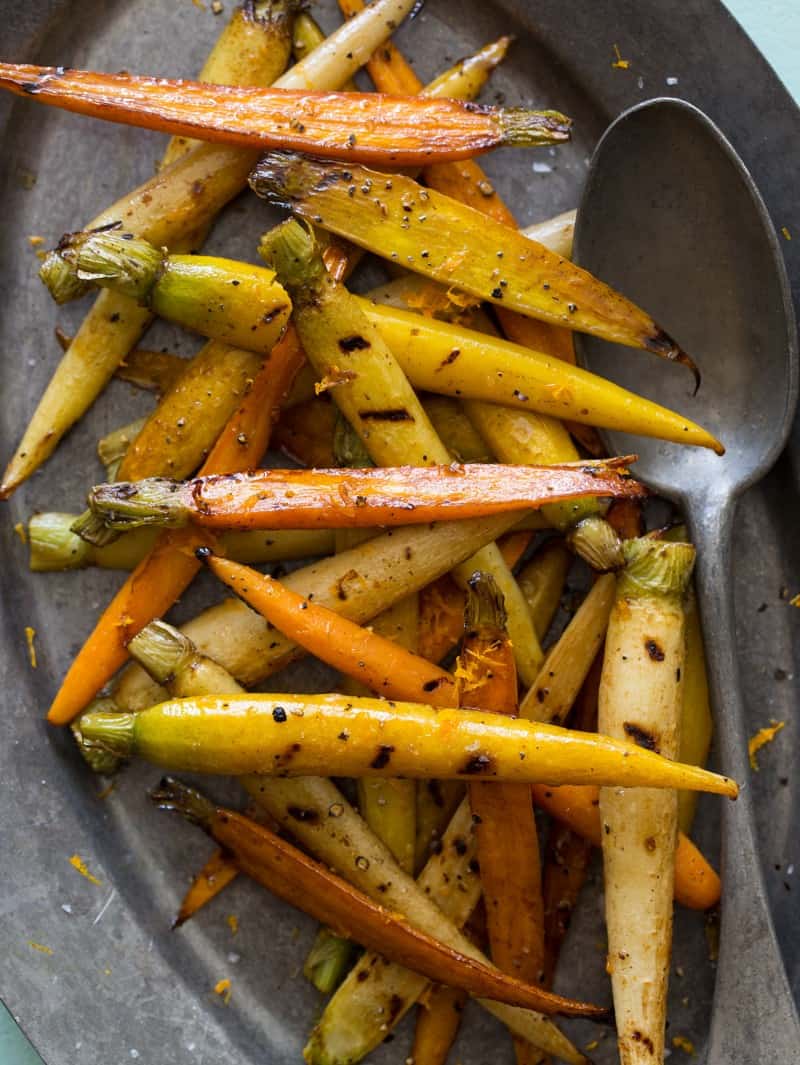 Grilled Zucchini Tacos – A perfect vegetarian grilled recipe that is a great alternative for those who just don't love grilled eggplant. Serve with some yummy salsas. A perfect light and fresh summer grilling recipe.
Elote Bruschetta – This side dish or appetizer recipe is a perfect way to incorporate grilled corn into your menu. This recipe is inspired by Elote Mexican street corn, but served off the cob and over crisp crostini. Serve this with grilled pieces of baguette, or your favorite chip!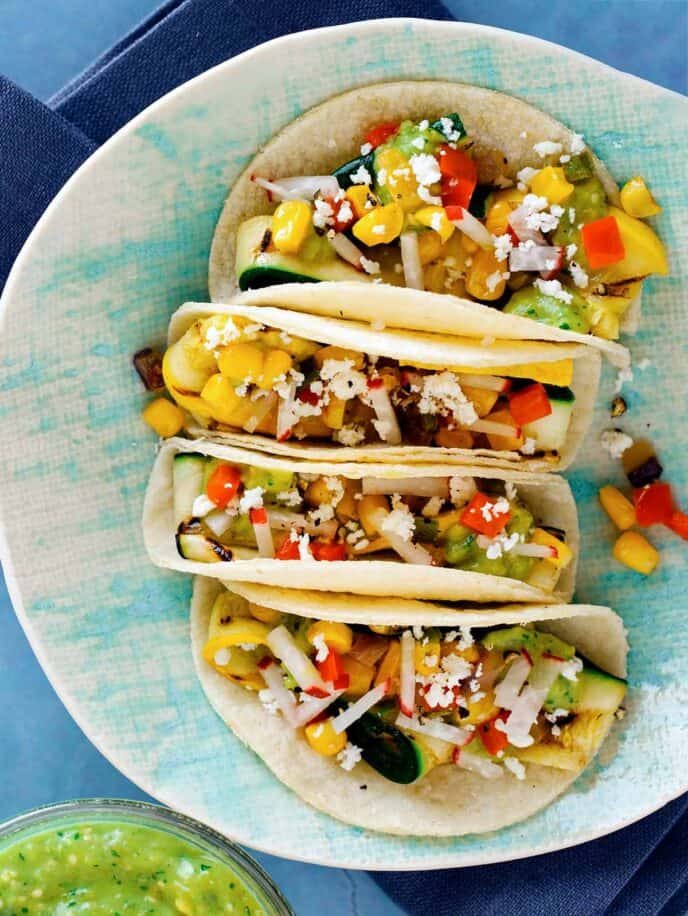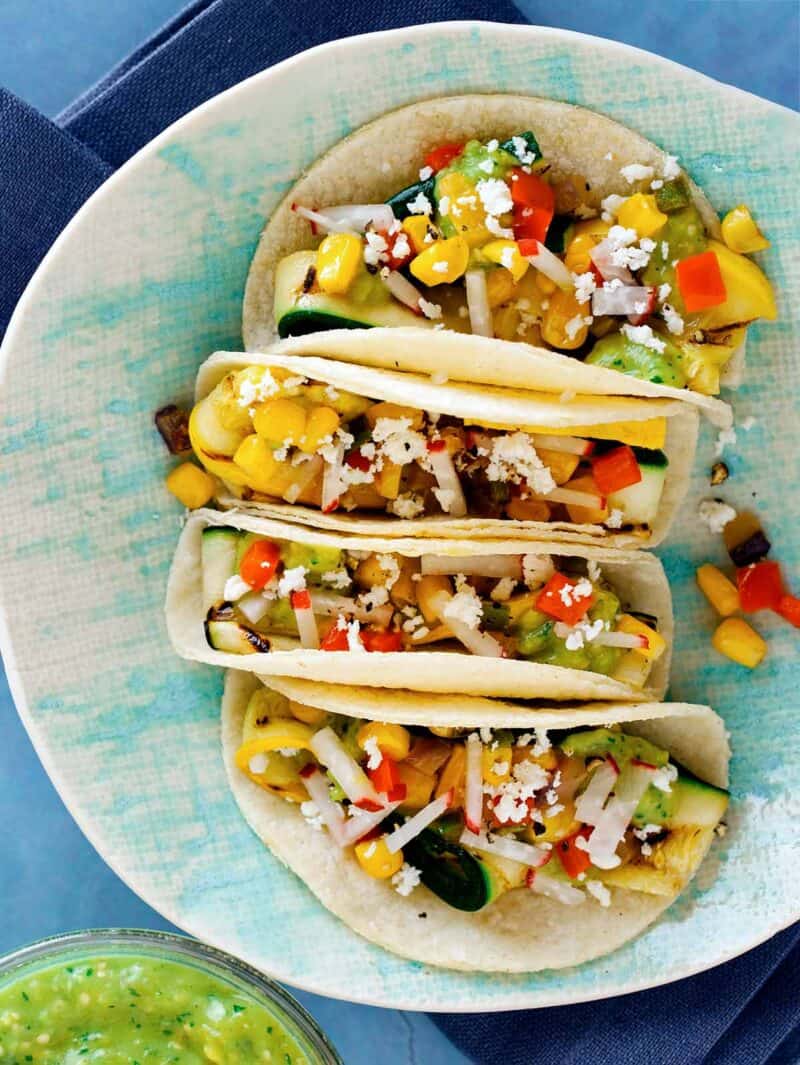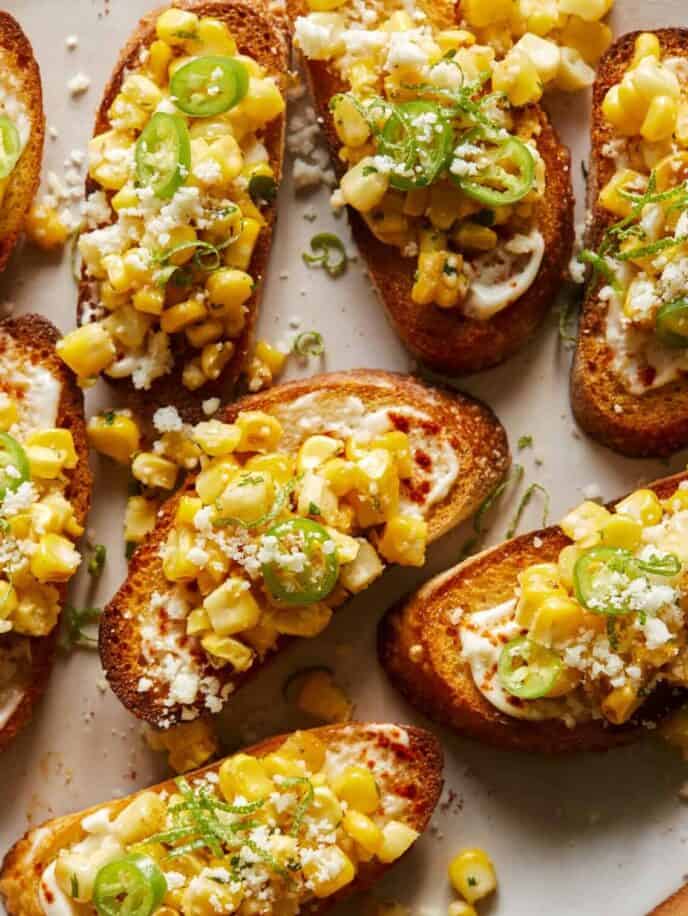 Our Best BBQ Side Dishes
We think side dishes are just as important as main dishes when it comes to bbq's and grill recipes. So we knew we needed to include at least a handful of are most popular summer bbq side dishes!
Hawaiian Macaroni Salad – I could easily eat this by the pound. We love this make ahead recipe and it goes so well with everything!
Creamy Potato Salad – Another classic BBQ side dish recipe. This potato salad recipe has everything you would want – rich, creamy potatoes, a little tang from the mustard and vinegar, and a hint of sweetness from the caramelied onion!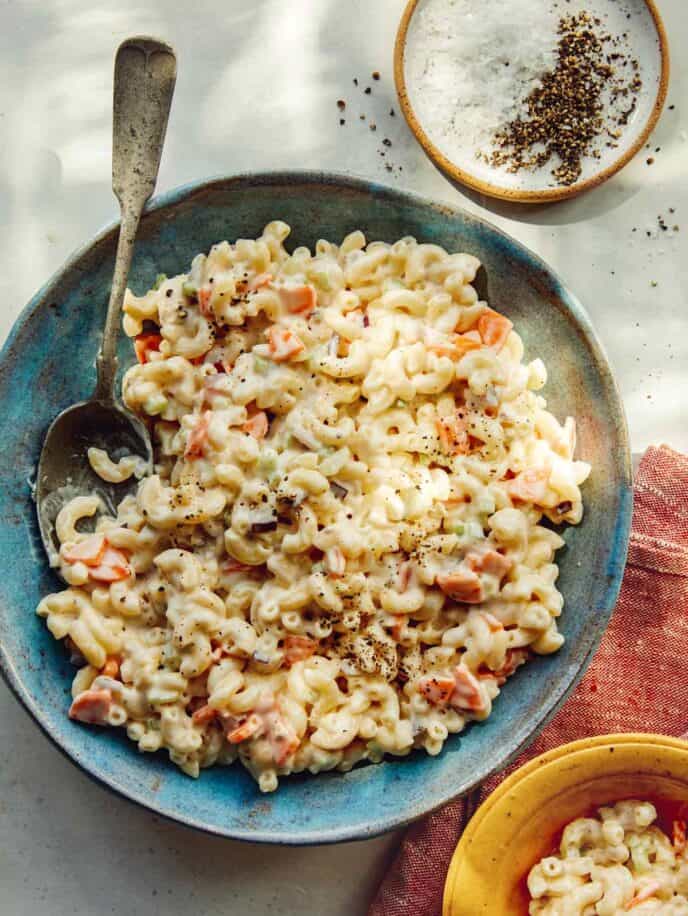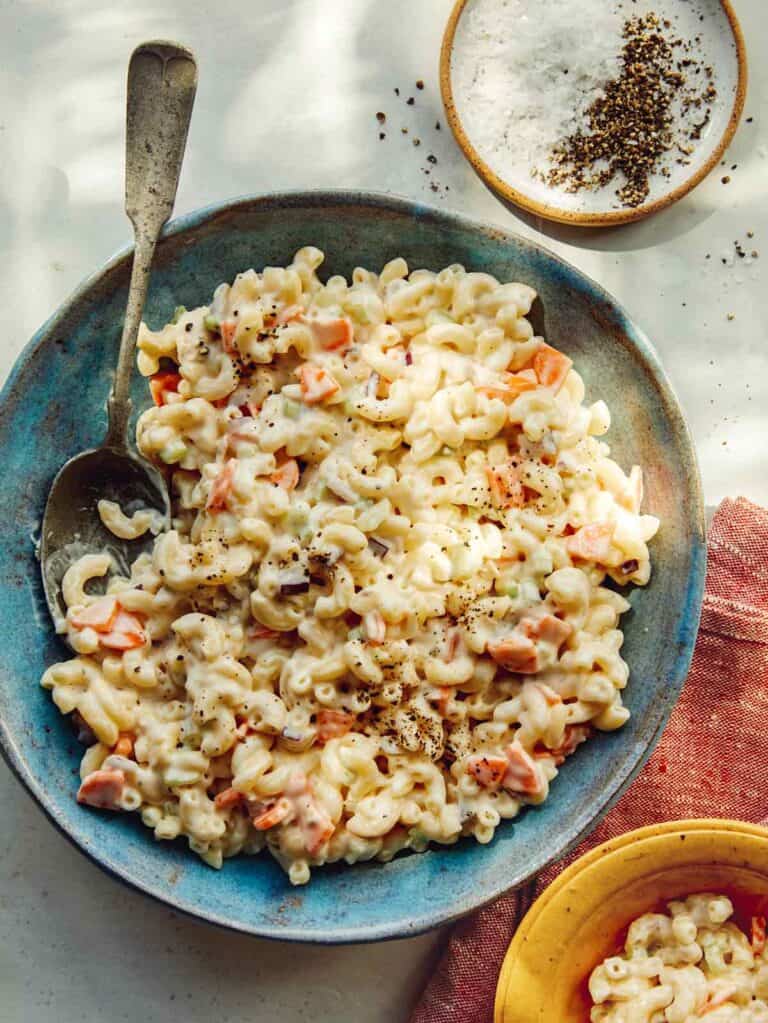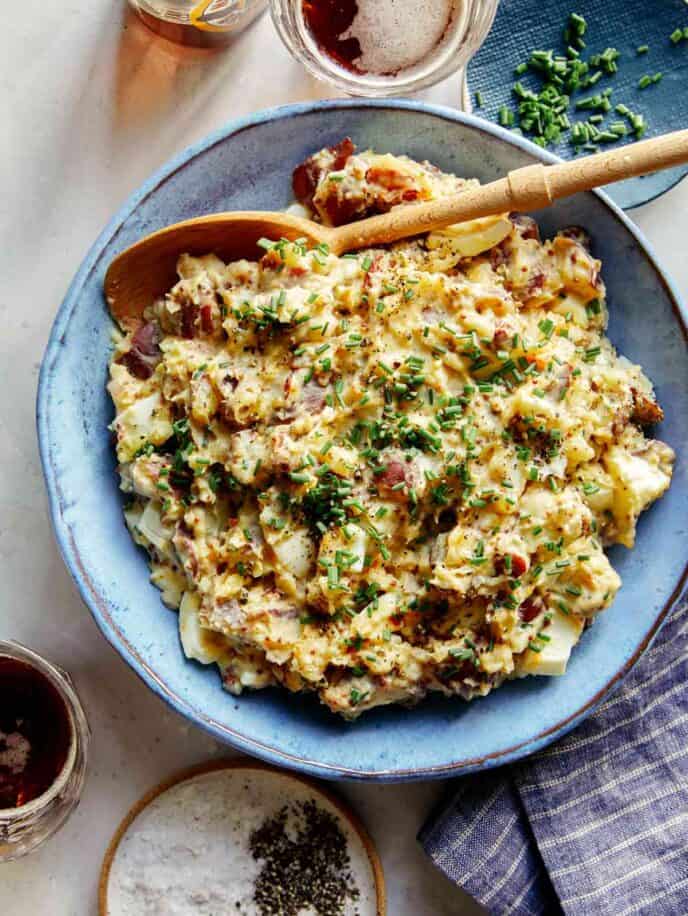 Corn Salad – This delicious side salad is perfect for any grilling dish! Our corn salad is made with brown butter and seared halloumi cheese which makes this side dish extra exceptional
Broccoli Crunch Salad – A very veg forward salad that uses crispy bacon and nuts for some added flavor and texture. I love this light and refreshing salad!
Cheesy Jalapeño Corn Cakes – You will wanted to inhale these crispy, cheesy, buttery, sweet, and spicy corn cakes. They're incredibly delicious and easy to make. Make sure you don't skip out on the honey drizzle at the end, it's pure bliss.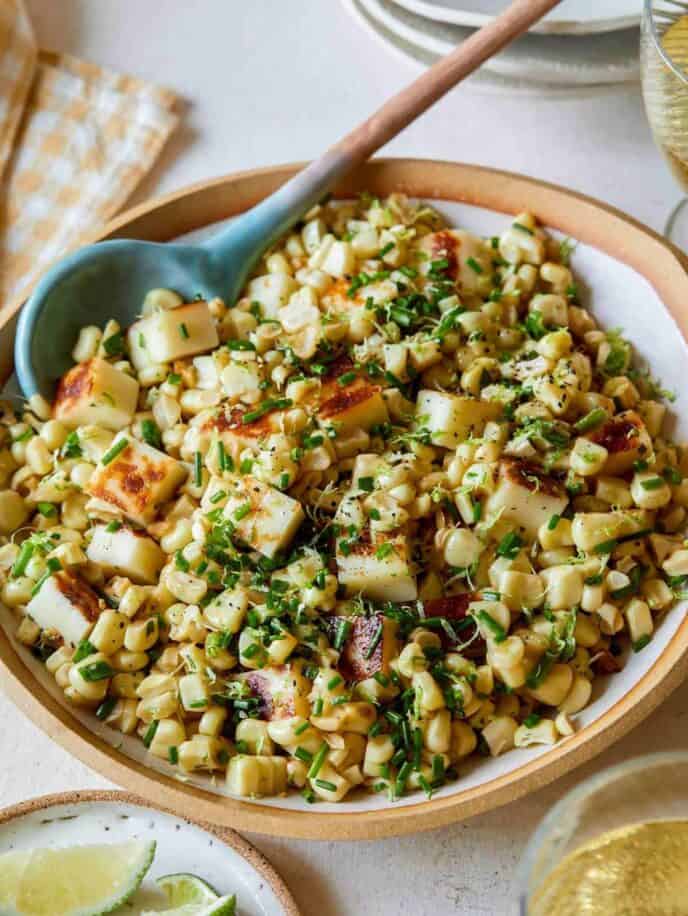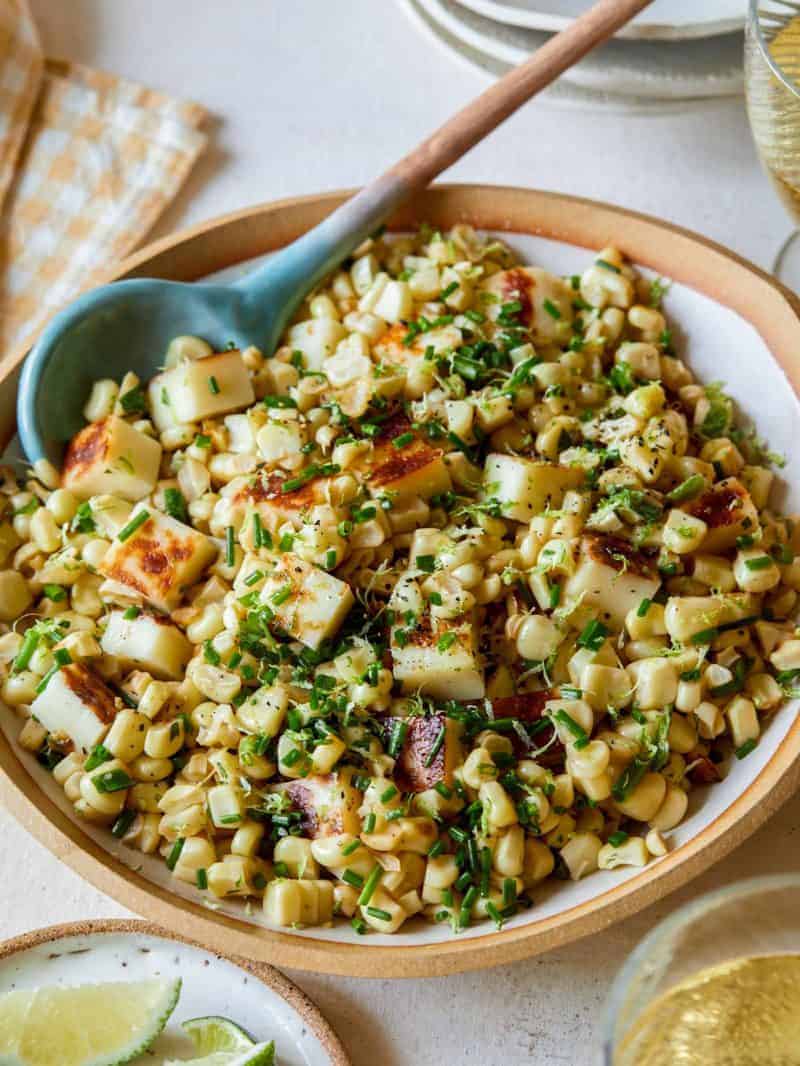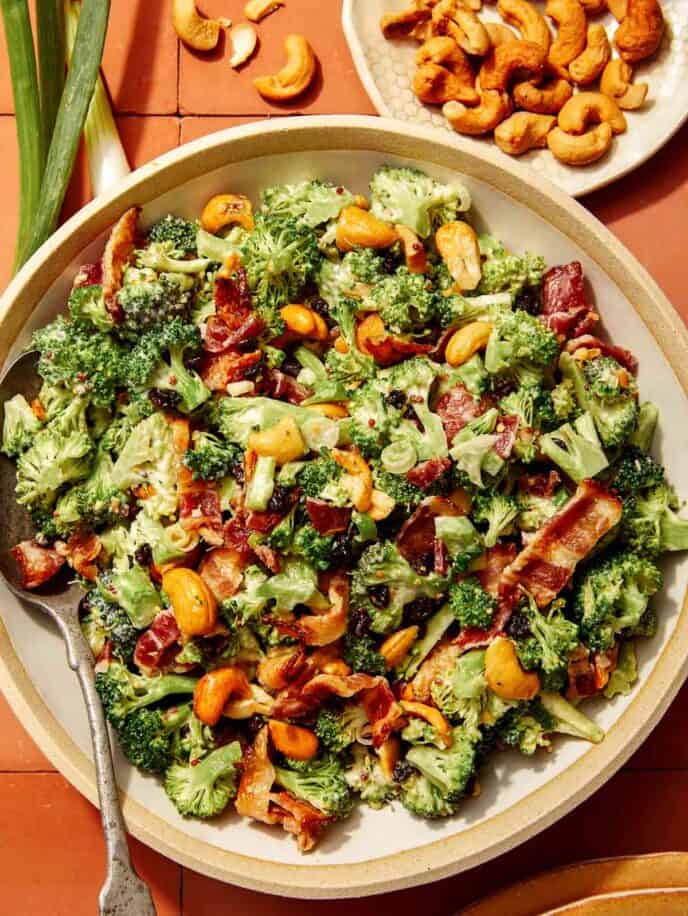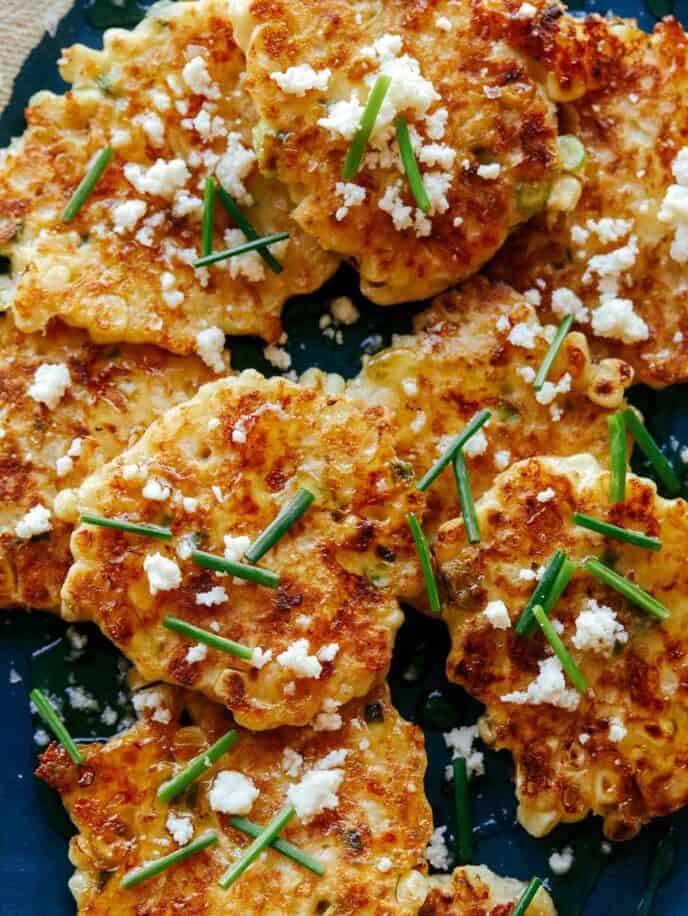 Even More Delicious Grill Recipes You Will Love
Hungry for more?
Subscribe to never miss a recipe.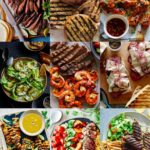 ---
Our Best Grill Recipes: Sticky Spicy Honey Grilled Chicken Wings
We love this roundup of our very BEST Grill Recipes! Grilling just screams summer and we love taking advantage of el fresco cooking whenever we get the chance! We have a little something for everyone including our mouthwatering Sticky Spicy Honey Grilled Chicken Wings!
INGREDIENTS
spicy honey glaze
2/3

cup

honey

3

tablespoons

Sambal chile sauce

2

minced garlic cloves
chicken wings
1

teaspoon

baking powder

1

teaspoon

salt

1

teaspoon

garlic powder

1/4

teaspoon

white pepper

12

chicken wing drumettes

pat dry

1

tablespoon

vegetable oil
garnishes
1/4

cup

crushed dry roasted peanuts

2

thinly sliced green onions
INSTRUCTIONS
glaze
Place honey, Sambal and 2 cloves minced garlic into a small mixing bowl and whisk together. Set aside.
chicken wings
Place baking powder, garlic powder, salt, and pepper, into another mixing bowl and whisk together.

Sprinkle baking powder mixture over wings and toss together until each piece of chicken is fully covered in a very thin, even layer of the dry mixture.

Place the coated wings onto a baking sheet, lined with a cooling rack, about 1 inch apart and refrigerate for 2 hours and up to 8 hours.

Preheat grill to 350˚F (or medium heat). Brush grill grates with oil and place wings onto the surface, skin side down (over indirect heat) about 1 to 2 inches apart.

Close grill lid and grill wings for about 20 minutes. Uncover and flip each wing and recover grill. Continue to grill for an additional 10 to 15 minutes or until wings have browned and the skin has crisped up.

Uncover grill and brush grilled chicken wings with glaze. Flip the wings and brush the other side. Continue to flip and glaze each side every minute for the next 3 to 4 minutes, lowering the heat as needed to avoid the honey glaze from burning.

Remove wing from grill and transfer to a serving platter. Drizzle more glaze over the top of the wings, and top with crushed peanuts and sliced green onions. Serve.
NOTES
**Each serving = 3 chicken wing drumettes**
We use only the drumettes in our recipe, but you can use a mixture of drumettes and flats without changing the cooking temperature and times. 
We like using white pepper for the less spicy, pungent heat, but you can definitely use black pepper if you prefer or that's what you have on hand. 
Calories:
599
kcal
Carbohydrates:
53
g
Protein:
29
g
Fat:
31
g
Saturated Fat:
8
g
Polyunsaturated Fat:
8
g
Monounsaturated Fat:
12
g
Trans Fat:
0.3
g
Cholesterol:
111
mg
Sodium:
1461
mg
Potassium:
346
mg
Fiber:
2
g
Sugar:
49
g
Vitamin A:
272
IU
Vitamin C:
3
mg
Calcium:
93
mg
Iron:
2
mg
CUISINE:
American, asian-american
KEYWORD:
grilled chicken recipe, grilled drumettes