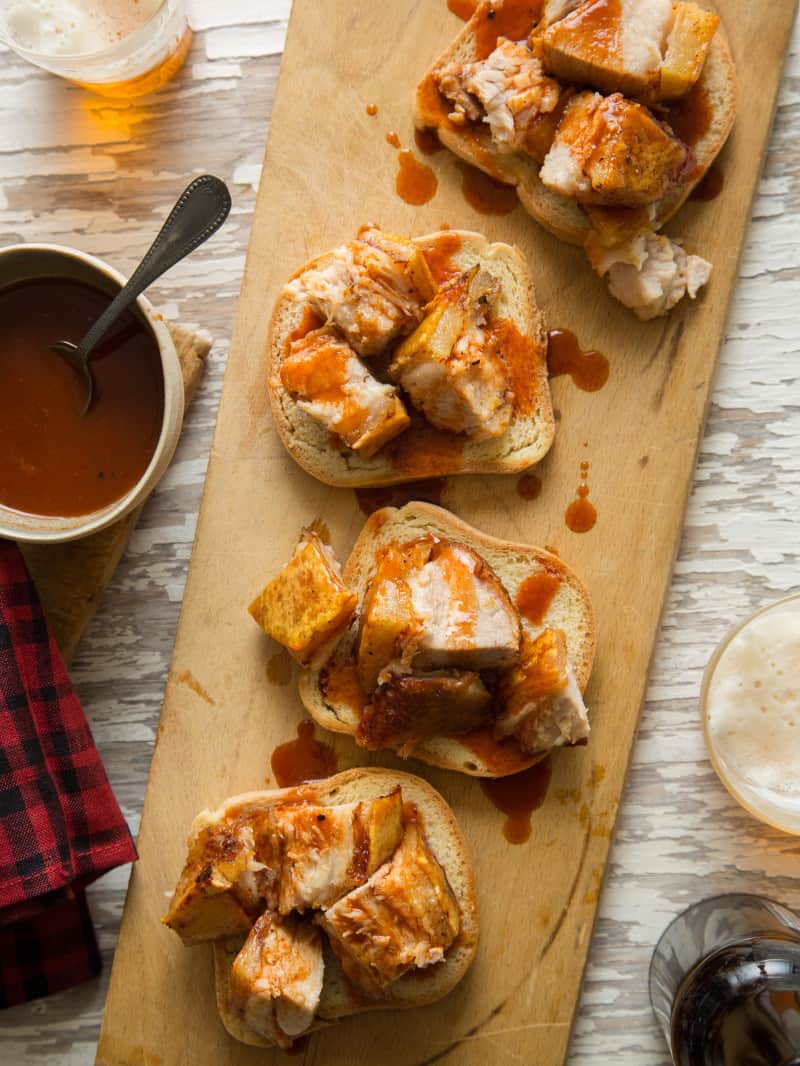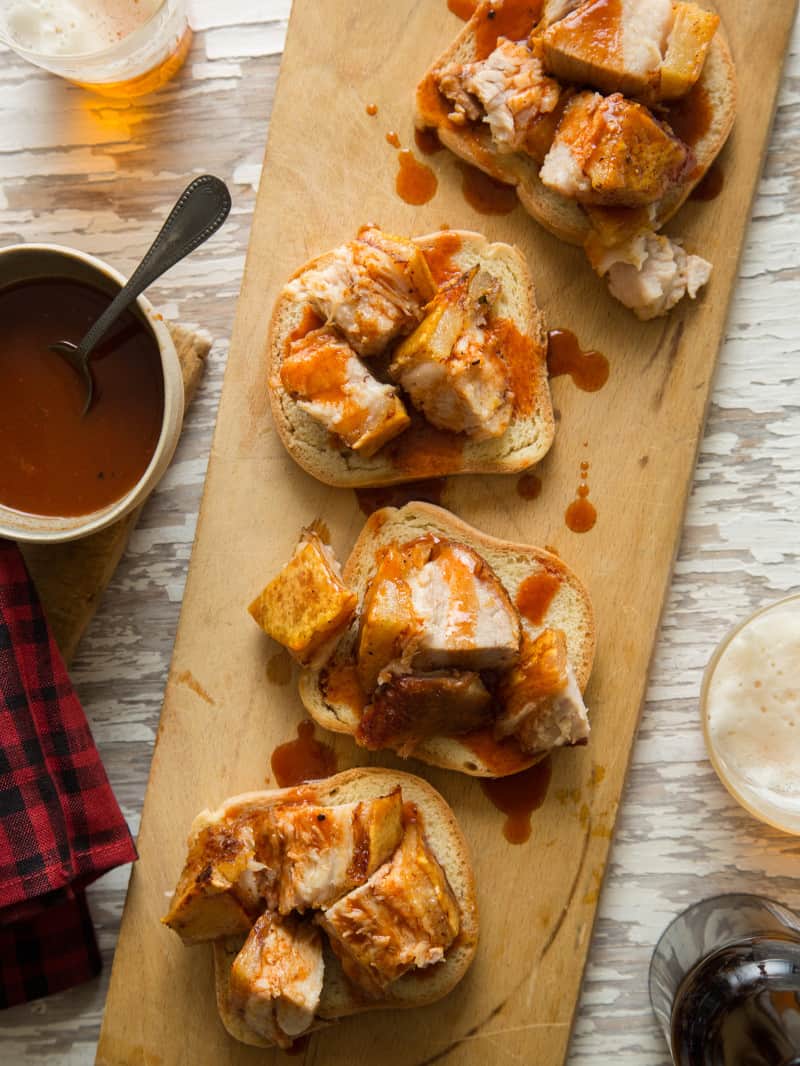 With summer in full swing barbecue is always on our mind, and when we think about barbecue three things usually come to mind: rub, smoke and sauce. That pretty much brings us to today's recipe, which we created for Bravo's Top Chef Home Edition! I'm sure most of you are familiar with the show Top Chef and what the home edition does is allow all of us watching from our sofas to join in on some of the high stress fun, without really any of the stress part, which is fine by me! The challenge we're participating in is the "BBQ Like A Boss" which consists of creating a great dish incorporating the three components I mentioned above (rub, smoke and sauce). When thinking about this challenge we noticed that brisket, tri-tip, and ribs really seem to take center stage when it comes to barbecue so today we have a very easy recipe for crispy grilled pork belly that is rubbed in a simple blend of spices and finished with a tangy vinegar-bbq sauce.
When dealing with pork belly you want to make sure to leave the skin-side scored and then untouched. The rub is really meant to flavor the meaty-side so the skin/fat side can render out nicely and become crisp and delicious. Our dry rub is quite simple and no-fuss with the exception of ground ginger. We added ground ginger to this dry rub because it doesn't impart an intense flavor like its fresh counterpart, but the combination of pork and ginger overall go really nicely together.
The key with a fatty dish like pork belly is to start on super high heat to allow the skin to brown and crisp, and then to lower the heat significantly and allow the meat to cook low and slow. This way you'll get soft, juicy, kissed by smoke meaty goodness with a crispy crackling surface, which is exactly what you want! The onions and beer also provide a nice bed for the pork belly to sit on to ensure the bottom doesn't burn and that the meat slightly steams and stays moist.
Finally we've finished our pork belly dish today with a vinegar based bbq sauce. Why vinegar based? We think it pairs nicely with the pork belly and the tang from the vinegar helps to cut through some of the richness from the meat. So there you have it folks, our dish for the "BBQ Like A Boss" Top Chef Home Edition Challenge. All you need to do, is pick a challenge off the site, make it and post it! That's it! So easy, and so fun! There are so many challenges to choose from too, so good take a look and see what peaks your interest! If you're looking for something a little different but still 100% delicious to grill up this summer, you should try this pork belly with vinegar-bbq sauce. It's easy to make and a total crowd pleaser!!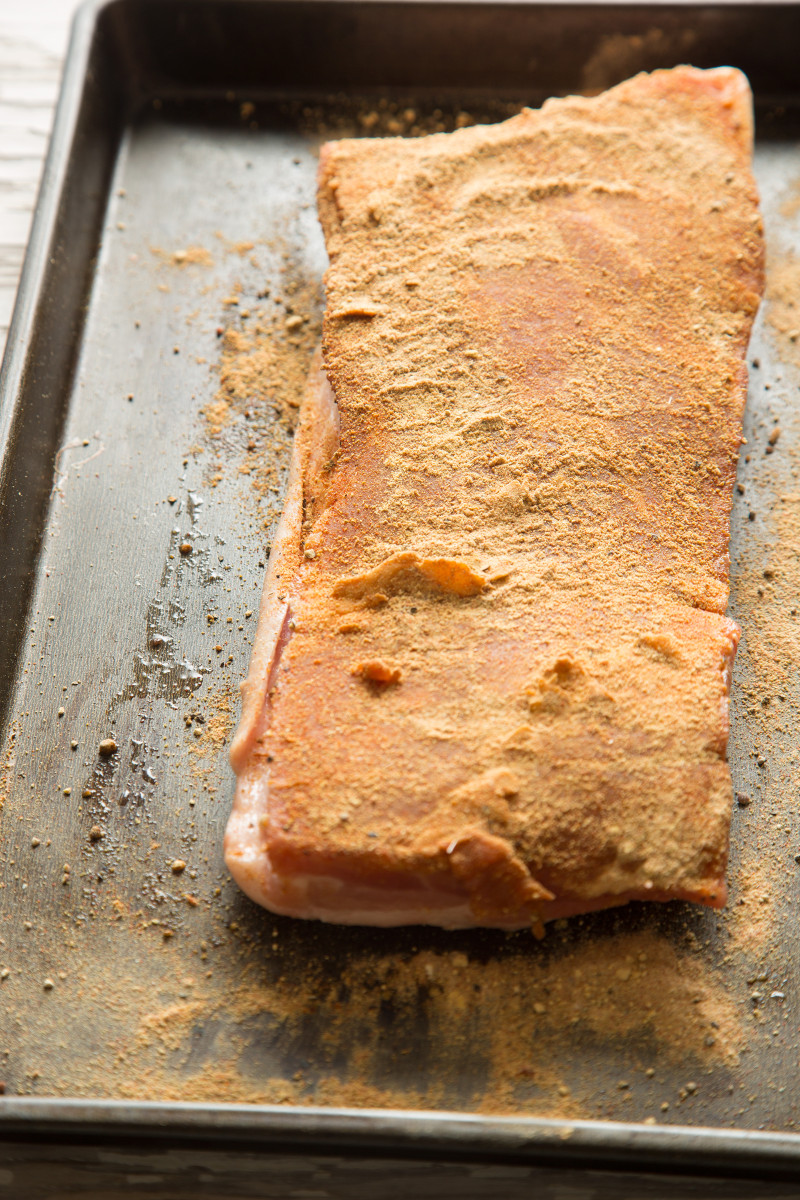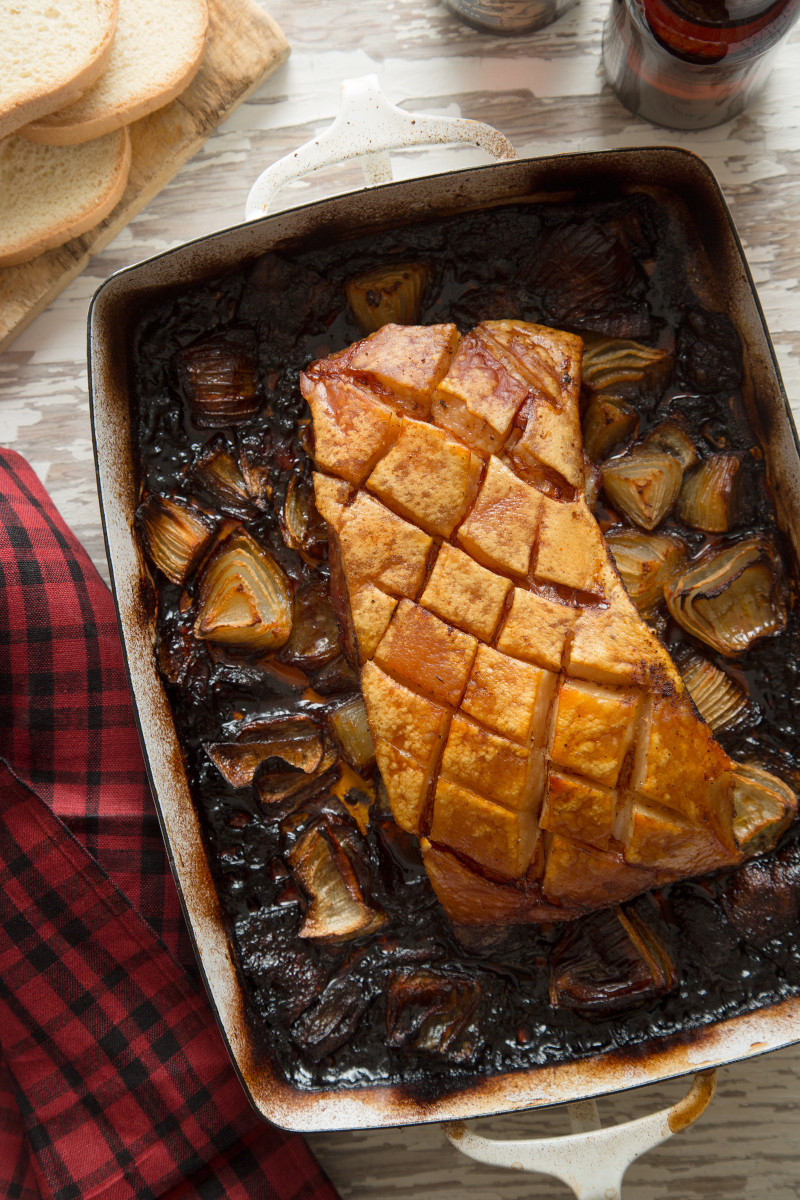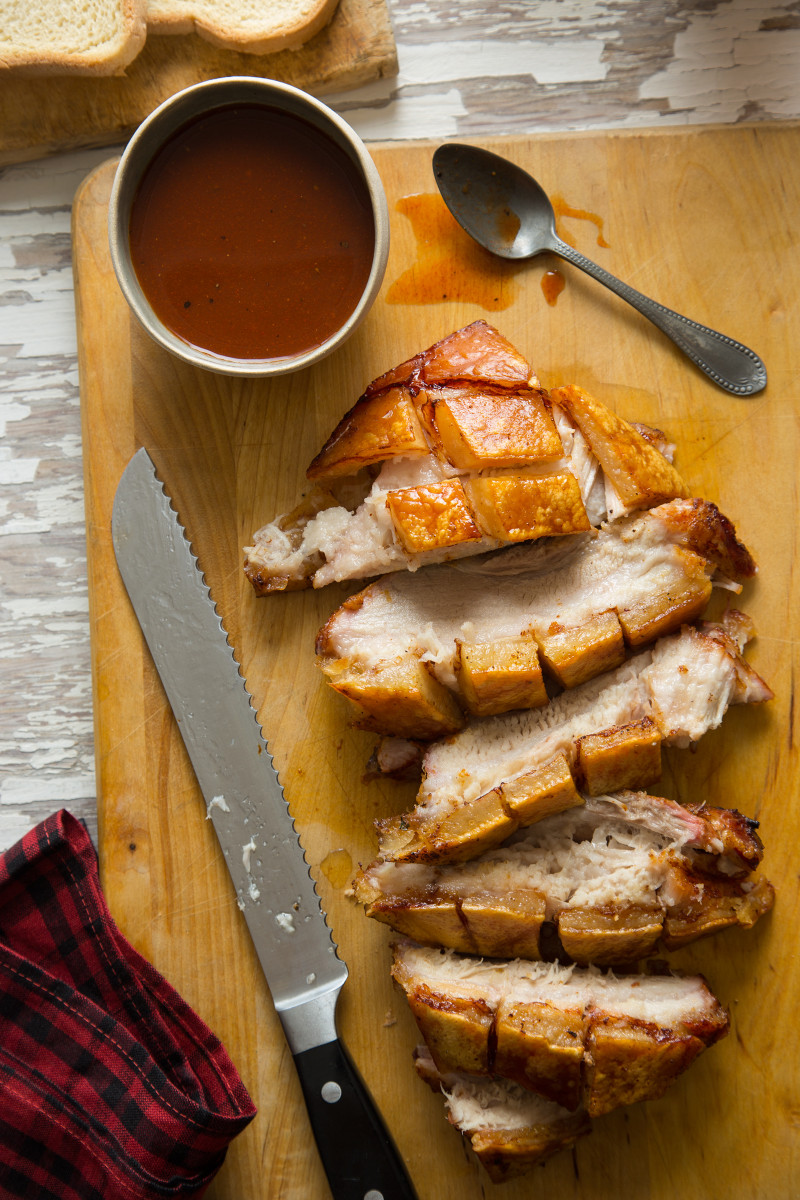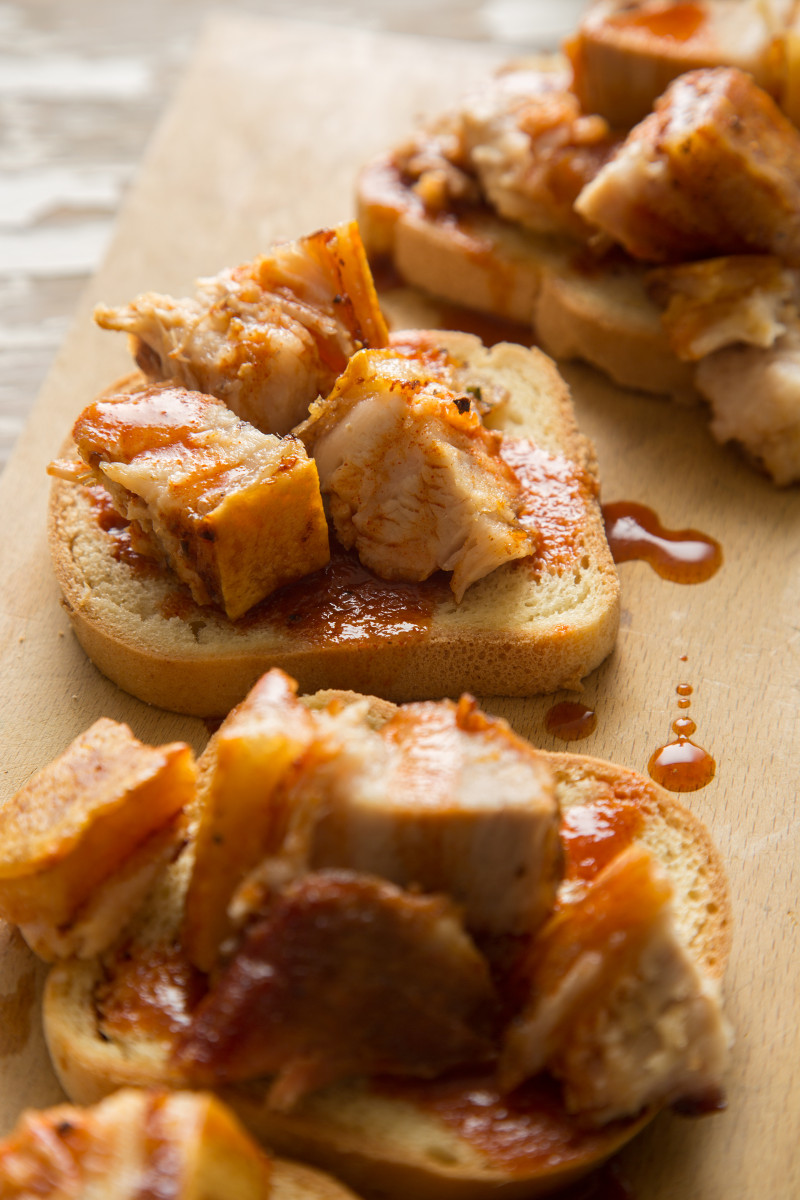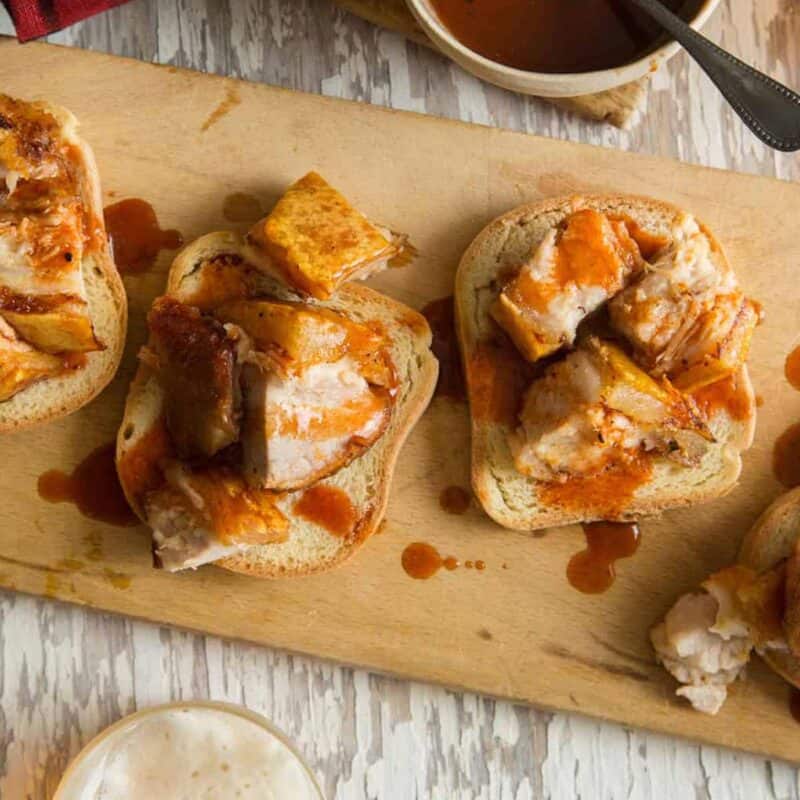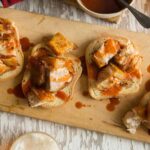 ---
Crispy Grilled Pork Belly with a Sweet and Tangy Vinegar BBQ Sauce
INGREDIENTS
vinegar bbq sauce
1

cup

apple cider vinegar

¼

cup

light brown sugar

2 ½

tablespoons

ketchup

1

tablespoon

smoked paprika

1

tablespoon

salt

1

teaspoon

ground mustard

1

teaspoon

cracked black pepper

optional
meat
1

(2 1/2 lb.) slab pork belly with the skin on

4

yellow onions, roughly quartered and chopped

2

(12 fl. oz.) bottles beer of choice, divided

can use broth as non-alcoholic option
dry rub
1

tablespoon

garlic powder

1

tablespoon

smoked paprika

2

teaspoons

ground ginger

1

teaspoon

salt

½

teaspoon

cracked black pepper
INSTRUCTIONS
For vinegar bbq sauce: Place all ingredients into a mixing bowl and whisk together until smooth and completely blended. Set aside until ready to use.

Place pork belly on a clean cutting board, skin-side up and score the skin. Pat dry with a paper towel and flip over so the meat-side is up.

Place all dry rub ingredients into a small bowl and whisk together. Pour rub over meat-side of belly only and rub over entire surface.

Place onions and one bottle of beer into a roasting dish, in an even layer, and top with pork (meat/rub side down).

Place roasting dish into the hot grill and cover with the grill lid. Cook for about 45 minutes.

Lower heat to 250˚F and continue to cook for about 1 hour. Remove lid and add remaining beer. Re-cover and cook for an additional 2 hours.

At this point the fat should have rendered and the skin should be extra crispy.

Carefully remove the pork belly from the baking dish and transfer onto a cutting board. Allow the slab to rest for about 10 minutes.

Chop into pieces and serve atop sliced white bread with a generous drizzle of the vinegar bbq sauce.
Calories:
843
kcal
Carbohydrates:
19
g
Protein:
15
g
Fat:
76
g
Saturated Fat:
27
g
Cholesterol:
102
mg
Sodium:
1262
mg
Potassium:
470
mg
Fiber:
2
g
Sugar:
10
g
Vitamin A:
900
IU
Vitamin C:
5
mg
Calcium:
35
mg
Iron:
2
mg