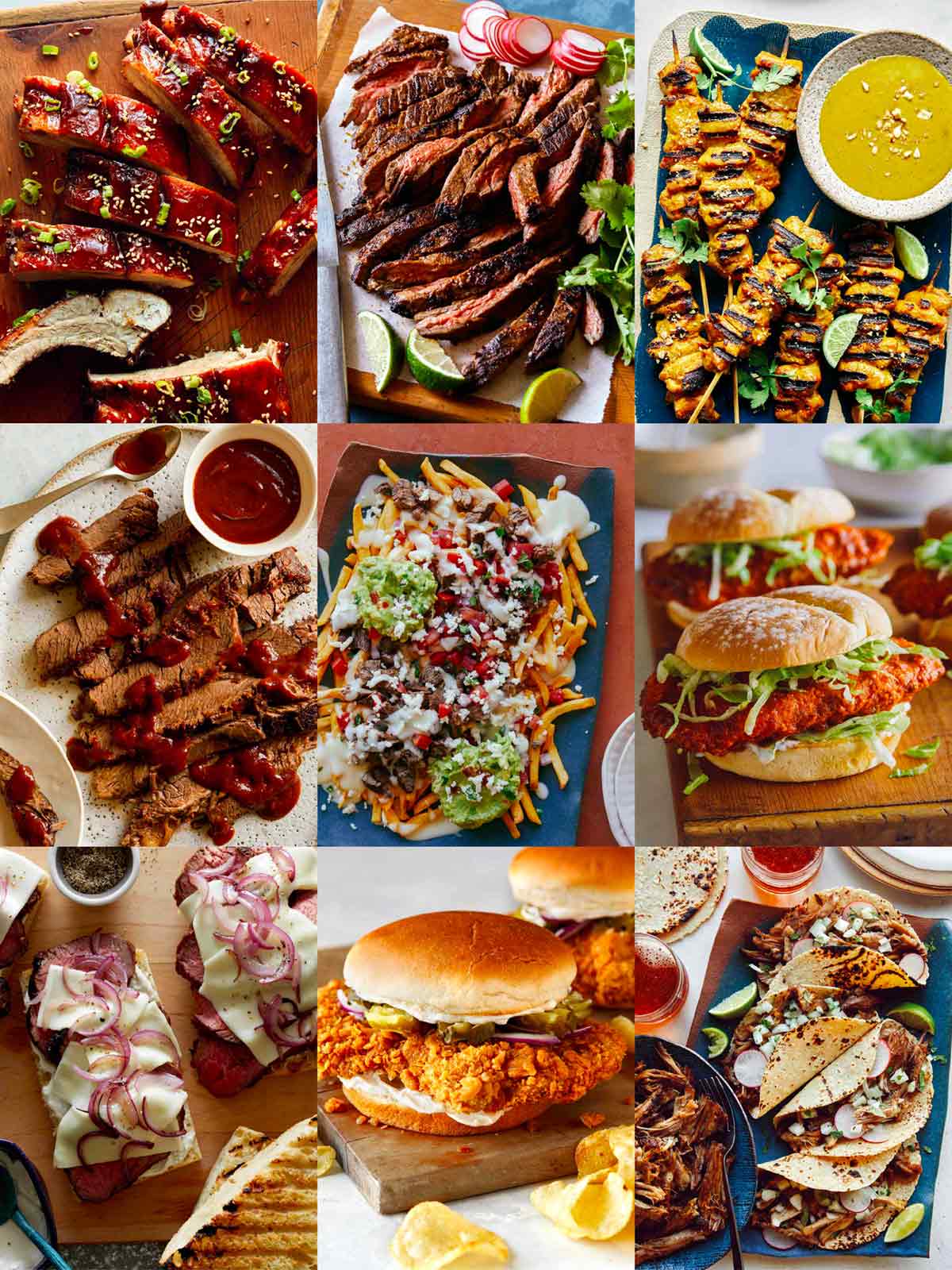 To prepare for Fathers Day we decided to arm you with some of our meatiest, delicious, Dad approved recipes. This guide is mostly geared towards Fathers Day dinner food, but I also included a list of breakfast and brunch recipes because we have so many that would be perfect for Dad.
Classic Fathers Day Dinners
Here I have listed out all of the quintessential Fathers Day dinner recipes we have. Lots of meat, lot's of grilling, and lots of delicious recipes (duh!) I hope you can find one you will like!
Carne Asada Fries: Think of delicious nachos, but instead use fries! We made these Carne Asada Fries with all the toppings you would ever want. A total indulgence for any special dad!
Sticky Hoisin Oven Baked Ribs: This is one recipe my husband loves. He gets so excited when I make it. It's fall off the bone delicious. It's also a perfect Father's Day recipe because you do need to prep it ahead of time so you can still spend your day with Dad!
Korean Fried Chicken: This recipe makes for the crispiest chicken wings ever. The sauce is a classic Korean Chicken Wing sauce that is super spicy. This is such a delicious (and in our opinion BETTER!) take on classic Chicken Wings!
Carne Asada Recipe: This one is for all the steak loving Dads! I added the torta recipe to the Fathers Day Sandwich recipes we have which incorporates our Carne Asada recipe. It's easy, flavorful and so juicy. Serve it with a bunch of tortillas and toppings and you have yourself a build your own Taco bar! Such a great option for Fathers Day dinner.
Slow Cooker BBQ Wagyu Beef Brisket: This is a delicious main dish. It's super easy too because it's all made in a slow cooker. The result is perfectly tender meat that is packed with flavor. I know you Dad will love this! Pair with a simple Potato Salad or classic Boston baked beans.
Carnitas: Like our Carne Asada recipe, this one is great because you make a build your own taco board and include our Carnitas, Chicken Fajitas, or Carne Asada and put out tortillas and toppings and let people make their own tacos. Yum!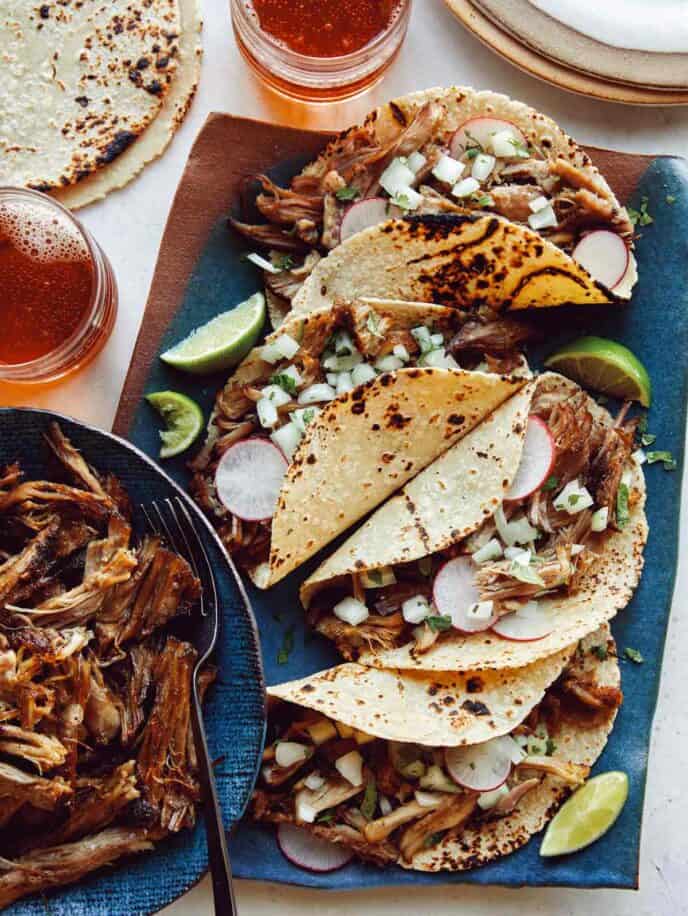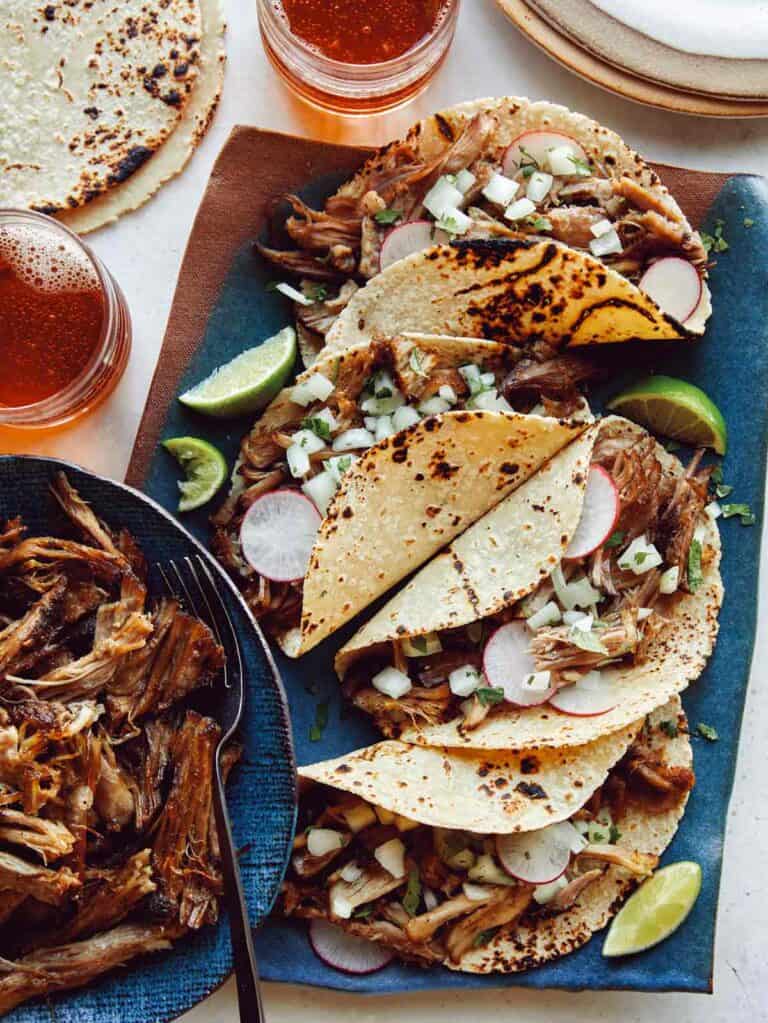 Chicken Satay: This grilled chicken recipe packs a lot of flavor and our peanut dipping sauce is so good! You can make much of this ahead of time which makes this recipe great for a big family!
Grilled Shrimp and Steak Surf and Turf: For the Dads who like it all, this has all the aspects of a Father's day recipes you would expect: Grilling, steak, and shrimp. Pair with your favorite sides! A yummy Fathers day dinner option!
Fathers Day Sandwich Recipes
We had to dedicate an entire section to just sandwiches because I feel like sandwiches and Dads are a pretty classic pairing. Plus we have so many perfect sandwich recipes that are just too perfect for your Father's Day dinner not to share!
Grilled Tri Tip Sandwiches: Juicy grilled tri tip topped with melty cheese, lightly caramelized red onions, and a creamy horseradish sauce all sandwiched between grilled bread. This is a recipe your Dad will love.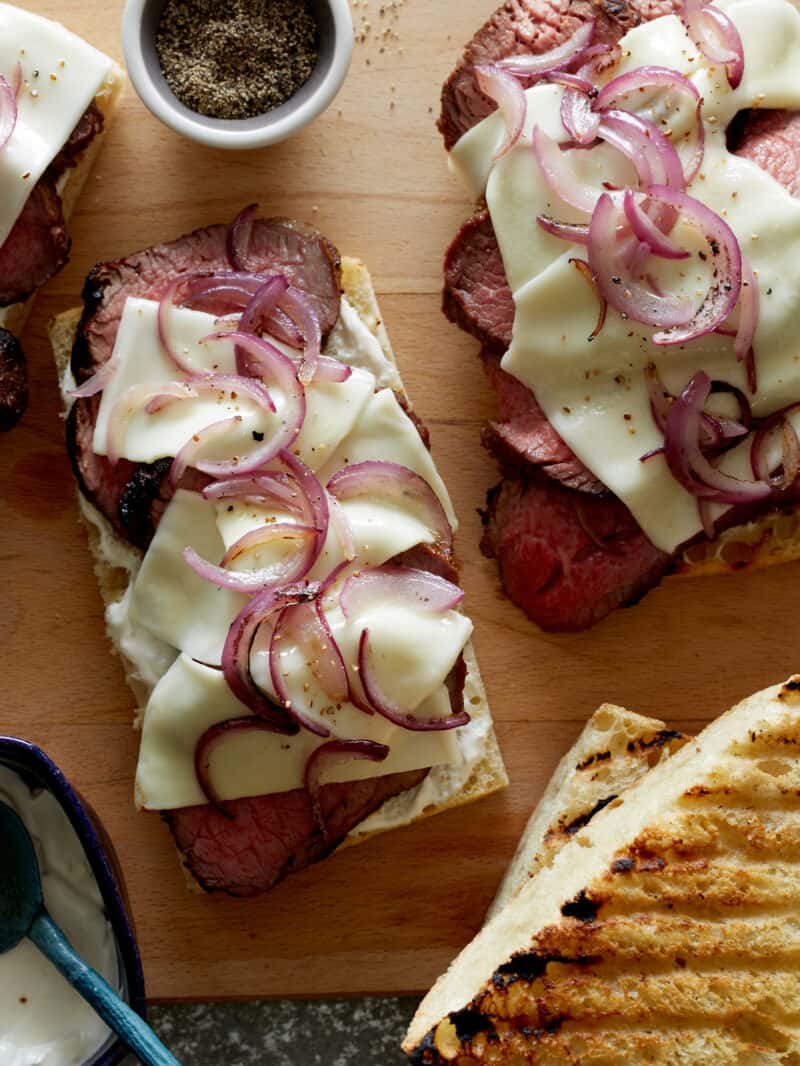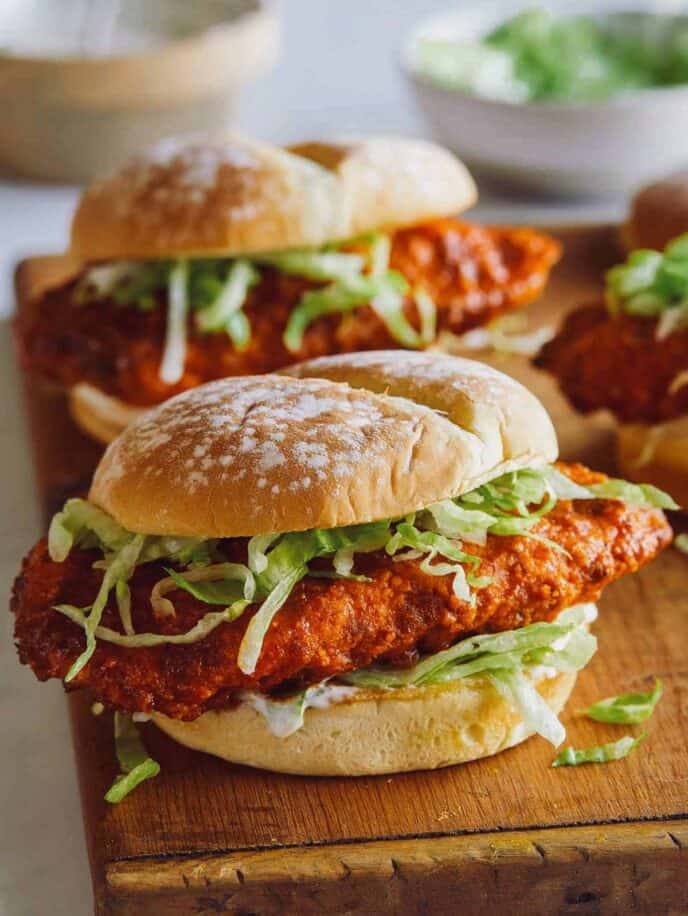 Carne Asada Torta: I love our Carne Asada recipe, it's such a good Fathers Day dinner idea. Our torta is a great way to serve it! Packed with all the toppings you could ever want, I know this will make any Dad super happy!
Popeyes Chicken Sandwich: We love Popeyes so much we created our version of their classic fried chicken sandwich so we could make it at home whenever we want! Crispy chicken with a spicy mayo, this sandwich is just perfect to celebrate Dad.
Pork Tenderloin Sandwich: This sandwich is epic. The pork loin we used for this recipe makes for a super delicious and moist sandwich, and we breaded the sandwich with oyster crackers which makes for a super crispy crust.
Pork Katsu Sandwiches: I love this recipe, and any fried sandwich is just a A+ in my book, so I just felt like I need to include out Pork Katsu sandwich in this list.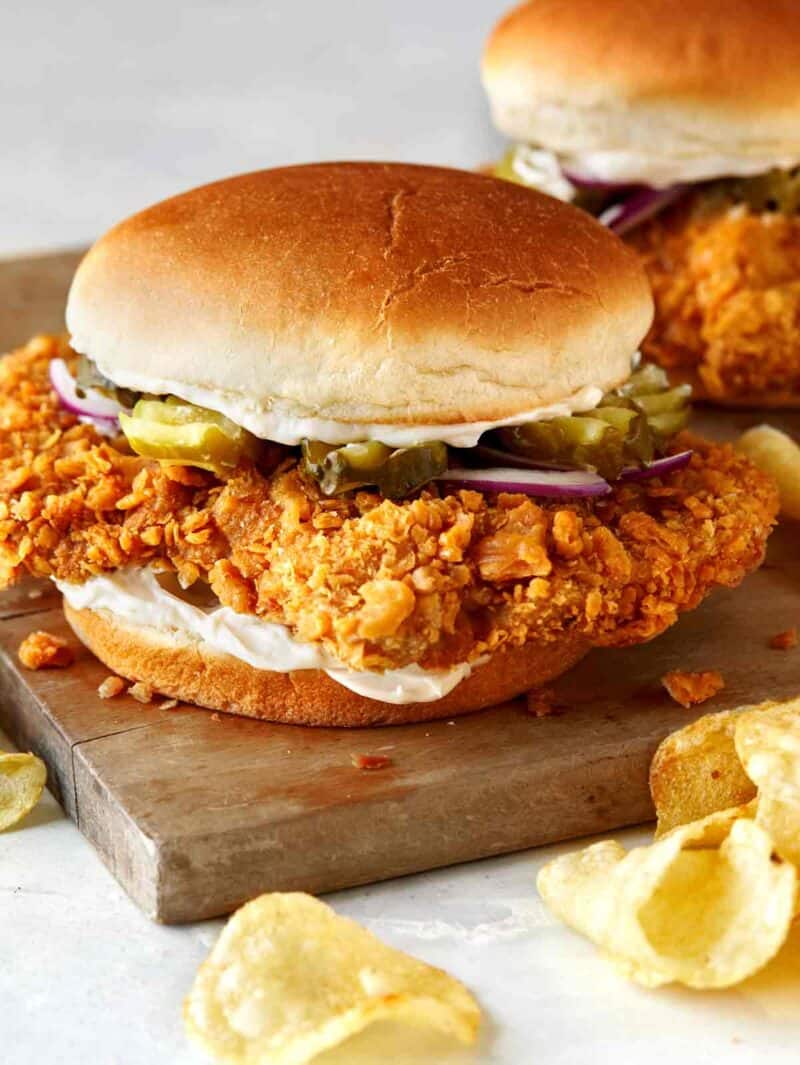 Side Dishes
If you're looking for some side dish recipes to pair with your Sandwich recipes, or some of classic Fathers Day recipes we listed above, here are a couple of our favorites:
Or if you're thinking soup – we have a ton of soup recipes. Some hearty enough to stand on their own, but a lot are perfect as side dishes!
Our Best Father's Day Appetizers
I was originally thinking of not including a list of Father's Day appetizers, but we just have too many that are so good, I can't not share. I did edit this appetizer list, so you're only getting the best of the best! All of these recipes would are going to make your Fathers Day dinner perfect!
Buffalo Chicken Dip: A classic game day recipe, this appetizer recipe is just too good to make only for sports events. Use our homemade buffalo sauce to whip this delicious creamy dip up! I think this dish is what beer is made for.
Korean Corn Cheese: One of the most popular recipes on our blog – and rightfully so because it's one of the easiest to make, and it's so so so good.
Sheet Pan Chipotle Chicken Nachos: Do I really need to explain nachos on this list? I don't think so. These are loaded with all the toppings you would want! Sheet pan nachos give you one thin layer of chips so every chip has melted cheese and toppings, the way it should be!
Mini Crunchwrap Supremes: This appetizer is a labor of love for sure, but the result is so tasty, and perfect for those Taco Bell loving Dads!
Pizza Wheels: I love this recipe! You can make ahead, and stuff with your favorite pizza toppings. We went with good old pepperoni in the recipe. The wheels bake up super nice and have a delicious crispy crust. Serve with marinara for dipping!
For Breakfast / Brunch:
Although this post is for Father's Day Dinner, we have so many good breakfast or brunch recipes that I just feel like some of them need to be seen. So here a quick selection of our favorite breakfast recipes for Father's Day!
Chorizo and Egg Breakfast Tacos: These meaty Chorizo and Egg Breakfast Tacos are so good. They are pretty low maintenance, and you can replace the fried egg with scrambled to make them even easier to make.
Easy Chilaquiles: Crispy tortilla chips baked in a flavorful chipotle-tomato sauce and topped with fried eggs. Our version of Chilaquiles is a slightly simplified version from the the classic, making it really easy to whip up for Dad.
Twice Baked Breakfast Potatoes: Potato skins filled with crispy bacon and eggs, then baked to creamy perfection. These Twice Baked Breakfast Potatoes are such a treat!
Shrimp and Grits: Classic Shrimp and Grits that's so creamy and delicious. It's the perfect comfort food recipe to serve for brunch, that is always a favorite.
Biscuits and Gravy: Biscuits and Gravy screams mouthwatering decadence and we're here for it! A simple and delicious recipe to serve dad on his special day.
Loco Moco: This hearty Hawaiian dish is packed with so much flavor and just so darn good. It's the perfect dish to serve any dad with a big appetite!
For those of you who are able to spend Fathers Day with your own, or people who you consider to be fathers, I hope you all have a very wonderful day full of good food!

♥ Teri