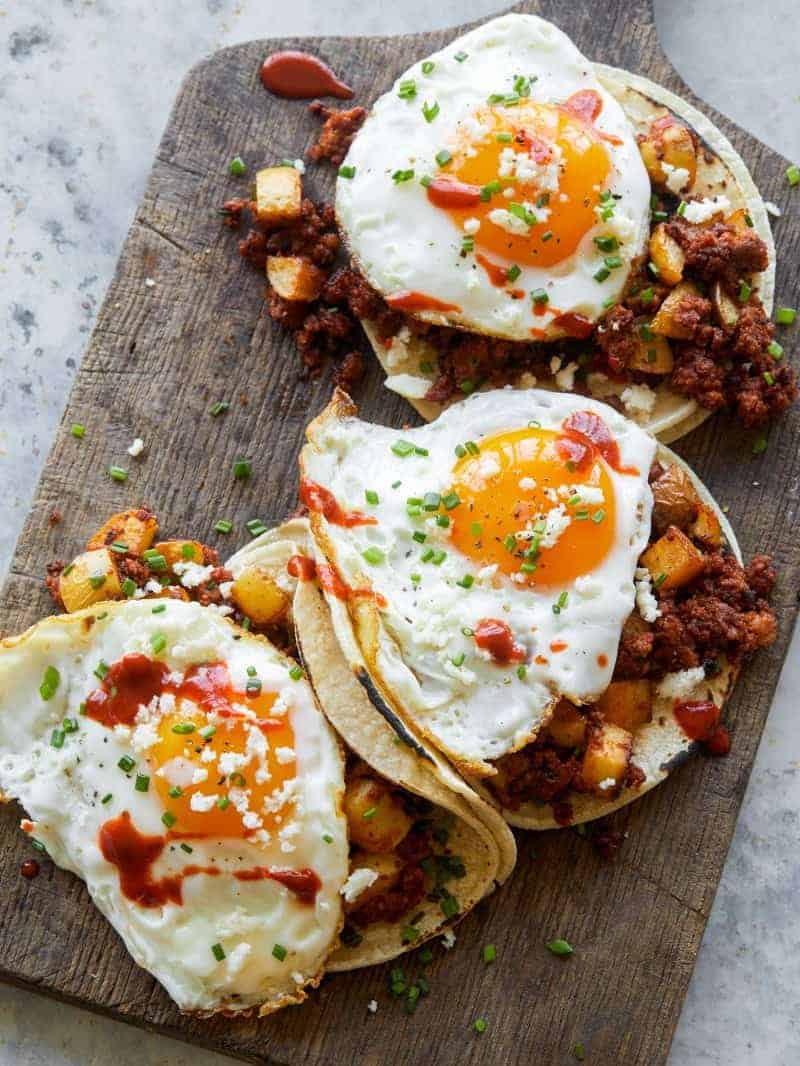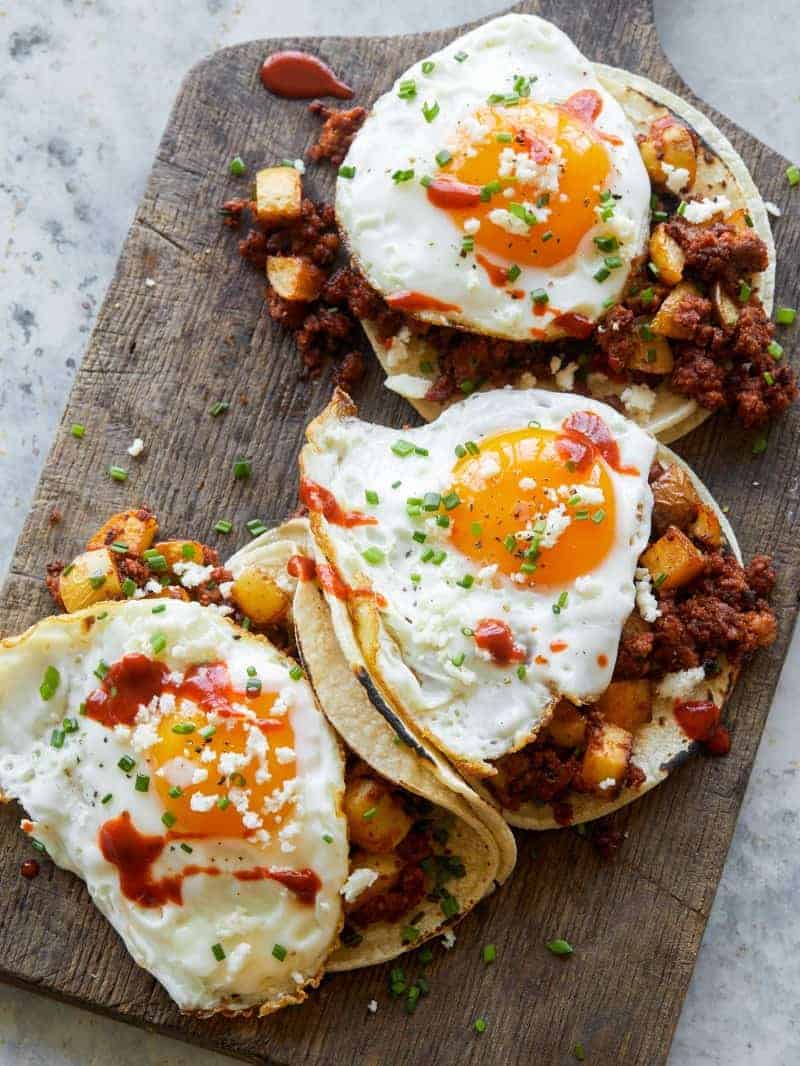 Father's Day is just a few days away and if you're still putting your menu together, these Chorizo and Fried Egg Breakfast Tacos are PERFECT. They're pretty simple to make and totally satisfying. My favorite part of this taco is popping the soft yolk and having it run right into the chorizo, potato mixture. It's so freaking good! If a soft yolk isn't your thing or you think an entire egg per taco is a little much, you can totally scramble your eggs for an equally delicious breakfast taco. Enjoy! xx, Jenny
Hungry for more?
Subscribe to never miss a recipe.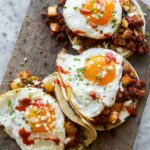 ---
Chorizo and Fried Egg Breakfast Tacos
INGREDIENTS
2

tablespoons

extra virgin olive oil

8

baby potatoes, finely chopped

1

shallot, minced

2

garlic cloves, minced

2

tablespoons

thinly sliced chives, divided

1

tablespoon

minced cilantro

8

ounces

chorizo

salt and pepper to taste

2

tablespoons

unsalted butter, divided

4

large eggs

4

lightly charred (5-6 inch) corn tortillas

crumbled queso fresco, optional

hot sauce for serving
INSTRUCTIONS
Place a large sauté pan over medium heat and add oil.

Add potatoes and sauté for 4 to 5 minutes or until potatoes begin to brown. Season with salt and pepper.

Add shallots and garlic and continue to sauté for an additional 4 to 5 minutes.

Add chorizo and stir together until everything is well combined.

Continue to cook mixture for about 5 minutes or until chorizo has cooked through and potatoes are just about fork tender. Stir in 1 tablespoon chives and cilantro and cook mixture for about 1 minute, Remove from heat and adjust seasonings.

Place a large nonstick pan over medium-high heat and add 1 tablespoon. Once butter melts and pan is hot add 2 eggs and fry until the whites have cooked through, the edges are crispy and the yolks are still runny 4 to 6 minutes. Lightly season with salt and pepper.

Transfer fried eggs to a baking sheet and set aside.

Repeat with remaining butter and eggs.

To assemble: Spread tortillas out on a large platter and top each with a quarter of the chorizo-potato mixture. Top each taco with a fried egg and finish with a sprinkle of chives, some crumbled cheese (if using) and some hot sauce. Serve.