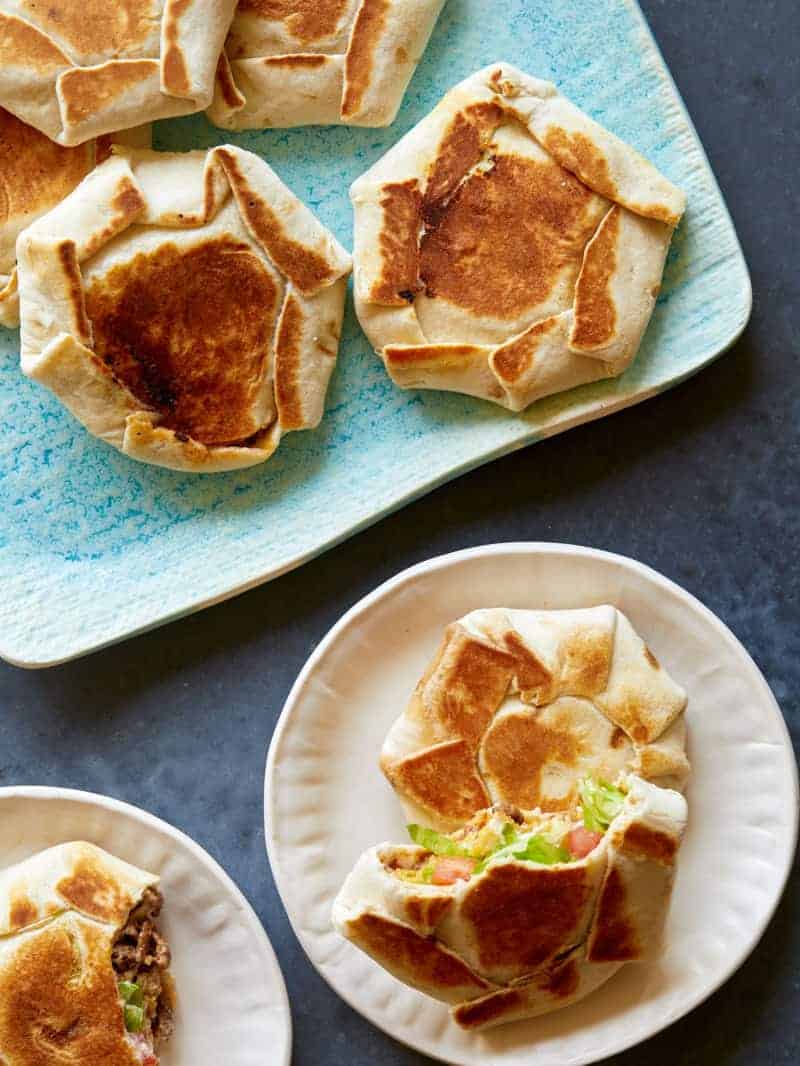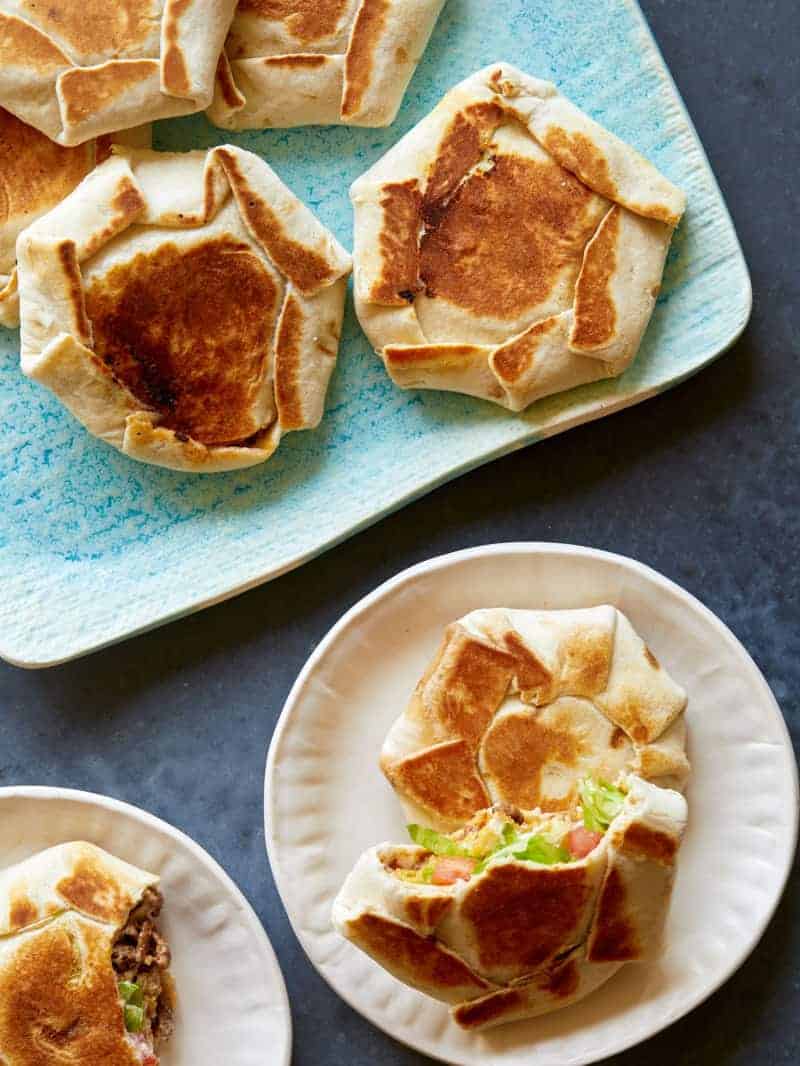 So something a lot of you may not know about me…well really my husband, is that he can be a bit of a fast food junkie, despite my chagrin on the matter. He's been like this since we first started dating back in college and has gotten much better about his fast food habits, THANK GOODNESS, but he still gets sucked into some of the over the top promos…sigh. As someone who is a food stylist by trade, (even before becoming a food blogger as well!), and knows all the weird things and gimmicks we do to that 'super commercial type of food' for it to look good and stay looking good under hot lights for sometimes hours at a time, it makes me laugh even more that those extremely faked and rigged fast food promos really pull at his heart strings, lol. Oh well. His fave over the years, that he still enjoys to this day has always been the Crunchwrap Supreme from Taco Bell (and no, this is most certainly not an ad). SO, in honor of my sweet husband and super bowl this upcoming weekend, I decided to make Mini Crunchwrap Supremes, just for him…and all of you! :)
I didn't want to 'fancy' this up really because that would be completely besides the point, BUT I did make my own cheese sauce, because I'm not crazy about commercial 'cheese' sauces in a jar. Feel free to buy a jar though and use that instead if that's your jam and you want to save on time. You can also create your own taco seasoning too, which I normally do, but for this application, I just stuck with the taco seasoning they have a Trader Joe's. These things are quite tasty, I must admit, and bite sized things are always fun to eat, who know why really, but they just are. The perfect super bowl snack for sure! Enjoy!! xx, Jenny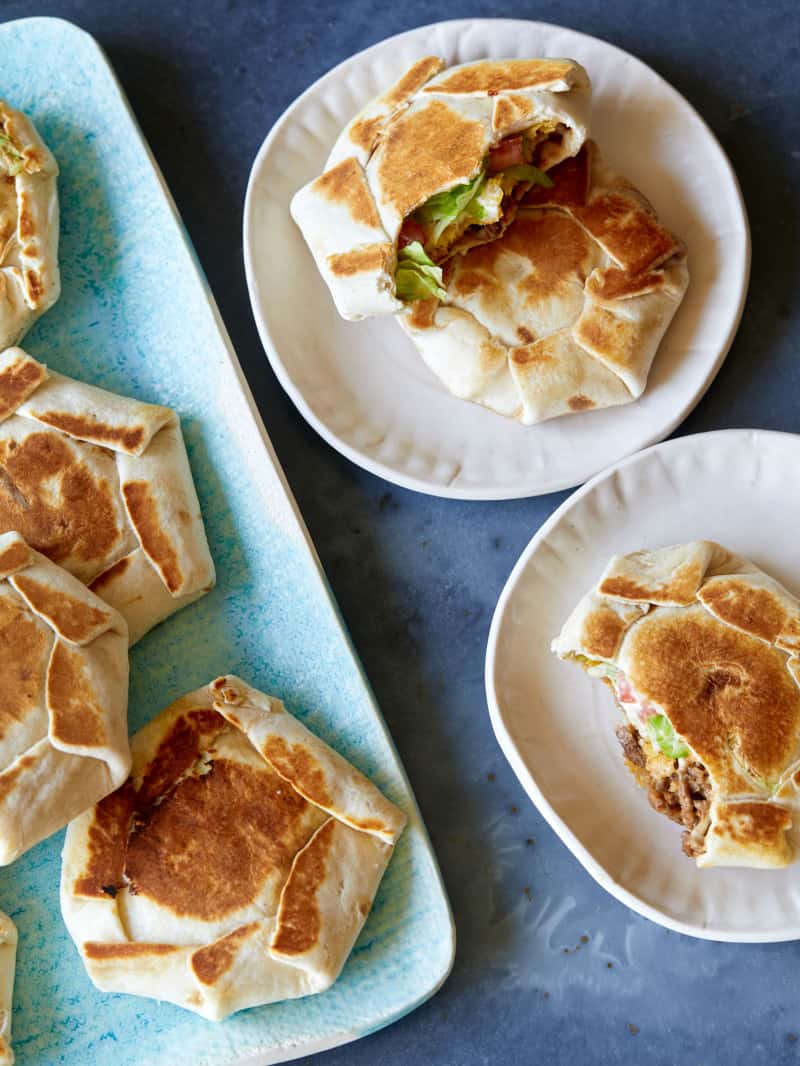 Here are some other recipes you will love: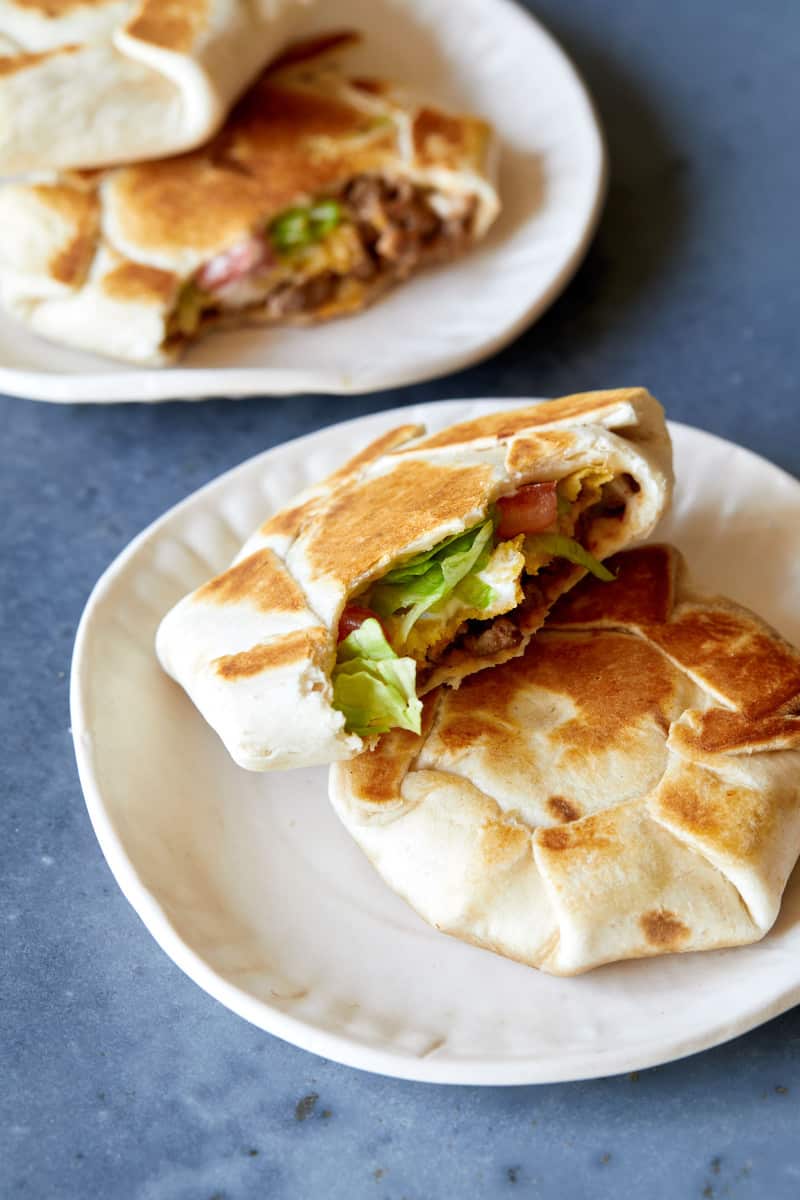 Hungry for more?
Subscribe to never miss a recipe.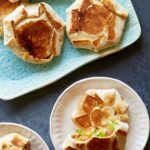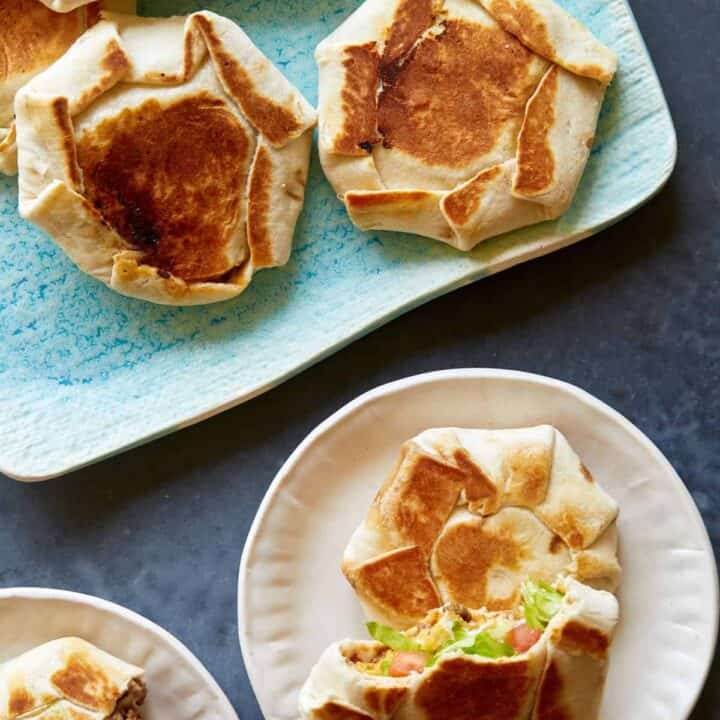 ---
Mini Crunchwrap Supremes
INGREDIENTS
1

tablespoon

extra virgin olive oil

1

pound

lean, ground beef

1

packet

taco seasoning

¼

cup

water

1

tablespoon

unsalted butter

1

tablespoon

all purpose flour

1

cup

milk

4

ounces

shredded cheddar cheese

20

round tortilla chips

20

teaspoons

sour cream, divided

2

roma tomates, seeded and diced

1 ½

cups

finely shredded lettuce

40

(5 inch) flour tortillas
INSTRUCTIONS
Place a large skillet over medium-high heat and add oil. Add beef and brown, 2 to 3 minutes. Sprinkle seasoning over beef and add water. Stir together until beef is cooked through and evenly seasoned. Lightly season with salt and pepper, if needed, and remove from heat.

Place small saucepan over medium heat and melt butter. Add flour and whisk together for 1 minute. Whisk milk into saucepan, lower heat to medium-low and continue to stir, until thick enough to coat the back of a wooden spoon.

Remove from heat and begin adding shredded cheese, a small handful at a time, until fully incorporated and a smooth and creamy sauce forms. Lightly season with salt and set aside.

Using a 2 inch circle cutter, cut circles out of half the tortillas, discard the borders or save for another use.

To assemble: Place a full tortilla onto a clean surface and top with ⅔ to 1 tablespoon of seasoned ground beef, leaving a 1 inch border around the tortilla.

Top beef with a tablespoon of cheese sauce and evenly spread over the surface. Top cheese with a tortilla chip and gently press down. Top tortilla chip with a teaspoon sour cream and a small amount of shredded lettuce and diced tomatoes.

Place a cut out tortilla round over the lettuce and tomatoes and gently press down. Repeat until all tortilla have been built, but not yet sealed together.

At this time place a large cast iron or nonstick skillet over medium-high heat.

Taking the edge of the base tortilla, carefully crimp over the top tortilla (this part can be a little tricky), and once fully crimped, carefully turn the crunchwrap over, crimp-side down, and place onto the hot skillet. Gently pressing down to seal.

Allow crunchwrap to sear for 1 to 2 minutes, flip and sear for an additional minute.

Remove from heat and transfer to a serving dish. Repeat steps 9-11 until all crunchwraps have been pressed and sealed.
Calories:
192
kcal
Carbohydrates:
20
g
Protein:
10
g
Fat:
8
g
Saturated Fat:
3
g
Cholesterol:
25
mg
Sodium:
419
mg
Potassium:
180
mg
Fiber:
1
g
Sugar:
3
g
Vitamin A:
362
IU
Vitamin C:
2
mg
Calcium:
100
mg
Iron:
2
mg