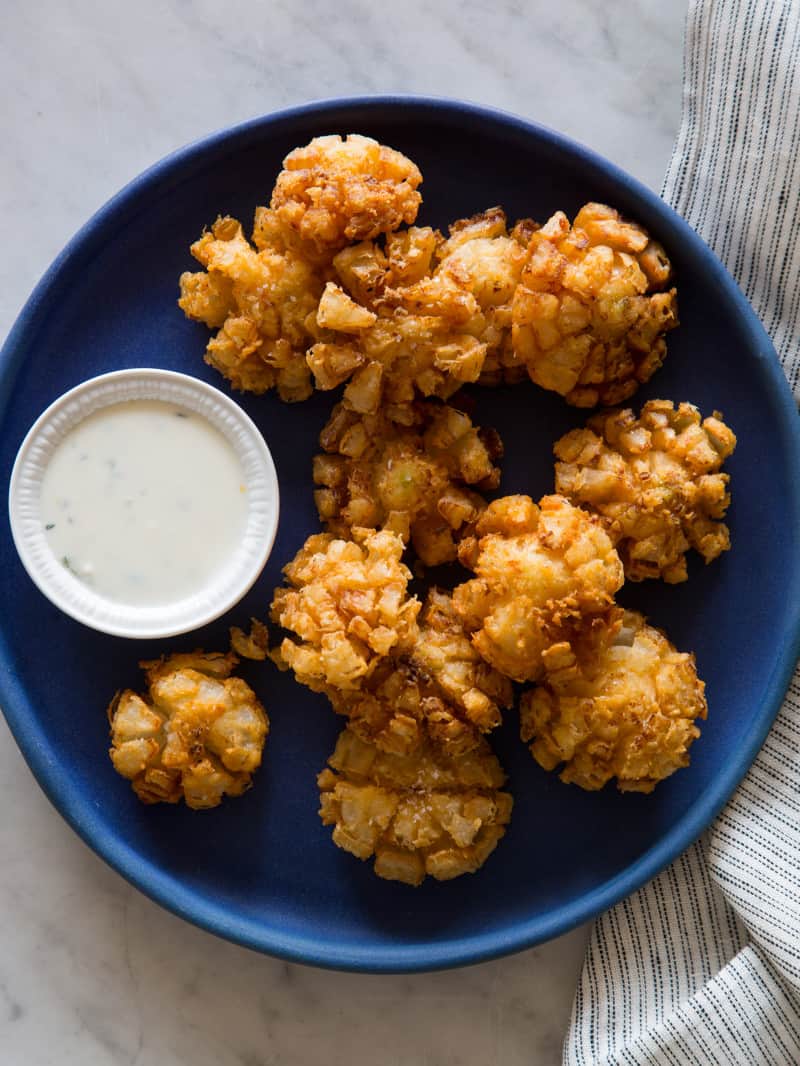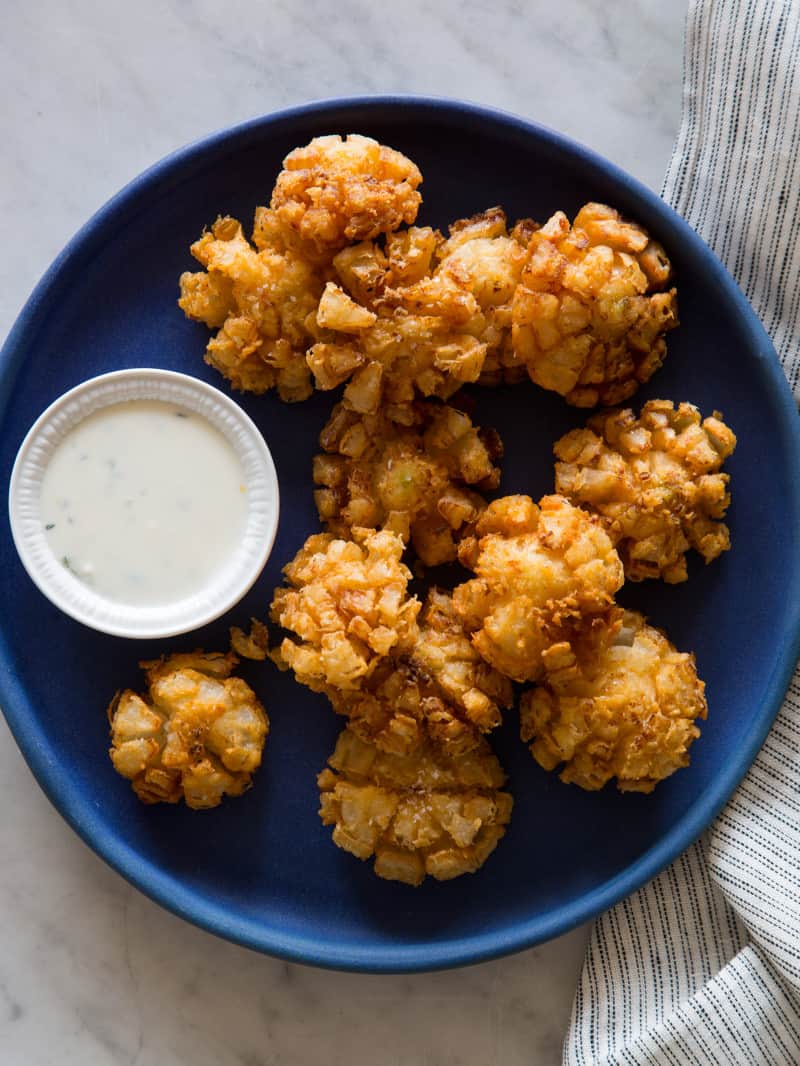 This year we're bringing back our Baby Bloomin' Onions. These things are admittedly a bit of a pain in the butt to make, but they're SUCH a crowd pleaser and always a show stopper. It's a great thing to make if that's the only thing you're making and the host/hostess is cool with you frying up a storm.
Sure you can go ahead and use one or two full sized onions instead of these little guys, but what fun is that really? If you're up for a little super bowl task I really recommend these little guys; super tasty and lots of fun!!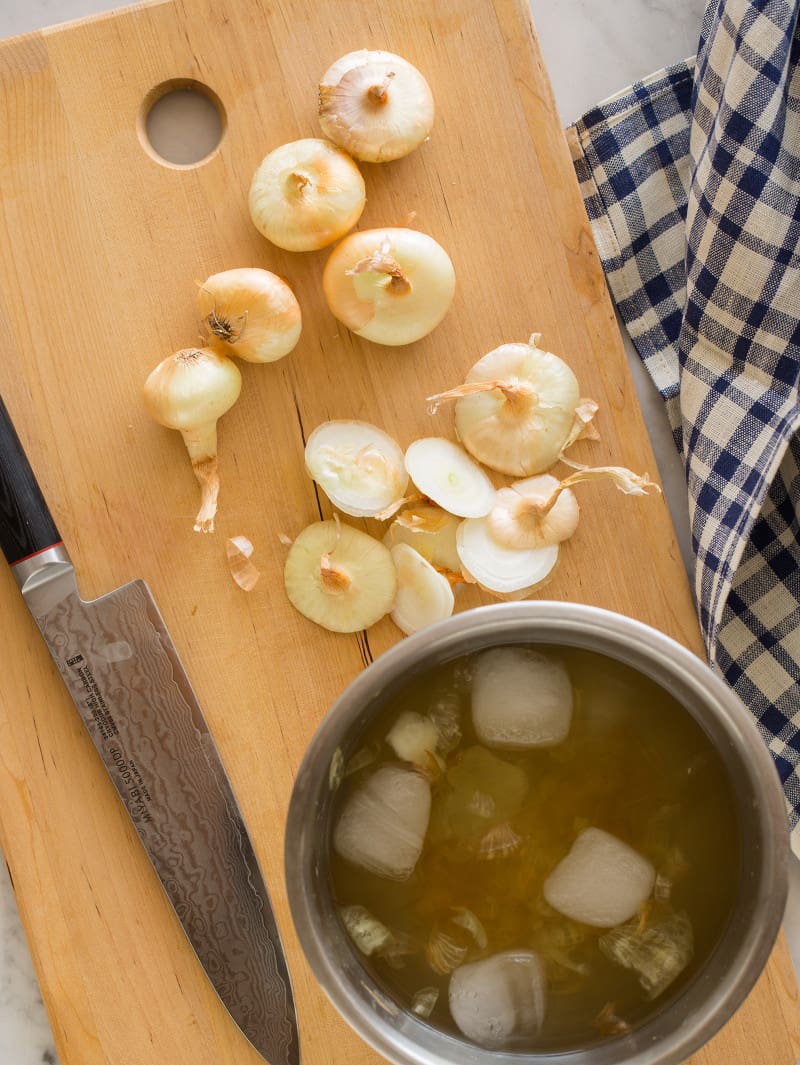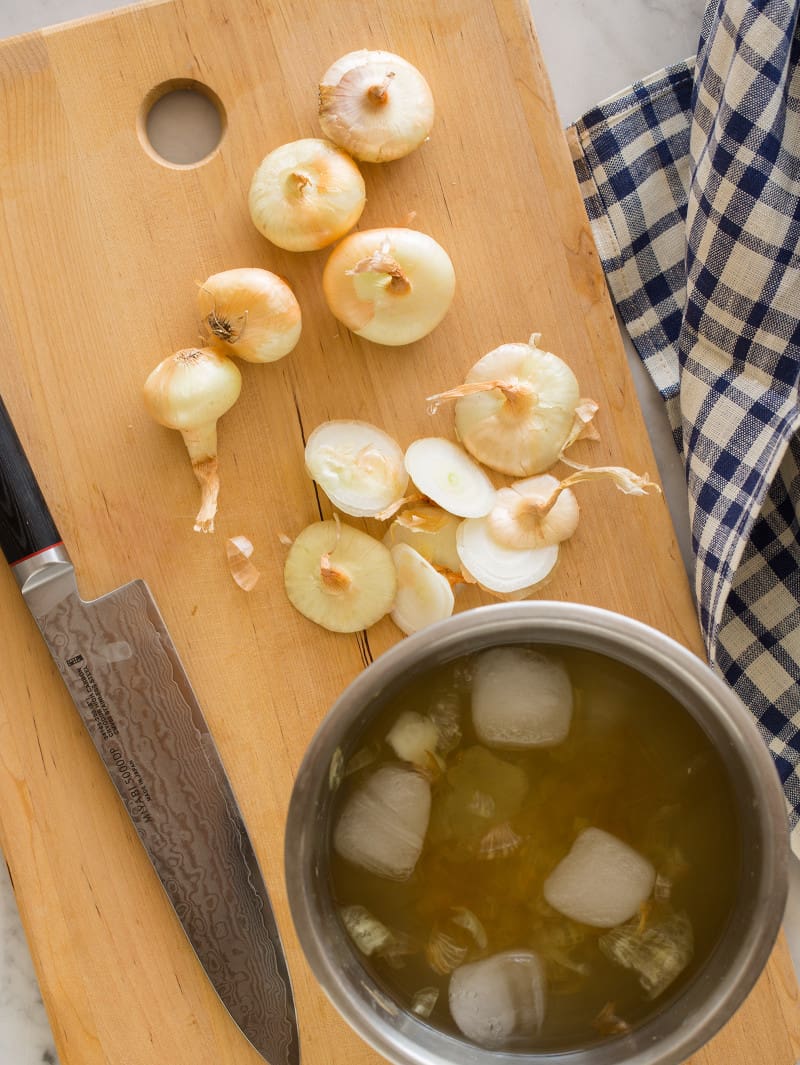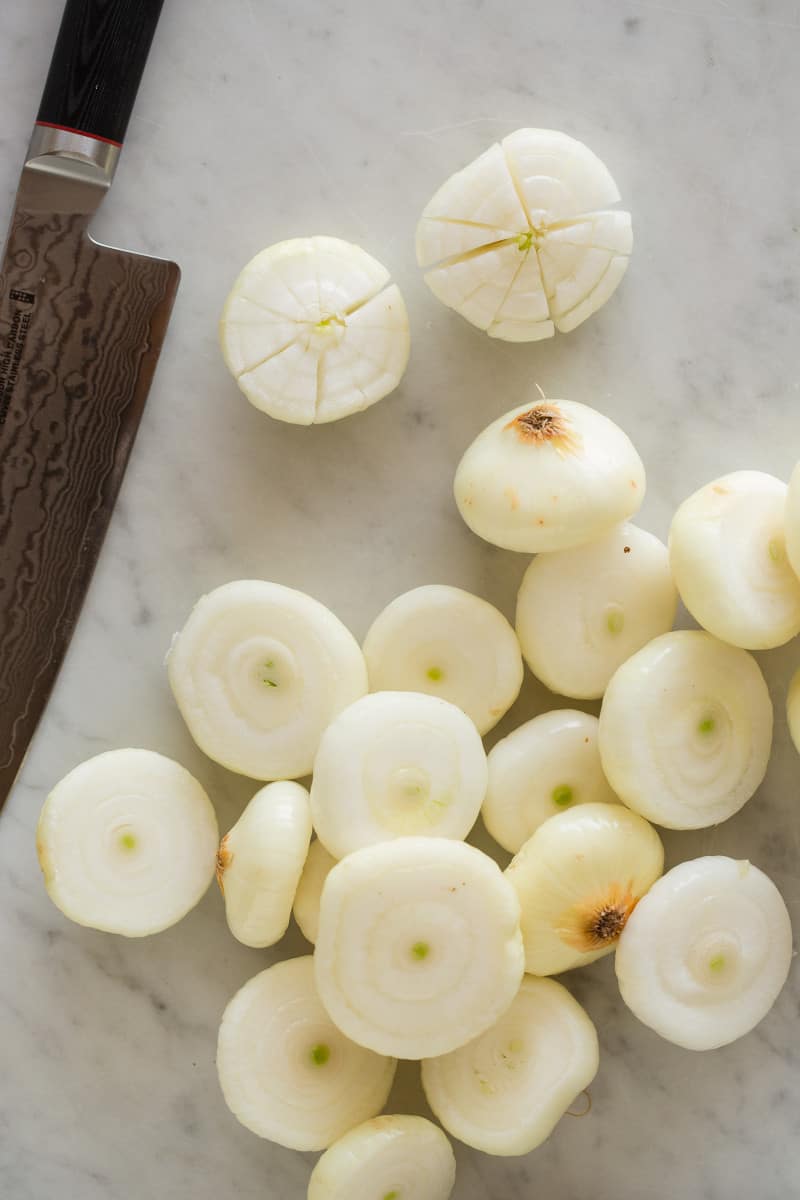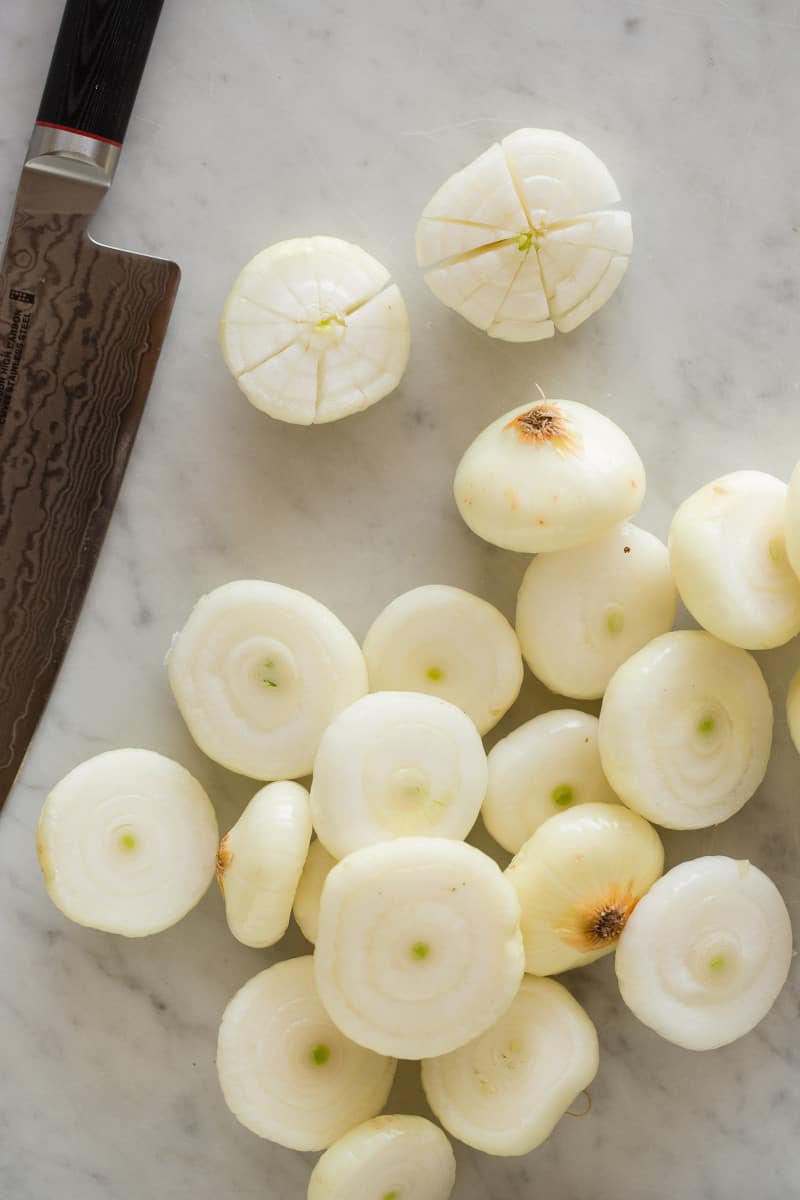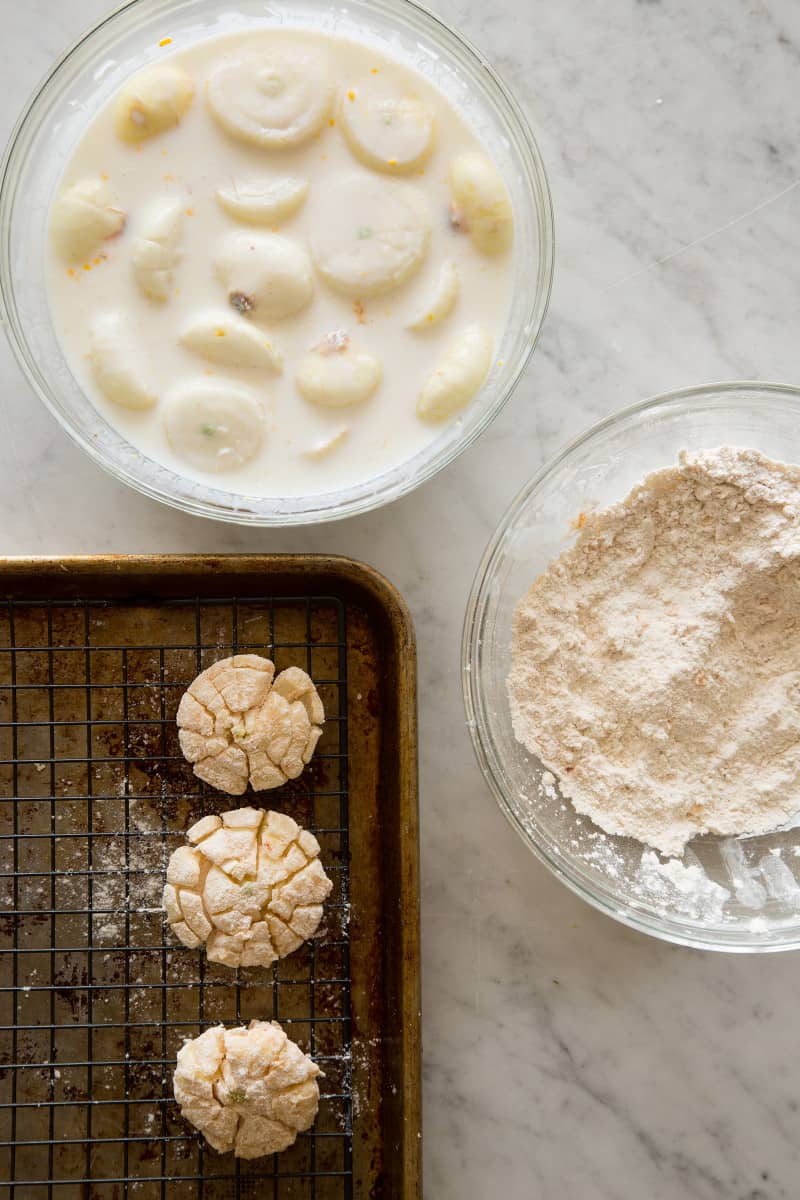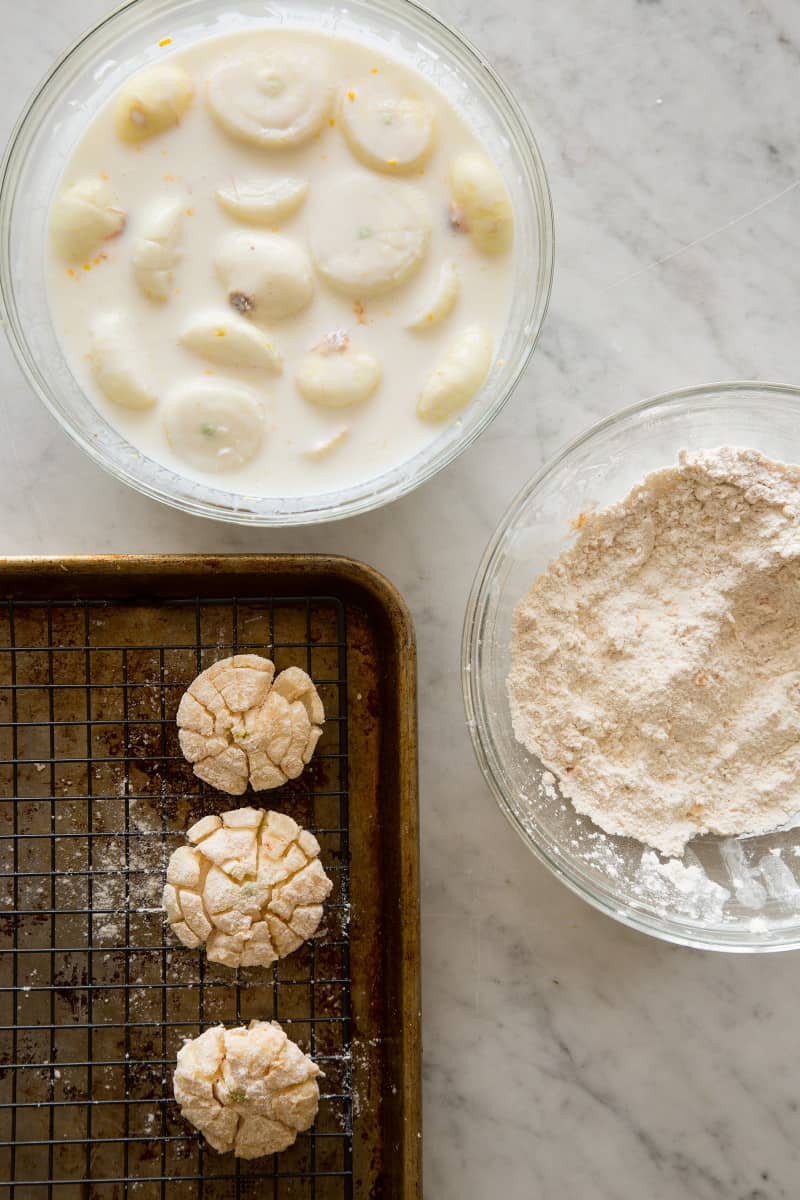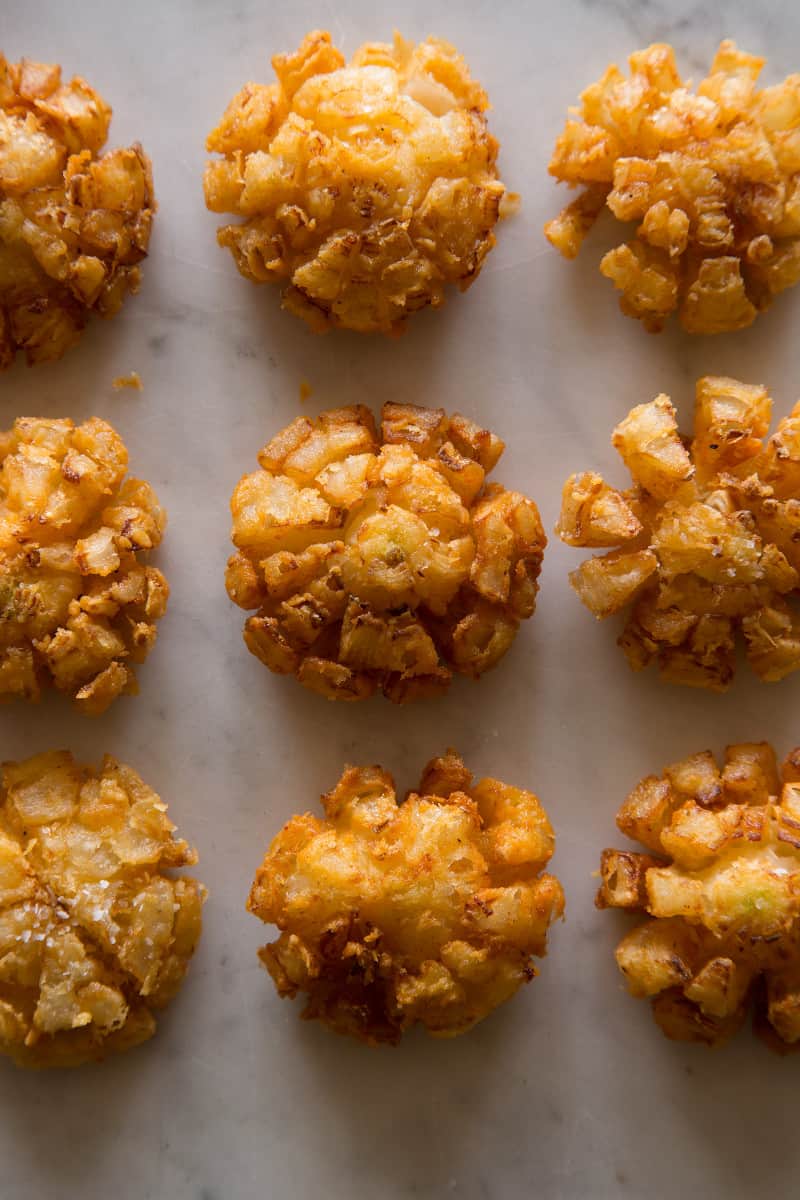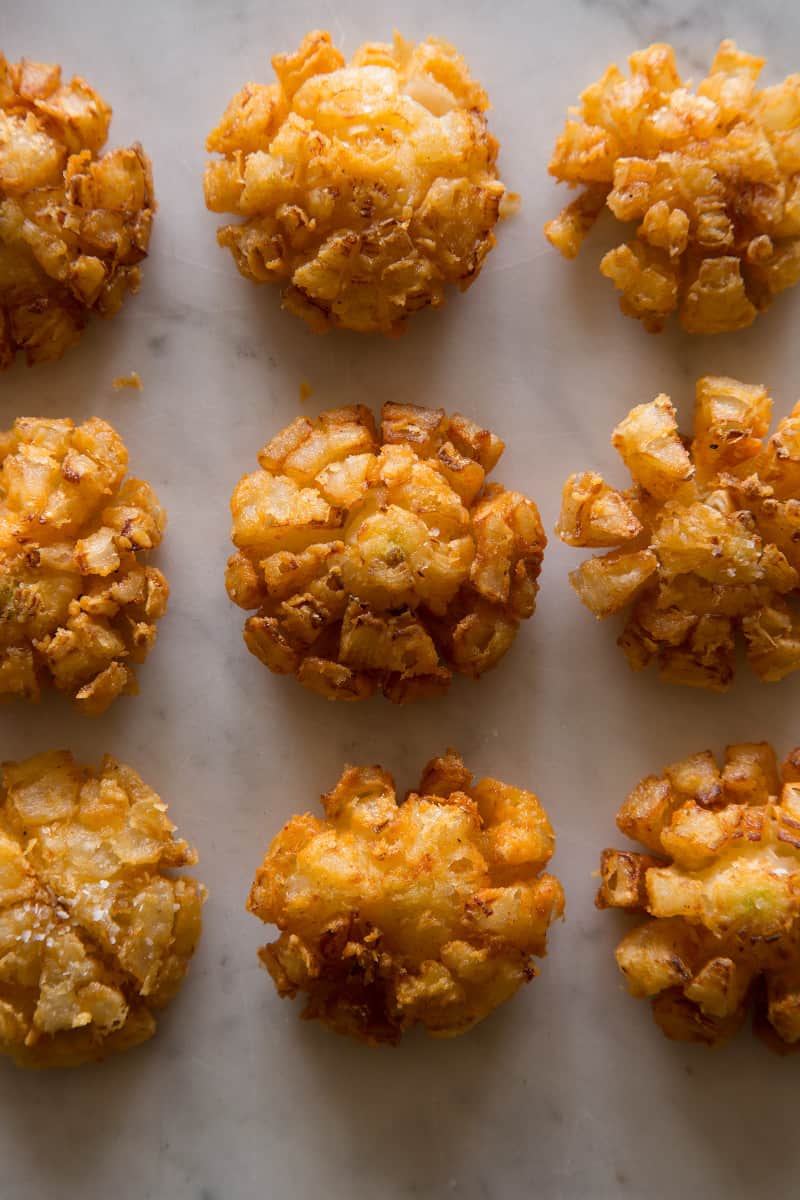 I mean, who has never had or at least never heard of the Bloomin' Onion? No one, right?! They're such intense, gigantic, funny things but I would totally be lying if I said I wasn't a sucker for one. I actually haven't had a bloomin' onion in years, but this recipe seems appropriate with the upcoming food holiday, the super bowl, coming up….and because I tend to be obsessed with tiny foods, I was pretty set on figuring out a way to "minify" them.
First I tried using pearl onions, but they don't have enough layers to really give that "bloomin'" effect. Next, I tried cippollini onions and they work perfectly! If you have a hard time removing the skins you can try soaking them in warm water, which usually helps to loosen them up. This recipe is slightly labor intensive, but I think it's totally worth it and perfect for fun get-togethers. You can also save on time, by peeling and slicing up the onions ahead of time, so all you're left with is dredging and frying.
These little guys fry up so well, with a light a crispy shell that crunches into a soft and slightly caramelized center. So good! I recommend serving these up with a simple buttermilk ranch dipping sauce, but ranch and fried things really go hand-in-hand. If you're still on the hunt for the perfect super bowl appetizer to serve up, you should make these little guys. We're sure they'll be the hit of any party. Enjoy! xx, Jenny
More recipes we know you will love: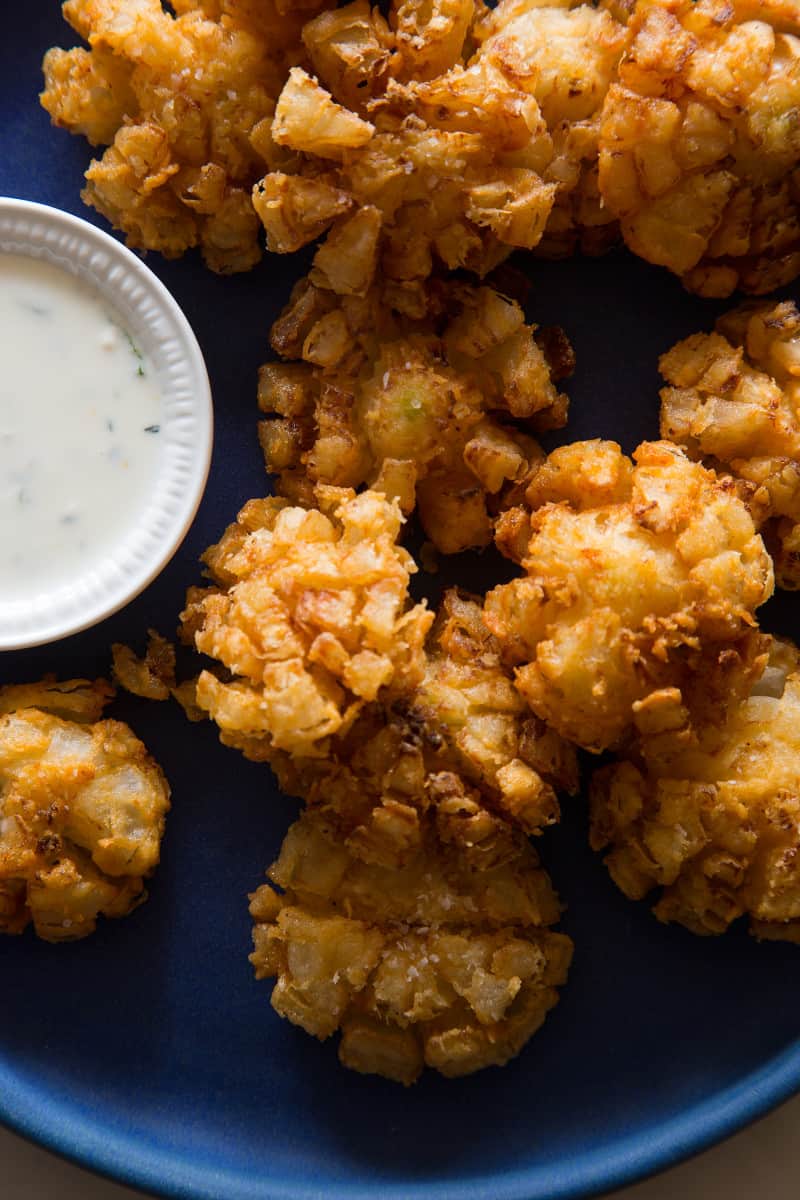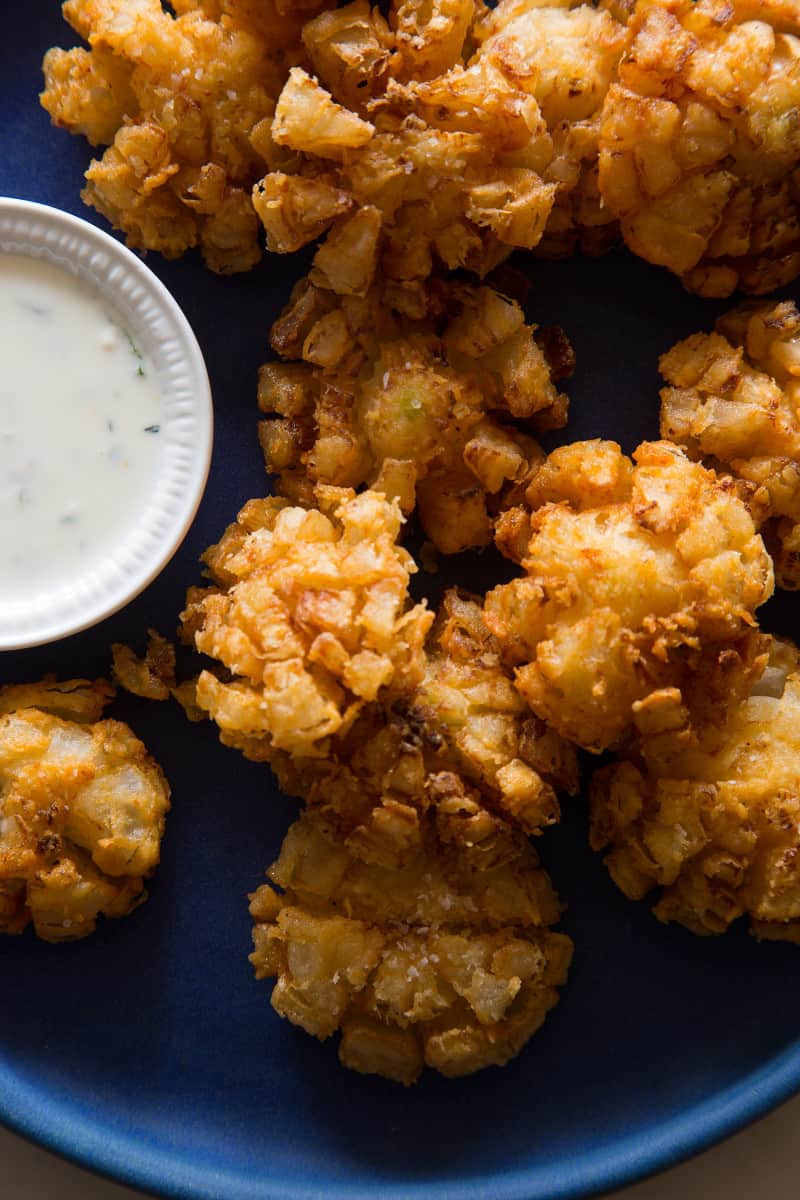 Hungry for more?
Subscribe to never miss a recipe.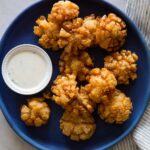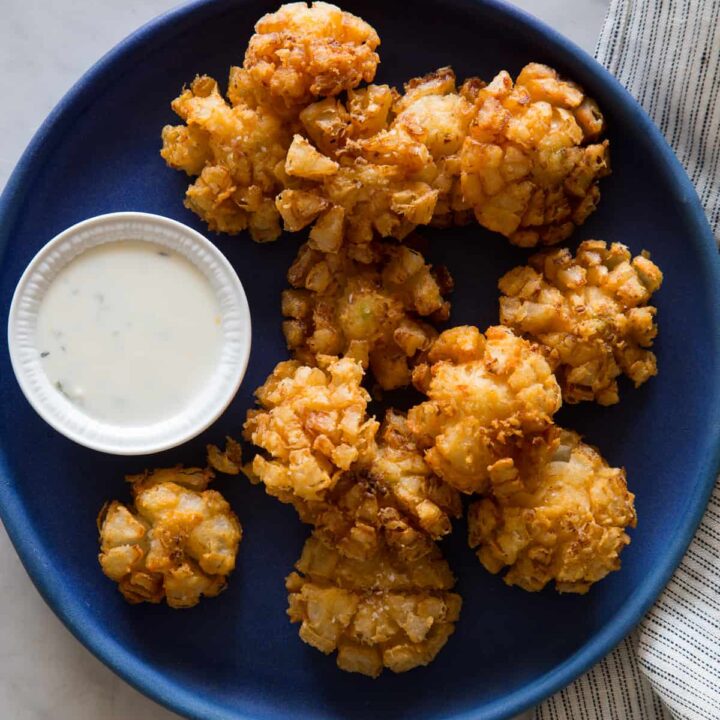 ---
Baby Bloomin' Onions
INGREDIENTS
16

cipollini onions

1

cup

buttermilk

1

cup

all purpose flour

1

teaspoon

garlic powder

1

teaspoon

onion powder

1

teaspoon

smoked paprika

1

teaspoon

salt

½

teaspoon

dry mustard

½

teaspoon

black pepper

peanut or vegetable oil for frying
INSTRUCTIONS
Fill a tall pot with 2 1/2 inches of oil. Preheat oil to 350˚F.

Cut off 1/8 inch from the pointed stem end of each onion, then peel carefully, ensuring not to peel through an actual onion layer.

Place the onion, cut-side up and make a cross-cut through the onion, leaving the bottom stem intact. Continue cross-cutting through the onion until you have 12 evenly spaced cuts through each onion.

Turn the onions over and use your fingers to gently separate the outer layers.

Pour buttermilk into a small bowl. Set aside.

Place remaining ingredients into another mixing bowl and toss together until well combined.

Dip each onion into the buttermilk, shaking to remove any excess liquid. Quickly dredge each onion in the flour mixture, shaking off any excess. Repeat until each onion is double coated.

Carefully drop a couple onions at a time into the hot oil, cut-side down, for 3 to 4 minutes. Flip and fry for an additional 2 minutes or until each onion is crisp and golden brown.

Transfer onions onto paper towels and season with salt and pepper. Quickly transfer to a cooling rack or serving plate and serve with buttermilk ranch dipping sauce.
Calories:
206
kcal
Carbohydrates:
39
g
Protein:
7
g
Fat:
3
g
Saturated Fat:
1
g
Cholesterol:
7
mg
Sodium:
651
mg
Potassium:
320
mg
Fiber:
3
g
Sugar:
8
g
Vitamin A:
349
IU
Vitamin C:
9
mg
Calcium:
107
mg
Iron:
2
mg