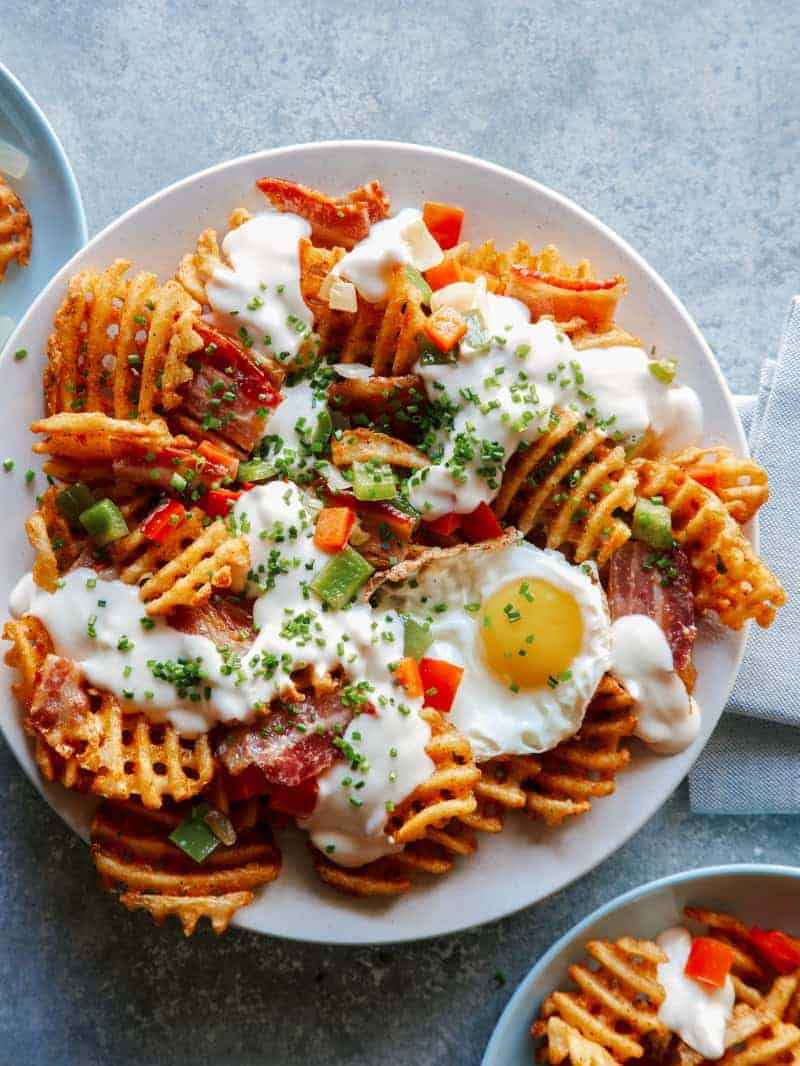 I love when Super Bowl comes around because everyone posts their most delicious fried potato-y cheesy recipes that I love very much. This recipe isn't really intended for Super Bowl, but what times does Super Bowl start? I feel like the answer is fairly early, certainly early enough to make these for brunch. I don't watch the Super Bowl, but I will be thinking about all the wonderful food everyone will be eating. This Irish Breakfast Nacho recipe is so yummy, and the cheese sauce is amazing. It's fairly easy to make, which makes this an ideal Sunday brunch food. I hope you guys love it like I do!
♥ Teri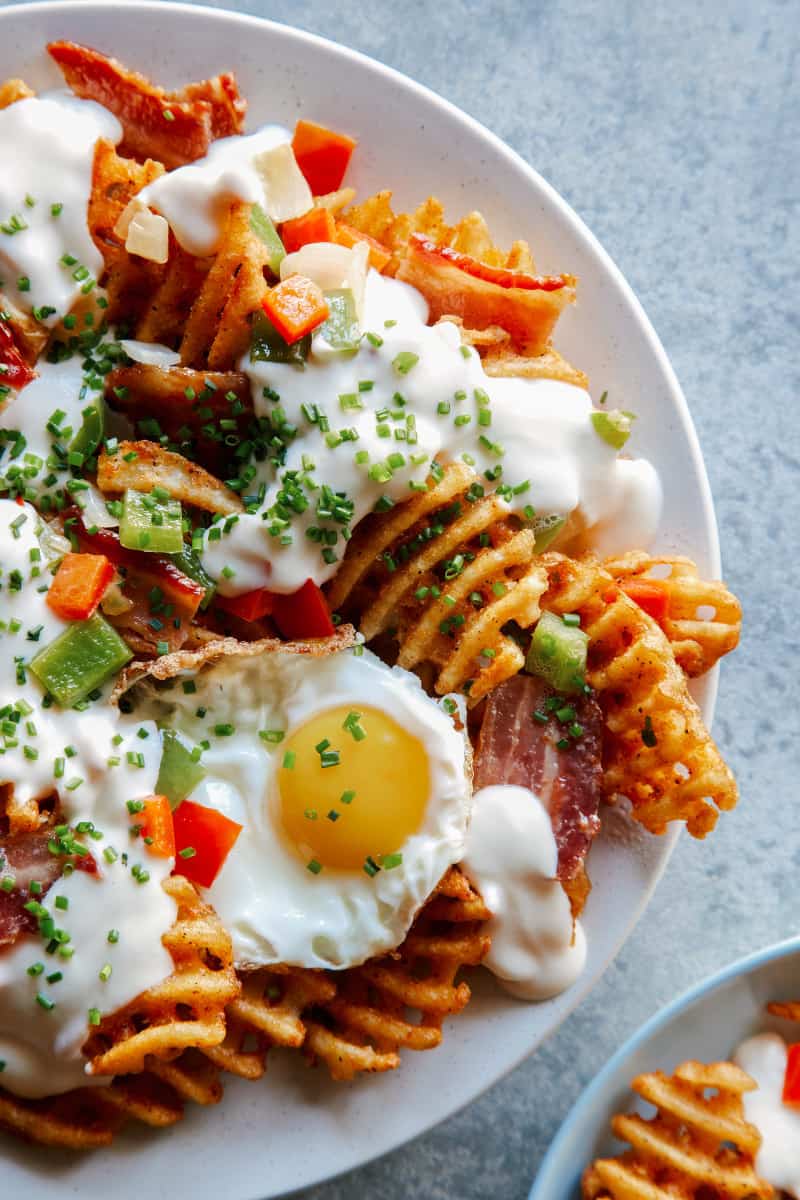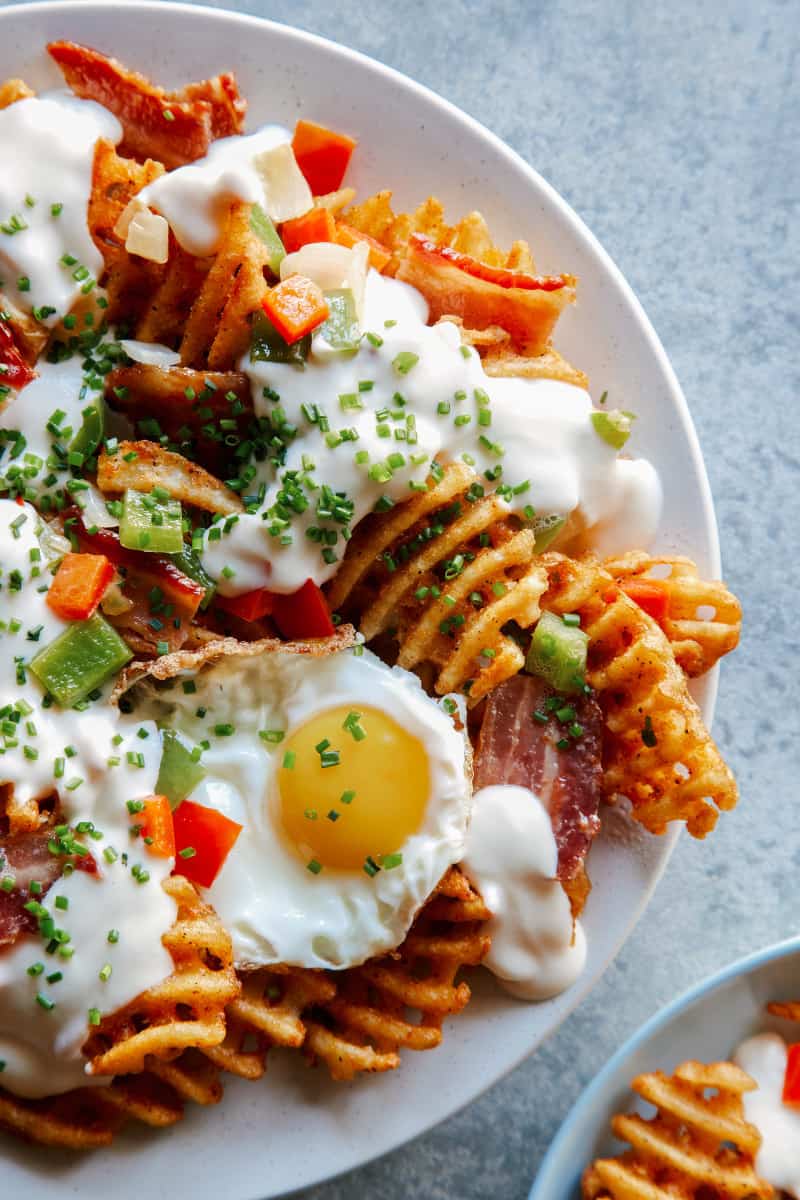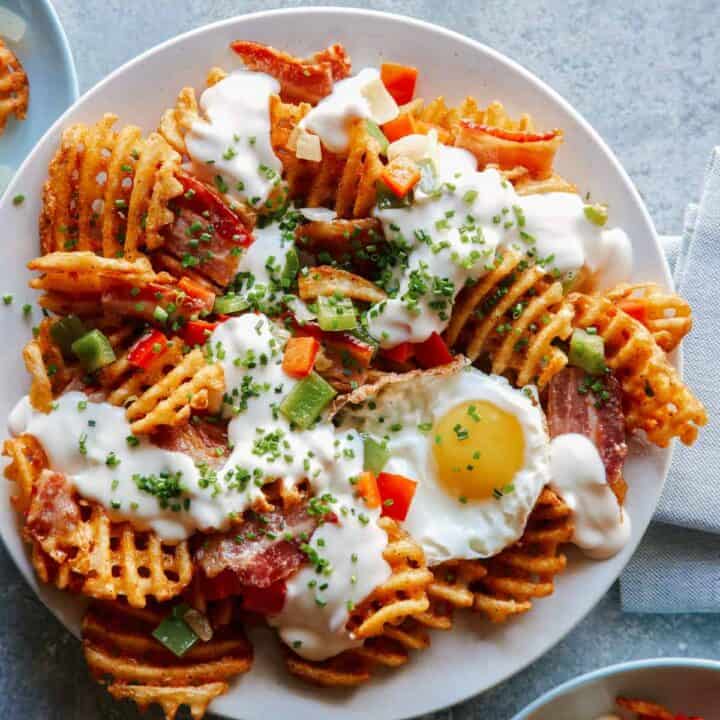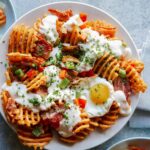 ---
Irish Breakfast Nachos
INGREDIENTS
1

pound

frozen waffle cut French fries

1

tablespoon

extra virgin olive oil

1

tablespoon

unsalted butter

½

yellow onion, chopped

½

green bell pepper, seeded and chopped

½

red bell pepper, seeded and chopped

salt and pepper to taste
silky white cheddar cheese sauce
4

ounces

evaporated milk

1

egg

1

teaspoon

dry mustard

1

teaspoon

salt

½

teaspoon

cracked black pepper

8

ounces

shredded white cheddar cheese

1 ½

teaspoons

tapioca starch

can use cornstarch

1 ½

teaspoons

lemon juice
toppings
6

strips

crispy cooked bacon, cut into ½ inch pieces

1 to 3

fried eggs 

with crisp edges and runny yolks

2 to 3

tablespoons

very thinly sliced chives
INSTRUCTIONS
Preheat oven to 400˚F and spread waffle fries onto a baking sheet in a single layer (use 2 baking sheets, if needed to avoid overcrowding). Bake fries until golden brown and crisp.

Pour oil and butter into a skillet and place over medium-high heat. Add onions and sauté for about 3 minutes. Add bell peppers, season with salt and pepper and continue to sauté for an additional 4 to 5 minutes or until vegetables become slightly caramelized and cooked down, but still hold a small bite. Set aside.

Cheese sauce: In a large saucepan combine evaporated milk, egg, dry mustard, salt, and pepper and whisk together. In a large mixing bowl combine cheese, starch and lemon juice and toss together.

Place saucepan over medium-low heat and whisk together for about 2 minutes. Whisk in small handfuls of the cheese mixture at a time, making sure not to add more cheese until the previous addition had been fully incorporated to the sauce.

Continue to whisk and add cheese over the low heat until all the cheese has been added and a creamy and smooth sauce forms (make sure not to rush this process or your cheese sauce will not be smooth).

To assemble: Spread half of the waffle fries onto a large platter and top with half of the bacon and half of the vegetable mixture. Ladle some of the cheese sauce over the nachos. Spread the remaining fries over the nachos and top with the remaining ingredients, including the fried egg(s). Season with salt and pepper and sprinkle with sliced chives. Serve immediately.