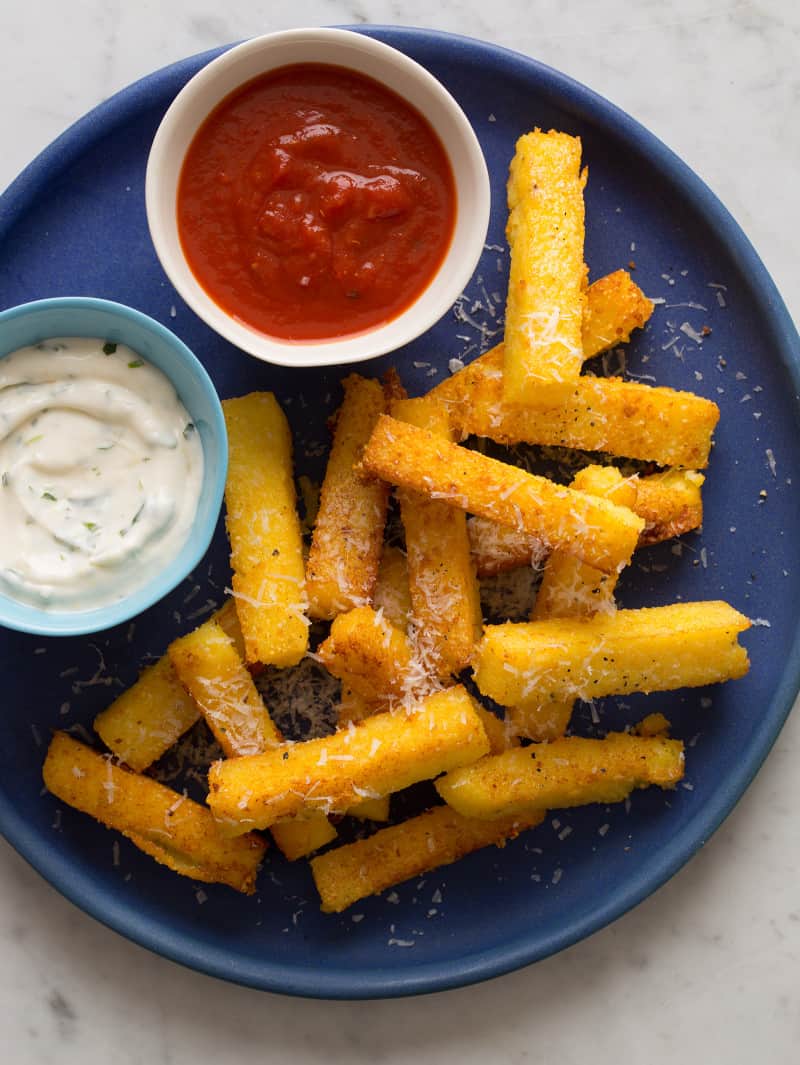 To welcome you back from the weekend I am excited to share with you guys our recipe for Polenta Fries. We love to fry these, but I also have instructions for air frying and baking if you prefer! These little sticks are cut from a slab of polenta and then lightly fried. This recipe is pretty versatile, you can serve them as a side dish to something delicious and meaty, appetizers, or our favorite, as party food! With Super Bowl coming up soon these would be perfect. We served ours with sides of our marinara sauce and a simple tarragon aioli. I love the texture of the polenta, and I prefer to give them a real good pan fry, the crispier the better, just how I like my In and Out French fries well done. Enjoy and happy Monday!
♥ Teri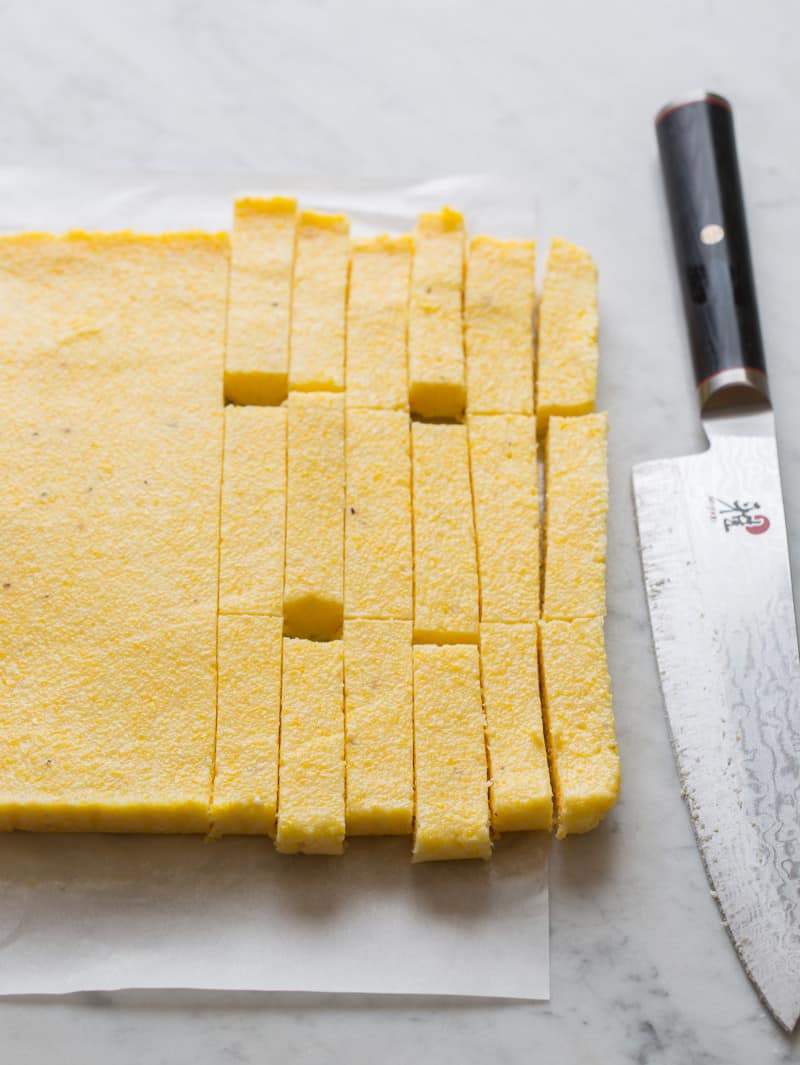 What are Polenta Fries?
We all know and love creamy polenta in a big bowl. Essentially, you are cooking polenta a big longer than you would normally. You will want the polenta to be thick, spreadable, and dough-like. Once you get the consistency right you just smooth out the polenta into a baking sheet and let it cool. This leaves you with a big slab of polenta. You then cut the polenta into long rectangles that resemble french fries. You fry up the polenta fries to get a crispy exterior, and bam! You have yourself some delicious fries! We love Anson Mills or King Arthur cornmeal the best.
What does Fried Polenta taste like?
Polenta fries are crispy and chewy on the outside, and creamy on the inside. We added some goat cheese to our polenta, so you will taste that, as well as the polenta itself, which has a mild taste and a coarse grain. After the polenta is fried, they have a crispy texture on the outside and remain creamy and soft on the inside.
What goes well with Polenta Fries?
We like to serve our fries on the side of a salad, or with anything you would normally serve with french fries. Like burgers, BBQ, chicken, fish. It goes so well with everything!
Dipping sauces for Polenta Fries:
There are so many! We like to serve ours with a variety of sauces, here are some that we LOVE:
– Sir Kensington's Special Sauce
– Ketchup
– Homemade BBQ sauce
– Homemade Marinara sauce
– aioli (tarragon aioli recipe below!)
– Mayo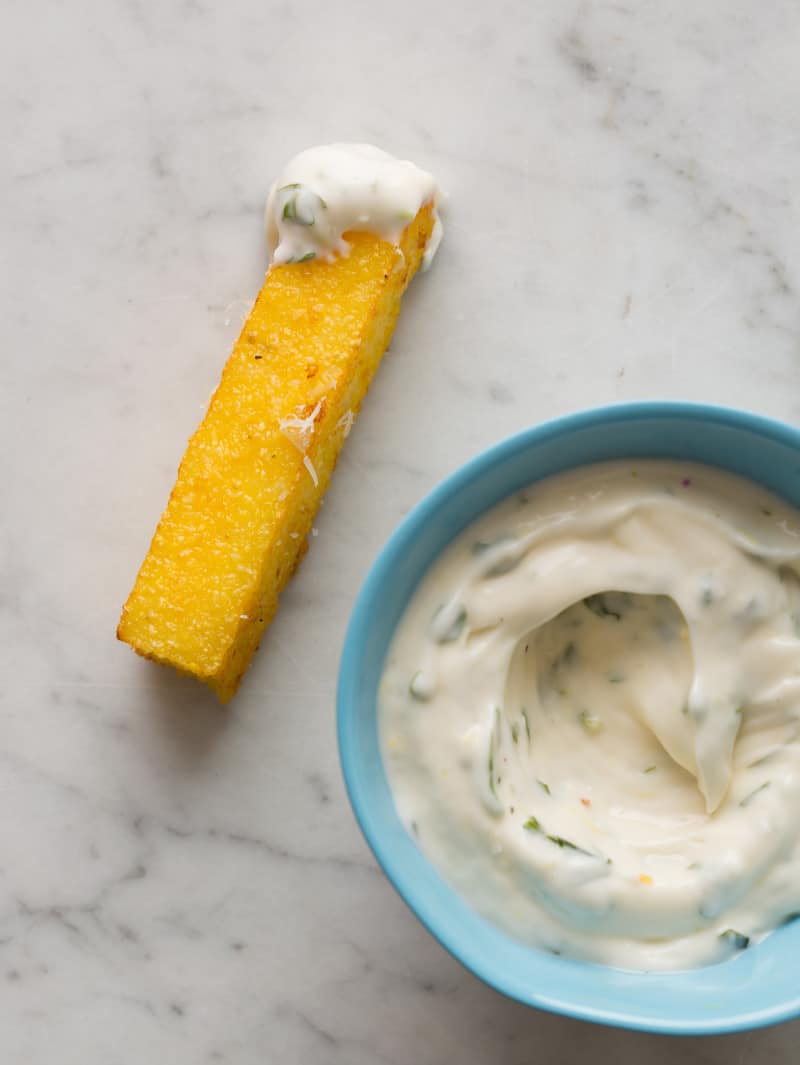 How to cook Polenta Fries in the oven
We know a lot of you hate frying things, so we got you! You can definitely bake them instead! Skip steps 8 and 9 in the recipe. Once you have your fries cut out, place them onto a baking sheet and bake in the oven for about 25 minutes. Flipping them throughout to ensure they get browned on all sides. Serve with your favorite sauces!
Air Fryer Polenta Fries
To make Polenta Fries in an air fryer, skip steps 8 and 9 in the recipe. Spray the air fryer basket with an oil of your choice. Fry for 20 – 25 minutes, until golden brown. Serve with your favorite sauces!
If you're looking for alternative fry recipes, try our Baked Yucca Fries, or our Baked Asparagus Fries. Or if you are looking for other Polenta recipes, we love our Braised Beef Ragu over Cheesy Polenta.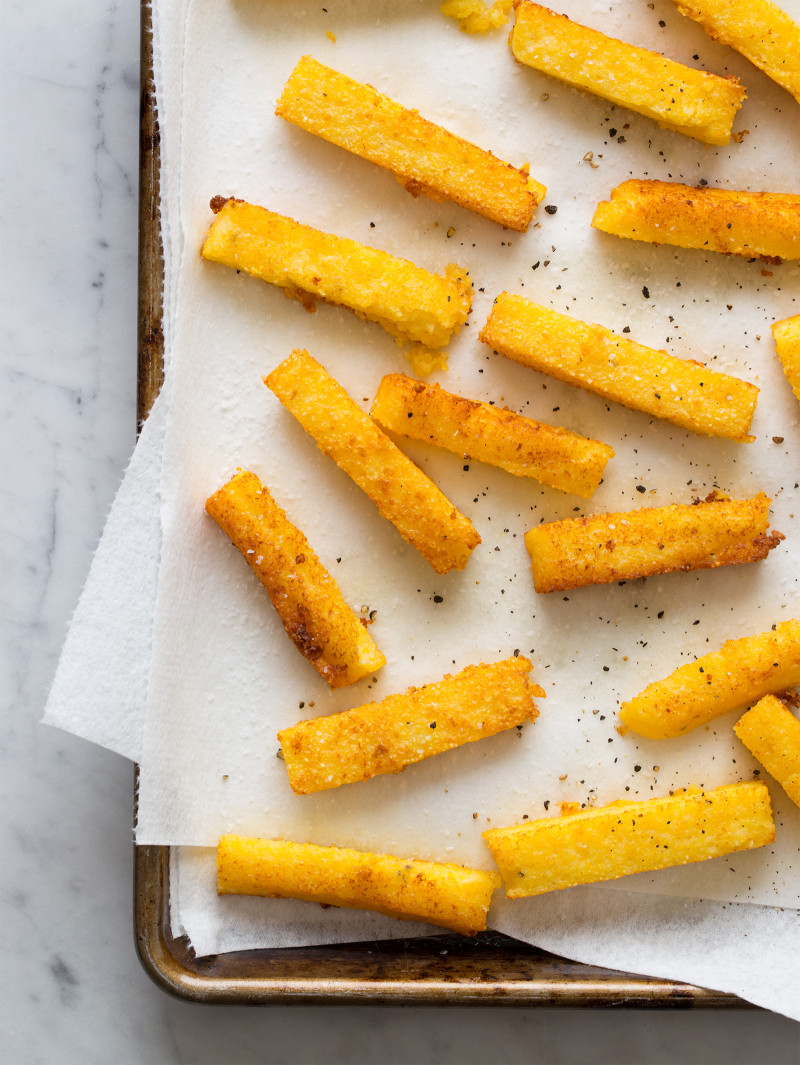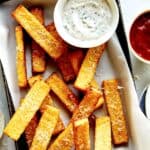 ---
Polenta Fries
Our baked Polenta Fries make a delicious appetizer or can be served as a delicious side dish. They're crisp on the outside and slightly creamy on the inside. Serve them with your favorite dipping sauce!
INGREDIENTS
tarragon aioli
½

cup

mayonnaise

2

teaspoons

minced tarragon

2

garlic cloves, minced

1

tablespoon

fresh lemon juice

salt and pepper to taste
polenta fries
3 1/2

cups

unsalted chicken stock

1 ½

cups

coarse ground yellow cornmeal

2

tablespoons

unsalted butter, softened

3 1/2

ounces

grated Parmesan cheese

1

teaspoon

salt

¼

teaspoon

black pepper
INSTRUCTIONS
Tarragon Aioli
Place all ingredients into a mixing bowl and whisk together. Season with salt and pepper and set aside until ready to use.
Baked Polenta Fries
Pour stock into a medium saucepan, place over medium heat and simmer. Slowly whisk in cornmeal until fully incorporated, lower heat to low and continue to stir for about 20 minutes, until mixture is thick and creamy.

Stir in butter, 2 ounces Parmesan and salt. Season with black pepper.

Stir until no lumps remain, then pour mixture into a parchment lined 9"x13" baking sheet with a 1" lip. Evenly spread and allow mixture to cool for about 20 minutes before placing into the refrigerator. Refrigerate for about 1 hour.

Remove polenta from refrigerator and invert onto a clean cutting board. Remove parchment and cut polenta into 1"x 3" sticks.

Preheat oven to 450˚F. Line a half sheet pan with parchment and spray with cooking spray. Line polenta fries onto prepared baking sheet, about 1/2 inch apart. Spray polenta fries with cooking spray.

Bake fries for about 25 minutes or until fries are golden brown and crisp. Remove from oven and top with remaining grated Parmesan.

Transfer fries to a platter and serve fries with tarragon aioli and marinara sauce (optional).
NOTES
Air Fryer Polenta Fries
Once polenta fries have been cut, spray air fryer basket with cooking spray. Line basket with fries, 1/2 inch apart. Heat air fryer to 400˚F. Bake for 15 minutes, until golden brown and crisp. Remove from basket and sprinkle with remaining Parmesan.
Make Ahead
Polenta Fries can be made up to 2 days ahead of time. Once fries have baked, cool completely. Transfer to an airtight container and refrigerate for 2 days.
To reheat, pat fries dry with a paper towel. Preheat oven to 400˚F. Line fries onto a parchment lined baking sheet and bake for 10 minutes or until heated through and fries crisp back up. Immediately top with grated Parmesan and serve.
Freezing
Unlike potato French fries, these baked polenta fries freeze and reheat very well. Once refrigerated polenta has been sliced into fries, transfer them to a parchment lined baking sheet, about 1/2 inch apart. Then transfer polenta fries to freezer and freeze until each fry is fully frozen, then transfer to a resealable, freezer safe bag. Remove as much air from the bag as possible and store in the freezer for up to 2 months.
To reheat, Preheat oven to 450˚F. Transfer frozen fries onto a parchment lined baking sheet sprayed with cooking spray. Bake fries for 35 to 40 minutes or until golden brown and crisp. Immediately top fries with grated Parmesan and serve.
Calories:
333
kcal
Carbohydrates:
28
g
Protein:
11
g
Fat:
20
g
Saturated Fat:
6
g
Cholesterol:
27
mg
Sodium:
802
mg
Potassium:
288
mg
Fiber:
3
g
Sugar:
3
g
Vitamin A:
291
IU
Vitamin C:
2
mg
Calcium:
152
mg
Iron:
2
mg
CUISINE:
Italian, Italian-american
KEYWORD:
baked polenta fries, fries, polenta, polenta fries
COURSE:
Appetizer, Side Dish, snacks