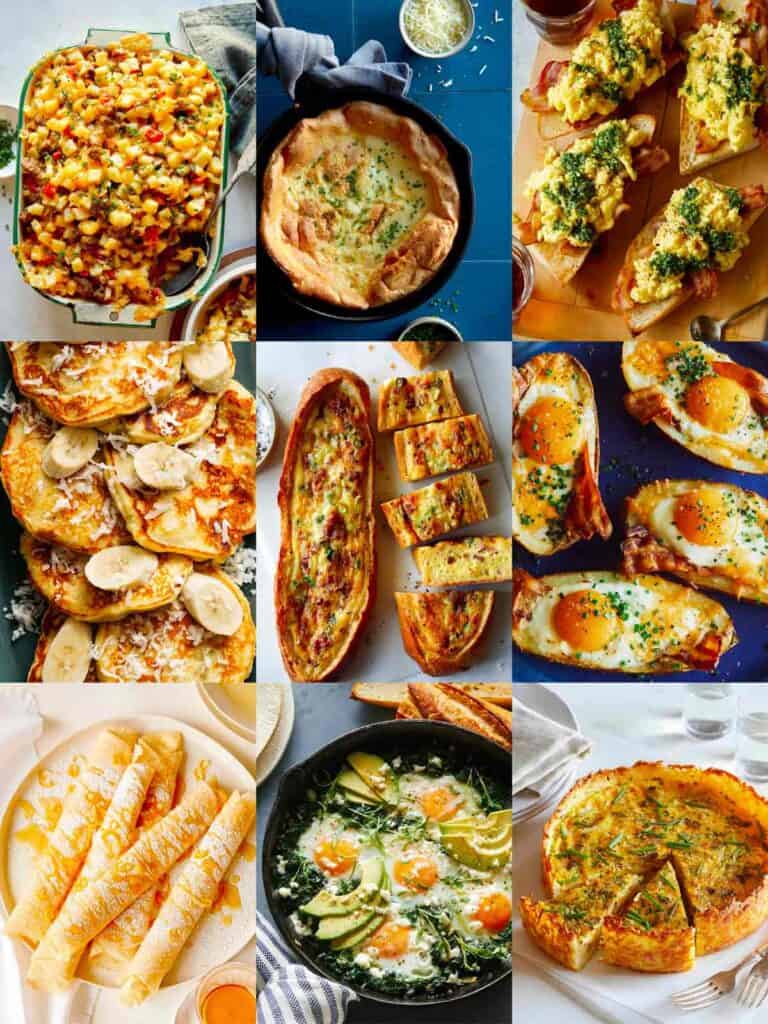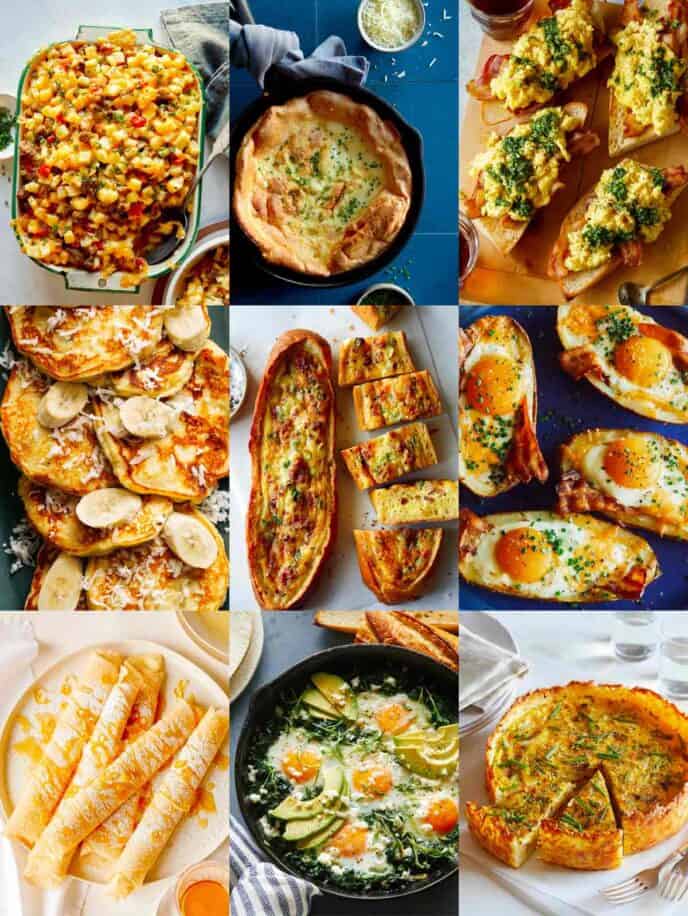 Savory Mother's Day Breakfast Ideas
With Mother's Day just around the corner we thought we would round up our favorite breakfast and brunch recipes that are perfect to celebrate Mom, or the Mother figure in your life. We choose some sweet recipes, and some savory, and some super easy recipes that are perfect for making with kids.
Breakfast Casserole – This recipe is newer for us, and has become a favorite. It's super versatile, and an easy recipe to make ahead. If you're planning more of a pot-luck brunch, this is one of our perfect Mother's day brunch ideas. This can also be served on it's own because it's loaded with eggs and sausage, but does make an epic side dish too. Check out our tips and tricks for this recipe to ensure success!
Baked Egg Boats – This is probably the most popular breakfast recipe on the site. It's super delicious, easily customizable, and perfect for Mom's special day.
Hash Brown Crust Bacon and Cheddar Quiche – This recipe is one our favorites! It's a little time consuming, but you can totally make this ahead of time (detailed instructions are in the post!). It's always a crowd pleaser, and we love all the messages we get on instagram from people who rave about this recipe.
Sausage Strata – This is a savory person's dream recipe. It's basically bread puddings salty cousin. We loaded this casserole up with sausage, cheese, cream and eggs. It's heavenly and perfect for a crowd!
Twice Baked Breakfast Potatoes – This is an amazingly delicious breakfast recipe. It's basically potato skins stuffed with eggs, cheese, and bacon. They are so so good. You can prep this recipe ahead for easy assembly when you are ready to bake. This is a perfect recipe for Mother's Day!
Beet Cured Salmon Brunch Platter – If you're looking for something on this lighter side, our beet cured salmon is a great dish. It's something you can make ahead and serve with your favorite local bagels and toppings to make this a stress free breakfast or brunch celebration!
Herb and Cheese Dutch Baby – This delicious part soufflé part pancake is beautiful straight out of the oven. We top ours with lots of gruyere cheese, but you can easily swap out for ingredients you have on hand or prefer. I have topped my dutch baby with goat cheese and cherry tomatoes before and it was so good!
Pesto Topped Soft Scrambled Eggs – This recipe is really easy, and perfect for Moms who like to keep things simple and classic. We topped some delicious sourdough toast with soft scrambled eggs, pesto, and bacon. Top with some freshly grated Parmesan if you have it! This pesto is really easy to pull together, and if you have leftovers it's delicious on pretty much everything.
Green Shakshuka – Our Green Shakshuka recipe is great for those with dietary restrictions. It's packed with spinach and some spices for taste. It's a really beautiful dish that makes a great brunch recipe!
Simple Cheesy Skillet Hash Browns and Eggs – This is another really easy recipe that takes no time to whip up! The hash browns get crispy on the bottom, and pair that with some runny egg yolks, some bacon on the side and some buttery toast and you have the perfect breakfast!
Breakfast Scramble Stuffed Avocado – This is another easily changed recipe to suit your tastes. If you have a Mom who is an avocado fan this recipe is for you! Make sure to buy your avocados in advance so they can be perfectly ripe when it's time to whip this recipe up!
Sweet Breakfast recipes for Mother's Day
Meyer Lemon and Ricotta Stuffed Crepes – I love this recipe, such a perfect treat to make for Mother's Day! The simple and sweet crepes are filled with ricotta and lemon zest and then we drizzled the top with honey, but you can also use maple syrup. They are so delicious!
Strawberry and Cinnamon French Toast Roll Ups – This is a different take on your traditional french toast recipe. This version is baked, and studded with strawberries. It makes for such a delicious breakfast or bunch recipe.
Coconut Banana Pancakes – Delicious fluffy pancakes are such a classic Mothers Day food. We love classic banana pancakes but with the addition of coconut it's so good. You can make these pancakes extra indulgent by slathering warm peanut butter over the top for an extra treat. Yum!
Brown Butter Braided Cinnamon Roll Cake – This impressive looking cake is made with cinnamon roll dough but instead of slicing it into sections like you would to make traditional cinnamon rolls, we braided the dough together to make a stunning cinnamon roll cake. Perfect for a celebration!
Chocolate Chip and Bacon Orange Kissed Pancakes – A little sweet, and a little savory, and perfect for the chocolate lovers! I love the flavor of these pancakes. The bacon adds a delicious salty flavor that shines against the orange and chocolate chips. Yum!
Banana Bread French Toast – This is kind of a twofer recipe. Make a double batch of our banana bread recipe, and use one load to make our delicious Banana bread french toast coated in corn flakes (yes, it's as amazing as it sounds). Wrap up the other load and send it home with your Mom as a delicious Mother's day treat!
Looking for some Mother's day gifts? Sometimes shopping for Mom can be so hard! We have a new round up filled with all of favorite gifts perfect for Mothers day!