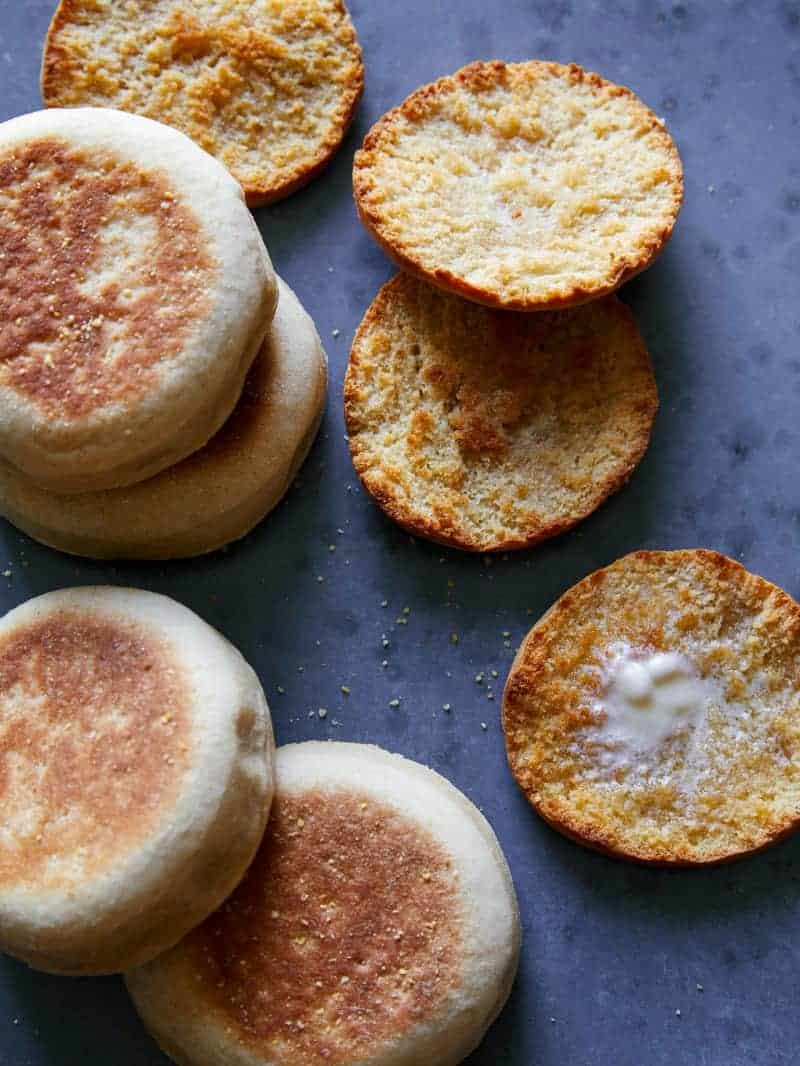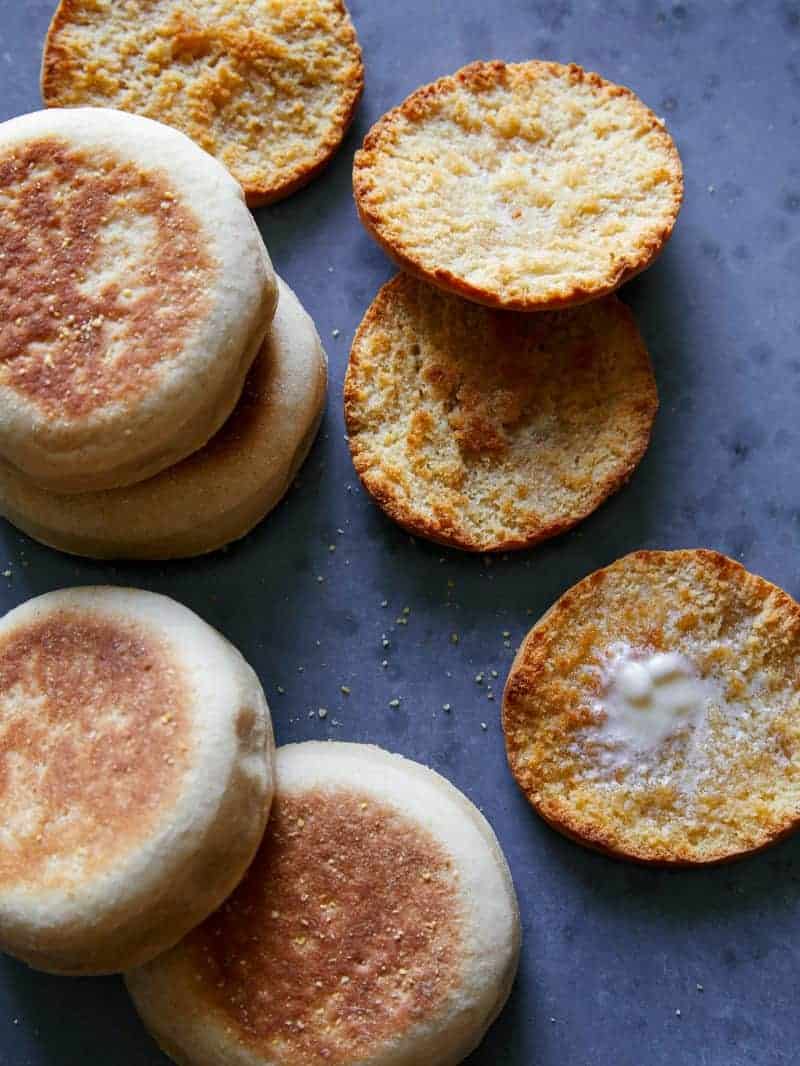 I've been wanting to create my own Homemade English Muffin recipe for quite sometime, but have always put it off…until now! Last month I got into a bread kick and tested out what seemed to be dozens of batches of English muffins (and bagels!!!..coming soon) and I'm really happy with the current results! These guys have a great amount of nooks and crannies, are soft in the center, with a nice bite on the outside. They also toast up really nicely!
The great thing about English muffins is that you cook them stovetop, so there's no need to turn the oven on! I don't know why exactly that's a plus, but it just feels like a "baking" win for all of us, you know? Anyways, although yeast stuff can seem intimidating it's never as scary as I think it's going to be, plus ingredients are usually pretty minimal, which I appreciate. I also like that this dough is smooth and elastic, so it's actually pretty easy to work with and a bit forgiving. If you guys have sometime this weekend and want to try out a pretty satisfying non-baking project, these English muffins are a great start! Enjoy! xx, Jenny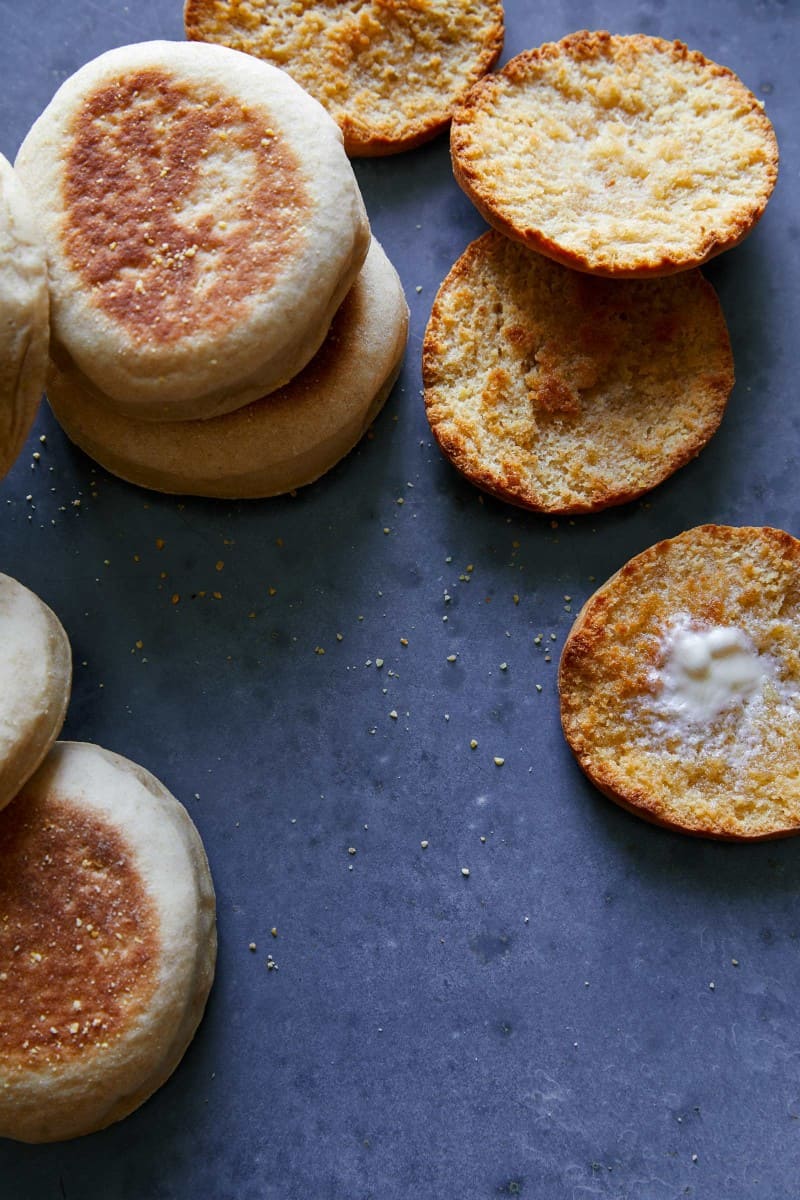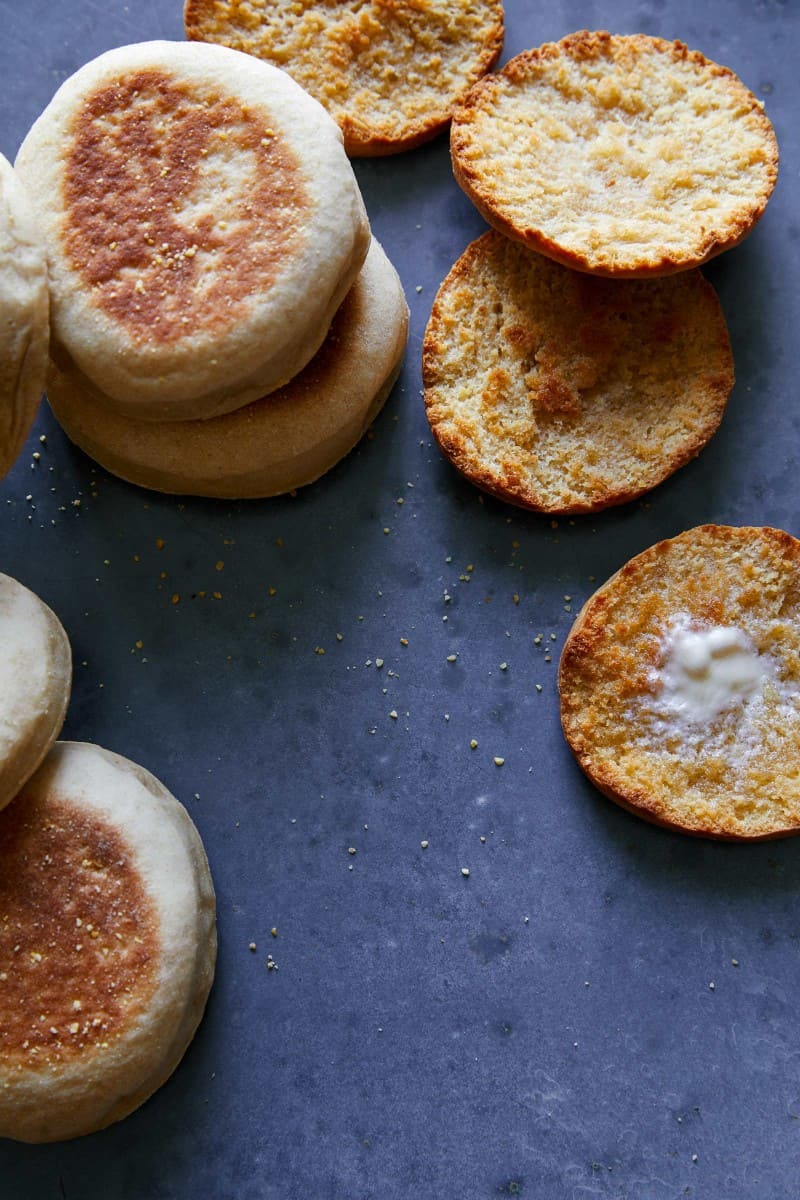 Hungry for more?
Subscribe to never miss a recipe.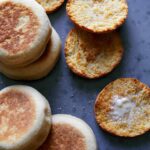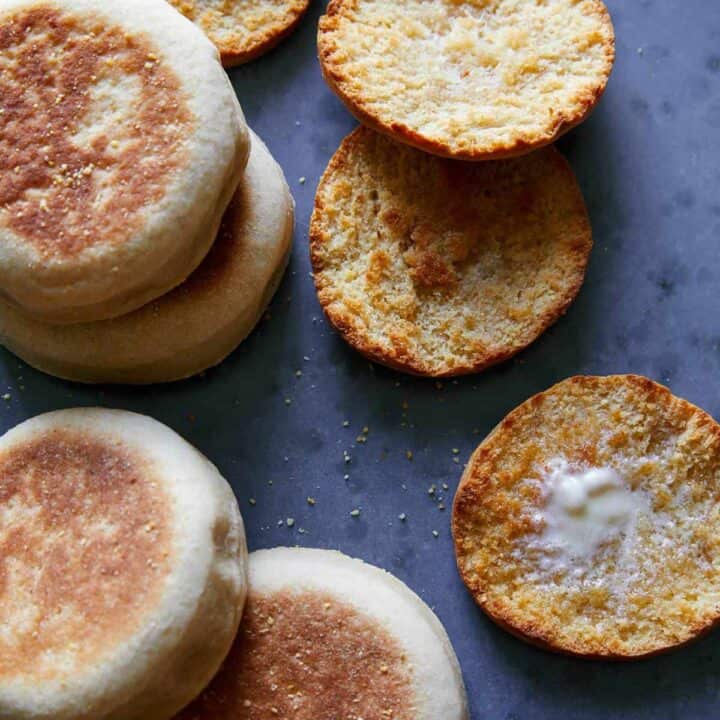 ---
Homemade English Muffins
INGREDIENTS
1 ½

cups

warm milk, divided (100-110˚F)

2

tablespoons

sugar

1

package

dry, active yeast

2 ¼ teaspoons

7

tablespoons

unsalted butter, melted and divided

2

teaspoons

salt

1

large

egg, beaten

4 ½ to 5 ½

cups

bread flour

½

cup

medium grind cornmeal
INSTRUCTIONS
In a mixing bowl, combine 1/2 cup warm milk, sugar and yeast. Allow mixture to sit for about 10 minutes, until bubbling and foamy on top.

Add remaining milk, 4 tablespoons melted butter, salt, and egg and stir together.

Stir flour into yeast mixture, ½ cup at a time until dough comes together. Turn out onto a lightly floured and clean surface and knead until dough is smooth and elastic, roughly 8 to 10 minutes.

Transfer dough to lightly greased and cover. Store dough in a warm place and allow to double in size, about 1 hour.

Sprinkle all but 2 tablespoons cornmeal evenly onto a baking sheet.

Turn dough out onto a lightly floured and clean surface and roll dough out until 1/2 inch thick. Using a 3.5" round cutter, cut out 10-12 (as many as you can get in one round of cutting) English muffins.

Carefully transfer muffins to baking sheet lined with cornmeal, about 1 ½ inches apart. Top each English muffin with a sprinkle of remaining cornmeal.

Cover and allow muffins to rest, about 30 minutes.

Place a griddle onto the stove over medium-low heat. Brush with 1 ½ tablespoons butter and add half the English muffins.

Cook each muffin for about 7 to 8 minutes or until golden brown on the bottom. Flip and continue to cook each muffin for 4 to 6 minutes, or until golden brown and just cooked through.

Transfer English muffins to a cooling rack, wipe away any excess cornmeal from the griddle's surface and repeat steps 9 and 10.

To serve: Using a fork, crack an English muffin in half, toast and serve with soft salted butter, jam, honey, etc.
Calories:
294
kcal
Carbohydrates:
43
g
Protein:
9
g
Fat:
9
g
Saturated Fat:
5
g
Cholesterol:
38
mg
Sodium:
411
mg
Potassium:
136
mg
Fiber:
2
g
Sugar:
4
g
Vitamin A:
279
IU
Calcium:
46
mg
Iron:
1
mg