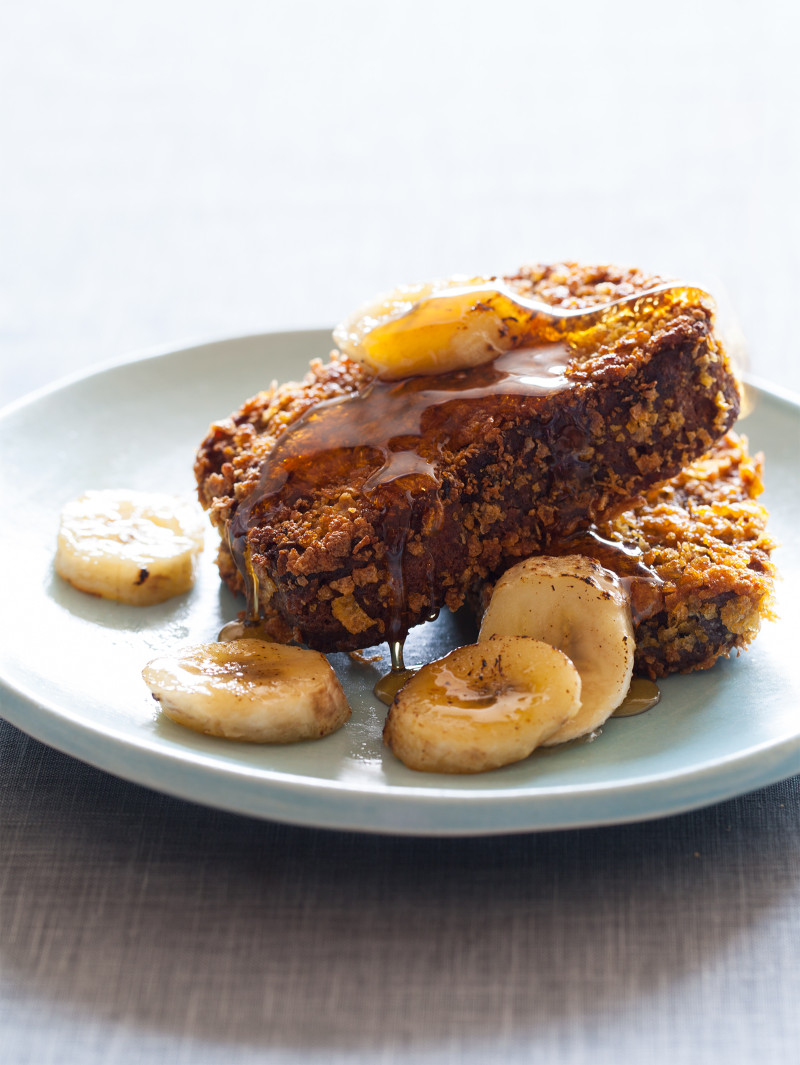 Hey guys! Thank you so much to everyone for your kind words and support of my friend and helping to spread the word during MS awareness week. It means the world to me! If you have no idea what I'm talking about, you can find out here! :)

Today we're re-posting an "oldie, but goody" for sure. It's our banana bread French toast. I feel like banana bread is everywhere. People love to make it and people love to eat it and it's around during the summer, gifted during the holidays, it really is a year-round treat and that's fine by me! One thing that I've noticed, around my household in particular at least, is that whenever we make or are gifted banana bread, we end up eating about half of it (there are only 2 of us…well 3 including our precious dog, Dex…but he doesn't get any banana bread. Sorry little guy!), then the rest sits around the kitchen counter or in the fridge for another few weeks before it's eventually thrown away. Even if it's the best banana bread ever, we still end up finding ourselves a little over it after we've each had about 5 or 6 slices. Does this happen to anyone else?!
To combat this issue and make sure we're not wasting the rest we've started converted the rest of our banana breads into other things to keep things interesting for us, and this Banana Bread French Toast is at the top of our list! I love the crunch of the cornflakes coating against the soft and sweet interior of the bread itself. Oh and banana bread and maple syrup?!?! SO GOOD! We've also tried making these little Banana Bread Churro Bites with melty ice cream to dip them in, which I'm not mad about, nope, not at all. :)
So if you find yourself with a half loaf of banana bread that you want to change things up with, I think you should make this banana bread french toast. There's also nothing wrong with baking a loaf of banana bread, JUST to make this French toast, especially if it's our Chocolate Chip + Coconut Banana Bread. It's not like I haven't done that a couple dozen times. Enjoy! xx, Jenny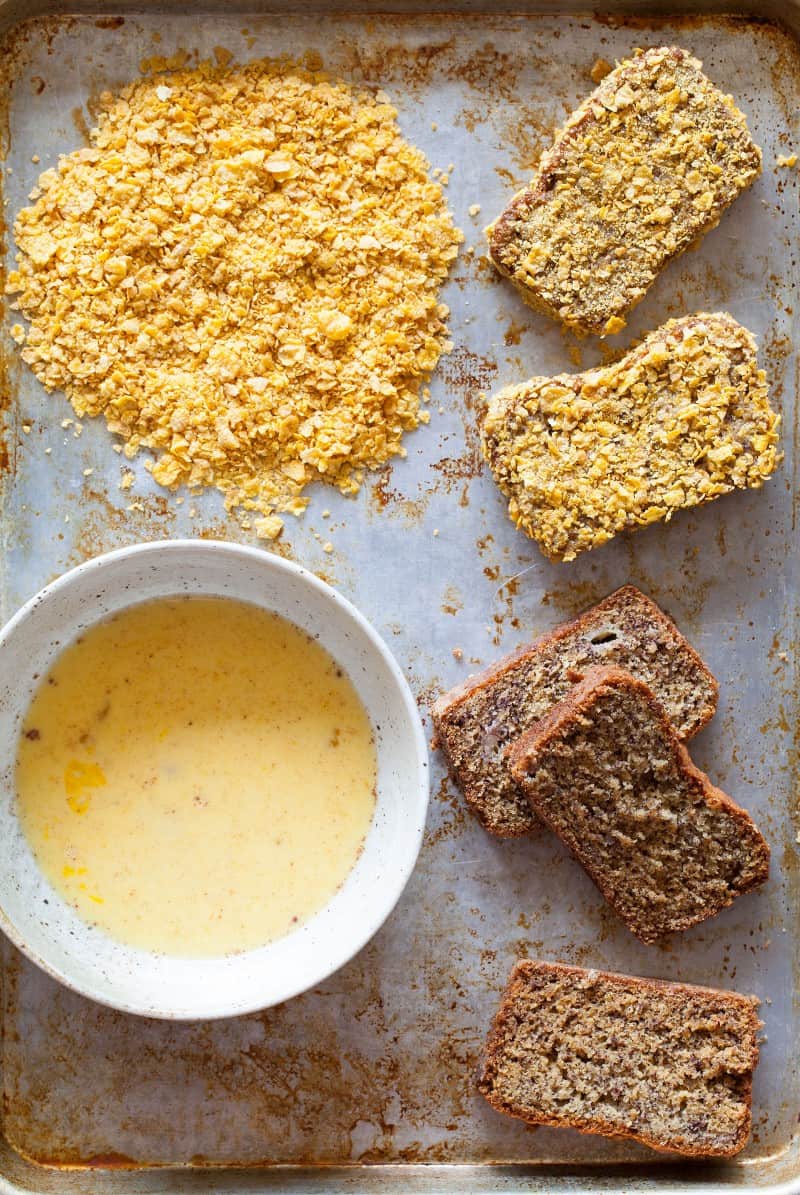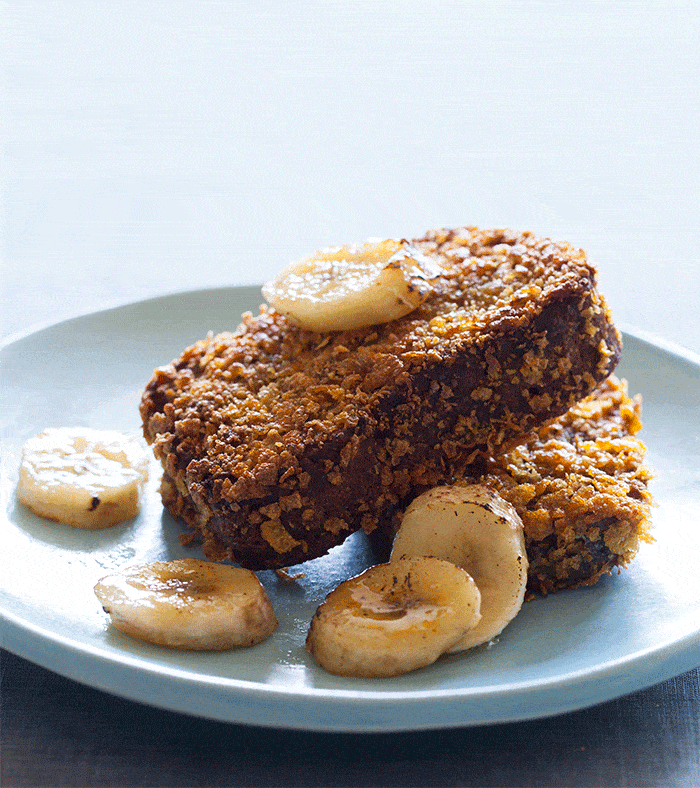 Did anyone else in LA feel that earthquake early this morning? I thought it was my cats fighting on the bed at first. I have not felt an earthquake here in years, and I'm surprised it woke me up. When I woke up this morning I went and read the news to see if I could find any information on the quake. It was pretty close to where I live. The thing about the article that freaked me out the most was this weird foreshadowing paragraph at the end that stated that in the past 10 days, there have been earthquakes around Los Angeles. Ok, what is that supposed to mean? A huge one is coming? Are you trying to freak everyone out? I'm freaked out. I think it may be time to get some earthquake insurance for all the props in the studio. Speaking of props and the studio, Jenny and I are in the new issue of Anthology serving up some delicious Asian inspired finger foods, AND the party takes place in our studio so you can see where we spend most of our lives. So go check out the new issue!
We are continuing our Banana Bread recipe 3 ways today with Banana Bread French Toast. This recipe is pretty epic. Banana bread dipped in an egg mixture and dredged in corn flakes then topped with more bananas. It's a really good way to use up extra banana bread. Yummmm. We hope you love it!
♥ Teri
Banana Bread French Toast
Serves 3 to 4
Ingredients:
1 recipe chocolate chip-coconut banana bread, sliced into ½ inch thick slices
3 eggs, lightly beaten
1 cup milk
2 teaspoons vanilla extract
1/2 teaspoon ground cinnamon
1/8 teaspoon ground nutmeg
2 cups cornflakes, finely crushed
1/4 cup butter, softened and divided
Topping:
1 banana, peeled and sliced
maple syrup
Directions:
1. Allow banana bread to dry out slightly in open air for about 1 day (you can also place the slices on a baking sheet and place in a 200°F oven for about 3 hours).
2. In a shallow dish whisk together the eggs, milk, vanilla, cinnamon, and nutmeg. In another shallow bowl, add the crushed cornflakes.
3. Dip each slice of bread in the egg mixture then dredge each piece in cornflakes until completely covered.
4. Place a large nonstick pan or griddle over medium heat and melt 2 tablespoons butter.
5. Cook French toast on each side for 3 to 4 minutes or until golden brown and crisp.
6. Drain on paper towels for 1 minute before plating and serving with sliced bananas and maple syrup.