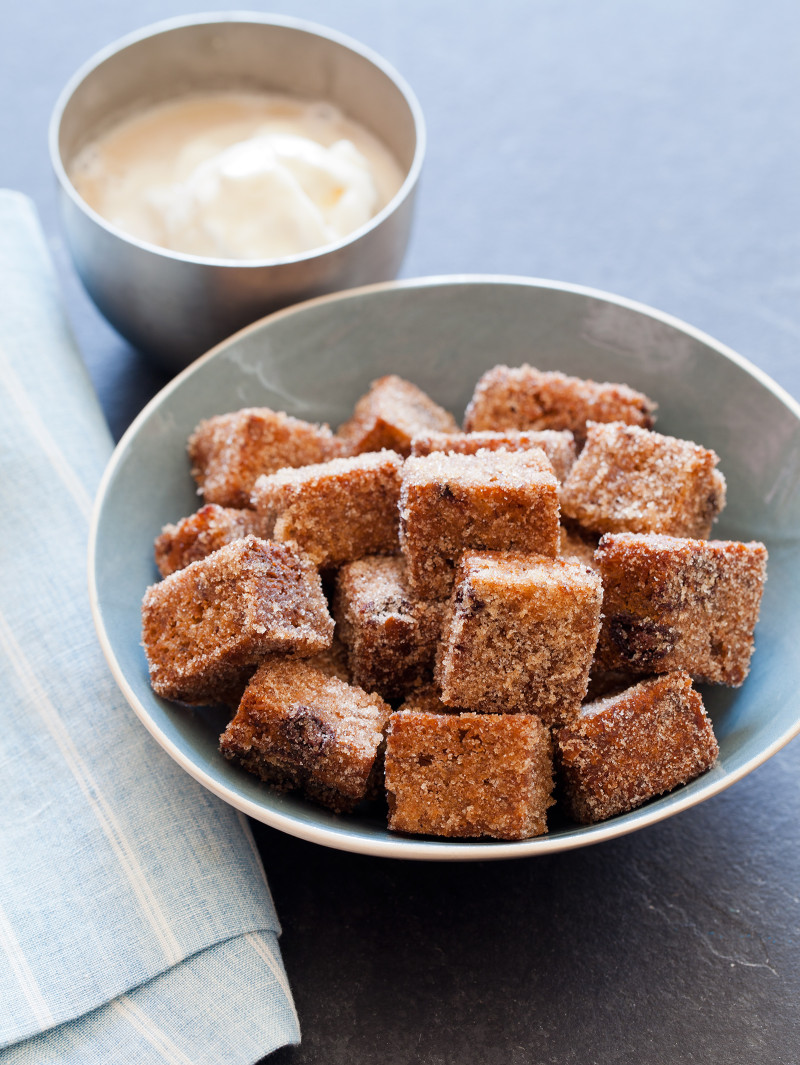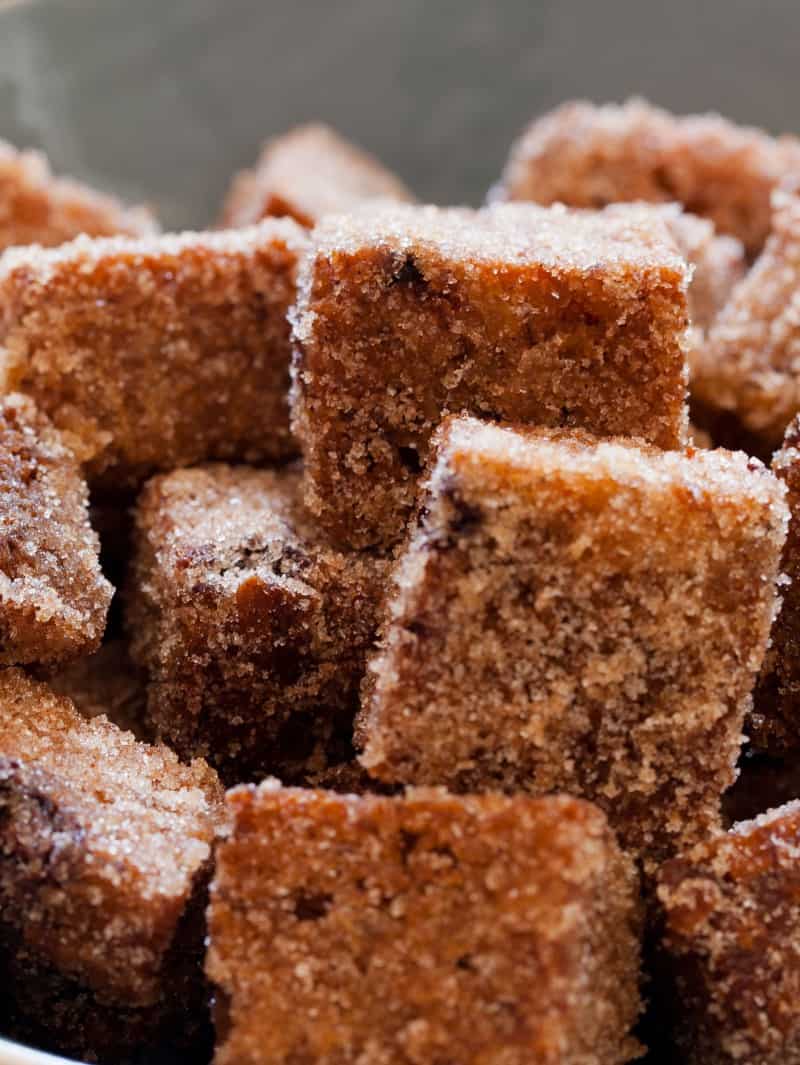 Hey Guys! I hope you've all enjoyed our week of banana bread! We're wrapping things up with banana bread churro bites….yep! We're serving our bites with a dipping sauce that's basically melty ice cream and espresso…so good! I can't take credit for this crazy and totally decadent dessert. I had something very similar at A-Frame in Culver City! A-Frame is one of the few restaurants owned by bad-ass chef Roy Choi (swoooon! I have a thing for chefs, tis' true). The cocktails at A-Frame are out of this world and the food….whoa. Their Air-Dried Hoisin Ribs? Okay! Beer Can Chicken? YUM! Swordfish Tacos with pickled this and awesome that? YesYesYes! Finally, there's the churro style banana bread sticks with some sort of melty ice cream sauce! While I'm sure his sauce is more complex then some ice cream and coffee, I think I did pretty well with the churro banana bread! Turning them into bites just make it easier to pop into your mouth and the whole melty sauce thing? Sort of feels like you're dipping cookies in milk x100…pretty awesome. ;)
If you're a little squeamish about deep frying your banana bread,  I would toast them in the oven at 350 degrees F for about 20-25 minutes, before spraying them with a light coating of cooking spray and tossing them in the cinnamon-sugar mix. The cinnamon sugar may not stick quite as well, but they're still really good nonetheless! Hope you all make these this weekend! Enjoy!
xx Jenny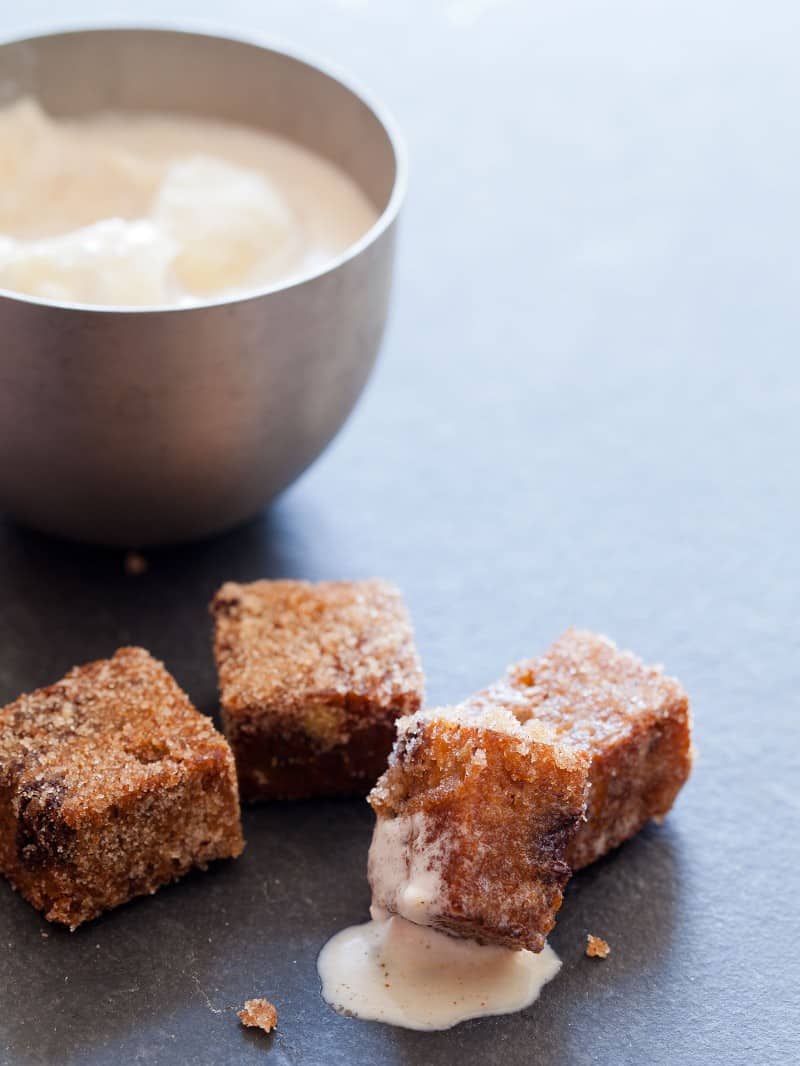 Hungry for more?
Subscribe to never miss a recipe.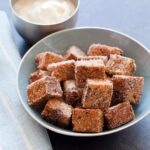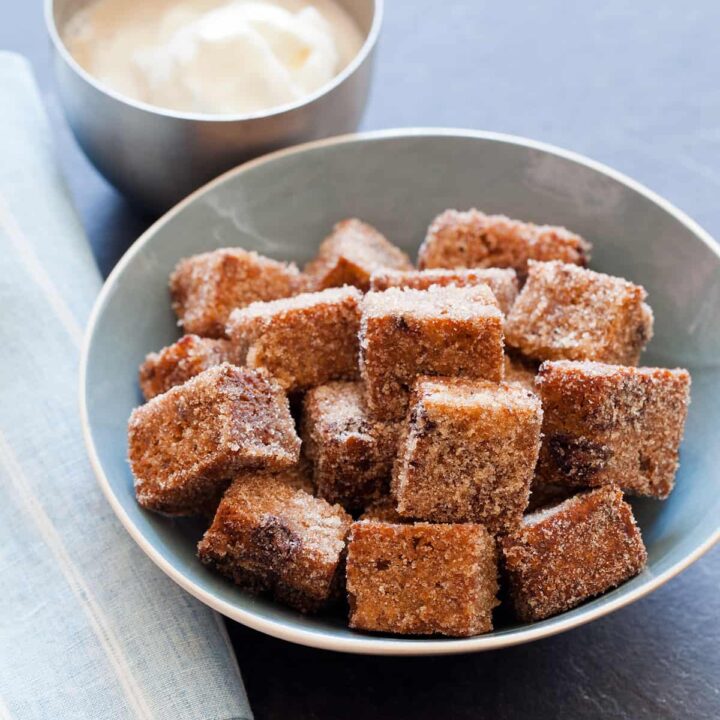 ---
Banana Bread Churro Bites
INGREDIENTS
1

cup

granulated sugar

1

tablespoon

cinnamon
dipping sauce
2

scoops vanilla ice cream

2 to 3

shots

hot espresso
INSTRUCTIONS
Cut each piece of bread into 9 equal cubes (about 1 inch thick). Set aside.

Pour sugar and cinnamon into a shallow baking dish and mix together. Set aside.

Once the oil is hot fry the bites, in batches, for about 3 to 4 minutes. Place directly into the cinnamon-sugar and toss together. Transfer onto a cooling rack and allow to sit for about 7 to 10 minutes.

When ready to serve scoop ice cream into a small bowl and top with espresso. Serve.