Hi Guys! Today we have a bit of a treat for you all…well, a totally different kind of treat than the one we had on Tuesday. We have a scallop and uni crudo for you today! I know this isn't for everyone, BUT for those of you who love this kind of stuff, (like me!) I wanted to show you how easy it is to make at home.
It's always fun to make a "fancy" dish like this at home to impress your guests with, and it really does take no time at all. A couple tips for preparing this dish is to semi-freeze the scallops for about 30 minutes. This will make them much easier to thinly slice. Also, you want to very gently and carefully handle the uni and avoid handling it too much. I usually use a pair of chopsticks to pick them up as they "bruise" (get gross and gunky) easily. The same goes for the tobiko….handle with care! I went with the light colored tobiko (the one infused with yuzu) because I like the color of it. Feel free to go with the color of your choice. I like tobiko though over other roe, like salmon, bc they're really small/fine and I like the variety of colors they come in (black-squid ink, light orange-yuzu, green- wasabi). Finally, garnish with ingredients of your choice! I like using radishes and micro amaranth for the slight bitter taste (which is great with the fresh seafood and briny sauce) and the Serrano for heat, obvi. Feel free to go with the flavors and garnishes of your choice!  Give your crudo a light drizzle of olive oil before serving; the quality of oil is important here and sort of brings the whole dish together.
In an upscale/fine dining establishment you can probably find this dish running anywhere from 12.95-16.95 (serves 1-2),  while you can probably make this dish at home for about the same price, but serve 5 to 6 people! What a great way to save money AND impress your guests, right?! We're in the thick of summer and dishes like this will keep you feeling refreshed and satisfied! Enjoy!
xx Jenny
Some more uni recipes you might enjoy: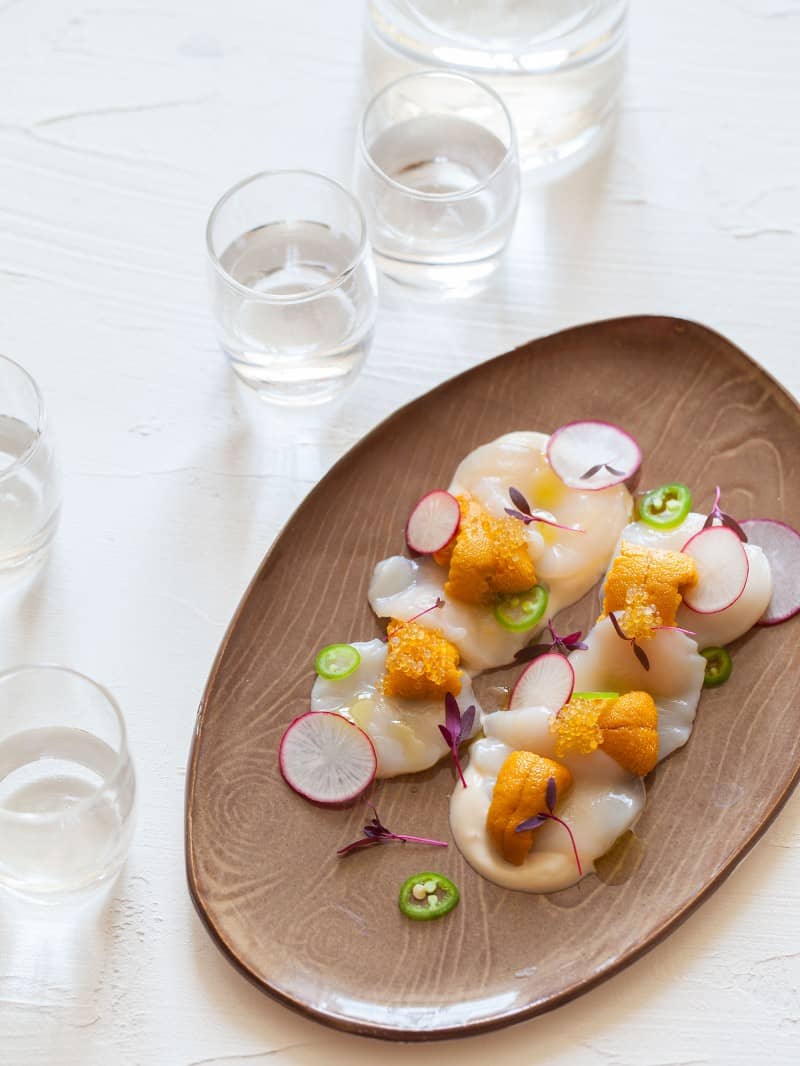 Hungry for more?
Subscribe to never miss a recipe.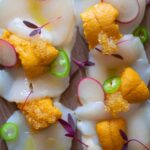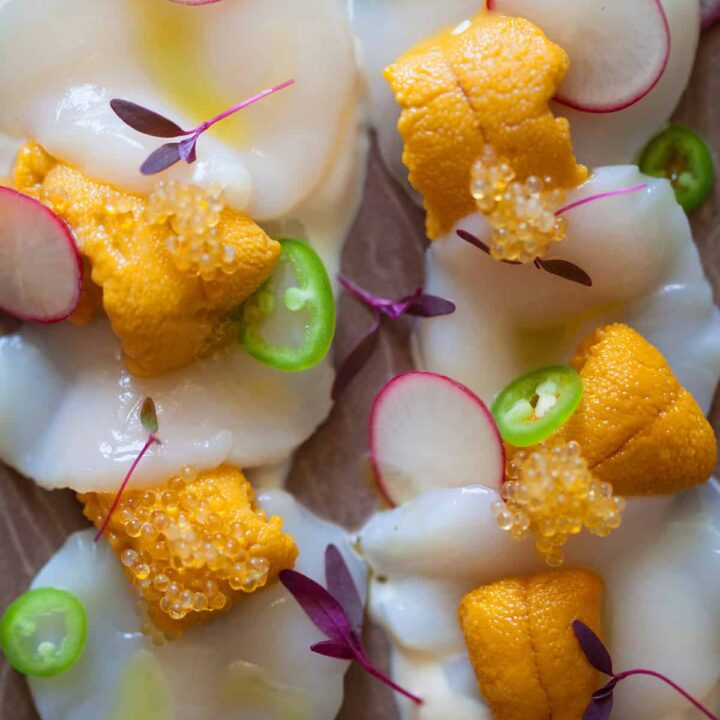 ---
Scallop and Uni Crudo
INGREDIENTS
Miso-yogurt sauce
2

tablespoons

yellow-miso

2

tablespoons

Greek yogurt

1 ½

teaspoons

lemon juice

½

teaspoon

sesame oil

salt and pepper to taste
scallops/uni
2

sea scallops, thinly sliced

½

ounce

uni (sea urchin)
garnishes
tobiko (of your choice)

thinly sliced radishes

thinly sliced Serrano peppers

micro red amaranth or micro greens

high quality extra virgin olive oil
INSTRUCTIONS
Place miso, yogurt, lemon juice, sesame oil, salt and pepper in a small mixing bowl and whisk together.

To assemble: Scoop a small amount of the sauce onto one end of a plate and drag across to the other end. Top sauce with a piece of scallop followed by uni and repeat until 1 scallop has been used. Repeat on another plate with the remaining sauce, scallop and uni. Top each crudo with a small amount of tobiko and arrange radishes, serranos and micro amaranth around. Finish with a drizzle of extra virgin olive oil and serve.