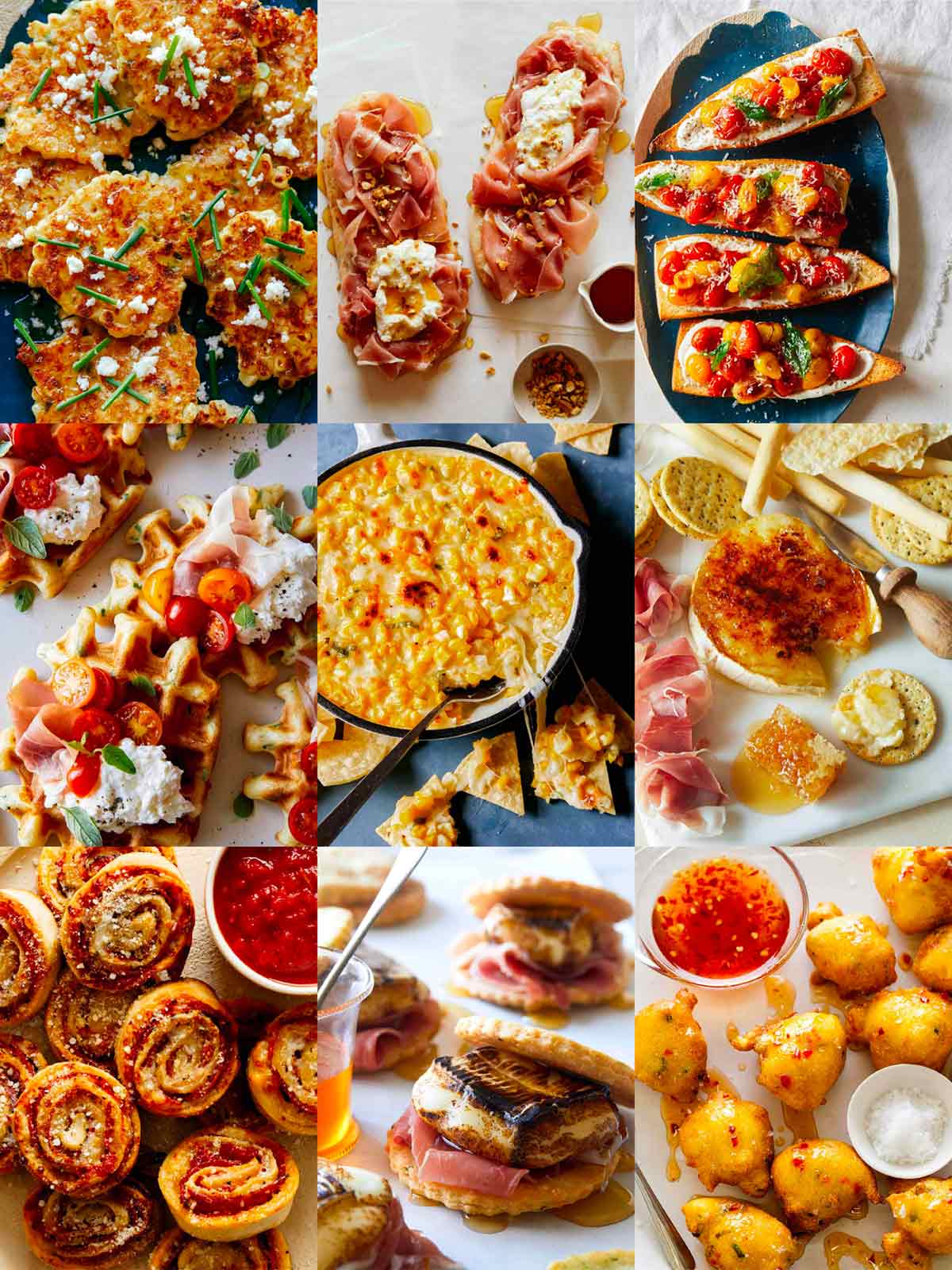 New Year's Eve Appetizers are one of our favorite things about new years parties. Although this year there is less of a party thing going on because we are in the middle of a pandemic. Regardless of how you are celebrating, you can still have all the good food. Appetizers are one of our favorite courses so we have no shortage of recipes. Below you will find our collection of our best New Year's Eve Appetizers, cherry picked for celebrating in mind!

Our New Years Eve Appetizer round up has a variety of recipes that are make ahead, packed with flavor and totally unique.
Easy Appetizers for New Year's Eve
1. Honey Brûléed Brie – This recipe is our go-to, which is why it's starting off our list of New Year's Eve appetizers. It's a super easy low maintenance new years appetizer. Serve with crackers or veggies, even some charcuterie and you are good to go!
2. Corn Cakes – Our Corn Cakes recipe is one of my favorite appetizers on the blog. I love how crispy these corn cakes get, and if you happen to be able to get fresh corn, the snappy corn paired with the crispy exterior of these corn cakes is the best thing ever.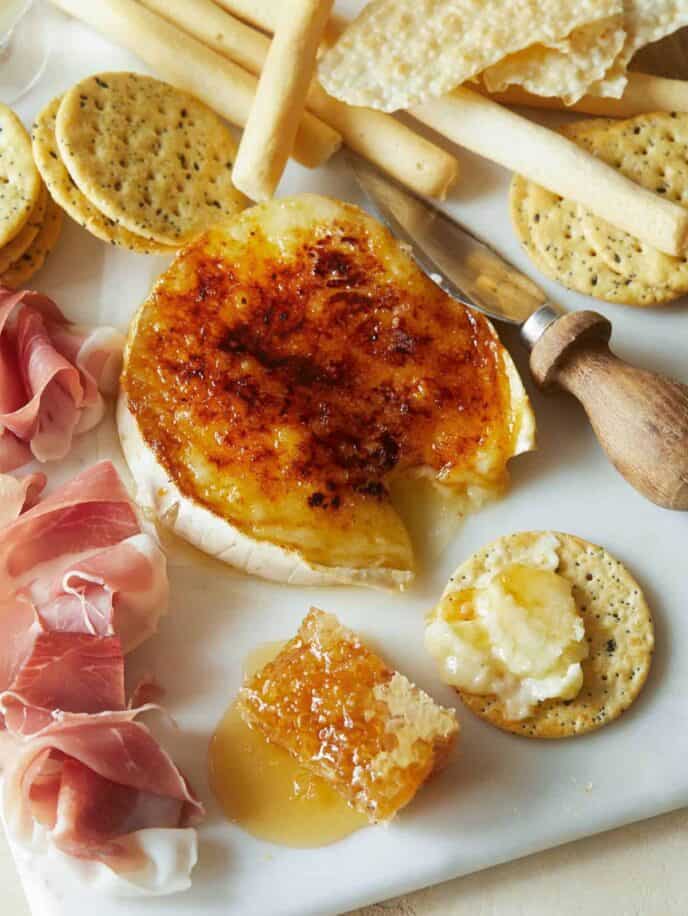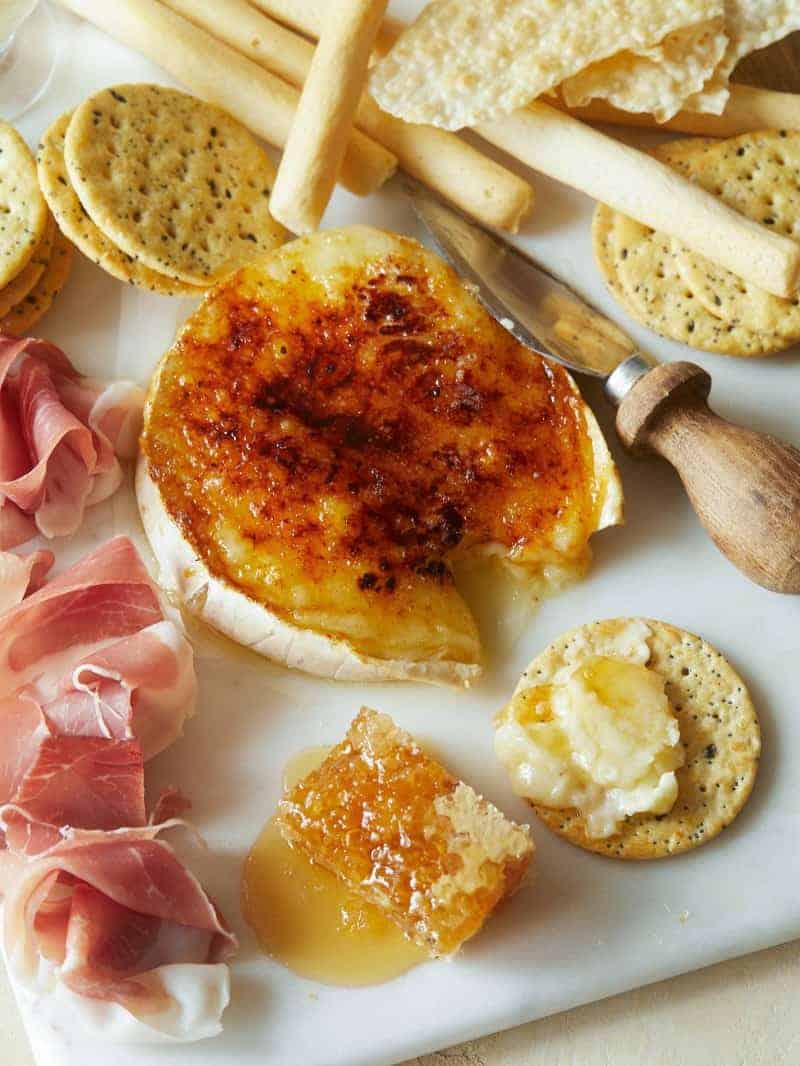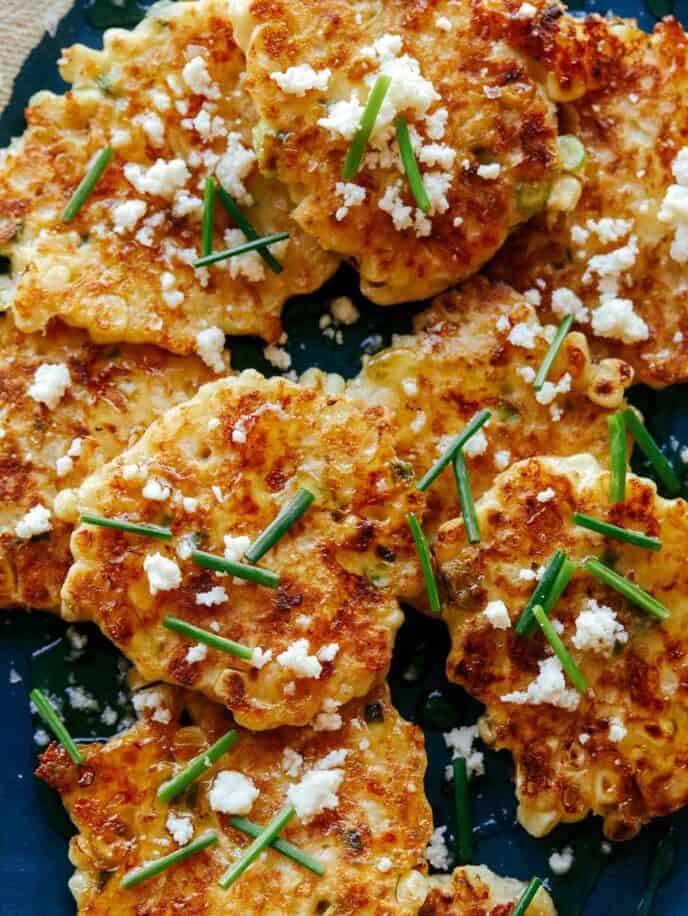 3. Korean Corn Cheese – This recipe is one of the easiest appetizers we have on the blog, which is why I added it to our easy appetizers for New Years Eve list. You can make the mixture ahead of time and bake when you're ready. We love to serve this new years eve appetizer with chips, but it goes well with cut up vegetables.
4. Charcuterie Flatbreads – This easy new years eve appetizer is no bake! All this recipe requires is good quality ingredients. Cut the flatbread up into little pieces for more of a finger food vibe.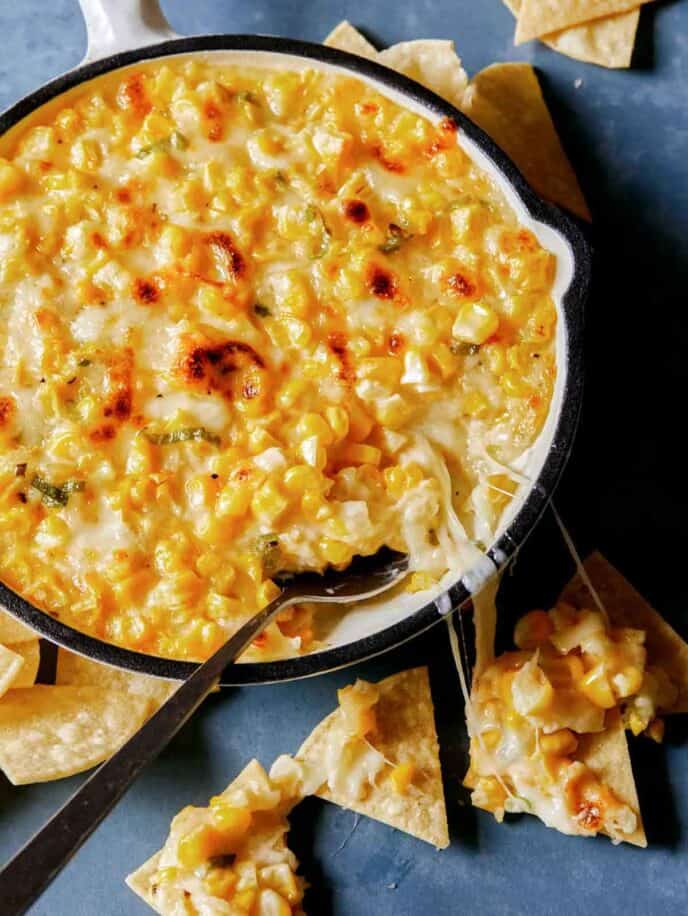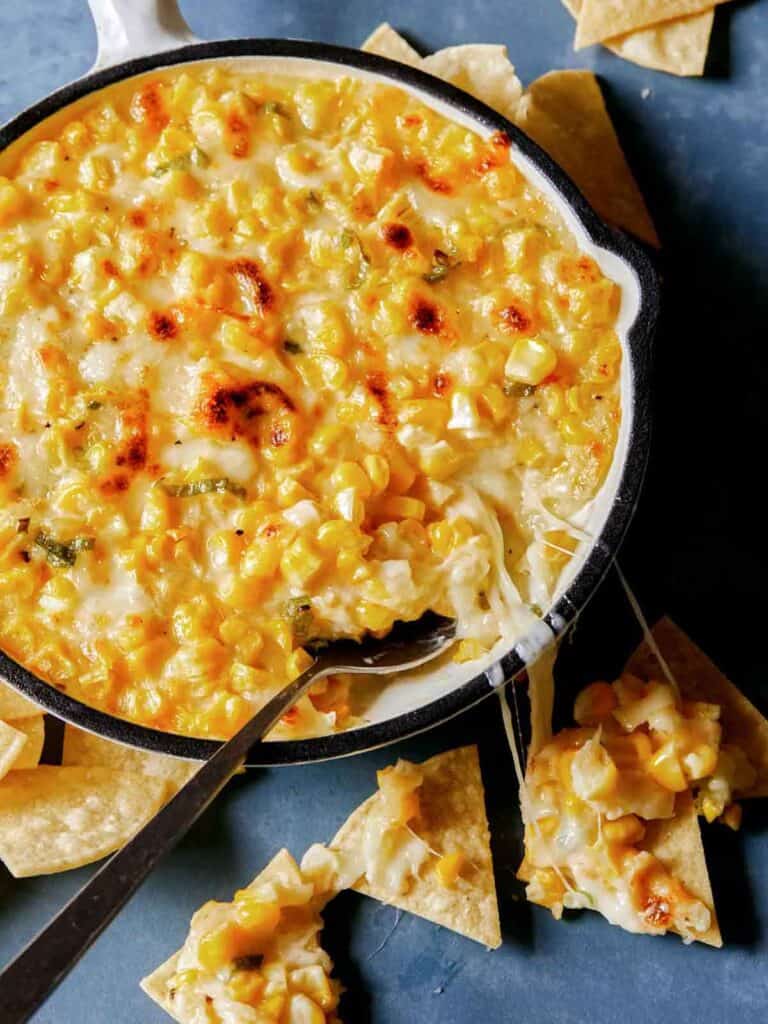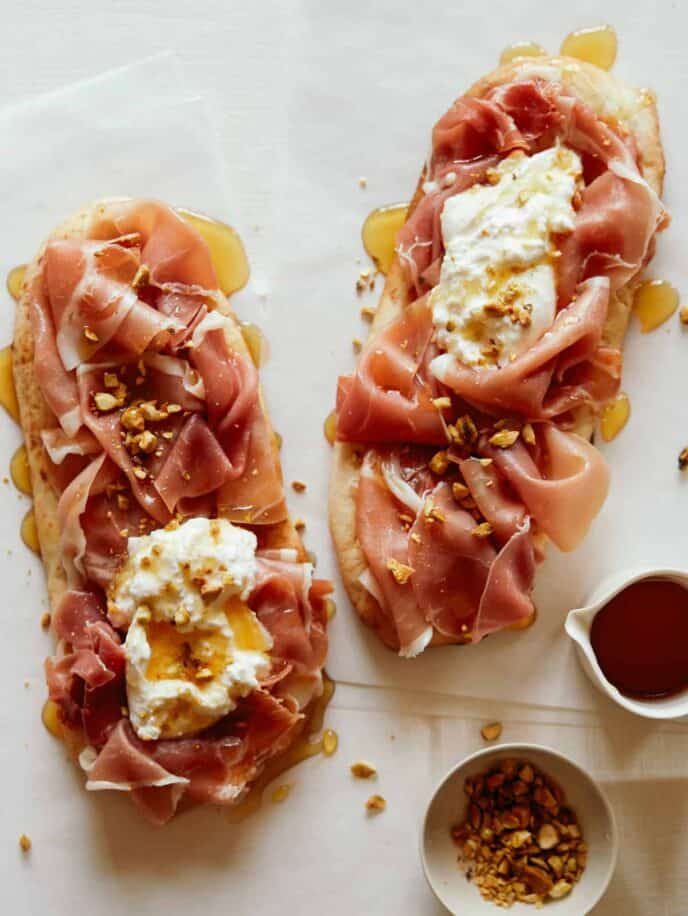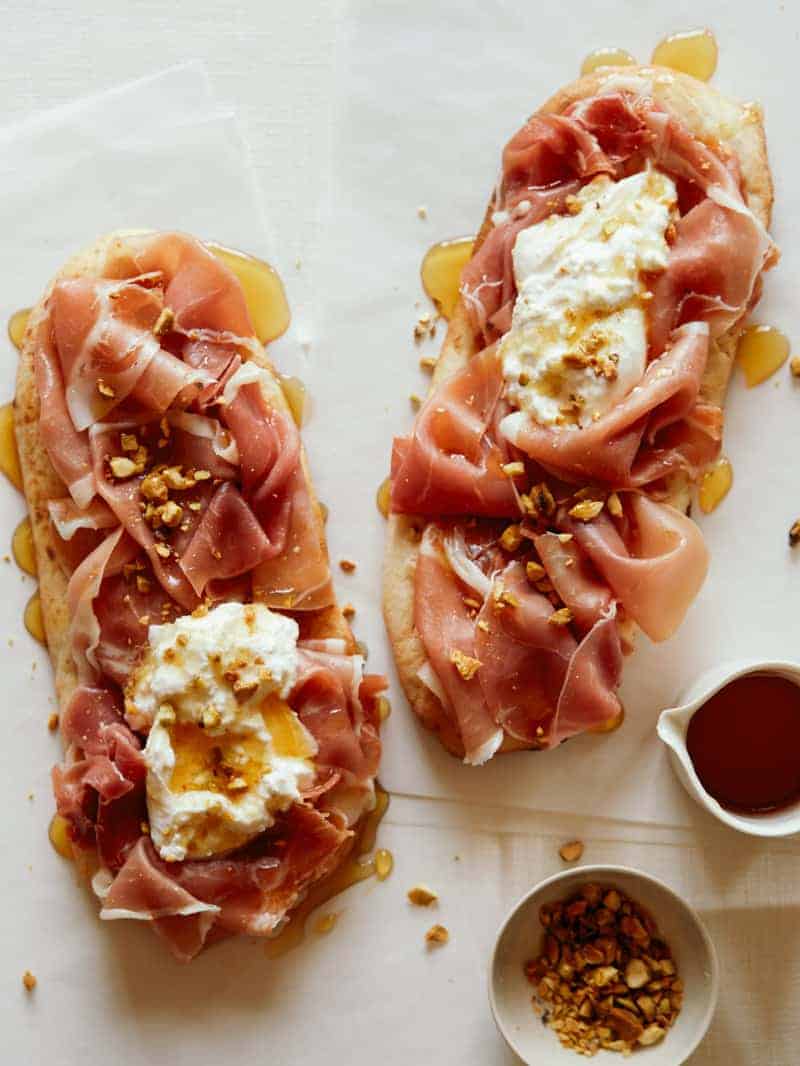 5. Prosciutto topped Cucumber Crostini – Another great no bake new years eve appetizer. I love the fact that this appetizer is on the healthier side and is low carb! The sweetness from the berries pairs so well against the rich and salty prosciutto. If you can't find crème fraîche sour cream makes an excellent sub
6. Roasted Cherry Tomatoes Whipped Feta on Toast Points – In LA we have the prettiest heirloom cherry tomatoes right now. If you can find some where you are then this simple recipe is a great way to capture those fresh tomato flavors! Swap out the whipped feta for whipped goat cheese for a less salty and more tart spread!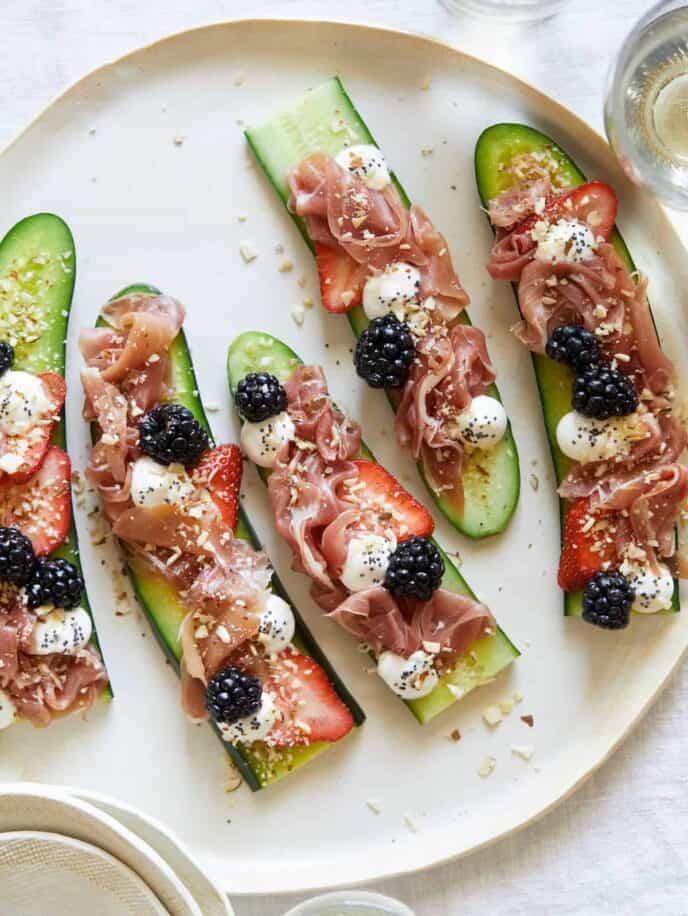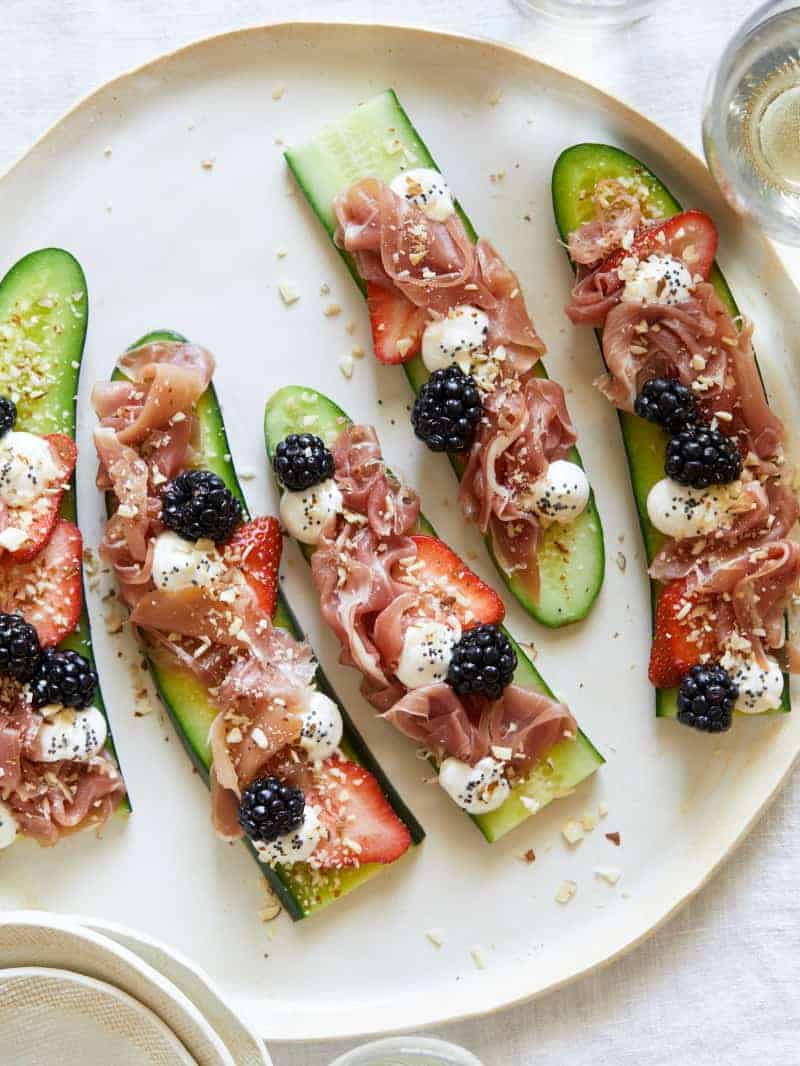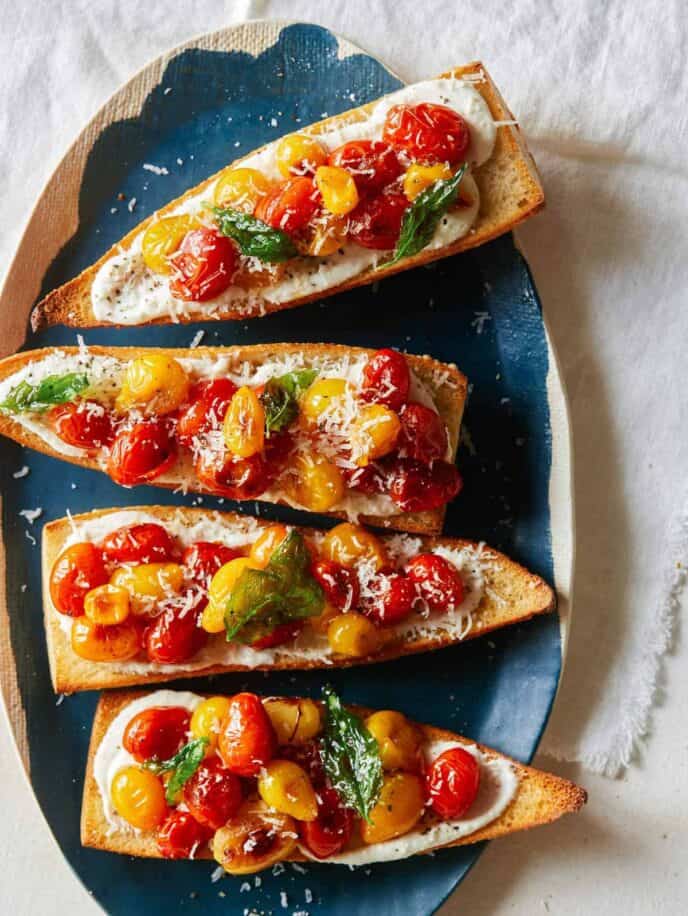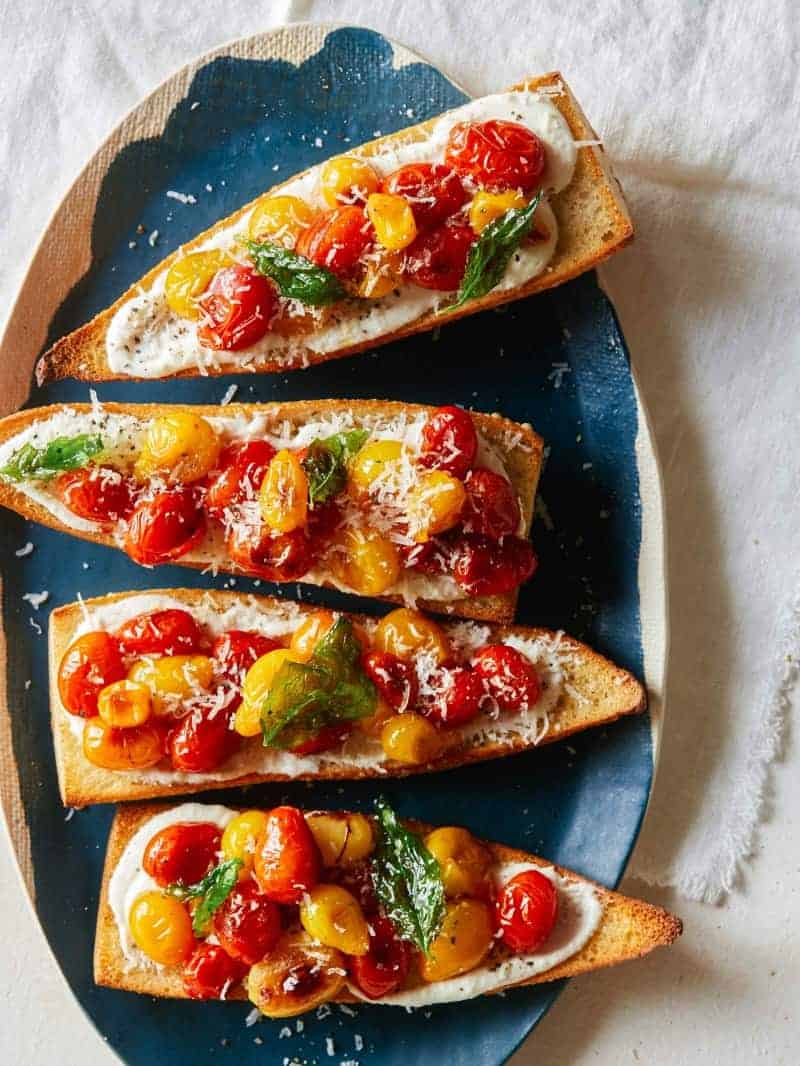 7. Chipotle Chicken Sheet Pan Nachos – This is usually our go-to game day appetizer recipe, but I thought I would include it because I have a vision. If you plan to get boozy, prep these out as much as you can and when the time is right (like 12:30? 1am?) pop these into the oven and have yourself a delicious happy new years snack. Good plan, right?
8. Savory Cheese and Herb Waffles – This is another easy appetizer for new years eve. You can make the batter ahead of time and cook the waffles when you are ready. Top with cheese and prosciutto and some fresh herbs and you have yourself an incredibly delicious easy appetizer!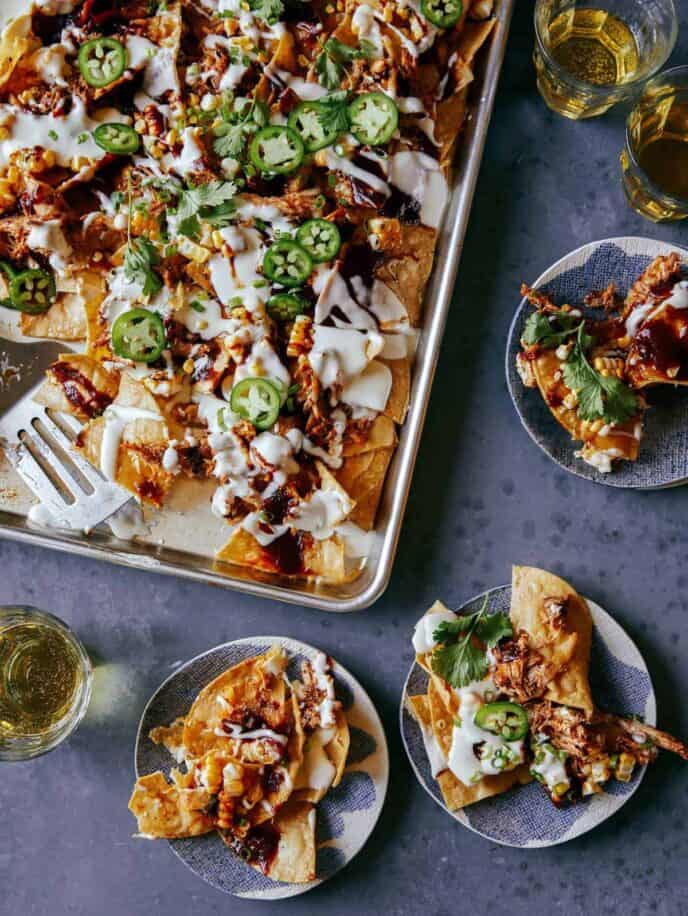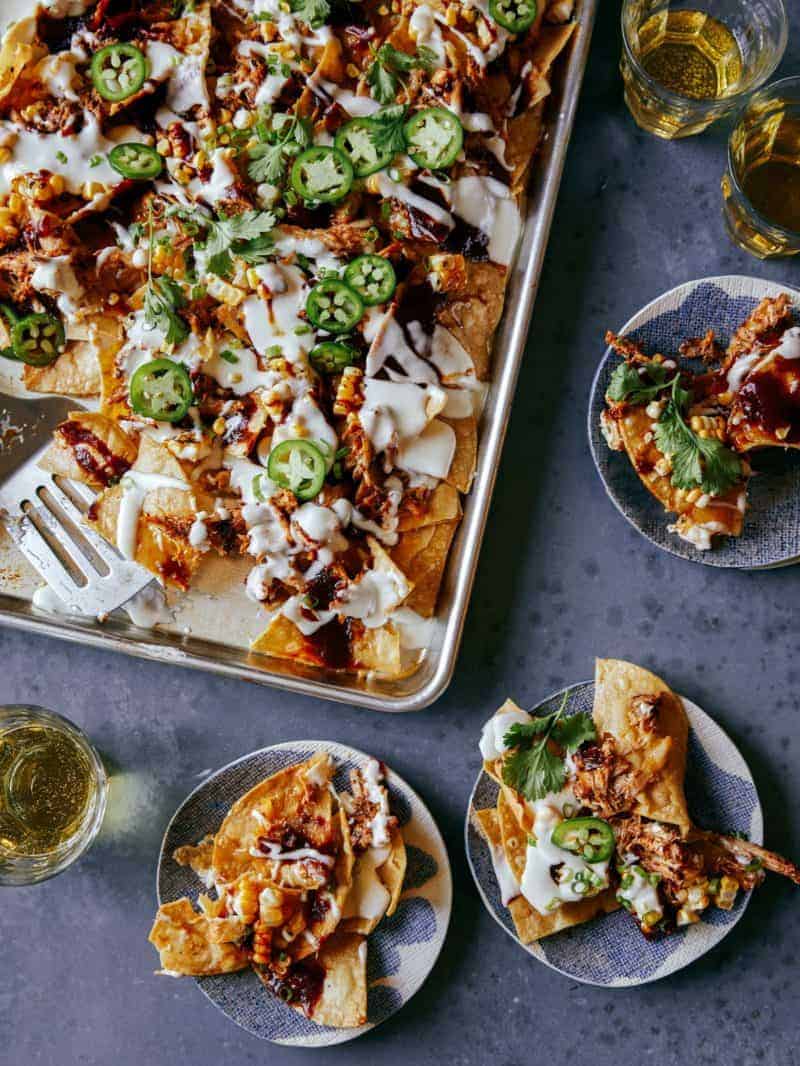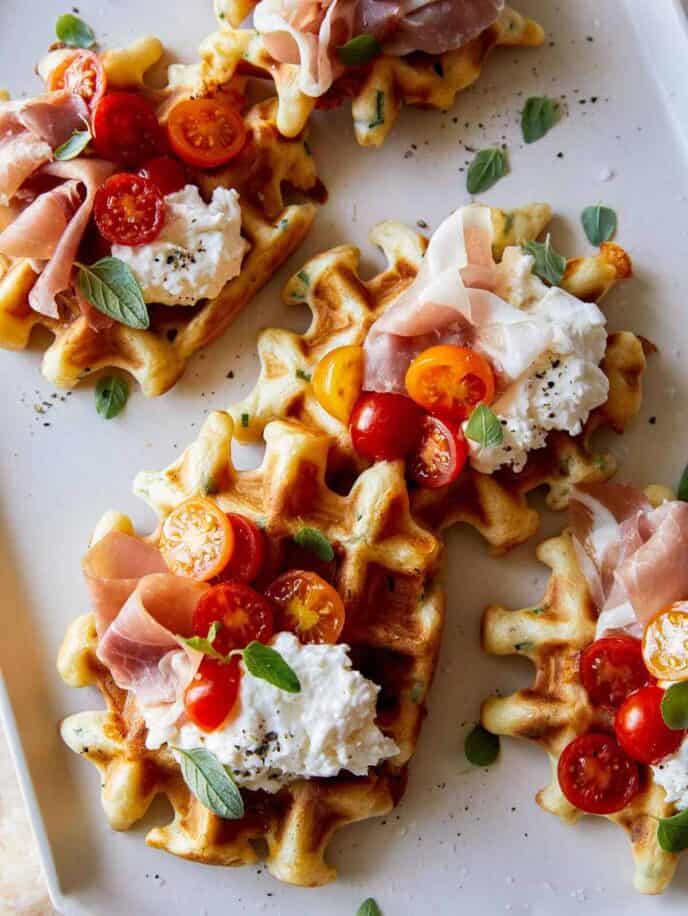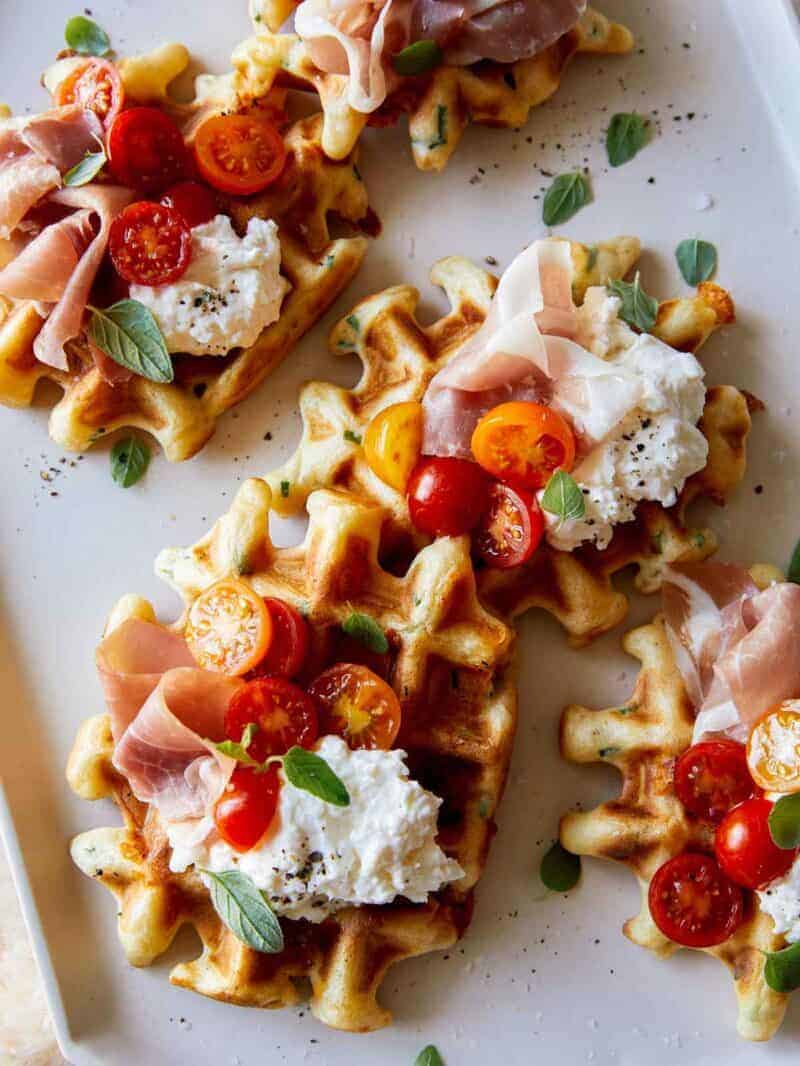 All the New Years Eve Dips You Could Want!
1. Buffalo Chicken Dip – This easy to make dip is packed with so much flavor and always a crowd pleaser! Serve it with delicious crostini or crudite!
2. Roasted Onion Dip – We love the subtle flavor of this creamy roasted onion dip. It's so good! While its meant to be a dip, we also love using as a spread for sandwiches, flatbreads and more!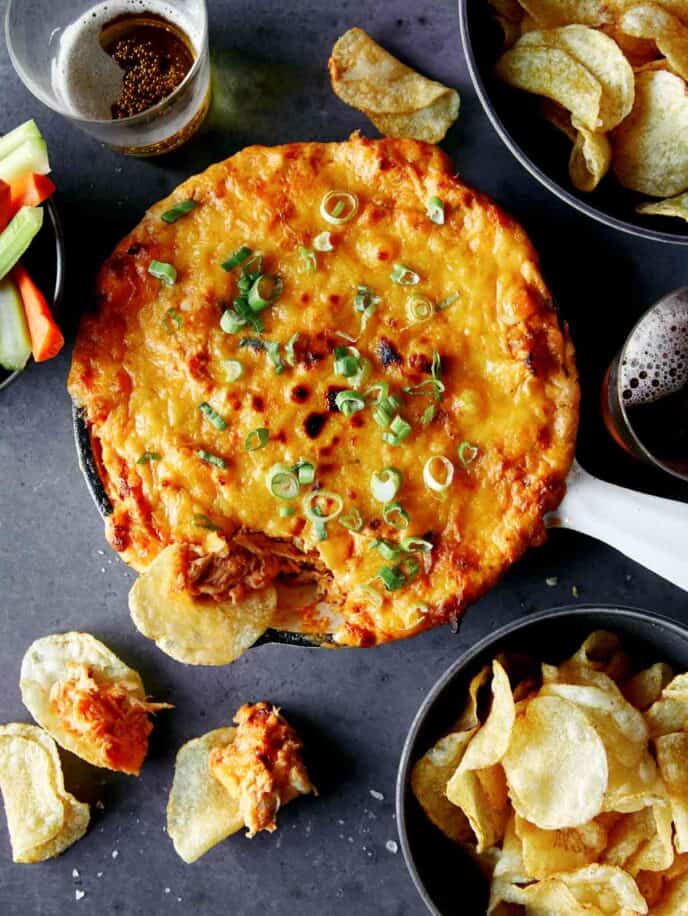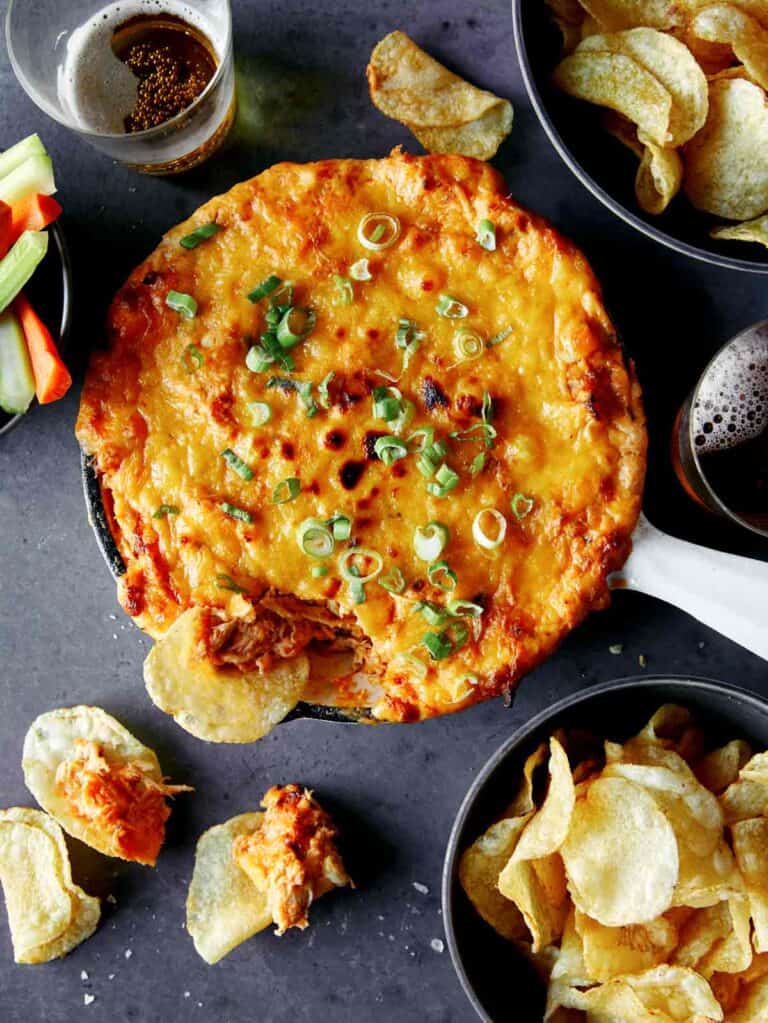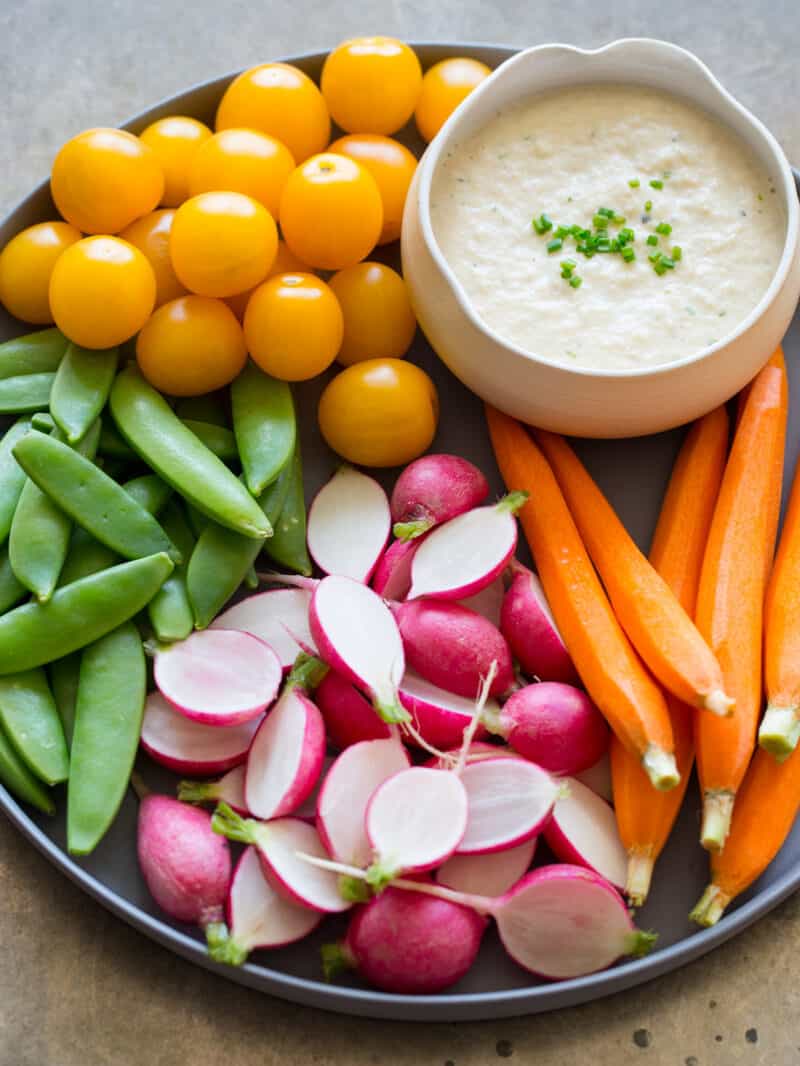 3. Crock Pot Beer Cheese Dip – One of the easiest dips out there (thanks to our slow cooker!), there's no better way to ring in the new year than with this gooey, cheddar cheese dip with all the pretzel, cracker fixins you could want!
4. Spiced Lamb Filled Roasted Garlic Hummus – We love this dip that also has a fun protein in the middle, making this one rich and savory dish that guests always love! Make all the components ahead of time and when ready to serve, gently reheat the lamb and pour it into the center of the creamy hummus!
5. Hot Crab Dip – Impress your guests with this flavor packed dip that's basically a delicious crab cake in dip form! It's so easy to throw together, decadent, and absolutely delicious! Another amazing way to ring in the new year!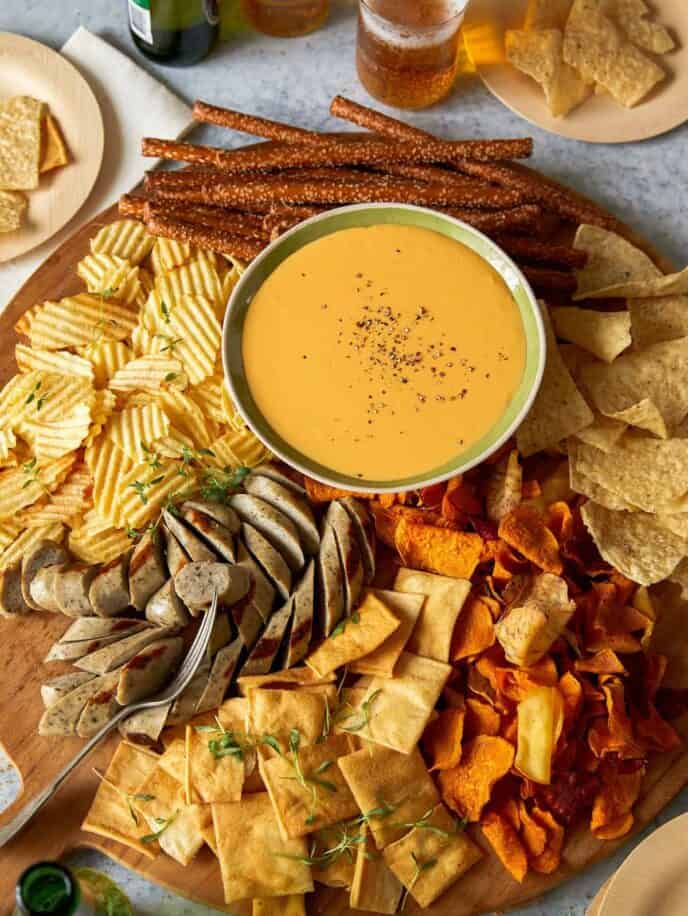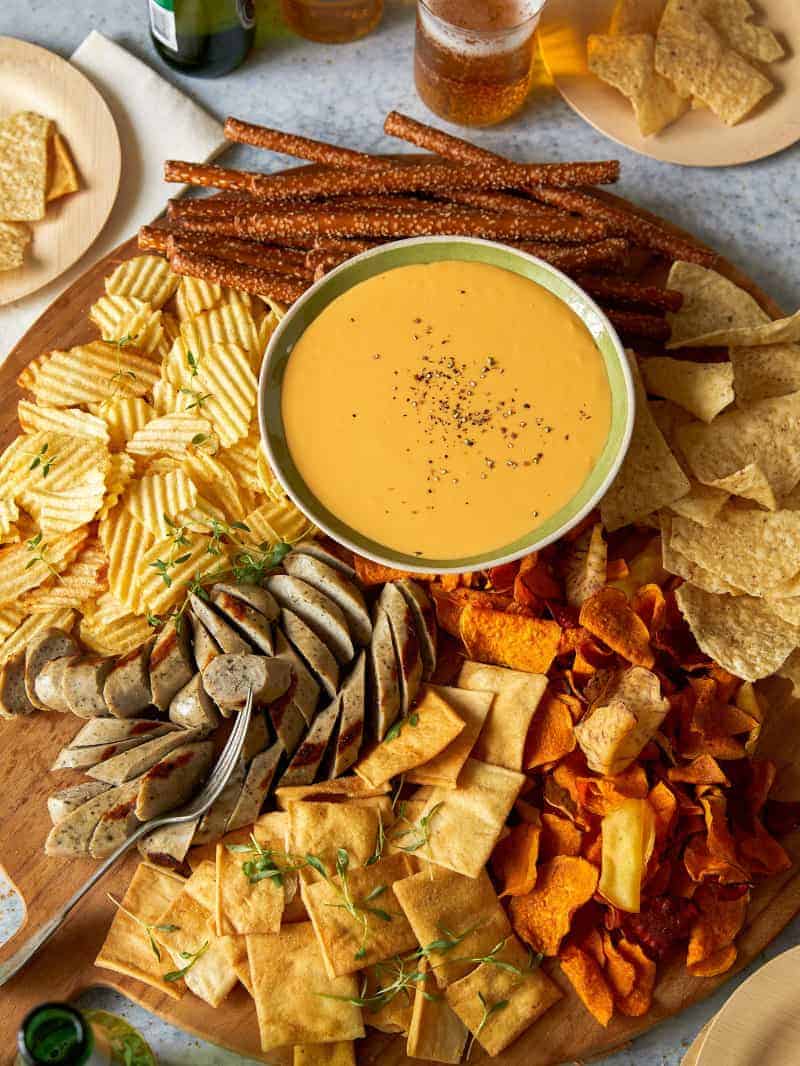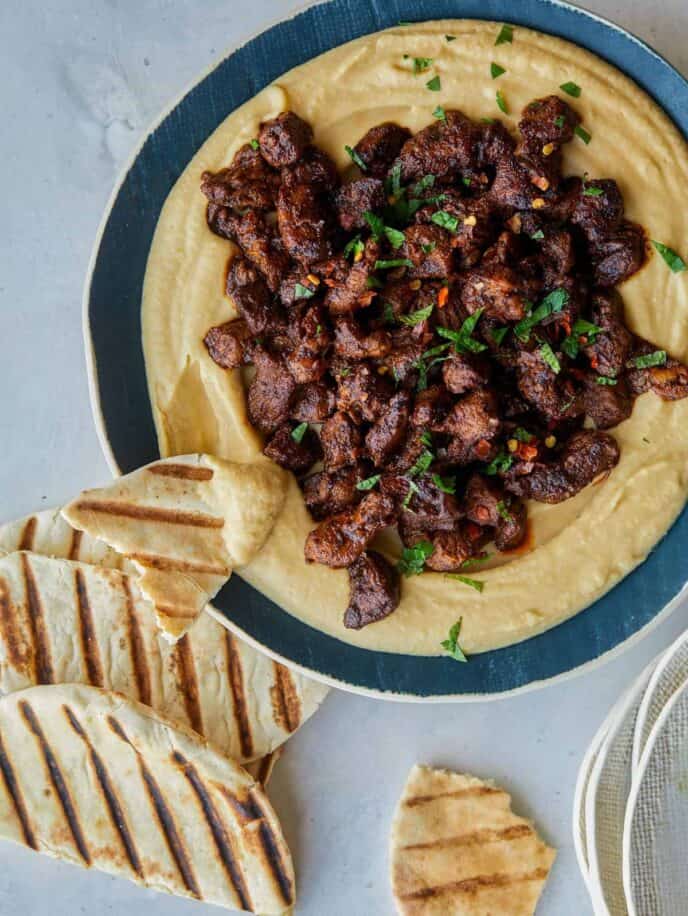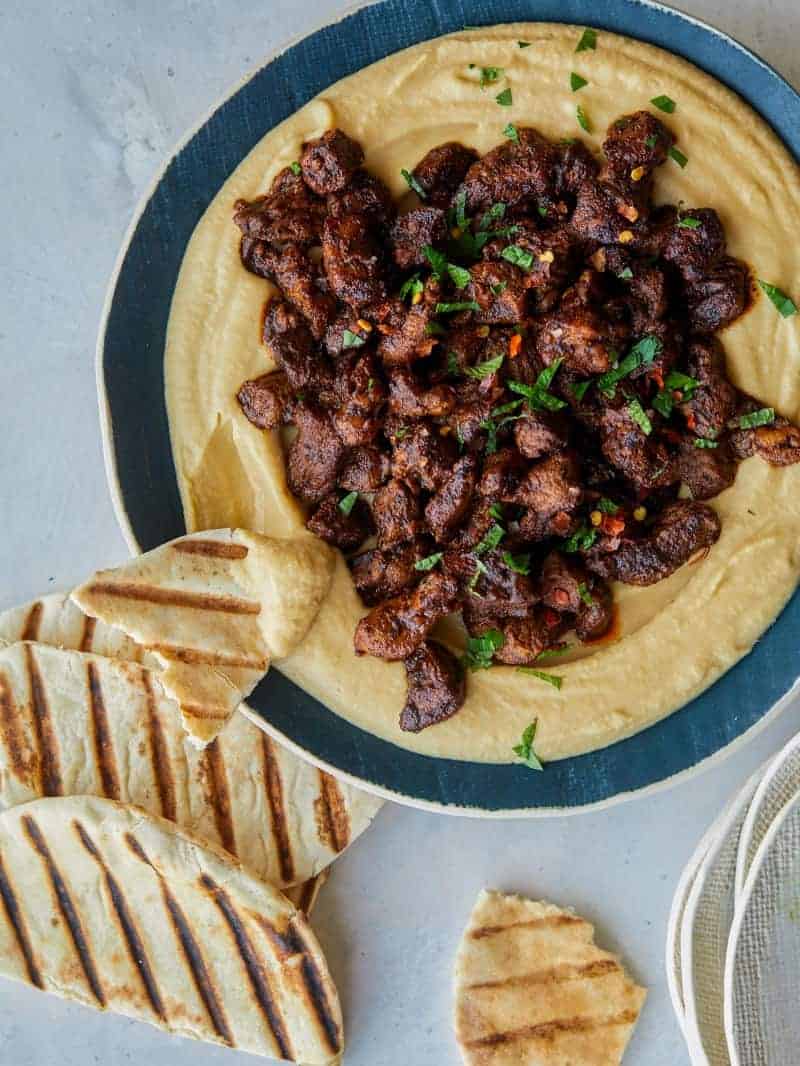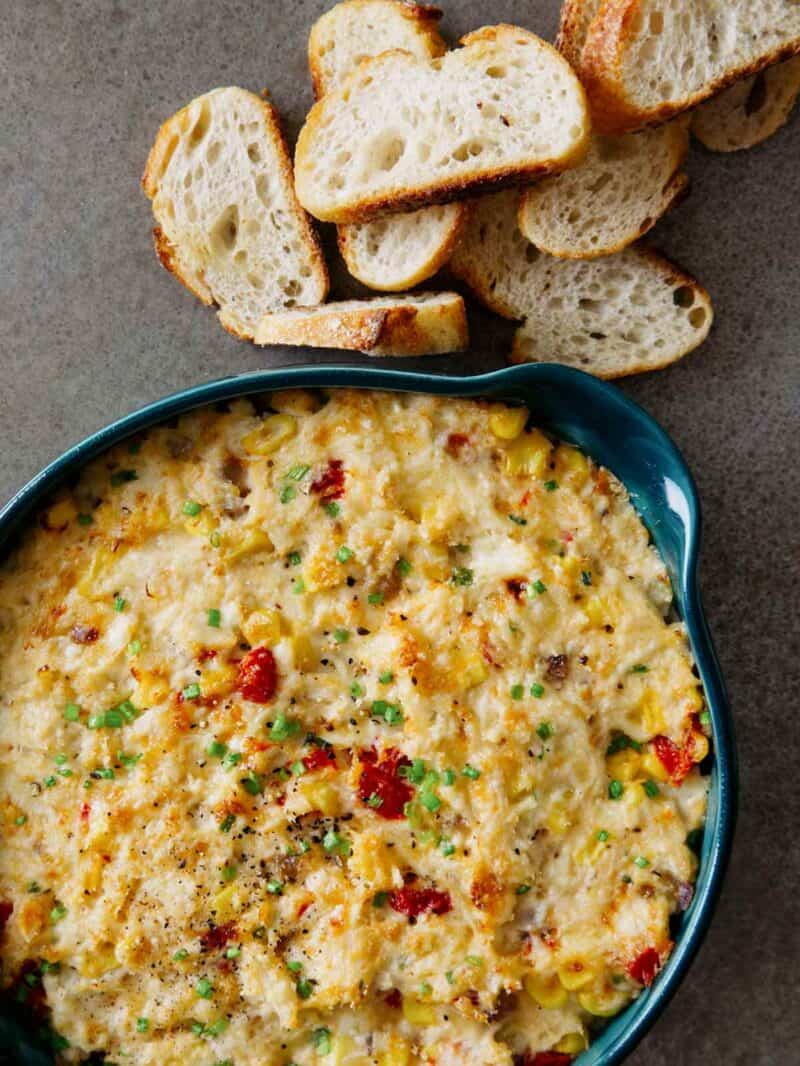 Our Best New Years Eve Appetizers
1. Savory S'mores – Kind of similar to our Honey Brûlée Brie appetizer that we linked above, this is a little unique. We have a yummy herb and cheese cookie recipe (but you can use store bought crackers to cut down on time), topped with prosciutto and a cube of melty brie, then drizzled with honey. Basically, the perfect New Years Eve appetizer – ever.
2. Halloumi Nuggets – These are little, delicious nuggets of salty cheese that are so very addicting. We pair ours with a simple Marinara Sauce, but they would also be delicious with ranch, or romesco! No new year's eve party should be without these crispy, cheesy, mini bites! Make a bunch and serve them on a big platter and your guests will be so happy munching on these while sipping champagne cocktails all night!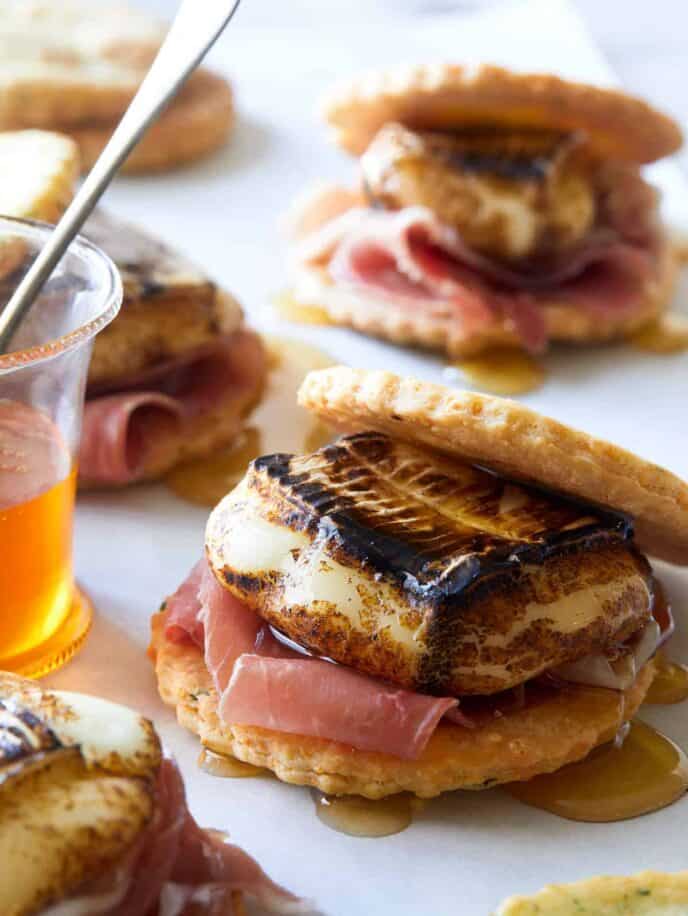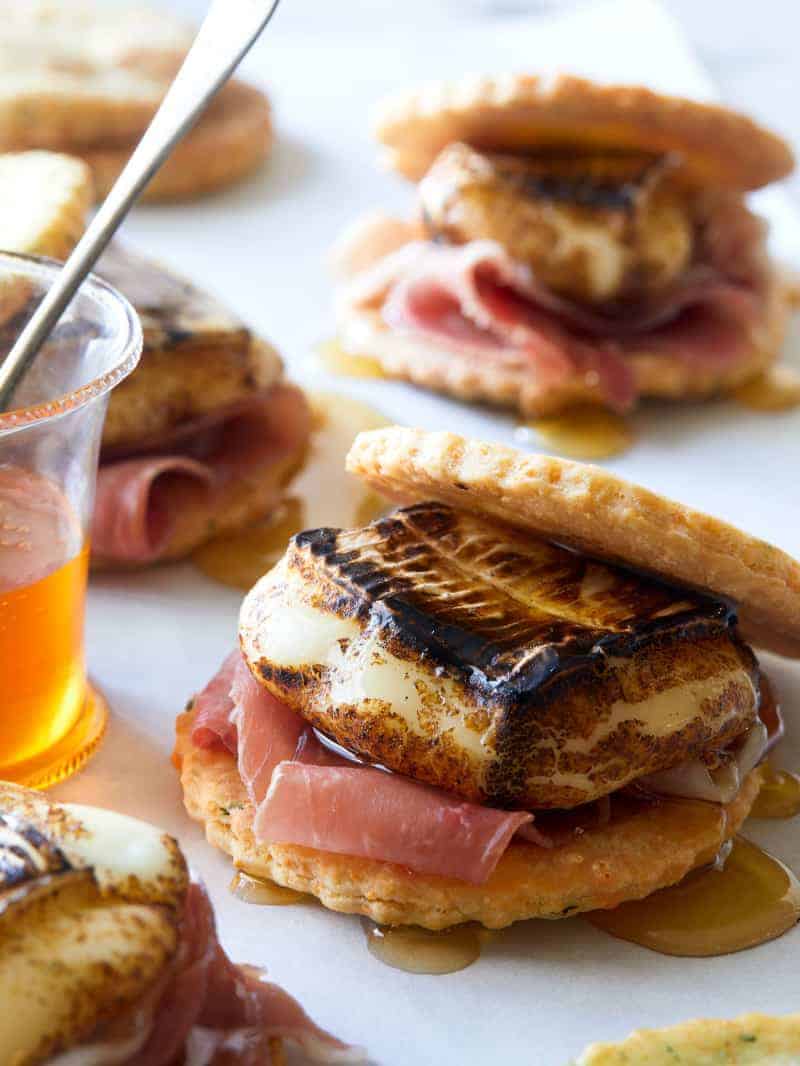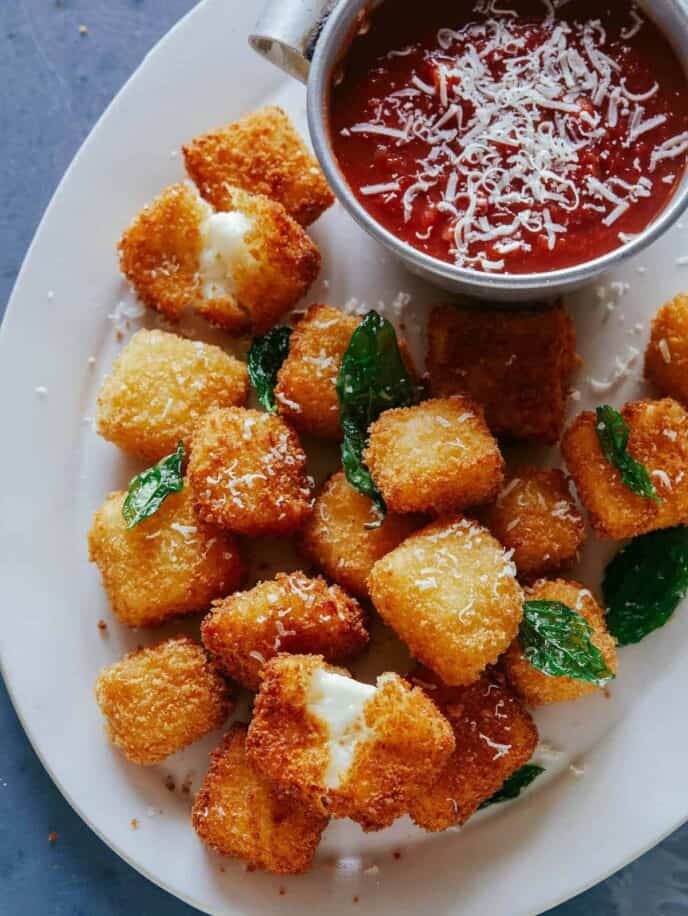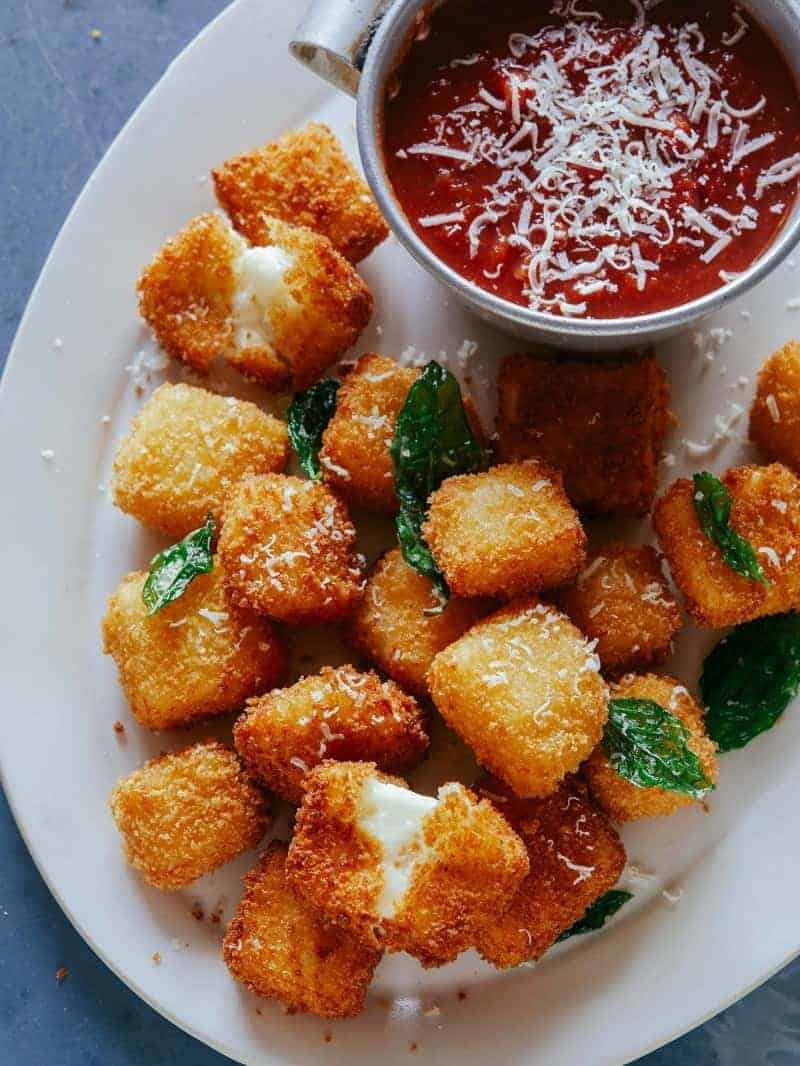 3. Pizza Wheels – Think of these as the more delicious more adult version of pizza rolls. These are insanely good, and although have them here on this list of New Years Eve Appetizers, I think this recipe is completely a suitable dinner. We made ours with pepperoni, but you can stuff them with your favorite pizza toppings like sautéed mushrooms and bell peppers and caramelized onions for a vegetarian friendly version!
4. Hush Puppies – These delicious balls of savory, green onion cornmeal kind of taste like cornbread, but a lighter airier version. We paired these delicious balls of goodness with a spicy honey drizzle. You can also add some crumbled bacon or chopped shrimp into the batter to really take them over the top! You will want more, make a double batch because these little bites are THAT good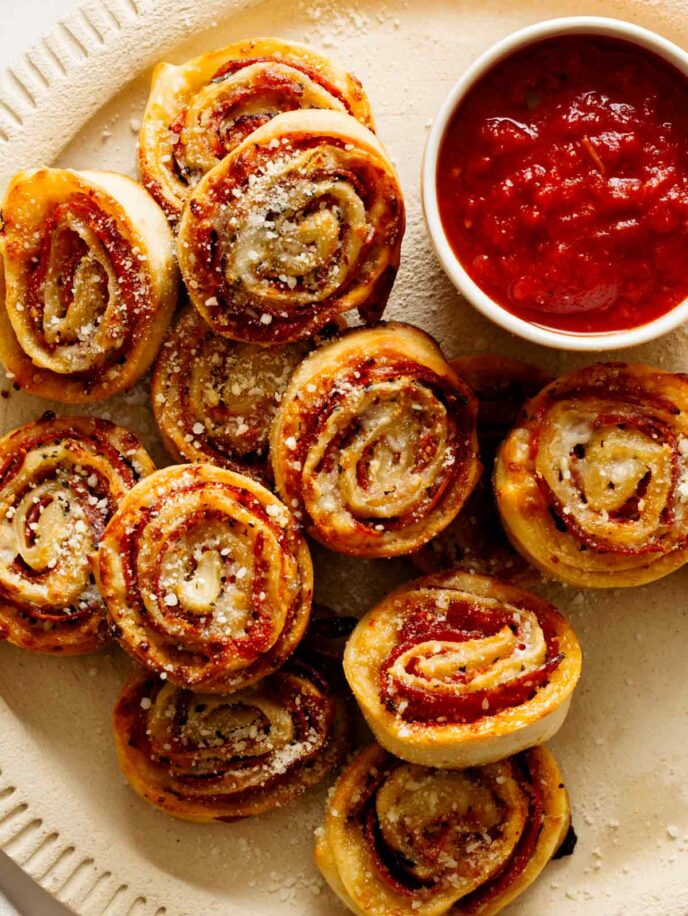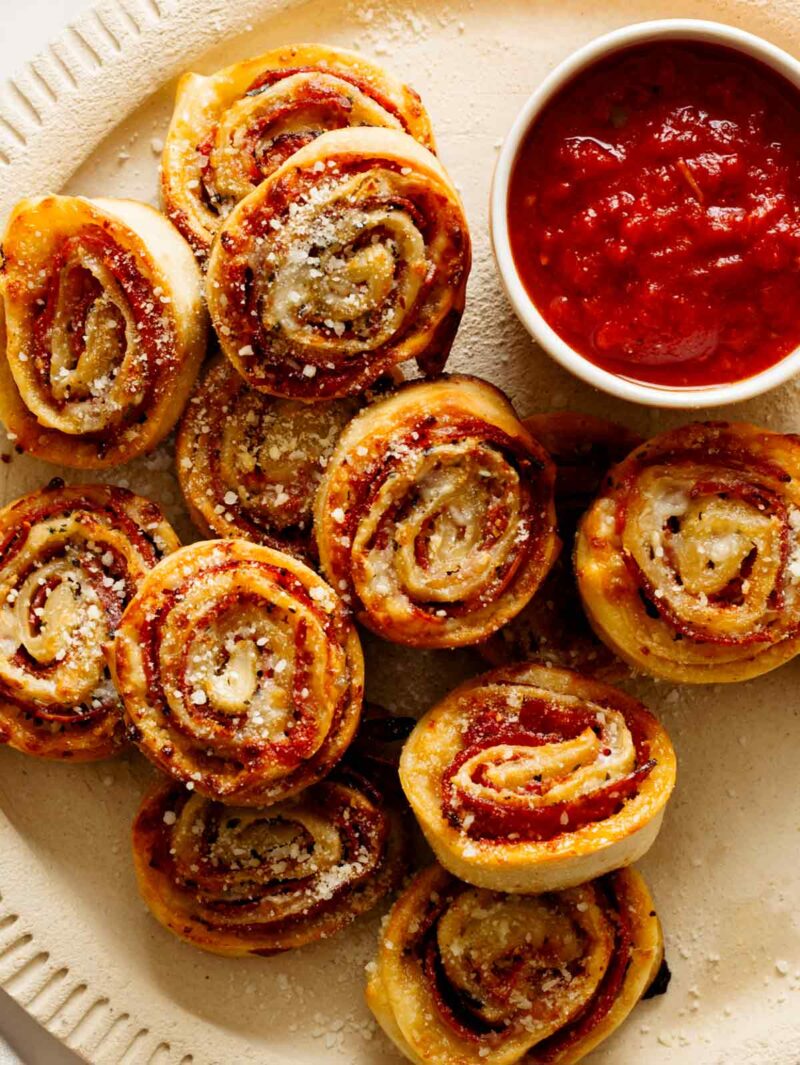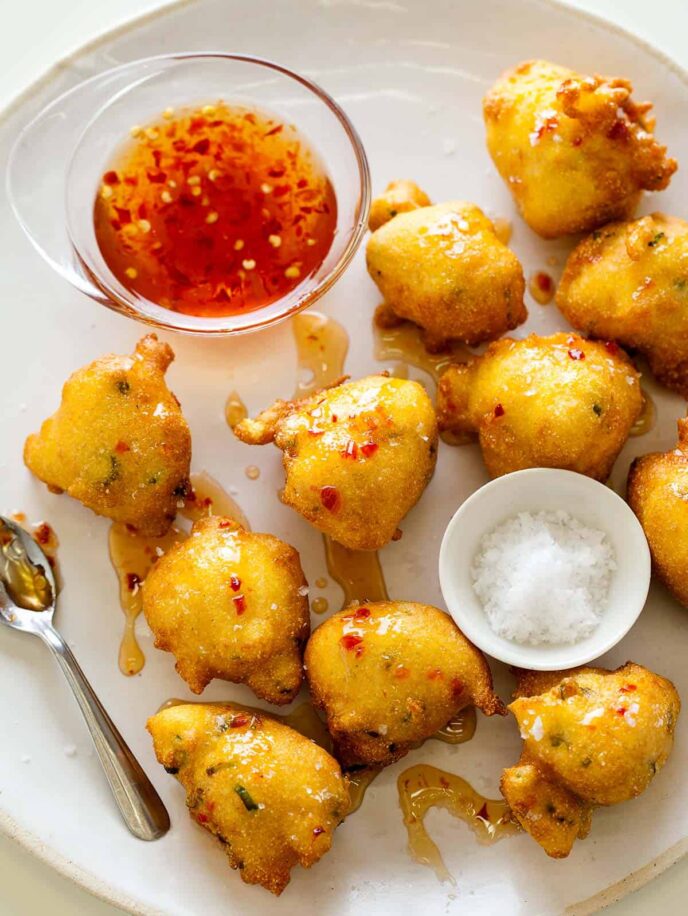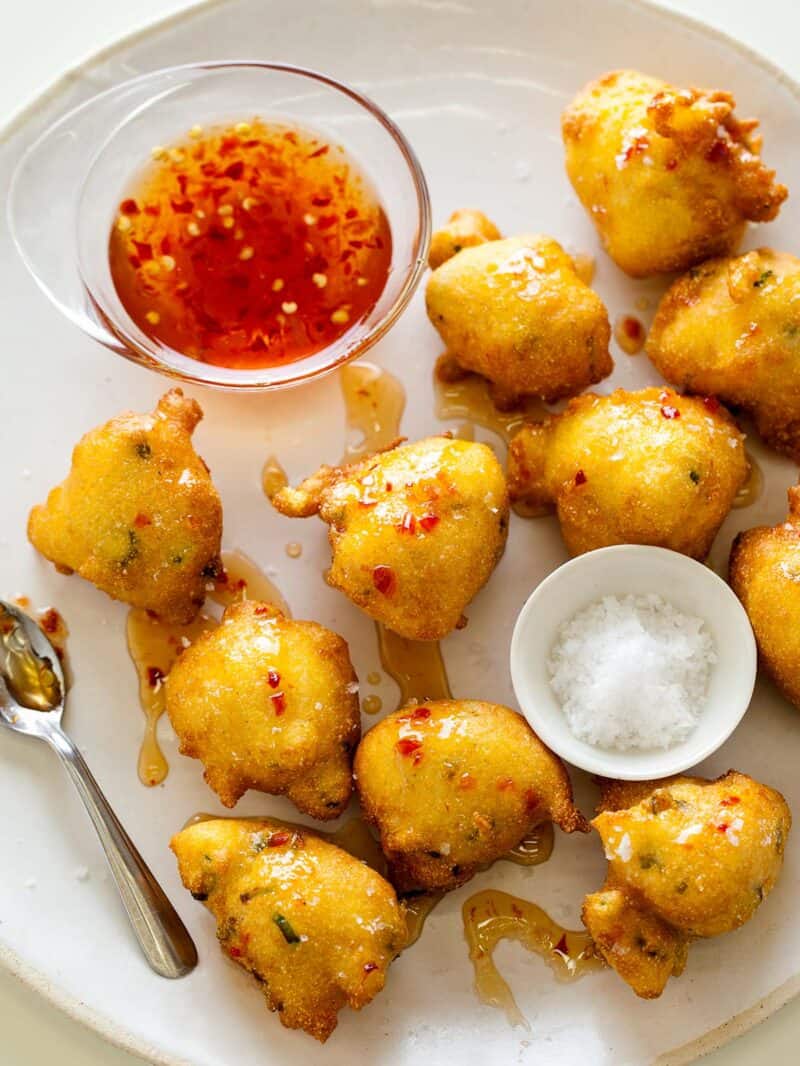 5. Korean Style Cocktail Meatballs – We do have a more classic cocktail meatball – our Ginger Garlic Cocktail Meatballs which I love, but these Korean Style Cocktail Meatballs are so delicious, and I love the flavors so I am suggesting you mix it up for New Years and go with these Korean Style Cocktail Meatballs!
6. Potstickers – People love this recipe! This is a great New Years Eve Appetizer recipe because you can make these ahead and pan fry when you are ready. Make a double batch and freeze some for later!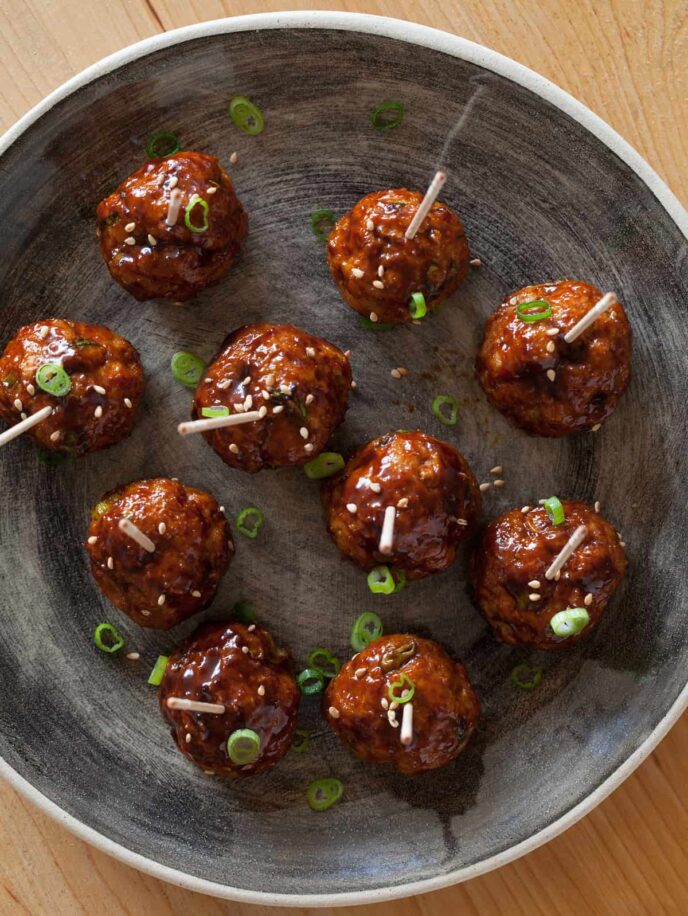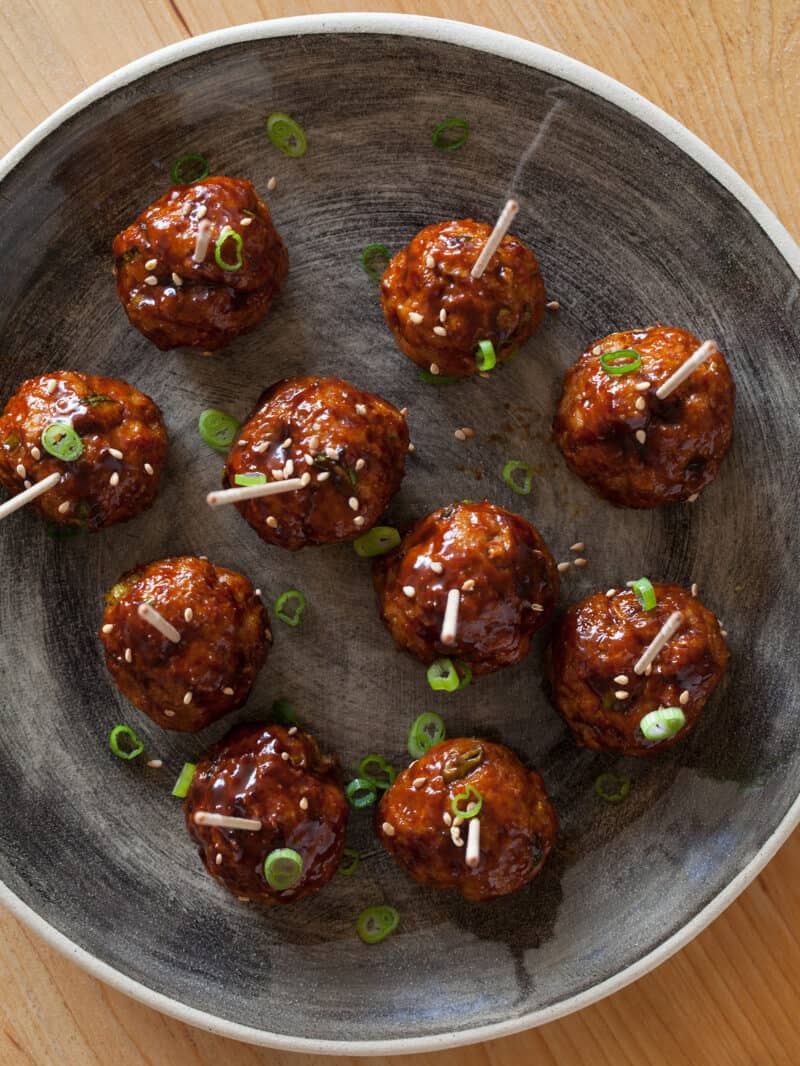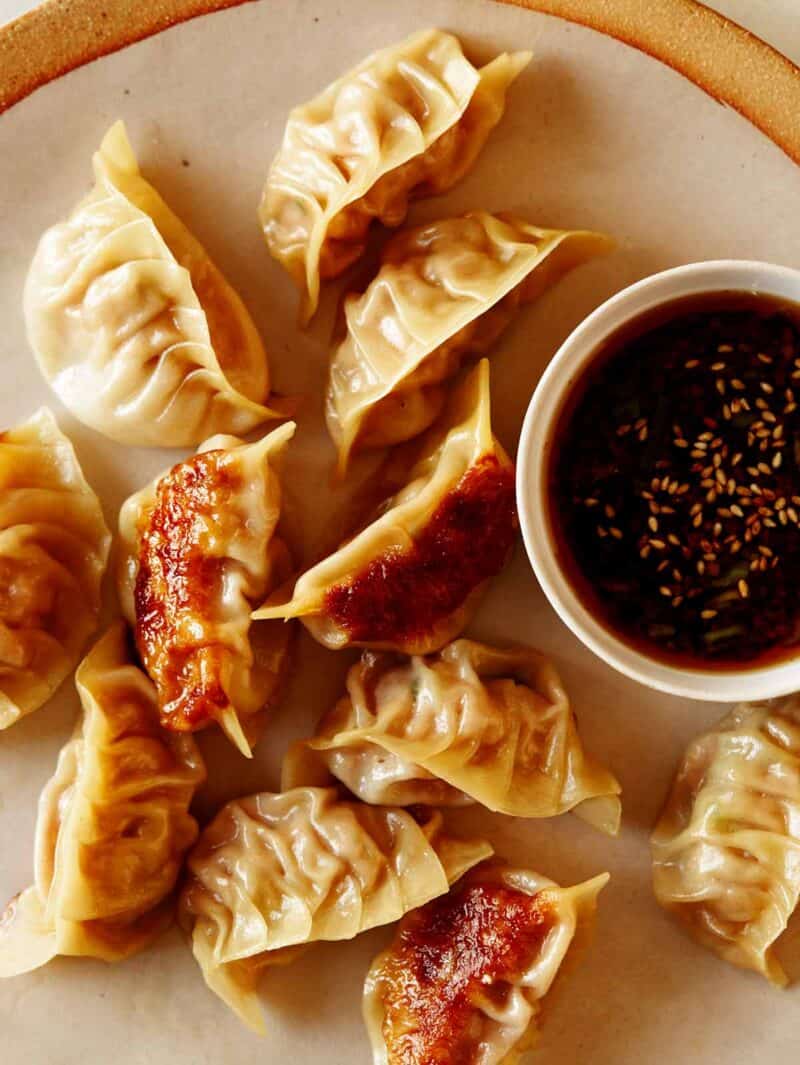 7. Fried Burrata – This is a delicious one! We fried a whole ball of burrata and then added it to a pool of romesco sauce. It's so good. Just make sure to handle the burrata carefully while you are breading it so it doesn't break and you will be good to go! Pair it with some of your favorite cocktails for the best New Years Eve situation!
8. Last but not least we have this recipe for Mozzarella Sticks with Wonton Wrappers. We love this recipe because the wonton wrappers really make the prep for this recipe go quick. They also make for a super crispy exterior. Serve with a simple marinara sauce and/or ranch!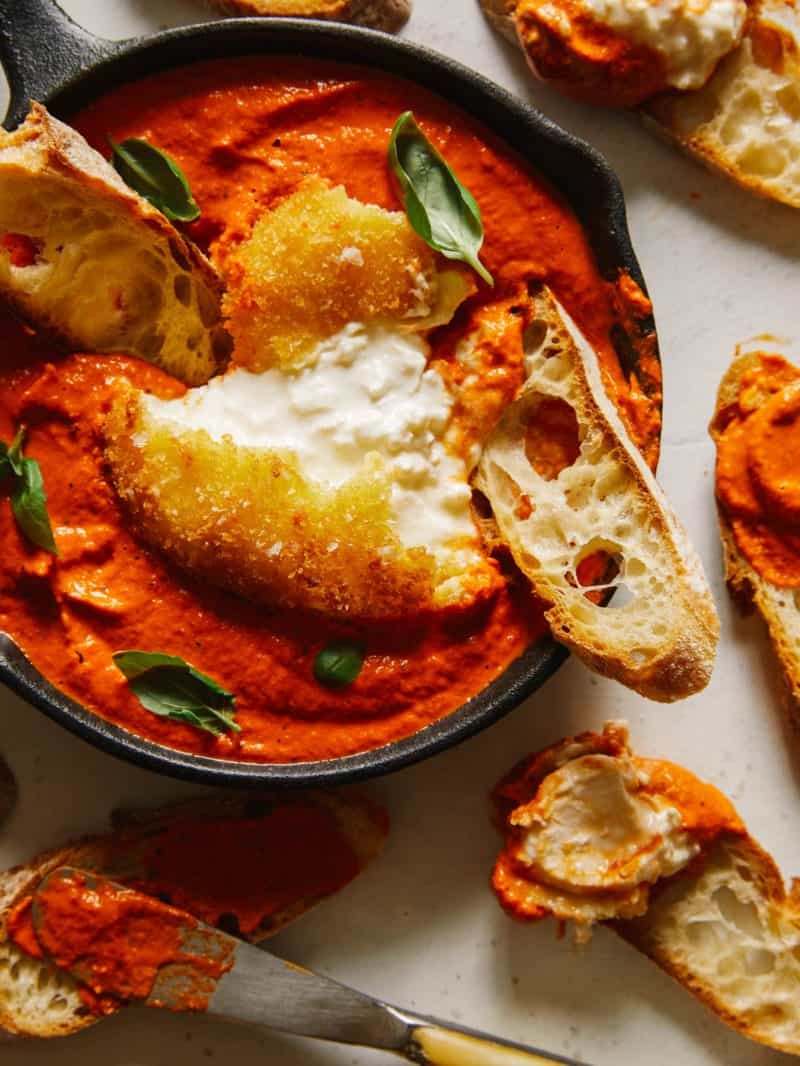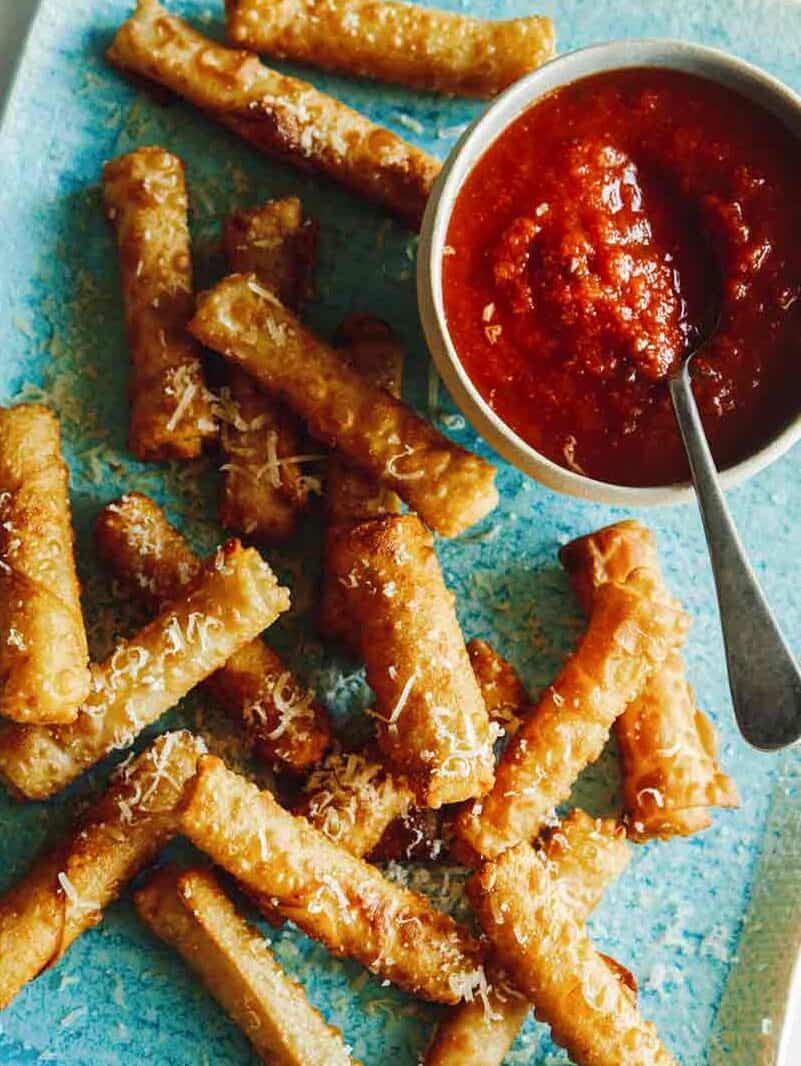 Check out our Best New Years Eve Food for full menu ideas!