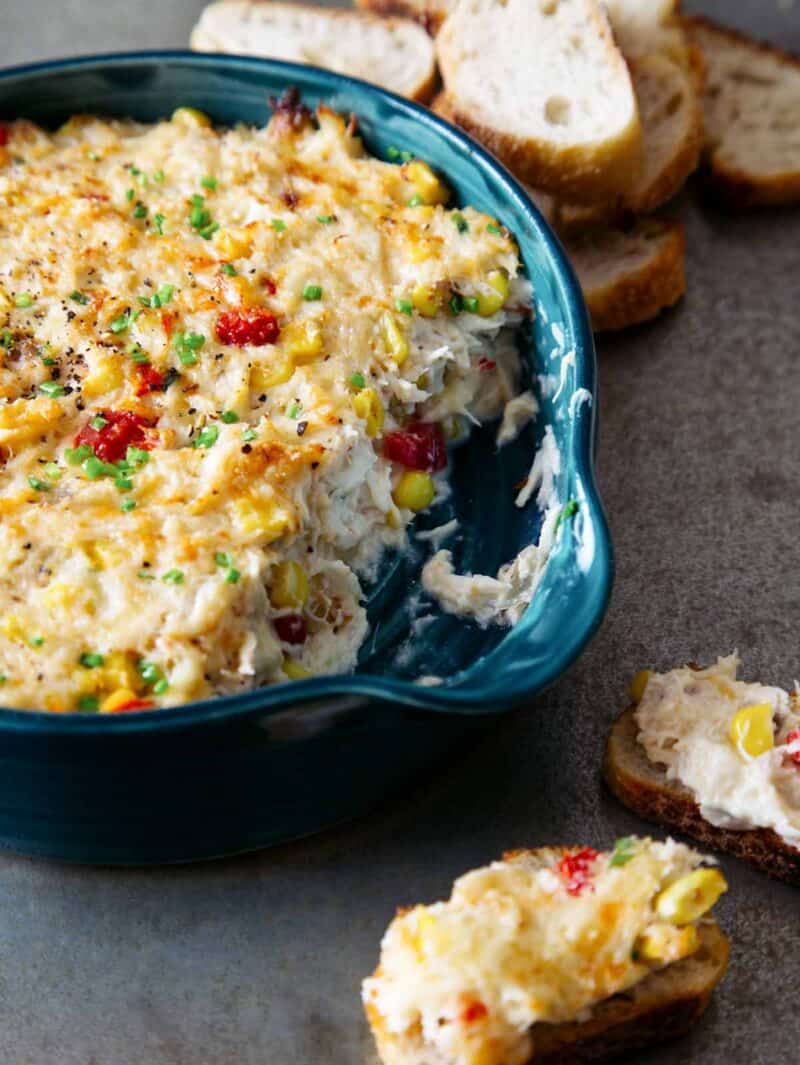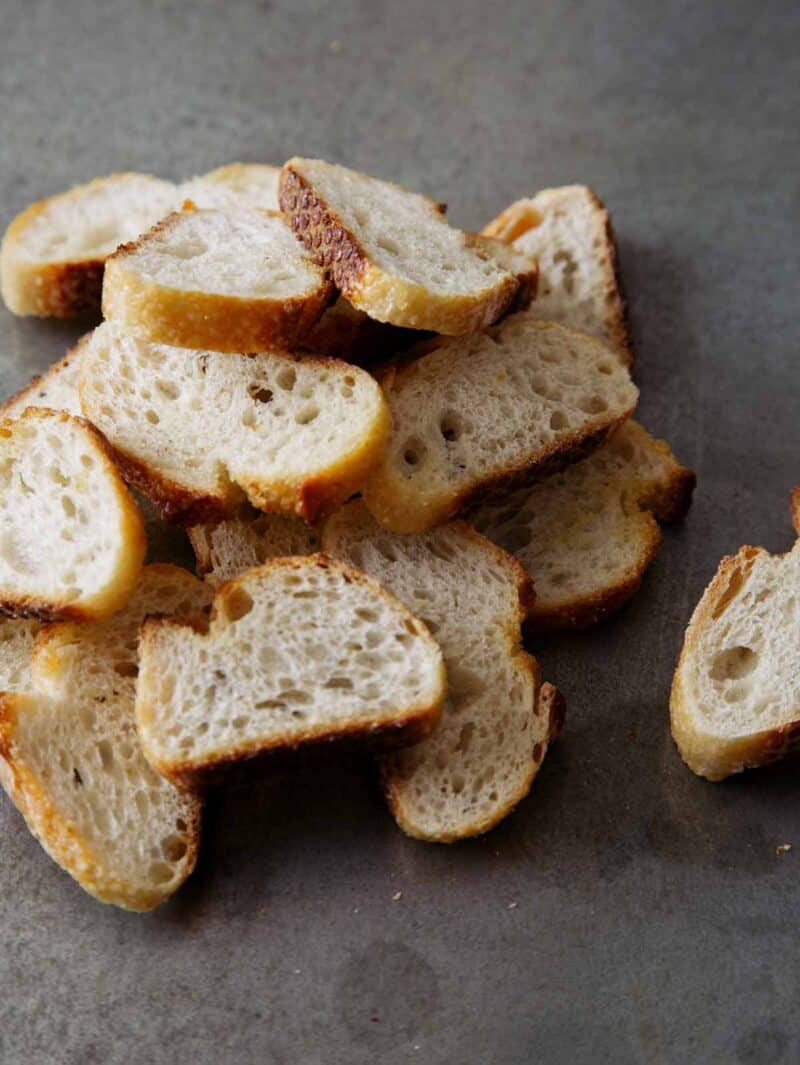 There is something to be said about warm dip. I prefer it over salsas and guacamole for sure. Probably because warm dip almost guarantees there will be some sort of dairy product in it, most likely of the cheese variety. A long while ago we made an Artichoke and Roasted Garlic dip, one of my favorite things to make of all time in the world of dips. So delicious. I am happy that we are now giving you another warm dip recipe, this time a Hot Crab Dip. The thing about this crab dip is that it is LOADED with crab, like as much crab as we could possibly fit into this recipe without it just being crab. My other favorite parts are the corn, which gives this dip a nice texture, and the bell pepper. All delicious and live together so nicely when baked and smeared on a warm toasted crostini. We made this for recipe for all your people that watch the Super Bowl. I will be watching that one live stream that has kittens and puppies running around a mini football field because that is much more my speed. Enjoy!
♥ Teri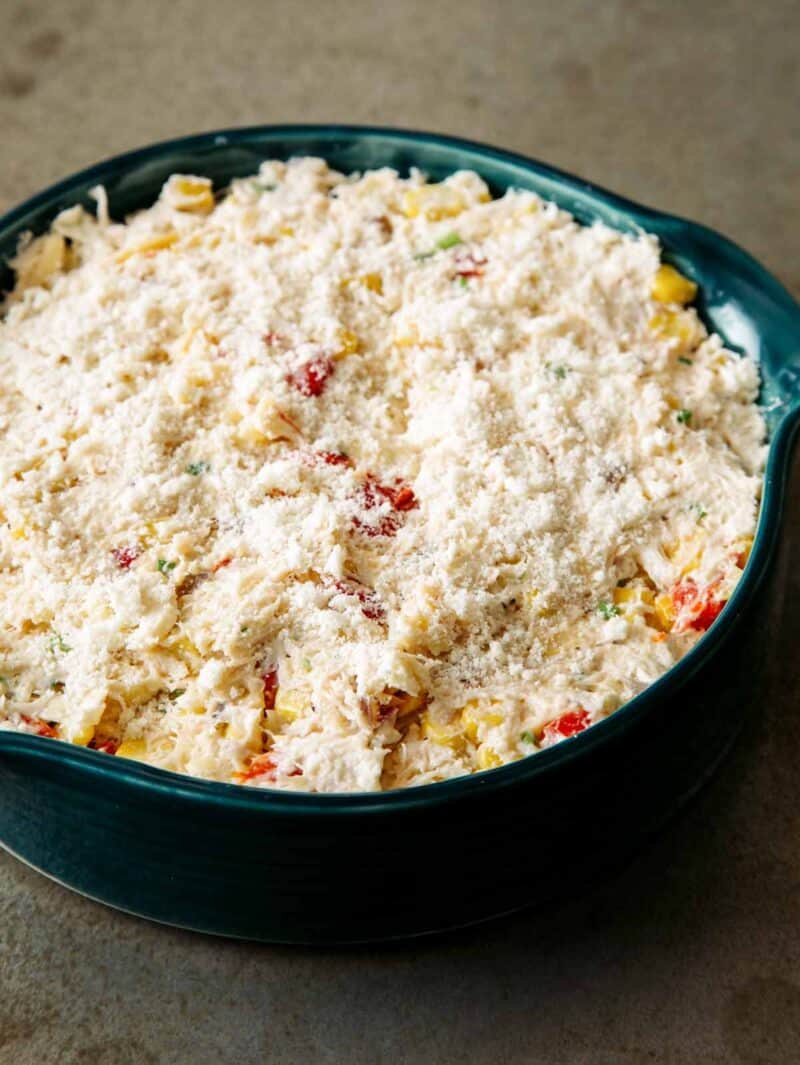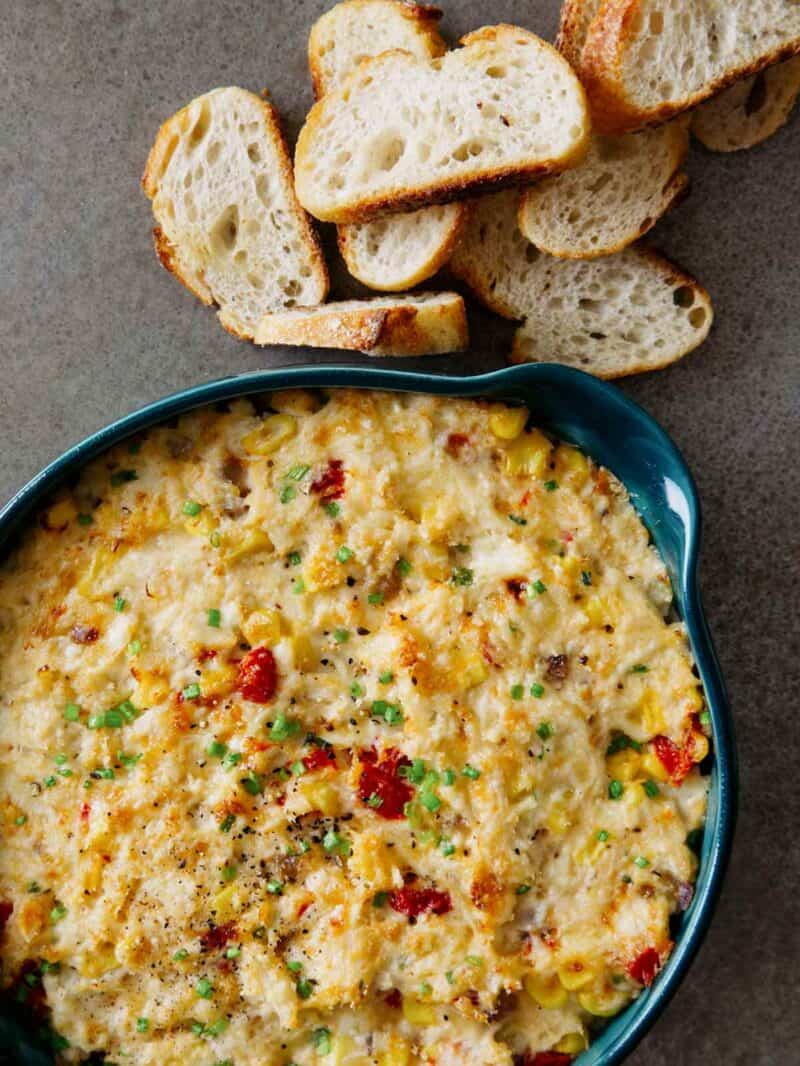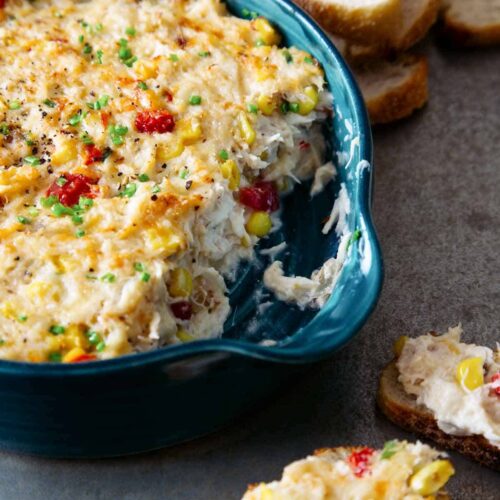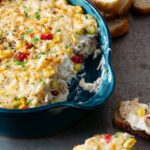 ---
Hot Crab Dip
INGREDIENTS
2

tablespoons

unsalted butter, softened

16

ounces

lump crabmeat

claw meat is fine

¼

cup

yellow corn, lightly sautéed

3

tablespoons

diced roasted red bell pepper

2

tablespoons

mayonnaise

1 ½

tablespoons

sour cream

1

tablespoon

thinly sliced chives

1

teaspoon

minced tarragon

1

garlic clove, minced

1

teaspoon

salt

½

teaspoon

cracked black pepper

2

tablespoons

freshly grated parmesan
INSTRUCTIONS
Grease a 3 or 3 ½ cup baking dish with the butter. Set aside.

Place remaining ingredients, except parmesan, into a mixing bowl and gently fold together until fully combined.

Pour mixture into the prepared baking dish and spread evenly. Sprinkle the top with parmesan and bake for 20 to 25 minutes or until golden brown.

Allow dip to cool for 5 to 7 minutes before serving with crostini, tortilla chips or toast points.
Calories:
128
kcal
Carbohydrates:
4
g
Protein:
12
g
Fat:
7
g
Saturated Fat:
3
g
Cholesterol:
35
mg
Sodium:
885
mg
Potassium:
147
mg
Fiber:
1
g
Sugar:
1
g
Vitamin A:
181
IU
Vitamin C:
7
mg
Calcium:
48
mg
Iron:
1
mg