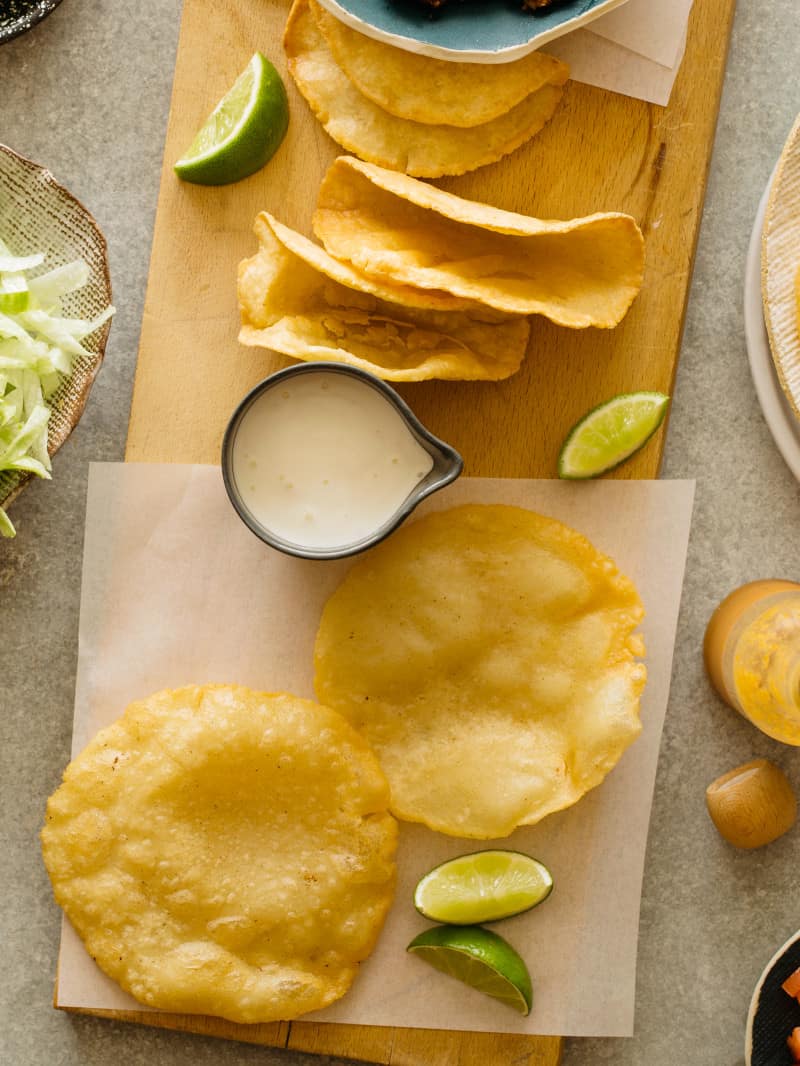 A good while back we posted these crunchy ground beef and cheesy tacos on the blog and we got a lot of comments about people wanting the recipe/instructions for the shell portion of the tacos. Today we finally have the instructions for you guys! Last week we posted a recipe for homemade corn tortillas. We then took those same tortillas and fried them up to make our hard and puffy shells.
While you can deep fry them if you want, you really only need a couple inches of oil, in a large and tall sided skillet/pan, to make them! The key for specifically the puffy taco shells is to make sure you're frying up raw corn tortillas, so it's important that you use fresh tortillas (preferably ones you made yourself). If you try using the prepackaged kinds, you'll just get regular hard shells…which isn't necessarily a bad thing…they just won't have that "puffy" taco shell look or texture. We loaded ours up with the same ground beef mixture plus fixins' as from the previous recipe, because the combination is just so tasty..a little trashy, but so so good. :) Enjoy! xx, Jenny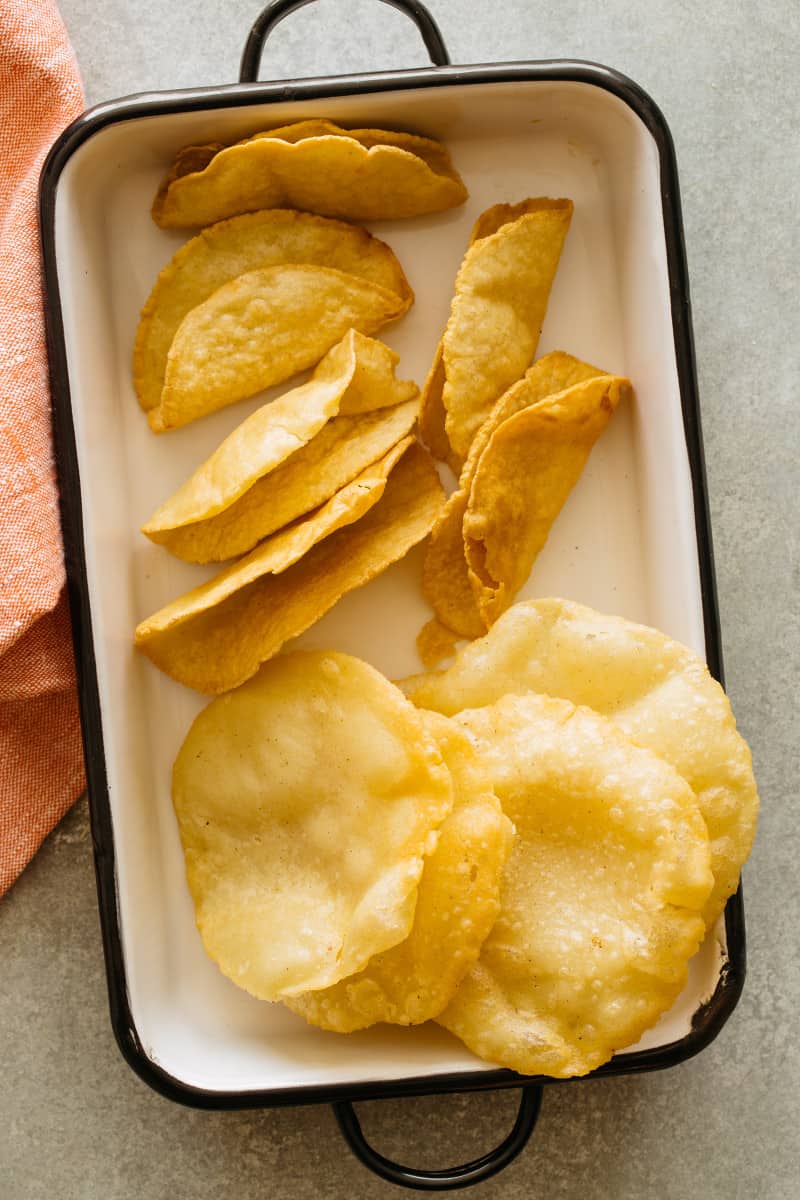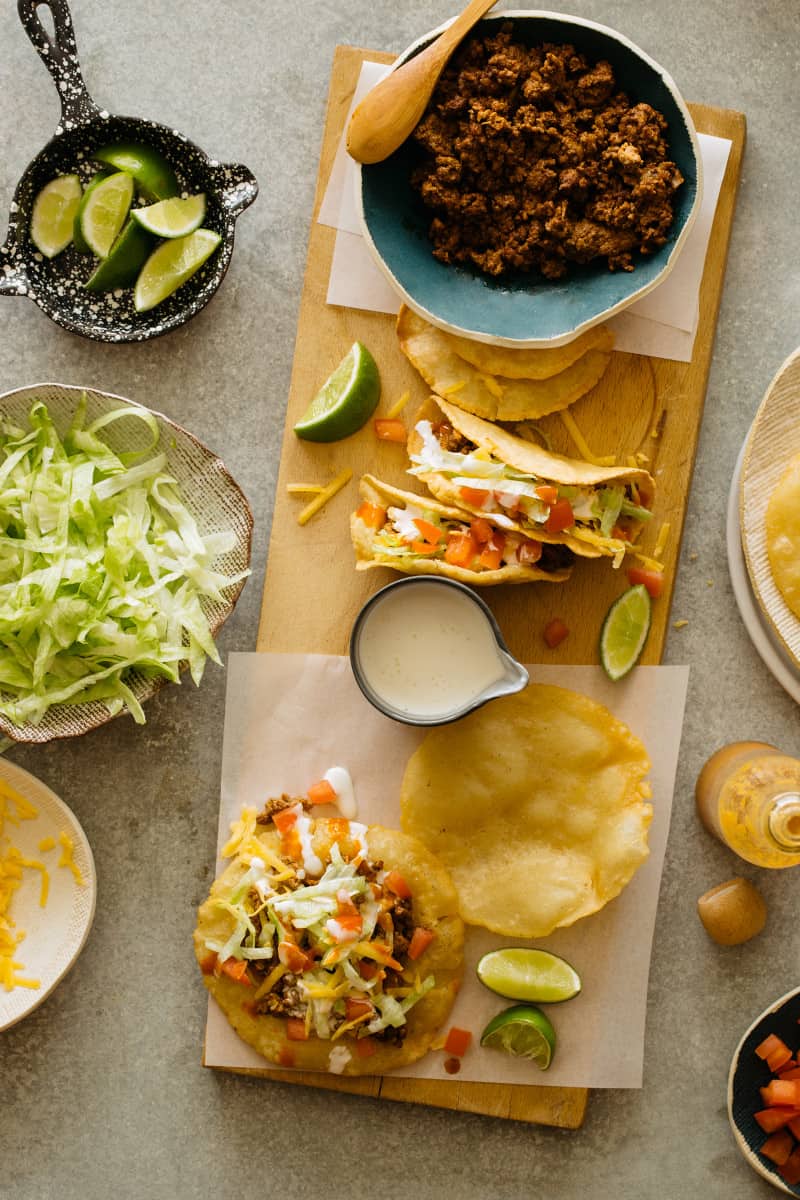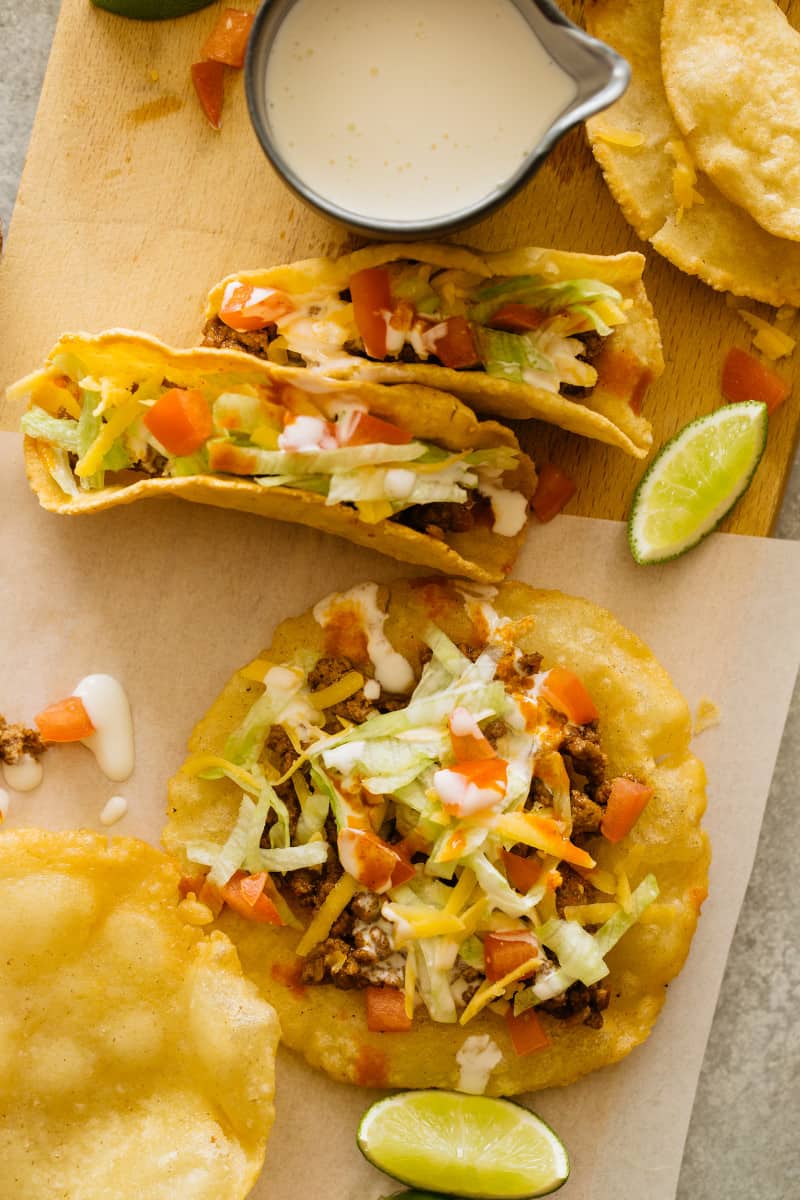 Love tacos as much as us? Here are some more taco recipes:
Hungry for more?
Subscribe to never miss a recipe.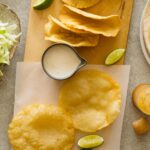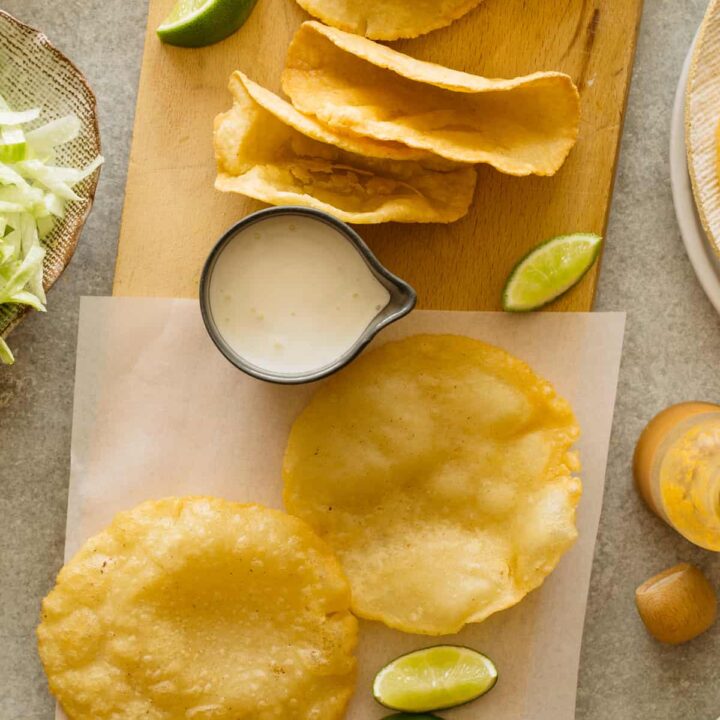 ---
DIY Hard + Puffy Corn Tortilla Shells
INGREDIENTS
1

recipe

homemade corn tortillas, leaving half of the pressed tortillas raw

enough frying oil to fill 2 inches of a tall sided pan
INSTRUCTIONS
For hard shell tacos: Create a small aluminum foil cylinder about 1 inch thick and place it in the center of one of the cooked tortillas Place the tortilla in the oil. with the foil cylinder and gently fold half of the tortilla over the other side, and hold down together with a pair of heat resistant tongs.

Hold and fry for 2 to 3 minutes or until the tortilla has fried enough to kept its folded shape.

Flip the shell and continue to fry for 3 to 4 minutes or until the shell turns golden brown and is fully crisp. Drain onto a paper towel and season with salt and pepper. Transfer to a cooling rack lined with a baking sheet.

Repeat until all hard shells have been made. Use immediately or store in an airtight container for 3 to 4 days.

Puffy Shells: Carefully place 1 raw corn tortilla into the oil and fry for 2 to 3 minutes. Flip and continue to fry for an additional 2 to 3 minutes or until shells have puffed up, are golden brown, crisp, yet still slightly pliable. Drain onto a paper towel and season with salt and pepper.

Repeat until all puffy shells have been made. Use immediately. (Puffy taco shells generally do not hold very well and should freshly fried and consumed immediately).
KEYWORD:
crunchy taco, tortilla shells