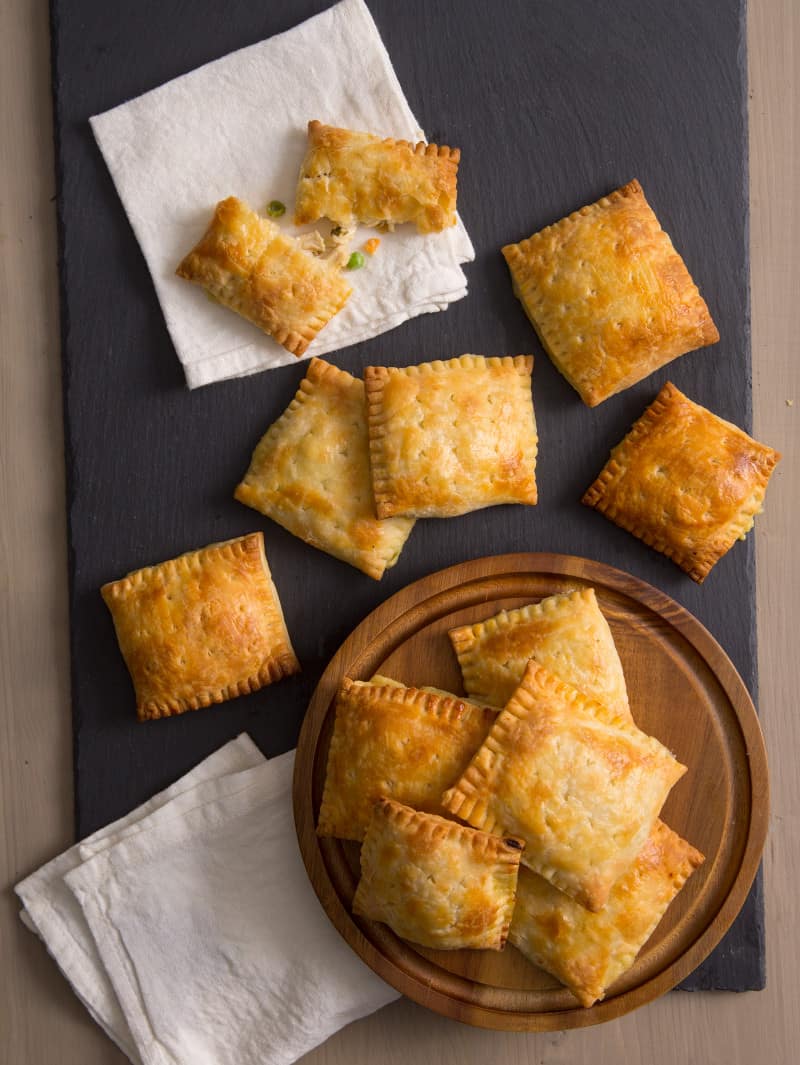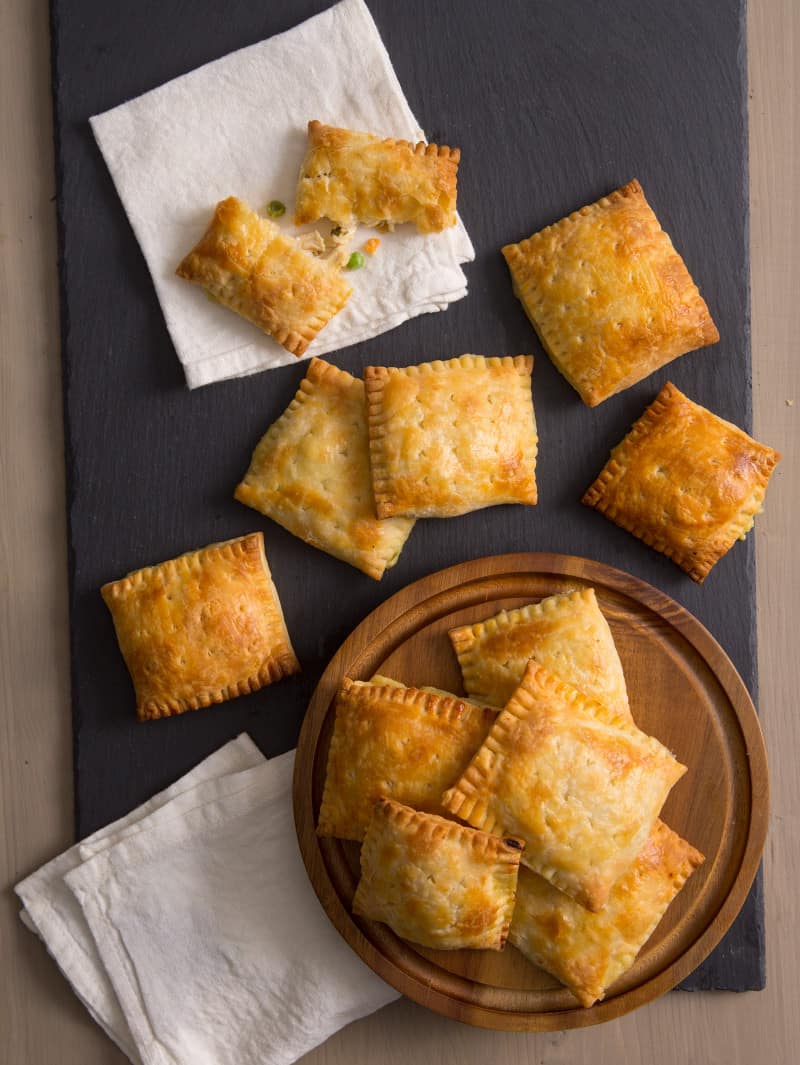 If you're anything like me, your household can get pretty hectic every now and then! Recently, I've been scrambling on the weekends to get creative with my weekly meal prep. I've definitely been guilty of making the same (and sometimes boring!) dish…and sometimes you need a little variety! My main go-to ingredients are usually baked chicken breast, steamed vegetables and steamed quinoa or farro. While I really love those ingredients, having it day after day can get a little bit mundane.
I promised myself I would mix things up this week and these Chicken Pot Pie Hand Pies have been the biggest and unexpected hit of all! I'm still using some of my favorite ingredients, but mixing it up with the 'made ahead of time' hand pies makes for an unexpected and super comforting weeknight meal. I love the 'hand pie' part for so many reasons: you can make a bunch of them in one batch, they freeze incredibly well, they're portioned more modestly than an individual pot pie, and while they're great for quick and easy weeknight dinners, they also hold and travel well and can be taken to lunch the next day. My favorite way to eat them is piping hot, straight from the oven, served alongside a lightly tossed mixed green salad.
The fact that these take almost half the time of regular pot pies to bake is a big win, especially during the weeknights. The last thing I want to do when I get home from a long day is wait over an hour for dinner to be ready (sort of defeats the purpose of meal prep in the first place!), so after a long day at the studio, these hand pies are a true lifesaver! And if you have a No Preheat setting on your oven, like we do with our Frigidaire Professional Double Electric Wall Oven, there is no more waiting for your oven to preheat and no more having to stress over forgetting to preheat.
If you want to switch it up with an unexpected and delicious dinner this week, or just want a crowd-pleasing dish to bring to a get together, I highly recommend these incredibly satisfying Chicken Pot Pie Hand Pies I created in partnership with Frigidaire Professional. Enjoy!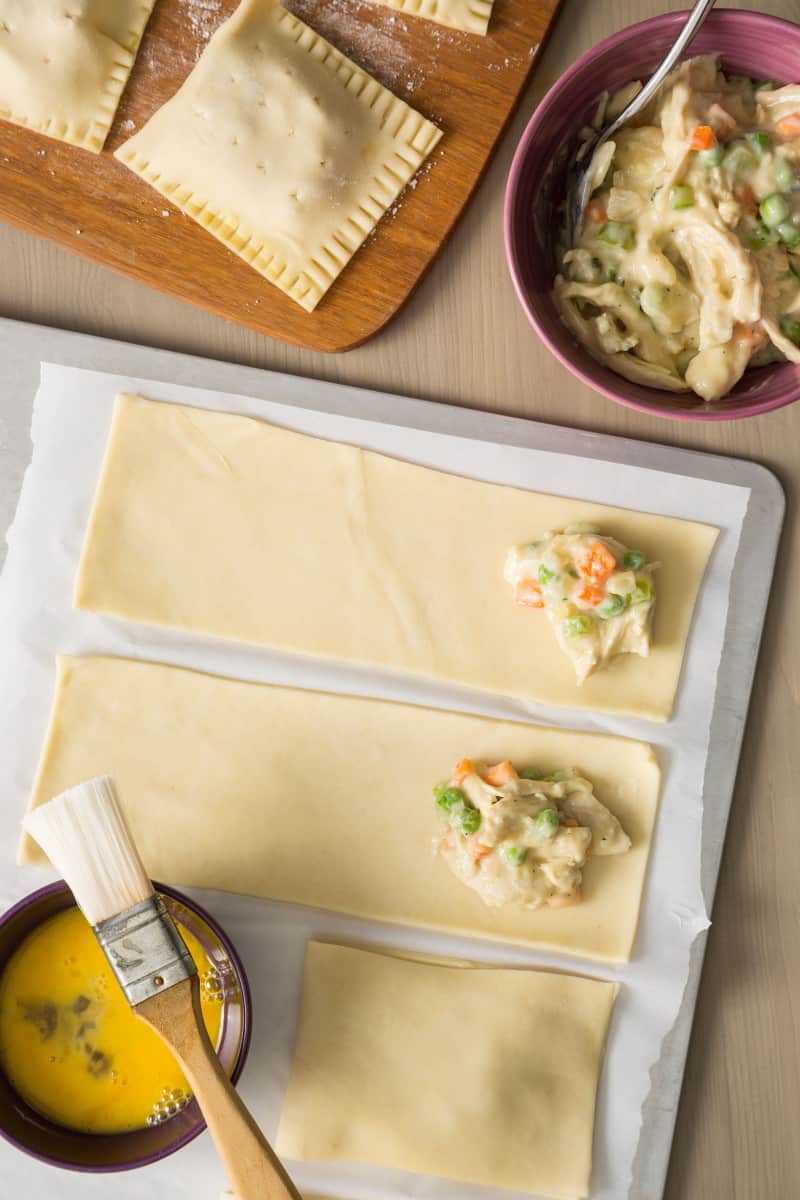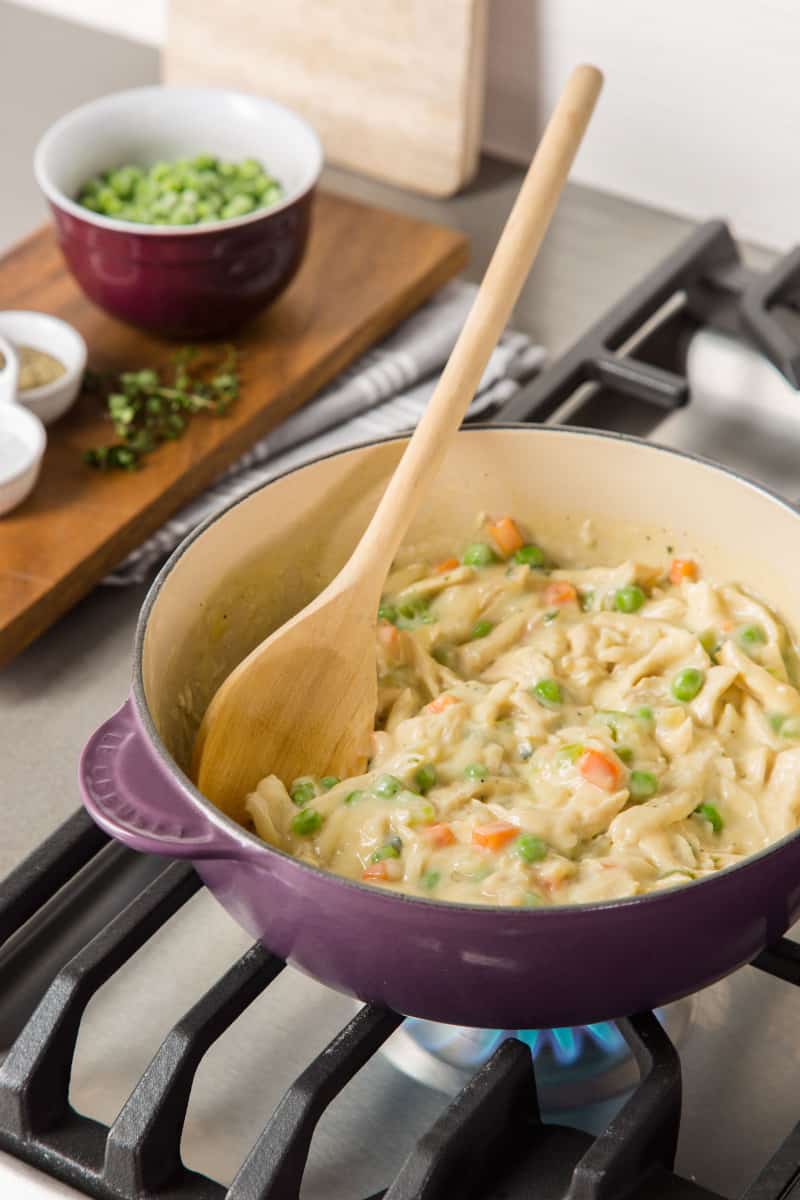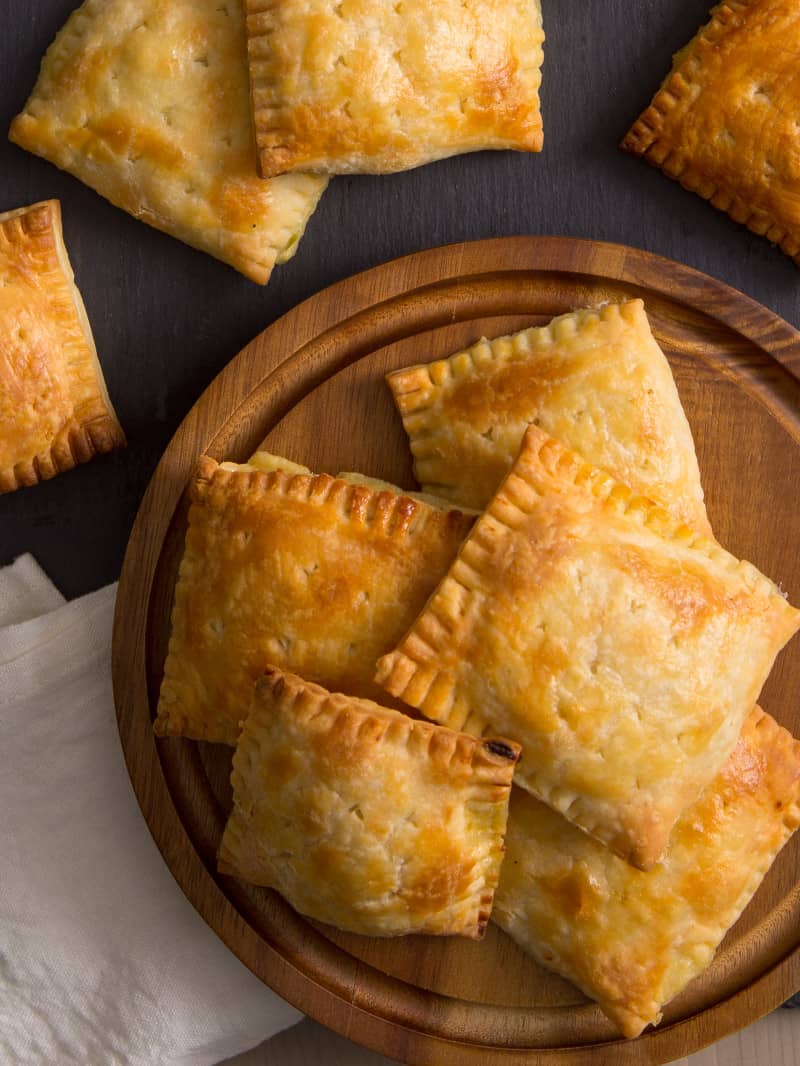 Here are some more chicken recipes you will love:
Hungry for more?
Subscribe to never miss a recipe.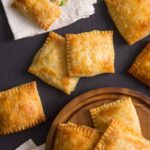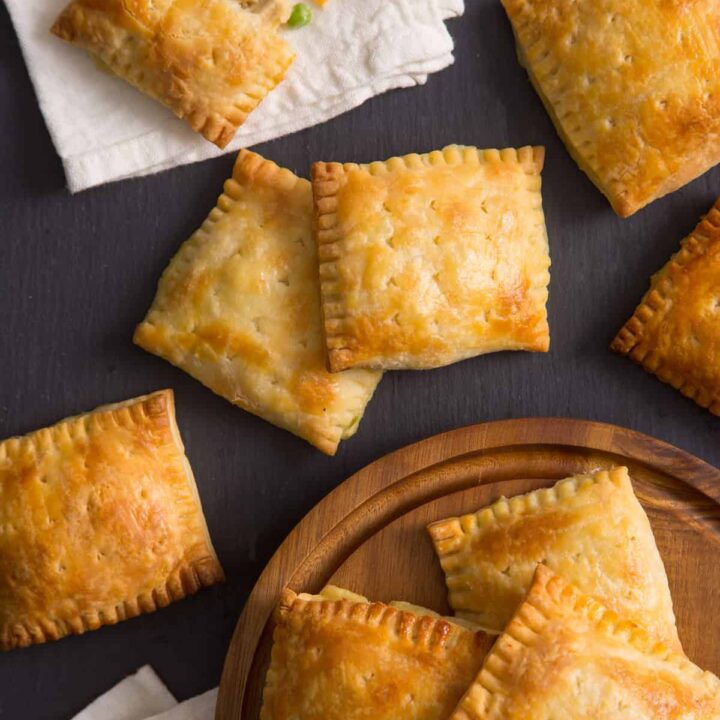 ---
Chicken Pot Pie Hand Pies
INGREDIENTS
chicken pot pie filling
4

tablespoons

unsalted butter

⅓

cup

diced yellow onion

¼

cup

carrot, peeled and diced

¼

cup

celery, diced

1

tablespoon

minced thyme

3

tablespoons

all purpose flour

1 ¼

cup

chicken stock

½

cup

whole milk

1 ⅓

heaping cup

cooked and shredded chicken breast

½

cup

frozen peas

salt and pepper to taste
cream cheese pie dough
2

cup

all purpose flour

¼

teaspoons

baking powder

½

teaspoon

salt

¾

cup

(1 ½ sticks) cold unsalted butter, cubed

4

ounces

cold cream cheese, cubed

1

tablespoon

ice water

1

teaspoon

apple cider vinegar

1

egg, beaten
INSTRUCTIONS
For filling: Melt butter in a medium saucepan over medium-high heat.

Add onions, carrot and celery and sauté for 3 to 4 minutes. Add thyme and season with salt and pepper. Reduce heat to medium and stir in flour and cook for 2 minutes. Stir in stock, followed by milk and continue to stir until mixture thickens enough to coat the back of a wooden spoon. Fold in chicken and peas, adjust seasonings and set aside to allow mixture to cool.

For dough: Place flour, baking powder and salt into a food processor and pulse 3 times. Add butter and cream cheese and continue to pulse until the mixture begins to come together. Add water and vinegar and continue to pulse until smooth dough forms. Divide dough into 2 flat discs, wrap in plastic wrap and refrigerate for 30 minutes.

To assemble: Roll chilled dough out onto a lightly floured surface into a 15" x 24" rectangle.

Cut out 3, 5"x 8" rectangles and brush the surface of each with the beaten egg. Place ¼ cup of the filling mixture into the bottom half of each rectangle (leaving a ¼ inch border).

Fold the top half of the rectangle-cut dough over the filling and gently press around the edges, getting rid of any air pockets. Using the back of a fork, seal the open edges. Gently score the top of each hand pie and brush with egg wash. Place them onto a parchment lined baking sheet.

Repeat steps 5-7 with the remaining dough and filling.

Bake for 18 to 22 minutes or until the hand pies are golden brown.

Allow hand pies to cool, about 10 minutes, before serving.
NOTES
*These can easily be made in advance and frozen for up to six months. When you're ready to bake them, ensure even doneness in a shorter amount of time with the Frigidaire Professional Double Wall Oven with PowerPlus™ Convection.
Calories:
280
kcal
Carbohydrates:
21
g
Protein:
5
g
Fat:
20
g
Saturated Fat:
12
g
Cholesterol:
66
mg
Sodium:
188
mg
Potassium:
122
mg
Fiber:
1
g
Sugar:
2
g
Vitamin A:
1163
IU
Vitamin C:
4
mg
Calcium:
42
mg
Iron:
1
mg
KEYWORD:
chicken pot pie, hand pies