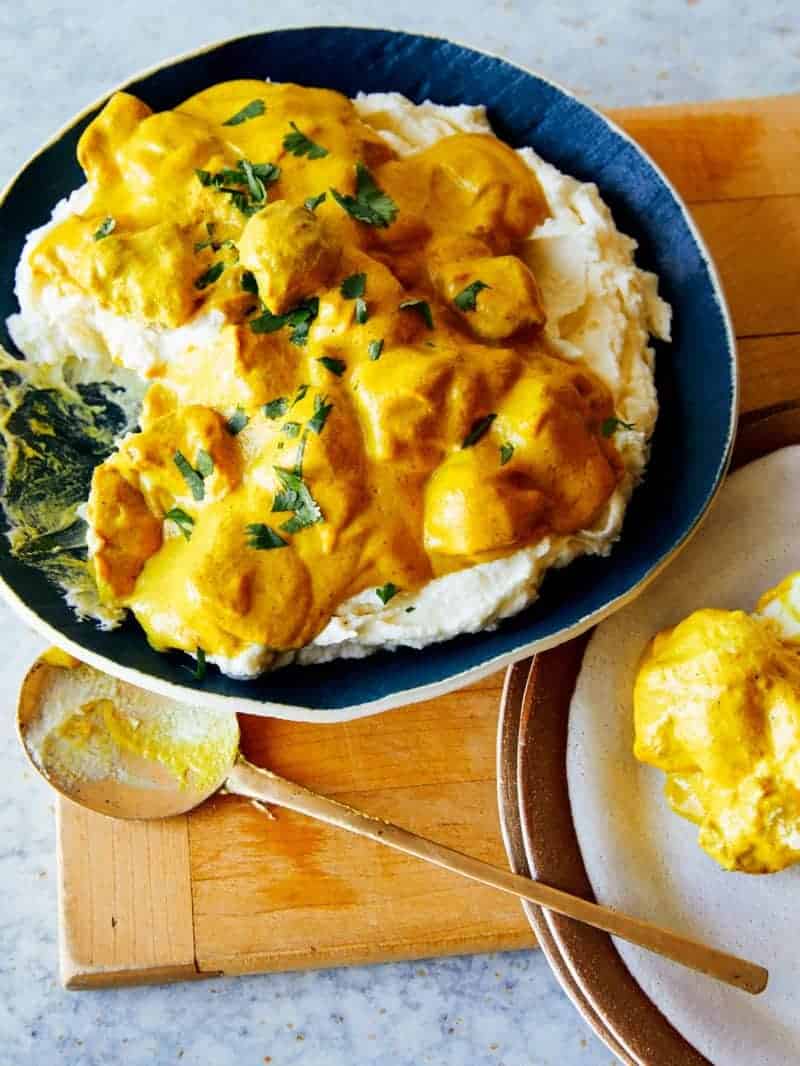 We have a really creamy and tasty Chicken Korma over Mashed Potatoes for you guys today. Our Vegetable Loaded Vegan Korma has been really popular, we decided a chicken version was needed too. :) I love hearty meals like this one. I think it's the perfect type of comfort food, especially after a long day. I say after a long day because I think this dish gets even better after a day, so you can make it one night, stick it in the fridge and just heat it up he next night when you're ready to enjoy it.
I changing up the typical serving suggestion of rice with buttery mashed potatoes, just cause. Really no reason behind it, it just seemed like a good idea, and I'm really glad I did. It makes this hearty dish even more delicious and cozy. I love how the korma is basically like a flavorful gravy for the mashed potatoes! This dish also isn't very hard to put together at all, it just requires a handful of spices, which you really don't want to skimp on because they really add all the lovely umami flavor that definitely makes this dish extra yum. Enjoy! xx, Jenny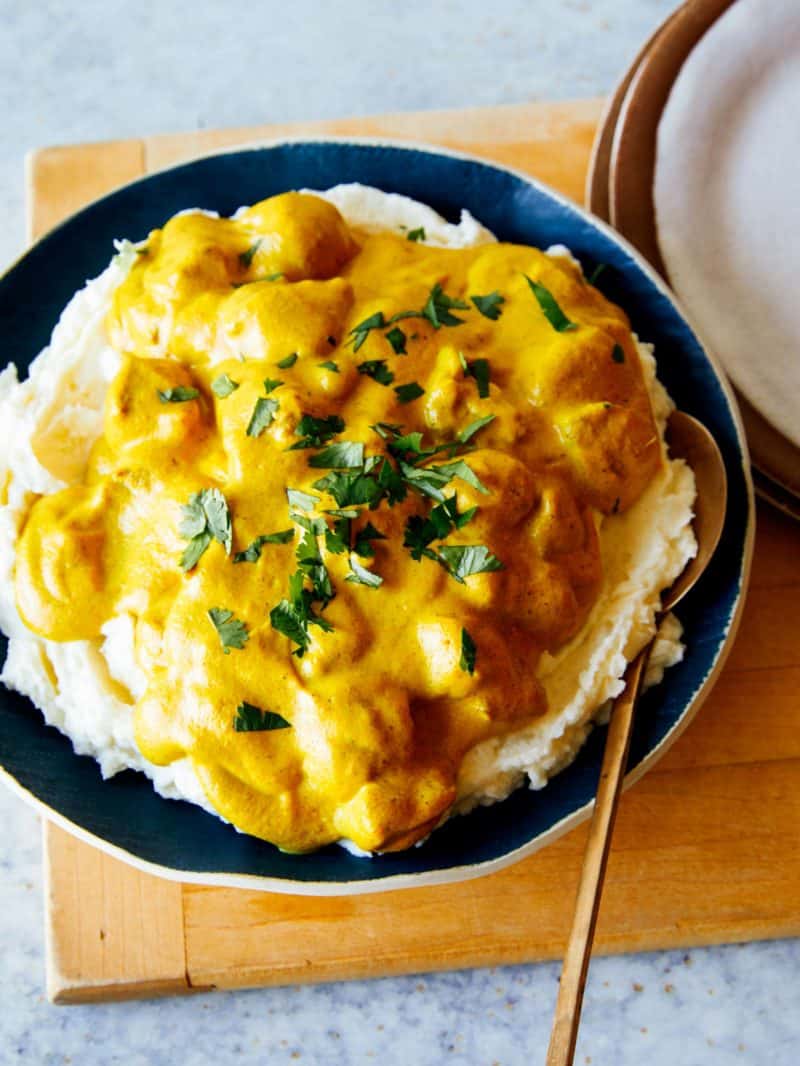 Chicken Korma

Serves 3 to 4

Ingredients:
1 pound boneless, skinless chicken thighs
3 1/2 teaspoons cumin, divided
1 teaspoon coriander
3 tablespoons unsalted butter, divided
1 shallot, minced
2 garlic cloves, minced
1 cup raw cashews
1 teaspoon turmeric
1/2 teaspoon cardamom
1/2 teaspoon cinnamon
2 1/2 tablespoons tomato paste

mashed potatoes for serving
fresh cilantro for serving

Directions:
1. Place chicken thigh pieces in a mixing bowl, add 1 1/2 teaspoons cumin, 1/2 teaspoon coriander, a sprinkle of salt, and some cracked black pepper and toss together until chicken is well coated.
2. Place a large skillet over medium-high heat and add 1 1/2 tablespoons butter.
3. Add chicken and sauté for 3 to 4 minutes.
4. Using a slotted spoon, transfer chicken to a plate and set aside.
5. Add remaining butter to skillet. Add shallot and garlic and sauté 3 to 4 minutes.
6. Add cashews and remaining spices and continue to sauté for an additional 4 to 5 minutes. Season with salt and pepper.
7. Transfer mixture into a blender with 1 3/4 cups water and blend until smooth.
8. Pour mixture back into skillet, stir in tomato paste and simmer over medium-low heat for 2 to 3 minutes.
9. Pour chicken into skillet with korma sauce and stir together. Simmer mixture until slightly thickened. Season with salt and pepper and stir.
10. Pour chicken korma over a bed of buttery, mashed potatoes and top with fresh cilantro leaves. Serve.