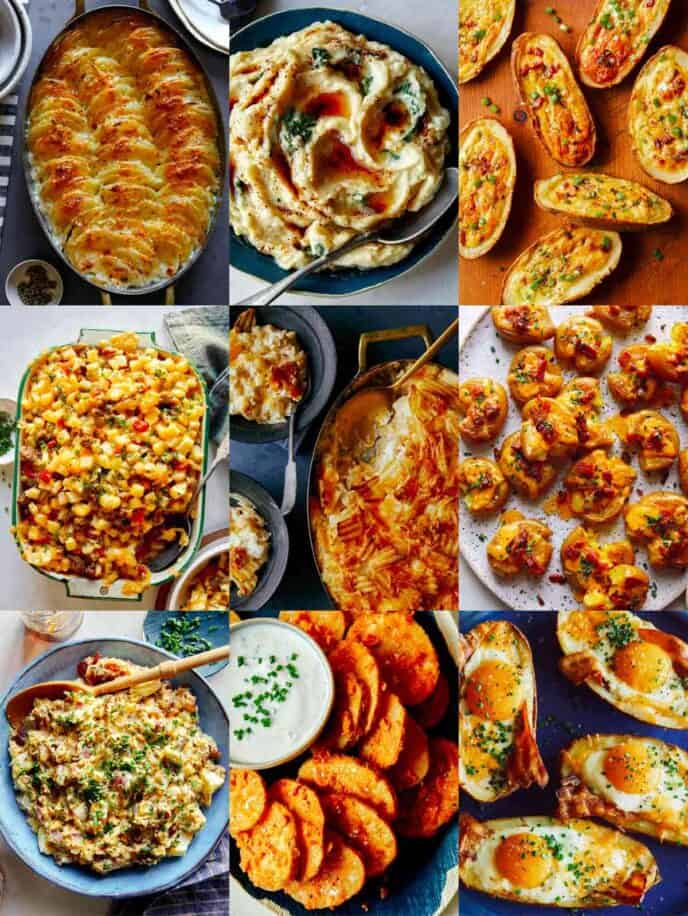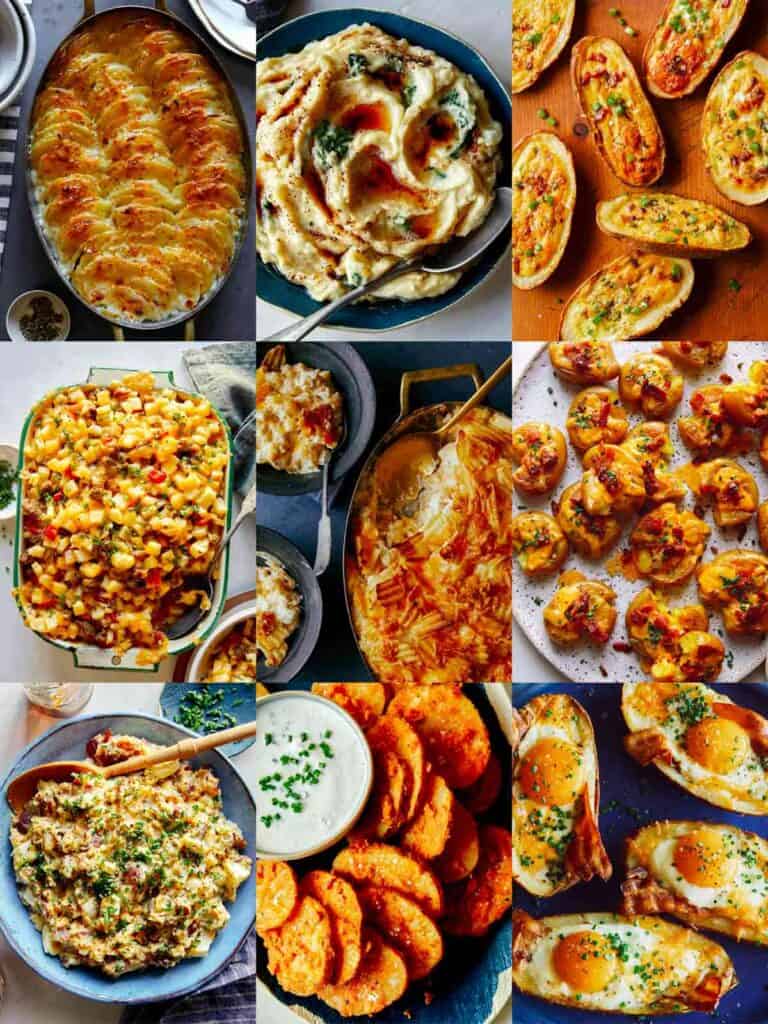 Potatoes are one of our favorite things to eat, and we take our potatoes seriously! We scoured our recipes and cherry picked the best potato recipes on the site and put them all into one place. Below you will find potato recipes of all kinds! Breakfast, dinner, side dishes, appetizers and snacks. This potato recipe collection utilizes all kinds of potatoes too, new potatoes, fingerling, russet, yukon golds, sweet potatoes, we covered the gamut. If you are potato carbohydrate fans like we are, bookmark this page right now!
Potatoes for Breakfast? Yes please!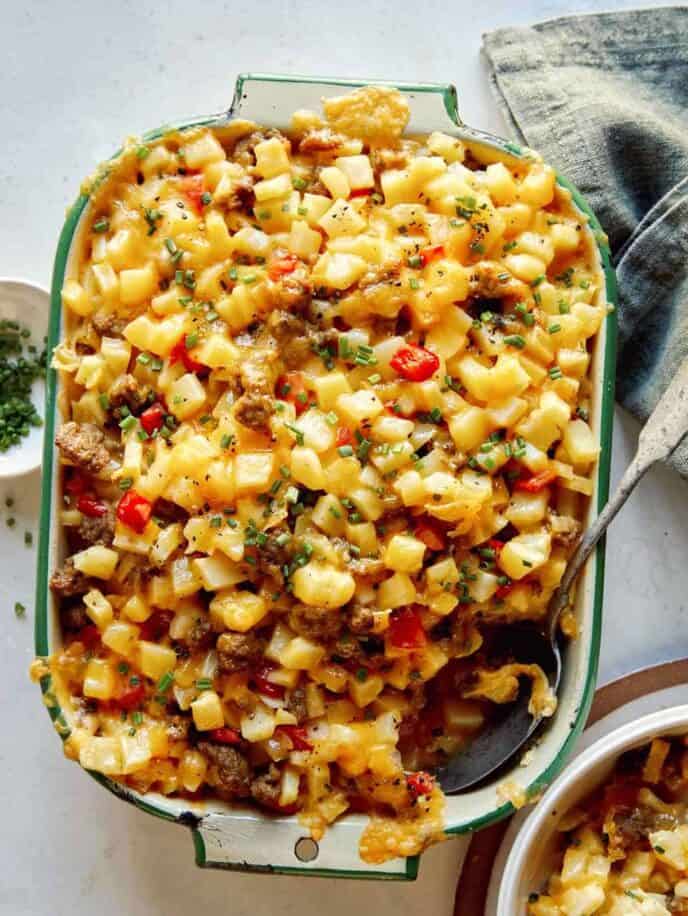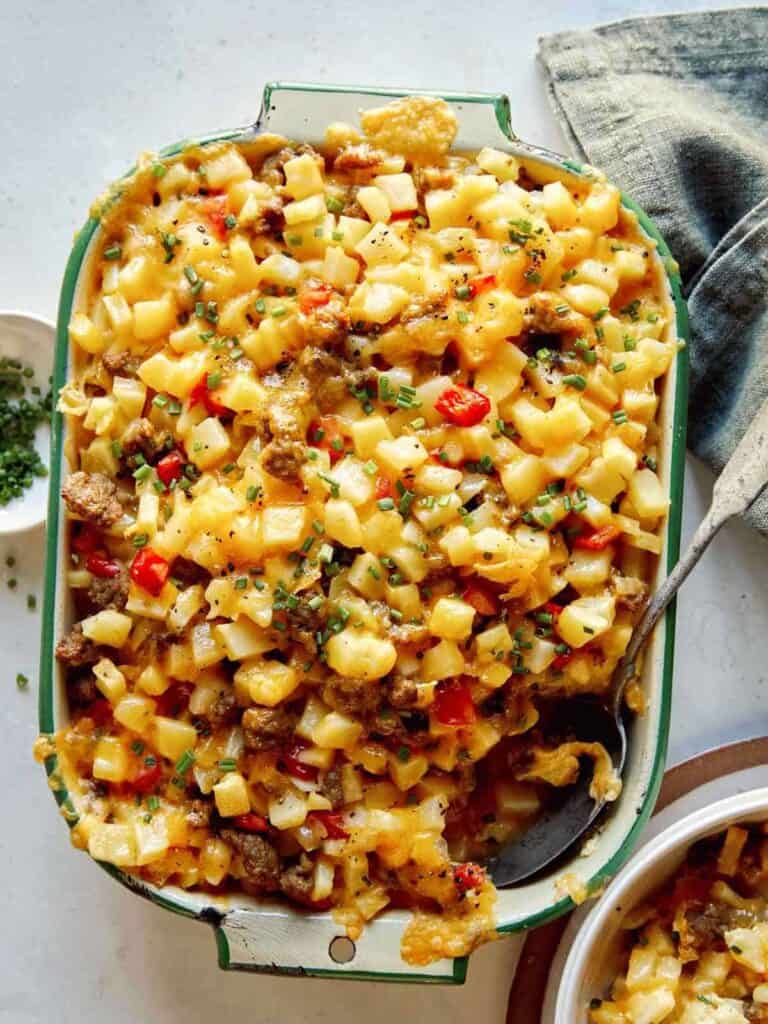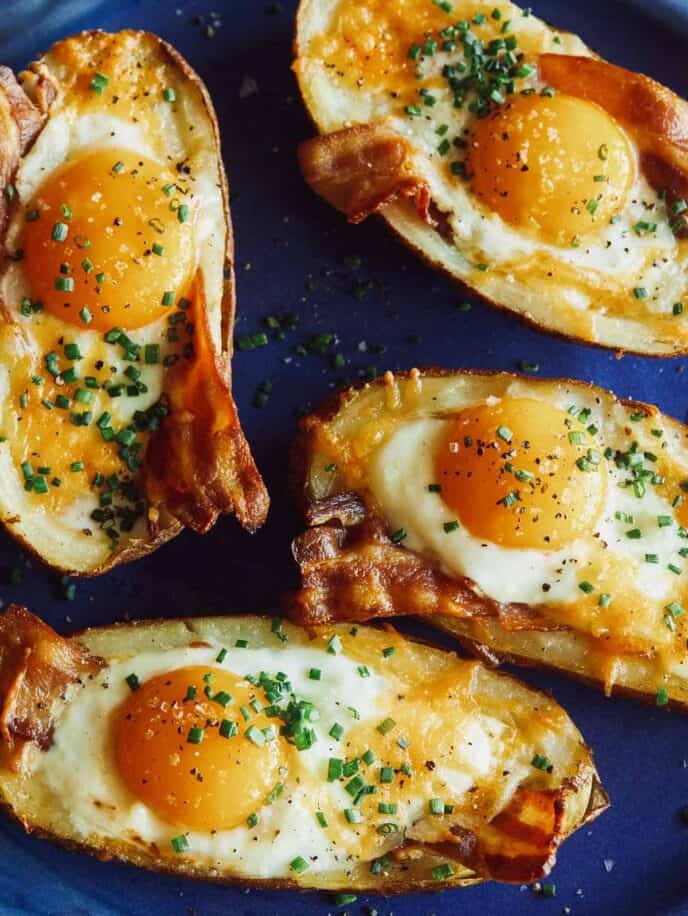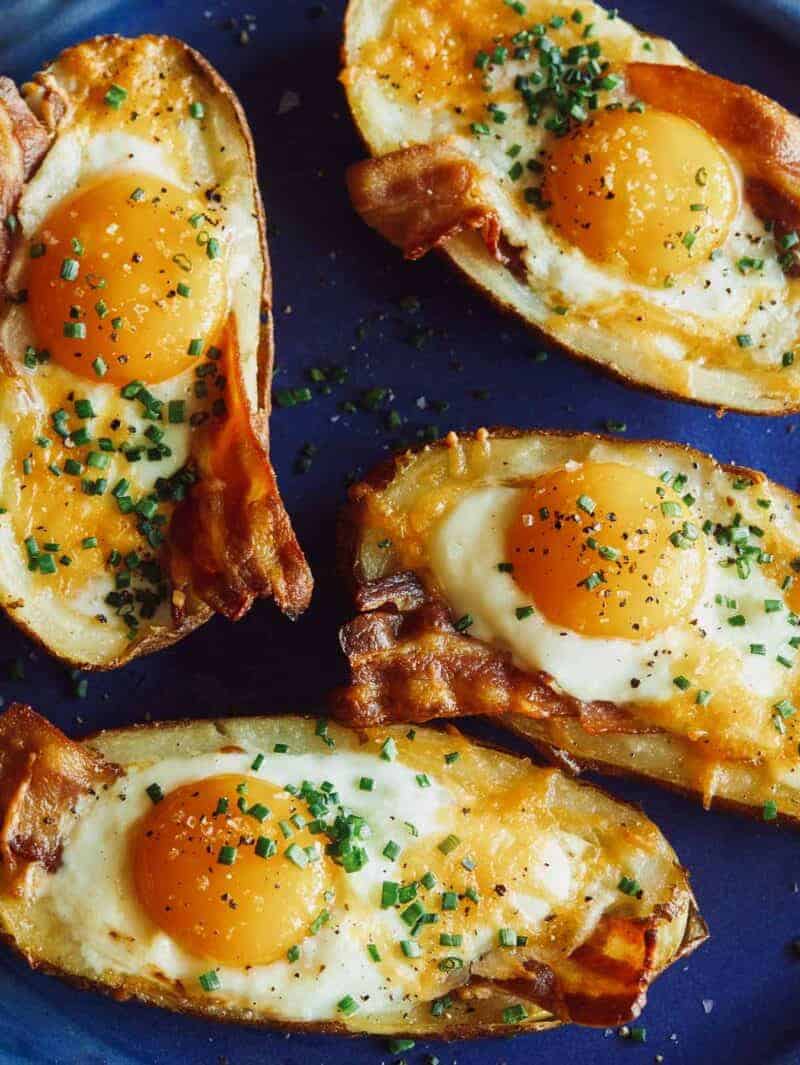 Crispy and Cheesy Hash Browns – An all American breakfast is not complete without hash browns! Our version are thin and crispy with a little cheese.
Hash Brown Crust Bacon and Cheddar Quiche – You know about a classic quiche with a pie dough crust, well we took things up a notch by making the crust out of hash browns. Yep! It's the perfect breakfast combo.
Twice Baked Breakfast Potatoes – Think of these like delicious potato skins filled with egg and bacon. You can prep part of this recipe ahead to make it easier the morning of!
One of our favorite one pan breakfast recipes, our Simple Cheesy Skillet Hash Browns and Eggs are such a delicious breakfast recipe. This simple recipe cooks the eggs over easy so you can have some yummy bites of crispy hash browns with some egg yolk mixed in. The best.
Our Breakfast Casserole Recipe is such an easy potato dish. Frozen potatoes with eggs and sausage – all of this is tossed together and baked. We love making this ahead and throwing it in the oven when we are ready!
Potato Skin Egg Boats – Hollowed out russet potatoes filled with a delicious egg, bacon, and cheese mixture then baked. This is one of our favorite breakfast recipes on the blog!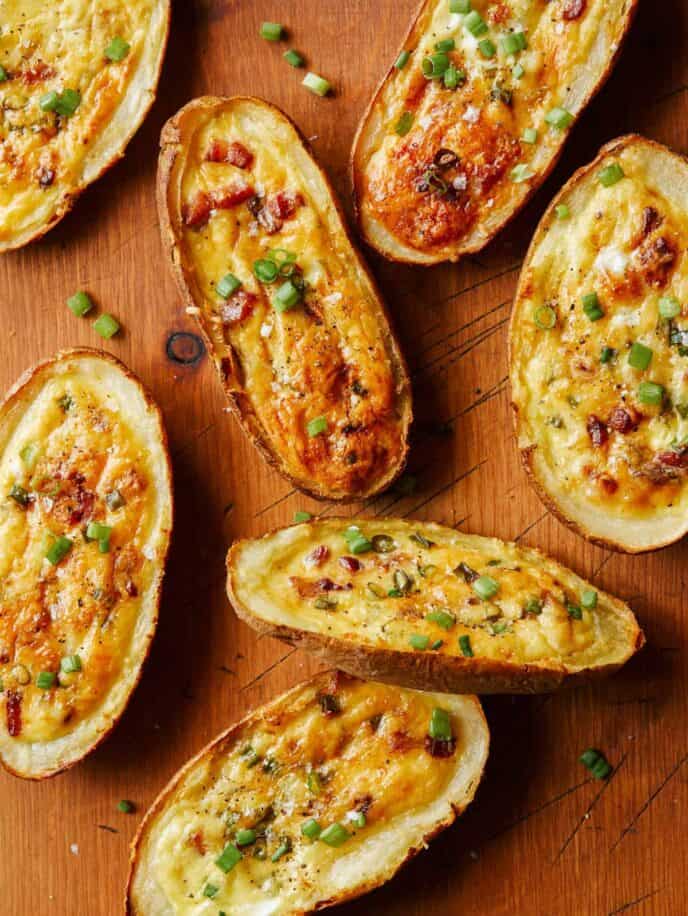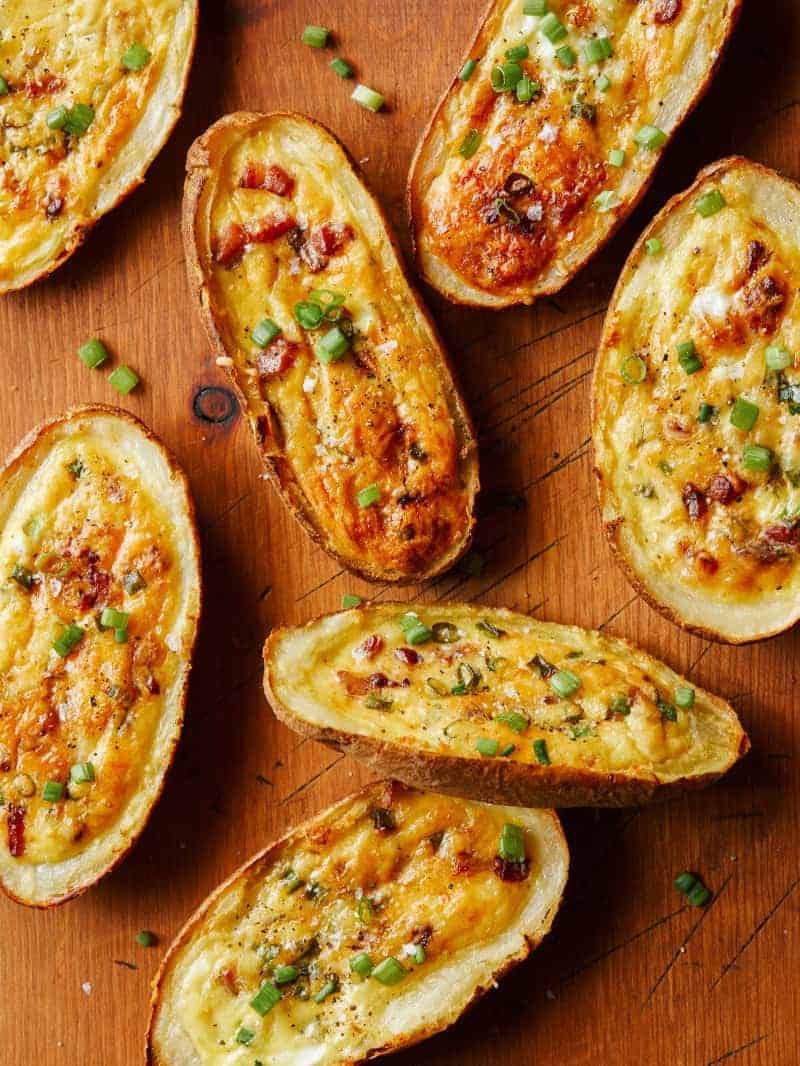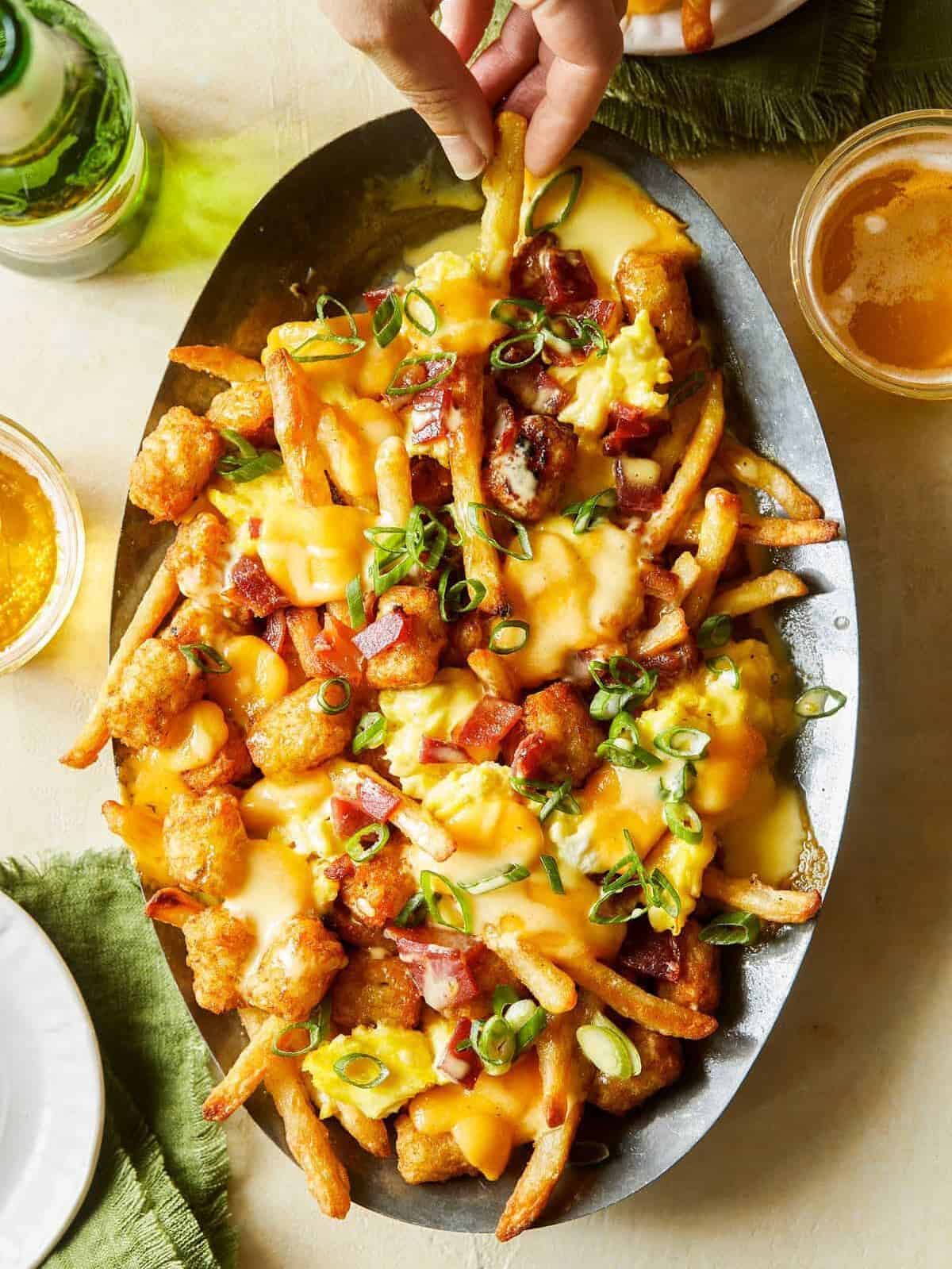 French Fries, Waffle Fries, All the fries!
Our Breakfast Poutine is a delicious indulgent breakfast recipe. French fries and tater tots covered in a hollandaise sauce and scrambled eggs with little bits of bacon. This is a show stopping potato heavy breakfast recipe!
If you're looking for a unique breakfast recipe look no further than our Irish Breakfast Nachos. Waffle fries slathered in a cheese sauce topped with eggs and bacon and garnished with some fresh chives.
Our Carne Asada Fries uses our delicious Carne Asada recipe. We covered crispy french fries with everything you would want on nachos, but skip the chips and used french fries. It's so good!
These Poutine with Waffle Fries are essentially delicious crispy waffle fries covered in cheese and a delicious gravy. You can't go wrong with this perfect appetizer!
Our Favorite Potato Appetizers and Snacks
These Chicken Fried Potatoes are an appetizer that is made for game day. We fried thin slices of russet potatoes like chicken! Hence the name Chicken Fried Potatoes. Serve with your favorite dipping sauce like ranch or Chick Fil A Sauce.
We made Homemade Potato Chips with covered them with a Gorgonzola Cheese Sauce. These are the perfect snack to pair with a nice wine or as a side to a charcuterie board!
Have you ever had Chocolate Covered Potato Chips? If not, you're missing out. This is the ultimate party food, and the perfect balance of sweet and salty.
Our Sweet Potato Hummus is a really nice fall appetizer to bring to parties. Serve with veggies or chips, or almost anything!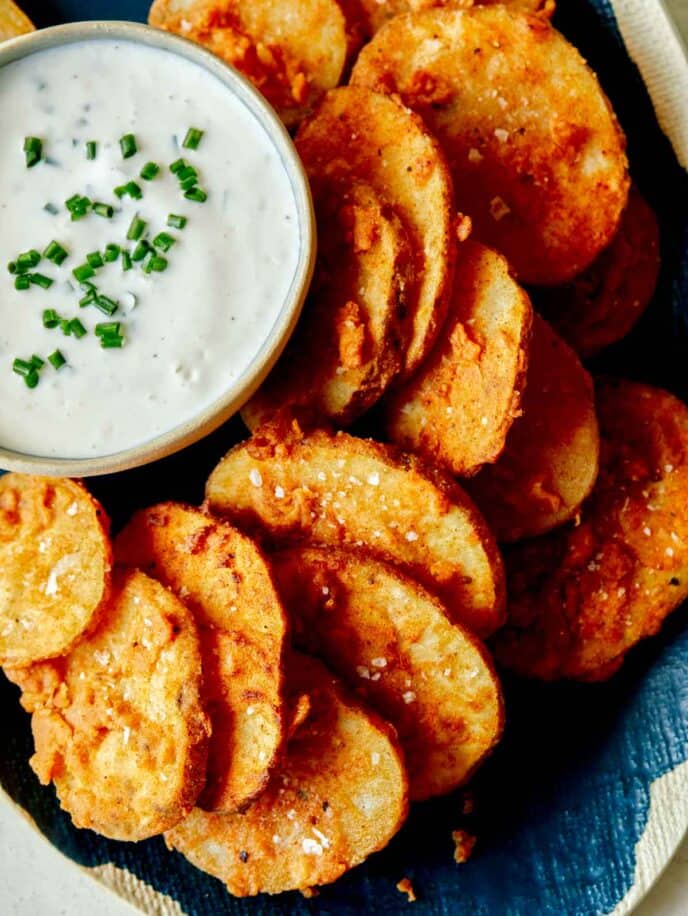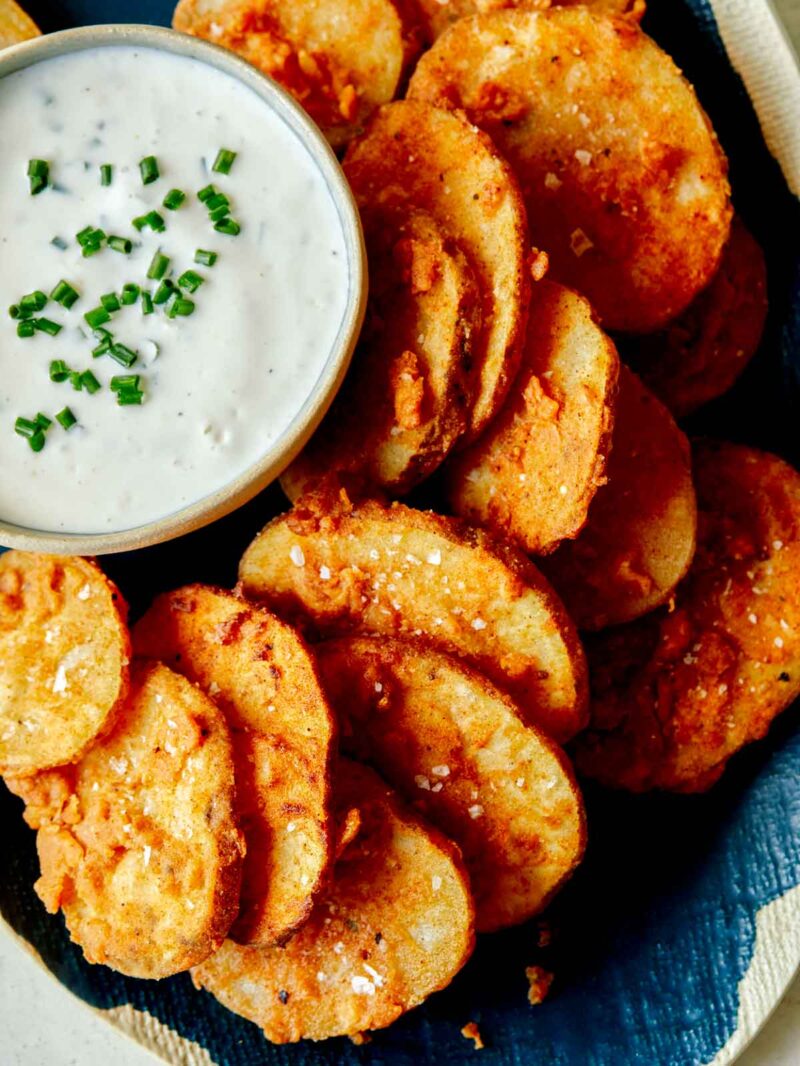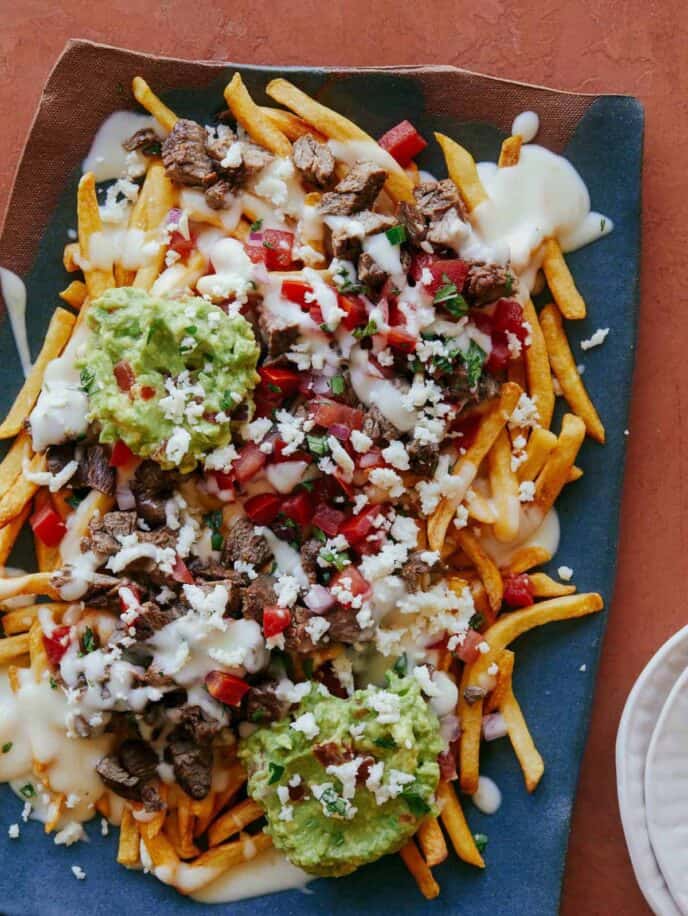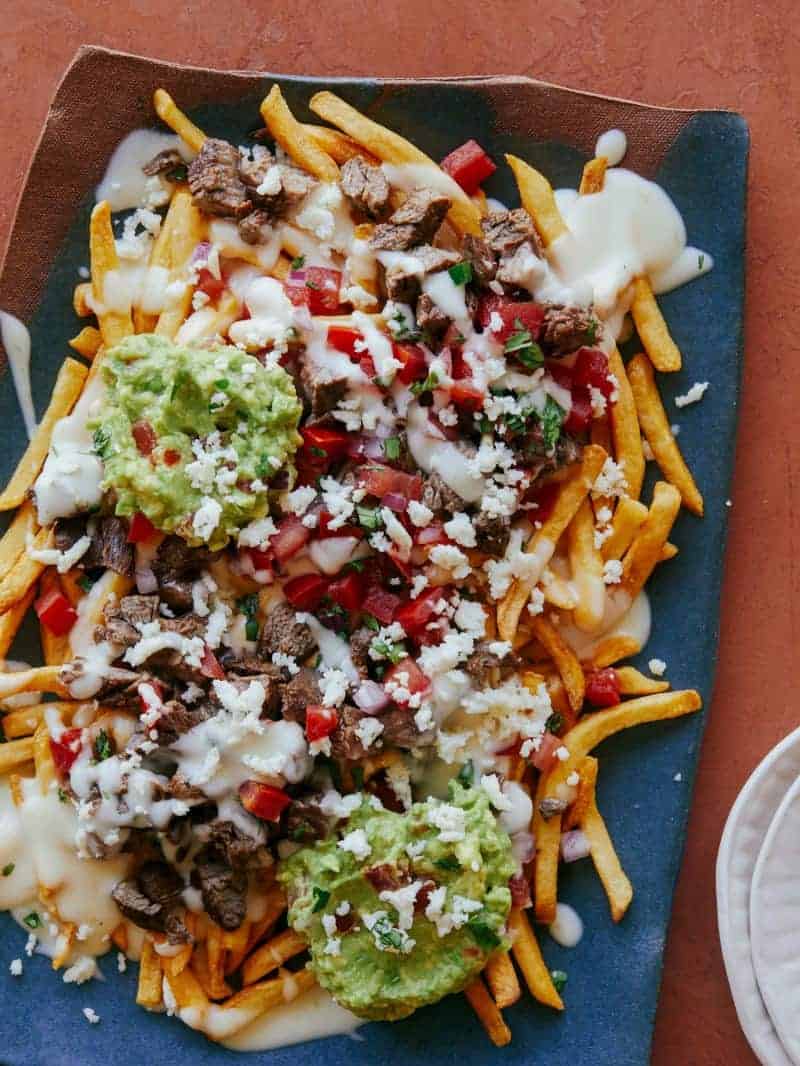 The Best Potato Side Dish Recipes for Anytime
One of our all time favorite potato recipes on the blog is our Cheesy Potato Casserole. It's the ultimate in comfort food. The top is covered with kettle chips that give this easy casserole a delicious crunch. This recipe is super easy prep with sour cream and frozen potatoes. Our one trick with this recipe is that we use caramelized onions!
Cheesy Potatoes Gratin recipe is the perfect scalloped potatoes dish to almost everything. Creamy, cheesy, tender potatoes laced with crushed garlic cloves. Yum!
Our Mini Hasselback Potatoes are just like the regular version except we use new potatoes so our version is mini! You could also use Yukon gold potatoes if you want a slightly sweeter potato. We love using the smaller potato because the roasted potatoes get much crispier which we love. We top them with a sprinkling of chives, but we have a ton more topping ideas in the post!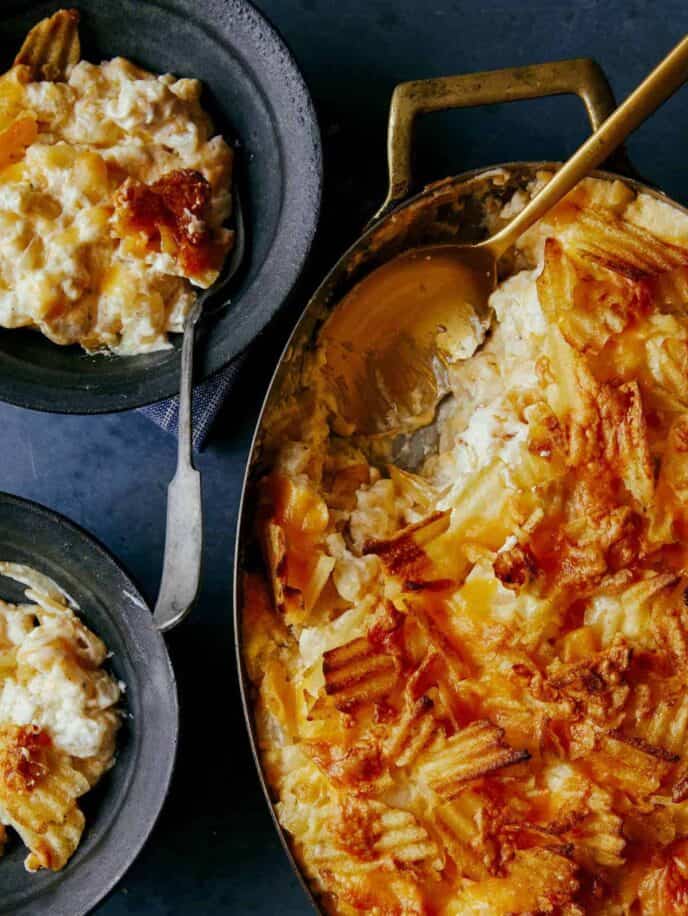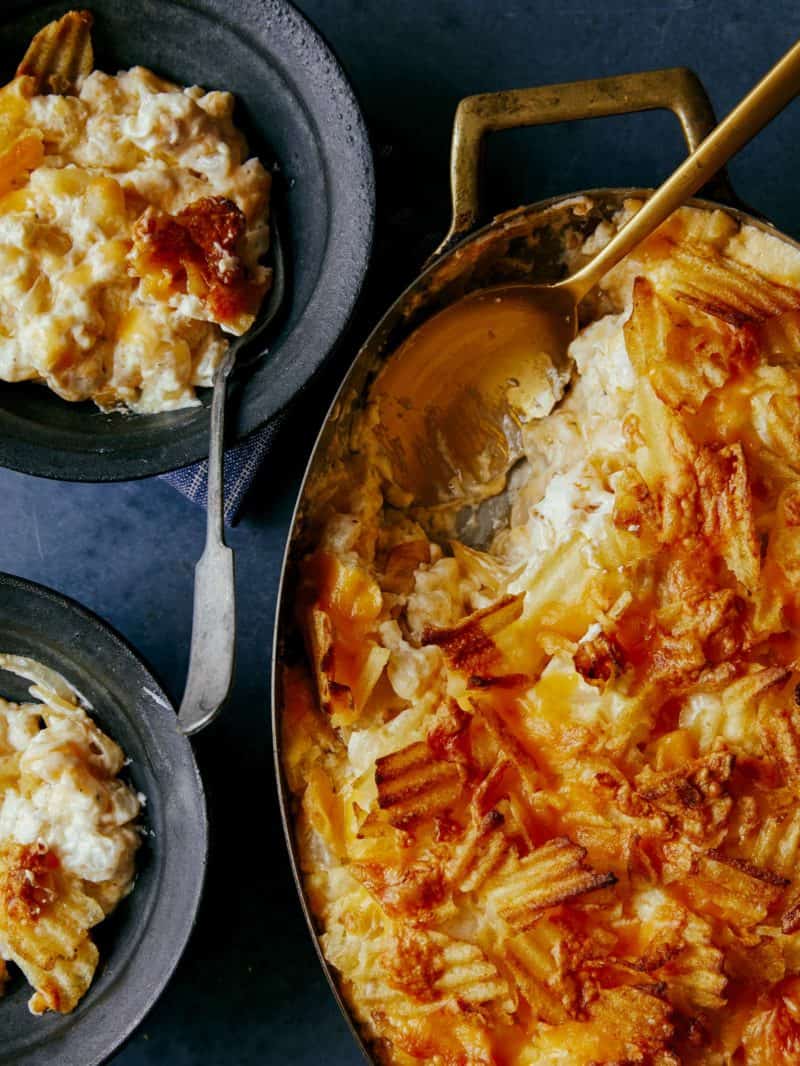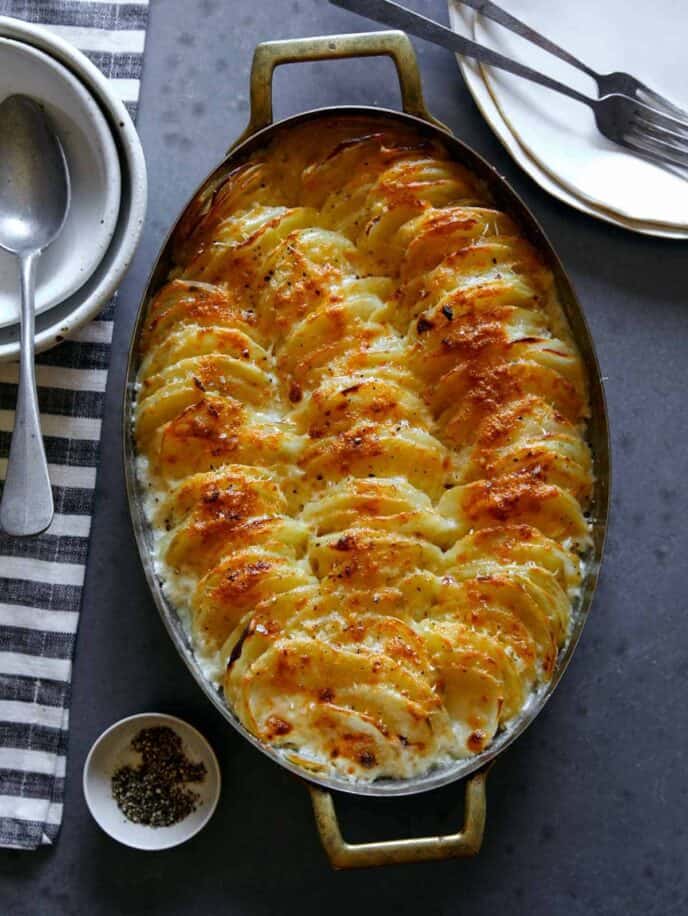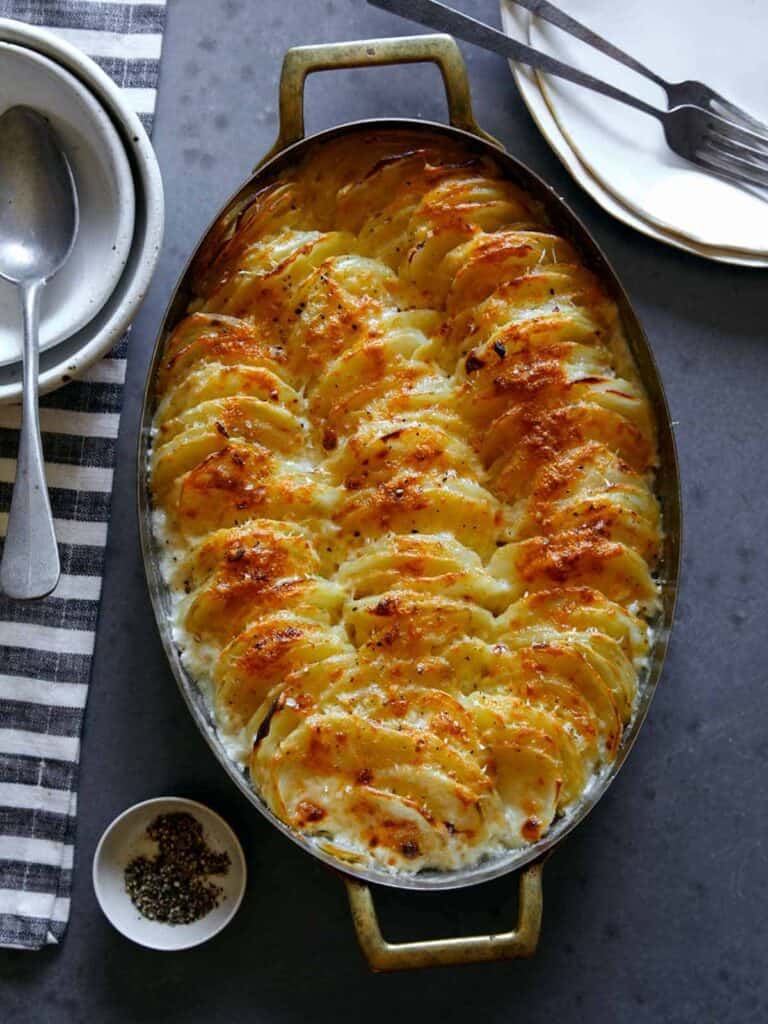 Heavenly Mashed Potatoes is a riff off of classic mashed potatoes. It makes for deliciously creamy mashed potatoes because we added in cottage cheese. This is the perfect potato dish to pair with turkey so add this to your Thanksgiving menu!
Brown Butter Colcannon is a delicious mashed potato recipe that has an addition of kale and topped with nutty brown butter. It will make a perfect side dish for Thanksgiving or any other holiday!
Our Smashed Potatoes is a very versatile side dish that is great for dinner or even breakfast. You can top the smashed potatoes with lots of different options making it a really great recipe to keep!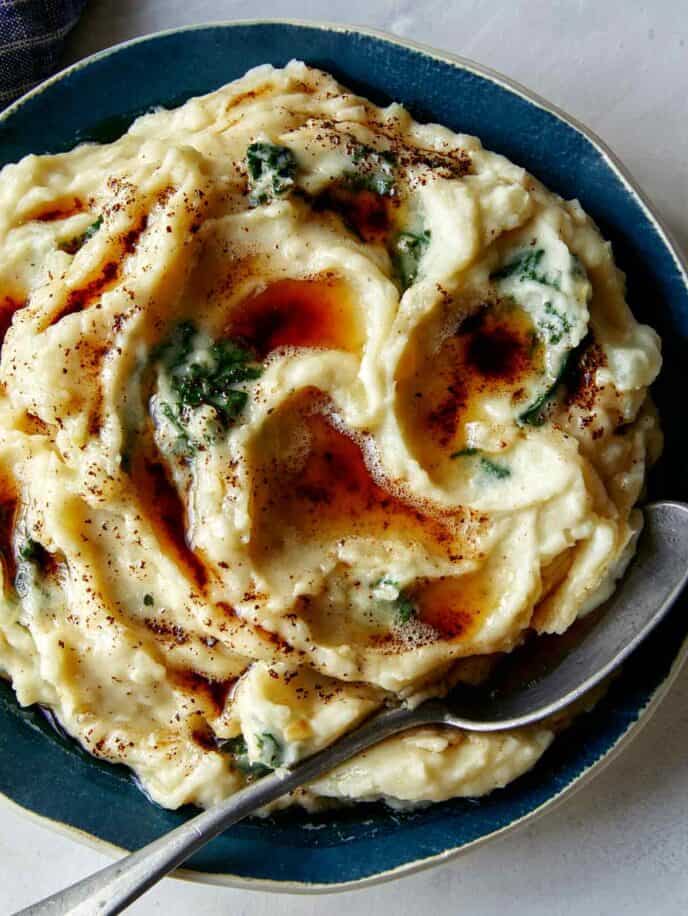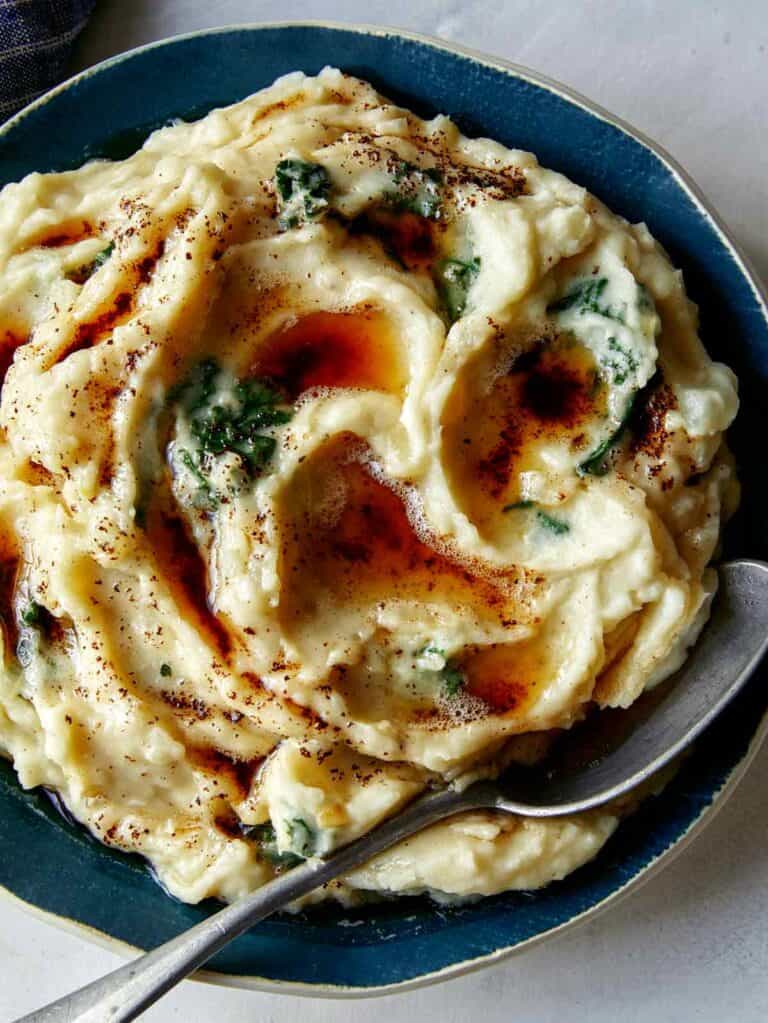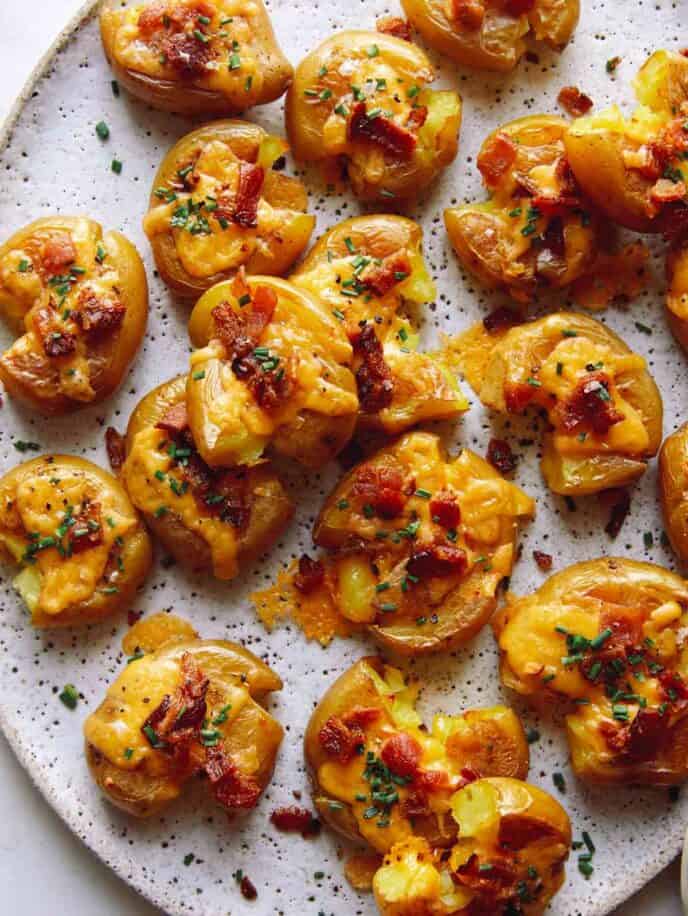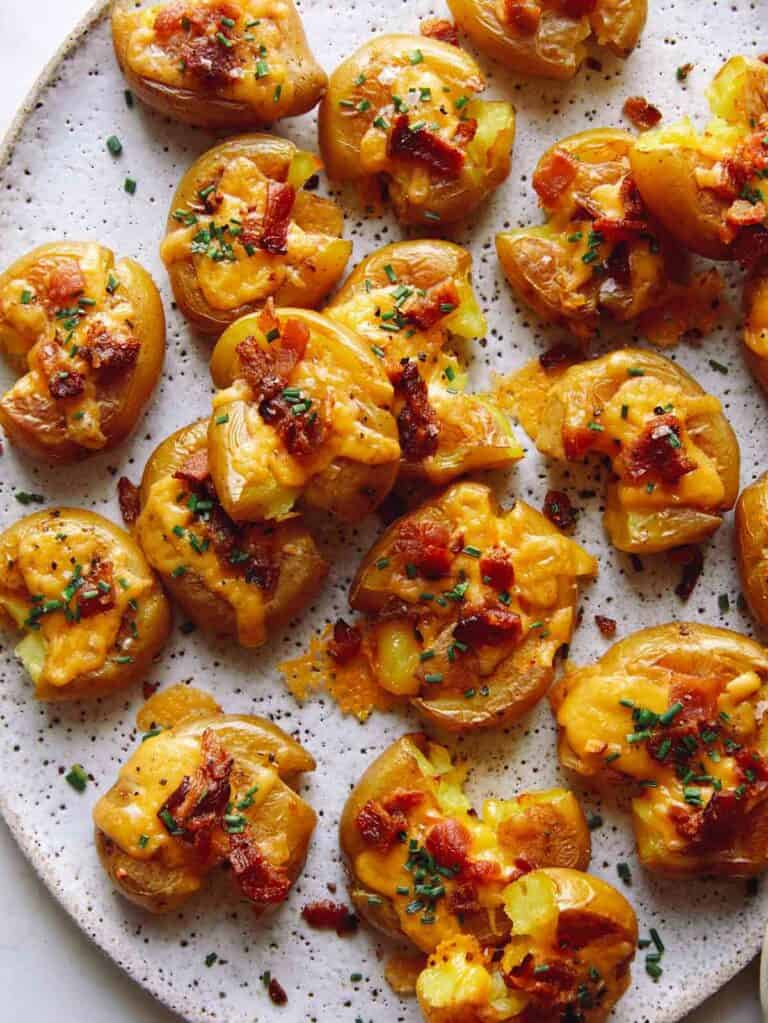 Potato Salad recipes to please everyone!
Our Creamy Potato Salad recipe is a super classic but delicious potato recipe. It has all the usual suspects, mayo, red potatoes, mustard, relish, and hard boiled eggs. A good recipe to have up your sleeve for summer grilling!
This Creamy Roasted Potato Salad uses new potatoes that are roasted until tender and smothered and tossed in a greek yogurt and herb dressing.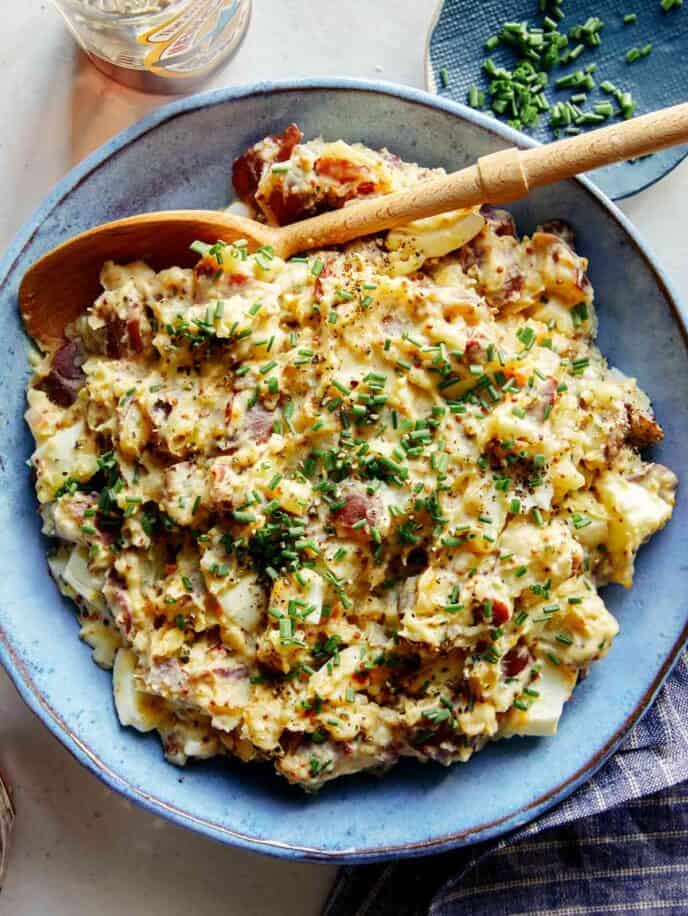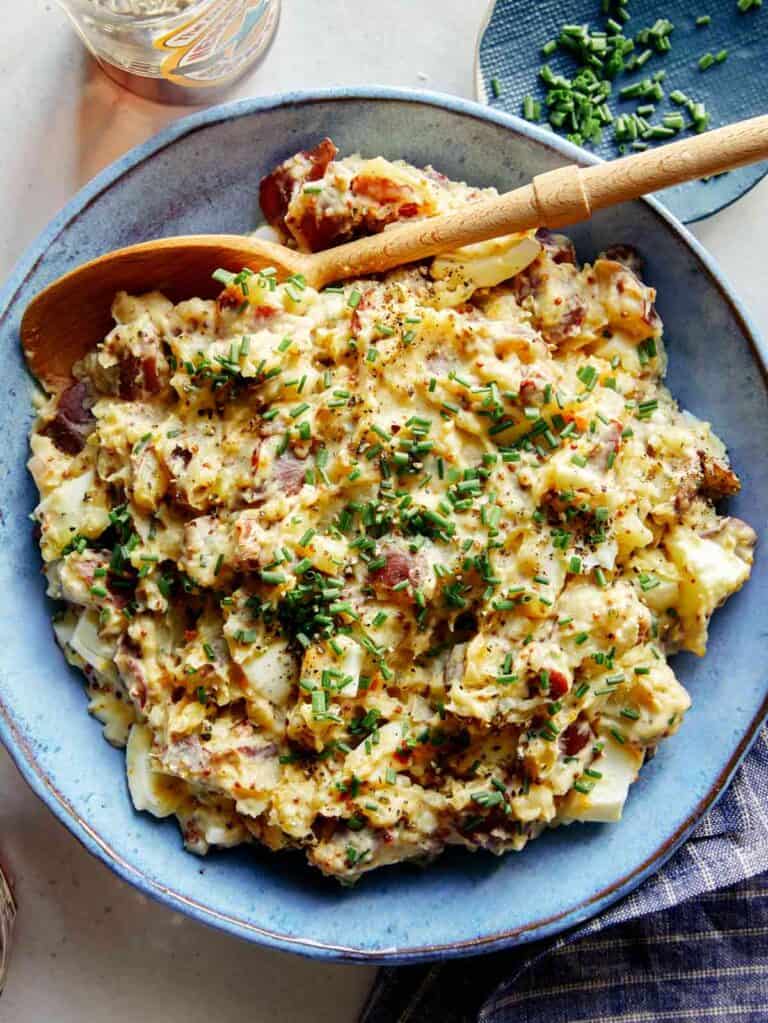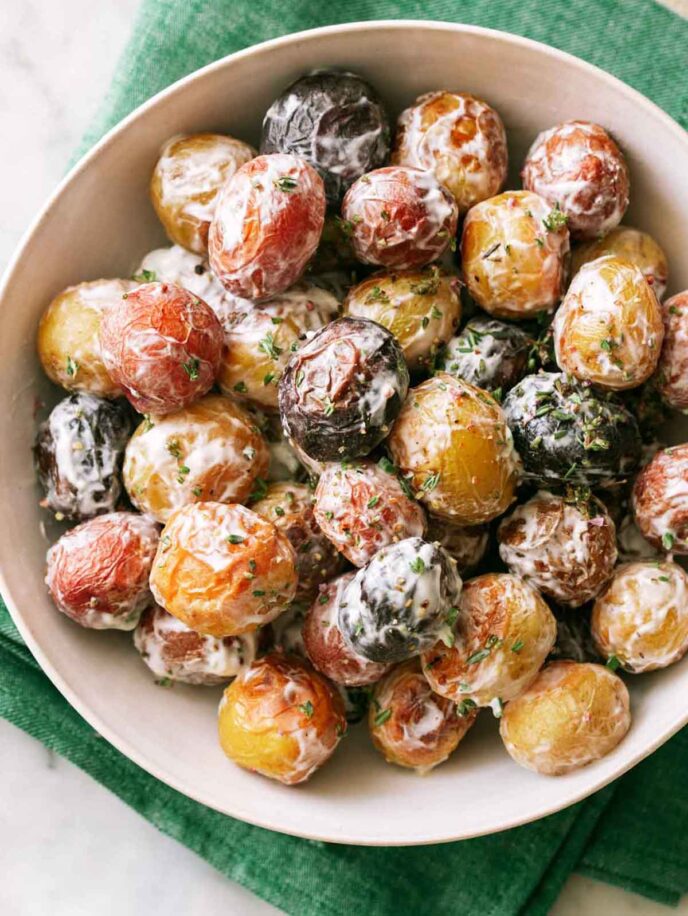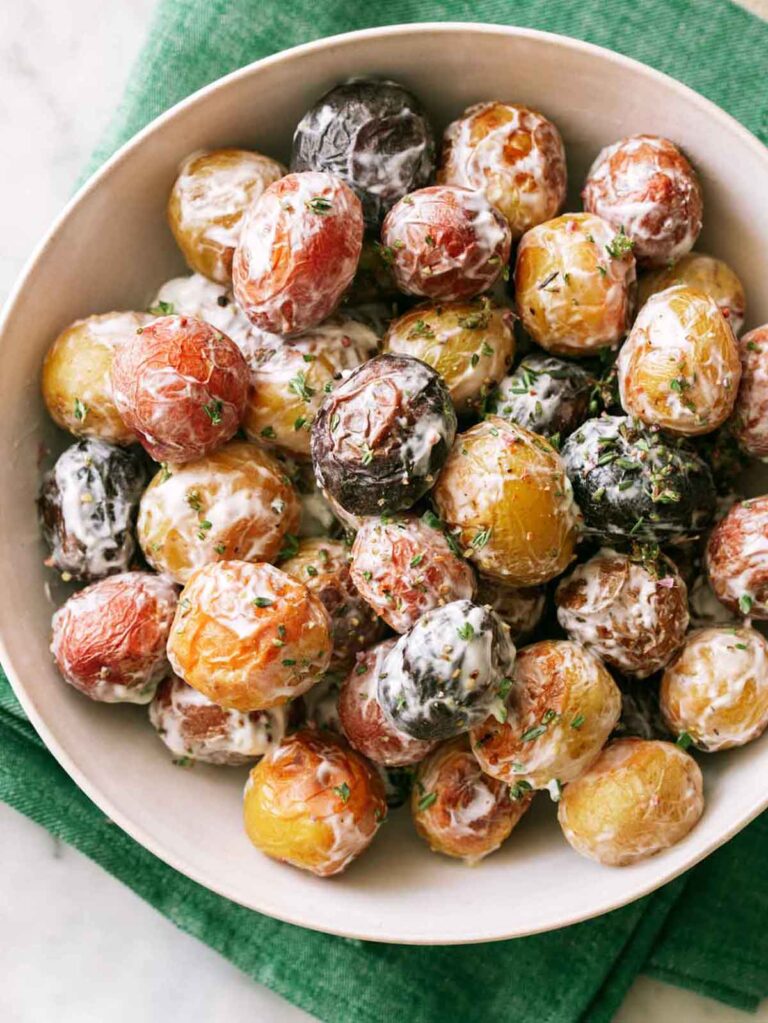 Potato Dinners Everyone will Love!
Potato in soup form? Yes, it's a good idea. Our Loaded Baked Potato Soup is made with roasted russet potatoes (punctured with a fork the old school way!) and topped with everything you would want on a good baked potato, like sour cream and chives. You will definitely want a large bowl of this!
Mini Swedish Meatballs with Mashed Potatoes is one of our favorite recipes. You can't have these delicious Swedish meatballs and gravy without a ton a mashed potatoes! Garnish with parsley and you have a perfect dinner the whole family will love.
Easy chicken dinners are always good to keep in your back pocket. These Crispy Baked Chicken Thighs are a one pan meal with crispy chicken thighs, carrots, and fingerling potatoes. Yum!
Galbi Jjim is the ultimate cold weather potato dish. Bone in short rib with yukon golds , carrots, Korean radish and mushrooms all braised together with some sauces that give everything such good flavor!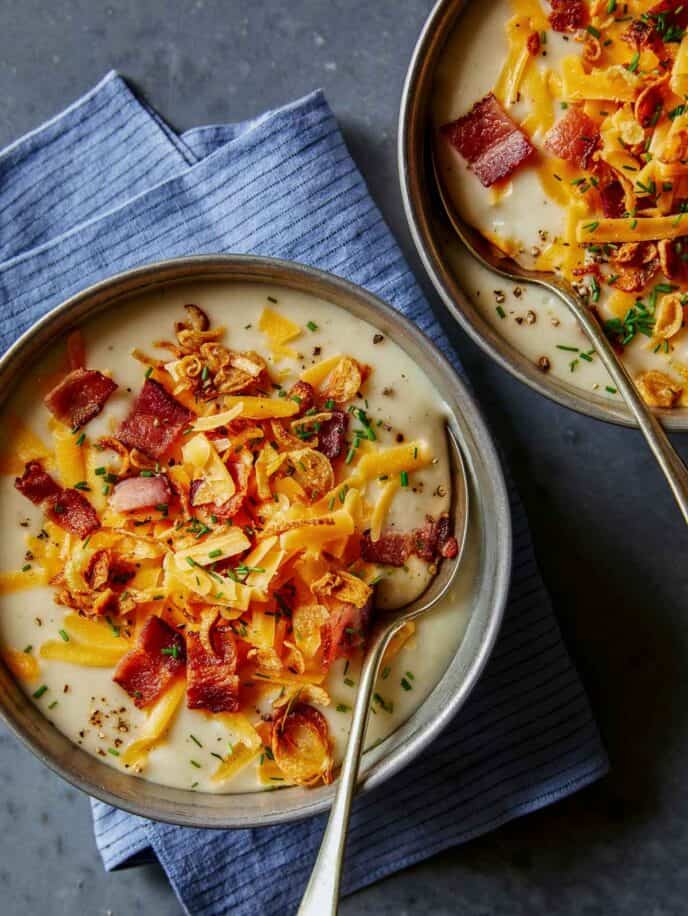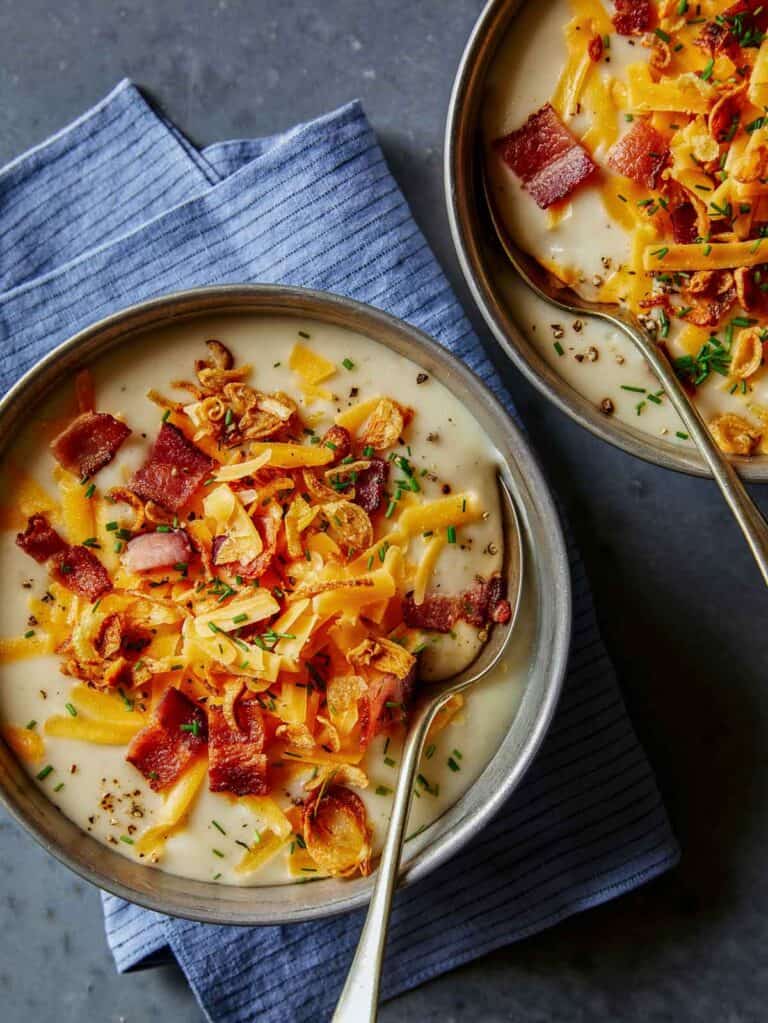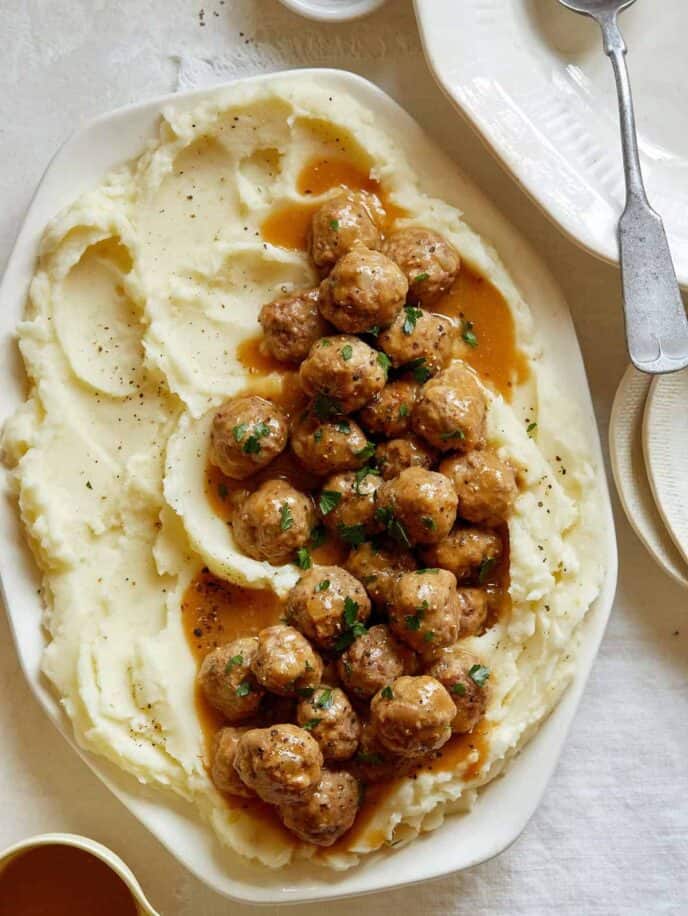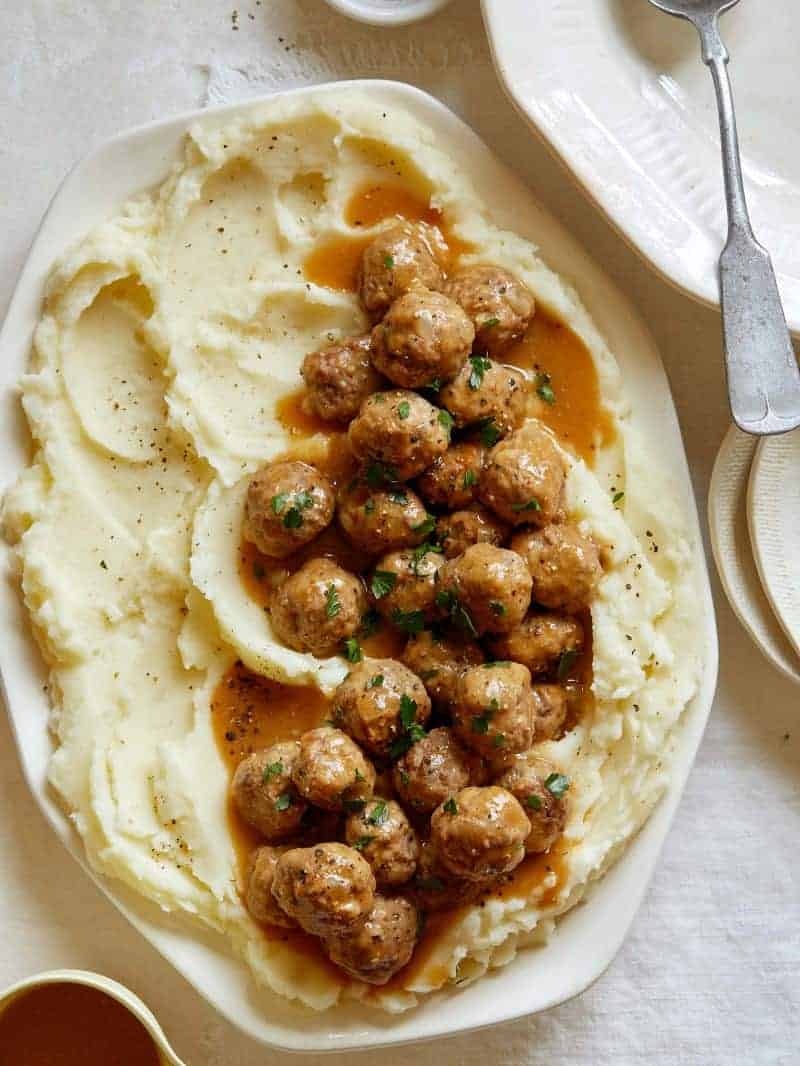 Our Favorite Sweet Potato Recipes
If you're looking for an impressive and delicious recipe look no further than these Twice Baked Sweet Potatoes. These twice baked potatoes are the perfect individually sized potato side dish!
Our Sweet Potato Spudnuts recipe is a so good. The sweet potato in the donuts make for the lightest and fluffiest donuts you will ever have.
Our Cheesy Root Vegetable Gratin is a show stopper of a recipe. Perfect for special occasions and holidays. This recipe uses beets, parsnips, and sweet potatoes for a colorful and flavorful dish!
A perfect all in one dinner recipe would be our Sweet Potato Shepherds Pie. We use ground lamb, but you could sub for any ground meat of your choice, mixed with some herbs and spices, veggies. Then layered with mashed sweet potatoes then baked. It's perfect for chilly nights!
Our Sweet Potato and Rosemary Gratin is a great side dish recipe for Thanksgiving or any holiday. These scalloped potatoes are layered and baked with a little salt and pepper and rosemary. These rosemary roasted potatoes end up really flavorful for how simple this recipe is. It makes for an easy add to your shopping list.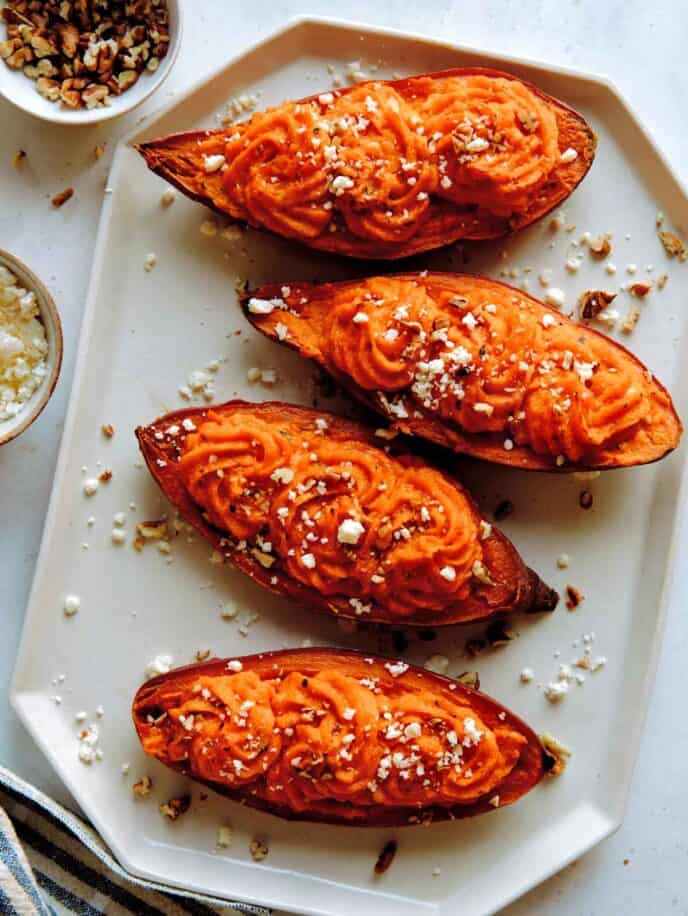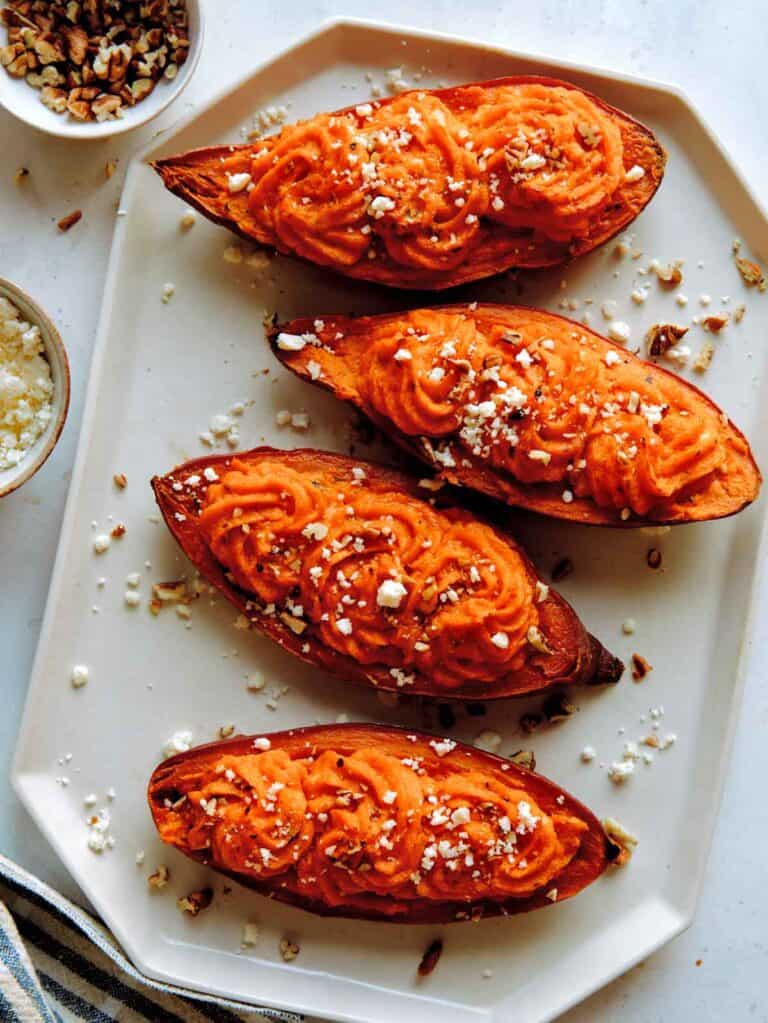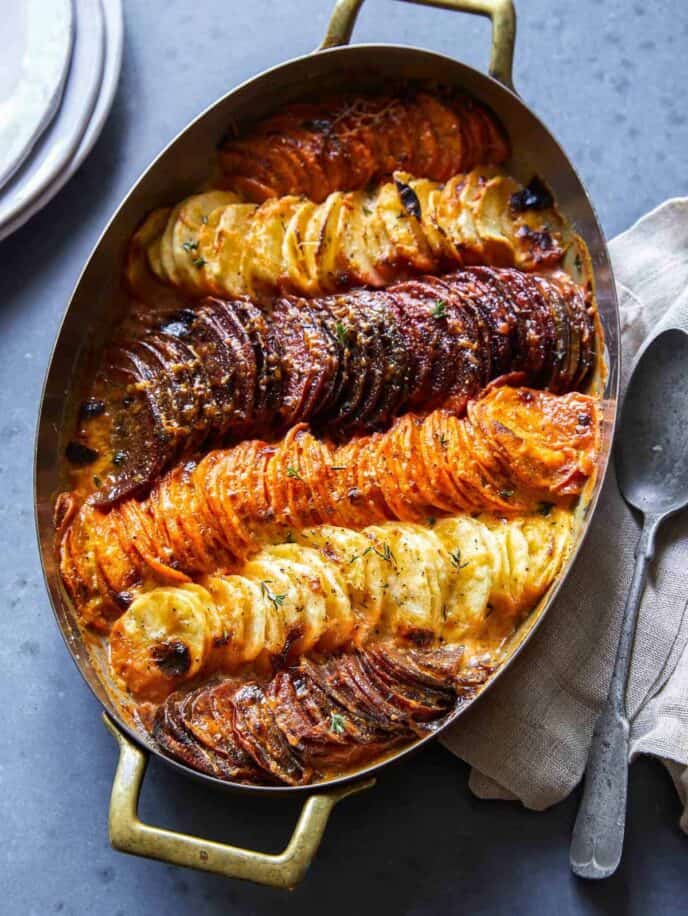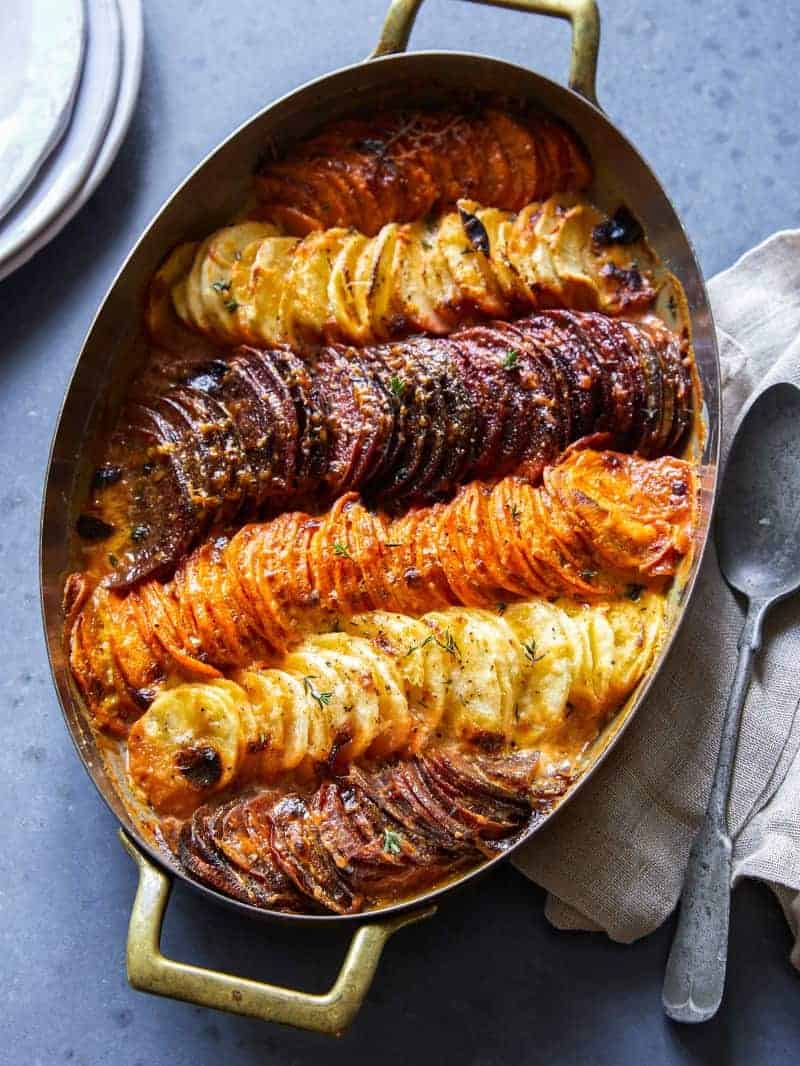 Our Sweet Potato and Rosemary Biscuits are little bit of a unique biscuit, but with such good flavor. The sweet potatoes make these biscuits light and fluffy. These Sweet Potato biscuits are so good straight out of the oven slathered with butter.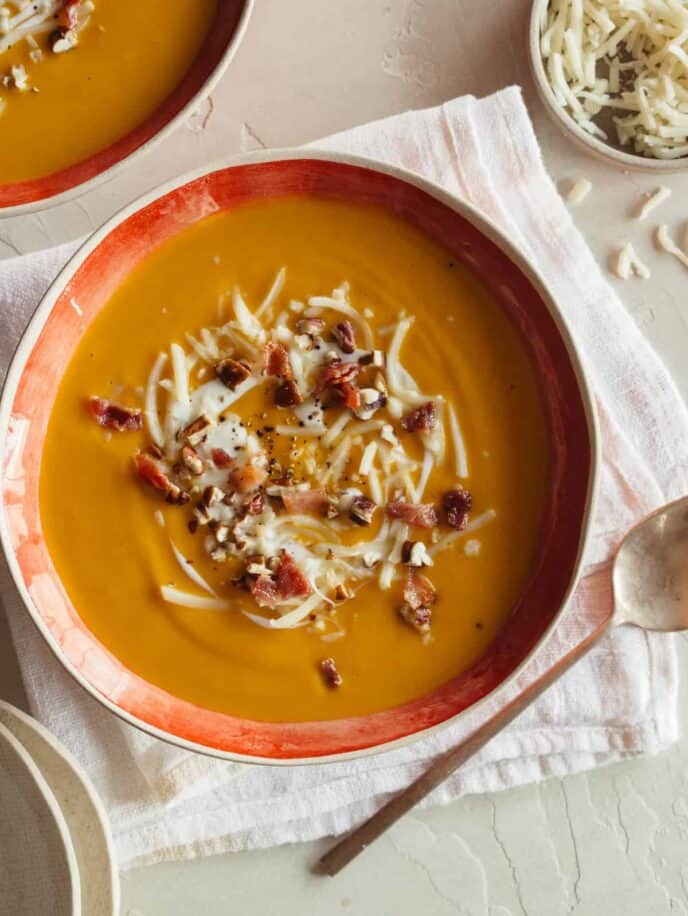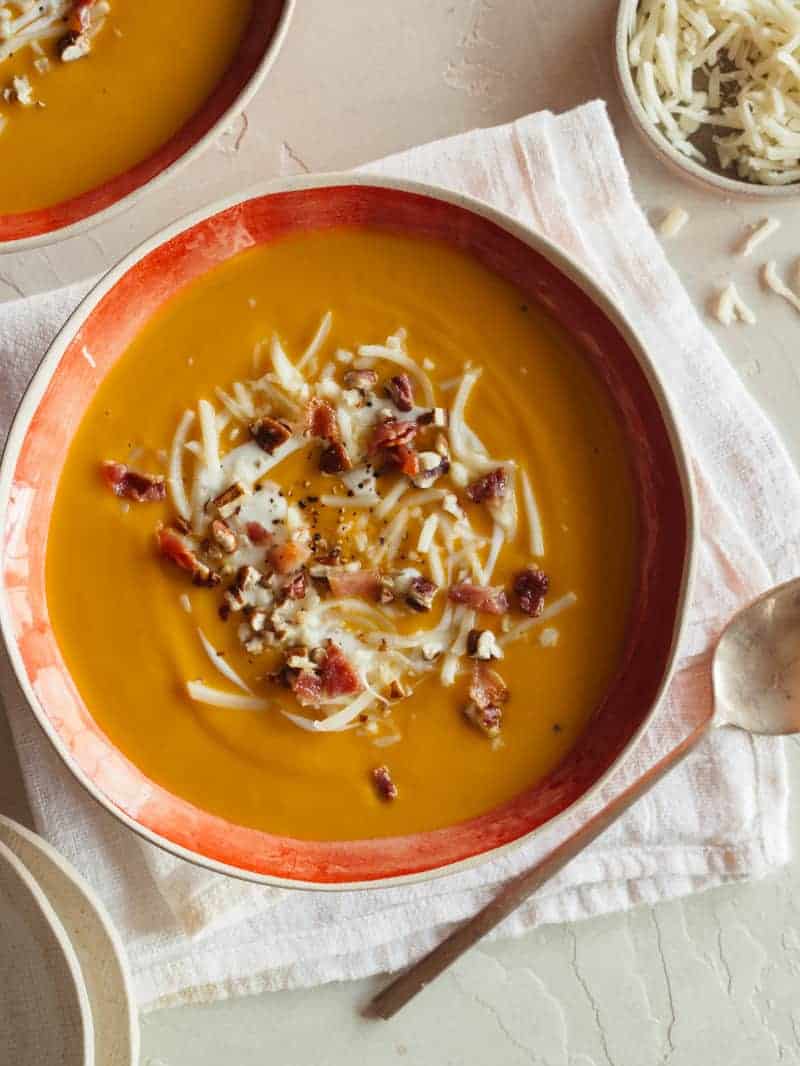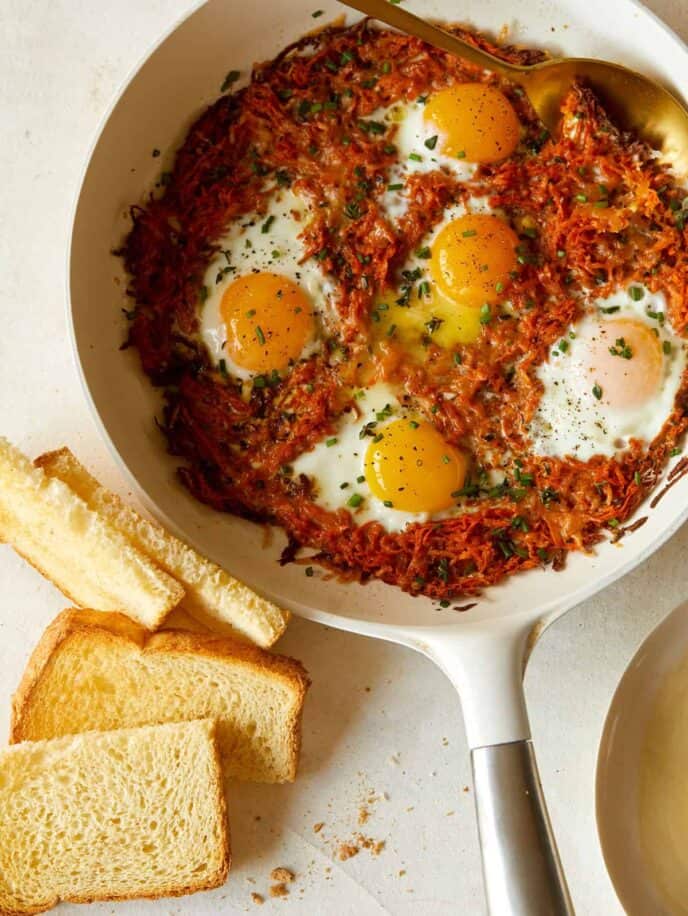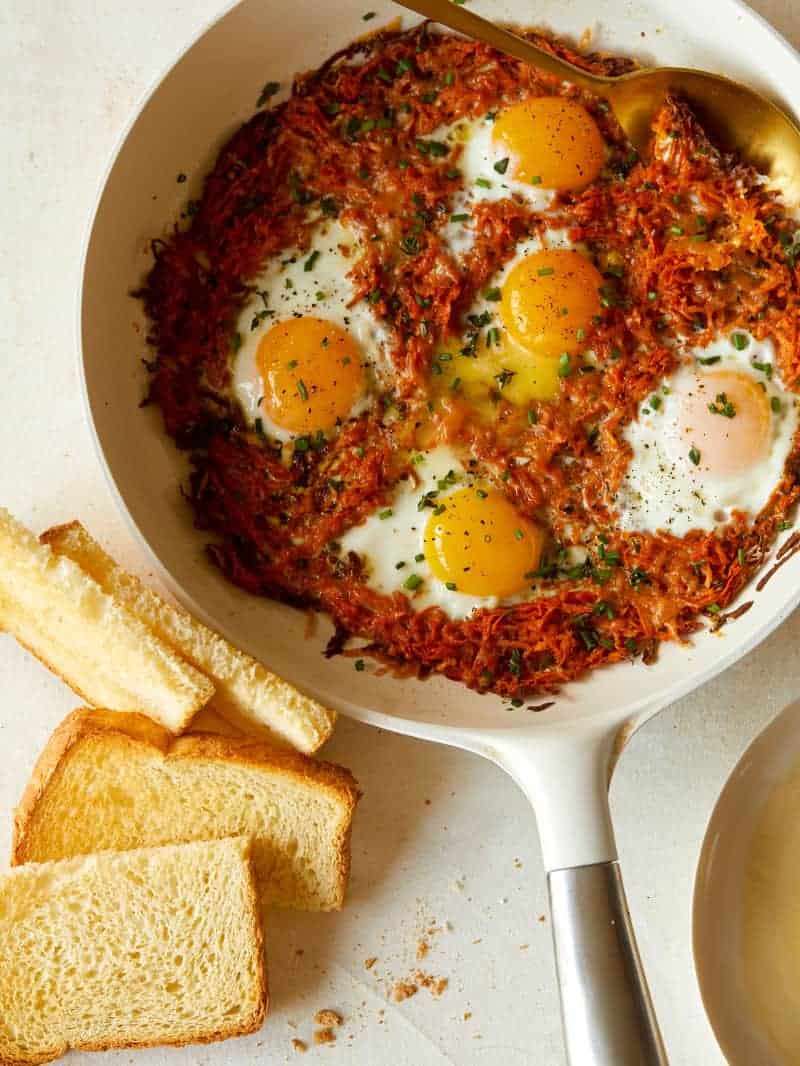 Gnocchi needs to be on your menu soon!
If you're looking for a cozy winter recipe look no further than our Creamy Chicken and Gnocchi Soup. Super satisfying and stick to your ribs creamy this soup will be requested again and again!
Our Caprese Gnocchi has mozzarella balls and fresh tomatoes and basil with yummy potato pasta – gnocchi. A refreshing pasta dish that will still leave you satisfied!
Our Sweet Potato Gnocchi is a fun twist on traditional gnocchi and uses sweet potatoes in place of regular potatoes in the gnocchi. It gives the gnocchi a yummy slightly sweet flavor, and gives the gnocchi a much lighter texture.
Our Summer Gnocchi recipe is a perfect seasonal recipe that utilizes fresh corn and zucchini with freshly made gnocchi. If you have never made gnocchi before now is your chance! It's so easy!