Did everyone have an awesome Thanksgiving? I spent the day with my in-laws and it was super low-key and perfect. We chatted the evening away and it was really nice. :)
Now that Thanksgiving is over, it's officially time to kick it into high gear with holiday things…starting with these Creamy Sweet Potato Agnolotti! But first can I talk about my love-hate relationship with the holidays? I love them because everyone and everything just becomes more alive and spirited during this time of year and things become way more cheerful, which I really appreciate. I also love holiday lights and absolutely love seeing brightly lit trees lining the streets, so fun! Then, the grumpy side of me thinks about how stressful and hectic holidays can be, and if you're hosting the stress level seems to sky rocket, amirite??
Today we have a recipe that isn't the most simple thing to put together, but the glory of a recipe like this is that it's a little different than the stuff you'd traditionally find on a holiday spread, PLUS you can make a huge batch right this very second and freeze the crap out of them until you actually need them…which is really the biggest take away here!!!
These little stuffed pillows are so yummy and satisfying and while they're a little bit of a labor of love, they're totally worth it. Also, you can totally shortcut this recipe by turning these agnolotti into mezzaluna and just making little half circles out of them! No nee to mess with the funky shape, unless you're like me and have a weird obsession with different shaped pastas, lol. Enjoy! xx, Jenny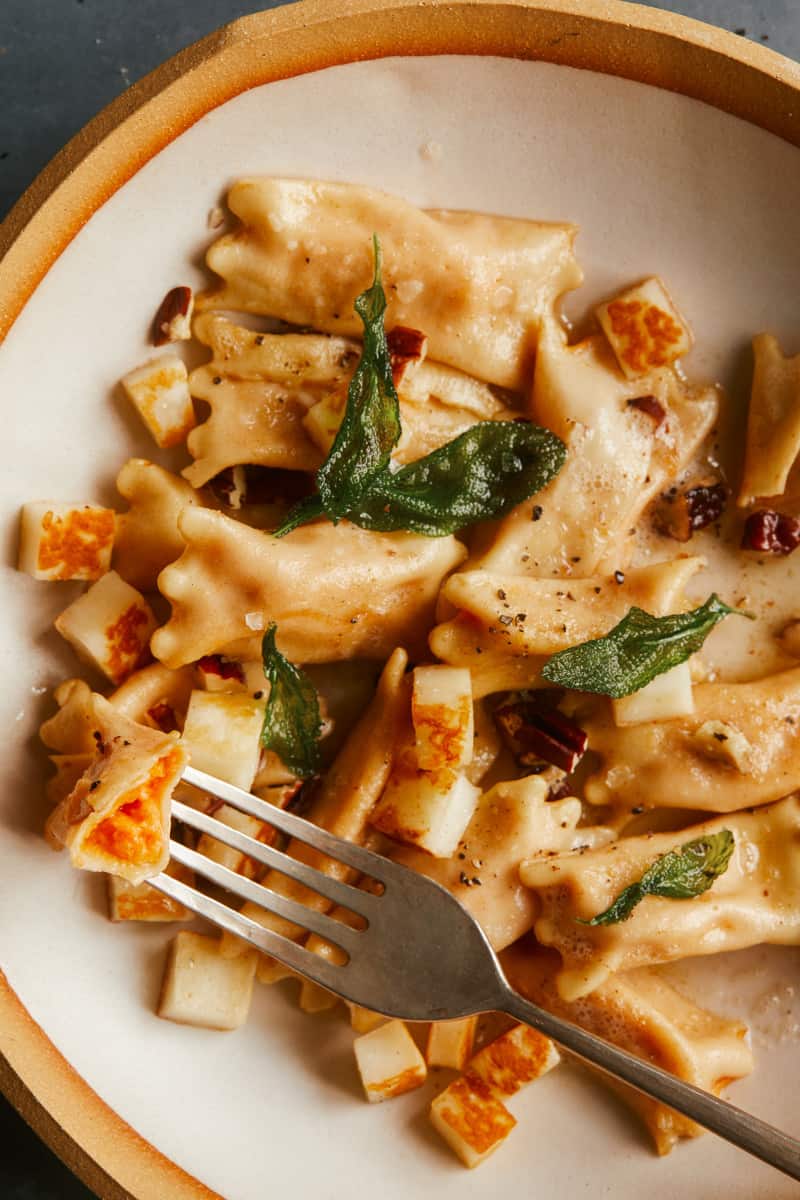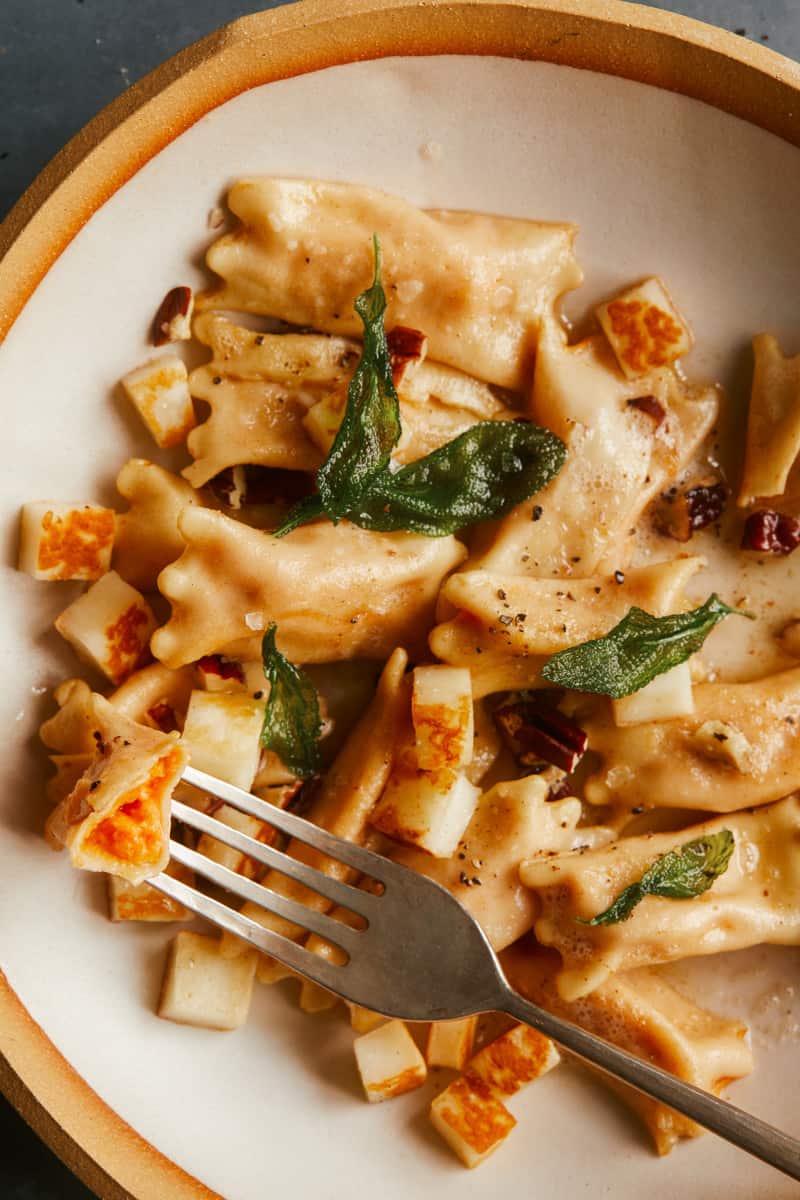 Hungry for more?
Subscribe to never miss a recipe.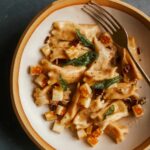 ---
Creamy Sweet Potato Agnolotti (with Halloumi, Pecans and Fried Sage)
INGREDIENTS
creamy sweet potato filling
1

pound

(2 small) sweet potatoes, roasted and peeled

1

garlic clove, chopped

½

cup

mascarpone, softened

3 ½

tablespoons

grated Parmesan

1

large

egg yolk, room temperature

salt and pepper to taste
ravioli dough
2

cups

all purpose flour, plus more for dusting

½

cup

semolina flour, plus more for dusting

½

teaspoon

salt

2

large

eggs, room temperature

1

tablespoon

extra virgin olive oil

1 to 2

tablespoons

water, as needed

1

large

egg plus 2 tablespoons water, lightly beaten
browned butter sauce
¼

cup

(½ stick) unsalted butter

6 to 8

sage leaves

1

small

shallot, diced

1

garlic clove, minced

4

ounces

diced halloumi

½

cup

chopped pecans

salt and pepper to taste
garnish
grated Parmesan, optional
INSTRUCTIONS
Filling: Place garlic and roasted sweet potato in a food processor and blend until smooth. Season with salt and pepper. Transfer mixture to a mixing bowl and stir in the mascarpone, Parmesan and egg yolk until completely mixed together. Season with salt and pepper. Cover and refrigerate until ready to use.

Ravioli dough: In a mixing bowl combine flours and salt and whisk together. On a clean work surface or in a bowl place flour mixture in a mound. Make a well in the center of flour and crack eggs into the well and add oil.

Using a fork gently whisk eggs and oil together while slowly incorporating flour. Once flour and eggs are combined, add more flour little by little to form a ball that is no longer sticky to touch.

If dough is dry add water, 1 teaspoon at a time. Knead dough for 8-10 minutes (dough should feel very tight and should bounce back when gently pressed), wrap in plastic and let sit for about 20 minutes before using.

Sprinkle flour onto a clean surface and roll pasta dough until 1/8 inch thick. Cut pasta into a 12"x24" rectangle and cut rectangle down into 6, 12"x4" strips. Lightly dust a large baking sheet with semolina flour and line strips of pasta side by side. Lightly cover wit plastic wrap.

To assemble: Lightly dust a clean surface with semolina flour. Place a pasta sheet onto the clean surface and brush with egg wash. Fill a piping bag with the filling and pipe 2 teaspoon sized dot of filling onto the pasta sheet, about 1" from the bottom of the pasta sheet and about 1 inch apart. Gently fold the pasta sheet over the filling until there's about an inch of the pasta on the bottom still exposed, and gently press around each filling dot to remove any air bubbles. Using a pasta cutter/pizza cutter/knife, cut off the top 1 ¼" of the pasta sheet. Carefully stand the row of pasta covered filling upright (90˚) and firmly cut between each standing dot, beginning with the sealed end, to create a stuffed pasta with a small kangaroo-like pouch on one side of each agnolotti.

Repeat until all the pasta sheets and filling have been used. Place all agnolotti onto a baking sheet dusted with semolina flour and loosely cover with plastic wrap. Refrigerate for at least an hour and up to 1 day (agnolotti can be frozen for up to 3 months).

Fill a large pot with water and bring to a boil. Add a handful of salt and agnoletti and boil for 4 to 5 minutes or until agnoletti begin to rise to the top.

While water comes to a boil, place a large skillet over medium heat and melt butter, 2 to 3 minutes.

Once butter has melted, bubbled and turned light brown, with a nutty aroma, add sage leaves and fry for 30 seconds to 1 minute. Remove leaves with a slotted spoon and drain onto a paper towel.

Add shallot and garlic to the skillet and sauté for 2 to 3 minutes.

Add cubed halloumi and sauté for 1 to 2 minutes. Remove from skillet and set aside.

Transfer agnolotti from the boiling water to the skillet, using a slotted spoon and toss in the butter mixture for 2 minutes. Add halloumi and pecans to the skillet and toss together. Adjust seasonings.

Top dish with fried sage and top with Parmesan, if using. Serve.
Calories:
943
kcal
Carbohydrates:
91
g
Protein:
28
g
Fat:
52
g
Saturated Fat:
24
g
Cholesterol:
267
mg
Sodium:
842
mg
Potassium:
624
mg
Fiber:
7
g
Sugar:
6
g
Vitamin A:
17165
IU
Vitamin C:
4
mg
Calcium:
461
mg
Iron:
6
mg