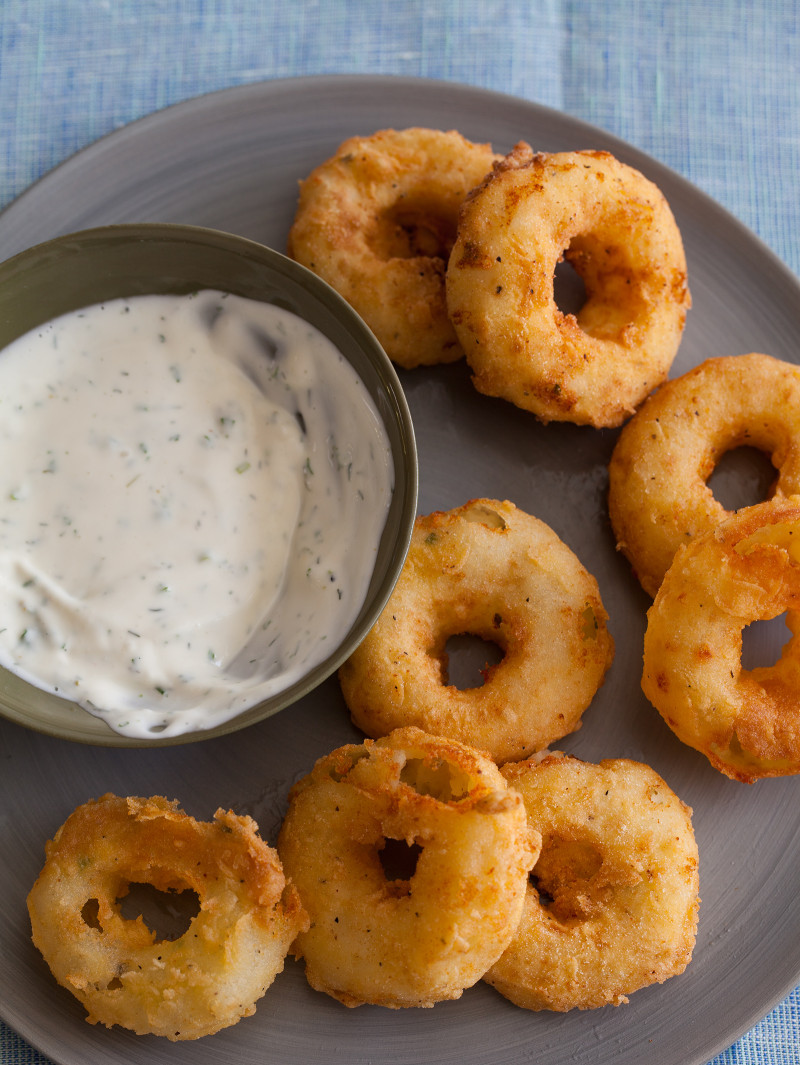 If french fries and onion rings ever got together and had a love child, I think it would be something like this…a light and crispy on the outside + creamy and luscious on the inside potato ring! Two things I can't stress enough is: 1) the importance of having the potatoes completely coated; no holes please, or the mashed potatoes will pour out of the holes once they hit the oil and you'll be left with nothing but a mess. 2) the importance of the rings being frozen solid before entering the oil…it just helps with the frying, that's all.
We made a simple and delicious buttermilk ranch dipping sauce bc let's face it, ranch is pretty much good with anything, amirite? It only seemed natural to pair these savory, fried treats with a quick and easy homemade ranch sauce. Enjoy!
xx Jenny

Here are some more yummy potato recipes you might also enjoy! 

Hungry for more?
Subscribe to never miss a recipe.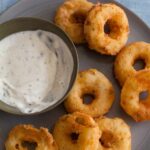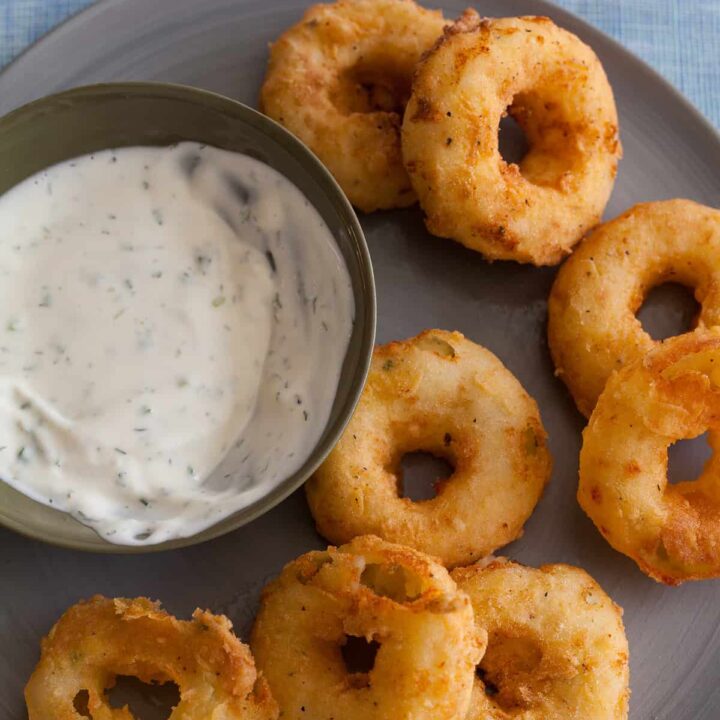 ---
Potato Rings with Homemade Buttermilk Ranch Dipping Sauce
INGREDIENTS
3

large

russet potatoes, cleaned peeled and chopped into large pieces

⅓

cup

plus 2 tablespoons heavy cream

¼

cup

unsalted butter (½ stick), softened

½

cup

caramelized yellow onions, chopped

3

tablespoons

chives, thinly sliced

⅔

cup

all purpose flour

⅓

cup

rice flour

2

tablespoons

garlic powder

1

tablespoon

onion powder

1

tablespoon

smoked paprika

2

eggs, lightly beaten

salt and pepper to taste

2

quarts

vegetable oil
buttermilk ranch sauce
½

cup

light mayonnaise

¼

cup

low-fat buttermilk

1 ½

teaspoons

fresh lemon juice

2

tablespoons

flat leaf parsley, minced

1

tablespoon

chives, thinly sliced

1

teaspoon

dill, minced

½

teaspoon

dry mustard

salt and pepper to taste
INSTRUCTIONS
Place the potatoes in a large pot and fill with water.

Bring to a boil on medium-high heat and cook until the potatoes are fork-tender, 20-25 minutes.

Drain the potatoes into a colander and pour back into the pot.

Pour the cream and butter over the potatoes and mash with a potato masher until smooth (Add more cream 1 tablespoon at a time, if needed).

Fold in the caramelized onions and chives until fully incorporated. Season with salt and pepper and stir.

Spread the mixture onto a sheet pan, about ½ inch thick and place in the refrigerator until the mixture has cooled down and hardened, 4-6 hours.

While the potato mixture cools place both flours, garlic powder, onion powder and smoked paprika into a shallow dish and stir together until fully combined. Set aside.

When the potato mixture has cooled, remove from the refrigerator and using 1-1 ½ inch circle cutters, cut out as many circles as possible (usually makes about 32-40).

Using a ½ inch circle cutter, cut out a ½ inch circle from every 1-1½ circle, creating a small donut shape.

Dip the potato rings into the flour mixture followed by the egg mixture and finally again in the flour mixture (make sure the rings are completely coated).

Place the coated rings onto a clean sheet pan, lined with parchment paper and place in the freezer and allow the rings to freeze completely, 4-6 hours.

Once the potato rings are frozen, preheat the oil, in a large pot, to 375°F.

While the oil heats up, place the ingredients for the dipping sauce into a mixing bowl and whisk together. Season with salt and pepper.

When the oil is hot, carefully drop a few of the rings into the oil and fry for 4-6 minutes or until golden brown.

Drain onto a large plate lined with paper towels and season with salt with pepper.

Repeat with the remaining potato rings and serve immediately with the dipping sauce.