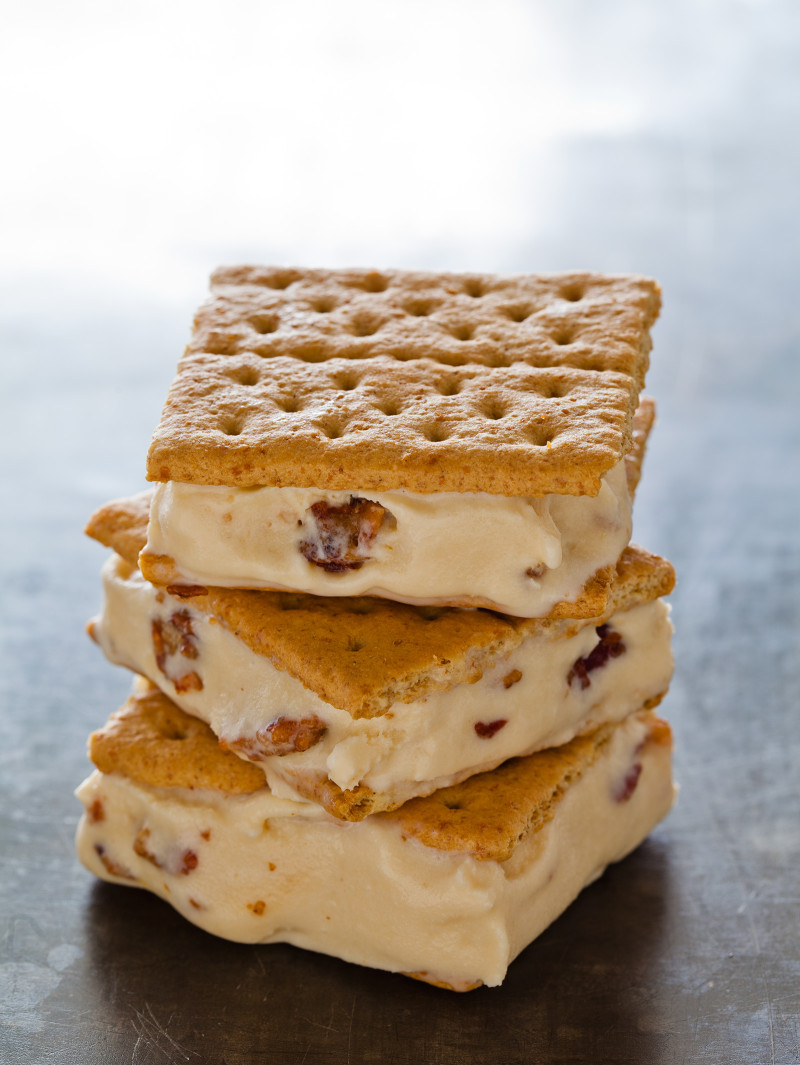 So remember how I've told you guys before that I don't have much of a sweet tooth? Well, it's true. I'll choose scrambled eggs and bacon over a pastry or muffin any day, I'd rather  indulge on a cheese plate than a sweet treat after dinner, and it would never cross my mind to grab something like a handful of cookies when I want to refuel …..just a handful of 
Flamin' Hot Cheetos
and I'm good, thankyouverymuch! Jordan (my boyfriend) on the other hand is the exact opposite. If we're at home, by the time our dinner dishes land in the sink his head is in the freezer to see if we have ice cream or he has car keys in hand, ready for a fro-yo date….him and the frozen yogurt, that is. While he's a lover of all sweets, his favorite is definitely ice cream……with whipped cream……and caramel sauce….with maybe an Oreo or two crumbled on top
…
yea, he takes dessert time pretty seriously.
I like to think that this ice cream is the perfect dessert for a couple trying to satisfy both a sweet and a salt tooth.  Salted caramel is something I'm actually kind of into and in ice cream form it's kind of amazing. Why candied bacon?….why not?…right?! Sweet and salty combos are awesome and this one in particular is like died and gone to heaven awesome :) I stuck it in between graham crackers for the photo above, but it's just as good on it's own….or sandwiched between Ritz crackers…no really, it is! Try it!
xx Jenny
More ice cream recipes that are delicious: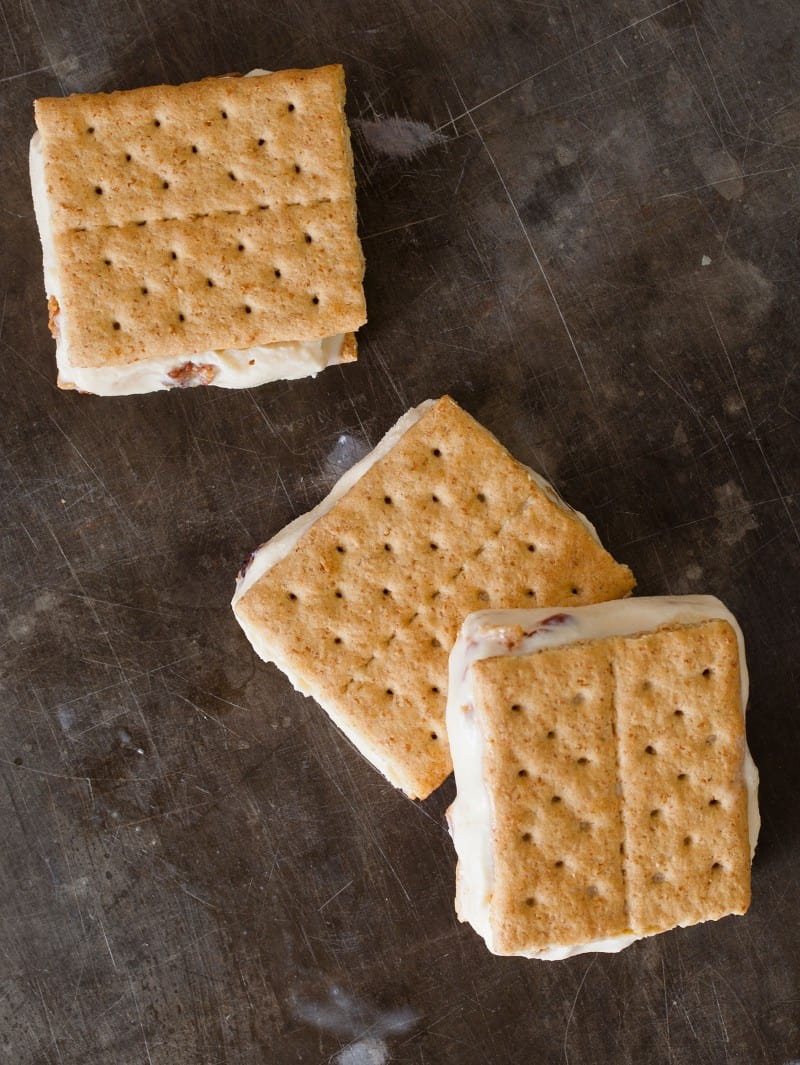 Hungry for more?
Subscribe to never miss a recipe.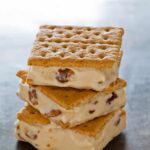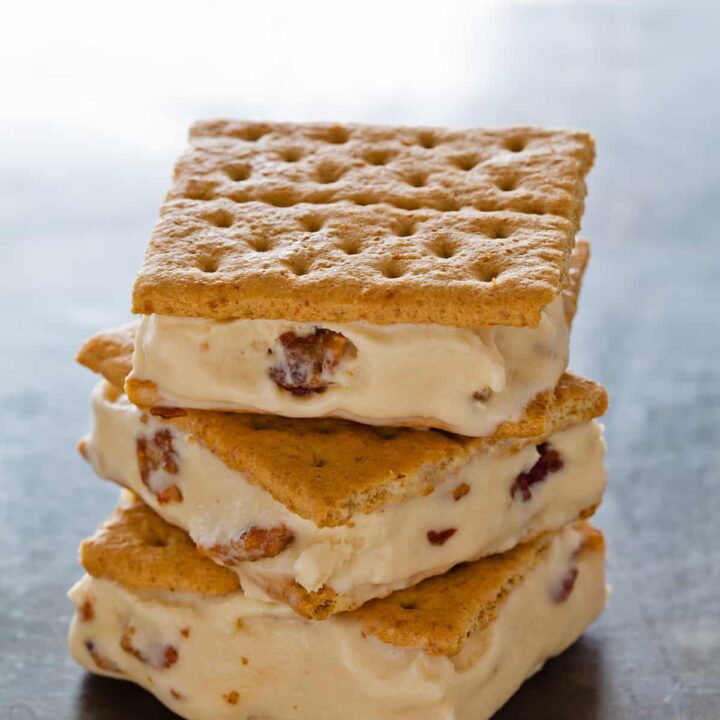 ---
Salted Caramel and Candied Bacon Ice Cream
INGREDIENTS
candied bacon
1

tablespoon

unsalted butter

1

pound

bacon, cooked and roughly crumbled/chopped

¼

cup

sugar

1

tablespoon

light brown sugar
ice cream base
2 ⅓

cups

heavy cream

1 ¼

cups

whole milk

5

egg yolks

¾

cup

plus 1 tablespoon sugar

1 ½

teaspoon

vanilla extract

1 ¼

cups

sugar

2

tablespoons

water

1

tablespoon

light corn syrup

¾

cup

heavy cream

2

tablespoons

sea salt

1

tablespoon

vanilla extract
INSTRUCTIONS
Place the butter in a medium sauté pan, over medium heat and melt.

Sprinkle both sugars over the bacon and continuously stir until the sugar melts, about 5 to 7 minutes.

In a single layer, pour the bacon onto a baking sheet lined with parchment paper and set aside to cool.

For the ice cream base: Pour cream and milk into a saucepan and bring up to a scale (medium heat).

Place the egg yolks and sugar into a stand mixer and whip until light yellow and fluffy.

Pour ½ cup of the scaling cream mixture into the yolk mixture and whisk to prevent scrambling.

Pour the yolk mixture into the saucepan with the remaining cream and milk, whisking to prevent scrambling.

Turn the heat down to medium-low and stir continuously until the mixture thickens enough to coat the back of a spoon, 8 to 10 minutes.

Stir in the vanilla extract and strain through a fine sieve.

Pour the mixture into a bowl and place over an ice bath and set side until fully chilled.

Once the ice cream base has completely chilled, make the salted caramel.

For the salted caramel: Place the sugar, water and karo syrup into a saucepan and place over medium-high heat. Do not stir.

Once the sugar melts and becomes an amber color, 10-15 minutes, remove the saucepan from the heat and stir in the cream (be careful, the mixture will bubble up).

Stir the sea salt and vanilla into the caramel and stir until smooth.

Pour the mixture into a bowl and place over a water bath until completely chilled.

Stir the chilled ice cream base and salted caramel together, into a large bowl until completely combined.

Set up the ice cream maker according to the manufacturer's directions and freeze the ice cream.

10 minutes before the ice cream is ready, pour the candied bacon into the churning ice cream.

Once the ice cream has reached the desired consistency serve or place into an airtight container until ready to use.
Calories:
863
kcal
Carbohydrates:
66
g
Protein:
12
g
Fat:
62
g
Saturated Fat:
31
g
Cholesterol:
293
mg
Sodium:
2179
mg
Potassium:
244
mg
Sugar:
62
g
Vitamin A:
1637
IU
Vitamin C:
1
mg
Calcium:
120
mg
Iron:
1
mg