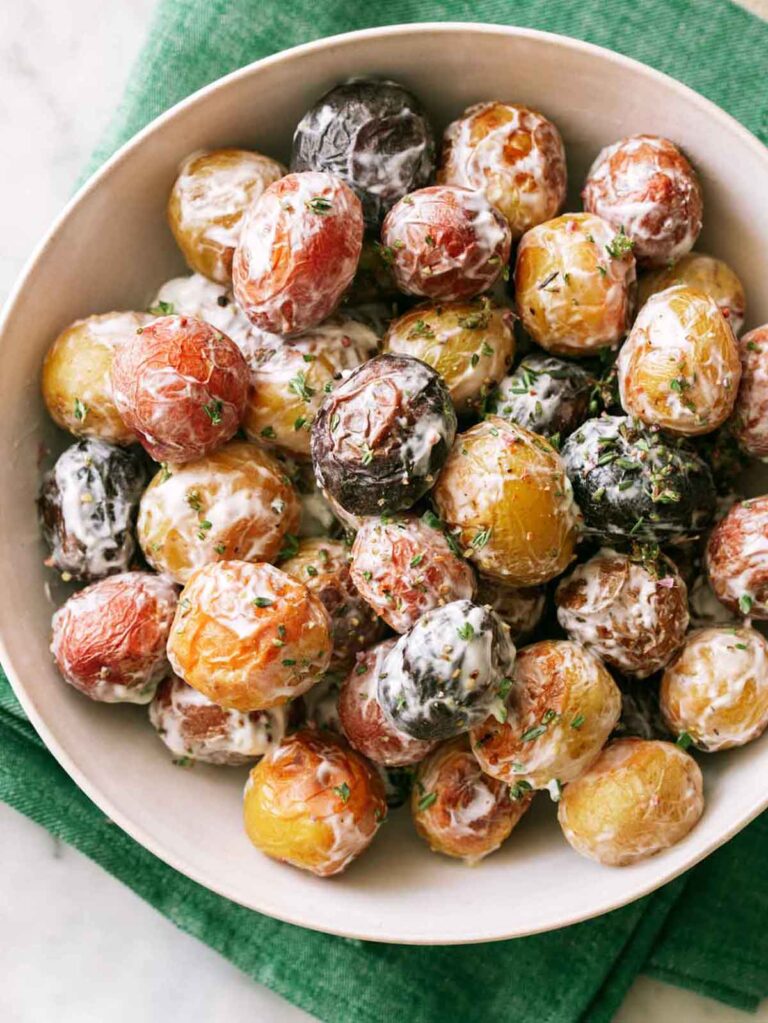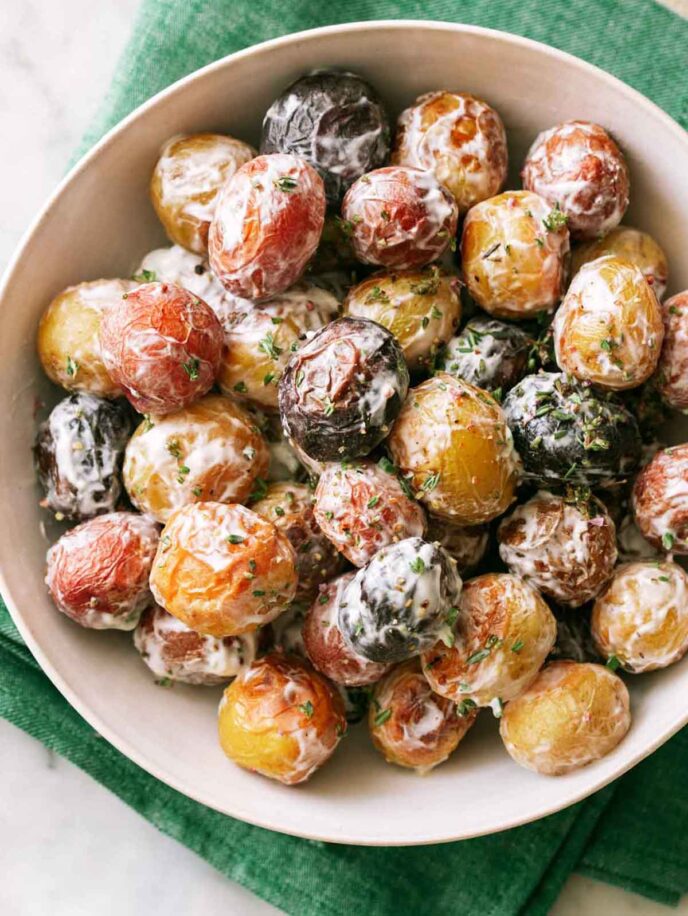 The season of grilling is here, and I finally have a place where I have backyard space and I cannot wait to get my hands on a grill. Aside from all the wonderful main meaty dishes that accompany this season, side dishes are something that never really gets a second thought or much attention. I think that's ok, let's be honest, we are all very excited about hot dogs and hamburgers. So having a good side dish recipe (or two, LOVE this one also) is a good think to have in your repertoire. I like this Creamy Roasted Potato Salad for a couple of reasons. The first is the fact these potatoes are roasted, and I love roasted potatoes. When you roast them the skin gets all crispy, and the inside perfectly soft and when you bite into the potato it has a little snap. I love that. The second reason is that this side dish requires an oven, not a grill, so you can jam pack you grill with other stuff. Running out of space for hot dogs is just not ok. This Creamy Potato Salad recipe is also easy to make, and doesn't require anything crazy. Enjoy and happy summer eating!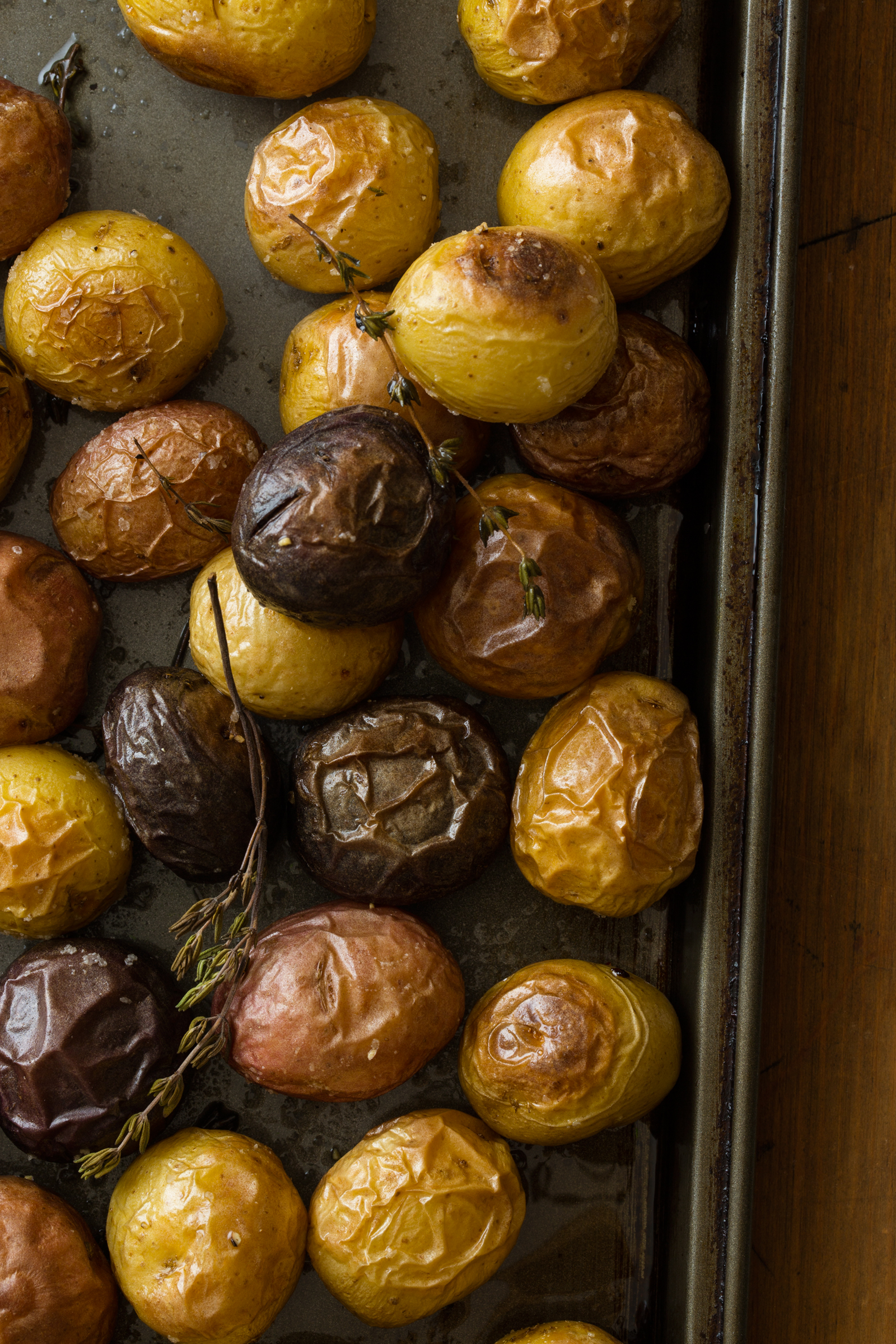 Looking for other yummy sides to bring to a cookout? Here are some more choices: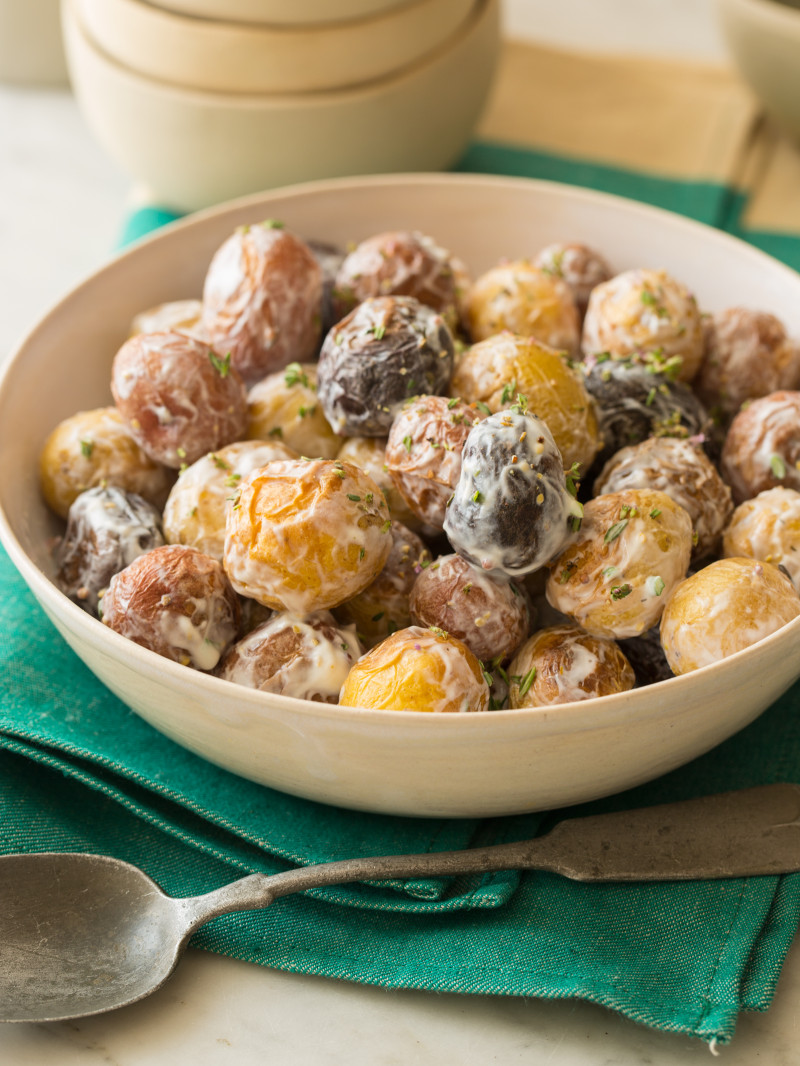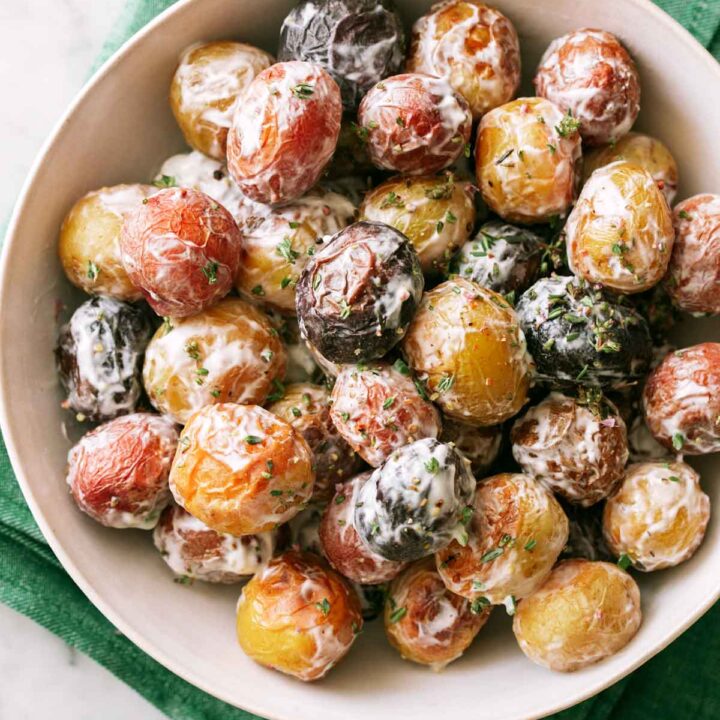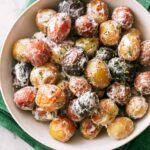 ---
Creamy Roasted Potato Salad
INGREDIENTS
2

pounds

baby new potatoes, washed and dried

3

sprigs fresh thyme

2 ½

tablespoons

extra virgin olive oil

1

tablespoon

fresh lemon juice

1 ½

teaspoons

salt

½

teaspoon

cracked black pepper
Greek yogurt and herb dressing
¼

cup

Greek yogurt

2

tablespoons

mayonnaise

2

tablespoons

fresh lemon juice

1 ½

tablespoons

sliced chives

1

tablespoon

minced thyme

1

teaspoon

whole grain mustard

1

garlic clove, minced

1 ½

teaspoons

salt

1

teaspoon

cracked black pepper
INSTRUCTIONS
Place potatoes, thyme, oil, lemon juice, salt, and pepper into a mixing bowl and toss together until potatoes are well coated with oil.

Pour mixture onto a baking sheet, in a single layer, and roast for 35 to 40 minutes or until potatoes are golden brown and fork tender.

Remove from the oven and allow potatoes to cool, about 20 to 30 minutes.

For dressing: Combine all ingredients into a mixing bowl and whisk together.

To assemble: Place roasted potatoes into a large mixing bowl (discarding the sprigs of thyme) and top with dressing. Toss together until potatoes are evenly coated. Cover and refrigerate for 1 hour or up to 24 hours. Remove from the refrigerator, adjust seasonings and serve.
Calories:
158
kcal
Carbohydrates:
21
g
Protein:
3
g
Fat:
7
g
Saturated Fat:
1
g
Cholesterol:
2
mg
Sodium:
911
mg
Potassium:
492
mg
Fiber:
3
g
Sugar:
1
g
Vitamin A:
84
IU
Vitamin C:
27
mg
Calcium:
26
mg
Iron:
1
mg