Whether you're making Valentine's Day Desserts for your whole family, your sweetheart or are just looking for some valentine cookies to give to your neighbors we have it all! We have curated a collection of our best Valentine's Day Desserts!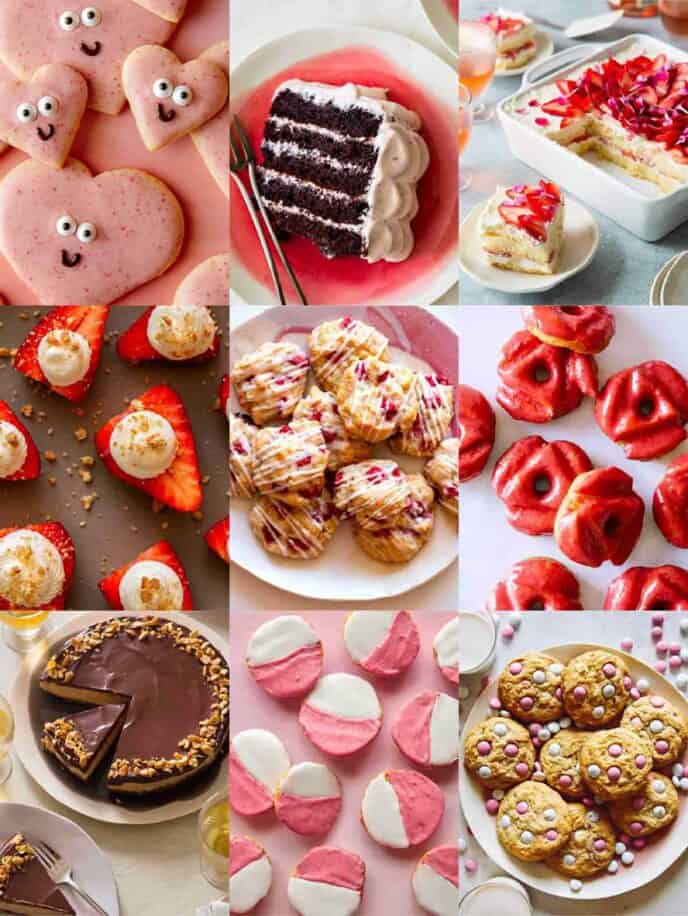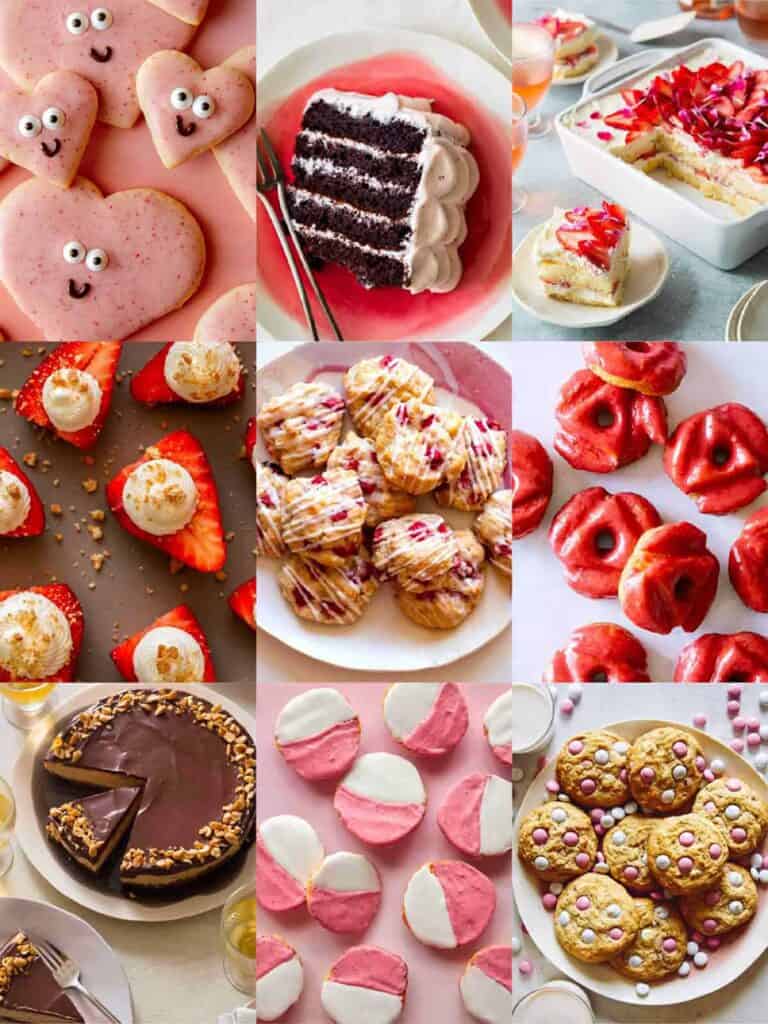 We picked out our best and most romantic Valentine's day dessert recipes on our site. Some are perfect for a family, and others are perfect for a post intimate dinner treats situation. We know you will find something you love for Valentine's day!
Valentine's Day Desserts
Our Honey Brick Toast is one of the easiest and tastiest desserts ever! The recipe uses simple ingredients that are easy to find. You can top them with almost anything you want (just like a funnel cake!), but we're partial to topping them with dollops of soft whipped cream, fresh strawberries and a generous drizzle of honey!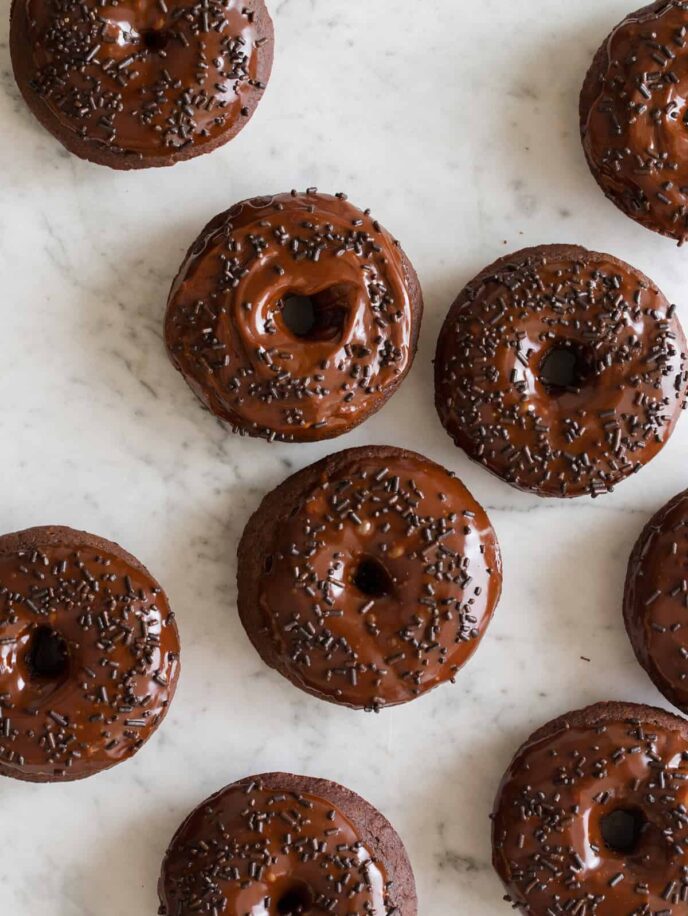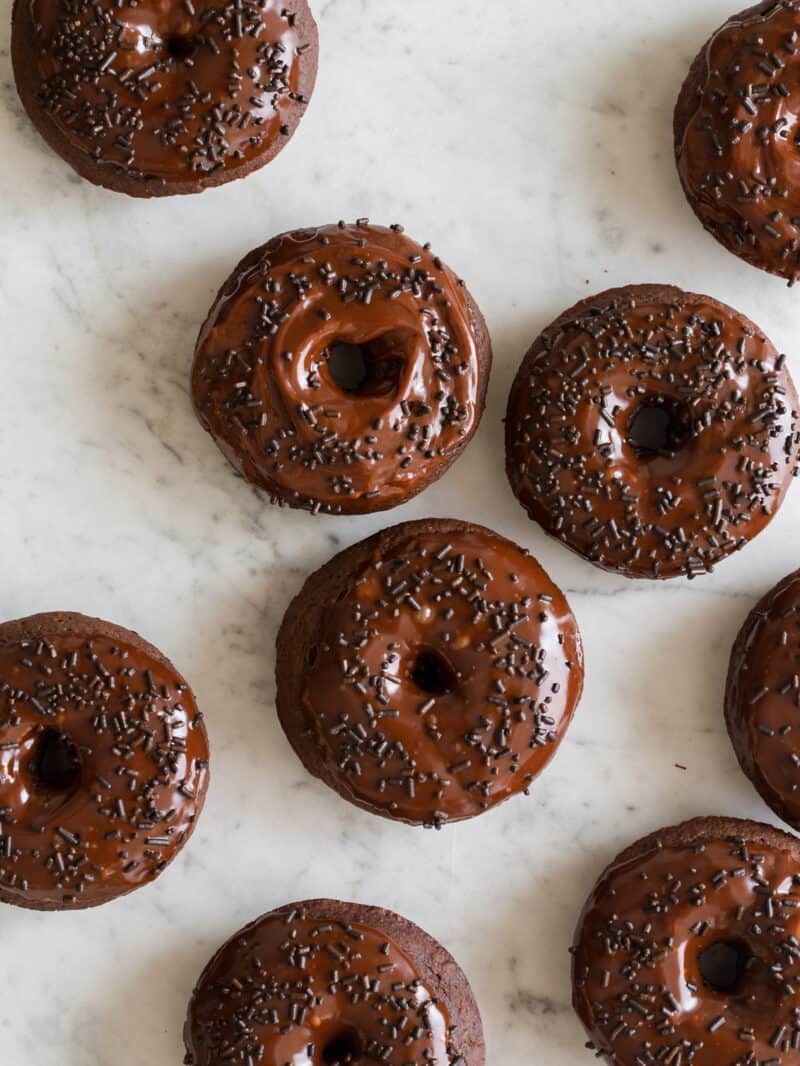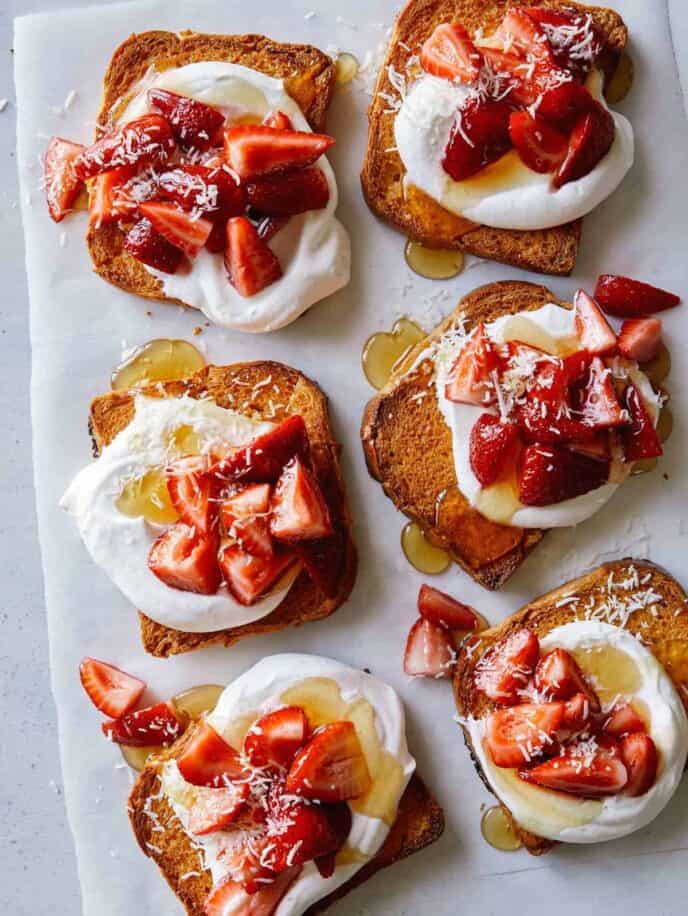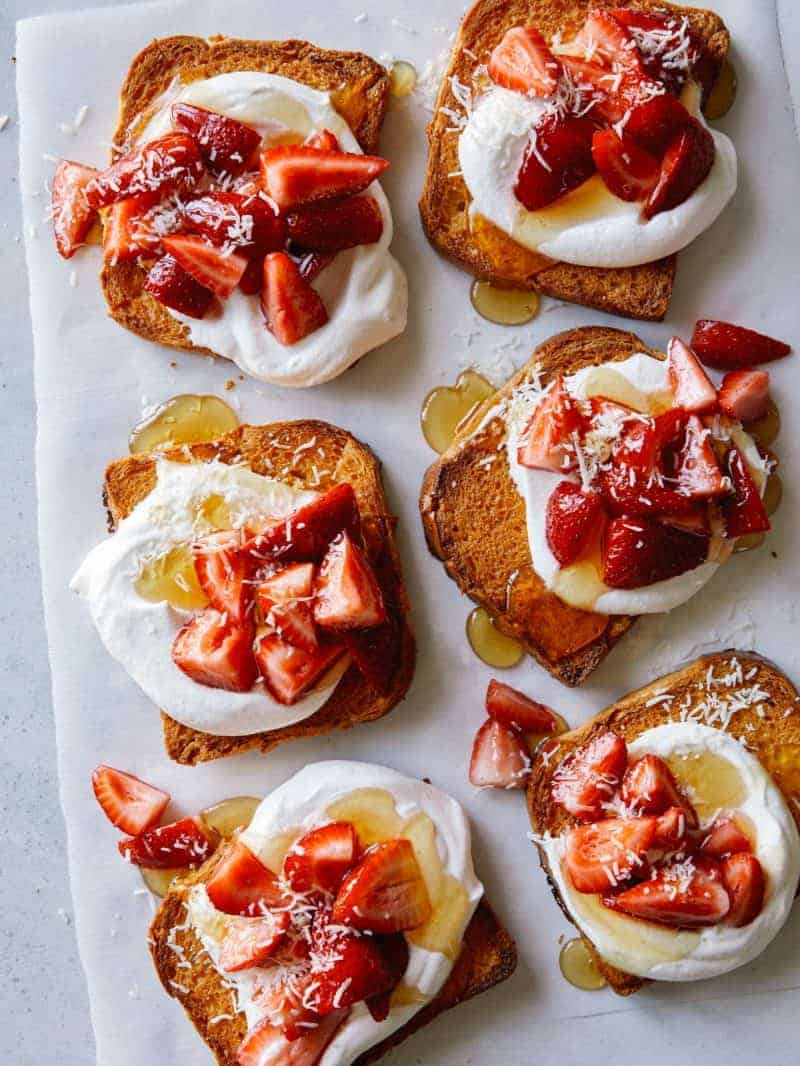 Sticky Toffee Pudding – This classic English dessert is just so good. The cake is drenched in a toffee sauce and baked again to make it super sticky and delicious. Drizzle on more sauce and top with whipped cream and you will be in heaven with the perfect bite! It's a true special occasion dessert!
French Silk Pie – This is a really indulgent recipe, and one of the best things about it is you can totally make it ahead of time – few days in advance even! You can also cut this recipe in half and use mini pie tins and it works perfectly.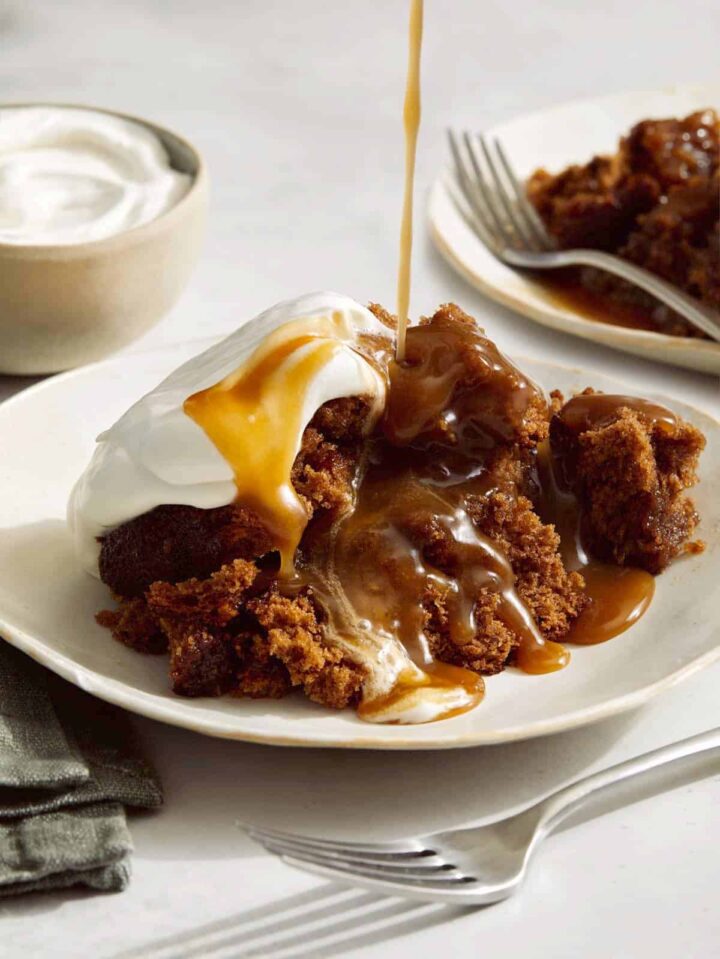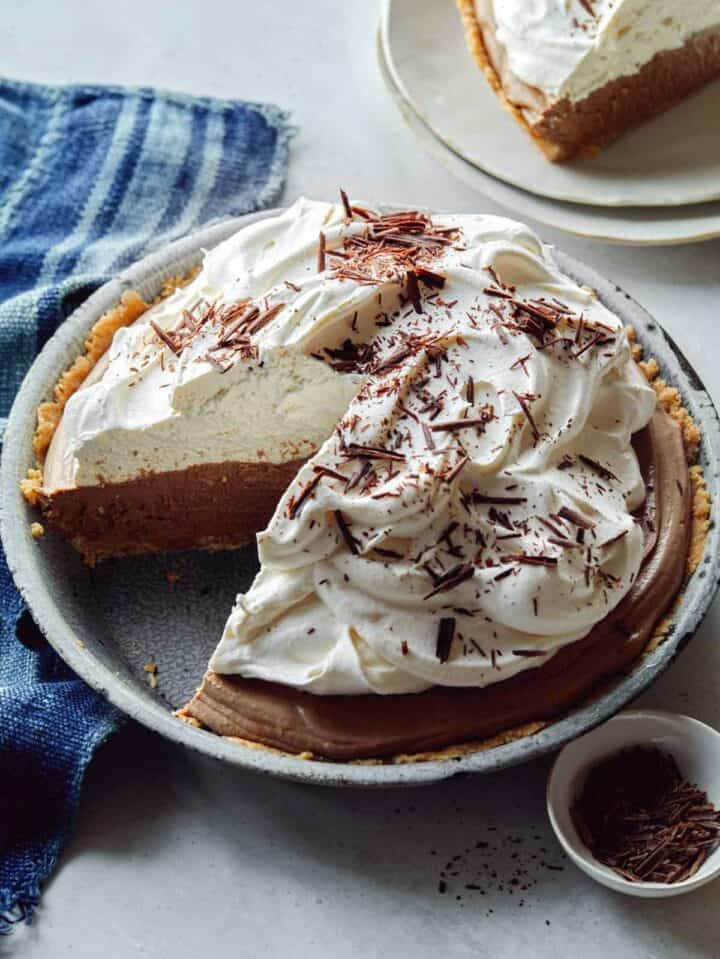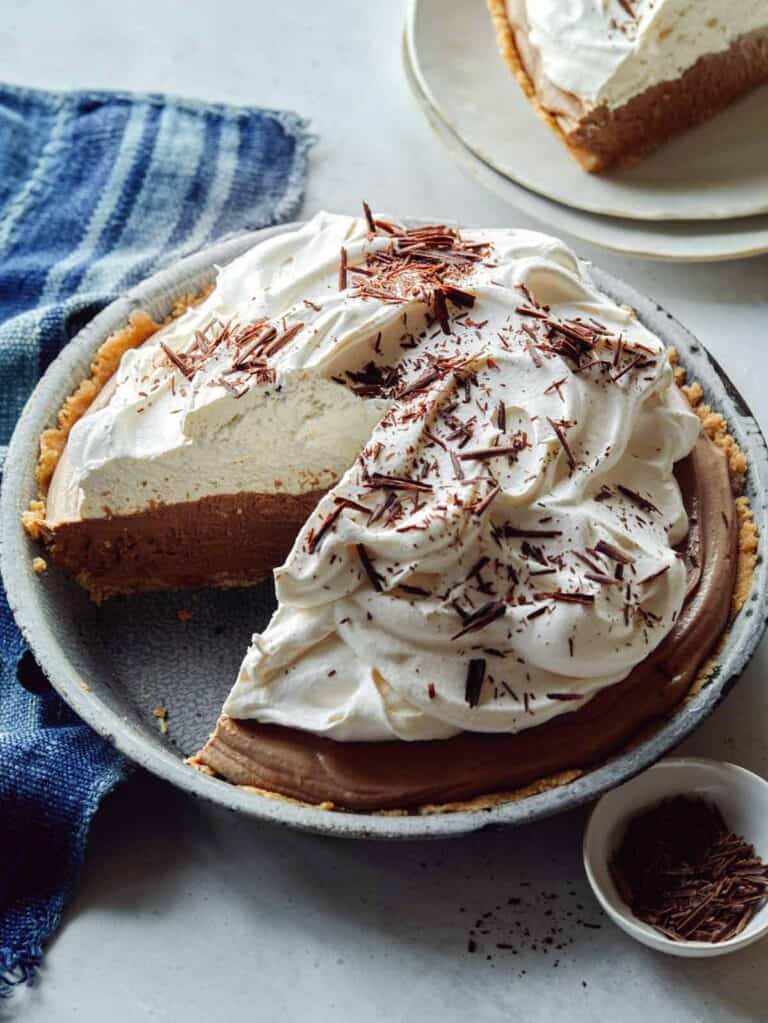 These Creme Brûlée Blueberry Cheesecake Bars are amazing. A crunchy sugary top with a creamy blueberry cheesecake filling (if you're more partial to raspberries or cherries, use them instead!) and a delicious buttery crust is all you can really ask for in a perfect Valentine's day dessert with incredible flavors, right?
Our Classic Banana Pudding is a Valentine's day dessert you will want to make sure to have leftovers to enjoy the next day (trust us). Make these little banana pudding parfaits ahead of time if you're short on time. This is a perfect family friendly recipe!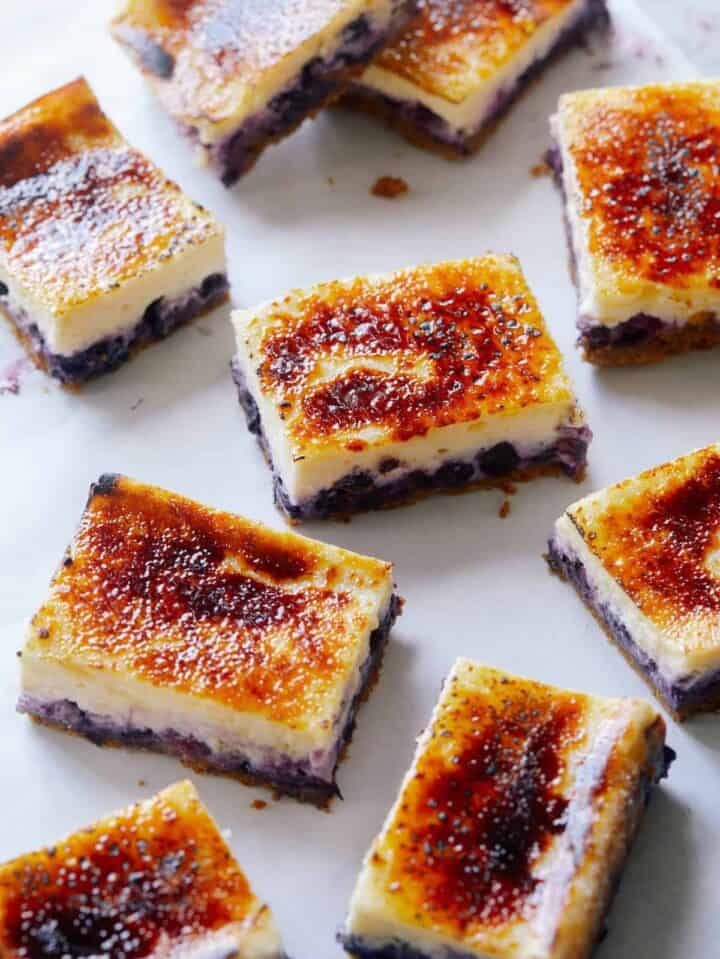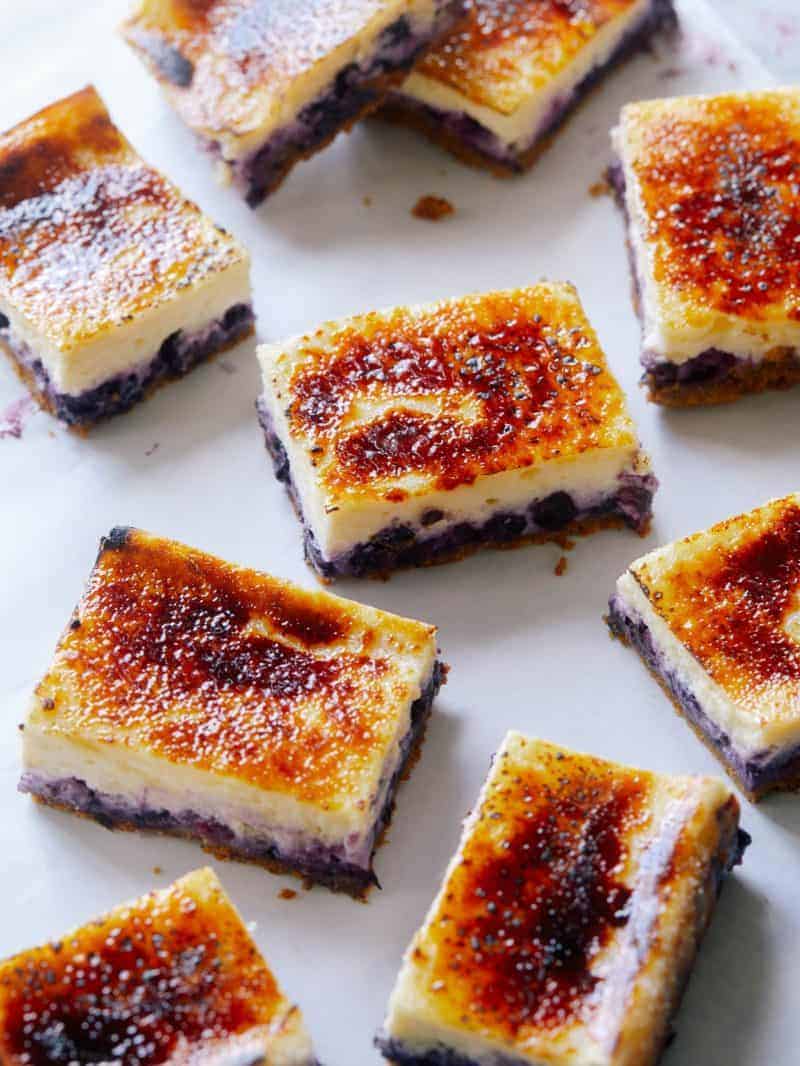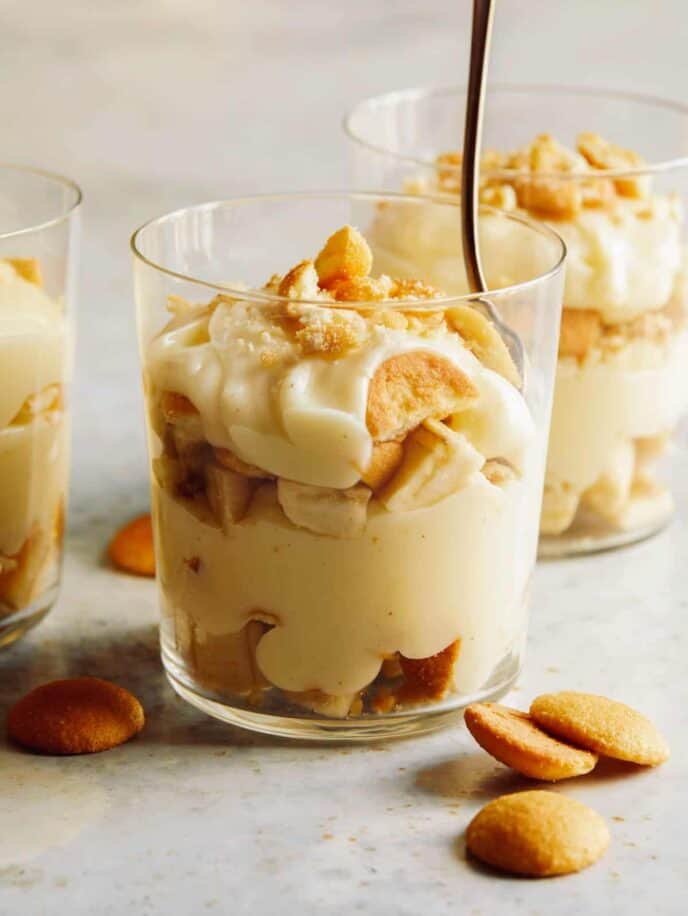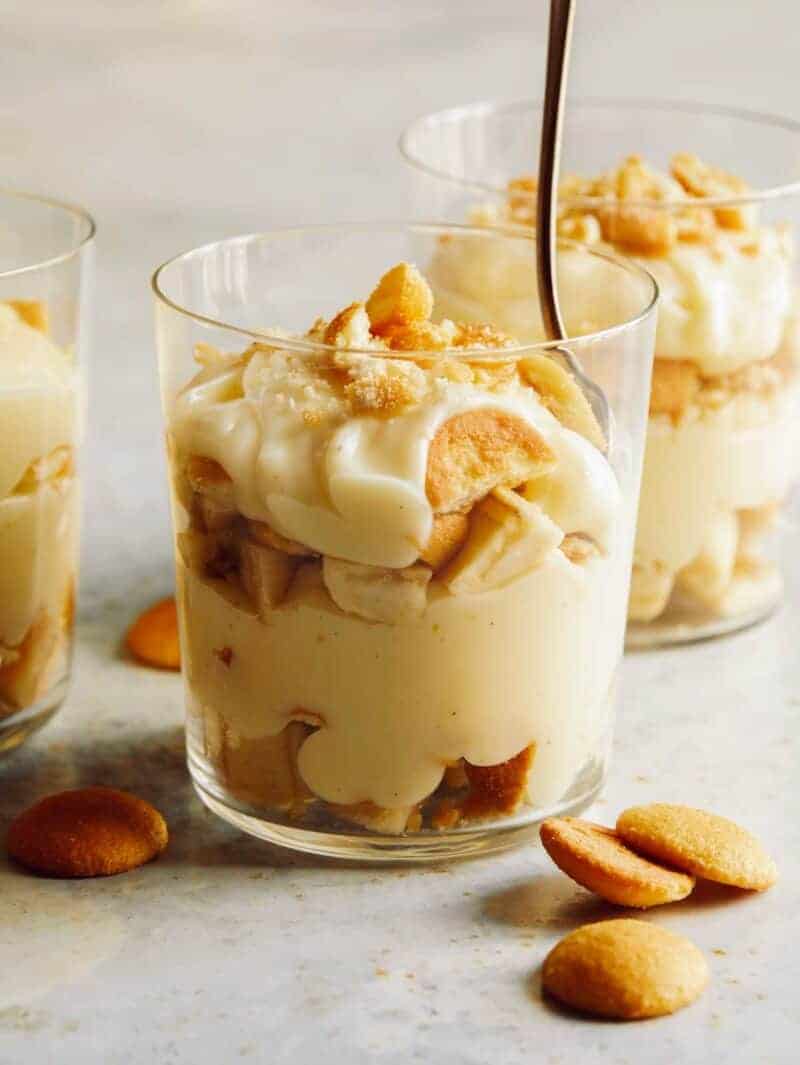 Strawberry Glazed Old Fashioned Donuts are not only delicious, but they're also incredibly easy to make! They require no yeast or no proofing – just a simple dough that is rolled out, cut into rounds and fried for a few minutes. The glaze is also very easy and all you need to do to assemble them is to dip the tops of the donuts in the glaze and let them set!
Our Apple Crisps are one of our favorites! They're an easy dessert to make and our version has them made in individual portions (but you can also combine the whole recipe to make it family-style! Just top with a big scoop of vanilla ice cream and you're set!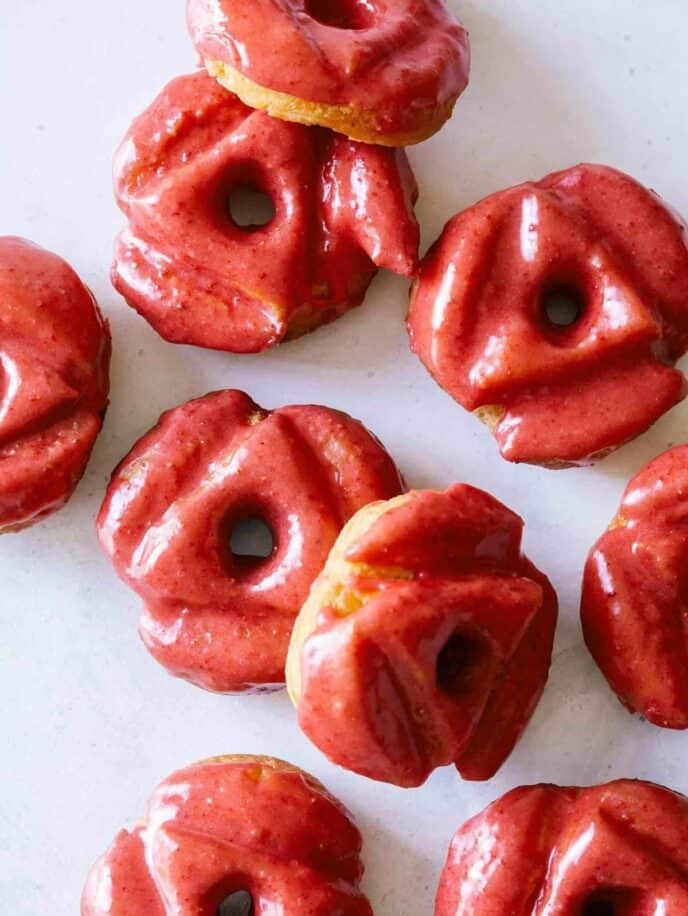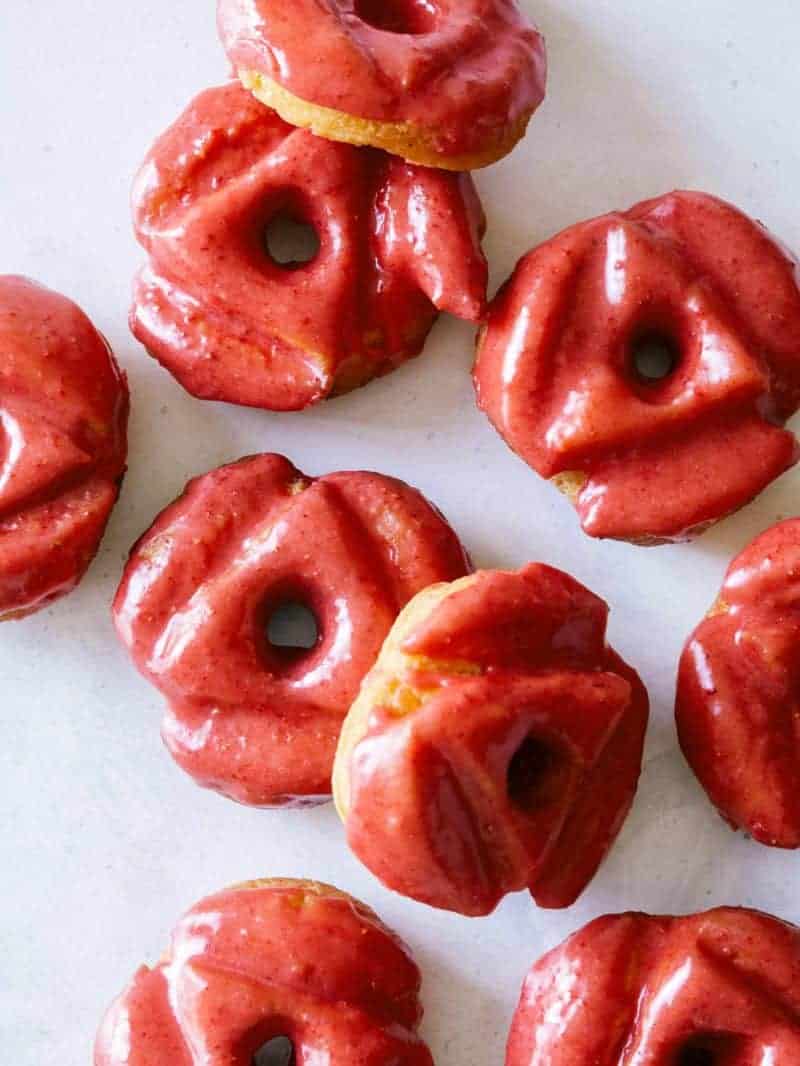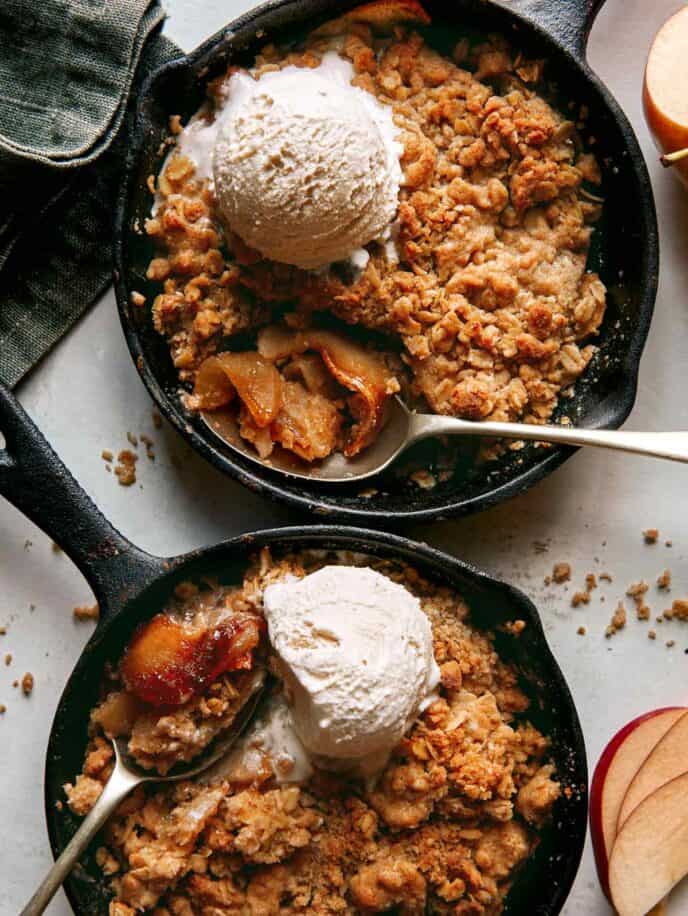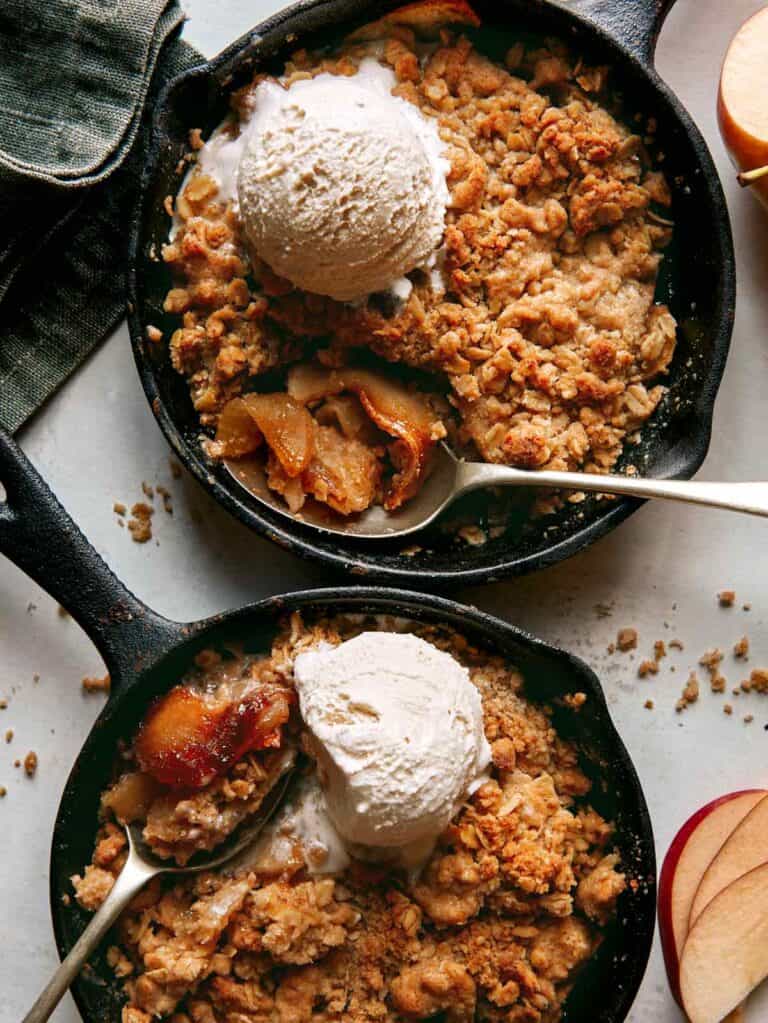 This Strawberry Tiramisu is our riff on the classic tiramisu. We use lots of fresh strawberries which really lightens this dessert up and makes it a very festive Valentine's day dessert!
I couldn't resist adding our No Bake Peanut Butter Pie to this list. It's super rich and creamy with the best texture; best of all – it's a no bake dessert! That's right, no oven needed! If you have a peanut butter lover on your hands (who also appreciate a Nilla wafer cookie crust) this should be at the top of your Valentine's day desserts list.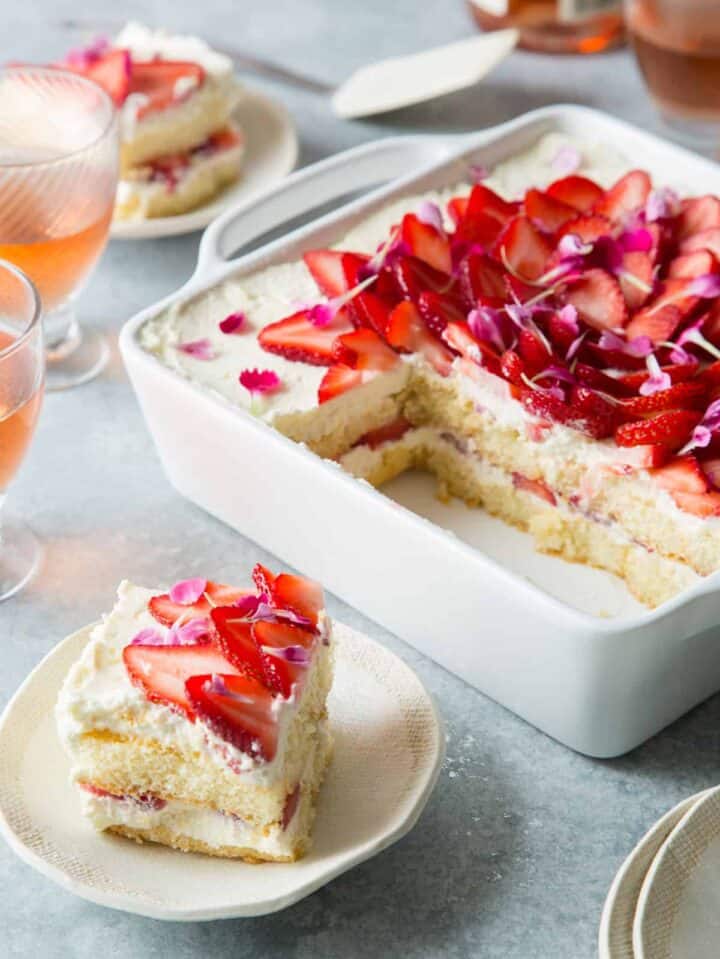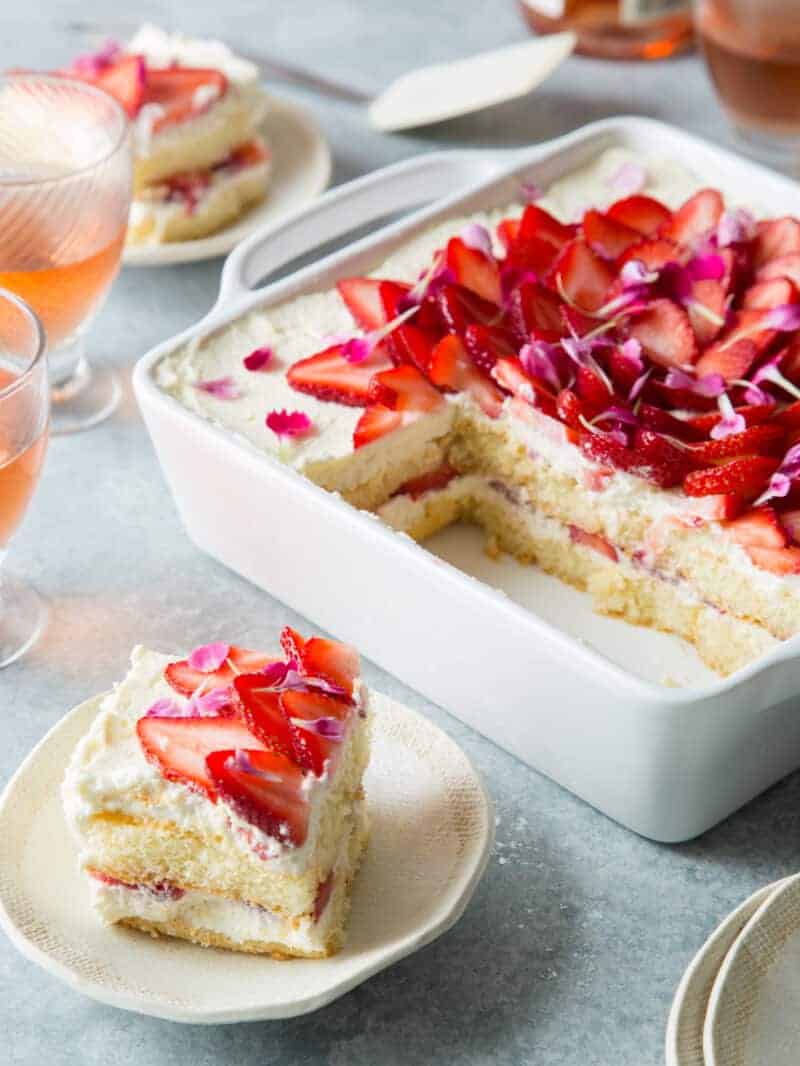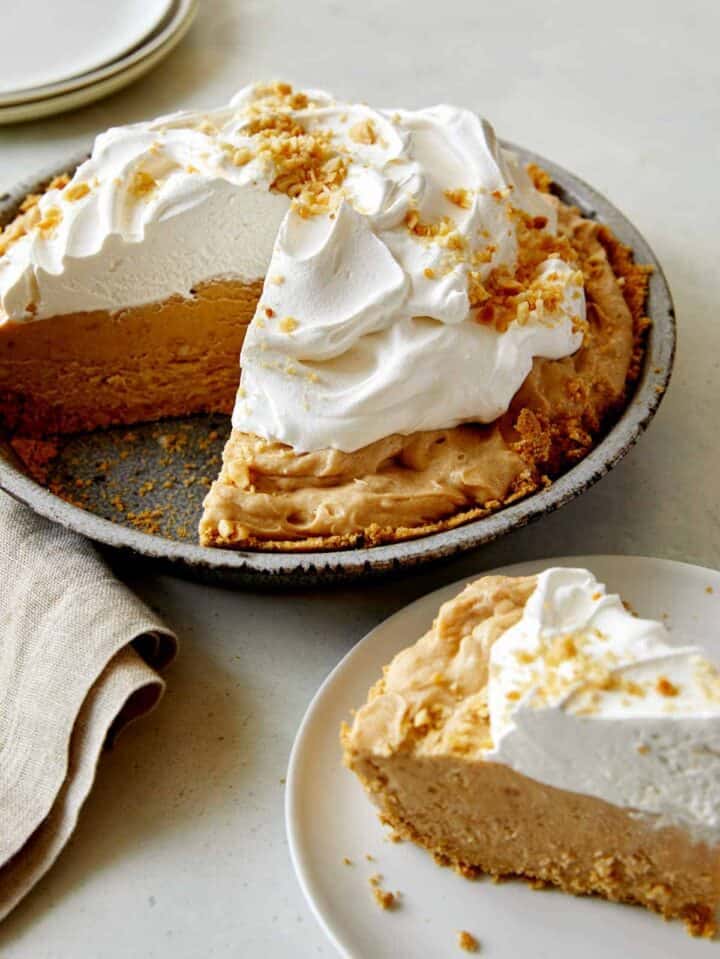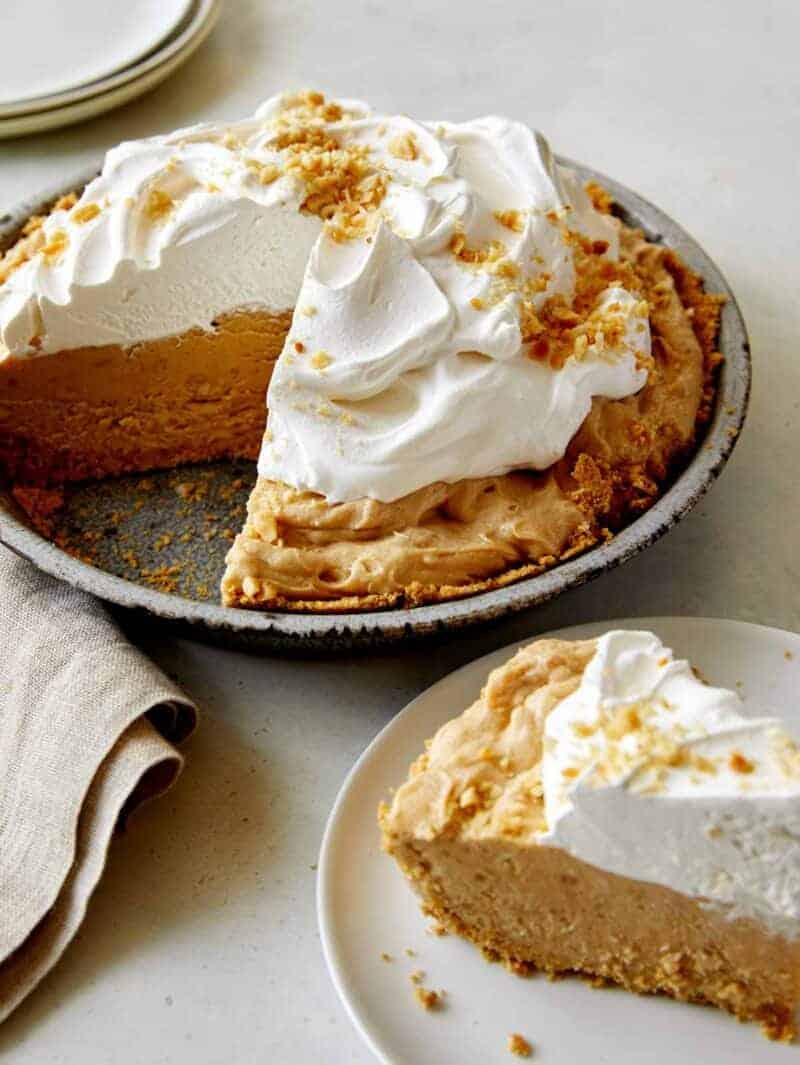 Deviled Hearts are probably one of the easiest Valentine's day desserts we have on this list. Fresh strawberries topped with a lighter cheesecake type filling. This is a great one to make with kids, just make sure you get some delicious ripe strawberries!
Banana Coconut and Honey Cream Tarts – Yes, these are as delicious as they look. It's also super easy to scale down this recipe if you're making a dessert for two people. *chef's kiss*!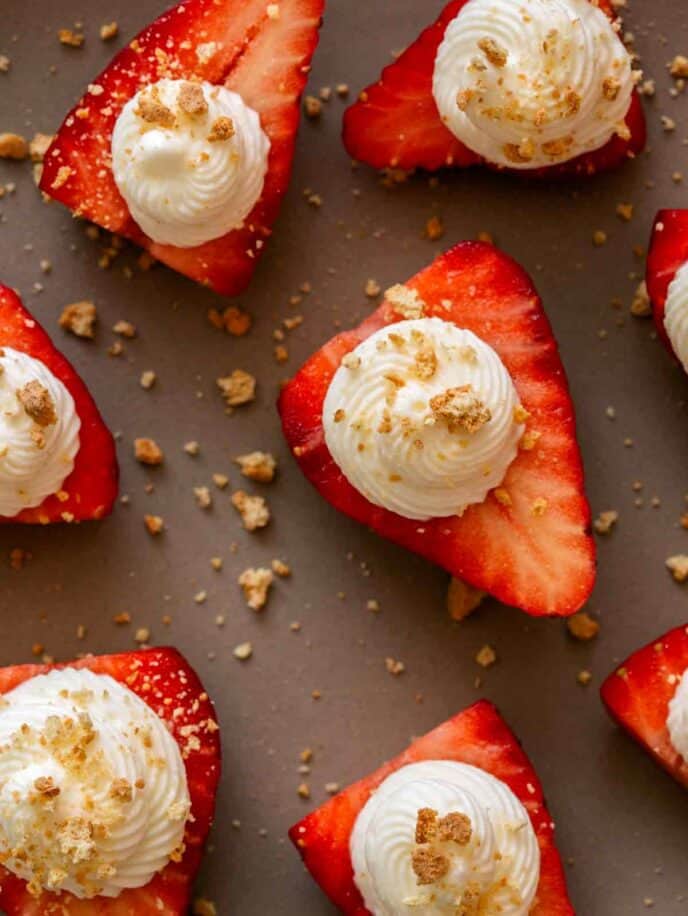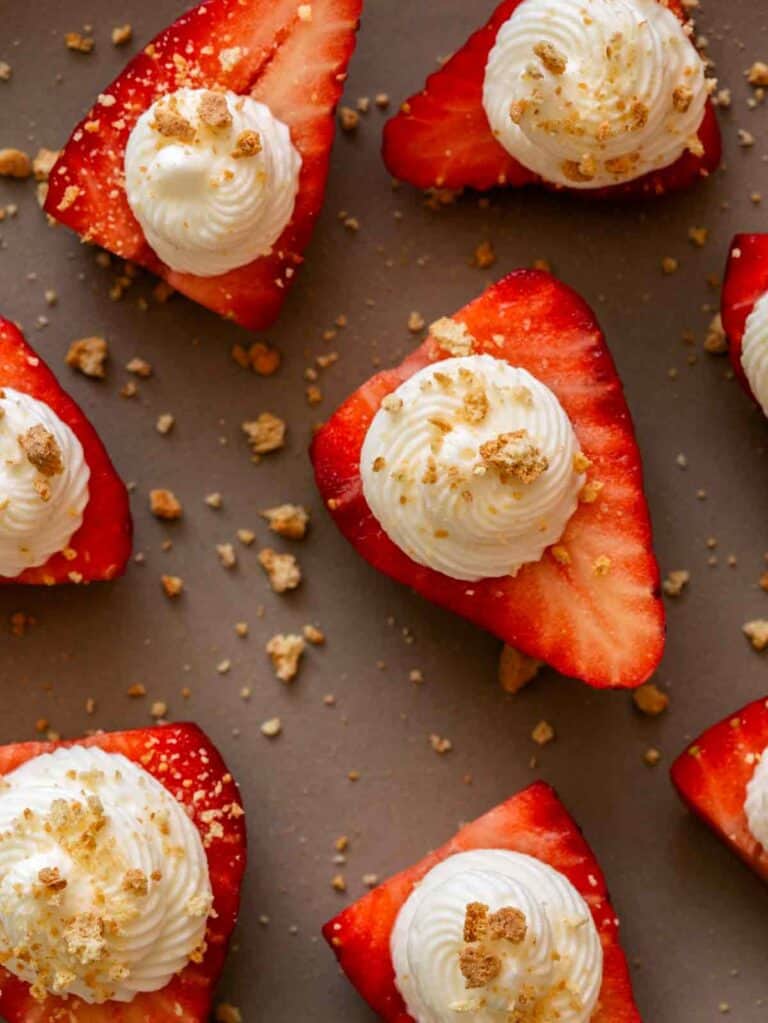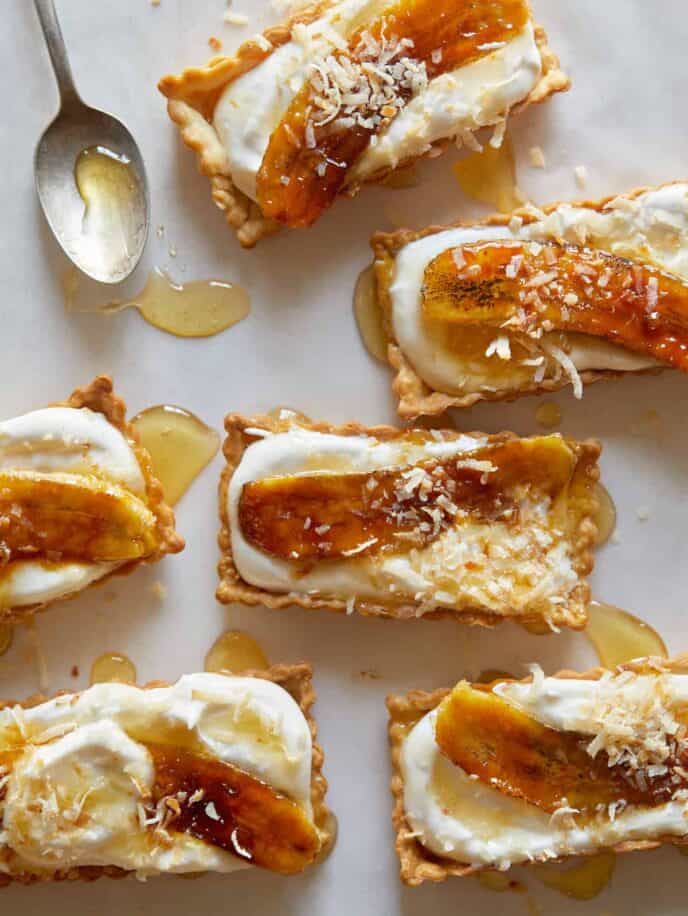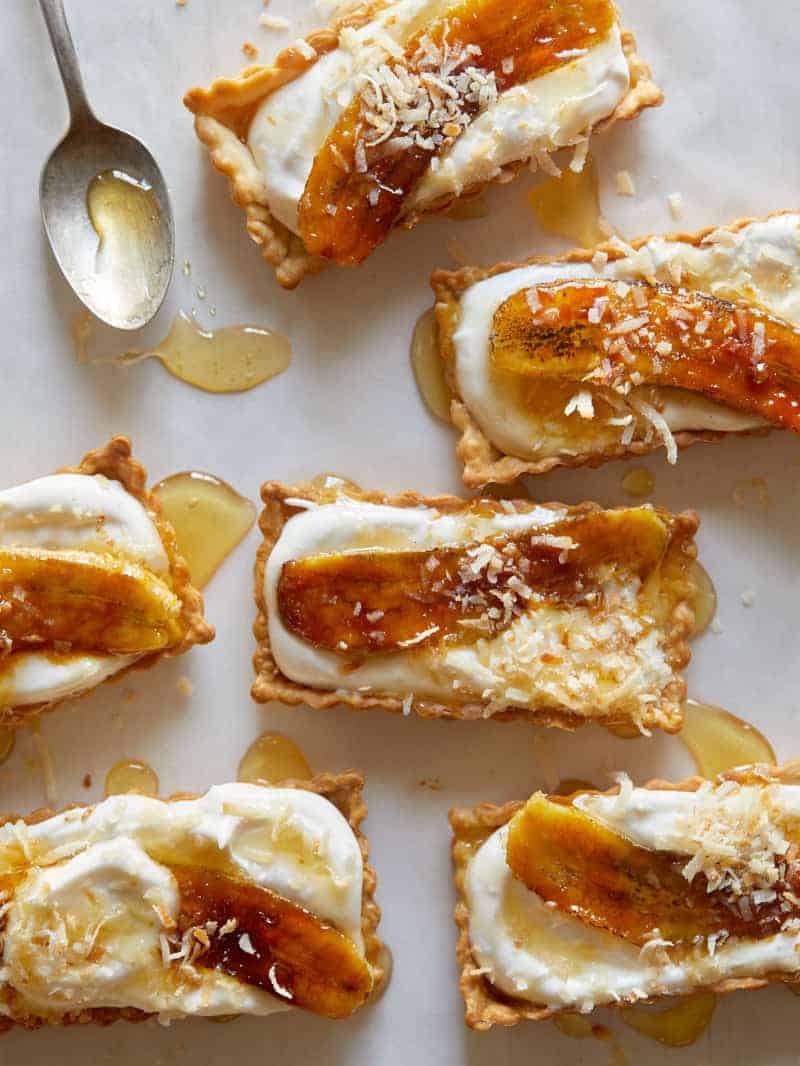 Our Creme Fraiche Panna Cotta is the perfect Valentine's day dessert that is easy and make ahead. Top with some fresh strawberries instead to really get that Valentines theme going!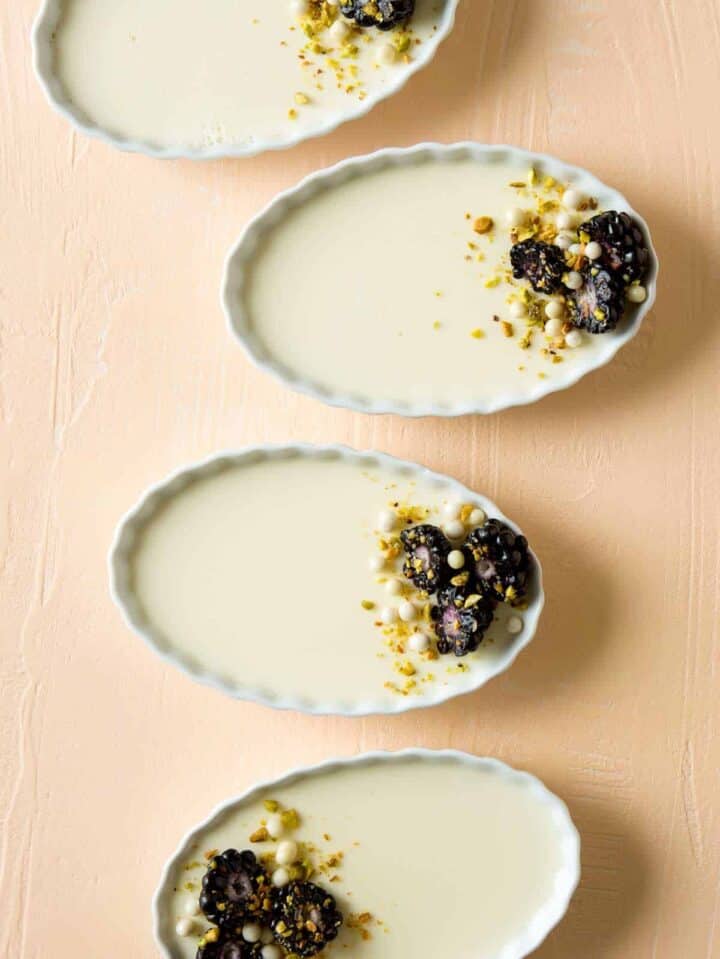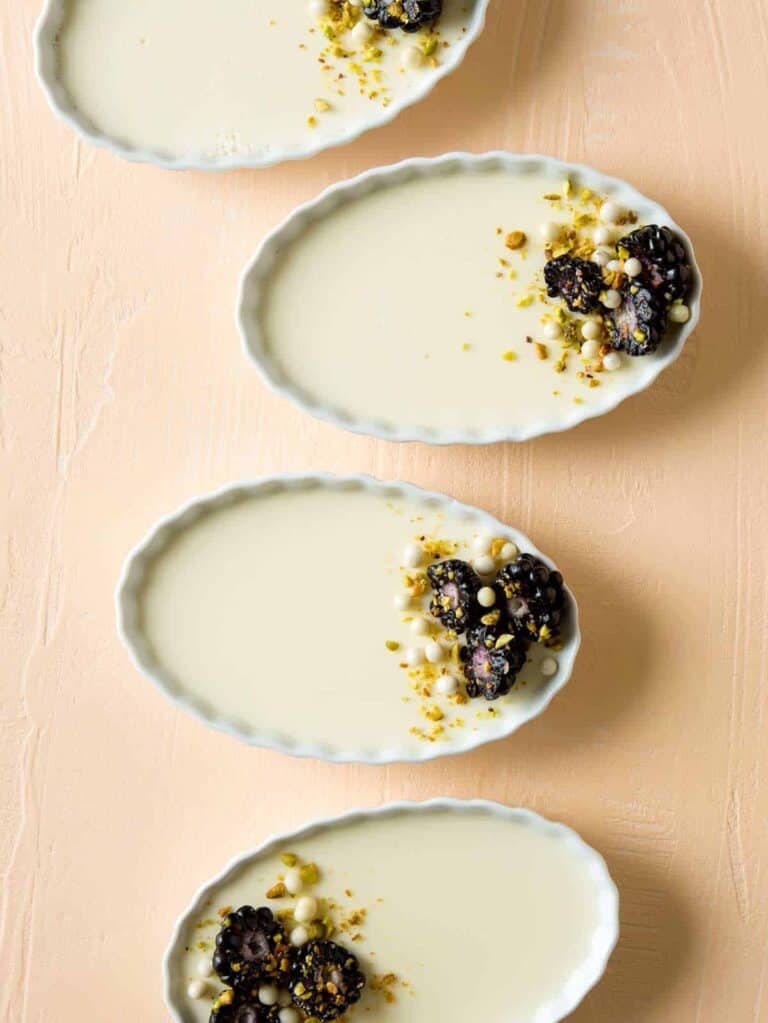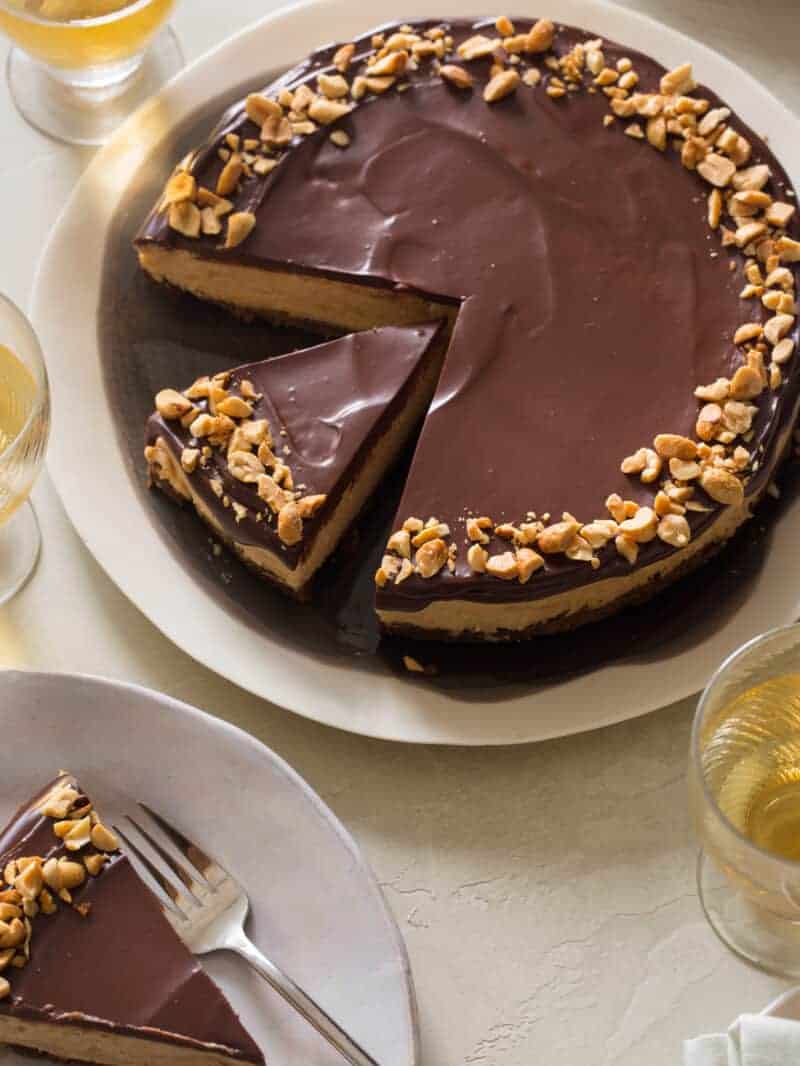 If it's chocolate you want for Valentine's day, we got you. Our Devils Food Cake with Real Strawberry Frosting is perfect. Get the perfectly pink Valentine's color from the frosting and you have yourself chocolatey delicious Valentine's day dessert perfection. You can also add several drops of red food coloring to the cake batter to give it major red velvet cake vibes.
This is at the top of the list for no fuss Valentine's day desserts. Our Roasted Strawberries over Honey Whipped Ricotta is perfect. It's basically a dessert dip! We use thin chocolate wafers, but you can use any thin cookie that is your favorite.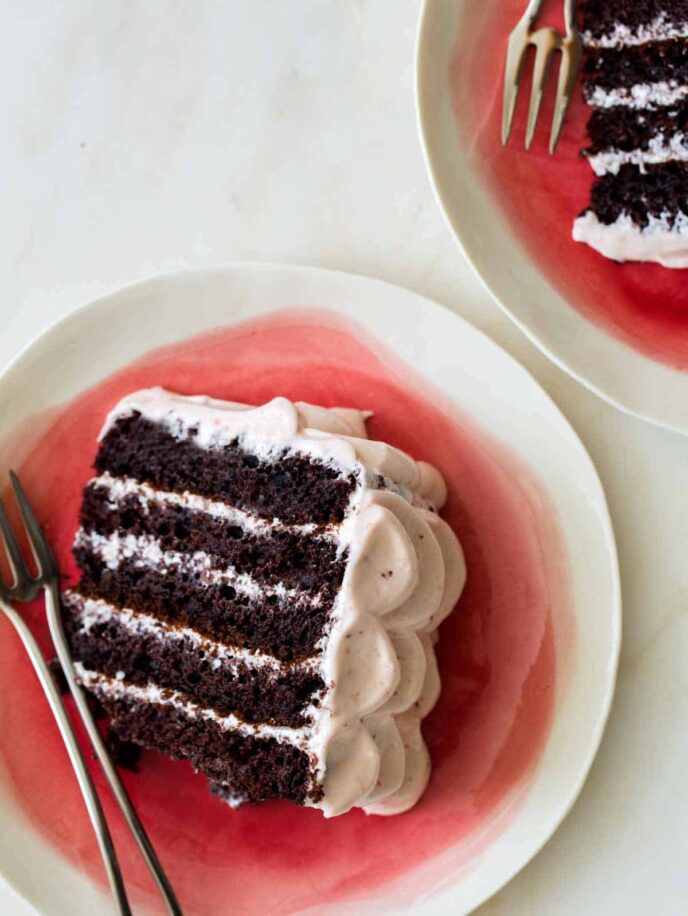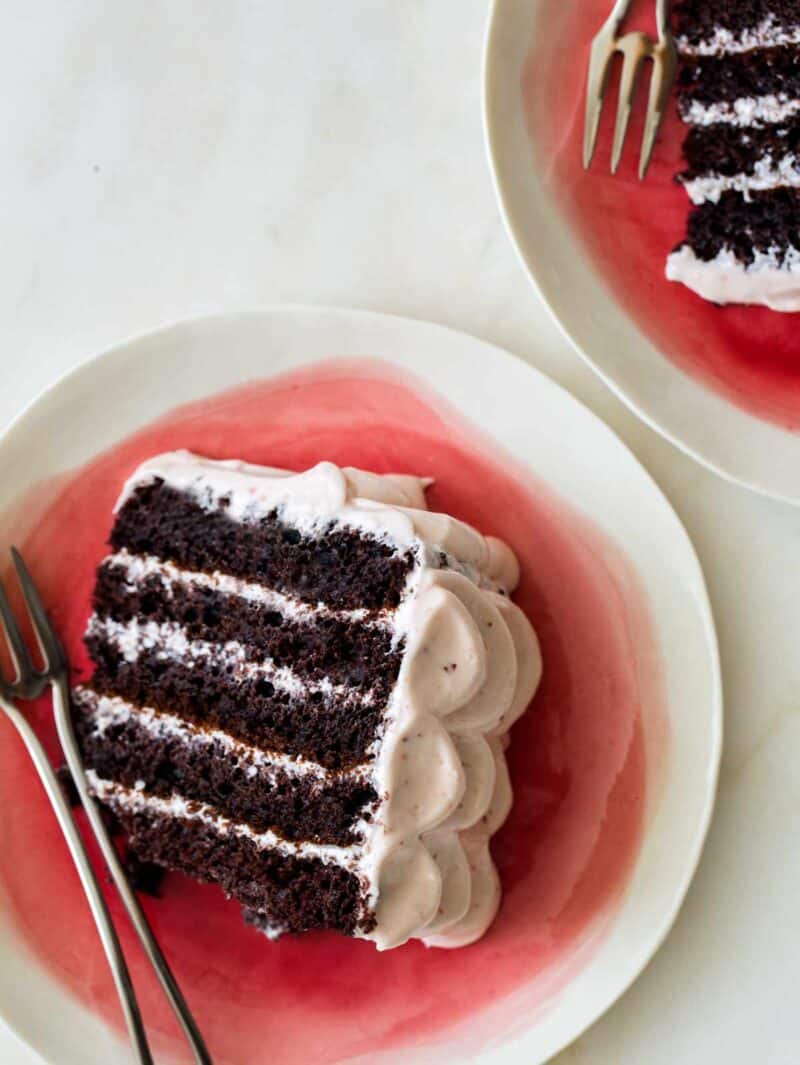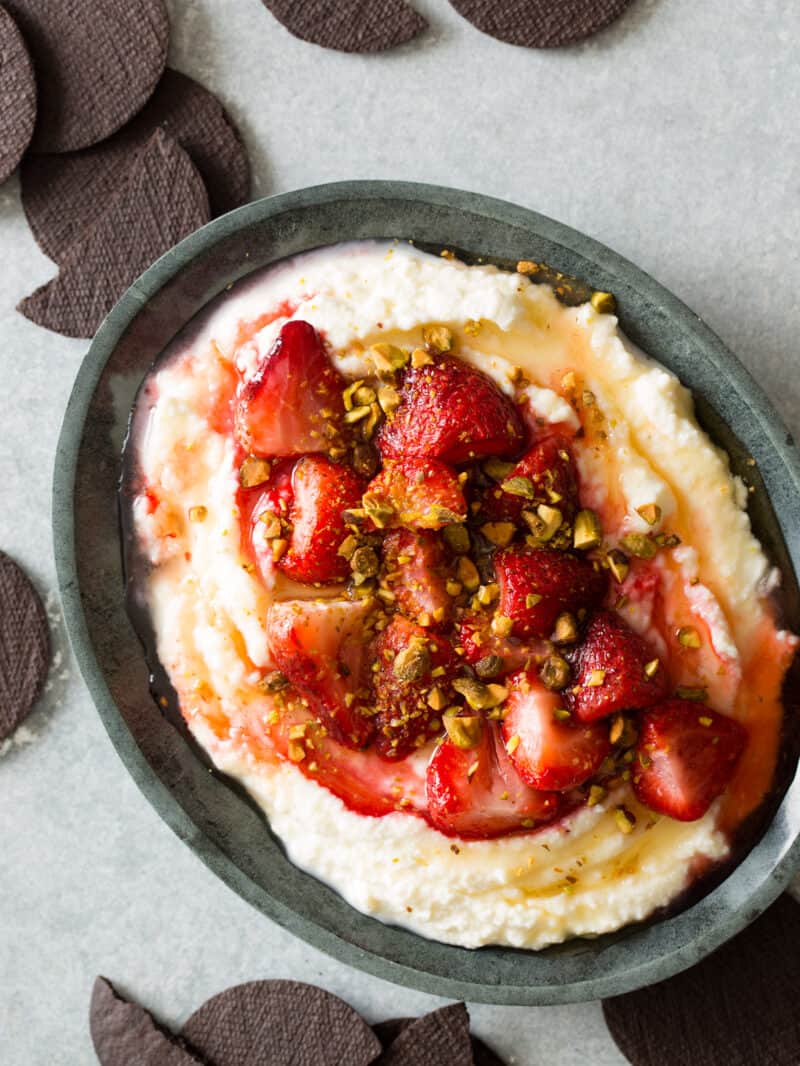 Valentine's Day Cookies
You can't go wrong with Valentine's day cookies! Plus, how nice is it to have some leftover for the next day. We collected our best Valentine's day cookie recipes for you, most are very festive, but some I just had to add because they are so good!
Our Heart Shaped Valentine's Cookies are cute cut-out sugar cookies with the most delicious strawberry icing! They're wonderful cookies to make for family, friends, co-workers, neighbors, anyone!
M&M Cookies are a childhood classic that never get old, even as an adult. Use the Valentine's M&M candies that are out this time of year to turn these cookies extra cute and festive! Throw in a handful of white chocolate or dark chocolate chips to make them extra decadent!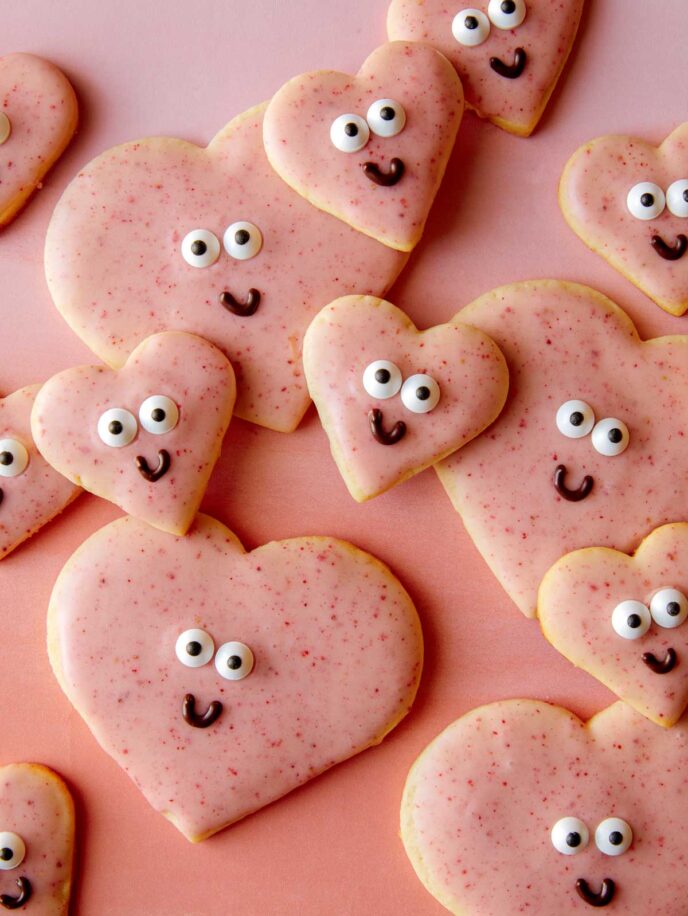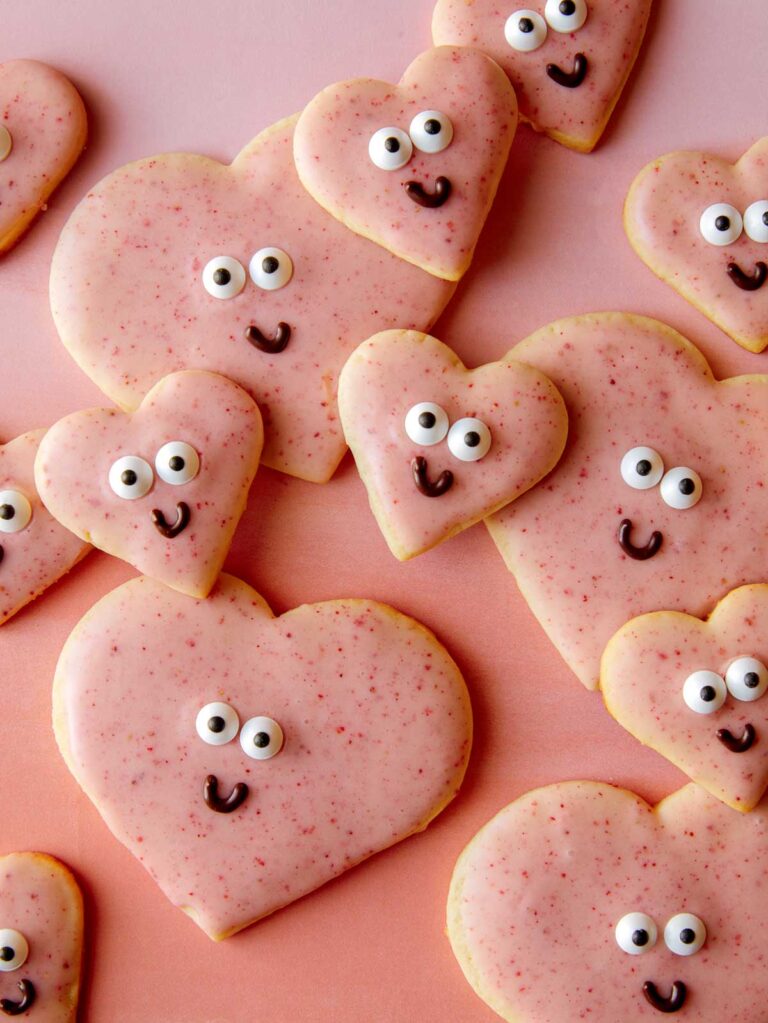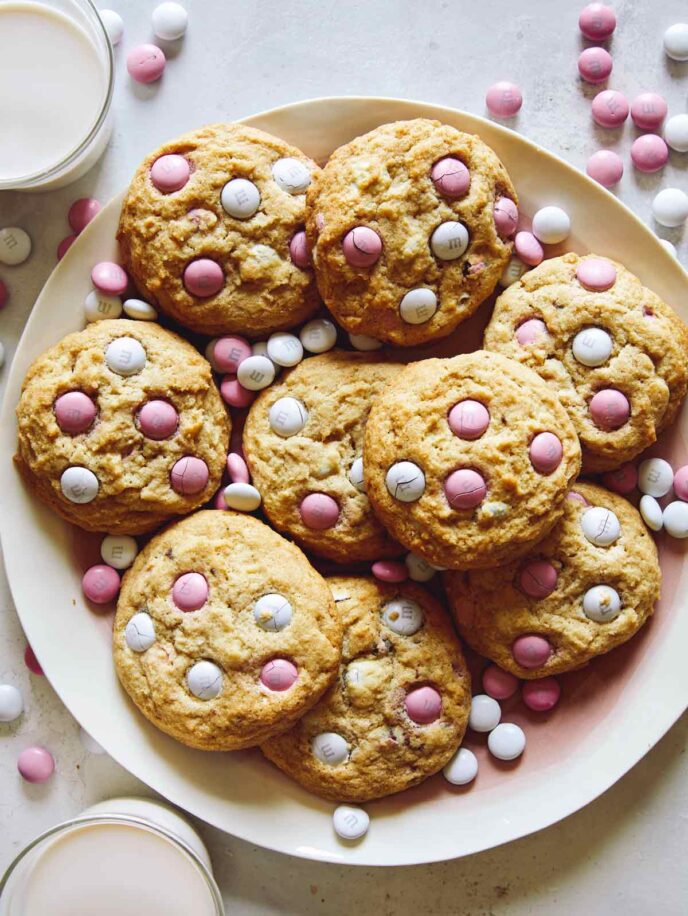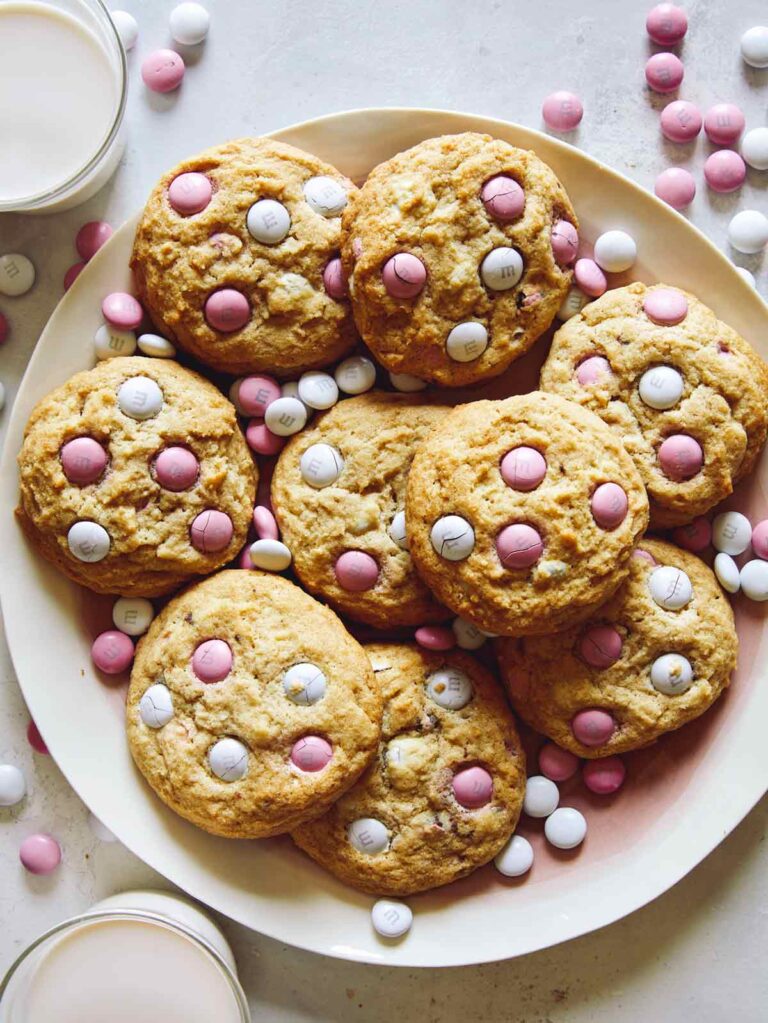 Our Pink and White Valentine's Day Cookies are a fun play off of classic black and white cookies. We substituted the chocolate frosting and made a real strawberry frosting for these very cute valentine's day cookies.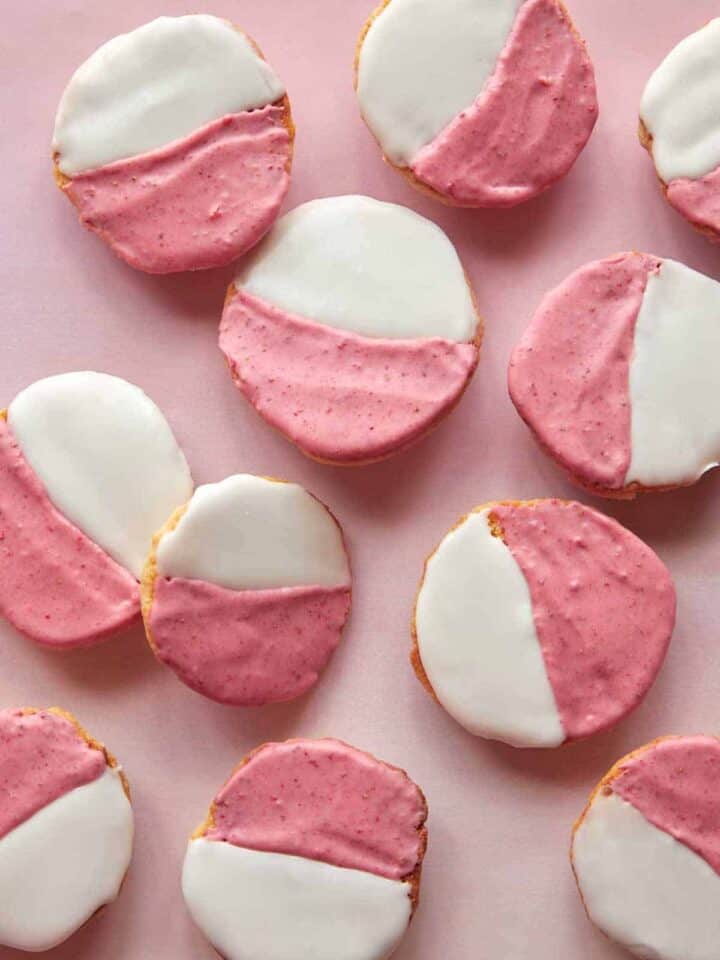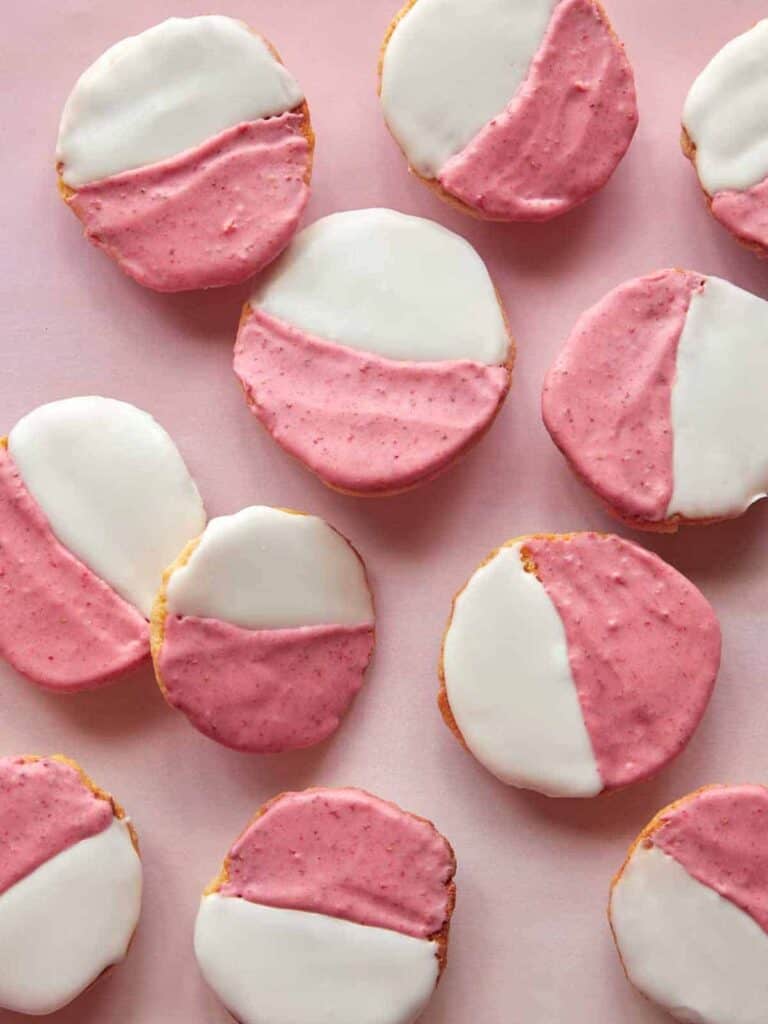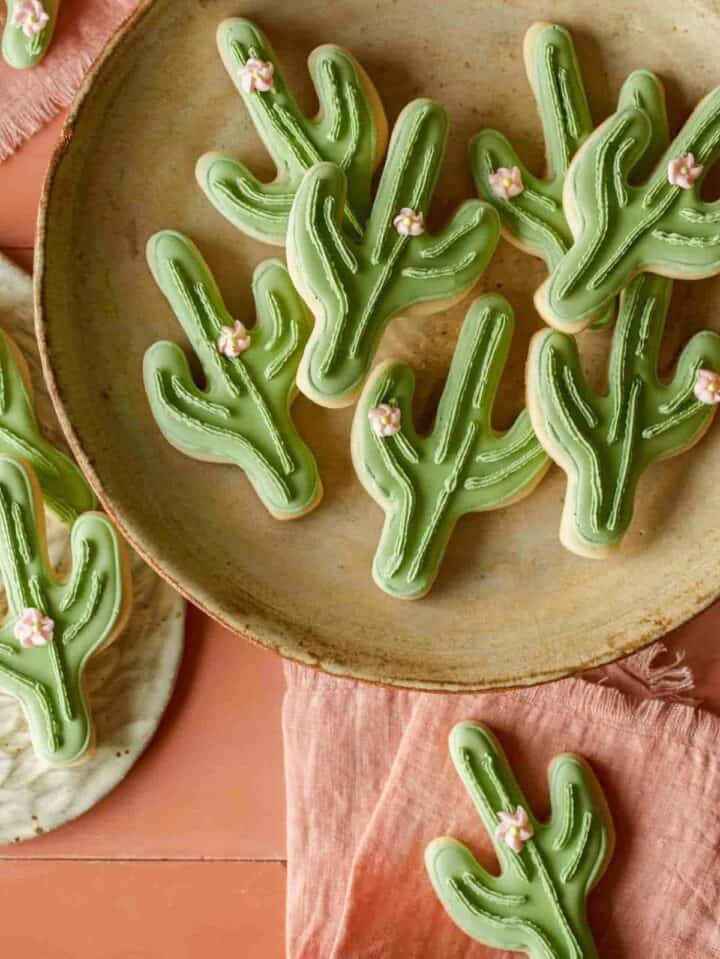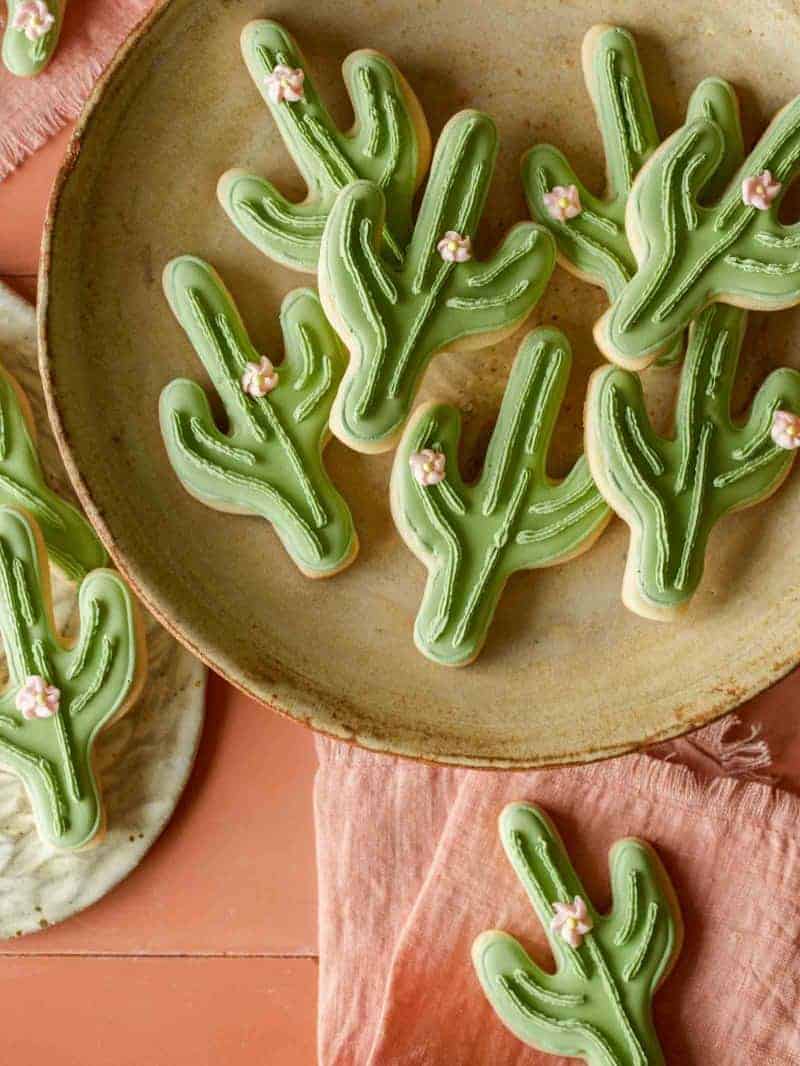 Soft and Fluffy Strawberry Cookies are our homemade version of Lofthouse cookies. You know, the super soft sugar cookie with a thick layer of frosting you can find at most grocery stores. These red cookies are just perfect for Valentine's day!
These Strawberry Shortcake Cookies are a crowd pleaser of a recipe. We basically just turned one of our favorite classic desserts – Strawberry Shortcake into a cookie. They are so good, and easy to make a bigger batch if you are thinking of giving them away (which is so nice!).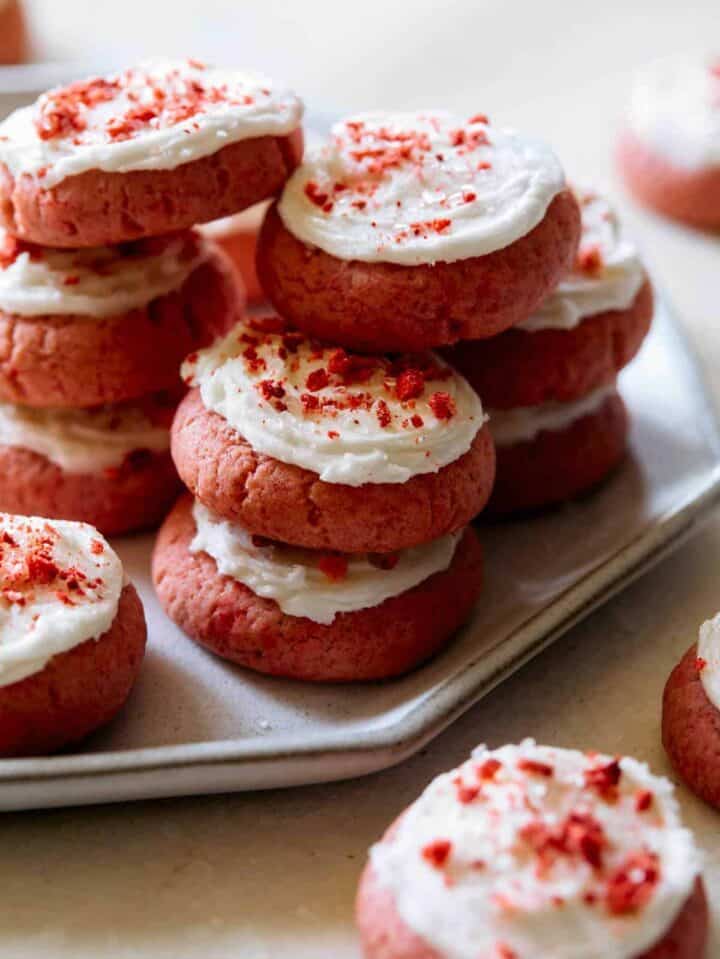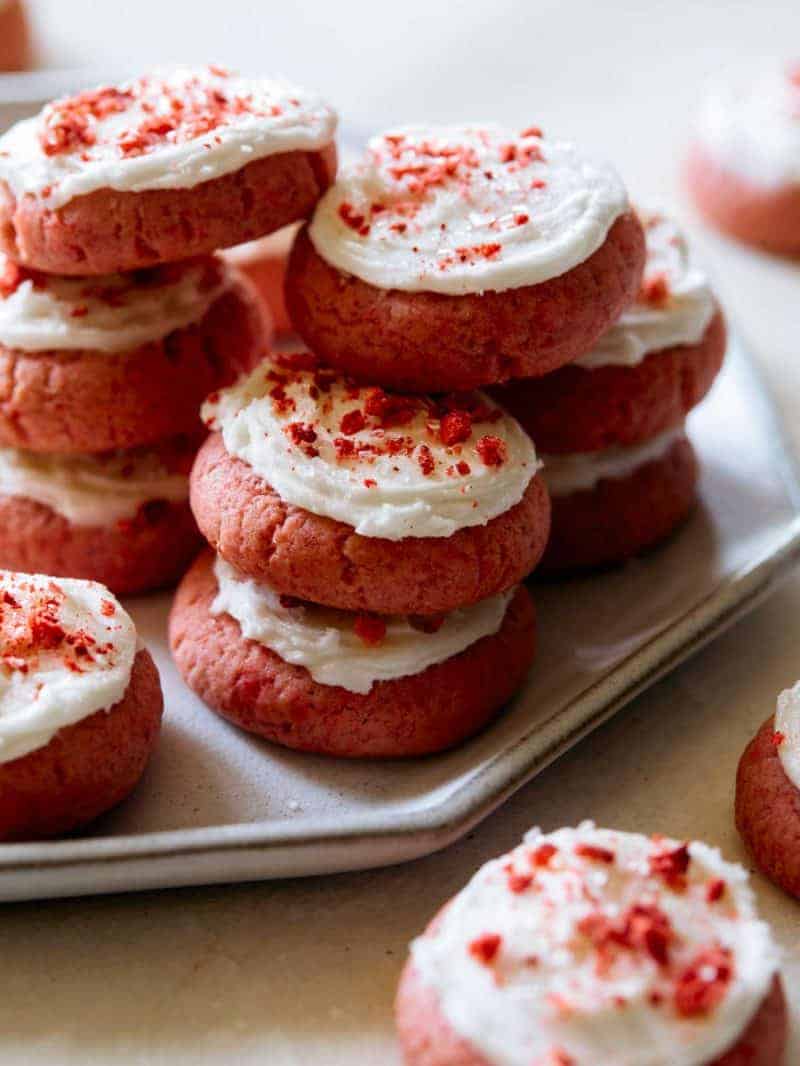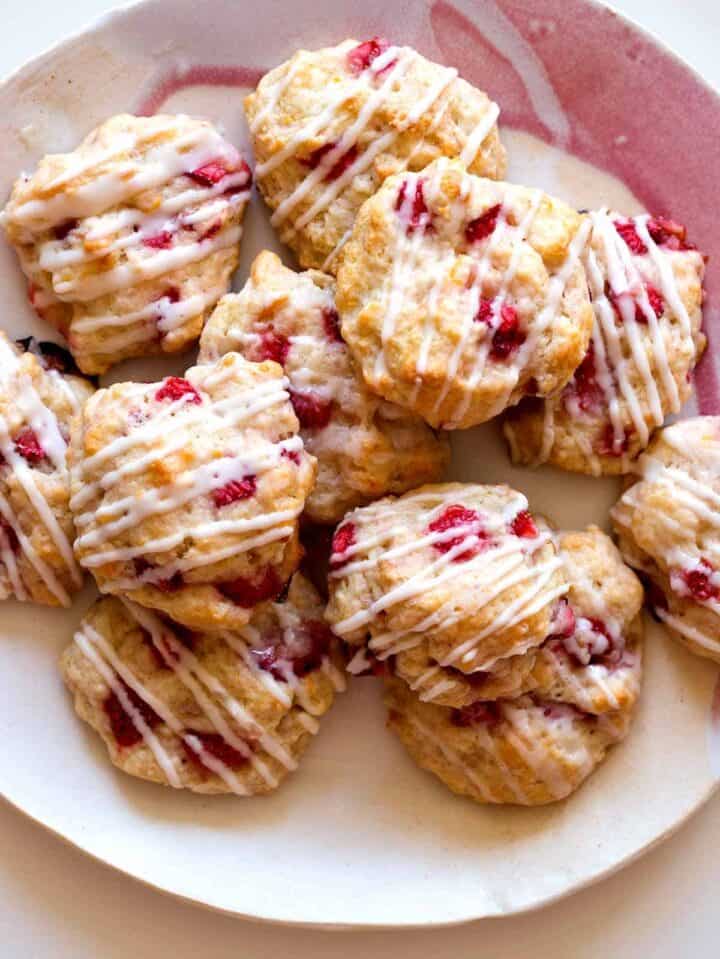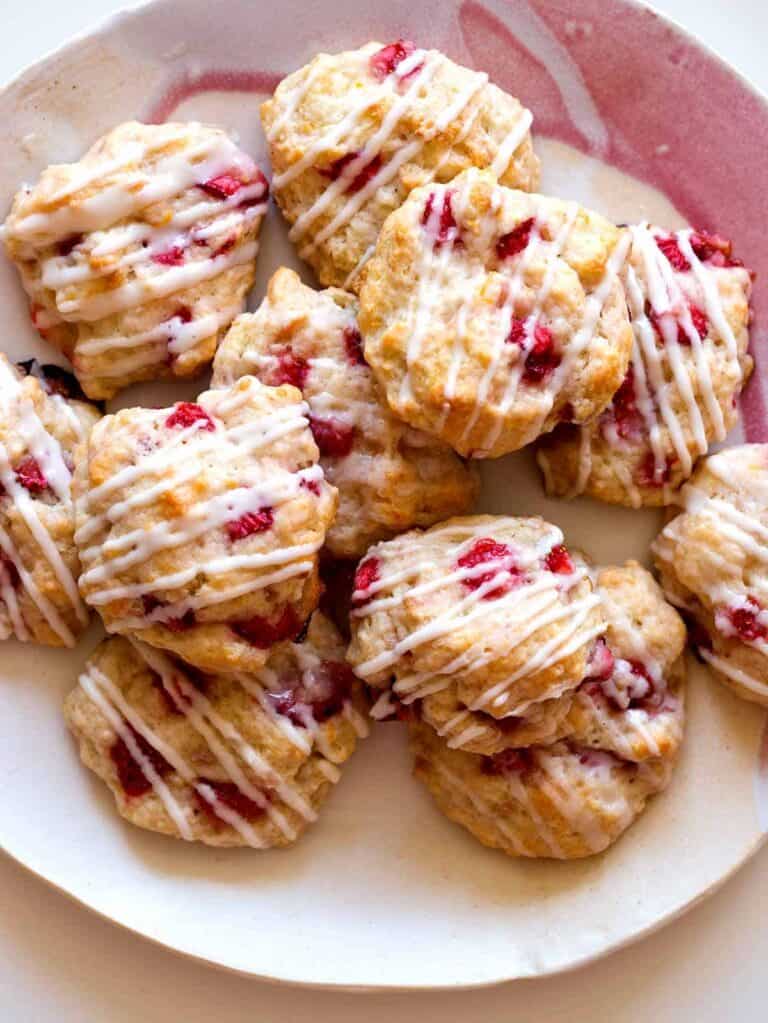 Kitchen Sink Cookies – These cookies are not particularly festive, but I imagine if you're making these for your family, they will go quick. This is one of the more popular cookie recipes on our site because they are just so good!
Our Homemade Yan Yans are our take on the popular Japanese snack food. I really wanted to include these on this list because I think these are a really fun and different cookie.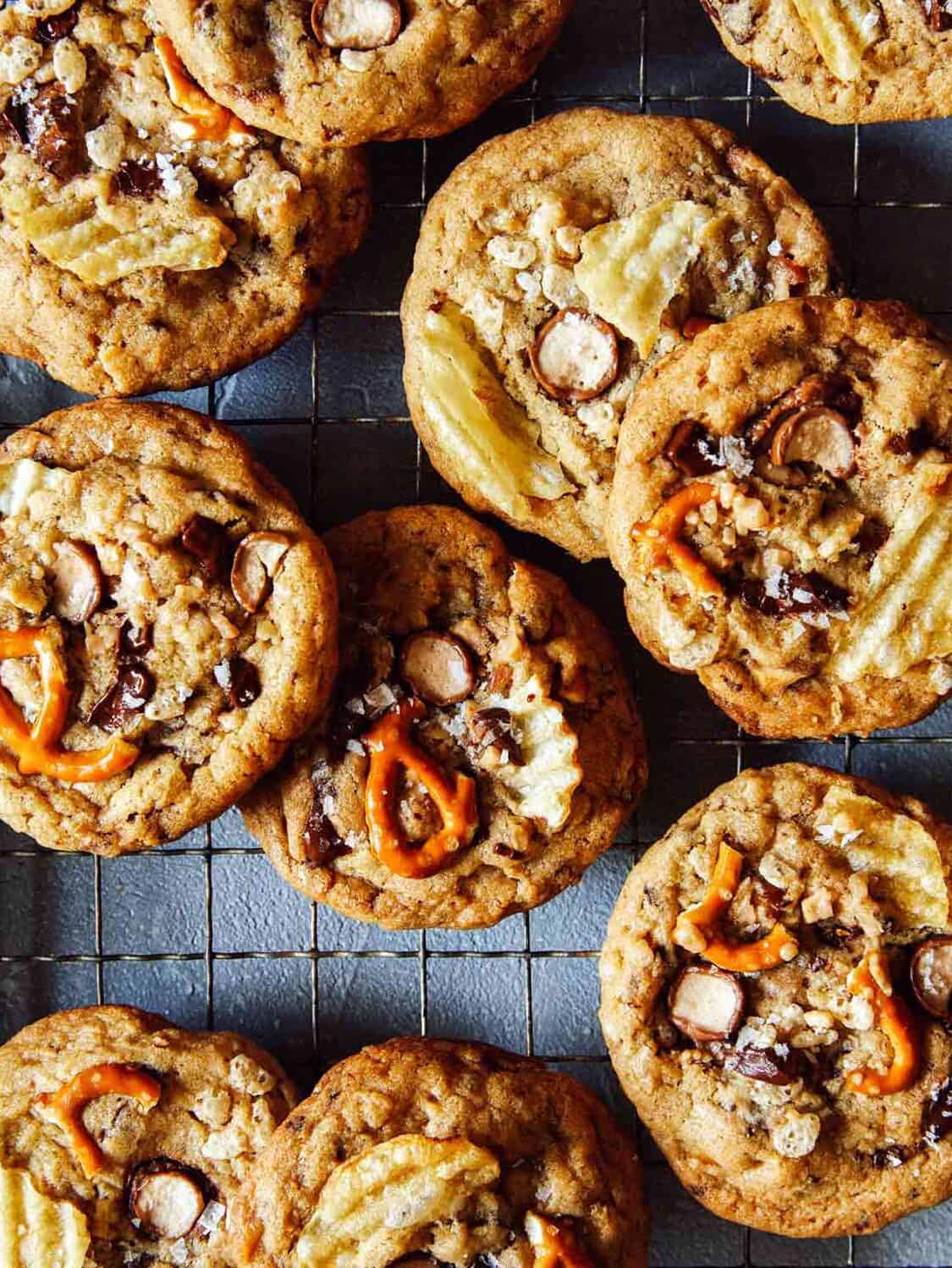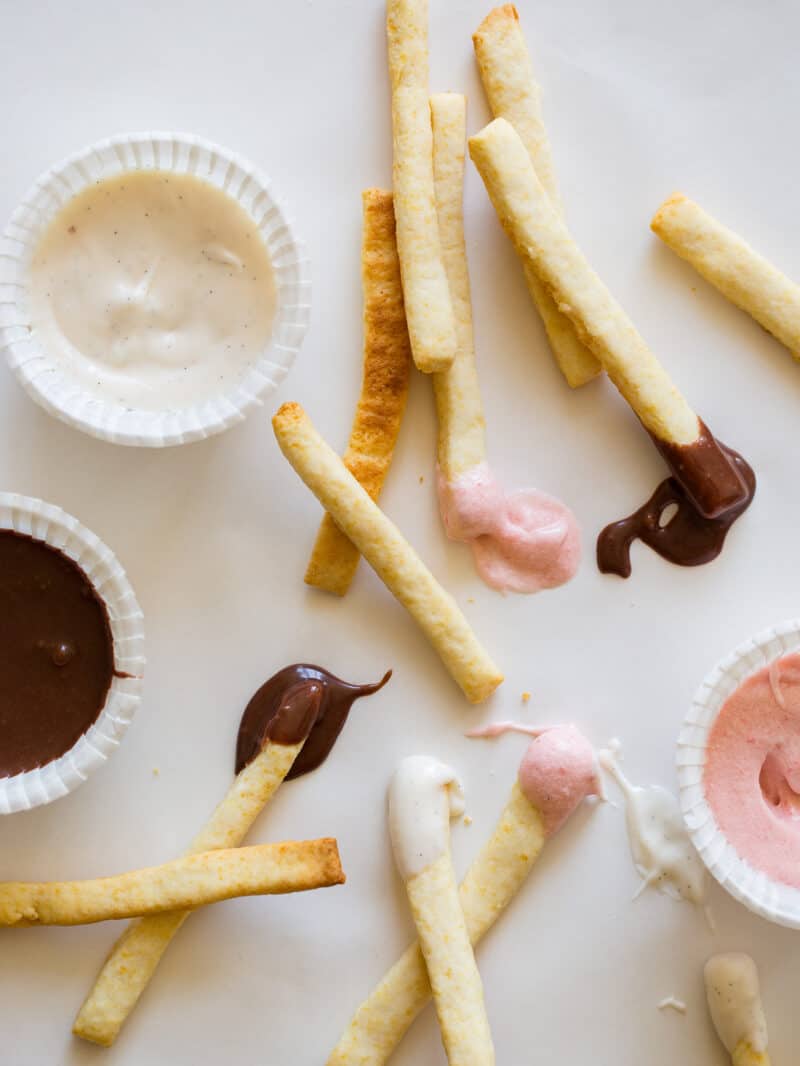 If you love these Valentine's Day Dessert ideas, check out our Valentine's Dinner Ideas blog post with lots of recipes for the perfect evening!