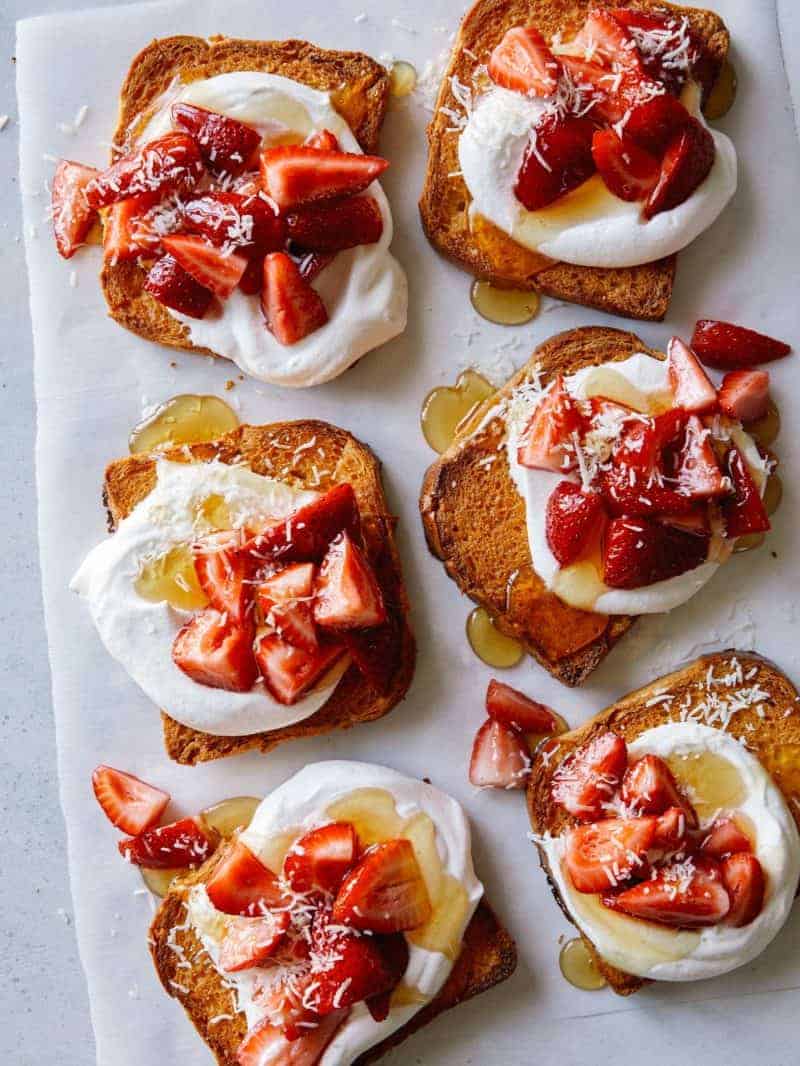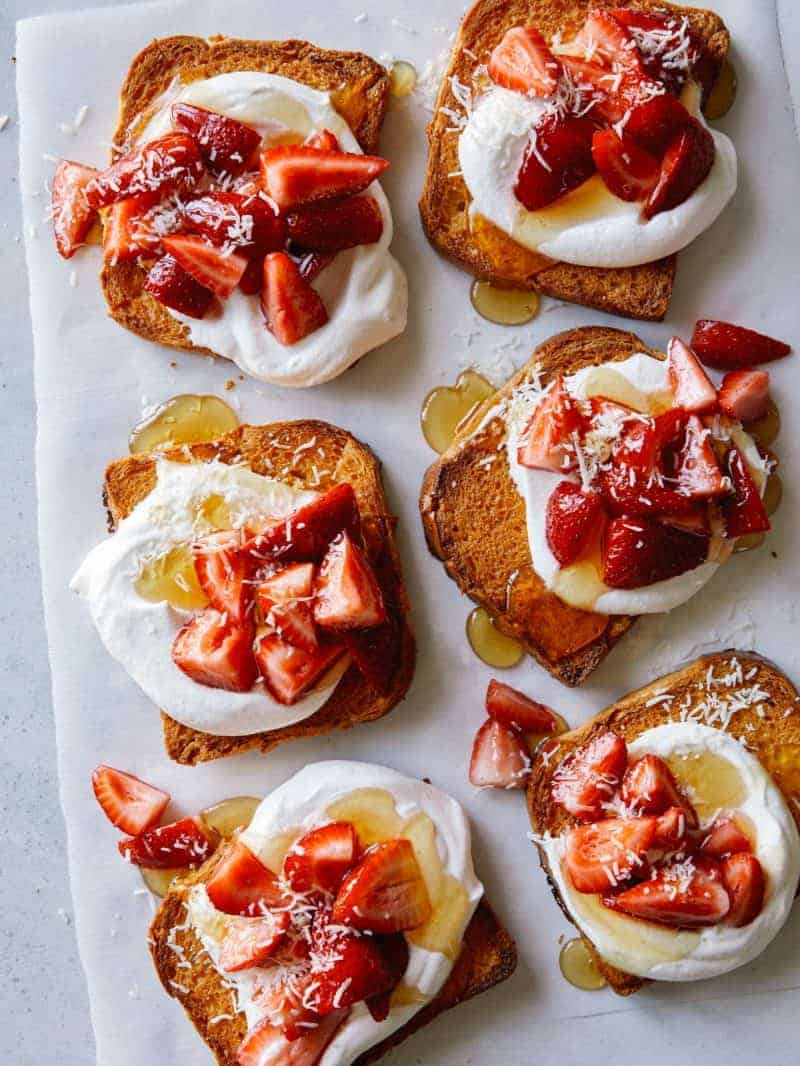 I have some very exciting, personal real life news to share with you guys today. My husband and I are expecting our first baby!! We really couldn't be happier and more grateful about our current sitch! We've kept this pregnancy a little bit under wraps because it hasn't necessarily been the easiest road for us and we really wanted to make sure we were in an extra safe place before sharing the good news! :) It was also getting a little hard to disguise my growing belly from family, friends and co-workers…because omg is my belly getting BIG, lol. While we're super excited, a lot of other emotions have been coming to the surface, like anxiousness, nervousness and fear…so much fear!!! Good fear, but fear none the less. We know our lives are about to change dramatically and we're doing everything we can to prepare ourselves (and our sweet pups).
A funny thing that's sort of bummed my husband out is that he expected me to have way more weird food craving, which I really haven't had, except for the 3 days during the beginning of my 2nd trimester when I wanted to eat nothing but flamin' hot cheetos, lol. Other than that, I've just been craving very ripe fruit like strawberries, peaches, pineapple and mangos and my sweet tooth has gotten a little bigger. I'm usually a very salty over sweet type person, but about once a week all I really want to eat is Honey Brick Toast!!
If you've never had it or heard of it, you MUST try it! It's basically sugary, custard toast (traditionally made with milk bread, but we've used buttery brioche for our version)… so so good, and really easy to make! It's a popular dessert you can find served at most asian bakeries and while I like eating it plain for the most part, you can usually find it loaded with things like fruit, whipped cream, scoops of ice cream, chocolate or caramel sauce…basically anything. Today we've topped our Honey Brick Toast with sweetened whipped cream, sightly macerated strawberries, coconut flakes and extra honey! It's such a great, indulgent dessert to treat yourself to, especially during the summer!
Thanks for letting me share some fun, personal news today! Hope everyone has a great week! xx, Jenny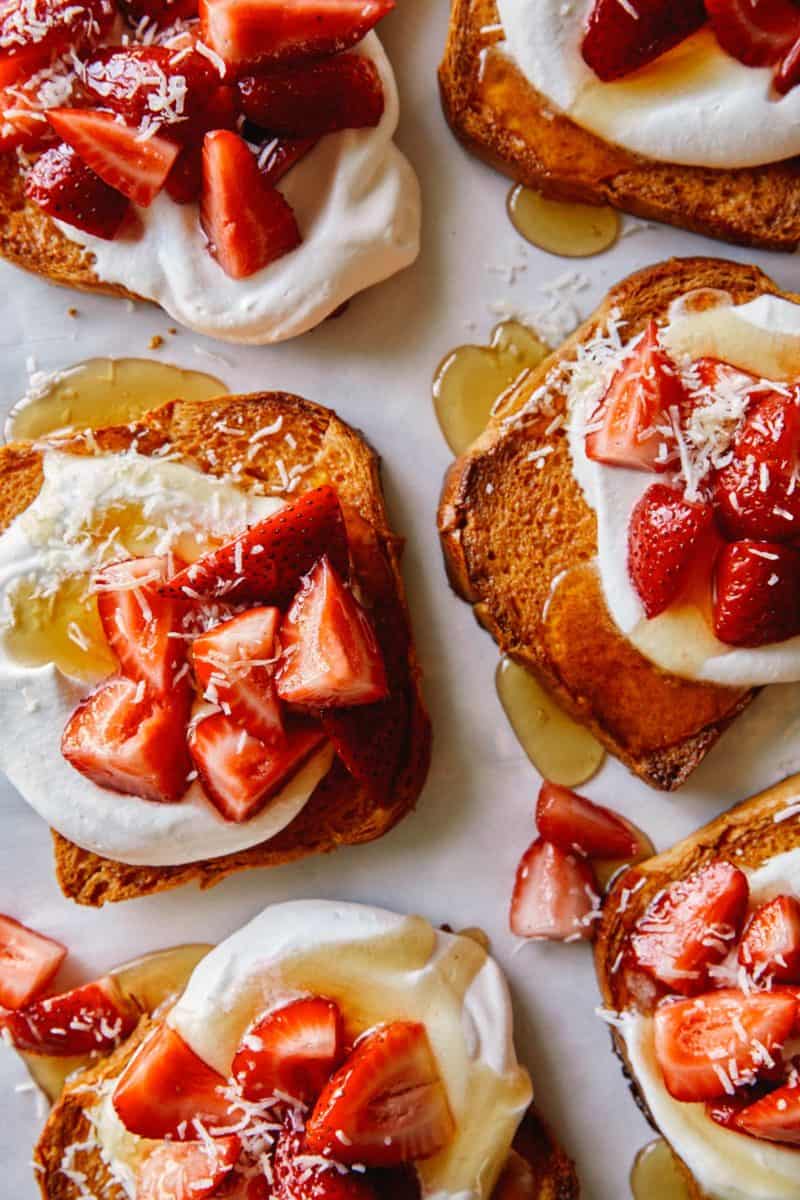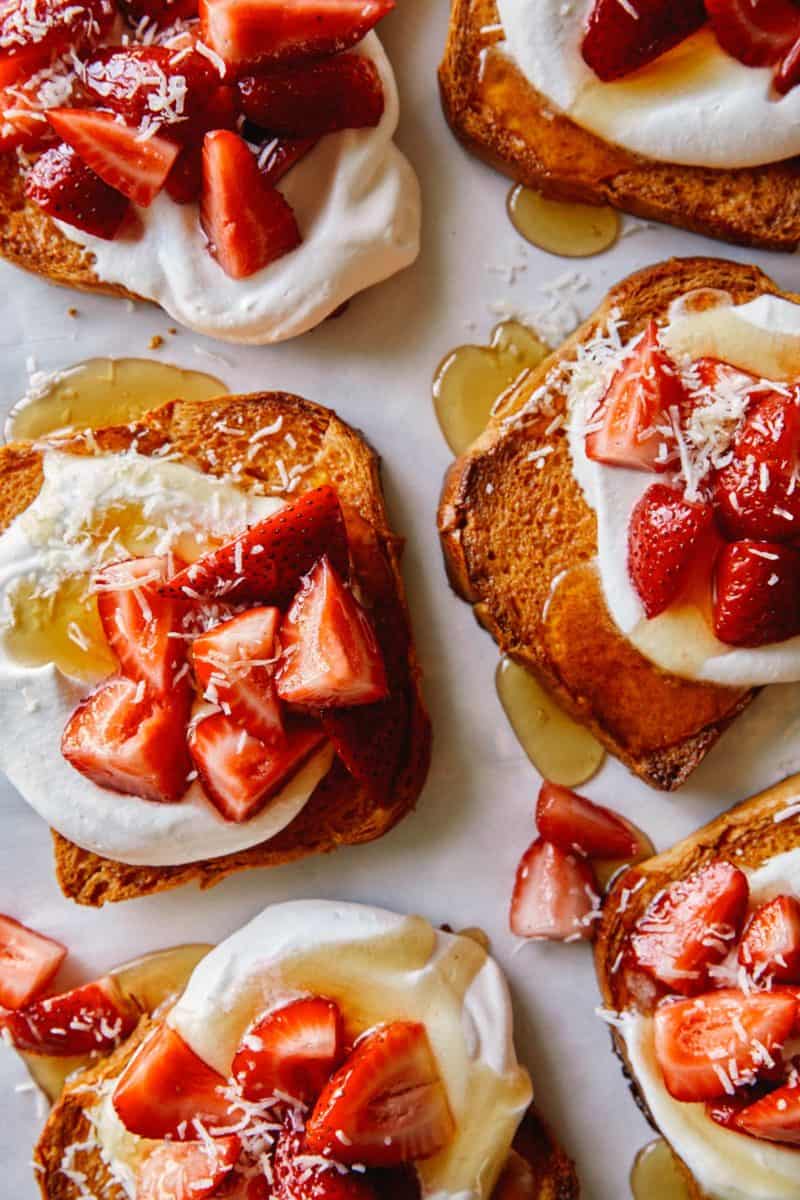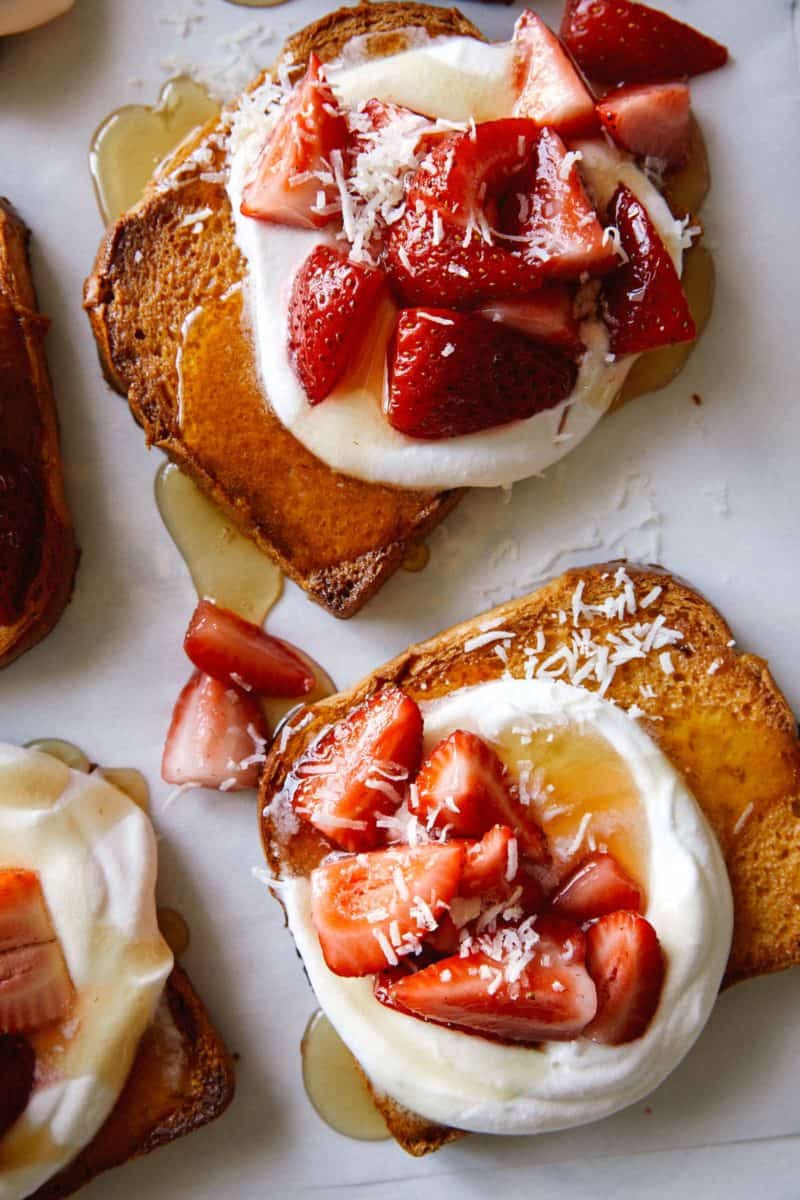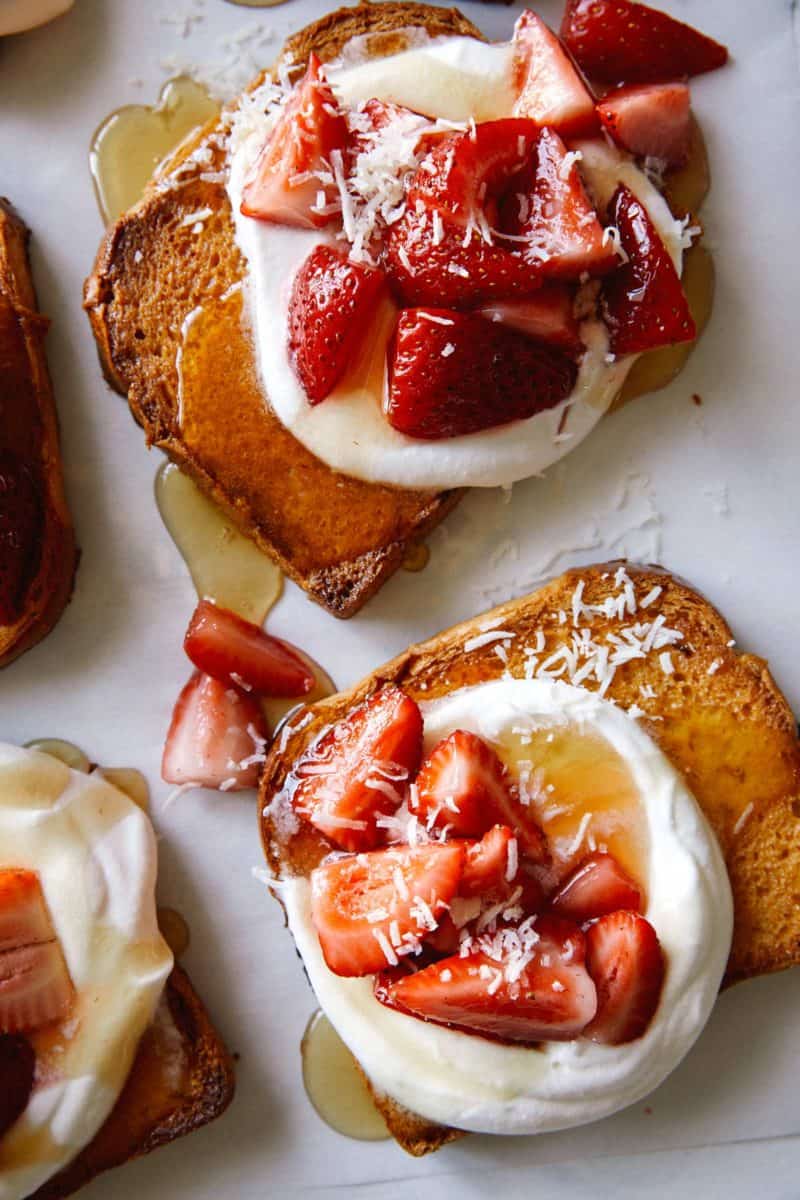 Hungry for more?
Subscribe to never miss a recipe.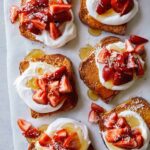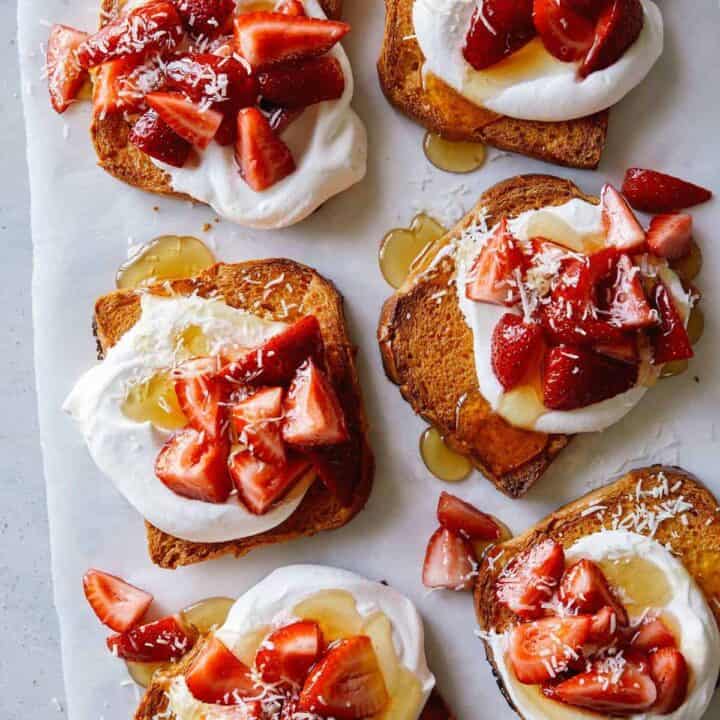 ---
Honey Brick Toast
INGREDIENTS
honey brick toast
¼

cup

unsalted butter, softened

3

tablespoons

sweetened condensed milk

2

tablespoons

honey plus extra for drizzling

1

large

egg yolk

1

teaspoon

vanilla extract or paste

¼

teaspoon

salt

12

slices

thick cut brioche
toppings
1

pound

fresh strawberries, hulled and chopped

juice of 1/2 lemon

1

teaspoon

sugar

3

cups

soft to medium whipped cream

coconut flakes

toasted, optional
INSTRUCTIONS
Place butter, condensed milk and honey into mixing bowl and whisk together until fully combined. Add egg yolk, vanilla and salt and continue to whisk together. Set aside.

Make diamond patterned diagonal cuts through each slice of bread (about 1 inch apart), making sure not to slice completely through to the bottoms.

Spread 2 to 3 tablespoons honey batter over each slice of bread until fully covered.

Transfer brioche onto a parchment lined baking sheet about 1/2 inch apart (may need 2 baking sheets).

Allow brioche to sit for about 10 minutes, then transfer to the oven and bake for 14 to 16 minutes or until brioche has to a golden brown.

While brioche is toasting, combine strawberries, lemon juice and sugar into another mixing bowl and toss together.

Remove from oven and cool, about 10 minutes.

Top brick toast with about ¼ cup of whipped cream a couple spoonfuls of strawberries, a sprinkle of coconut flakes, and a drizzle of honey. Serve immediately.
Calories:
268
kcal
Carbohydrates:
27
g
Protein:
5
g
Fat:
16
g
Saturated Fat:
9
g
Cholesterol:
98
mg
Sodium:
218
mg
Potassium:
98
mg
Fiber:
1
g
Sugar:
9
g
Vitamin A:
559
IU
Vitamin C:
22
mg
Calcium:
58
mg
Iron:
1
mg