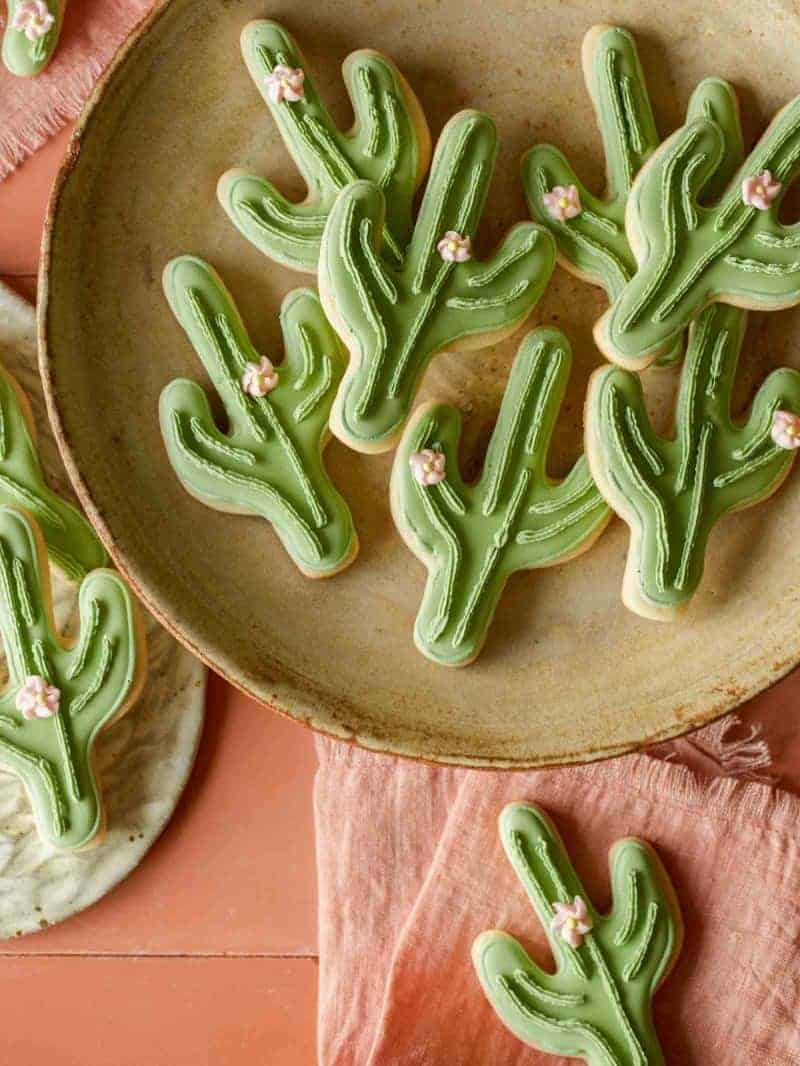 I hope everyone had a great weekend! Now that the Super Bowl is behind us, we're moving right into Valentine's Day! We're starting things out with these cute little cactus cookies!! These guys are a little time consuming for sure, but they make a really fun Galentine's Day project….especially with lots of wine and snacks!
I also love these cookies because they make really sweet, edible Valentines gifts, especially for co-workers, friends, or just a loved one with a sweet tooth. We're going to have a week filled with new, sweet treats all week so get ready! We'll also show you how to turn these cute little Cactus cookies into edible v-day cards later this week too! Enjoy! xx, Jenny
Watch the video below for the piping technique in action!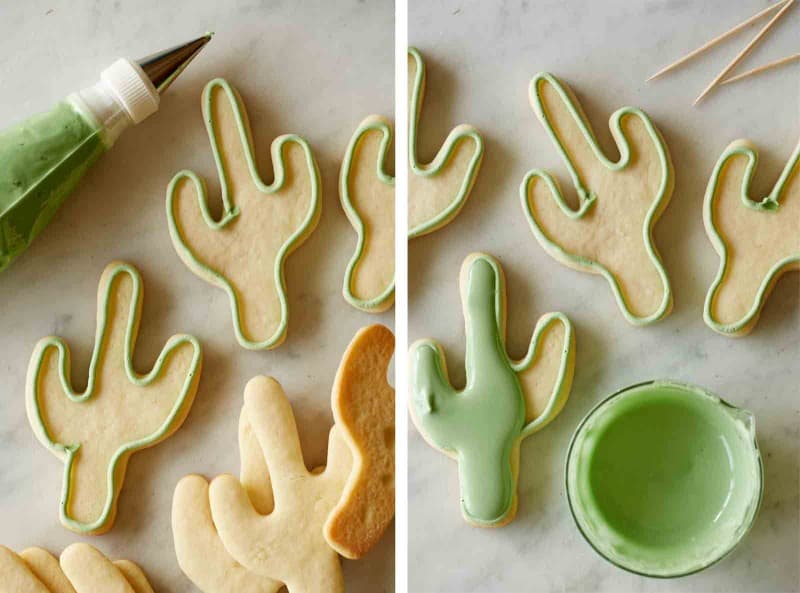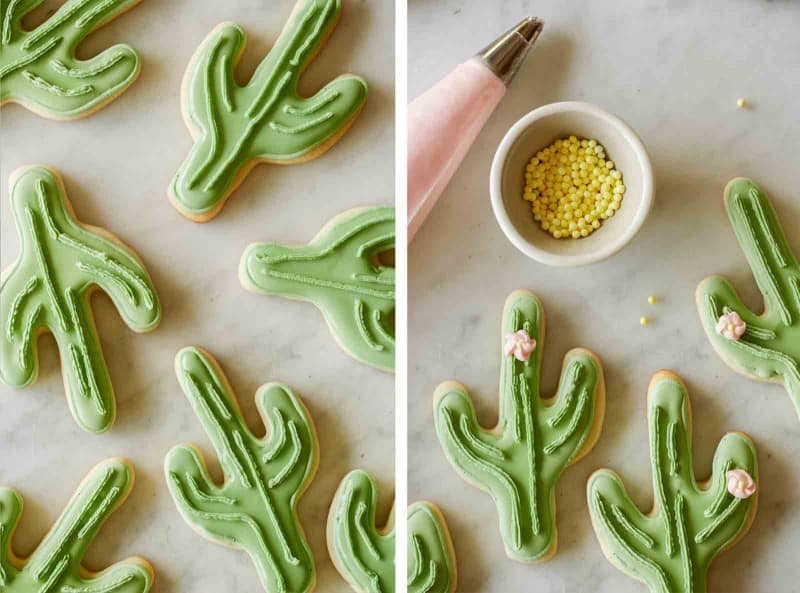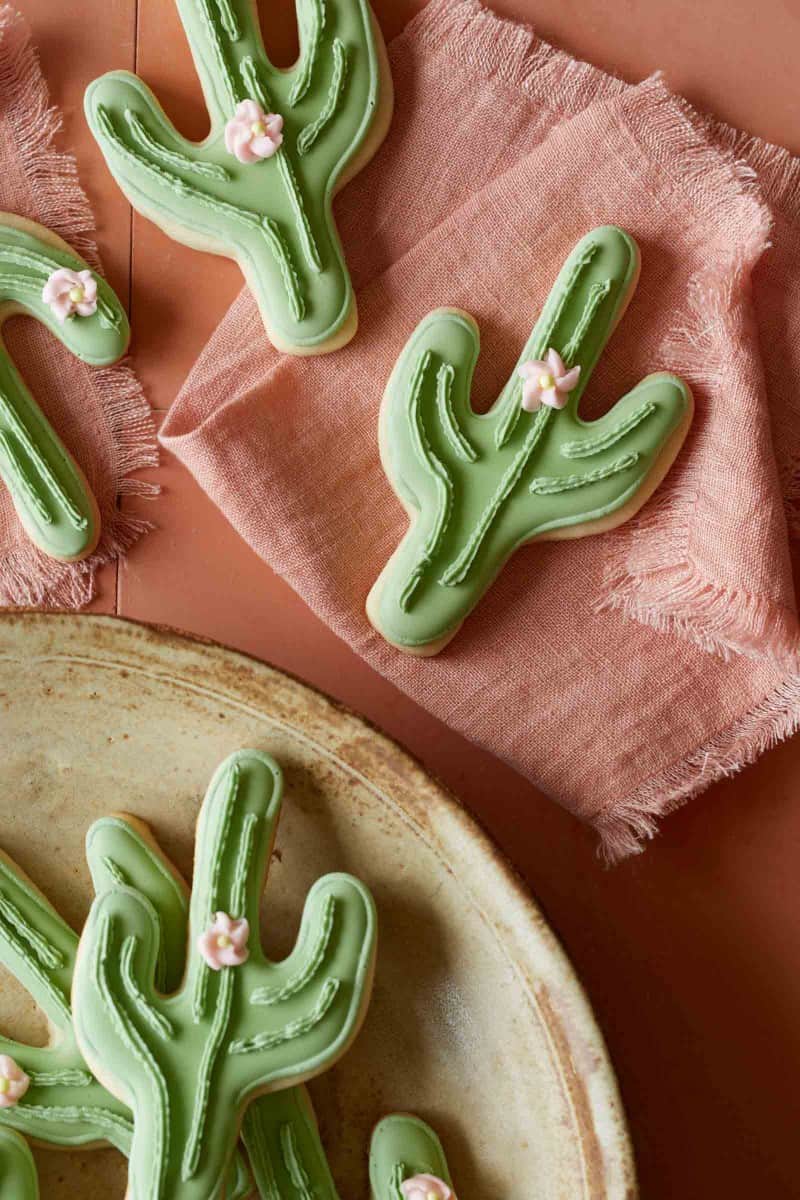 Cutout Cactus Butter Cookies

Makes 40

Ingredients:
1 cup (2 sticks) unsalted butter
1 cup superfine sugar
3 1/2 tablespoons whole milk
1 large egg, lightly beaten
1/2 teaspoon vanilla extract
3 cups all purpose flour
1/2 teaspoon baking powder
1/4 teaspoon salt
stiff royal icing:
royal icing:
3 large egg whites
4 to 4 1/2 cups powdered sugar

green food coloring
red/pink food coloring
yellow sprinkles

Directions:
1. Preheat oven to 375˚F.
2. In a stand mixer or with a hand mixer cream together butter and sugar.
3. Add milk, egg and vanilla and continue to mix. Scrape down sides of the bowl.
4. In another mixing bowl, whisk together flour, baking powder and salt.
5. Pour flour mixture into the butter mixture and mix until evenly blended and a dough forms.
6. Divide dough into two discs, wrap in plastic wrap and refrigerate for 1 hour.
7. Lightly flour a clean surface. Roll out 1 disc of dough to 1/8 inch thickness. Using a 3 inch cactus cookie cutter punch out 20 cactus cookies.
8. Transfer cookies onto a parchment lined baking sheet, 1 inch apart. (you will need multiple baking sheets or will need to do it in batches)
9. Bake cookies for 7 to 9 minutes or until cookies barely begin to brown around the edges.
10. Remove from heat and transfer onto a cooling rack.
11. Royal icing: In a stand mixer, fitted with a whisk attachment or in a large bowl with a hand mixer, whisk together egg whites until light and frothy. Begin adding sugar, 1/2 cup at a time until fully incorporated. Continue to beat mixture until light, fluffy and shiny, 7 to 8 minutes.
12. Divide the royal icing into 3 bowls and color two of the bowls with green food color and color one with the red/pink food coloring.
13. To decorate: Fill a piping bag with one of the green royal icings and fit it with a small round tip and a coupler. Pipe a border of the royal icing around each cactus cookie and allow icing to dry.
14. Add 4 to 5 tablespoons of water to the other batch of green icing, to loosen. Once the icing border dries, 'flood' each cookie with the loose, green icing, popping any air bubbles with a toothpick and allow icing to dry.
15. Once the icing dries, change the small round piping tip to a small star piping tip from the piping bag with the stiff, green icing. Pipe lines onto each cactus cookie for texture and allow icing to dry.
16. Fill a piping bag with the red/pink royal icing and fit it with a small star tip. Pipe a small 'flower' onto each cookie and finish with a yellow sprinkle in the center of each flower. Allow cookies to dry and serve.
17. The cookies will keep fresh in an airtight container for 1 week.