Stuffing is probably my favorite side dish of thanksgiving. I love the salty, carby goodness so much. Today we have a simple, delicious and vegetarian friendly Mushroom and Sage Stuffing for you guys. This recipe really is simple and I love using the mushroom "stock" because it gives off really great flavor, without necessarily being very "mushroomy" if that makes sense. This recipe has the perfect soft, custary center with a nice and toasty top, just like a great stuffing should be. Enjoy! xx, Jenny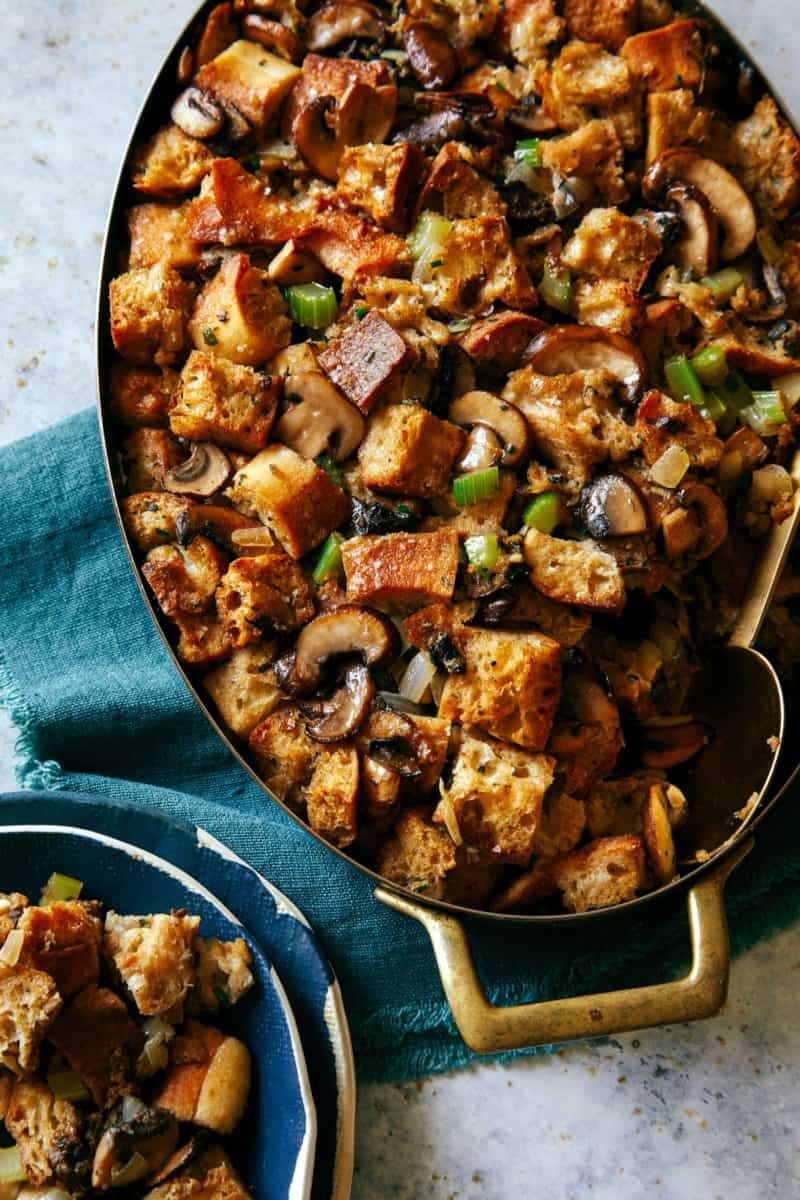 Mushroom and Sage Stuffing

Makes 1 (9"x13")

Ingredients:
2 sourdough baguettes, cubed and dried out
1 ounce dried porcini mushrooms, rehydrated in 4 cups hot water for 30 minutes
3/4 cups (1 1/2 sticks) unsalted butter, divided
1/2 large yellow onion, diced
3 stalks celery, diced
2 minced garlic cloves
12 ounce cremini mushrooms, thinly sliced
2 tablespoons minced sage
2 tablespoons minced thyme
1 tablespoon thinly sliced chives
salt and pepper to taste

Directions:
1. Preheat oven to 350˚F. Grease a baking dish with 2 tablespoons butter.
2. Pour bread cubes into a large bowl and set aside.
3. Remove hydrated porcinis from water and chop into bite sized pieces. Set aside and reserve mushroom 'broth'.
4. Place a large skillet over medium heat and melt 6 tablespoons butter. Add onion, celery and garlic and saute for 7 to 8 minutes. Season with salt and pepper.
5. Pour mixture over bread cubes and toss together.
6. Place skillet back over heat and melt 2 tablespoons butter.
7. Add cremini and porcini mushrooms and saute for 4 to 5 minutes. Season with salt and pepper.
8. Stir in herbs and continue to saute for 2 to 3 minutes.
9. Remove from heat and add mushroom and herbs to bread cube mixture. Toss together.
10. Pour mushroom broth over mixture and stir together. Allow mixture to sit until most of the broth has absorbed into the bread cubes. Adjust seasonings as needed.
11. Pour and press mixture into prepared baking dish and cover with foil. Bake for 30 minutes. Remove stuffing from oven and dot top with remaining 2 tablespoons butter.
12. Place stuffing back into oven, uncovered, for 15 minutes or until butter has melted and top has browned.
13. Remove from oven, cool and serve.