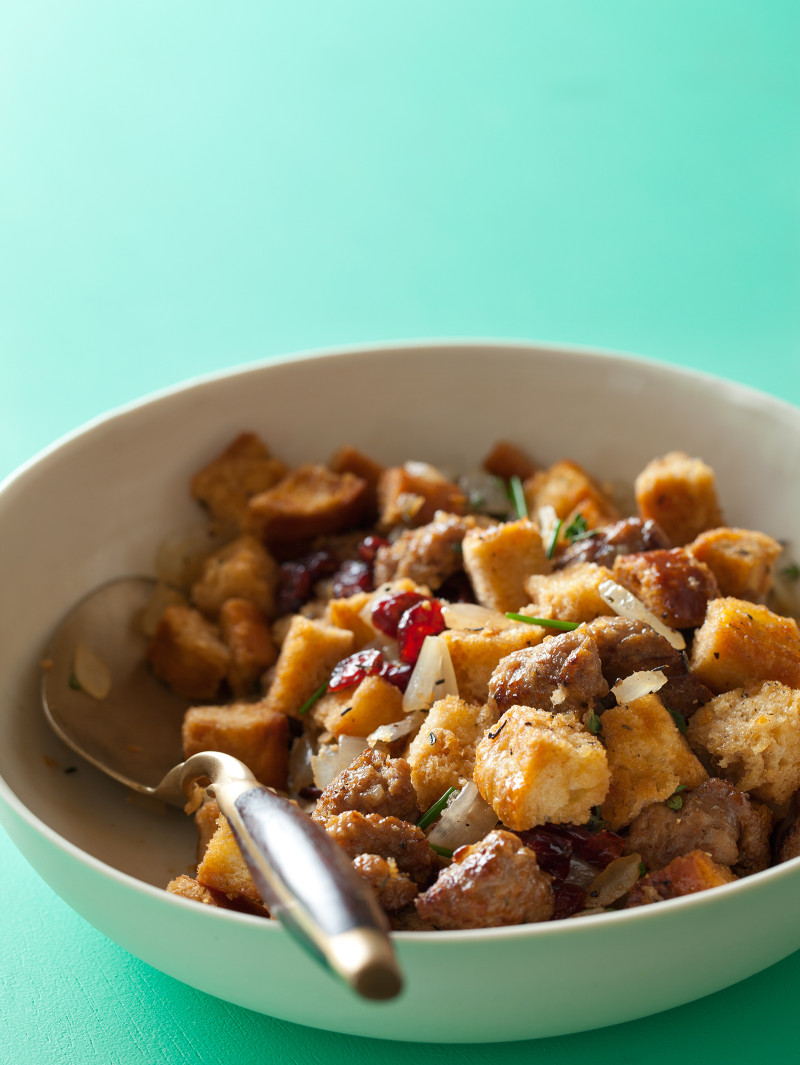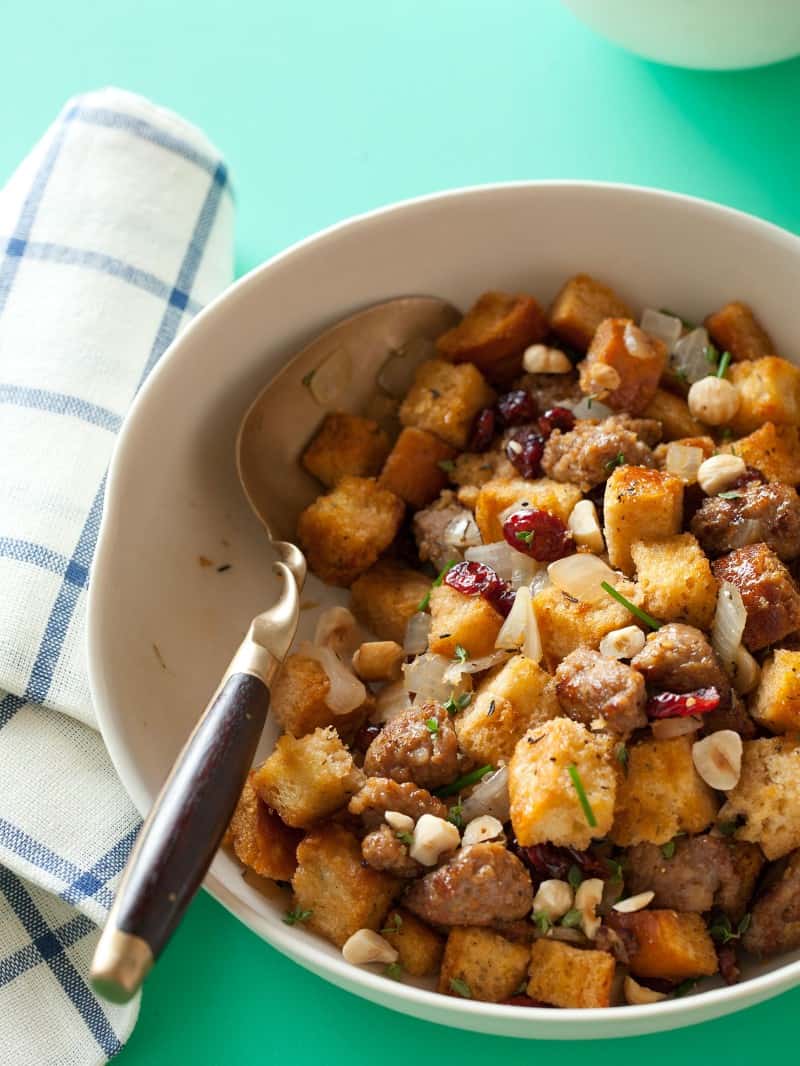 To me, meh stuffing is about as common as hearing the Duggars are having another child. I don't like it when my bread crumb situations are too soggy, or if the stuffing is too salty, or if there isn't enough different textures. Souping everything in gravy doesn't save everything all the time. So this is why I'm a little excited about this recipe. Sausage is always awesome, I don't think you can ever have too much meat. The awesome thing about this recipe is the crunch the hazelnuts give it. Its also just really pretty. This is legit stuffing. Legit enough for Thanksgiving. Boom.
♥ Teri
Sausage and Sage Stuffing with Dried Cranberries and Toasted Hazelnuts
Makes 1 9"x 12" baking dish
Ingredients:
2¼ – 2½ cups low sodium chicken broth
1 tablespoon extra virgin olive oil
¾ lb sweet Italian sausage, cut into bite sized pieces
6 tablespoons unsalted butter, divided
1 yellow onion, diced
2 carrots, peeled and diced
3 ½ tablespoons sage, minced
3 tablespoons chives, thinly sliced
2 tablespoons thyme, minced
2 sourdough baguettes (completely stale), cut into 1 inch cubes
2/3 cup dried cranberries
2/3 cup toasted hazelnuts, roughly chopped
salt and pepper to taste
Directions:
1. Preheat oven to 375°F.
2. Pour broth into a small saucepan and simmer over low heat. Cover and set aside.
3. Pour oil in a sauté pan and place over medium high heat.
4. Add sausage to pan and brown for 4 to 5 minutes.
5. Remove sausage from pan and place in a large mixing bowl. Set aside.
6. Drain fat from pan. Add 2 tablespoons butter to the pan and sauté onions and carrots for 3 minutes.
7. Add sage, chives and thyme and sauté for another 3 minutes. Season with salt and pepper.
8. Pour onion mixture over browned sausage and gently toss together.
9. Add baguette cubes, dried cranberries and hazelnuts to the bowl and fold together.
10. Pour hot broth over bread mixture and stir together until fully incorporated and well combined.
11. Generously grease a baking dish with 2 tablespoons of butter and fill with the stuffing mixture.
12. Cover with foil and place in the oven for 30 minutes.
13. Remove from oven and uncover. Dot the top with the remaining 2 tablespoons of butter and place back in the oven for 15 minutes, uncovered.
14. Allow to cool for 5 minutes before serving.