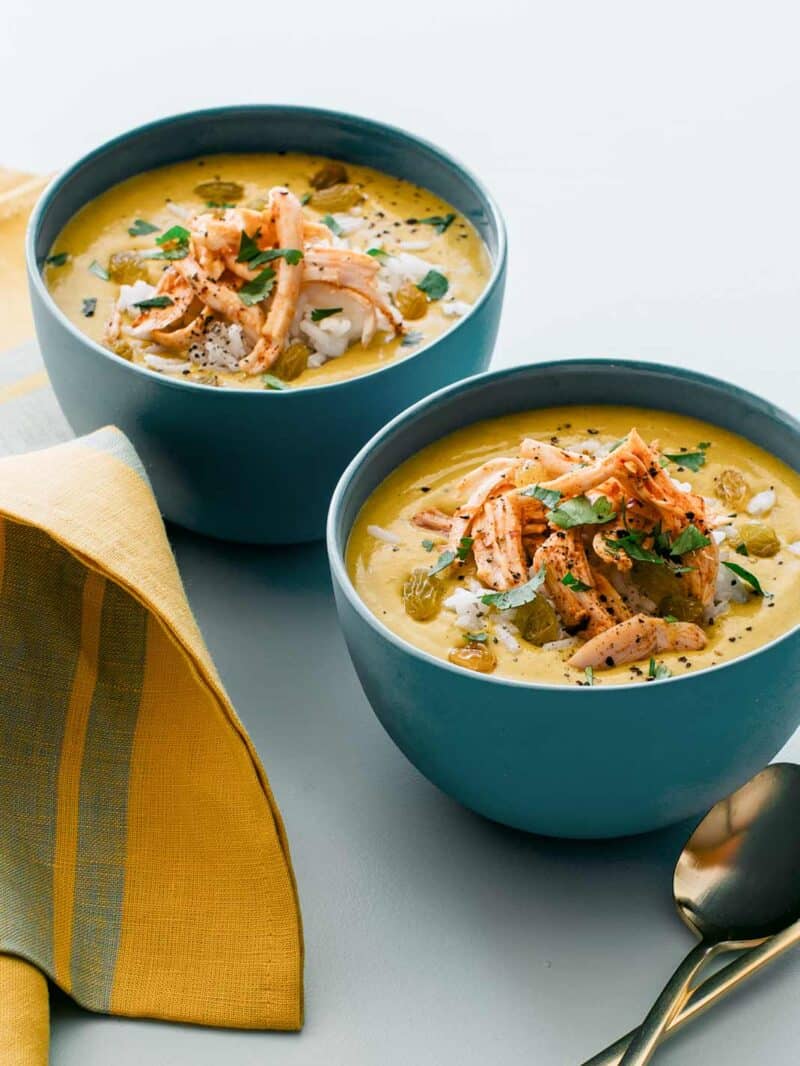 Today we have a delicious and filling Chicken Mulligatawny soup recipe for you! If some of you are still scratching your head, let's just say it was popularized by THIS guy, as one of his most prized soups (best episode ever, right?!). I think it's pretty great that Mulligatawny soup has such a hilarious appearance on Seinfeld. If you've never had it before that needs to change! I've had mulligatawny a number of times and each time I've had it, it's been totally different. There are a TON of different ways you can prepare it. Our Mulligatawny recipe is naturally our favorite way!
What is Mulligatawny Soup?
Mulligatawny is a soup that originated in south India. The soup consists of stock and coconut milk to give it it's creamy texture, and is then flavored with a lot of earthy spices like curry, turmeric, and paprika. It's usually a beautiful yellow color from the curry and turmeric.

How to make Mulligatawny Soup?
For our recipe, we first sauté the vegetables. After they are done cooking we add the rest of the soup ingredients together in one pot and simmer for 30 -40 minutes. Then we blend everything together so it's silky smooth. Once we have ladled the soup into bowls we garnish them with chicken, rice, cilantro, and raisins.
What is Mulligatawny soup made of?
There are a lot of ingredients that go into Chicken Mulligatawny soup because it has a lot of flavor. In our recipe, the base of the soup consists of:
chicken stock
coconut milk
lentils
Here are the vegetables we use in our recipe:
onion
celery
carrot
jalapeno
garlic
fresh ginger
apples
tomatoes
The spices used vary significantly. The spices we like to use to flavor our Mulligatawny soup are:
curry
cumin
smoked paprika
cinnamon
turmeric
cardamom
black pepper
thyme
Does Mulligatawny soup freeze well?
Yes. The best way to do it with our recipe is to freeze the soup prior to garnish. It is best for the garnishes to be fresh and not frozen. Store the pureed soup in an airtight container in the freezer for up to three months.
Here are some other soup recipes you might like:
Also check out this post for our Best Soup Recipes!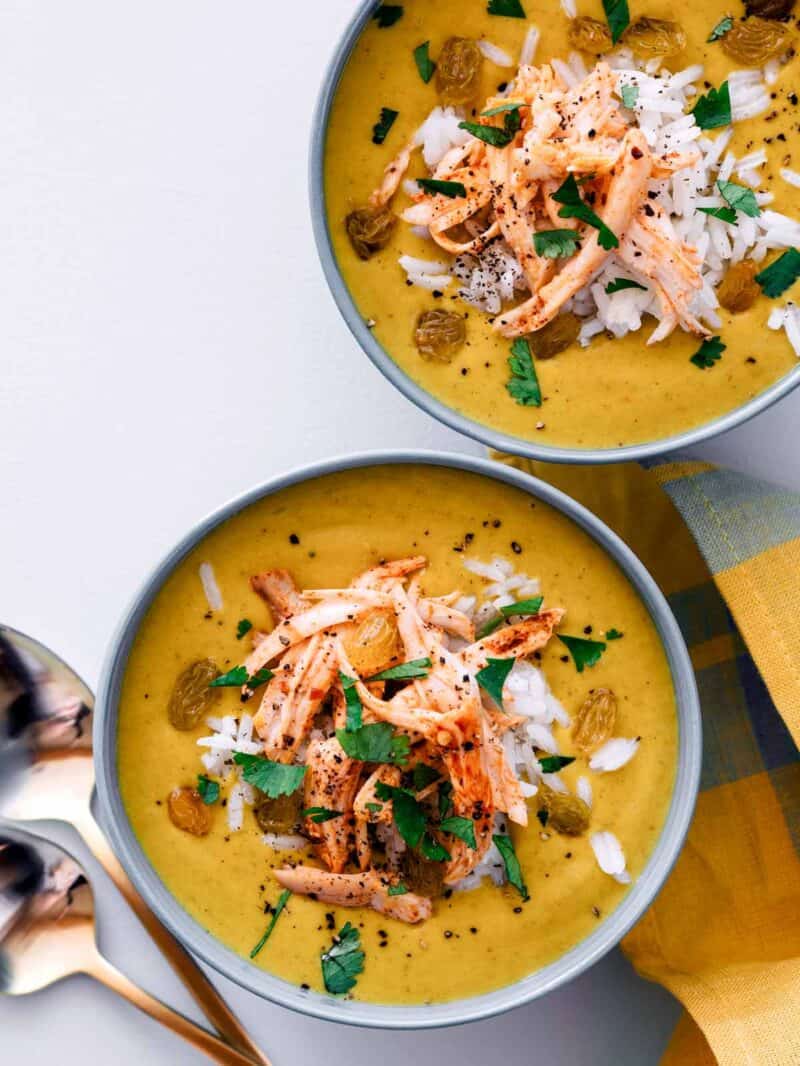 Hungry for more?
Subscribe to never miss a recipe.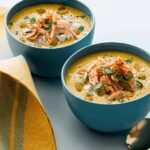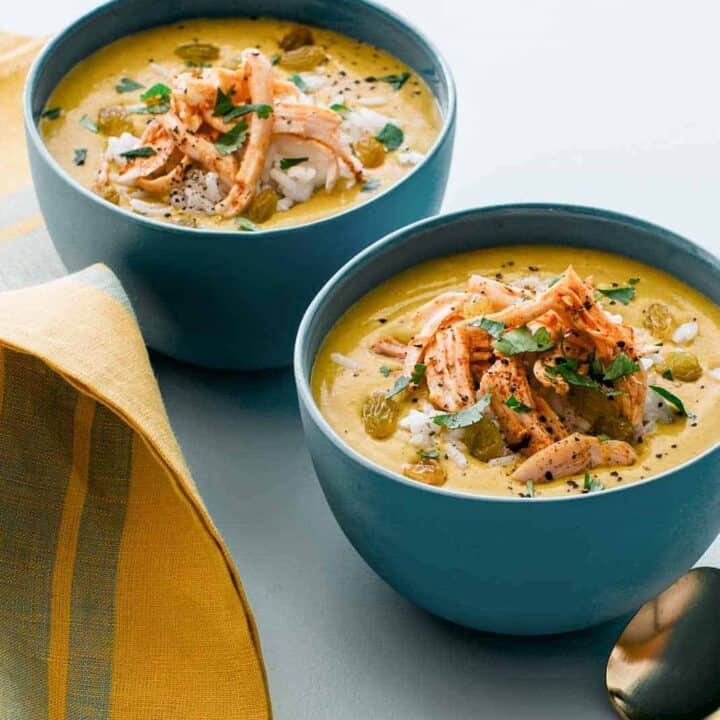 ---
One Pot Mulligatawny Soup recipe
Our One Pot Mulligatawny Soup recipe is packed with flavor. It's creamy and silky, and so filling. We topped our Chicken Mulligatawny recipe with rice, golden raisins, and cilantro.
INGREDIENTS
¼

cup

(½ stick) unsalted butter

1

yellow onion, chopped

2

ribs celery, diced

1

medium

carrot, peeled and diced

1

red jalapeno, seeded and diced

3

garlic cloves, minced

2

teaspoons

fresh ginger, peeled and minced

2

small

apples, peeled, cored and diced

1

roma tomato, seeded and diced

2 ½

teaspoons

curry powder

1

teaspoon

cumin

½

teaspoon

smoked paprika

½

teaspoon

ground cinnamon

½

teaspoon

turmeric

¼

teaspoon

ground cardamom

¼

teaspoon

cracked black pepper

1

tablespoon

minced thyme

½

cup

red or yellow lentils (uncooked)

3

cups

chicken stock

⅔

cup

coconut milk

salt to and extra black pepper to taste
toppings and garnish
cooked jasmine rice

roasted and shredded chicken breast

golden raisins

cilantro, roughly chopped
INSTRUCTIONS
Place a large pot over medium-high heat and melt butter. Add onion, celery, carrot, and jalapeno and sauté for 5 minutes. Add garlic, ginger, apples, and tomato and continue to sauté for an additional 3 minutes. Season with salt and pepper.

Add all the spices, thyme and lentils to the pot and sauté for 3 minutes. Add stock and bring to a boil. Reduce heat to medium, medium-low and simmer mixture for about 30 to 40 minutes or until lentils have cooked through.

Pour mixture into a blender or using and immersion blender, puree until smooth.

Pour mixture back into the pot and simmer for 2 minutes. Stir in coconut milk and adjust seasonings.

To serve: Place about ½ cup of rice at the bottom of each bowl and top with a ladle of soup. Top soup with shredded chicken, a sprinkle of raisins and finally the cilantro. Season with freshly cracked black pepper. Serve.
Calories:
265
kcal
Carbohydrates:
26
g
Protein:
9
g
Fat:
15
g
Saturated Fat:
10
g
Cholesterol:
24
mg
Sodium:
198
mg
Potassium:
528
mg
Fiber:
7
g
Sugar:
9
g
Vitamin A:
2270
IU
Vitamin C:
12
mg
Calcium:
49
mg
Iron:
3
mg