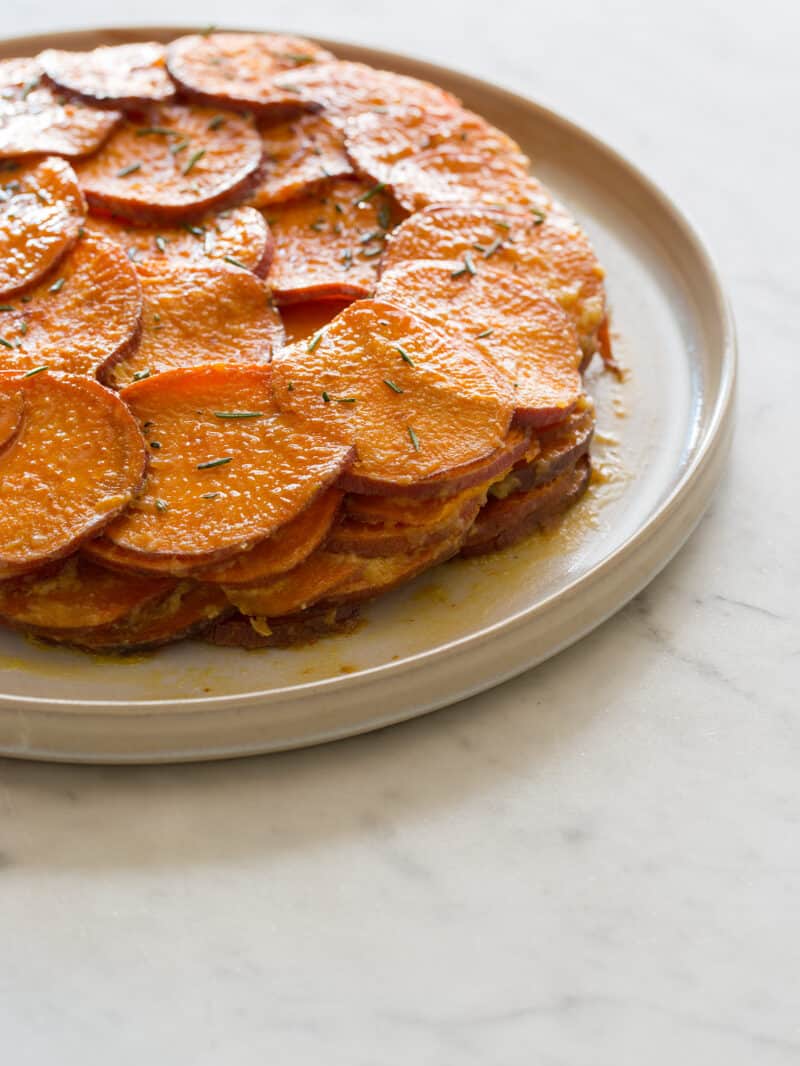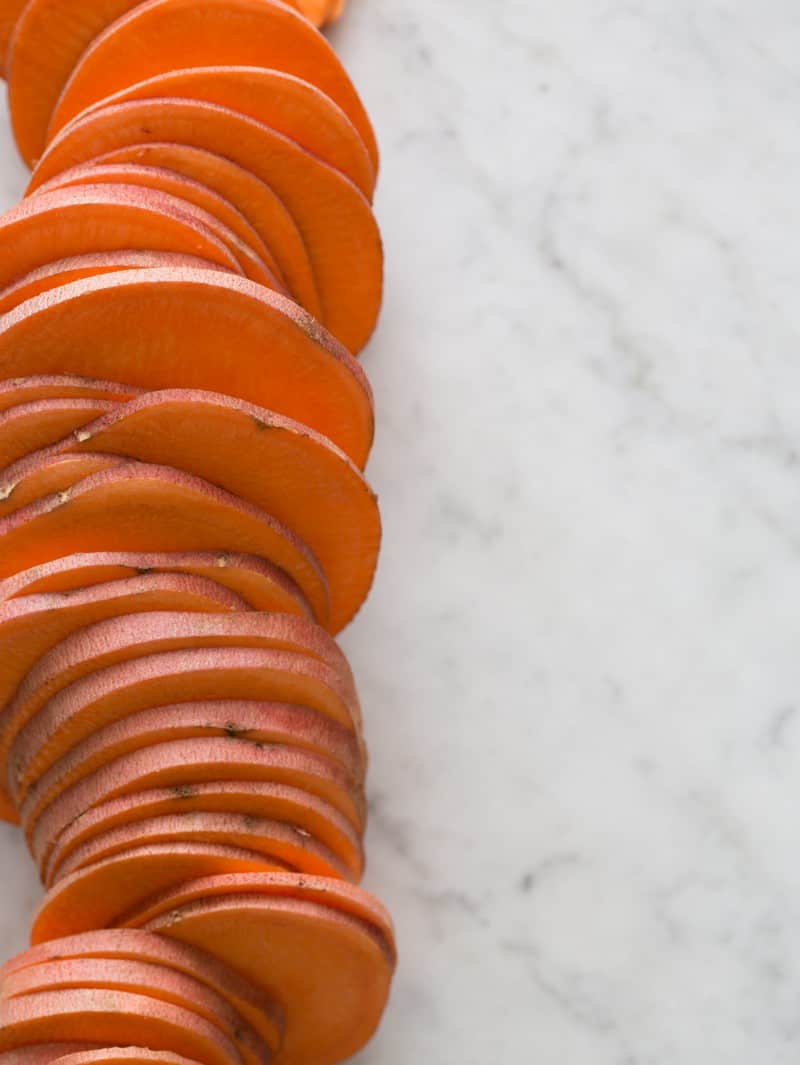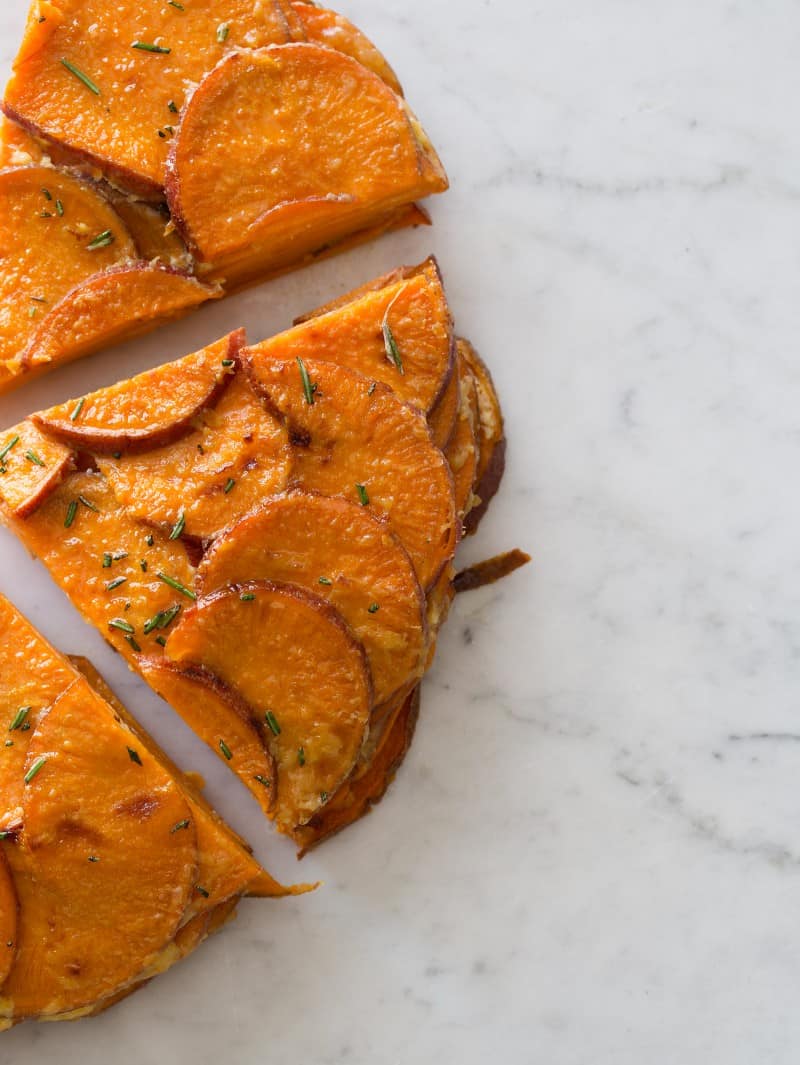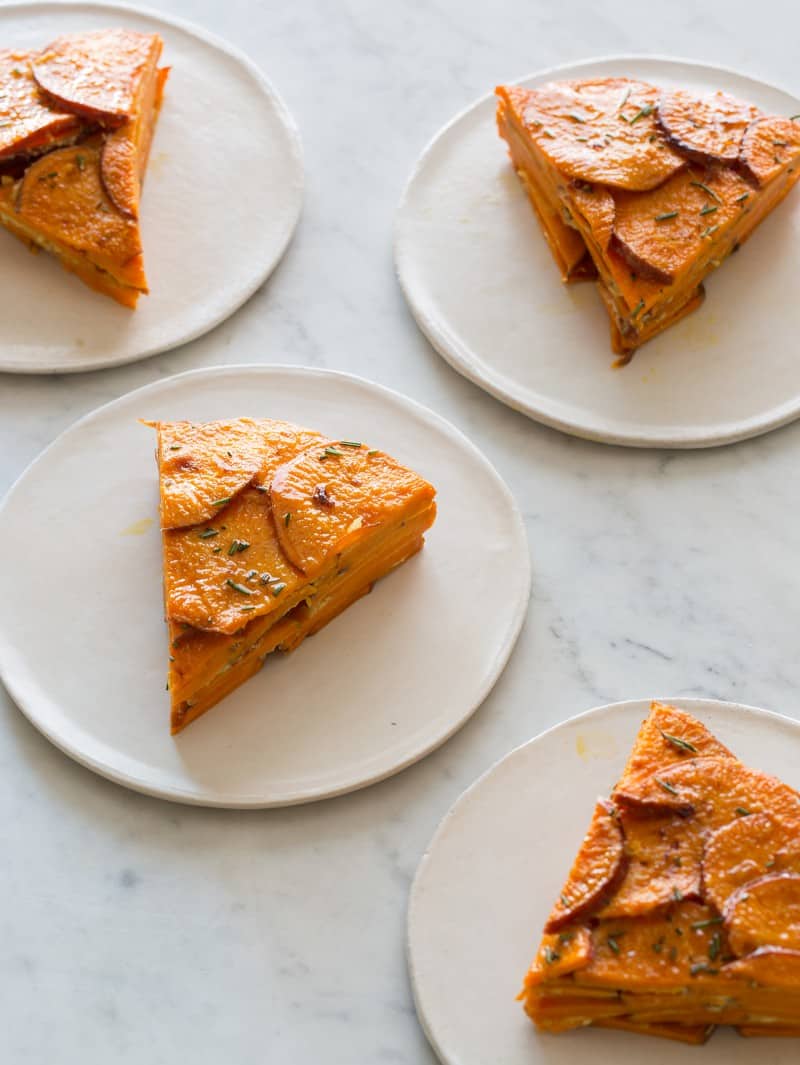 Hi Guys! Okay, so I have sort of a random question for you and I'm really hoping someone out there has an answer for me…if you are a glasses wearer, how do you alleviate the fogging issue??? I'm serious. I finally got glasses last week, after realizing driving at night was beginning to get a little dangerous. So now I wear these things on my face, most of the time, and the fog issue is out of control!! If you know me personally, you know that I'm always hot or get hot very easily. I can be sitting in a room, doing absolutely nothing and I can feel my cheeks getting warm. Why? I have no idea! This was never a real problem until glasses happened to me. Now the second my cheeks get warm, major fog-age! Terrible! I know this is super nerdy, but I would really love any tips or advice anyone might have. I've read things online about rubbing Vaseline onto your lenses, but that just seems weird and gross to me…plus I'm worried about ruining the 'fancy' coating that are apparently on my lenses. So if anyone could help me out with this lil' problem I would love you forever and ever and ever!
Anyway, moving past my personal issues and onto today's recipe. We have a Sweet Potato and Rosemary Gratin! This gratin is easy, very easy. I used buttermilk instead of the usual milk or cream because I like the slight tang it adds to this dish. Just one little thing… please don't skip out on the broiling part at the end! The crispy crust that's created, up against the soft, savory interior? HEAVEN! And because sweet potatoes and rosemary were pretty much made for one another I threw a little of that in there as well. If you're looking to spice up your thanksgiving table, this quick and easy sweet potato and rosemary gratin might be worth trying out! Enjoy! xx, Jenny
More sweet potato recipes we love: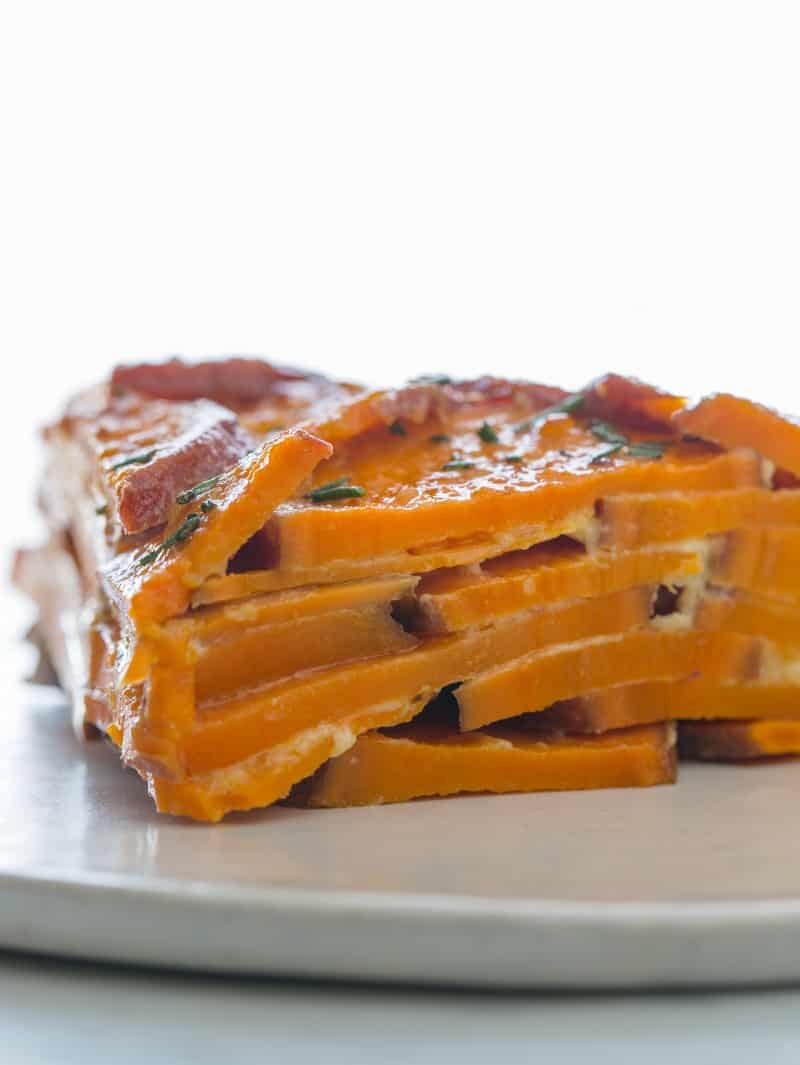 Hungry for more?
Subscribe to never miss a recipe.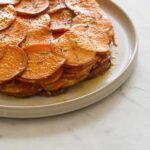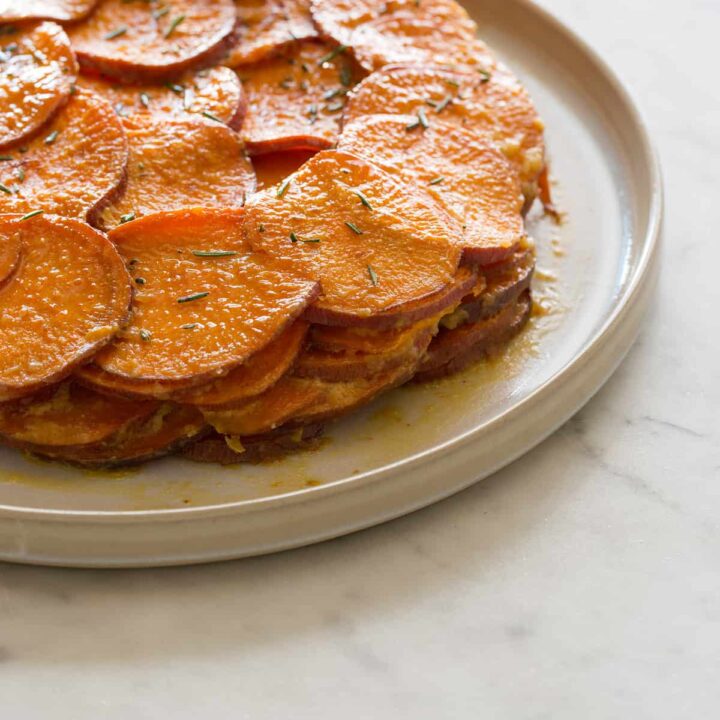 ---
Sweet Potato and Rosemary Gratin
INGREDIENTS
2

sweet potatoes, sliced into ⅛" rounds

1

cup

buttermilk

3

garlic cloves, minced and divided

1

tablespoon

minced rosemary

⅔

cup

freshly grated parmesan, plus more for topping

salt and pepper to taste
garnish
½

teaspoon

minced rosemary
INSTRUCTIONS
Preheat oven to 375˚F. Line a round 8" cake pan with parchment paper and set aside.

Place sweet potatoes, buttermilk and 1 clove of minced garlic into a large mixing bowl and toss together. Allow mixture to sit for 30 minutes.

Line the bottom of the cake pan with a single layer of potato rounds. Some overlapping is okay.

Sprinkle the top with some garlic, rosemary and parmesan. Season with salt and pepper and continue layering gratin until all ingredients have been used.

Tightly cover with foil and bake for 25 to 30 minutes or until fork tender. Remove foil and invert onto an oven safe dish. Sprinkle top with parmesan.

Turn oven onto broil and return gratin back to oven. Broil for 2 to 3 minutes or until cheese is bubbling and top has crisped up.

Allow gratin to cool for at least 8 to 10 minutes before slicing and serving.
NOTES
**Tips: You want to get rid of any excess liquid as you build the gratin (by shaking off each disc of potato), this will help keep the gratin together as you flip it over and un-mold. Also, make sure to un-mold gratin carefully and place directly into the oven (on an ovenproof plate) to caramelize, as the gratin will be rather loose when inverted and needs to caramelize a bit to hold together….the additional grated parmesan should help too!
Calories:
102
kcal
Carbohydrates:
14
g
Protein:
5
g
Fat:
3
g
Saturated Fat:
2
g
Cholesterol:
9
mg
Sodium:
196
mg
Potassium:
243
mg
Fiber:
2
g
Sugar:
4
g
Vitamin A:
8138
IU
Vitamin C:
2
mg
Calcium:
155
mg
Iron:
1
mg