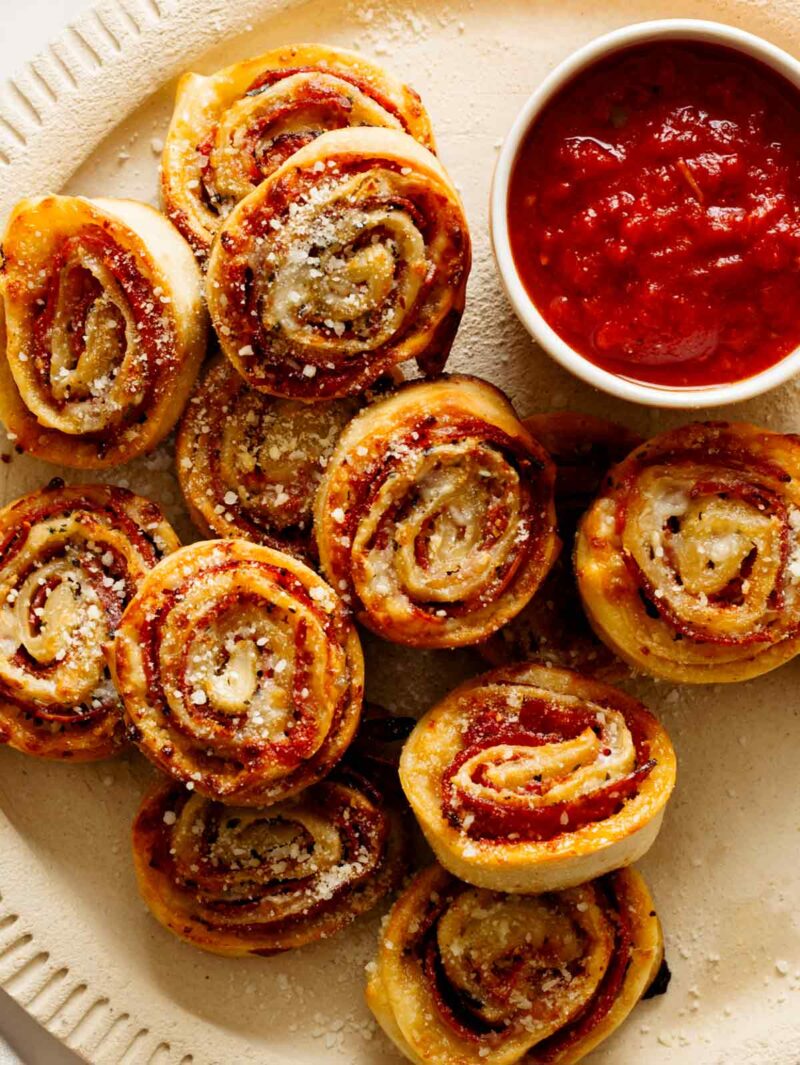 These are Pizza Wheels. Pizza Pinwheels are little bite-sized swirls of pizza, stuffed with pepperoni and topped with Parmesan, served with a marinara dipping sauce. Some people like deep dish, some like thin. Some people like extra cheese, some people like white pizza. Some people like crusts, and some people throw them back into the pizza box like a chicken bone you just finished sucking clean. I do not understand the people that do the latter. Pizza crusts are like free bread sticks. Why would you not want to eat a free bread stick? These Pizza Wheels we have going on today are amazing. Why you ask? Because there is crust ALL THE WAY AROUND, so you get crust in EVERY single bite. The cornmeal in this recipe ensures your crust is crispy and delicious, the way a legit crust should be.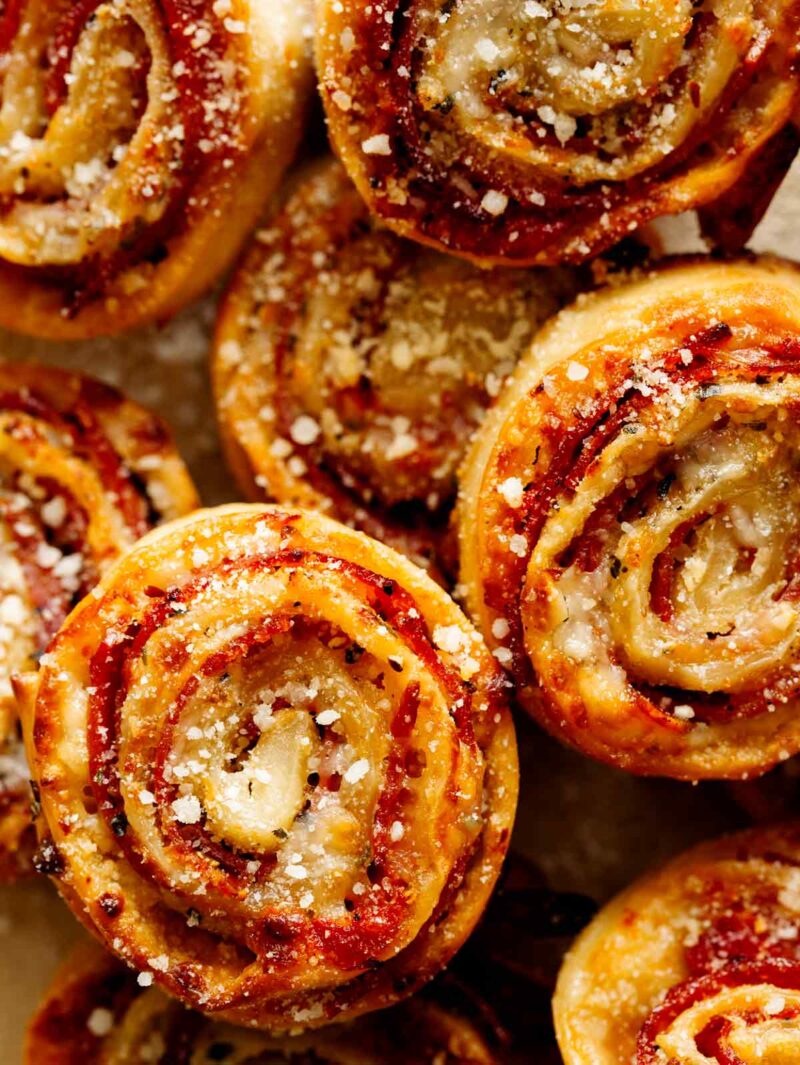 What are Pizza Wheels?
Pizza pinwheels are a new and fun way to eat pizza! Raw pizza dough is rolled into a 9×12 sheet, then topped with marinara sauce, mozzarella, and pepperoni. Then the rough is rolled up into a log. After that you simple slice the pizza log and bake the individual slices. Serve with Marinara Sauce and enjoy!
Make Ahead
This Pizza Pinwheel recipe is PERFECT for making ahead.
To make ahead in the refrigerator: Slice pizza wheels as per the recipe, then refrigerate covered, for up to two days. Bake when ready as per the recipe directions.
To freeze ahead: Follow the directions of the recipe, then take the slices and spread them evenly on a baking sheet not touching. Pop them into the freezer and remove when they are fully frozen. Store in a labeled air tight bag in the freezer for up to three months.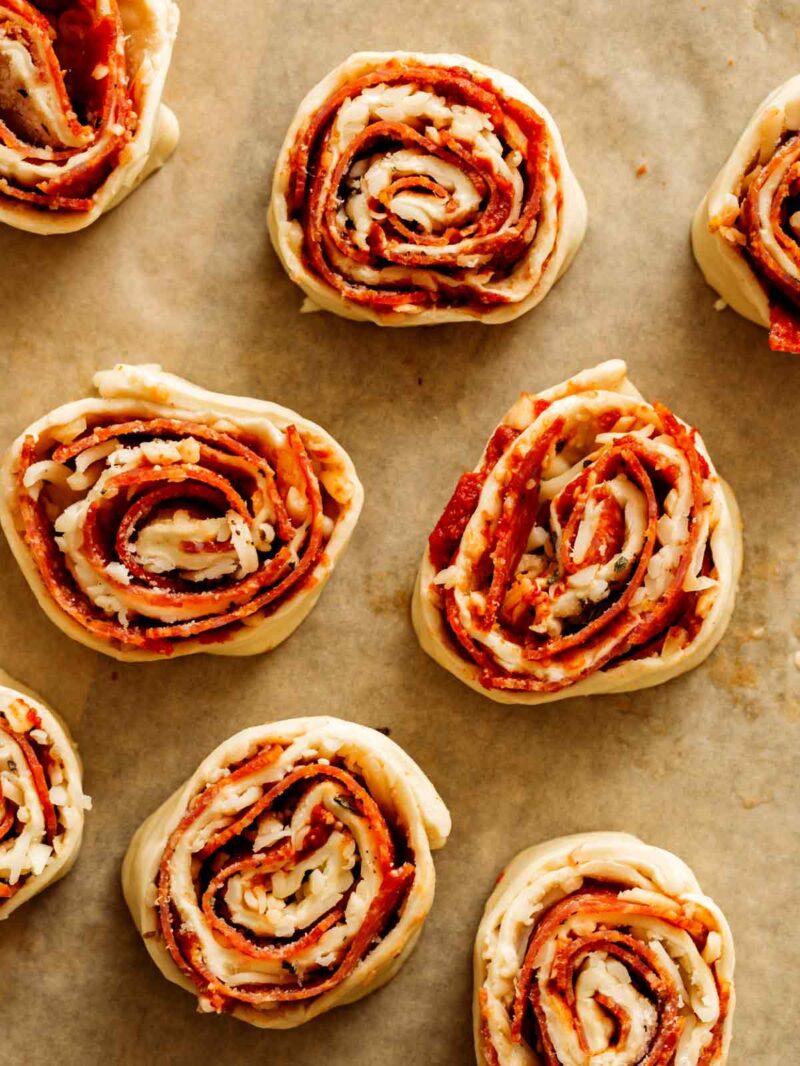 Pizza Dough
We have a great recipe for basic pizza dough. If you don't want to bother making your own pizza dough, Whole Foods often has pizza dough sold in containers in their prepared food section. Trader Joes also has fresh pizza dough in their prepared food section as well. Some pizza restaurants will also sell pizza dough to you if you ask! They also make boxed pizza dough. Simple Mills makes a Gluten Free Pizza Dough mix.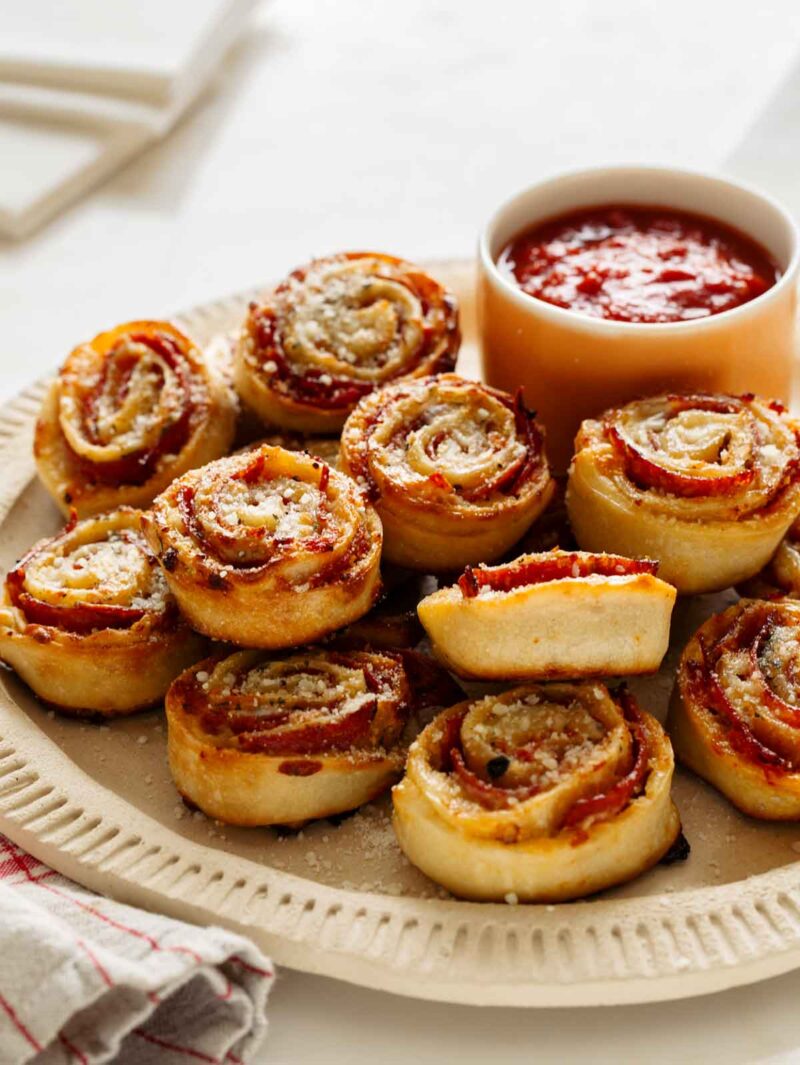 Pizza Wheel stuffing Variations
If you don't like pepperoni, that's ok! This recipe is SUPER versatile. Here are some delicious alternatives for you to consider:
Make a vegetarian version with thinly sliced mushrooms, bell peppers and onions
Add fresh garlic and fresh basil
Add a thin layer of crumbled sausage
Use pesto instead of marinara and then line the dough with thinly sliced tomatoes
Make it Hawaiian with thinly sliced ham and finely diced pineapple
Dipping Sauce Variations
We love serving these Pizza wheels with Marinara sauce. Our homemade Marinara Sauce is an easy recipe that is super tasty!

Here are some other equally delicious sauces to serve:
Pesto
Ranch
Garlic Butter
Creamy Vodka Sauce
Alfredo Sauce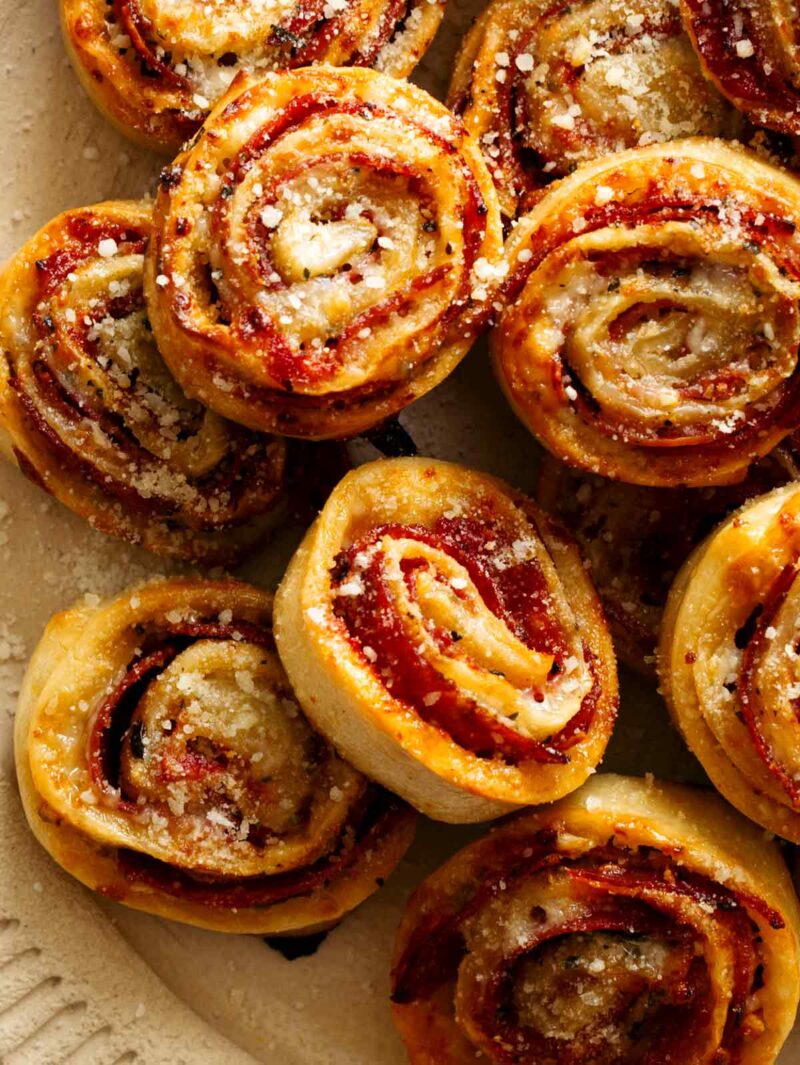 Serving Suggestions
Here are some recipes that would be great to serve with these pizza wheels:
Hungry for more?
Subscribe to never miss a recipe.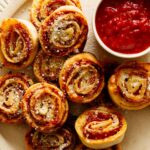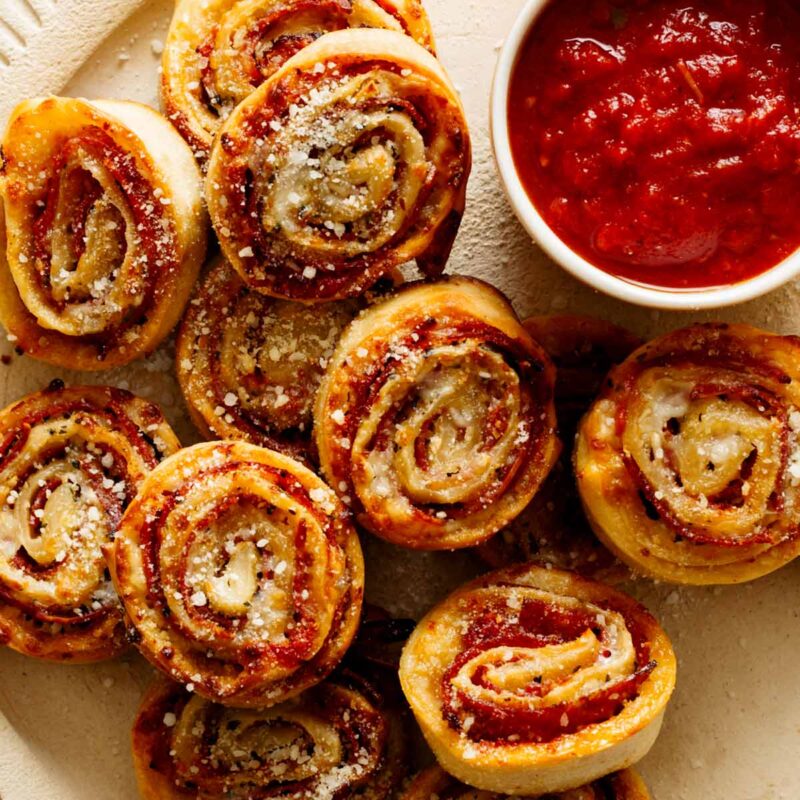 ---
Pizza Wheels
A delicious recipe for Pizza Pinwheels. Pizza baked into little bite sized slices. Crispy edges, stuffed with pepperoni and topped with Parmesan. Served with Marinara. This is a delicious and unique appetizer recipe.
INGREDIENTS
1

pizza dough ½ recipe basic pizza dough

1

tablespoon

fresh oregano, minced

1

garlic clove, minced

½ to ⅔

cup

shredded mozzarella

24 to 30

thinly sliced pepperoni

2

tablespoons

grated Parmesan

½

cup

yellow cornmeal (medium grind)
INSTRUCTIONS
Place dough onto a lightly floured surface and roll out to about ⅛ inch thick. (try to get the dough to 9"x12" (or larger if needed)).

Spread marinara sauce sparingly over dough and top with oregano and garlic.

Sprinkle mozzarella evenly over sauce and finish by topping the dough with the pepperoni. (I like to slightly overlap the pepperoni over one another).

Starting at one end, carefully roll dough into a large, tight log and place onto a cutting board, seam side down.

Refrigerate for 30 minutes.

Remove from refrigerator and cut 1"-1 ½" pinwheels from the log.

Dredge one cut side of each pinwheel in the cornmeal until well coated and place (cornmeal side down) onto a baking sheet lined with parchment or using a little bit of cooking spray.

Sprinkle top of each wheel with a small amount of Parmesan and bake for 16-20 minutes or until golden brown. (in the last 5-7 minutes check the bottoms to make sure they're not burning).

Allow to cool for 5 minutes and serve with extra marinara sauce for dipping.
NOTES
*Makes 16-20 Pizza Wheels
Serving:
1
g
Calories:
219
kcal
Carbohydrates:
32
g
Protein:
8
g
Fat:
7
g
Saturated Fat:
3
g
Cholesterol:
13
mg
Sodium:
576
mg
Potassium:
96
mg
Fiber:
2
g
Sugar:
4
g
Vitamin A:
113
IU
Vitamin C:
1
mg
Calcium:
62
mg
Iron:
2
mg
CUISINE:
Italian-american