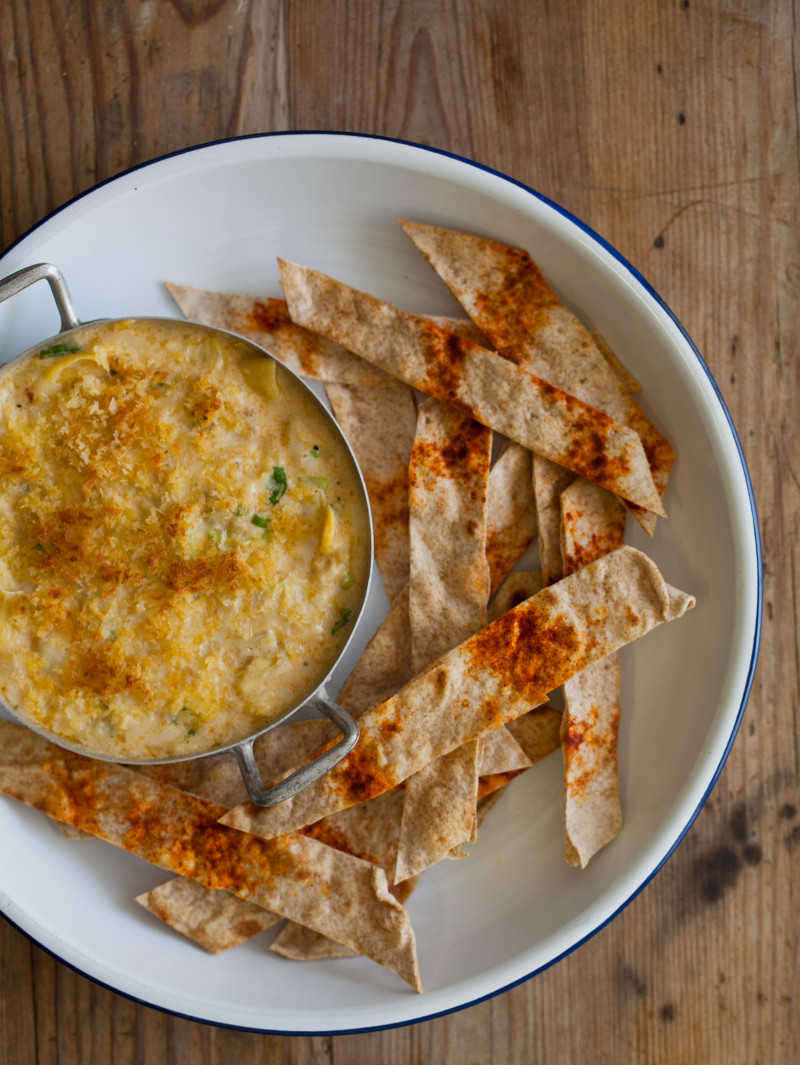 I love artichokes and I love a creamy, warm dip…..enter Hot Artichoke Dip. Yum. Most of you are probably looking at your screen just sweating thinking about it. I know I know, even though it's almost fall (yay!) it's still hot out here in LA (boo!) and I'm sure in other areas as well. BUT in a time when artichokes are abundant I love to take advantage of them in all ways including making this classic dip. I've made mine a little different by using mascarpone instead of cream cheese because it's a tiny bit more mild, but cream cheese is totally acceptable. I also roasted the garlic because I LOVE roasted garlic; like have you ever smeared some roasted garlic on a crostini followed by some melted triple cream brie and topped it with a slice of sweet bosc pear and a couple of candied walnuts?! SO GOOD! Please excuse my completely off topic food tangent, it happens a lot. I just really, really love roasted garlic :) Anyways, back to this dip. Make it, share it, eat it. It's fast, easy and totally hits the spot when you're craving something not so healthy (and yes using baked whole wheat flatbread chips was indeed my sad little attempt to make this a little more healthy) Enjoy!
xx Jenny
You might also like these warm dip recipes: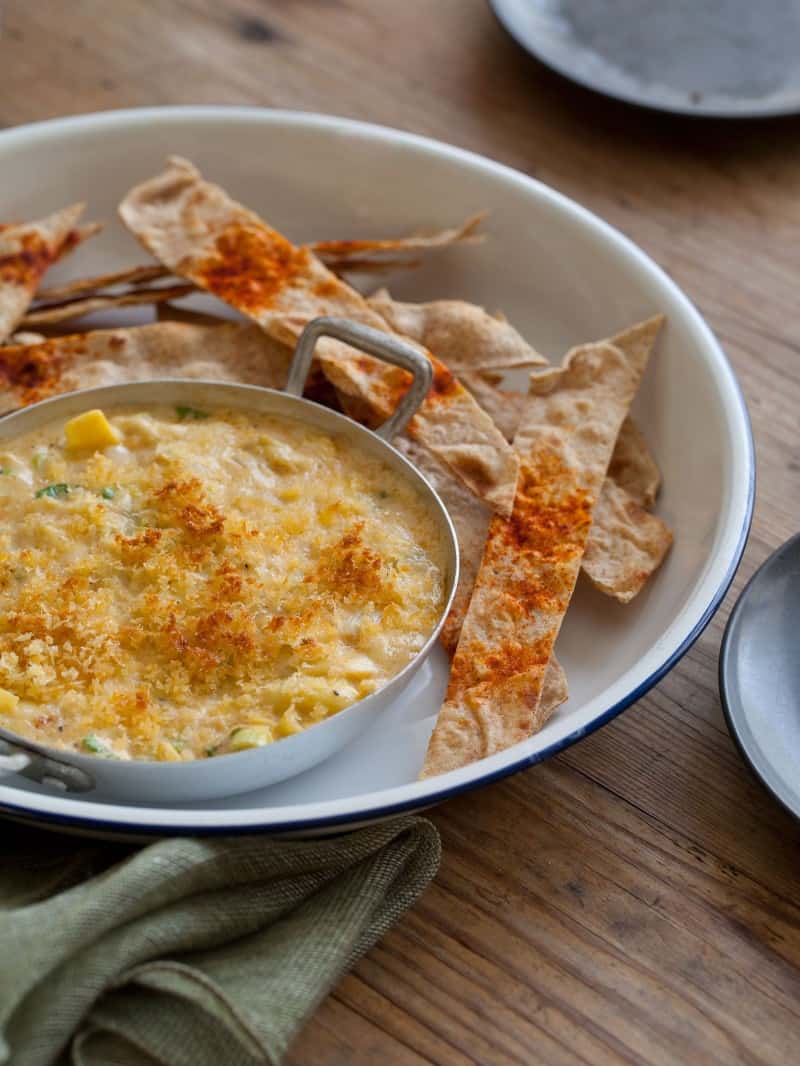 Hungry for more?
Subscribe to never miss a recipe.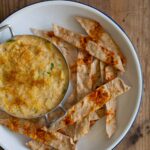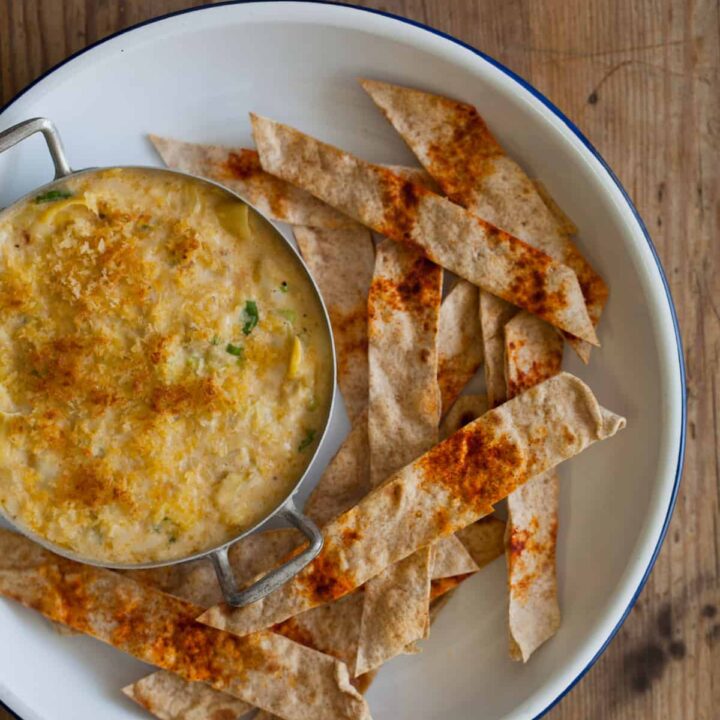 ---
Artichoke and Roasted Garlic Dip with Baked Flatbread Sticks
INGREDIENTS
flatbread sticks
3

sheets

whole wheat flatbread, cut into 1"x4" sticks

3

tablespoons

extra virgin olive oil

1

tablespoon

smoked paprika
artichoke dip
1

head garlic, top sliced off

1

tablespoon

extra virgin olive oil

14

ounce

can artichoke hearts, drained and chopped

2

green onions, thinly sliced

8

ounces

mascarpone, softened

⅓

cup

light mayonnaise

½

cup

part-skim mozzarella, shredded

¼

cup

parmesan, grated

2

tablespoons

hot sauce

2

teaspoon

dry mustard

salt and pepper to taste
topping
⅓

cup

panko breadcrumbs

1

tablespoon

parmesan, grated

1 ½

tablespoons

butter, melted
INSTRUCTIONS
Brush the strips of flatbread with the oil and sprinkle with the smoked paprika.

Line the strips onto two baking sheets (sprayed with nonstick cooking spray) and bake for 15 to 20 minutes or until crisp and golden brown around the edges.

Set aside and allow to cool.

While the flatbread cools bring the temperature of the oven up to 375°F.

Place the head of garlic onto a small piece of aluminum foil, drizzle with olive and sprinkle with salt and pepper.

Loosely wrap the foil around the garlic and roast in the oven for about 45 minutes or until the garlic cloves have softened completely and slightly browned.

Carefully squeeze the clove into a bowl and discard the peel.

Mash the cloves into a paste and stir in the remaining dip ingredients. Season with salt and pepper.

Stir the mixture until fully incorporated.

Scoop the dip into a 3 cup baking dish of your choice and set aside.

In a small bowl toss together the topping ingredients and sprinkle over the dip filled ramekin.

Bake in the oven for 20 to 25 minutes or until the top is golden brown.

Allow to cool for a few minutes before serving with whole wheat flatbread crisps.
Calories:
385
kcal
Carbohydrates:
8
g
Protein:
7
g
Fat:
36
g
Saturated Fat:
14
g
Cholesterol:
49
mg
Sodium:
572
mg
Potassium:
50
mg
Fiber:
2
g
Sugar:
2
g
Vitamin A:
1699
IU
Vitamin C:
15
mg
Calcium:
178
mg
Iron:
1
mg