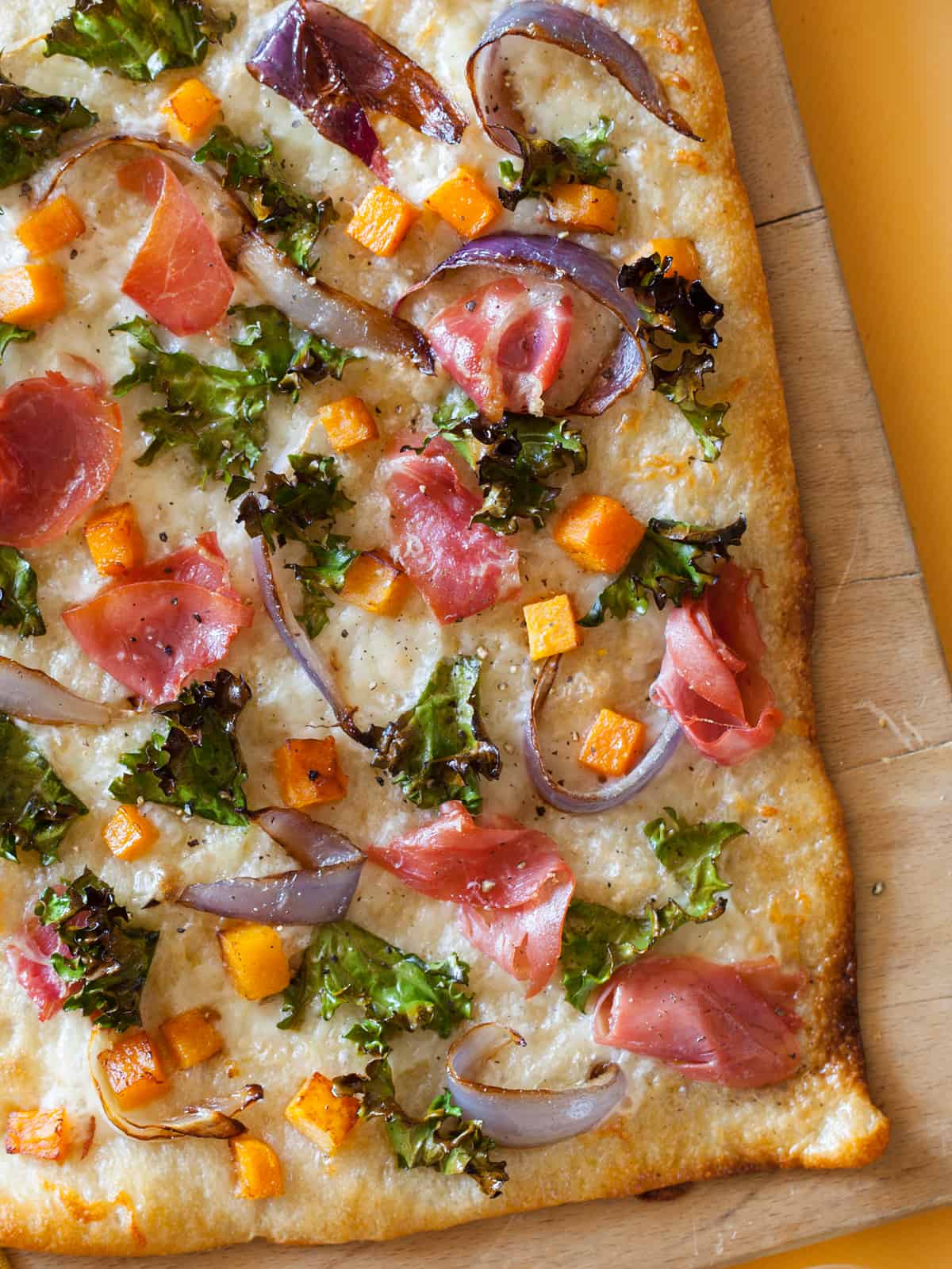 Hi All! Did everyone have a good weekend? Anyone do anything fun? I had a partial work weekend and a partial relax.eatgoodfood.nap.readagoodbook weekend. I haven't picked up a book in almost a year (so embarrassing, yes), so I decided it was finally time to say goodbye to the basketball wives, peace out Bethanny and hope to never see you again, you crazy ladies from New Jersey! Ahhh! It feels good to be free :) I've started reading Haunted by one of my favorite authors, Chuck Palahniuk (author of Fight Club, Stranger Than Fiction, Choke, Invisible Monster, Rant, etc etc….love this guy). His books are really easy reads and my favorite thing about them is that they're SOOOO twisted, bizarre, weird, creepy, and totally awesome. If you're only familiar with Chuck Palahniuk's Fight Club and enjoyed it, I'm here to tell you…TIP OF THE ICEBERG! He's like the next Stephen King, but instead of creepy clown monsters, demons and prisoners he write about rabid humans, vengeful transvestites and survival of the fittest/most desperate. You know, the usual stuff.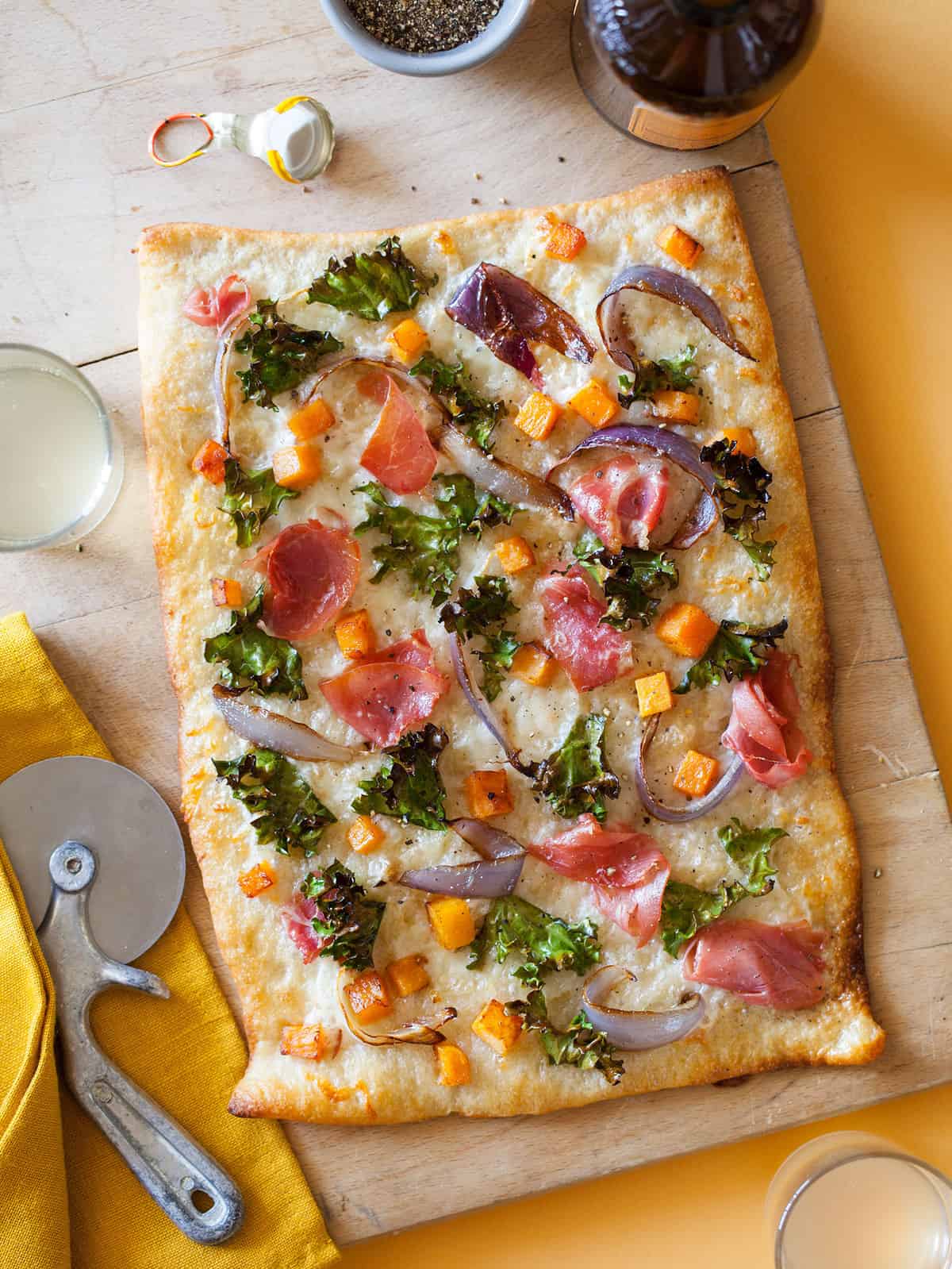 Anyway, onto food. This week we're trying a little something new…1 Recipe: 3 Ways! This means that we're going to be taking 1 basic recipe and showing you how to transform it into 3 different, awesome recipes throughout the week. We're starting this new section with, basic pizza dough. I feel like a good solid pizza dough is something everyone should know how to make or at least have a recipe for, on file at home. Once you have the dough down, you can go to town and make a bunch of different things; you can create a pizza with toppings you love, you can make calzones, you can make focaccia, etc. Today we're starting you all off with the basic pizza dough recipe (so good!) and one of my favorite pizzas. EVER. It's a simple thin, cornmeal crusted pizza topped with melted fontina, salty prosciutto, sweet caramelized butternut squash, caramelized red onions, and crispy kale. The combo of these ingredients made into a pizza…pure bliss! Really. What are some of your favorite pizza toppings??Enjoy! xx Jenny
More pizza recipes you will love:
More Butternut Squash recipes: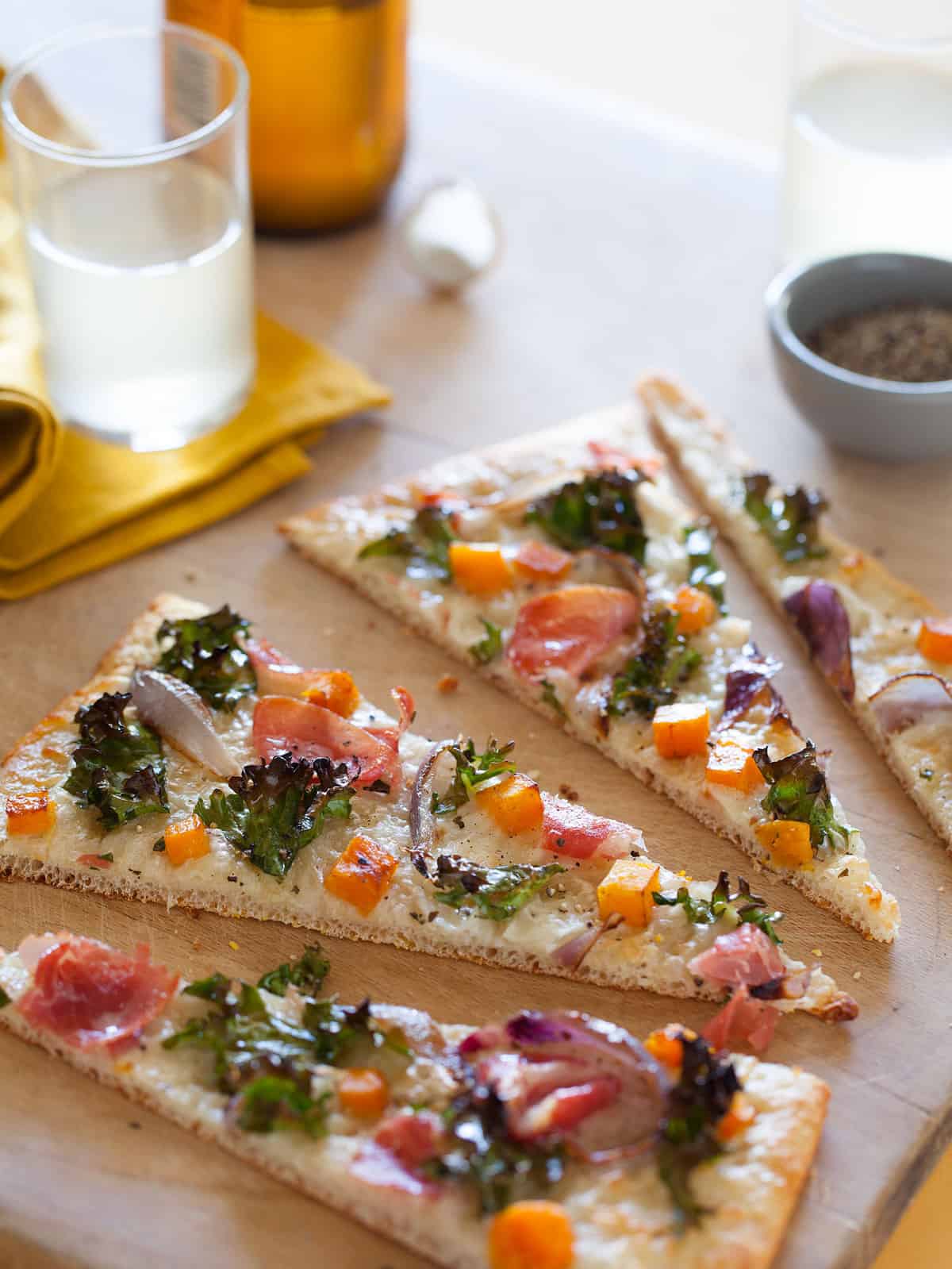 Hungry for more?
Subscribe to never miss a recipe.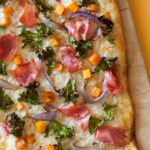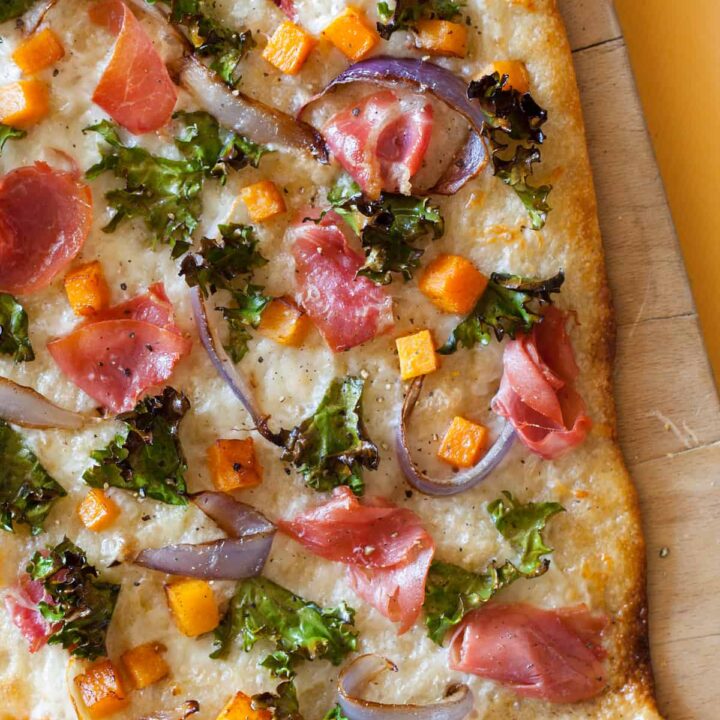 ---
Prosciutto Kale & Butternut Squash Pizza
INGREDIENTS
basic pizza dough
1

cup

warm water (110°F)

1

envelope

(¼ ounce) active-dry yeast

1

tablespoon

granulated sugar

1

teaspoon

honey

1 ½

tablespoons

extra virgin olive oil

3

cups

bread flour plus more for dusting

1 ½

teaspoon

salt
assembly
2

tablespoons

extra virgin olive oil

1 ½

cups

shredded Fontina cheese

4

ounces

prosciutto, torn into pieces

½

cup

butternut squash, peeled, diced and lightly sautéed

2

leaves

kale, stemmed and torn into pieces

½

red onion, sliced into wedges and lightly caramelized

salt and pepper to taste

yellow cornmeal, for crust
INSTRUCTIONS
Preheat oven to 425°F. (be sure to preheat pizza stone as well, if using)

For dough: Place water, yeast, sugar, honey, and olive oil in a mixing bowl and gently stir together. Allow mixture to sit for 5 minutes (water should begin foaming slightly). While yeast mixture sits, sift together flour and salt. Add flour mixture to yeast mixture, ½ cup at a time, until fully incorporated and dough begins to form. Turn dough onto a lightly floured surface and knead until smooth, about 8 to 10 minutes. (dough should spring back when poked) Form into a ball and place in a lightly greased bowl and cover with plastic wrap or a damp towel and place in a warm area and allow to proof until doubled in size, about 1 ½ -2 hours. Punch dough down and turn onto a clean, lightly floured surface.

Divide dough into two equal pieces and roll each piece into a 14 inch disc, about ¼ inch thick.

Cover baking sheets with parchment and sprinkle with a layer of cornmeal. (if using a pizza peel, sprinkle peel with thin layer of cornmeal)

Place crusts in prepared baking sheets and brush with small amount olive oil.

Top each with ¾ cup fontina cheese followed by the remaining topping ingredients, divided. Season with salt and pepper.

Bake pizzas, one at a time for 7 to 9 minutes or until cheese has melted and crust is golden brown.

Remove pizza from oven, allow to cool for a few minutes, cut and, serve hot.
Calories:
807
kcal
Carbohydrates:
80
g
Protein:
30
g
Fat:
41
g
Saturated Fat:
15
g
Cholesterol:
76
mg
Sodium:
1471
mg
Potassium:
420
mg
Fiber:
3
g
Sugar:
6
g
Vitamin A:
5159
IU
Vitamin C:
39
mg
Calcium:
341
mg
Iron:
2
mg