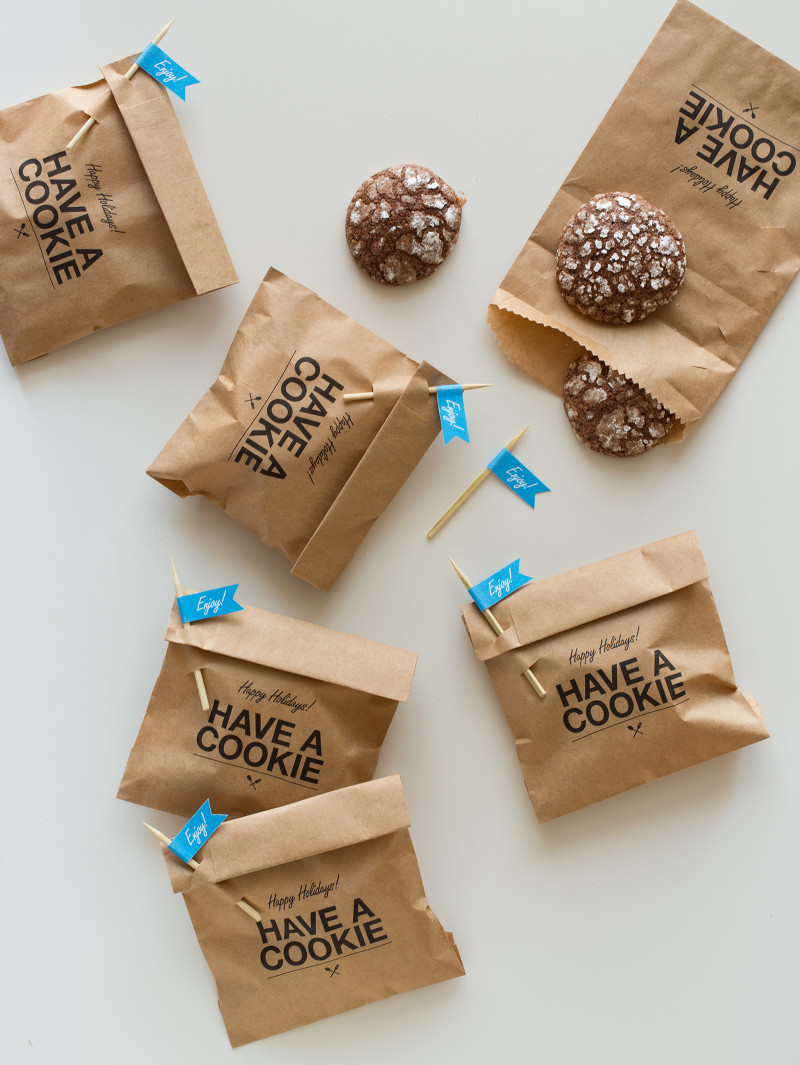 Hi guys! Today we have a quite a big cookie gift post for you. Huge, actually. Like before. We have all these labels for you to download and print at home so you can make cute cookie gifts too. We know everyone goes to lots of parties during the holidays, so why not give a cute cookie box to your hostess, or even little bags of cookies for your guests as holiday favors! The possibilities are endless. Now, lets get started!
This cookie gift bag above is my favorite. These would make super cute little office gifts, or maybe even display a platter of them for your guests to take when they leave. For these designs, I printed directly on my bag. I just changed my printer settings to use a 5×7 piece of paper. If that won't work for you, you can always print them on labels, and cut them out. I like these labels.
Here are the supplies:
2. Skewers. You could also use toothpicks, and little food picks, but I like how thick the skewers are.
4. Bag design
5. Tape Runner. Have you guys ever used this? Its the best thing ever, if you don't have that, you can use a glue stick.
6. Plastic Baggies
7. Scissors
8. Exacto Knife
Put between one and three cookies into some plastic baggies. After you have printed out the bag design either directly onto your bags, or onto labels to put on your bags, put the cookies into it. Fold over the bag top a couple of times and give it a nice crease. Then take your enjoy! labels, and run the tape runner along the back, at the end of the design. Simply wrap the design around the skewer pressing the paper together to create a flag. Then snip of about 3.5 inches of the skewer. Once you have done that use your exacto knife to cut two small slits into the bag, all the way through for your flag. Insert your flag into the slits and you're done!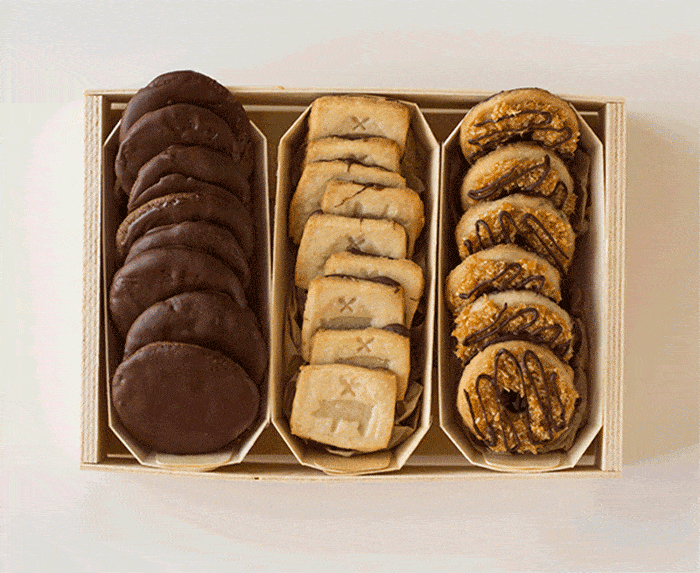 With this gift we made a small gift box using Girl Scout Cookies. Everyone loves Girl Scout Cookies, they are totally addicting, yet not available all year around. Now you can make them at home, and make a pretty little hostess gift too.
Here is what you need:
1. Cookies! Find all our cookie recipes here.
2. A wooden box, (any box will do, but we thought these were so nice looking! We ordered the medium)
3. We used little wooden baking molds to hold our cookies like these. You can also use mini loaf paper pans too.
4. The design! Download and print, and cut it out.
5. A glue gun.
6. Ribbon.
7. Parchment.
First measure out the length of ribbon you will need to go around the box. You can either tie the ribbon under the box, or use a dot of hot glue. Next, lay the printed design down, and use some hot glue to fix the ribbon to the back side of the design. Just a little, you don't need a lot. Then fold some parchment to the size of the design so the cookies will touch that, and not the printed design. Place the cookies into their little containers, and then into the box. Place the parchment under the design, and wrap around the ribbon and either tie it off, or glue it. Cut the extra ribbon length off and you're done! That was easy huh!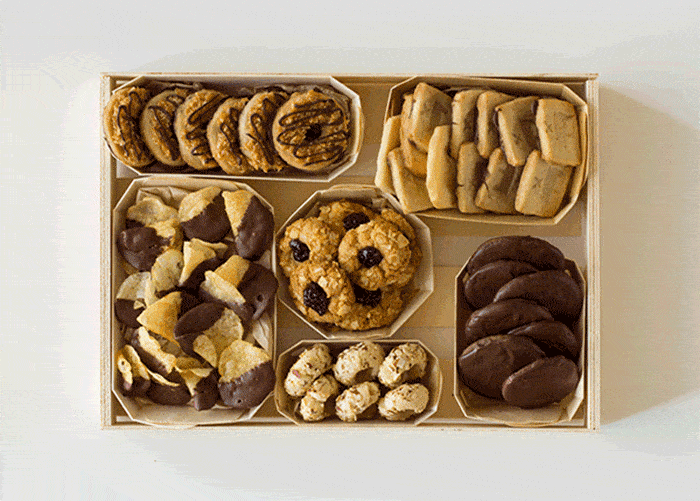 The next design is for a bigger cookie box. We used our favorite cookie recipes to fill it up:
1. Samoas, Chocolate Covered Potato Chips, Chocolate Dipped Shortbread (Thanks A-lots), Thin Mints, Salted Caramel Almond Thumbprint Cookies, and Peanut Butter & Jelly Potato Chip Thumbprint Cookies.
2. Wooden Box, again any will do, but we used this one in large.
3. An assortment of wooden baking molds. We got ours here.
4. The design! Download, print, and cut out.
5. A glue gun.
6. Ribbon.
7. Parchment
Follow the same directions as above and then you will have made yourself an awesome big cookie gift box!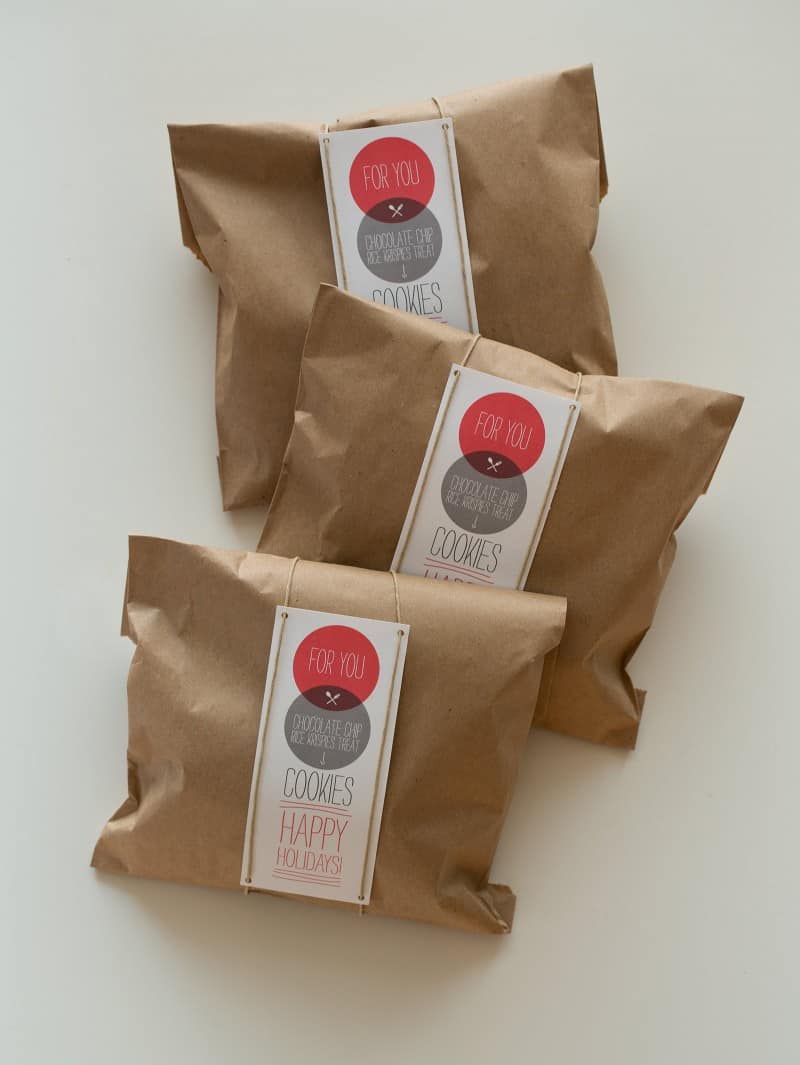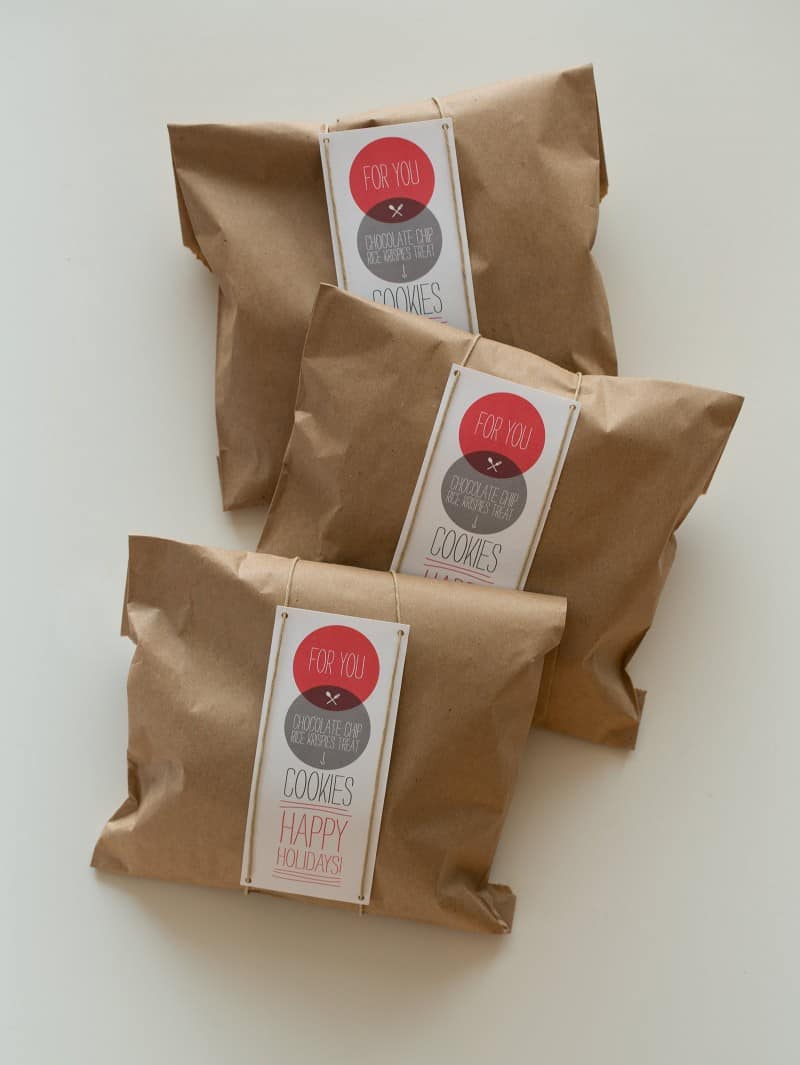 The next cookie gift is the for our Chocolate Chip Rice Krispies Treat Cookies. Do you like our venn diagram? We got a little elementary school with the design. :)
You will need:
1. Our recipe for Chocolate Chip Rice Krispies Treat Cookies
2. 8.5 x 11 Kraft Paper Bags, like these.
3. The design, to download, print, and cut out.
4. Hemp Twine!
5. A hole punch for making holes. I like the 1/8 – inch ones.
6. Plastic Baggies
Load up some plastic baggies with cookies. I used the plastic baggies so my kraft bags wouldn't get any oil spots on it. Place the cookies inside the bag and fold the top over. Next, you take your printed design, and cut it horizontally at whatever length best fits your bag. I left this open ended because it really depends on how many cookies you're going to give each person. I put in about 8 per bag. Use the little hole punch and make holes at all 4 corners of your printed design. Then weave the twine through the holes, and tie it in back and you're done!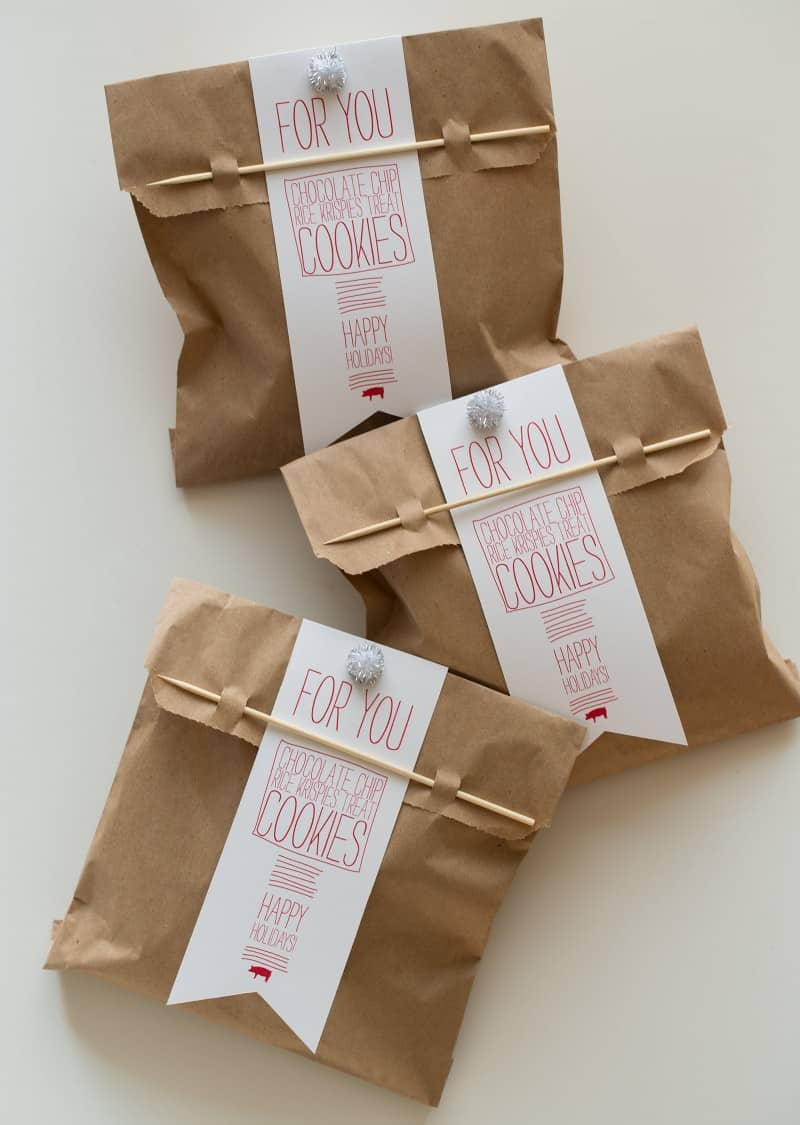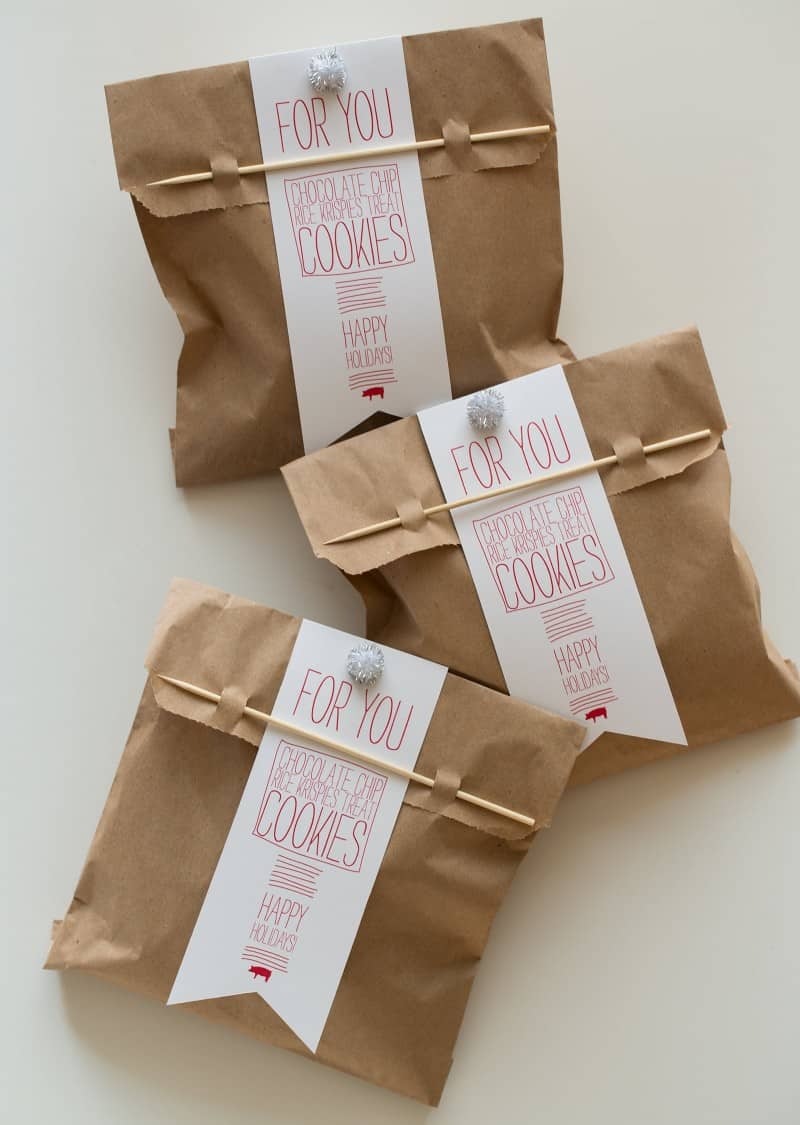 Last but not least, we have another large cookie bag. These bags are very easy, look really cute. My favorite part is the silver tinsel pom pom. :)
You need:
1. 8.5 x 11 Kraft Paper Bags, like these.
3. Our recipe for Chocolate Chip Rice Krispies Treat Cookies
5. 1/2 inch silver tinsel pom poms
6. Exacto Knife
7. Plastic Baggies
9. Glue Gun
Put your Chocolate Chip Rice Krispies Treat Cookies into a plastic baggie, and then into the paper bag. Next, lay out the for your design over the bag. The trick here is to get the fold and skewer position to line up. You want the skewer to be able to stick through the fold you will make, and also line up in the negative space in the design. One you have your position, mark the bag where you should fold it, remove the design, and fold your bag. Then place the design back on top, and fold the top of the design over the top of the bag. Use your tape runner to adhere the folded portion of the design to the back on the bag. Next lay the skewer in the correct position and mark where you should make your cuts. Make your cuts all the way through the bag, and then slide the skewer through the slits. After you're done with that, hot glue a tinsel pom pom to the top of the design and you have yourself and pretty good looking cookie gift for the people you like!
More DIYs you might like: