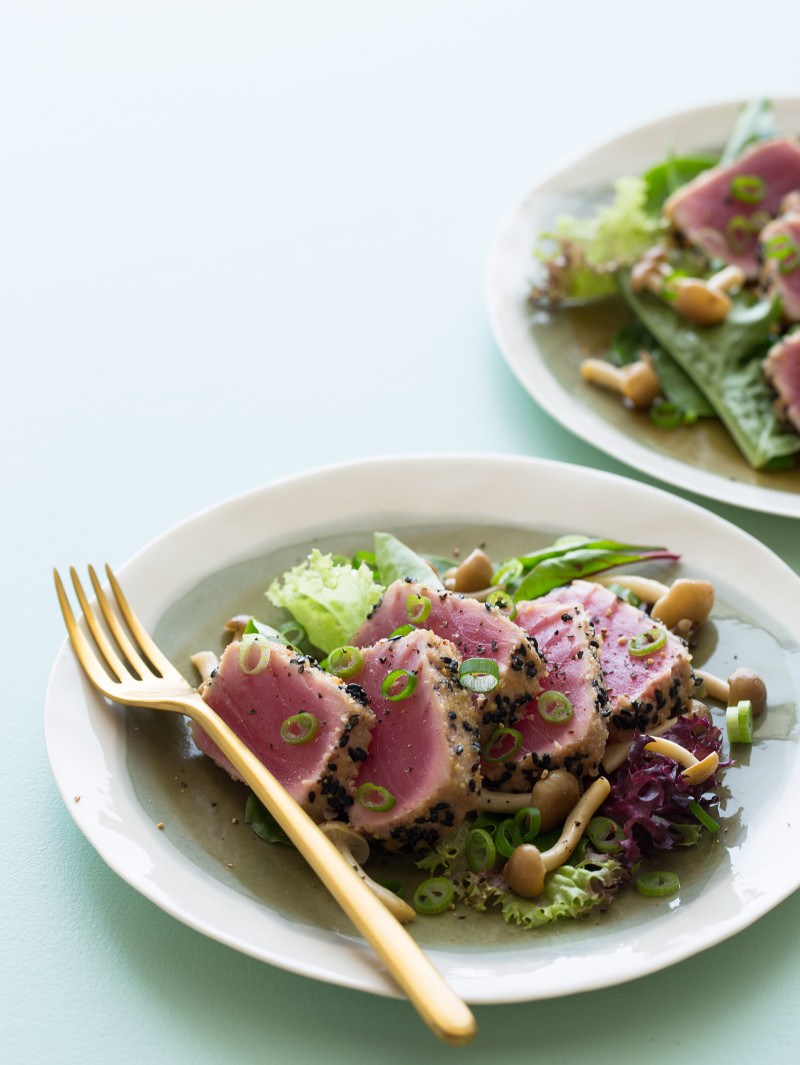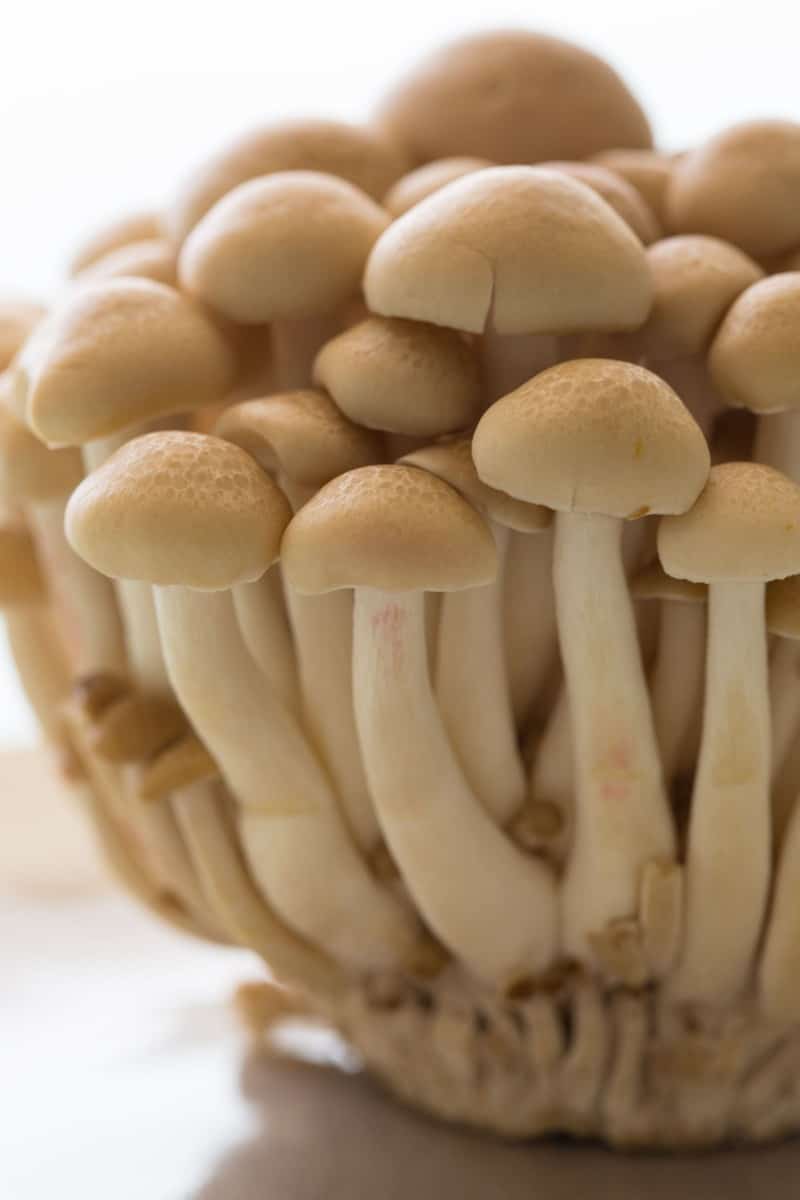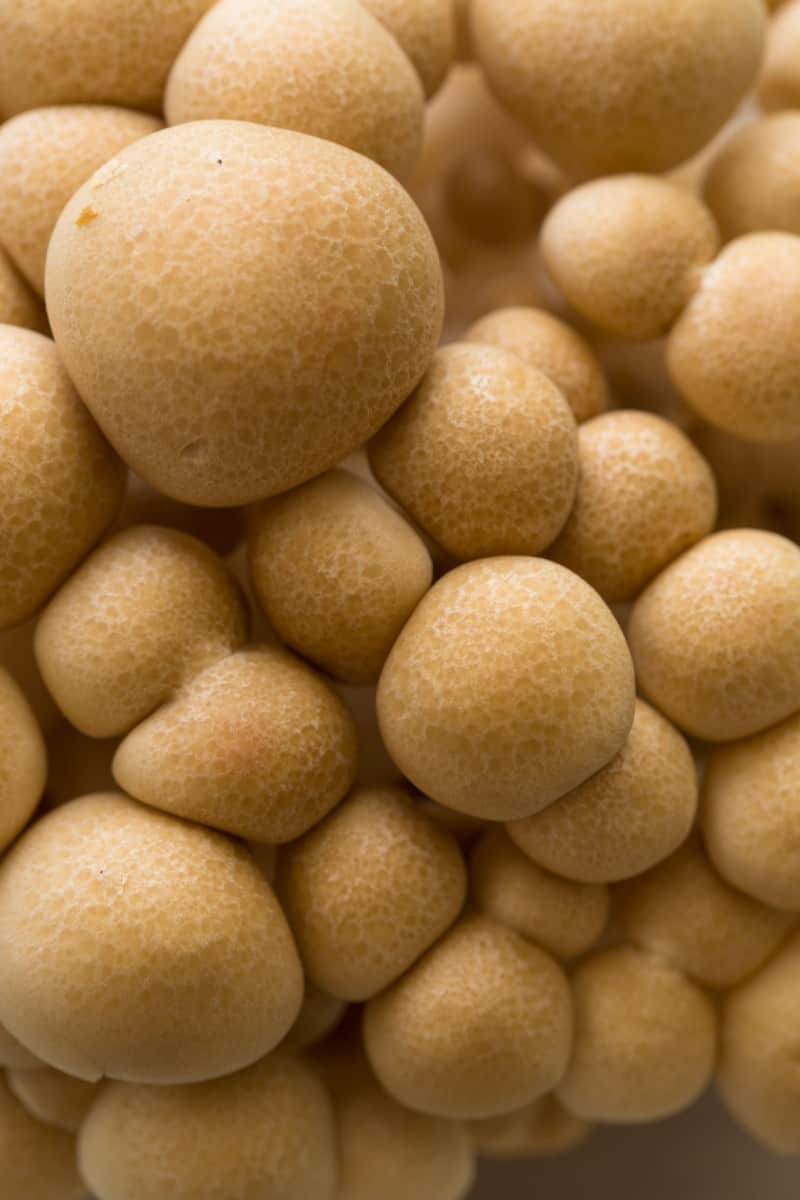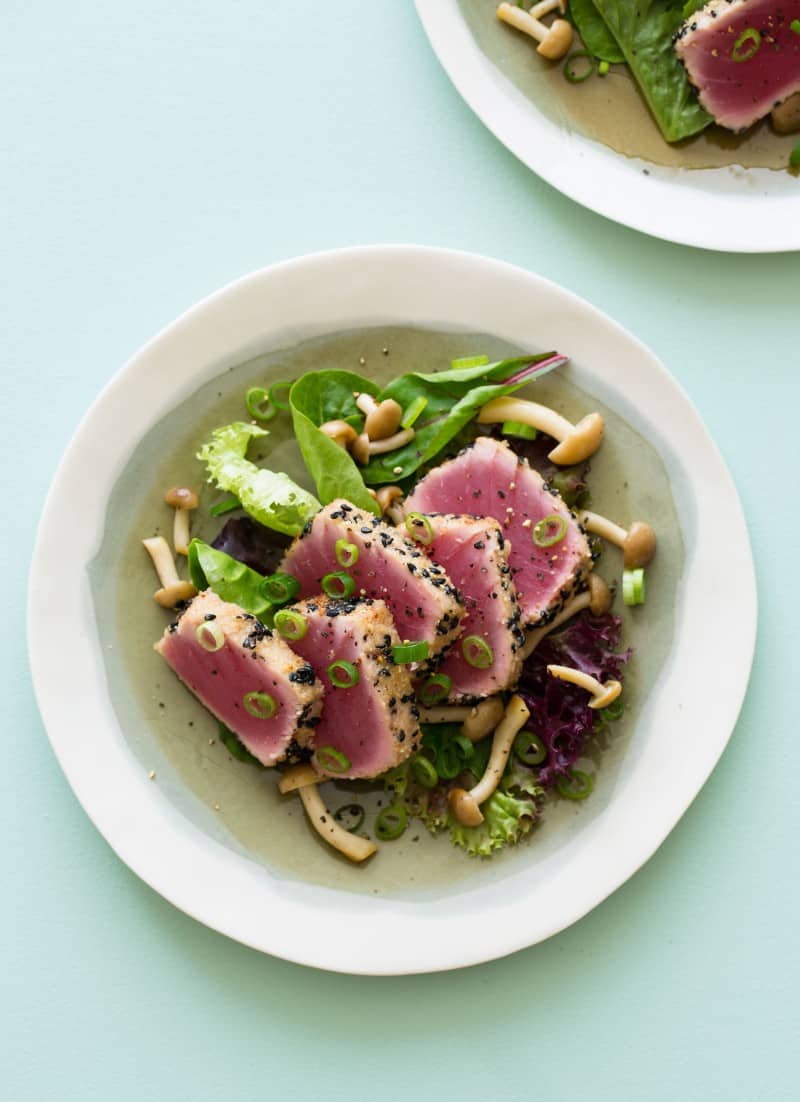 Hi Guys! We're reluctantly happily continuing our healthy eating/living with another light and refreshing recipe! We have a seared ahi tuna dish that sits over a bed of mixed greens with lightly sauteed beech mushrooms and a ginger-miso dressing. I love seared ahi and wanted to try something a little different by mixing sesame seeds with almond meal. I loved the flavor the almonds added to the tuna, but I missed some of the crunch from the usual fully sesame seed coated steaks, so I switched the almond meal out for the medium ground almonds to get some of that crunchy texture back. The beech mushrooms add a nice hearty and earthiness to the overall dish. If you're not a fan on beech mushrooms or can't find them, feel free to use whatever mushrooms meet your fancy. This is such a fantastic dish because it can be thrown together in 10 or 15 minutes, and it's really filling. Great when you're short on time. Enjoy! xx, Jenny
Black Sesame & Almond Crusted Ahi Tuna
Serves 2
Ingredients:
ginger-miso dressing:
1 1/2 tablespoons rice vinegar
1 1/2 teaspoons white miso paste
1 teaspoon granulated sugar
1 teaspoon (low sodium) soy sauce
1 teaspoon fresh grated ginger
1 garlic clove, minced
3 tablespoons salad oil
1/2 cup black sesame seeds
½ cup ground almonds (medium grind)
1 (8 ounce) ahi tuna steak
2 tablespoons sesame oil, divided
2 tablespoons vegetable oil, divided
1/2 cup brown beech mushrooms
2 cups mixed greens, loosely packed
salt and pepper to taste
garnish:
green onions, thinly sliced
Directions:
1. Place all dressing ingredients, except salad oil, into a small mixing bowl and whisk together. While whisking add oil in a slow and steady drizzle. Set aside.
2. In a shallow dish combine the sesame seeds and ground almonds and mix together.
3. Season tuna with salt and pepper and dredge in sesame mixture until fully coated.
4. Place a medium skillet over medium-high heat and add half of each oil. Sear tuna for 1 to 2 minutes on each side (for all sides), and transfer onto a cutting board. Set aside.
5. Add remaining oil to pan and sauté mushrooms for 2 to 3 minutes. Season with salt and pepper.
6. Transfer mushrooms to a medium mixing bowl and toss together with mixed greens and dressing.
7. To assemble: Slice tuna into 1/4 inch slices. Divide mushrooms and greens mixture between two salad plates, top with sliced tuna and finish with green onions. Serve immediately.