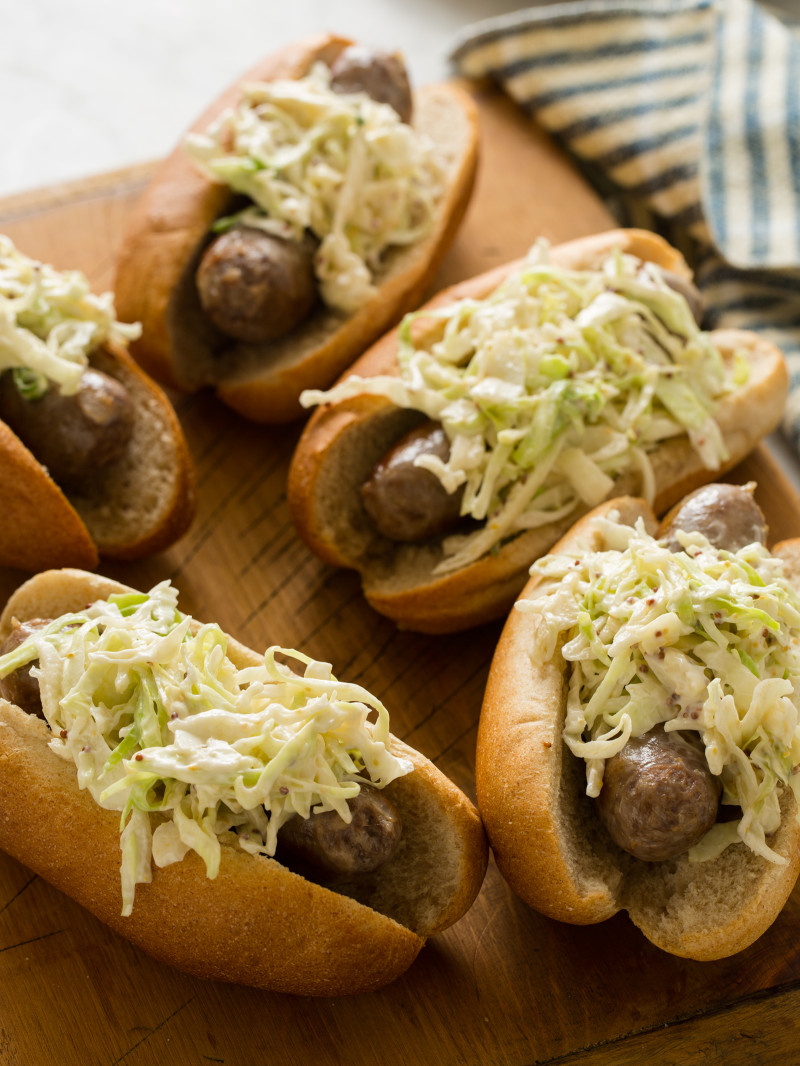 It's memorial day weekend and grilling season has officially begun, yay!! Today we're grilling up these totally delicious whole grain mustard saw topped bratwursts! I love a big, juicy sausage (no pun intended…really) and brats are one of my favorites. They're filled with flavor and I love the way grilled brats in particular almost snap when you bite into them.
We poached the brats in a little beer before finishing them off on the grill for that great, smoky flavor and crisp outer texture! We've topped the brats with a super simple whole grain mustard slaw. I personally prefer a vinegar based slaw to a creamy one, but on occasion I'm totally into creamy slaws; with this slaw you sort of get the best of both worlds. You get that nice spicy and sour flavor from the mustard and cider vinegar combination and the dash of mayo adds just a touch of creaminess to the slaw. The pinch of sugar isn't necessary, but I think it helps to balance out all the flavors.
If you guys are looking for a last minute something to toss on the grill and serve up this weekend, these almost classic beer brats are PERFECT! Enjoy!
xx, Jenny
Creamy Whole Grain Mustard Slaw Topped Bratwursts
Serves 4
Ingredients:
whole grain mustard slaw:
1 3/4 cups shredded green cabbage
1/4 cup shredded carrots
3 tablespoons whole grain mustard
1 1/2 tablespoons mayonnaise
1 1/2 tablespoons apple cider vinegar
1/2 teaspoon salt
1/4 teaspoon cracked black pepper
pinch sugar
2 cups beer of choice
4 bratwursts
4 toasted hot dog buns
Directions:
1. For slaw: Place cabbage and carrot in a mixing bowl and toss together.
2. Place remaining slaw ingredients into another mixing bowl and whisk together until smooth.
3. Pour mustard mixture over cabbage mixture and toss together until well combined. Cover and refrigerate for 30 minutes to 1 hour.
4. For brats: Pour beer into a pot and bring to a simmer. Add brats and continue to simmer for about 10 minutes or until brats have just cooked through.
5. Lightly grease a grill or grill pan and set over medium-high heat. Sear brats for 2 to 3 minutes on each side. Remove from heat and allow sausages to rest for about 5 minutes.
6. To assemble: Place a brat into each hot dog bun and top with a large handful of slaw. Serve.