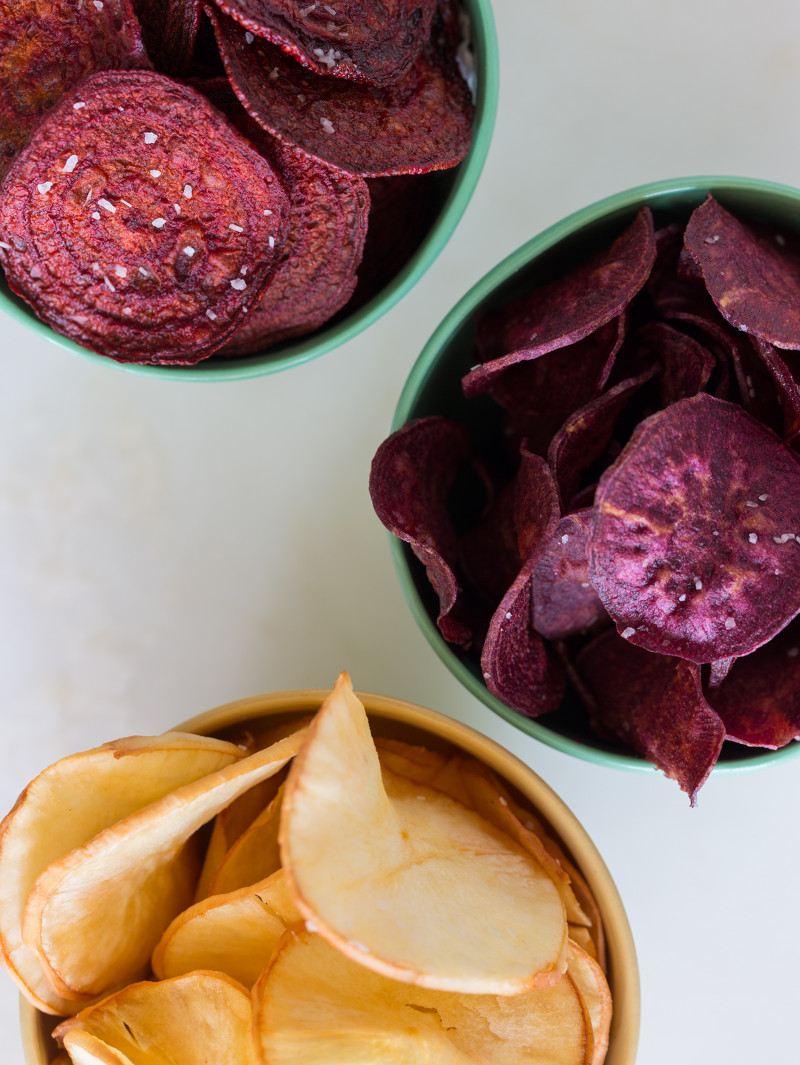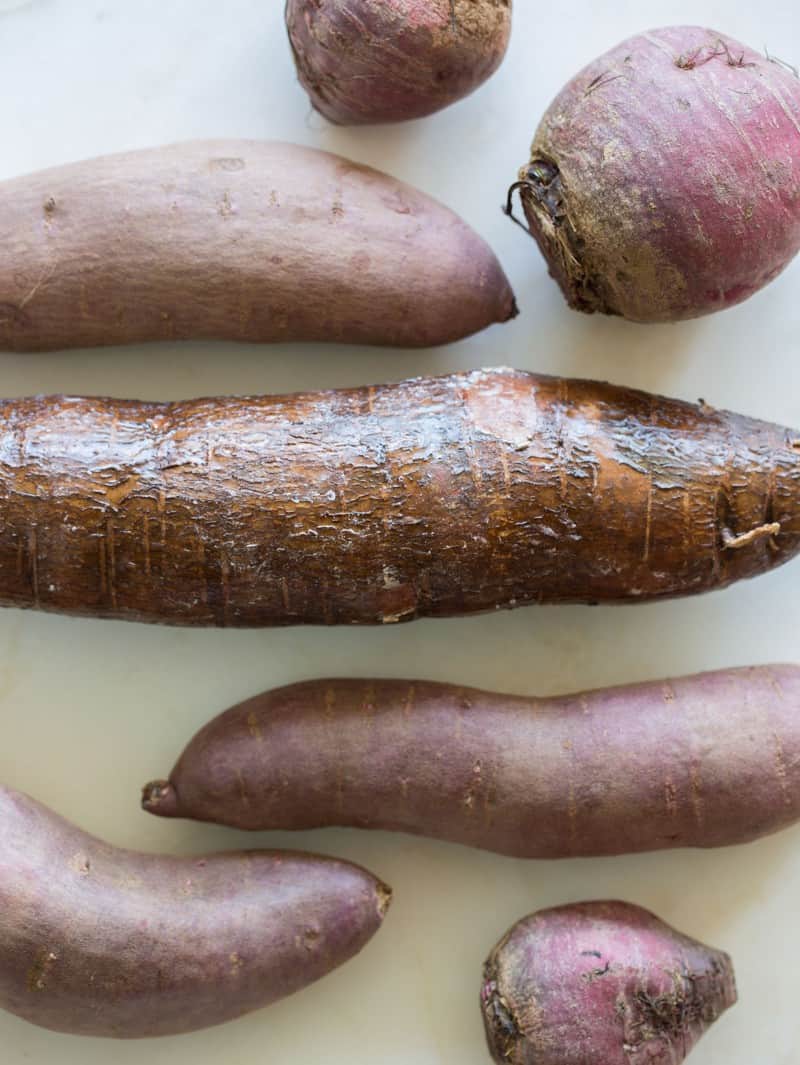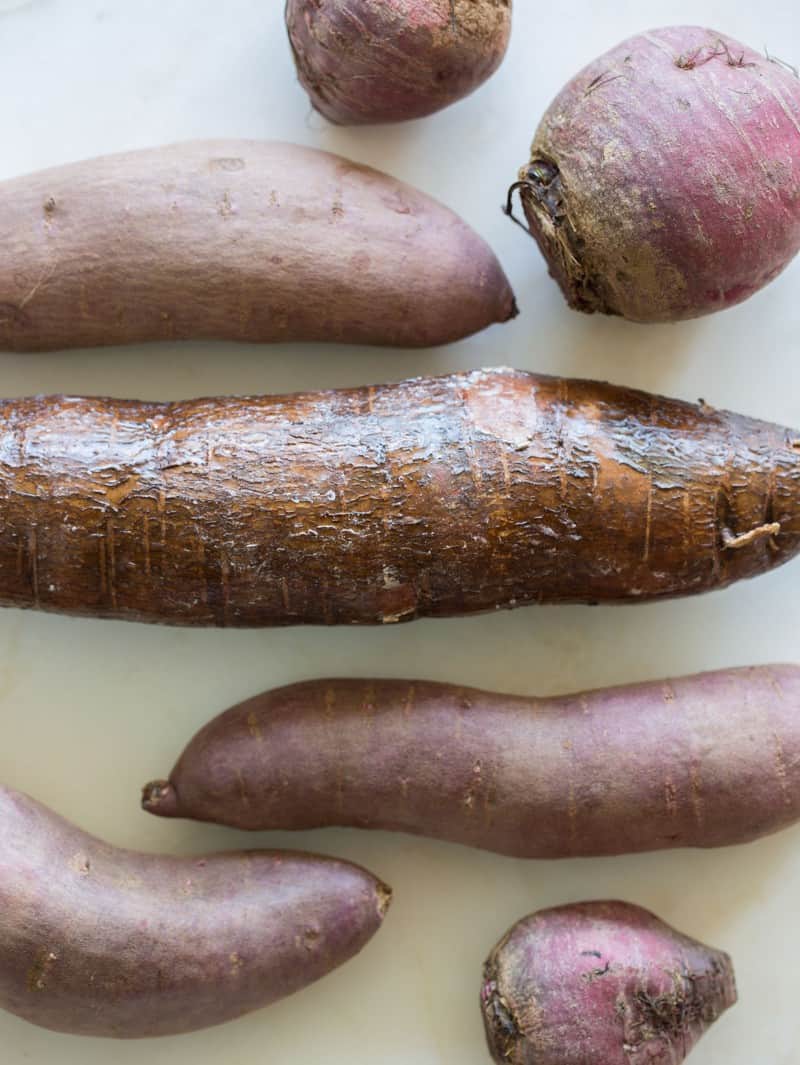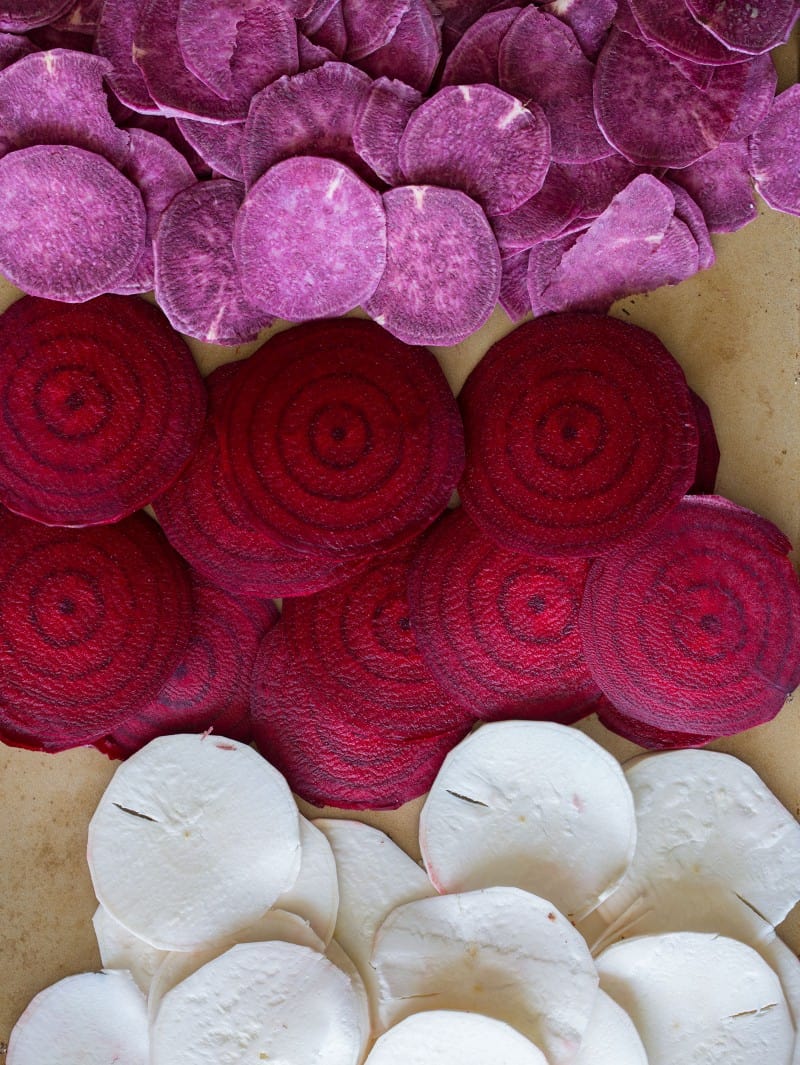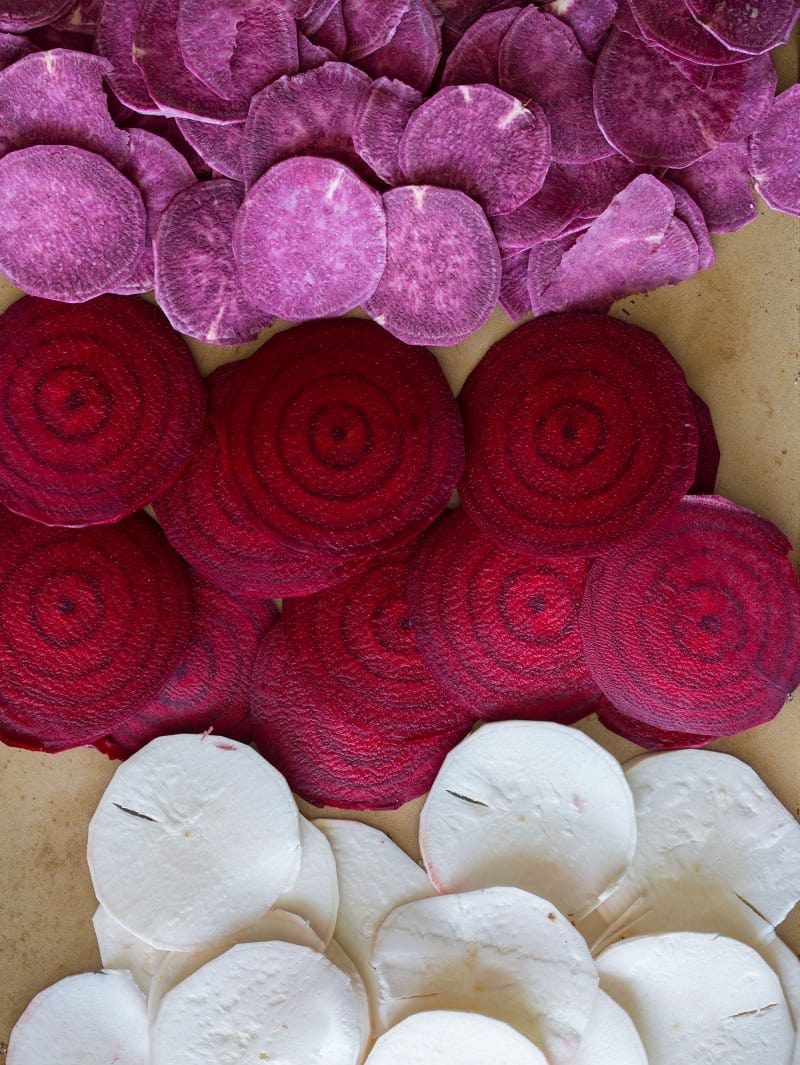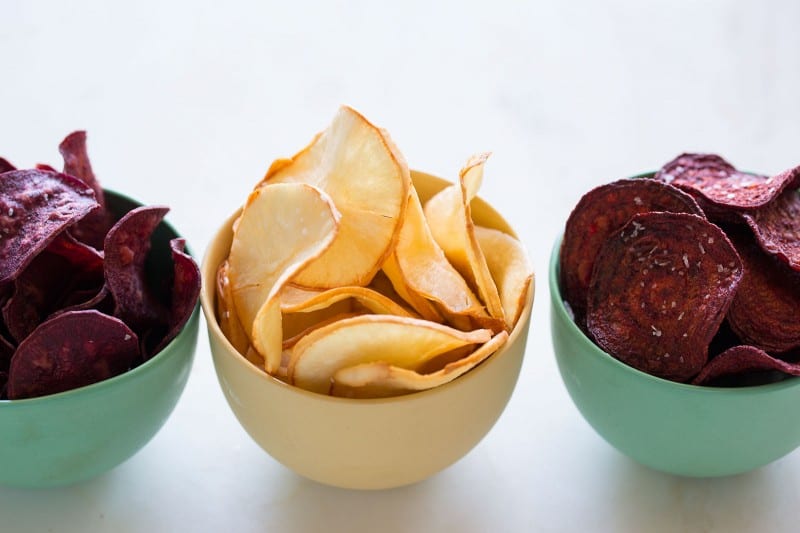 Hey Guys! Today it's all about roots…and chips. I love root vegetables in all forms. Mashed, roasted, grilled, braised, pureed, fried, glazed. There's really so much you can do with them. Today we have a triad of root chips! I've always had a thing for Terra brand chips and love the root veg. concept of them. So flavorful, so yum. Today we have a combo of purple sweet potatoes, yucca and red beets! I love the sweetness of these veggies together with a good sprinkling of kosher or sea salt. So good! The colors are also super pretty together. The photos above are of the deep fried version, but we've also provided you with baking instructions and shallow pan fry directions because we know that everyone likes to deal with homemade chip making differently. :) My preferred methods are the deep and shallow fry because they just really produce better, consistent chips, but the baking works as a good, healthier alternative. One thing to note is that while you want to get the slices pretty thin, you don't want to go paper thin bc you'll end up with shriveled burned things with no body…no buéno. Anyway, enjoy! xx, Jenny
Other veg friendly recipes you might like:
Also try our Cumin Spiced Lotus Chips!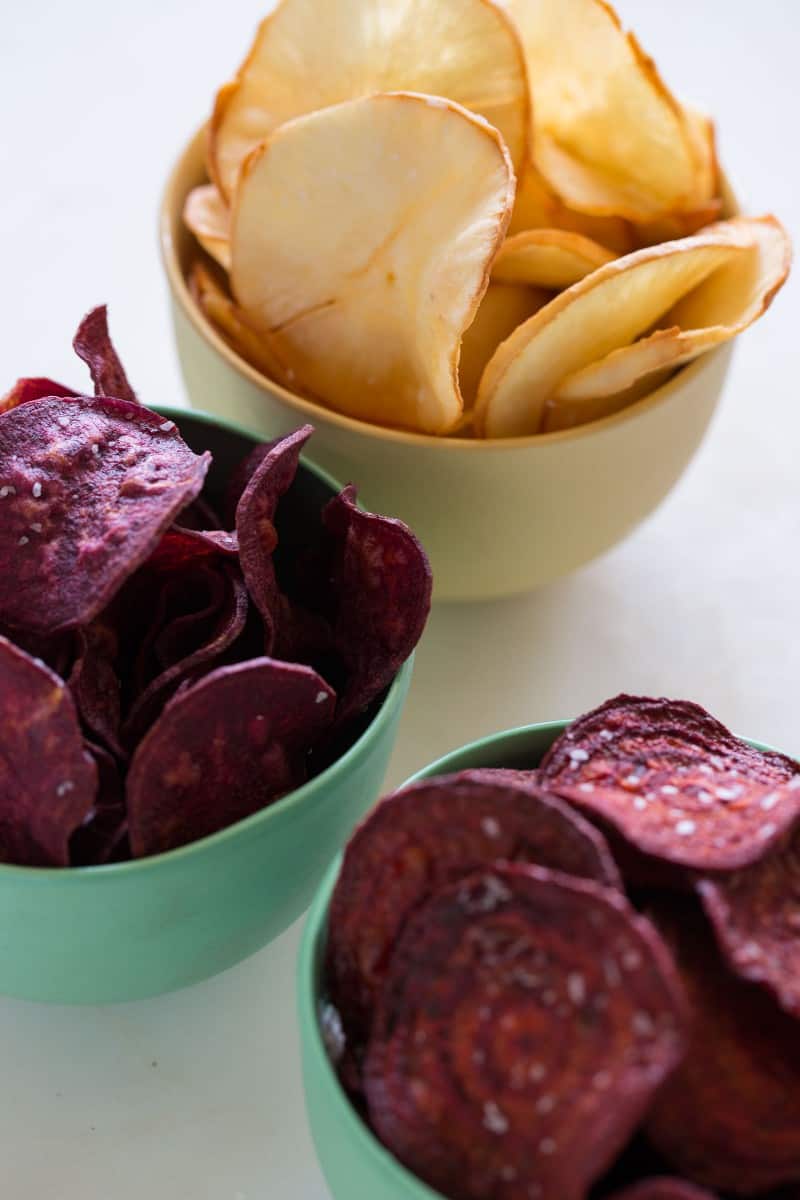 Hungry for more?
Subscribe to never miss a recipe.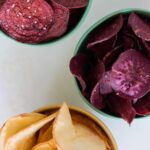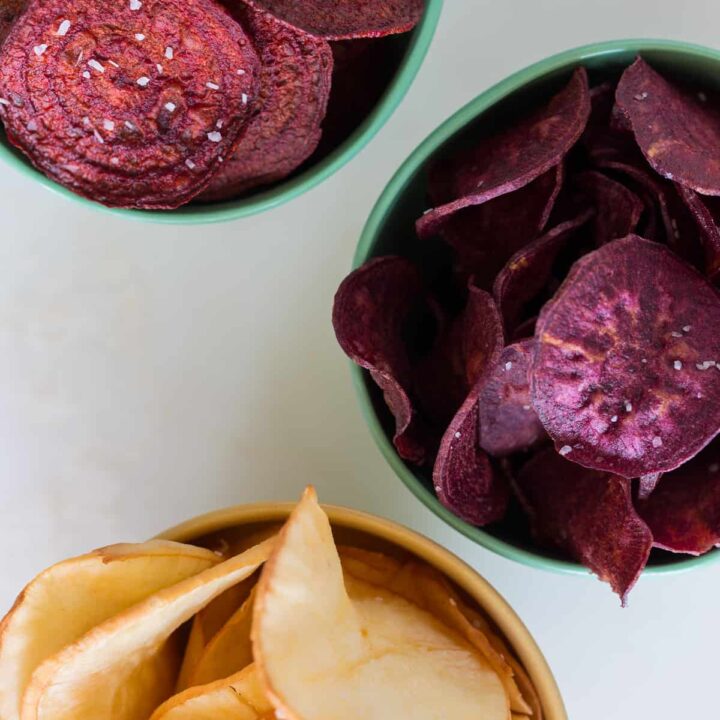 ---
Root Chips
INGREDIENTS
1

medium

purple sweet potato, peeled

1

medium

yucca root, peeled

2

medium

red beets

salt to taste

vegetable oil for frying
INSTRUCTIONS
Using a mandolin or a sharp knife thinly slice root vegetables, about 1/8 – 1/16 inch slices.

Line beets in a single layer between sheets of paper towels and top with a baking sheet to draw out any excess moisture.

Take one root vegetable at a time and fry, for about 4 to 5 minutes or until crisp and lightly browned around the edges (stirring the chips around with tongs occasionally so they don't stick together).

Drain onto paper towels and season with salt. Repeat with remaining root vegetable slices. Allow chips to cool completely before serving.
NOTES
**To Bake: Preheat oven to 350°F. Follow steps 2 and 3 from above. Toss vegetable slices with 2 tablespoons extra virgin olive oil or coconut oil and a generous sprinkle of salt and arrange in a single layer onto baking sheets. Bake for about 20 minutes or until the edges begin to dry out. Flip each chip over and bake for an additional 10 to 15 minutes or until chips have crisped. Season with salt and allow chips to cool completely before serving.
Calories:
248
kcal
Carbohydrates:
58
g
Protein:
4
g
Fat:
1
g
Saturated Fat:
1
g
Sodium:
112
mg
Potassium:
743
mg
Fiber:
6
g
Sugar:
10
g
Vitamin A:
8057
IU
Vitamin C:
27
mg
Calcium:
47
mg
Iron:
1
mg
KEYWORD:
root chips, vegetable chips