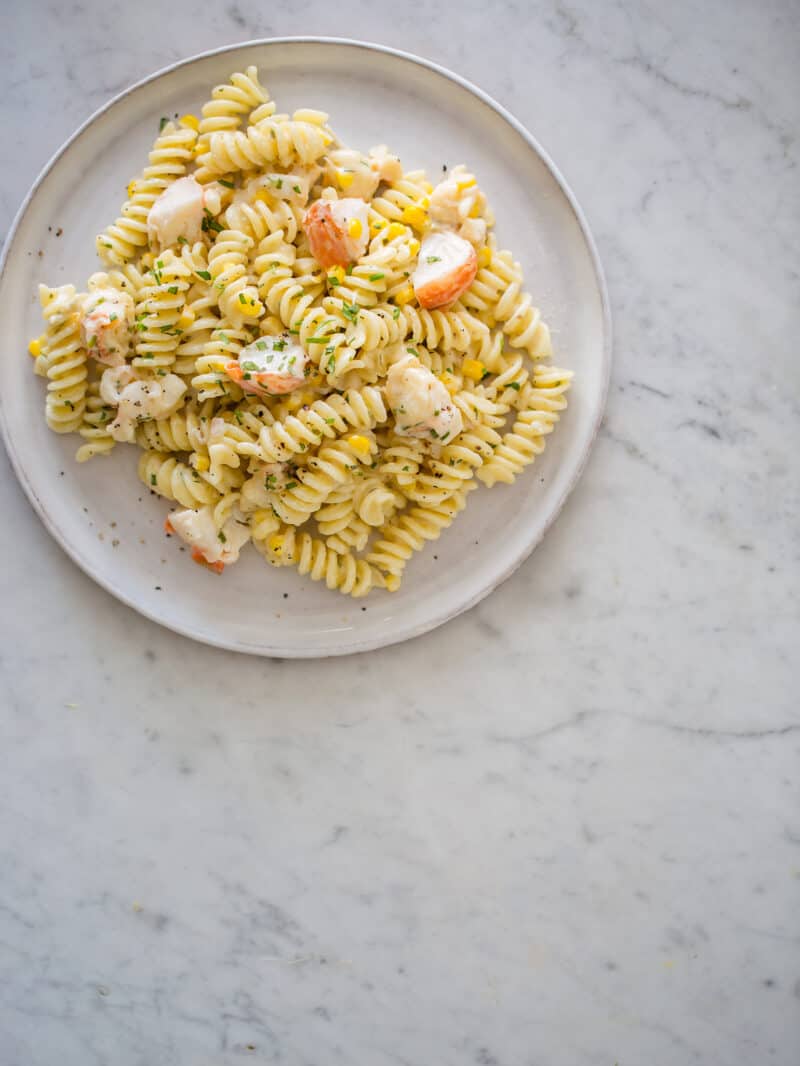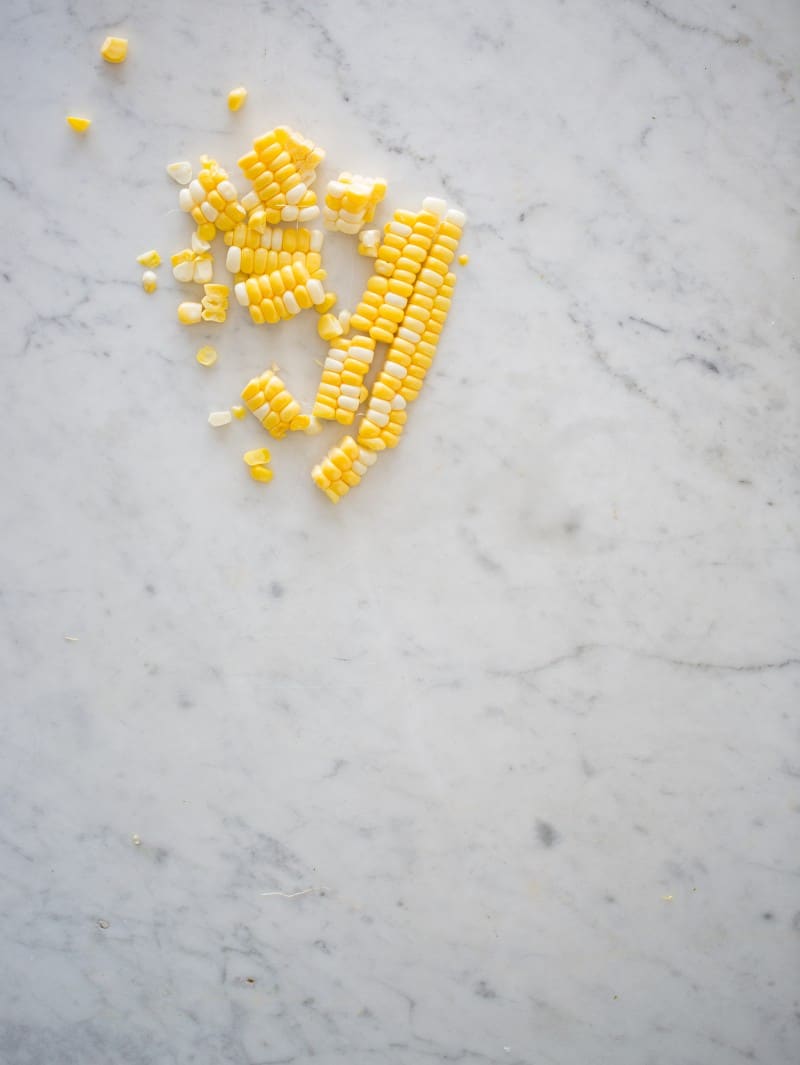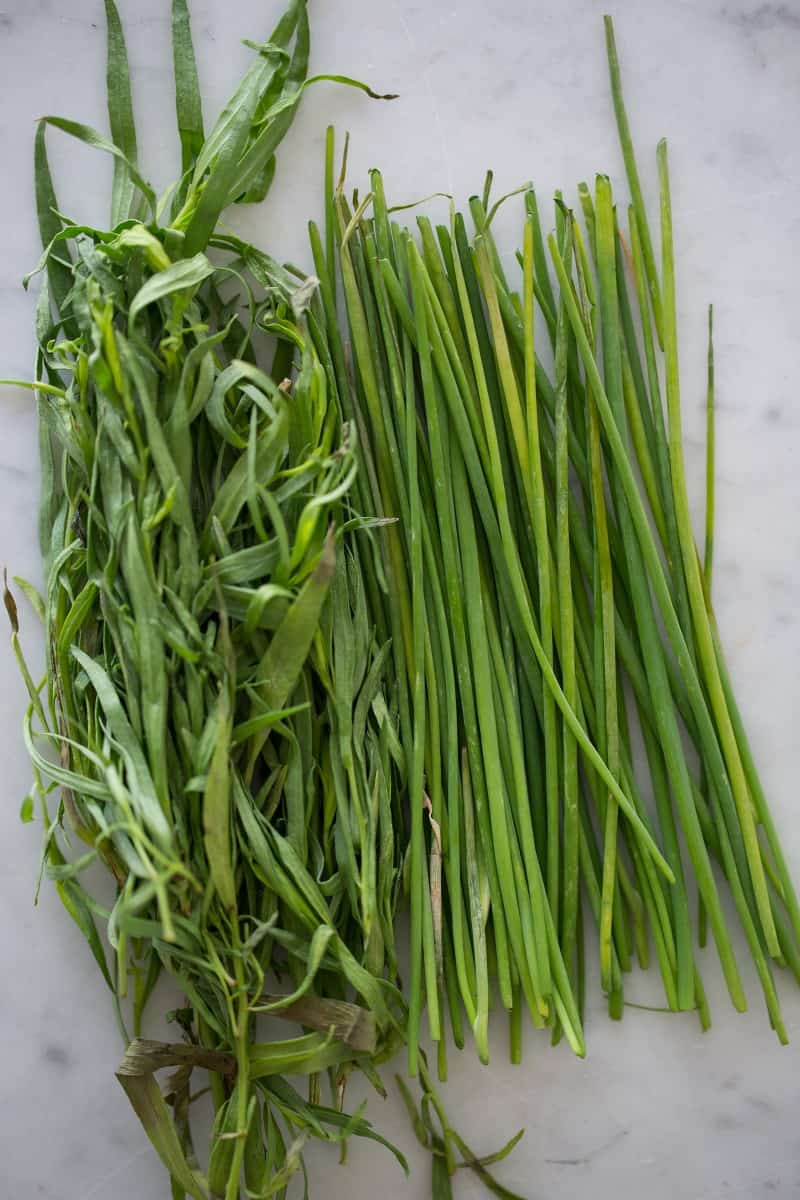 Did everyone have a good weekend? This weekend was the first time I was able to have a full two days off of work and it was glorious. I've been on shoots nonstop for the past  4 weeks and I was just about ready to crash. Thankful I was able to sit back and relax this weekend… plus the boyfriend was in Vegas so this pretty much means I laid around in bed all weekend with my Dexter. We went to the dog park, took plenty of daytime naps together and he ran a couple errands with me. It was the perfect weekend.
Since I did so much laying around, I didn't get much of anything productive accomplished. I think the most productive thing I did was make myself this Lobster & Corn Pasta. Yes, I had a 'dinner for one' kind of night on Saturday and I decided it was time for me to treat myself. Rarely do I ever cook fancy meals when it's just me; I'm lucky if I can convince myself to prepare more than just a box of crackers and some cheese for myself when I eat alone. This weekend was different. This weekend was all about me and that meant cooking myself a fancy meal.
I'm usually not the biggest lobster fan. Like I don't really get a craving for it, but last weekend I wanted lobster and I wanted pasta, so I did a 2 in 1 sort of thing. I learned to combine lobster, corn and tarragon together in the first restaurant I worked in (and p.s. best combo ever…the sweetness of the lobster and corn against the bright and powerful anise flavor of tarragon…so good!) I was in charge of prepping our ravioli and it was the most delicious combination of lobster, mascarpone, corn, pimentos, and tarragon. I probably ate that dish every shift I worked. Heaven…except for my poor waistline. Anyway, this pasta is sort of a tribute to that magical ravioli dish. I usually wouldn't think of pairing this sort of mature sauce with such a playful pasta like fusilli, but I love just much how of the sauce is absorbed by the ridges of the fusilli! You get a burst of creamy, delicious sauce in every single corkscrew, it's great.
I think this is definitely the perfect pasta to make when you want to treat a loved one to something special, or when you're just in the mood to 'treat yoself'! Enjoy! xx, Jenny
More corn recipes you might like: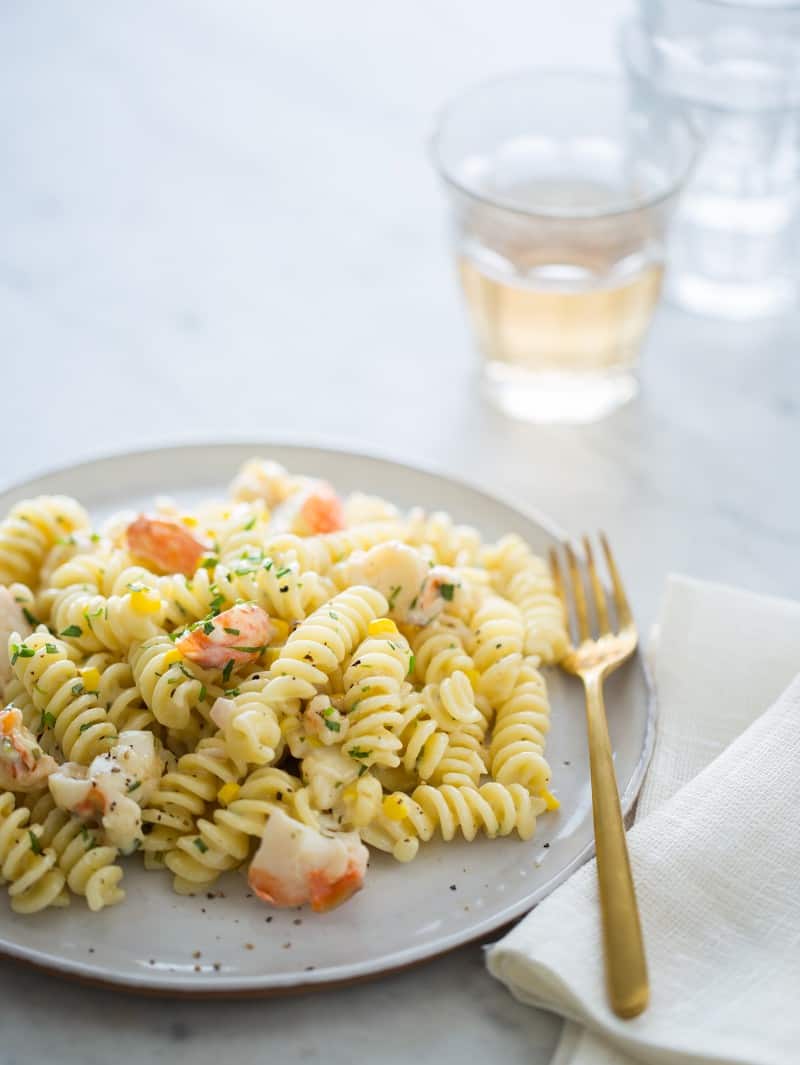 Hungry for more?
Subscribe to never miss a recipe.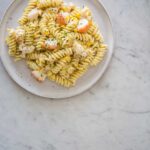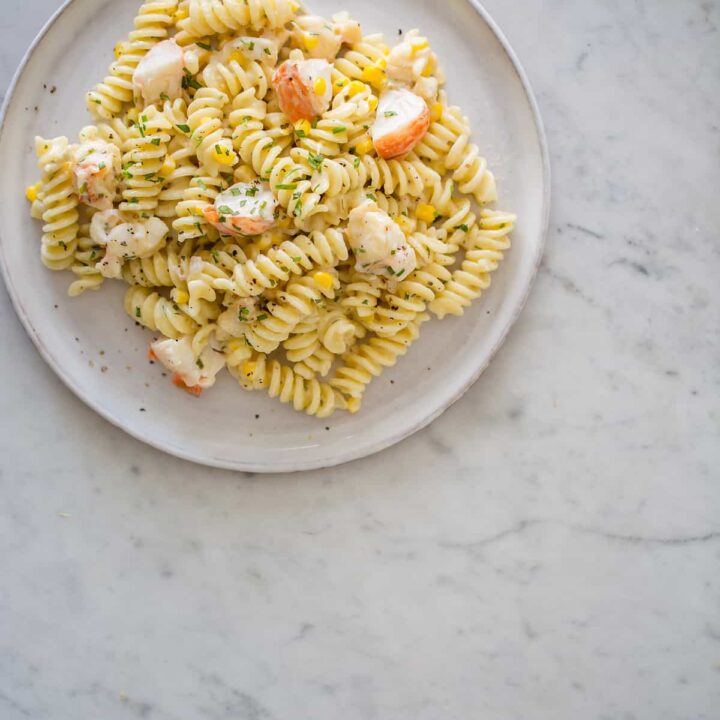 ---
Lobster and Corn Pasta Tossed in a White Wine and Tarragon Cream Sauce
INGREDIENTS
8

ounces

fusilli pasta

2

tablespoons

unsalted butter

1

tablespoon

extra virgin olive oil

2

shallots, diced

2

garlic cloves, minced

2

ears corn, kernels cut and cobs removed

2 ½

tablespoons

minced tarragon, divided

1

tablespoon

thinly sliced chives

½

cup

dry white wine

2

(6 ounce) lobster tails, poached removed from the shell and sliced (¼ cup poaching liquid reserved)

¼

cup

heavy cream

3

tablespoons

freshly grated parmesan

salt and pepper to taste
INSTRUCTIONS
Fill a large pot with water and bring to a boil.

Add a small handful of salt and pasta and stir. Boil pasta for 6 to 7 minutes or until pasta is al dente.

Drain pasta and set aside until ready to use.

Place butter and oil in a large skillet and melt over medium-high heat. Add shallots and garlic and sauté for 3 to 4 minutes. Add corn and sauté for 3 minutes. Season with salt and pepper. Add 2 tablespoons tarragon and all of chives to skillet and continue to sauté for 2 minutes.

Deglaze pan with wine and cook until almost all the liquid has evaporated. Add poaching liquid and reduce liquid by half. Add lobster tails and cream and simmer for 2 to 3 minutes.

Stir in Parmesan and continue to simmer until sauce thickens, about 2 minutes. Add pasta to skillet and toss until well coated. Add remaining tarragon to skillet and adjust seasonings. Serve immediately.
Calories:
927
kcal
Carbohydrates:
114
g
Protein:
32
g
Fat:
35
g
Saturated Fat:
17
g
Cholesterol:
136
mg
Sodium:
367
mg
Potassium:
1004
mg
Fiber:
7
g
Sugar:
11
g
Vitamin A:
1447
IU
Vitamin C:
14
mg
Calcium:
292
mg
Iron:
5
mg