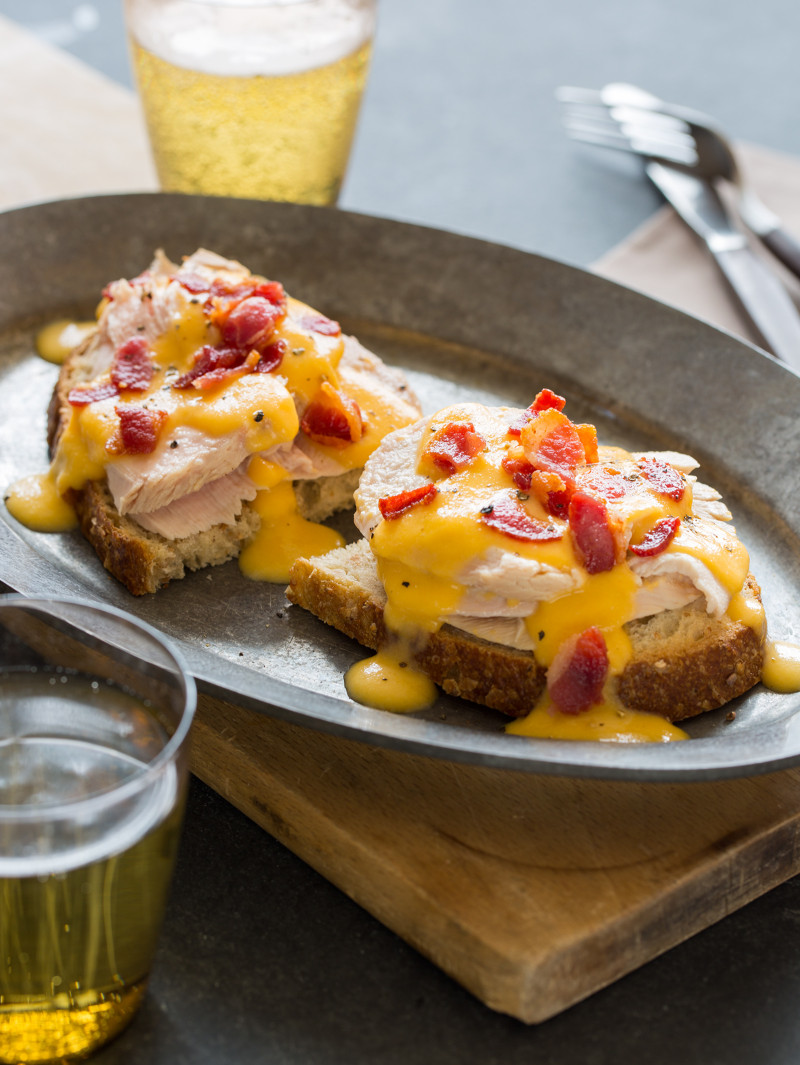 A couple of months ago the nice people at GE Monogram invited us to come to Kentucky to check out their Monogram kitchen appliances and play around in their test kitchen. We went with a handful of other food bloggers, and stayed in the historic Brown Hotel. The Brown Hotel is where the sandwich the "Hot Brown" was originated in 1926. Check the wiki if you don't believe us. Pretty cool. So in celebration of our trip, we wanted to share this sandwich of awesome with you.
While we were there we also did a bunch of fun and different things, and what better way than to show you in iphone photos! We visited Bourbon Barrel Foods. They make "Bluegrass Soy Sauce" in Louisville! Crazy! Not only do they make soy sauce, but they're the only micro soy sauce brewery in the U.S.! Learning about micro soy sauce making was definitely one of the highlights of the trip. It was totally educational and you could see the great deal of passion and intensity the owner has for his work….very cool! While at the GE Monogram facilities we split up into teams of four and had an Iron Chef competition where potato chips were the secret ingredient….and guess what?! We won with a rendition of our Chiliquiles recipe…lets just say ketchup (yep) was involved to achieve that acidic tomato flavor, a cumin potato chip "essence" may have been made as a topper and perhaps we improvised in a few other "use what you got" type situations! We learned a lot about GE Monogram appliances, which are awesome, and you should check them out if you're in the market; some of those induction stovetops and refrigerators they showed us really made us swoooooon as they are gorgeous and functional!
We met so many wonderful people on this trip that made us realize yet again just how kind/generous/thoughtful/hilarious/sweet/inviting food people genuinely are! Thank you to the lovely people at GE Monogram for such an amazing trip to visit your facilities as well as the fascinating tour of Louisville and for making sure we were never without tasty food….or mint juleps!
Here are some other sandwich recipes you love: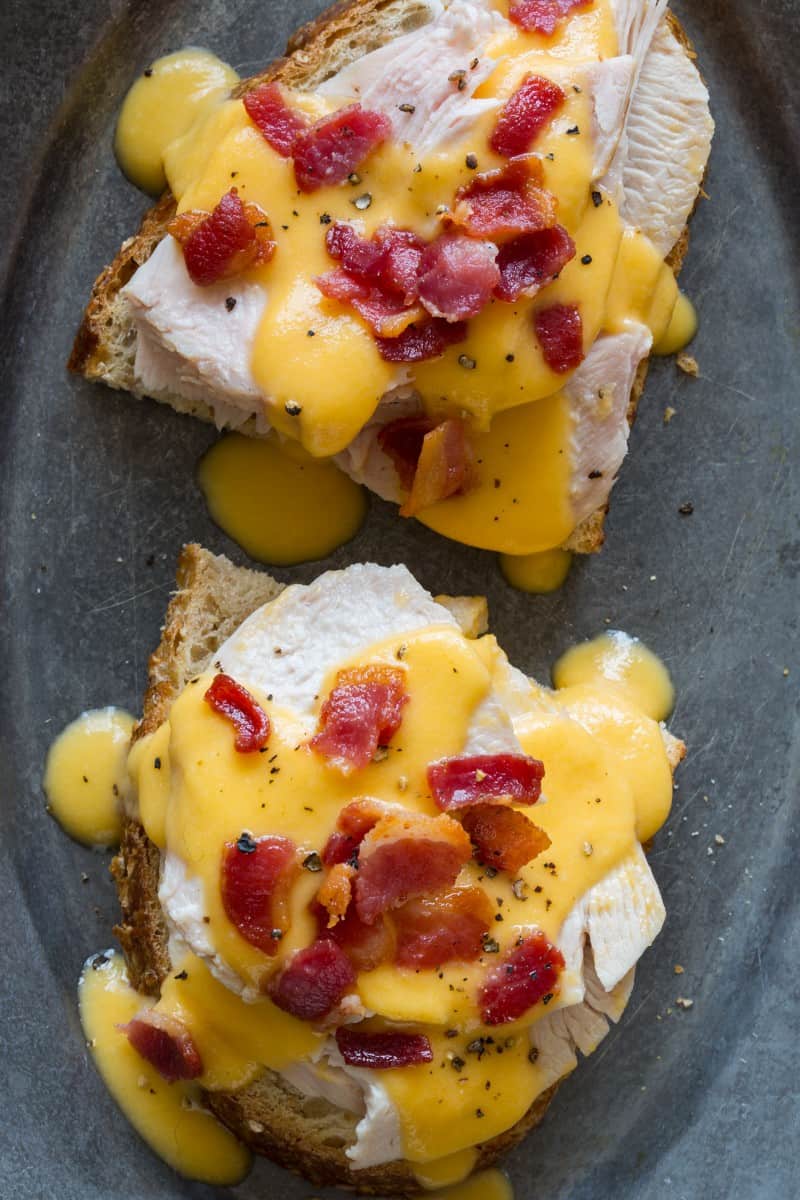 Hungry for more?
Subscribe to never miss a recipe.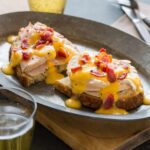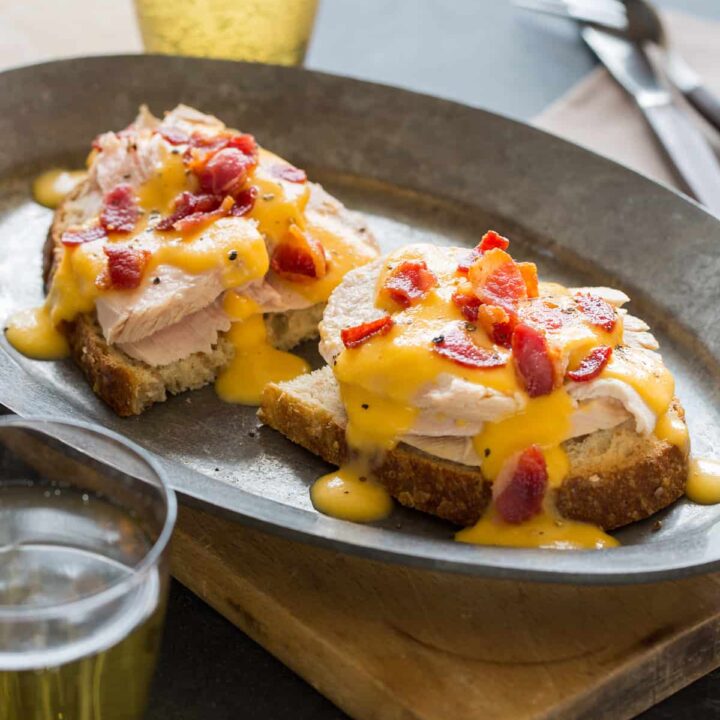 ---
Hot Brown Sandwich
INGREDIENTS
mornay sauce
2

tablespoons

butter, unsalted

2

tablespoons

all purpose flour

1

cup

whole milk

½

cup

medium cheddar cheese, shredded

½

cup

sharp cheddar cheese, shredded

¼

cup

fontina cheese, shredded

1

teaspoon

garlic powder

½

teaspoon

dry mustard

salt and pepper to taste

4

slices

sourdough bread, lightly toasted

1

pound

roasted turkey breast, thinly sliced

6

rashers

bacon, cooked and crumbled

black pepper to taste
INSTRUCTIONS
For mornay sauce: Place butter into a small sauce pan and melt over medium heat. Sprinkle flour over butter and whisk together. Continue to whisk for 2 to 3 minutes, to cook out the raw flour taste. While whisking add the milk until fully incorporated, ensuring no lumps have formed. Using a wooden spoon stir in the cheese until well blended followed be the remaining ingredients. Season with salt and pepper and cook for 1 minute. Remove from heat and set aside until ready to use.

Place sourdough slices onto a baking sheet and top each with 4 ounces of turkey.

Top each sandwich with a generous ladle of mornay sauce and top with a sprinkle of bacon (you can serve now if you wish). Place the baking sheet in the oven and broil each sandwich for 1-2 minutes. Top with freshly cracked black pepper and serve.
Calories:
538
kcal
Carbohydrates:
48
g
Protein:
37
g
Fat:
22
g
Saturated Fat:
13
g
Cholesterol:
98
mg
Sodium:
2024
mg
Potassium:
432
mg
Fiber:
2
g
Sugar:
7
g
Vitamin A:
632
IU
Calcium:
359
mg
Iron:
4
mg