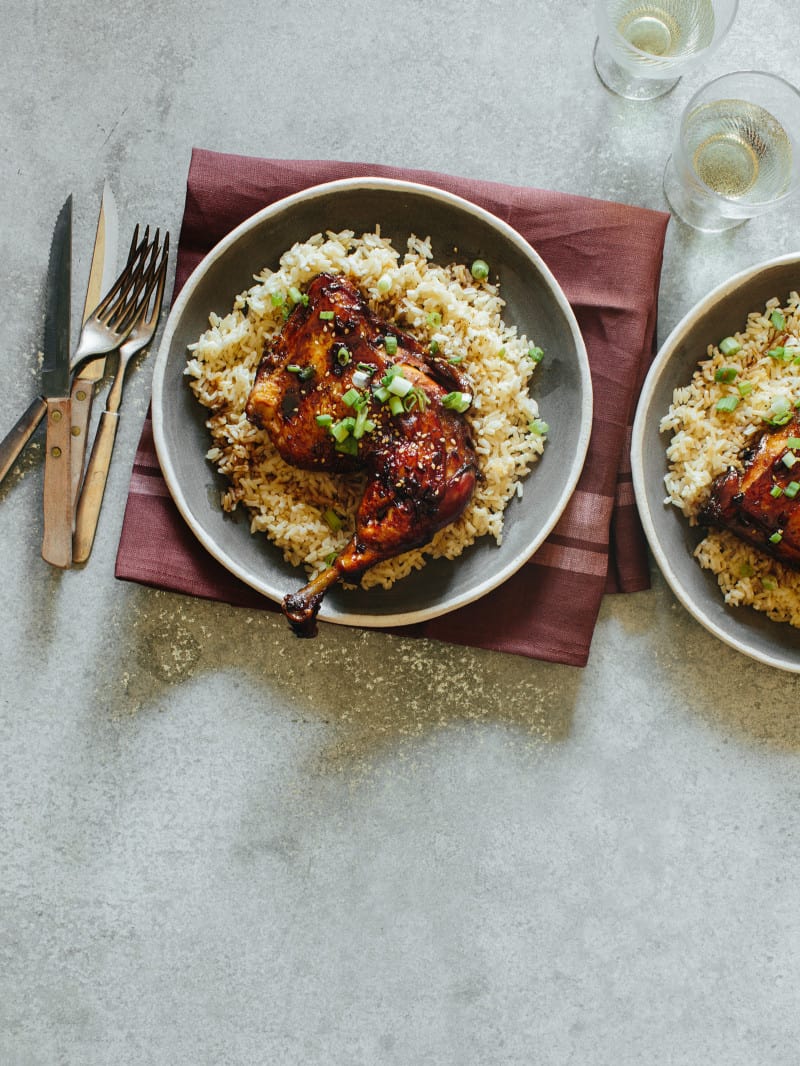 I love recipes like the one we have for you today. It only requires a few ingredients, but is still full of amazing flavors. It also takes little effort to make this dish, because most of the magic happens during the braise. Although it might take a while to cook up, I think it still makes a great weeknight meal. You can also make this dish ahead of time and simply reheat it stovetop when you're ready to dig in.
I love serving the chicken over brown jasmine rice, but cauliflower rice is also really nice with this, if you're trying to stay low carb. I also love eating this with blistered, sesame snow peas. The light crunch of the snow peas paired with the tender chicken is such a great combo! Enjoy! xx, Jenny
*For those of you got here through our email: incorrect images were used and the recipe is now updated. Sorry for the inconvenience.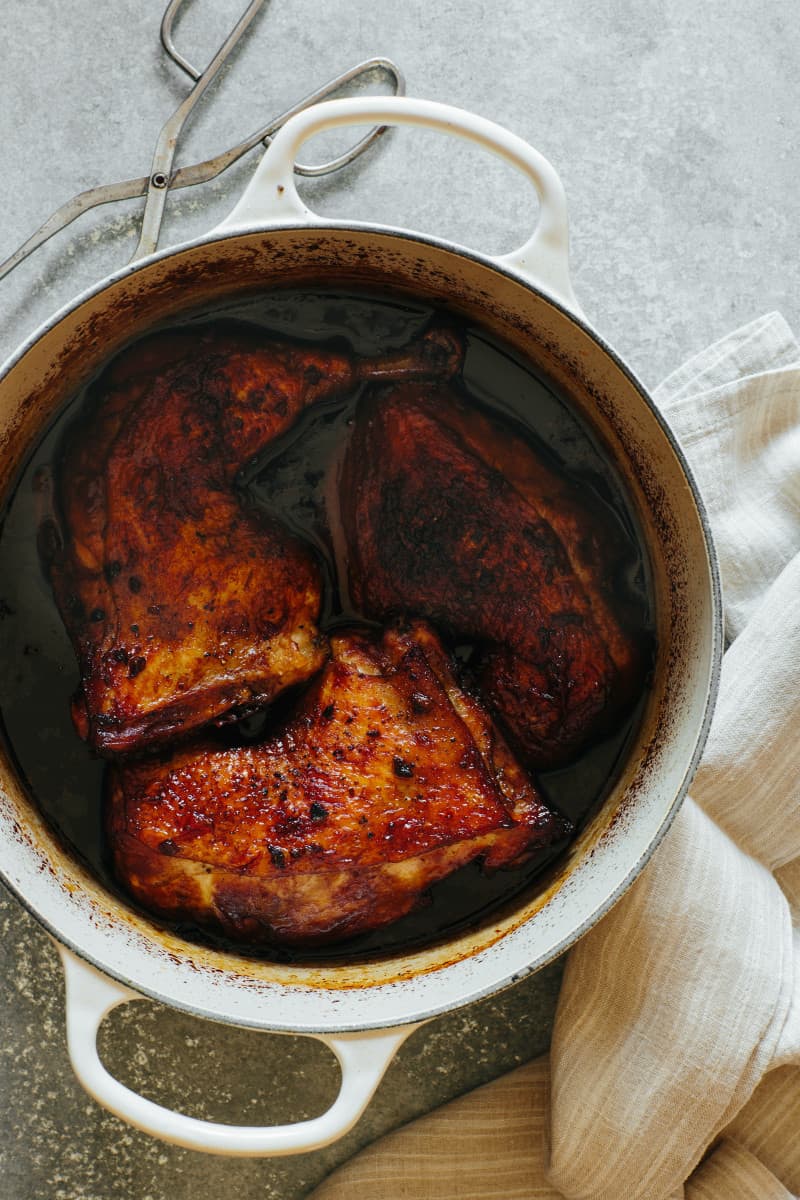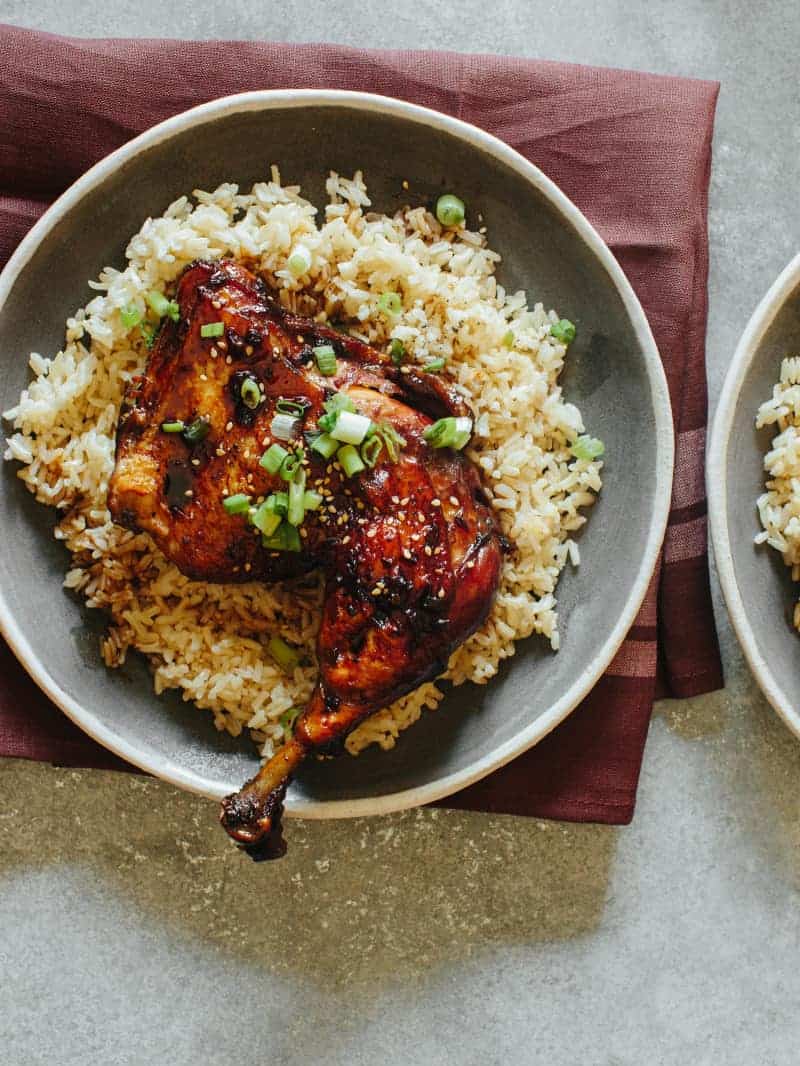 P.S.
If you're looking for more weekday dinners we just made 5 really easy but super delicious recipe over at Delish! You can find all the recipes here, but below are a couple of our favorites: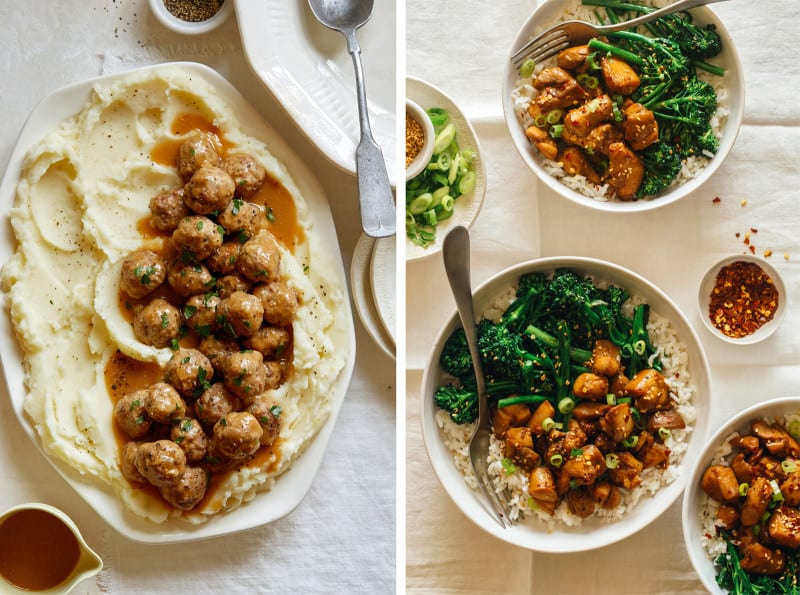 Swedish Meatballs with Mashed Potatoes and Spicy Chicken Teriyaki Bowls. Yum!
Garlic and Ginger Braised Chicken
Ingredients
1 ½

tablespoons

extra virgin olive oil

4

chicken leg quarters, any excess skin and fat trimmed

¼

cup

diced shallots

4

garlic cloves, thinly sliced

1

tablespoon

grated ginger

1

cup

chicken stock

1

cup

low sodium soy sauce

½

cup

light brown sugar

¼

teaspoon

white pepper

thinly sliced green onion or chives

to serve

steamed white or brown jasmine rice

to serve
Instructions
Pour oil into a Dutch oven and place over medium-high heat.

Generously season chicken quarters with salt and pepper and sear in the Dutch oven, skin side down, for 3 to 4 minutes. Flip and sear for an additional 3 to 4 minutes.

Remove chicken from the pot and set aside.

Drain all but 1 tablespoon of oil from the pot. Reduce heat to medium and sauté shallots and garlic for about 2 minutes. Add ginger and continue to sauté for 1 minute.

Add stock to the pot to deglaze and simmer for 1 minute. Add the soy sauce, sugar and pepper and continue to simmer for 5 to 7 minutes.

Add chicken back into the Dutch oven, skin side up, cover and place in the oven for about 1 hour.

To serve: Remove Dutch oven from the oven. Create a bed of rice onto a serving platter and top with chicken, pouring some of the braising liquid over each quarter. Top with sliced green onion or chives and serve.