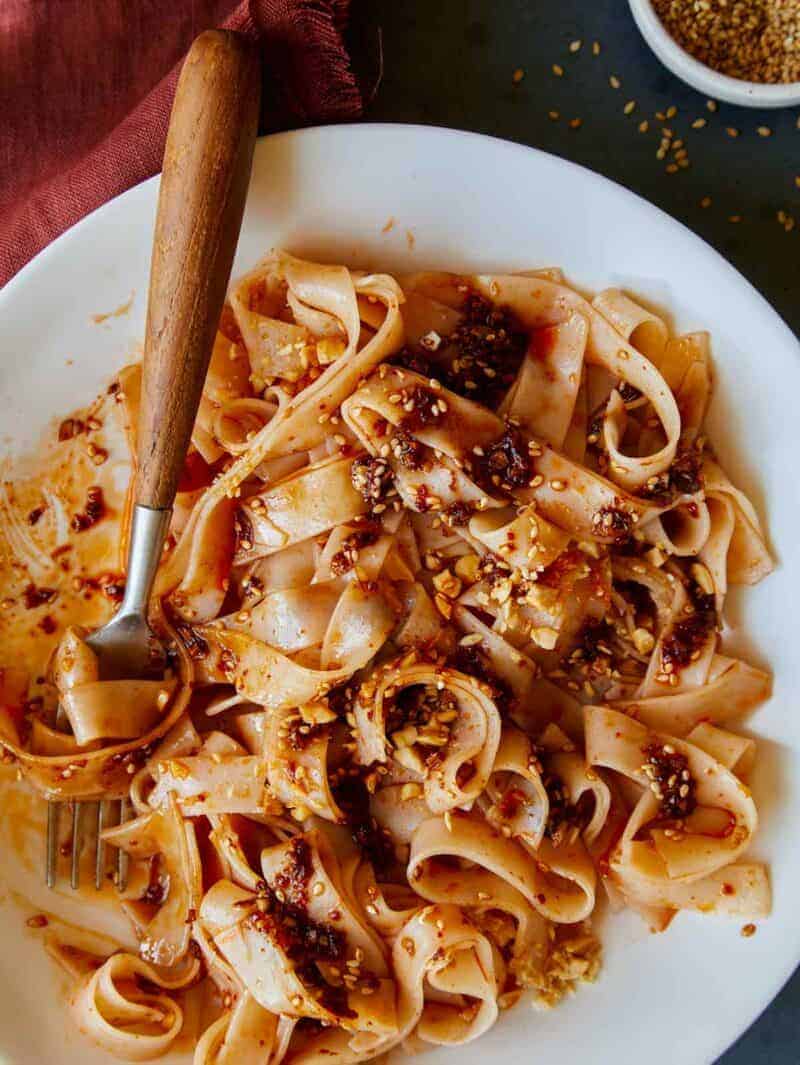 Noodles (and pasta) are probably something I could eat every single day if my body wouldn't hate me for it. These Chile Oil Garlic Noodles are very high on my list of favorite noodles to make and eat because they're simple to make, so tasty and there are so many ways to make them! Today I'm making a Korean-style Chili Oil Garlic Noodle dish.
Korean Style Garlic Chili Oil versus Traditional Szechuan Garlic Chili Oil
This recipe is all about the garlic-chili oil. The Korean-style chili oil version for today is different in both ingredients and process compared to the more traditional Szechuan version, but the bright and bold flavors are still very much there.
What is Chili Oil?
Traditional Szechuan garlic-chili oil begins with a variety of spices such as Szechuan peppercorns (which actually aren't peppercorns at all, but dried berries from the deciduous prickly ash tree within the citrus family that carry both floral and citrus notes), Chinese cinnamon bark (similar in taste to a 'red hot' candy), star anise, bay leaves, cloves, cumin seeds, fennel seeds, garlic, ginger, and green onions. The ingredients are simmered and steeped together with a neutral oil such as vegetable or grape seed then strained. The strained oil is then brought up to a boil and poured over an Asian style chili powder and that mixture is tossed together with noodles.
The Korean-style garlic-chili oil is quite different from the Szechuan version and much more simple with way fewer ingredients, but I wanted to mention the above because it's a version people tend to be more used to seeing and eating.
Vegetable oil or sesame oil or both!
My version uses both vegetable and sesame oil (for a deep, nutty flavor), Korean-style chili powder, soy sauce, garlic, ginger, and sesame seeds. The oil is still heated and poured over the chili powder, but then the remaining chili oil ingredients are stirred in. The noodles are then tossed together with the prepared oil, topped with more prepared oil, and finished with crushed peanuts for texture. So simple, but so good.
Can you make Garlic Chili Oil Ahead?
You can make the garlic chili oil up to 2 weeks ahead of time and store it in the refrigerator. This oil (or really sauce) can also be used to top steamed or pan fried dumplings or even added to noodle soups for added flavor.
I would love to hear in the comments below, if you guys make a version of garlic-chili oil both different from the traditional Szechuan version or my Korean version, since there are so many different ways to make this from so many different cultures! Enjoy! xx, Jenny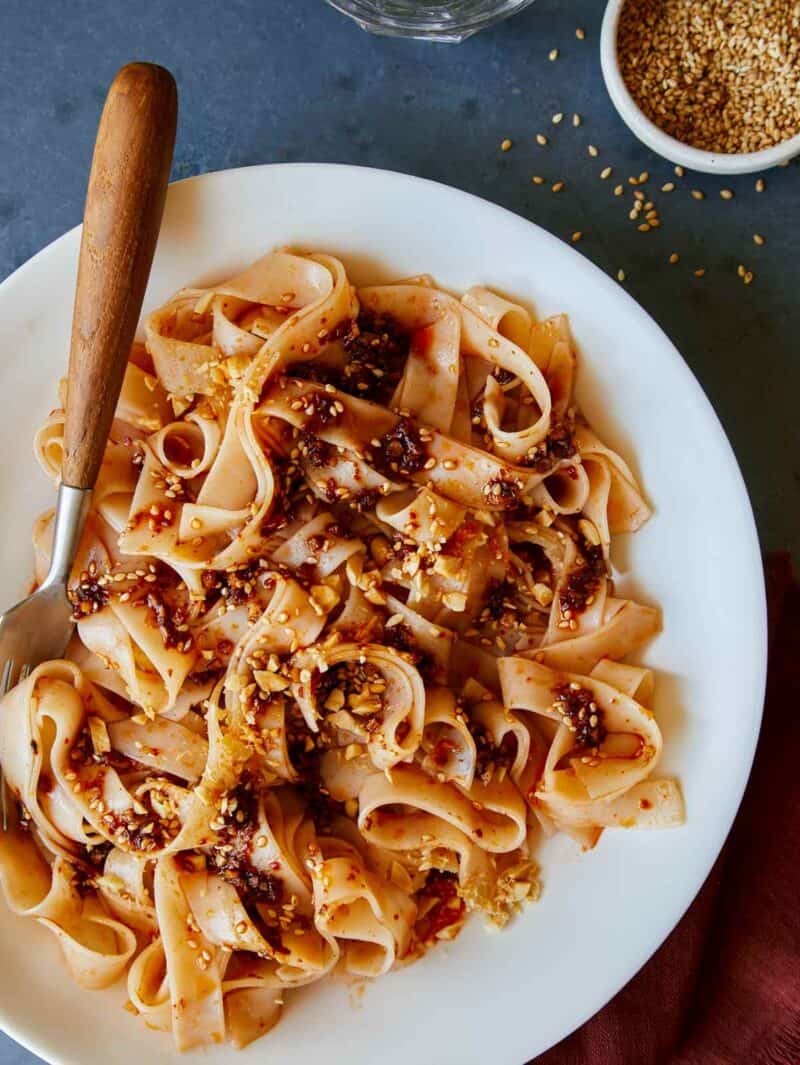 Chile Oil Garlic Noodles
Thick flat rice noodles tossed in a bold and flavorful garlic chili oil.
Ingredients
Garlic Chili Oil
¼

cup

vegetable oil

2½

tbsp

hot Asian Chili Powder

1½

tbsp

sesame oil

2

garlic cloves, minced

1

tsp

ginger, minced

1

tsp

sesame seeds

1

green onion, thinly sliced

optional
2½

tbs

soy sauce

12

oz

wide flat rice noodles

crushed peanuts
Instructions
In a small saucepan simmer vegetable oil for 2 to 3 minutes. Pour hot oil over
chili powder and stir together. Once oil has cooled, stir in remaining chili
oil ingredients. Set aside.

Bring a large pot of water to a boil, 4 to 5 minutes. Place dry noodles into a
shallow dish. Pour boiling water over noodles and allow noodles to soften completely, about 10 minutes.

Drain and pour noodles into a large bowl. Top with 3/4 of garlic chili oil and soy sauce and toss together until completely coated.

Transfer coated noodles to a platter and top with remaining oil. Top with crushed peanuts and serve.
Nutrition
Calories:
501
kcal
|
Carbohydrates:
75
g
|
Protein:
5
g
|
Fat:
20
g
|
Saturated Fat:
12
g
|
Sodium:
866
mg
|
Potassium:
147
mg
|
Fiber:
3
g
|
Sugar:
1
g
|
Vitamin A:
1512
IU
|
Vitamin C:
1
mg
|
Calcium:
39
mg
|
Iron:
2
mg