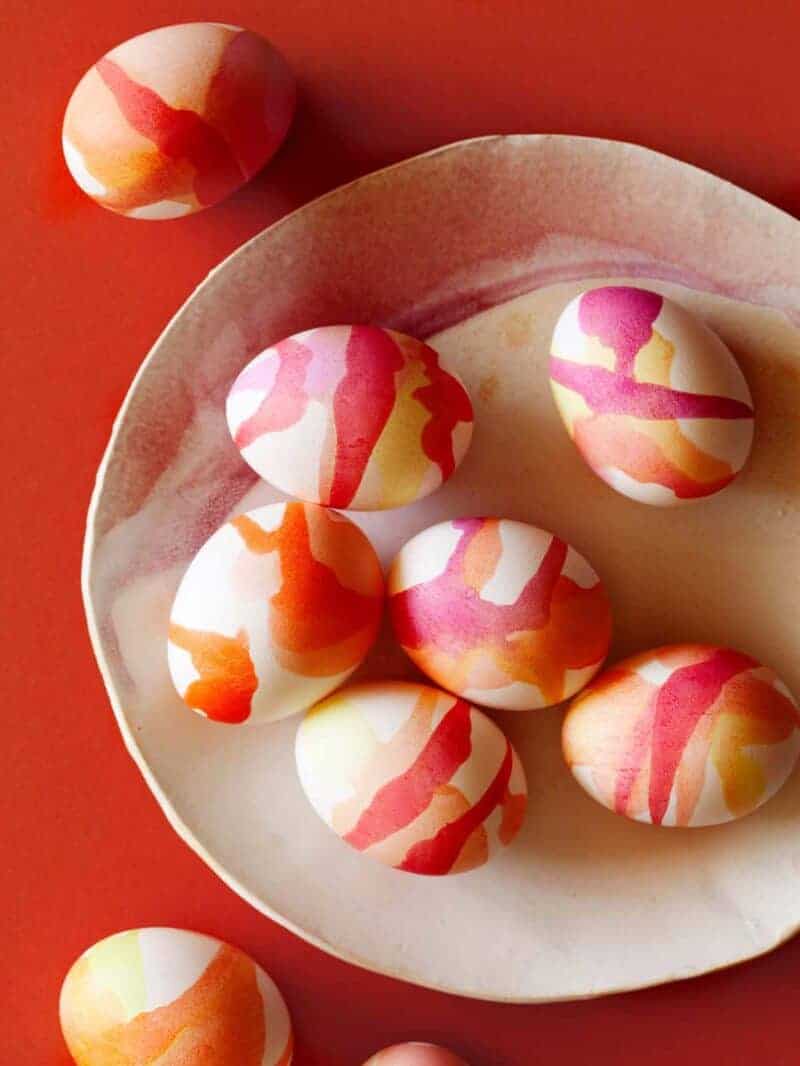 These Watercolor Easter Eggs are one of my all time favorite ways to decorate Easter eggs. It's a really simple process, and you probably already have everything you need to do them. I love decorating these and using them on my Easter table as decoration.
Tips and Tricks for Watercolor Easter Eggs:
– For these to work best, in my experience it s best to make sure the colors you are using are very saturated. If you are using food dye, I use 10- 12 drops in about a cup of water. If you are using other dye, just make sure it is as saturated  as it can be. For the lighter colors just add more water.
– Make sure you are letting your eggs dry in between each layer of color. That way they don't run together.
-I like to use plastic water bottle caps, or milk jug caps to rest my eggs on when they are drying. That way they don't roll round.
– If you want to speed up the drying process, you can use a blow dryer to dry the eggs in-between each color layer.
Easter Egg Dye
For these Watercolor Easter Eggs I have tried a couple different dyes. Here are some of my recommendations:
– Batik Dyes. In my opinion, these dyes have the best more saturated colors.
– Food dye. I love this neon color way, and it actually doesn't really turn our neon at all, but more pastel. This is the more traditional food dye you find in grocery stores, and it works great!
– I also love this Natural Dye Easter Egg Kit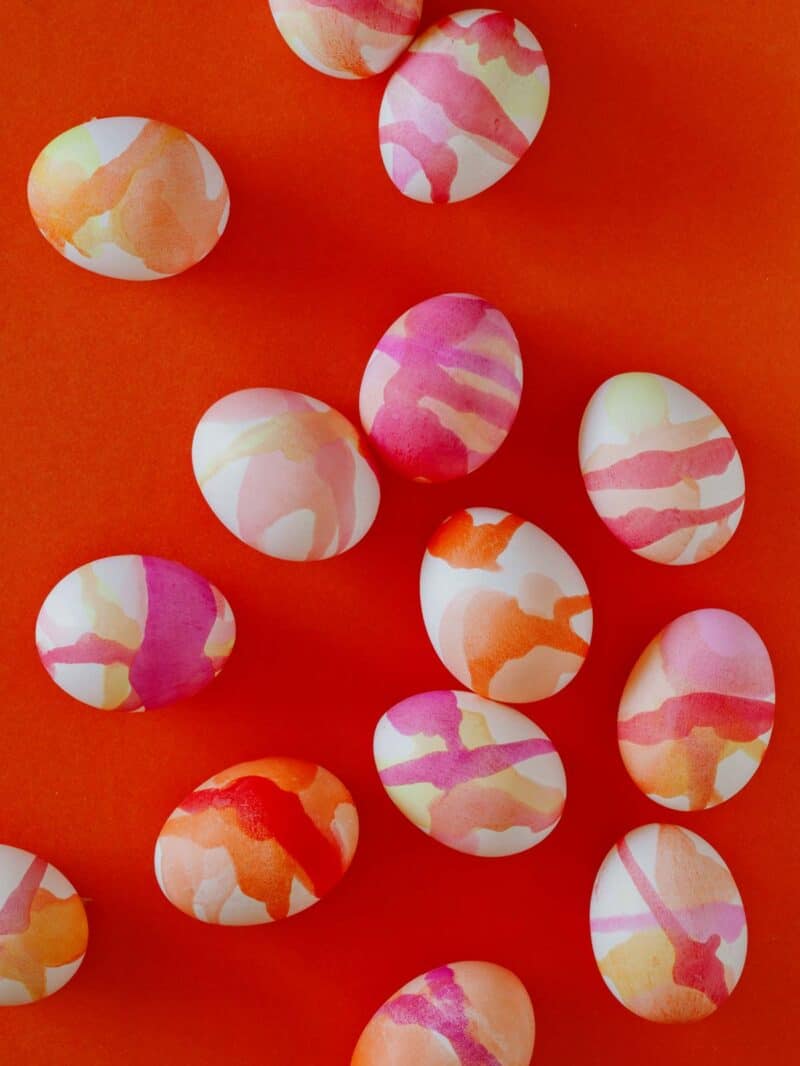 Watercolor Easter Eggs how to:
Equipment:
Cups  (6 or more)
Spoons
Baking Sheet
Plastic latex gloves (optional)
Directions:
Prep your eggs. Hard  boil your eggs, or leave them raw if you wish! Just be careful. If you hard-boil you eggs, make sure they are completely cool. In a bowl, mix 50% water and 50% vinegar. Soak the eggs for a couple of minutes and wipe them off.
Prep your colors. I recommend at least three different colors to  start, but the more the merrier. Make a dark saturated version of a color. The darker the better. For food coloring, I used 10-12 drops in one cup of water. Depending on your brand you may need more or less. Split the saturated color into two cups. In one cup, add more water to make a lighter version of that color.
Lets dye. Hold your egg on either end with your fingers over a baking sheet to catch the excess dye liquid. Pour a spoon-full of dye over the egg so it runs  down the sides. Set aside and let dry, and repeat on other eggs. Varying the color you start with if you prefer.
Once the first layer is dry on your eggs, repeat with either a more saturated color or a lighter, making sure you let the egg dry between each layer. Repeat this process until you  are satisfied with the how your eggs look.

If you love these Easter Eggs, check out our other Easter Egg DIYs:
–Shibori Easter Eggs
– Painterly Dyed Easter Eggs
– Spotted Easter Eggs